Fernie, BC is a true mountain town with a laid-back vibe and great community spirit. Most of the 6,000 plus residents live here because they want to. They like what the town has to offer, not just in winter but on a year-round basis; things like great recreation out the back door, excellent dining, loads of locally owned shops to visit, and most of the services of a far larger town. If you're a visitor to Fernie you may end up at the local realtor's office, wondering how you can make this town a regular part of your life. I understand the population has grown considerably since the start of COVID.
This post includes some affiliate links. If you make a qualifying purchase through one of these links, I may receive a small percentage of the sale at no extra cost to you. Thank you for your support.
Summary of top things to do in Fernie, BC in winter
Fernie, sitting at an elevation of 1,010 metres, is one of BC's cute ski towns known for epic powder dumps. If you catch one of those dumps, you'll never forget it. Fernie can get over 9 metres (30 feet) of snow in a winter!
Snowshoeing, cross-country skiing, fat tire biking, and winter walks are all great things to do in winter. Accessibility to trails from the downtown is super easy.
For those of you with deeper pockets, there is cat skiing available at Island Lake Lodge or through Fernie Wilderness Adventures.
Fernie's main street covering about five blocks is loaded with locally-owned shops. It's an easy way to spend a few hours, whether you're looking for winter gear, a good book, things for your home, chocolate, gifts, or you just want to chill in a café.
If you're after pampering, there is a wonderful day spa on the main street.
Hungry? You're in luck. There is something for all taste buds including burgers, pizza, cute cafes, authentic Mexican food, delicious Italian, and spicey south Asian food.
Getting to Fernie in winter can sometimes be challenging. Be sure you've packed a snow-shovel and emergency car kit. Read How to Survive a Winter Drive: 15 Tips for Safety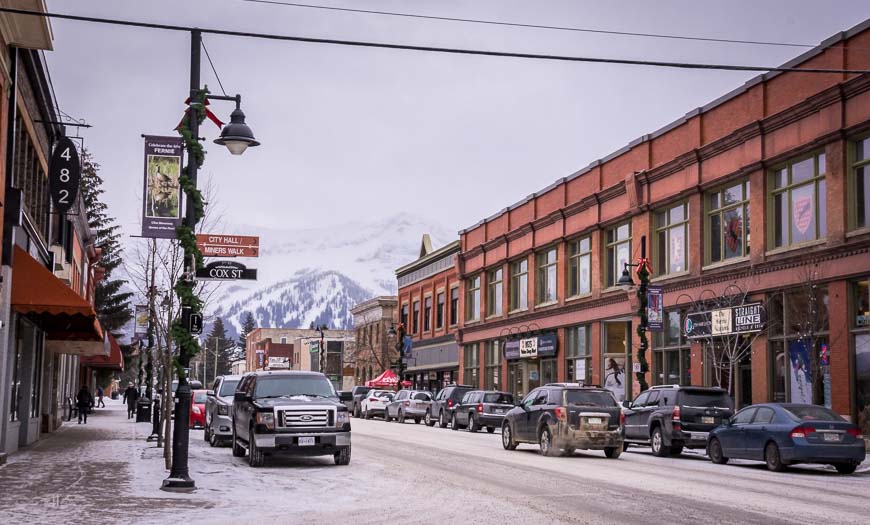 Where is Fernie, BC?
Fernie is located in the Elk Valley in the southern part of British Columbia. It's only about a three hour drive southwest from Calgary and a two hour drive from Kalispell, Montana. It's a popular place to fly into for the American crowd.
In winter, Fernie is known as one of Canada's premiere ski towns. Come summer there is first-rate hiking including the fabulous Goldilocks Trail accessible from Island Lake Lodge. People also travel to Fernie for its fantastic mountain bike network.
Map of things to do in Fernie, BC in winter
Click on the three dots in the top right hand corner to email a copy of the map to yourself or your friends.
Go downhill skiing or snowboarding at Fernie Alpine Resort
The number one winter activity in Fernie is downhill skiing and snowboarding at Fernie Alpine Resort. It's considered one of the top ski resorts in Canada – largely because of its massive dumps of snow, an 1,082 metre (3,550 feet) vertical rise and over 2,500 acres of skiable terrain. It's also home to 10 lifts – 2 high-speed quad chairlifts, 2 quad chairlifts, 3 triple chair lifts, and 3 surface lifts. The longest run of the 142 runs is over 5 kilometres.
Fernie Alpine Resort, is located in the Lizard Range. The first time I visited many decades ago – on long, skinny skis, I remember spending most of the day flailing away in the deepest powder snow I'd ever seen. My husband and I still talk about it.
Fast forward to my recent visit and I have to say we didn't luck out with quite the same conditions. Mother Nature decided to throw an Arctic air mass our way so it was so cold we passed on skiing one day when the wind chill hit -35°C.
However, our son who was skiing there for the first time still commented on the size and layout of the mountain, pronouncing that it was definitely worth a return trip from Toronto. He loved the powder stashes a local on the chairlift told him about – and the sheer variety of terrain.
For those of you interested in snowcat skiing, you can book a single day snowcat ski or board experience with Fernie Wilderness Adventures.
Cross-country ski in Fernie
Fernie is home more than 45 kilometres of groomed cross-country ski trails. There are four places to Nordic ski, and all are within about a 10-minute drive of the downtown.
At the Fernie Golf Club there are 12 km of easy and scenic cross-country ski trails. If you just want to go out for an hour or two, this is the perfect place to go.
The Elk Valley Nordic Centre located off Highway 3 near Mt. Fernie Provincial Park has about 10 km of trails. They cover every skill level, so it's a great place to get a workout. On weekends, there is a lovely wood stove heated warming hut. It's a great place for meeting people and enjoying your lunch.
Fernie Alpine Resort offers 14 km of groomed and track set trails for both classic and skate skiing. Reportedly the trails are free to use. They are best accessed by parking in Lot 4 and heading away from the main downhill ski area.
In the Montane trails area, you'll find Nordic trails for classic and skate skiing. Keen skiers can go all the way up to the Montane Hut for glorious views on clear days of Fernie Alpine Resort. Dogs are allowed on the cross-country trails – and there is no fee to use them.
Hike to Fairy Creek Falls
Start the Fairy Creek Falls hike at the Fernie Chamber of Commerce & Visitor Information Centre. You'll find it at the east end of town right. If you go inside, you can grab a map of Fernie's winter trails.
The 4.7 km return out and back trail to Fairy Creek Falls is well marked and easy to follow. After a big snowfall, you'll probably want snowshoes but the rest of the time a pair of winter hiking boots and microspikes will suffice. You'll gain 105 metres, mostly gradually so most people will find this to be an easy outing. Allow between 90 minutes and two hours to do the return hike.
Visit Montane Hut
You can hike, fat bike, cross-country ski, or snowshoe up to the Montane Hut. It's approximately 4 km one way from the parking lot via the Montane Trail. In winter, there's wood to make a fire inside the cabin (bring fire-starter and matches) and enough chairs for a group. Outside there are several picnic tables and a few benches, with a great view of the ski hill if you get a clear day.
Go snowshoeing in Fernie
If you love snowshoeing, then you'll find plenty of trails to explore. Mount Fernie Provincial Park has a good network of trails, including four near Mt. Fernie that will get your heart pumping. They included Dem Bones, Stove Trail, Brokeback, and Hedonism. If you park by the Gorby Bridge, you'll find another network of linked trails, some with massively big trees.
Fernie Alpine Resort also has a good network of snowshoeing trails as does the Montane Trail network. There is a good map on their website. The trailhead is very close to town.
Look for big trees
If you're a fan of monster-sized trees, it's worth the drive to visit the ancient cottonwood trees located about 10 km west of the Fernie Alpine Resort. Look for the Ancient Cottonwood Interpretive Trail and then head off the path where you'll have a close-up experience with some of the oldest and largest black cottonwood trees in the world. Some of them may be over 400 years old. You only need 30 – 60 minutes to hike and gaze up into their canopy.
Enjoy a spa treatment in downtown Fernie
I don't spent a lot of time pampering myself but I admit to a strong love of pedicures and facials. My feet in particular take a beating with all the hiking I do (I always apologize to the poor person that has to deal with them) so when I was offered a service at Spa 901 on Fernie's Main Street I said an enthusiastic yes.
Over an hour I sat and relaxed while a woman from Australia gave me what I would call one of the top 5 pedicures of my life. The price – $60. That includes a hot stone massage of the lower leg and foot. In my opinion it's one of the best deals I've seen anywhere.
If you're visiting Fernie, leave your friends and family behind and nip in here (with a reservation) for an hour of bliss. Give yourself another 30 minutes to let your toes dry while you continue to relax in the meditation room.
Try a tasting at the local distillery
Fernie Distillers, the first distillery in Fernie, run by a husband and wife team, is located a block off the main street at 531 1st Avenue. Inside, it's got a great vibe that I could pick up on even though I was the only person in there late one afternoon.
When you visit there are three liquors you can try – all named with a nod to the history and the weather of the area – No.9 Mine Vodka, Prospector Gin and Fernie Fog (a liqueur infused with Earl Grey tea).
Have a look at the stills, perhaps even chat with the distiller who is one of Canada's only female distillers and enjoy a tasting before relaxing on their well-appointed and very comfortable couch (not shown).
Wander Fernie's Main Street
The other thing I'd recommend doing in Fernie, no matter what time of year you visit is to wander the Main Street. It's totally cute, lined with locally owned and run restaurants and shops. I always buy bagels to take back to Calgary at Big Bang Bagels. Coffee lovers – and I admit to being a coffee snob – will want to check out Rooftop Roasters and Freshies – one of the few that is open by 7:30 AM. There are lots of stores that sell outdoor gear and locally inspired gifts.
If you have some extra time, drop into the Fernie Museum. On display is the permanent This is our Fernie exhibit. Every three to four months a new temporary exhibit is put up with either a cultural or a historical theme.
Where to eat in Fernie
If you love Mexican food, then you must go to Nevados Tequila and Mezcal Lounge. The restaurant has a great vibe – and exceptionally flavourful tacos. It's also got an incredible selection of tequilas and mezcal.
Another Mexican option is Chilangos, open since May 2022. You'll find excellent guacamole, an assortment of tacos, enchiladas, salads and more – all authentically made Mexican dishes.
If you need an Italian fix (and even fondue on certain nights of the week) head to The Loaf on Main Street. You'll find big plates of pasta and lots of pizza choices.
Other recommendations from locals- though I haven't eaten at them, is Bramasol Restaurant & Wine Bar – a wine bar serving small plates, and Himalayan Spice Bistro for great south Asian flavoured food.
How to get to Fernie in winter
Fernie is a 3 – 3.5 hour drive from Calgary. From Cranbrook, it's an hour's drive and from Kalispell it's about 2 hours and 10 minutes.
If you've flown into Calgary and you don't want to drive, check out the Airport Shuttle Express to Fernie. It's best with a family or group.
AMPM Limo offers flat rates door to door from Calgary.
Tunnel 49 offers airport transfers between Kalispell, Cranbrook, Pincher Creek, and Calgary.
Resort Tours offers a shuttle from Cranbrook to Fernie.
Where to stay in Fernie
The Griz Inn is a good choice if you want ski in – ski out accommodation at the ski resort. Lizard Creek Lodge is slightly nicer with a giant fireplace in the dining room area.
Want to try to the tiny home experience in town? Check out the cute accommodation offered by Snow Valley Lodging.
More reading on things to do in the winter in the Kootenays
Click on the photo to bookmark to your Pinterest board.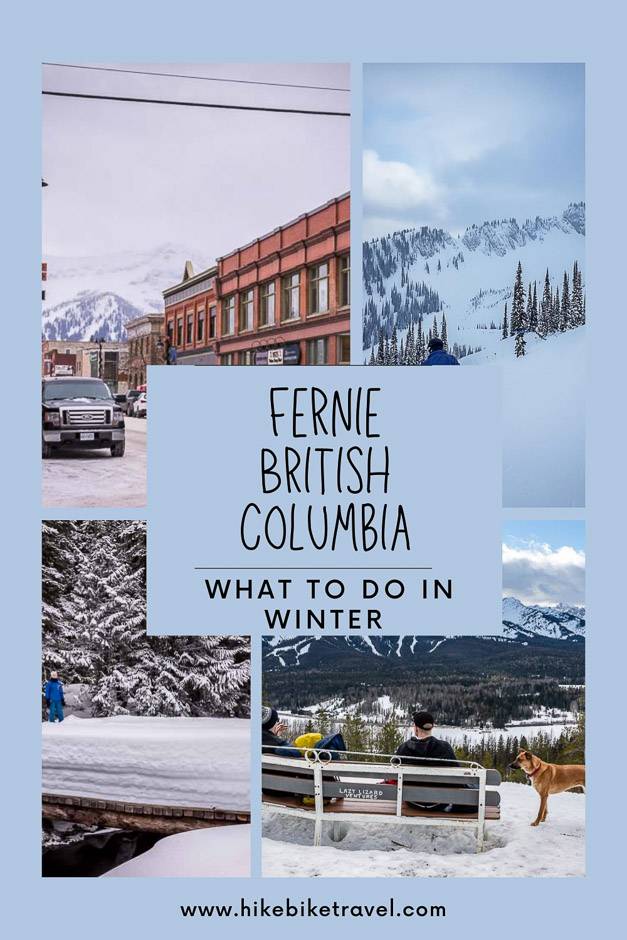 A big thank you to Resorts of the Canadian Rockies and Tourism Fernie for help with parts of this trip.