Fernie, BC is a true mountain town with a laid-back vibe and great community spirit. Most of the 5,000 plus residents live here because they want to. They like what the town has to offer, not just in winter but on a year-round basis; things like great recreation out the back door, excellent dining, loads of locally owned shops to visit and most of the services of a far larger town.
If you're a visitor to Fernie you may end up at the local realtor's office, wondering how you can make this town a regular part of your life. I understand the population has grown considerably since the start of COVID.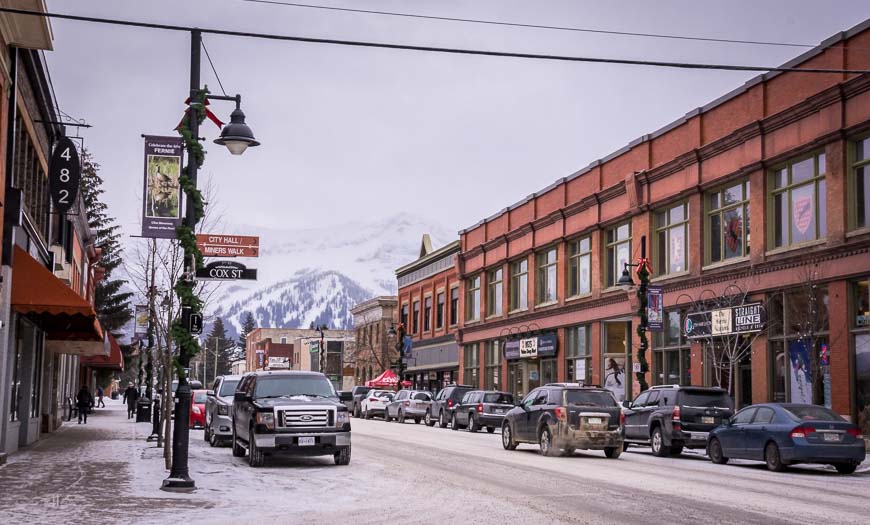 Where is Fernie, BC?
Fernie is located in the Elk Valley in the southern part of BC. It's only about a three hour drive southwest from Calgary and a two hour drive from Kalispell, Montana. It's a popular place to fly into for the American crowd.
In winter Fernie is known as one of Canada's premiere ski towns. Come summer there is first-rate hiking including the fabulous Goldilocks Trail accessible from Island Lake Lodge.
Based on a three-day trip to Fernie, BC in the dead of winter these are the things I'd recommend doing.
Go downhill skiing or snowboarding at Fernie Alpine Resort
Fernie Alpine Resort, located in the Lizard Range is famous for its powder days. The first time I visited many decades ago – on long, skinny skis – I remember spending most of the day flailing away in the deepest powder snow I'd ever seen. My husband and I still talk about it.
Fast forward to my recent visit and I have to say we didn't luck out with quite the same conditions. Mother Nature decided to throw an Arctic air mass our way so it was so cold we passed on skiing one day when the wind chill hit -35°C.
However, our son who was skiing there for the first time still commented on the size and layout of the mountain, pronouncing that it was definitely worth a return trip from Toronto. He loved the powder stashes a local on the chairlift told him about – and the sheer variety of terrain.
While we didn't have any true bluebird days, the sun made several weak attempts at showing up so the visibility across the valley was good much of the time. The snow up high was fantastic but challenging down low. It was a reminder to get my edges sharpened so I'd have the confidence on icy patches.
Booking accommodation in Fernie with Fernie Central Reservations turned out to be hard to do with our dates. I organized this trip back in the fall but still had trouble – largely I think because we had one weekend day mixed in with weekdays.
If you go I suggest booking either only weekdays or both weekend days along with whatever works for you on either end. We eventually found something but our choice was very limited – at least if we wanted to be on the mountain.
A Cat Ride, Snowshoeing and Lunch at Island Lake Lodge
Island Lake Lodge is best known for its cat-skiing program in winter. It's extremely popular bringing in people from literally all over the world – though Canadians and Americans make up the bulk of the guests.
In the winter they also offer a winter gourmet two course lunch and spa program along with a snowcat ride up through old growth forest. (On the 7,000 acres of private land there are western red cedars that are 800 years old!)
Either before or after lunch there is the option to snowshoe around the lake. While you likely won't find yourself getting your heart rate up from physical exertion, you'll still likely get a blast of happy hormones from being outside and communing with nature.
Lunch is first rate. Memorable really. I chose the daily soup and sandwich special and was quite literally in foodie heaven. The pork belly sandwich with a homemade chutney was divine. One of my companions also swooned over her duck confit on polenta. We split the dessert – a chai tea cake filled with flavour explosions. I'd return to the lodge another time just for the food.
While I didn't have time to take advantage of any of the spa activities on this trip, I would at a minimum want to try out their saunas with a view of the forest, found in all of the cabins and the main lodge on my next visit. (See photo below.)
Where is Island Lake Lodge?
Call me clueless but I thought that Island Lake Lodge was near Island Lake – passed on every drive you do along Highway 3 near the Alberta – British Columbia border. It wasn't until this trip to Fernie that I appreciated that the lodge is easily accessed from the western edge of Fernie where you see the signs for Mt. Fernie Provincial Park.
It's only about 10 minutes up that road to reach a parking lot and the snowcat. From our condo at Fernie Alpine Resort it took no more than 15 minutes.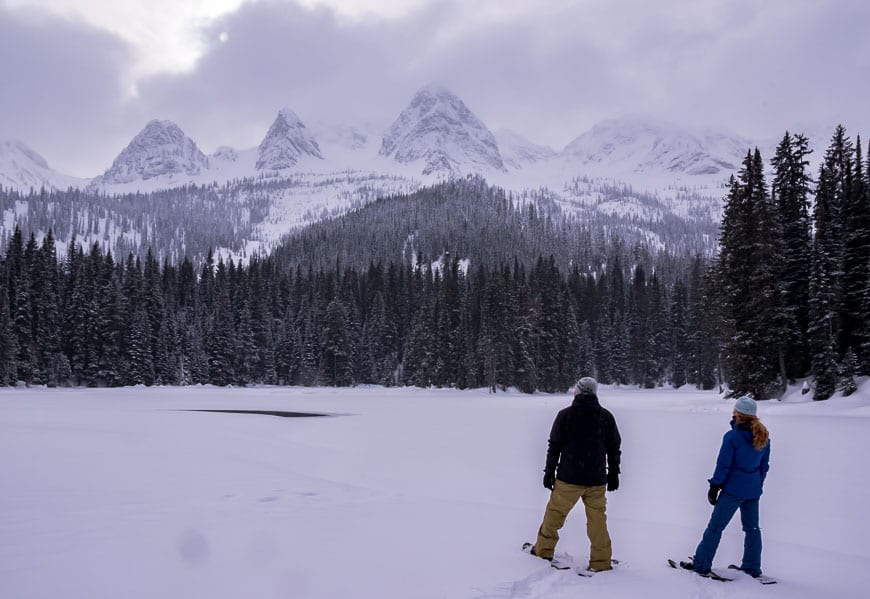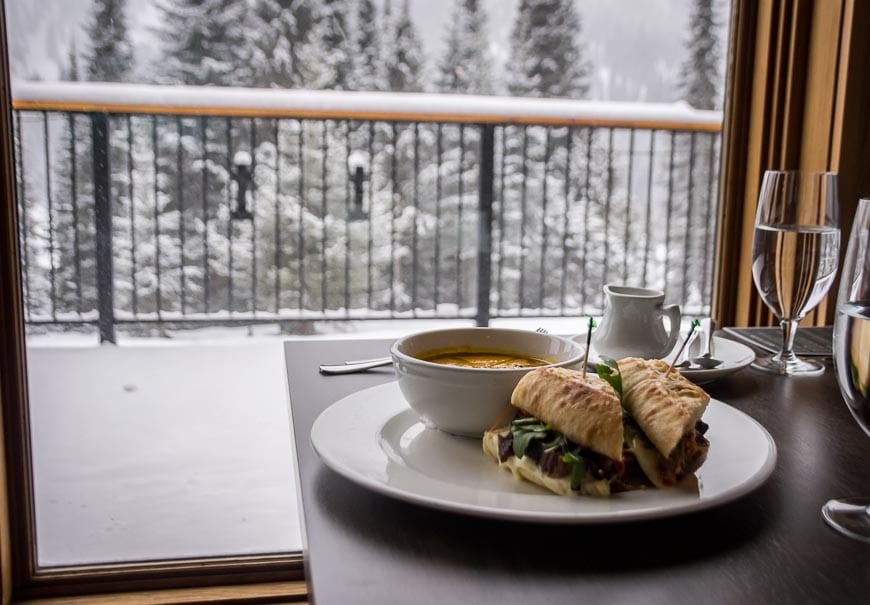 Go cross-country skiing in Fernie
I had plans to go out for an hour of cross-country skiing at the Elk Valley Nordic Centre but I couldn't summon the enthusiasm on the -35°C day. However, I was told that the town of Fernie is home to no less than 50 kilometres of groomed cross-country ski trails and from what little I saw, there will be a next time.
You can access trails at the Elk Valley Nordic Centre (turn off towards Mt. Fernie Provincial Park and you'll find it in less than a kilometre), at Fernie Alpine Resort off of Parking Lot 4 and on the golf courses.
Go for a winter hike in Fernie
Fernie has a vast assortment of hiking trails that are accessible in winter. You could spend a week or two trying to knock them all off. I highly recommend the Montane Trail network and the easy hike to pretty Fairy Creek Falls.
Enjoy a spa treatment in downtown Fernie
I don't spent a lot of time pampering myself but I admit to a strong love of pedicures and facials. My feet in particular take a beating with all the hiking I do (I always apologize to the poor person that has to deal with them) so when I was offered a service at Spa 901 on Fernie's Main Street I said an enthusiastic yes.
Over an hour I sat and relaxed while a woman from Australia gave me what I would call one of the top 5 pedicures of my life. The price – $60. That includes a hot stone massage of the lower leg and foot. In my opinion it's one of the best deals I've seen anywhere.
If you're visiting Fernie, leave your friends and family behind and nip in here (with a reservation) for an hour of bliss. Give yourself another 30 minutes to let your toes dry while you continue to relax in the meditation room.
Try a tasting at the local distillery in Fernie
Fernie Distillers, the first distillery in Fernie, run by a husband and wife team, is located a block off the main street at 531 1st Avenue. Inside, it's got a great vibe that I could pick up on even though I was the only person in there late one afternoon.
When you visit there are three liquors you can try – all named with a nod to the history and the weather of the area – No.9 Mine Vodka, Prospector Gin and Fernie Fog (a liqueur infused with Earl Grey tea).
Have a look at the stills, perhaps even chat with the distiller who is one of Canada's only female distillers and enjoy a tasting before relaxing on their well-appointed and very comfortable couch (not shown).
Wander Fernie's Main Street
The other thing I'd recommend doing in Fernie, no matter what time of year you visit is to wander the Main Street. It's totally cute, lined with locally owned and run restaurants and shops.
If you just drive through Fernie on Highway 3, you'd completely miss the great vibe of the downtown, something we'd done for years. Don't make our mistake.
Where to stay in Fernie
This post includes some affiliate links. If you make a qualifying purchase through one of these links, I may receive a small percentage of the sale at no extra cost to you. Thank you for your support.
The Griz Inn is a good choice if you want ski in -ski out accommodation at the ski resort. Lizard Creek Lodge is slightly nicer with a giant fireplace in the dining room area.
Want to try to the tiny home experience in town? Check out the cute accommodation offered by Snow Valley Lodging.
More reading on things to do in the winter in BC
Click on the photo to bookmark to your Pinterest board.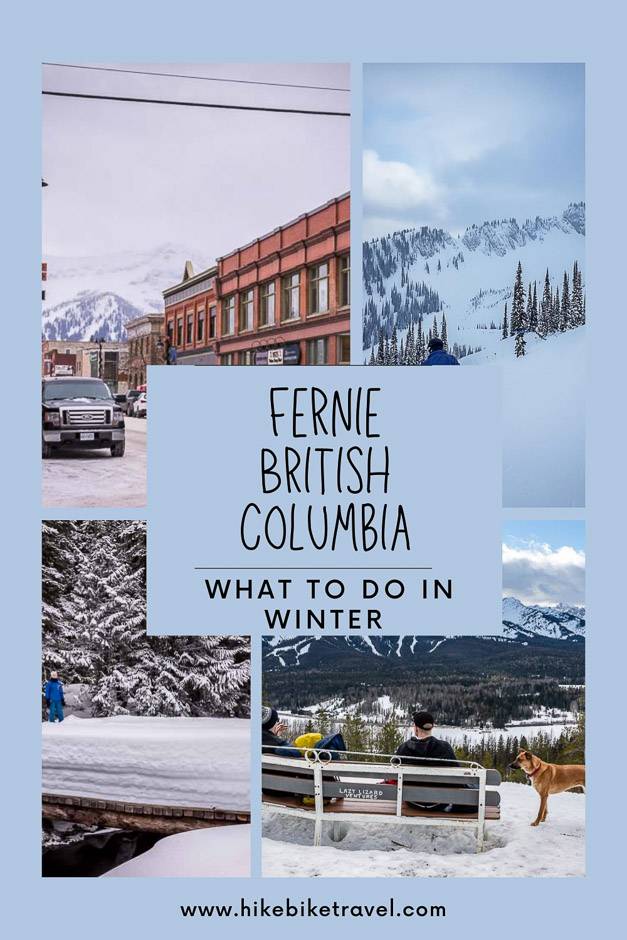 A big thank you to Resorts of the Canadian Rockies, Tourism Fernie and to Island Lake Lodge for help with many parts of this trip.