Island Lake Lodge serves as a great base for hiking adventures. It sits on 7,000 acres of private land just minutes from Fernie, British Columbia. The lodge is surrounded by towering trees in old growth forest – with the Lizard Range of the Rocky Mountains serving up a spectacular backdrop. That translates to wonderful hiking opportunities both above tree line and in the forest. And you don't have to be a guest at the lodge to enjoy the trails.
Hiking however isn't what Island Lake Lodge is best known for. It's cat skiing in winter. But word is getting out about the variety of hiking trails, their beauty and how well signed and cared for they are. As a bonus, when you're finished hiking here, a cold drink and something delicious to eat is available at Bear Lodge Bistro – before you even get back to the parking lot.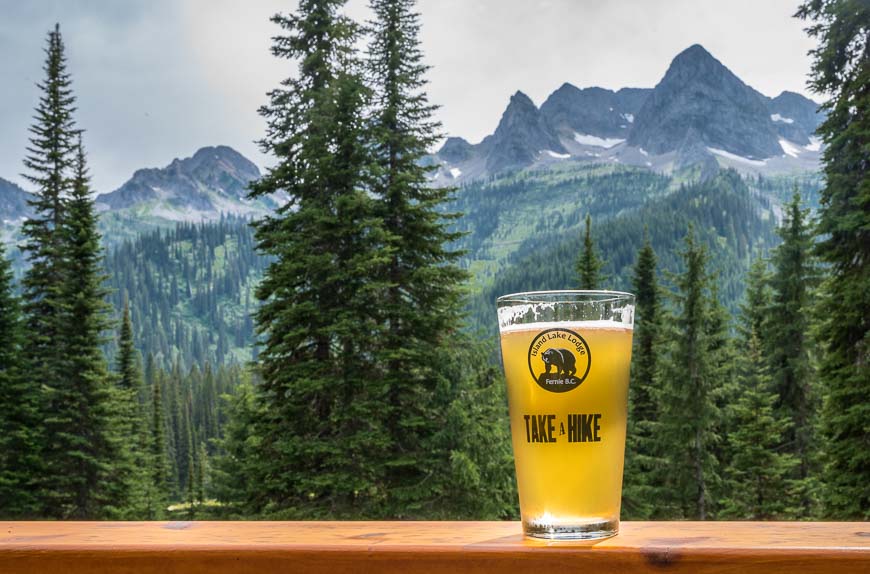 Island Lake Lodge – a great base for hiking adventures
Over two days at Island Lake Lodge, John and I were able to hike four of the 15 trails that start right from the lodge. We cheated a bit as one trail – Goldilocks – can't be hiked without doing Spineback Trail – but the bottom line is that we covered a lot of ground in a short time frame.
There are at least five more trails I would like to come back and hike. They include Heiko's Trail, Tamarack Trail Summit, Big White Peak, Goat Pass, and Lizard Lake.
If you're either new to hiking or a nervous hiker – always fretting about what's around the next corner, then I think you'll really enjoy hiking from the lodge. You'd have to work on getting lost as the trails are particularly well-signed. And while you may run into wildlife including moose, grizzly bears, black bears, elk, deer, wolves, cougar and lynx – consider it a privilege if you see something. I almost never do.
Just because you're starting at Island Lake Lodge doesn't mean that you don't have to go prepared. Take the 10 hiking essentials and for heaven's sake carry a can of bear spray – and know how to use it.
Read: Bear Safety Tips: What You Need to Know
Hiking trails we did over 2 days
Lake Trail hike
On the day that we arrived at Island Lake Lodge it was almost 5 PM. We decided a before dinner hike was in order so we chose the 2 km Lake Trail.
It's an easy loop hike through old growth forest with lots of towering western red cedar and Douglas fir. John particularly loved it for the birds that hung out by an open area with a stream. In short order he amassed 20 birds including the alder flycatcher.
You can knock the Lake Trail off quickly – in 30 to 45 minutes if you're moving. But there are a couple of iconic photo spots where you might want to linger. Down by Island Lake, you can either rent a canoe or catch someone canoeing – perhaps in the early morning as the sun comes up.
Note: There are lodge photo spots numbered and documented on all the trails. They refer to the best views! Pick up a map ahead of time so you know where to go.
Spineback Trail hike from Island Lake Lodge
The Spineback trail offers a good workout and some truly fantastic views. The trail climbs 430 m from Island Lake through sub-alpine meadows that are dotted with wildflowers come late July.
Hike to the end of Spineback Ridge for a great photo opportunity by a gnarly old tree. It's called the Scott Schmidt tree, named for the first extreme skier.
To do the return 7 km hike, allow three to four hours. If you want another superb view hike half a km more to the bench above the ridge – between the 3 Bears Peaks. Retrace your steps or continue to do the Goldilocks Trail. (See below.)
Goldilocks Trail hike from Island Lake Lodge
The 2.5 km Goldilocks trail is the newest trail you can access from the lodge. Completed in 2018, it was named for the three women who built the trail.
The trail begins where Spineback leaves off – at the top of the bench above the ridge. As it's a loop trail – you can do it in either direction. We hiked it counter-clockwise and I personally think that's the best way to go.
Climb 210 m on a trail through scree, past rocks filled with fossils attesting to the time when these rocks were at the bottom of the sea. The trail curves around Baby Bear Mountain as you climb to Upper Nonstop saddle. Savour the views through here.
On the backside look for lingering snow into late July. Continue by descending on switchbacks between Baby Bear and Mama Bear peaks. That's followed by a brief climb up to another vantage point of the valley below. Then it's one more steep descent, perhaps on snow, to reach a flatter section and the intersection with the Spineback trail. Allow 1.5 hours to do the loop.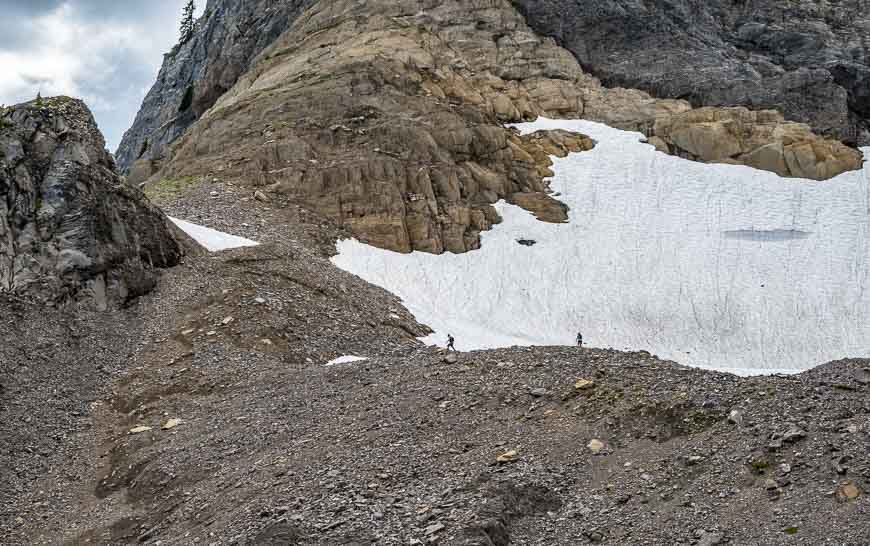 Tamarack Trail Viewpoint hike
If you only have a couple of hours but you want a trail that delivers a workout with a view, choose the Tamarack Trail Viewpoint. It will take you between 2 – 3 hours to cover the 4 km with an elevation gain of 300 m.
The beginning of the Tamarack Trail is shared with the Lazy Lizard trail. It starts off flat and easy as it travels through beautiful old-growth forest. Then it begins climbing – reaching a steep section near the viewpoint where a set of steep wooden steps have been added. We startled a grouse through here – and it in turn startled us, causing us to jump.
From the top of the stairs, it's a short walk to the viewpoint. Park yourself on the bench and enjoy the views to the lodge below and the Spineback and Goldilocks Trail across the way.
After hiking – if you're a guest at Island Laker Lodge
Forget that closed in sauna feeling. You won't find it at Island Lake Lodge. Instead, every sauna – and there's one in every lodge, offers a fantastic view out the window. It's a great way to relax and soothe those tired muscles. Just be sure to ask the front desk to fire one up for you ahead of time.
The rooms at Island Lake Lodge
We stayed in one of the newer lodges and enjoyed a large room with a superb mountain view. We didn't end up spending much time in the room but I could easily picture myself enjoying a glass of wine on the deck just admiring the landscape. I loved our big bathroom with a slate shower and heated floors, along with a large soaker tub. And yes there is WiFi here.
Eating at the lodge
Meals are beautiful to look at, creative and delicious. The summer salad is one I could eat daily and the beet risotto with mascarpone (not pictured) was also a treat for the eyes and the stomach. Some of the main dishes include Arctic char, bison shortribs (a long time guest favourite), duck breast and free range chicken.
If you had a big hiking day and expended a lot of calories I would suggest choosing a large plate. Sometimes I like to pick two appetizers as my meal but here they are on the small size and I don't think two would be filling enough for most people. Or pick two appetizers and a dessert!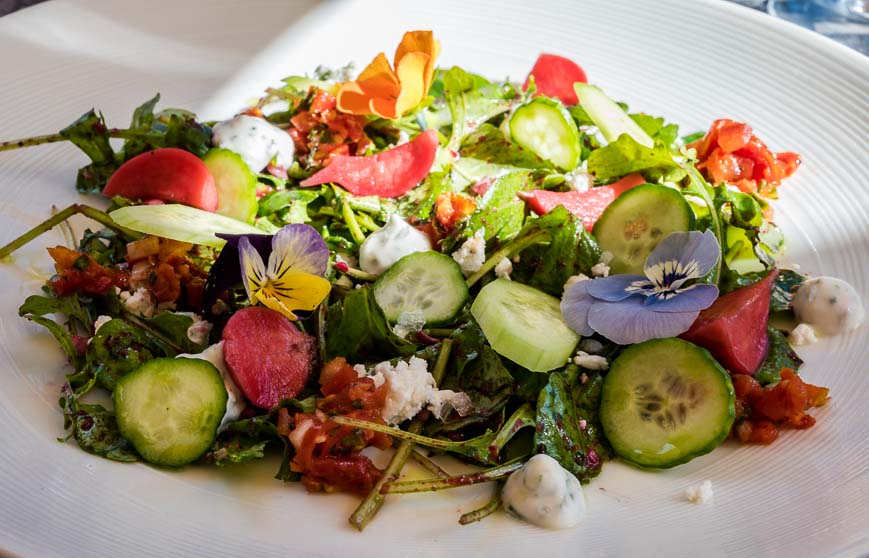 Booking a holiday here
I hope I've whetted your appetite for a hiking holiday out of the lodge. You can contact them directly if you're interested in booking by visiting their website.
Location map of Island Lake Lodge
Further reading on things to do in BC
Thank you to Island Lake Lodge for hosting my stay. All opinions and thoughts are my own.
Click on the photo to bookmark to your Pinterest boards.