Canada in winter is the place to be if you love snow, cold and the outdoors. I have survived and thrived in winter in Canada for over 50 years – and most of the time I love it. (By the end of March I'm good and ready for spring.) Unfortunately for many getting through a Canadian winter is an exercise in endurance and survival, with days and weeks checked off on the long road to the May long weekend. But it really doesn't have to be that way.
Invest in warm clothing. Choose winter activities you'll really love – perhaps a winter festival or a Nordic spa experience over downhill skiing or snowmobiling. Head to Vancouver Island and not the Northwest Territories if you hate the deep cold. Change your mindset.
And then try one of these 87 fabulous things to do in Canada in winter. Here's hoping a few strike a chord with you. Just be sure to pick a destination that fits with your interests and budget.
This post includes some affiliate links. If you make a qualifying purchase through one of these links, I will receive a small percentage of the sale at no extra cost to you. Thank you very much for your support.
Summary of things to do in winter in Canada
Popular winter activities in Canada include downhill and cross-country skiing, skating – especially on the Rideau Canal in Ottawa, snowshoeing, winter walks, Northern Lights viewing, snowmobiling and even dogsledding and ice climbing.
The very best winter destinations in Canada are Whitehorse for dogsledding and snowmobiling, Whistler for skiing – and the après-ski scene, Tofino for storm watching and beaches, The Powder Highway in BC for skiing, Banff National Park for a variety of winter experiences, Winnipeg (for skating on the rivers), Ottawa (for skating and the Winterlude Festival), and Quebec City for the Quebec Winter Carnival and nearby skiing.
Having fun in winter in Canada is all about dressing properly so you aren't cold, choosing a sunny, bluebird day when possible and trying new experiences. Check weather forecasts before you head out, so you aren't driving in terrible conditions.
Winter is a great time to visit Canada. There's lots to do, prices are lower, and on all but the coldest of days, it feels amazing to be outside.
Best places to visit in British Columbia, Canada in Winter
If you're looking for things to do in Canada in winter – but in temperatures that are usually warmer than elsewhere in the country then head to Vancouver, Victoria and Vancouver Island. But be prepared for rain. When it is sunny, it's glorious but you'll need luck and a high pressure system for that.
The interior of British Columbia including the Kootenay Rockies and the Penticton – Kelowna corridor also shine in winter. Think world-class skiing, snowshoeing, snowmobiling and fun mountain towns.
Tofino
Go to Tofino in on Vancouver Island in winter when the weather is ugly for some seriously good storm watching. Nothing beats walking on a beach in January! And for something really special, visit Hot Springs Cove and relax in natural pools that you'll probably have to yourself.
If you don't mind a brain freeze, try surfing in winter. Tofino is famous for it. If the weather is good, I'd also suggest renting a bike in Tofino and cycling the multi-use trail to Long Beach. Walk the beach, watch the surfers and retrace your footsteps.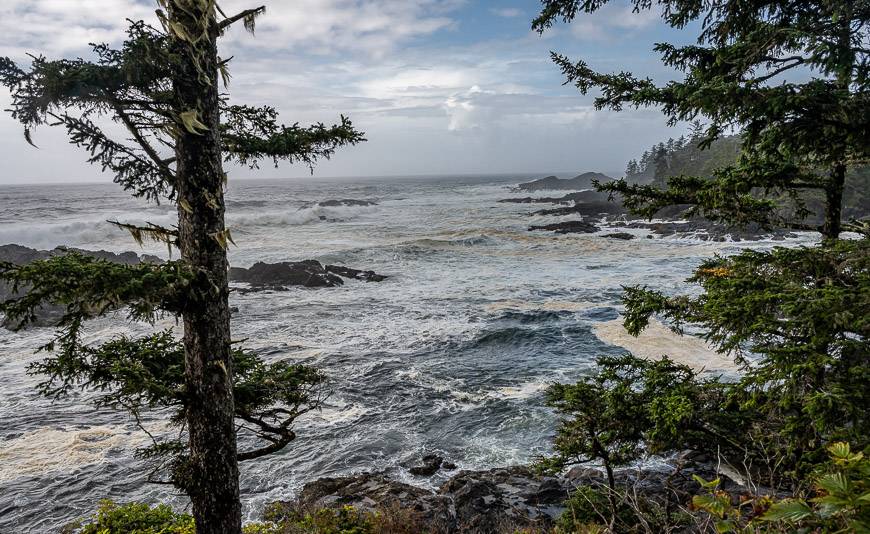 Kootenay Rockies in winter
One of the top area to visit in Canada in winter is the BC interior – specifically the Kootenay Rockies.
Visit the Vancouver – Whistler area
Take the tram up Grouse Mountain in North Vancouver. At the top you can ski, snowboard and enjoy a fantastic and highly scenic snowshoeing experience. Nearby Cypress Mountain and Mount Seymour are also excellent choices.
For cross-country skiing, I love the trails at the Cypress Mountain Hollyburn Nordic Area.
Whistler and Blackcomb are perennial wintertime favourites. Don't like skiing or snowboarding? No problem. Try the luge, bobsled or zipline for an adrenaline rush – and a spa treatment to relax you.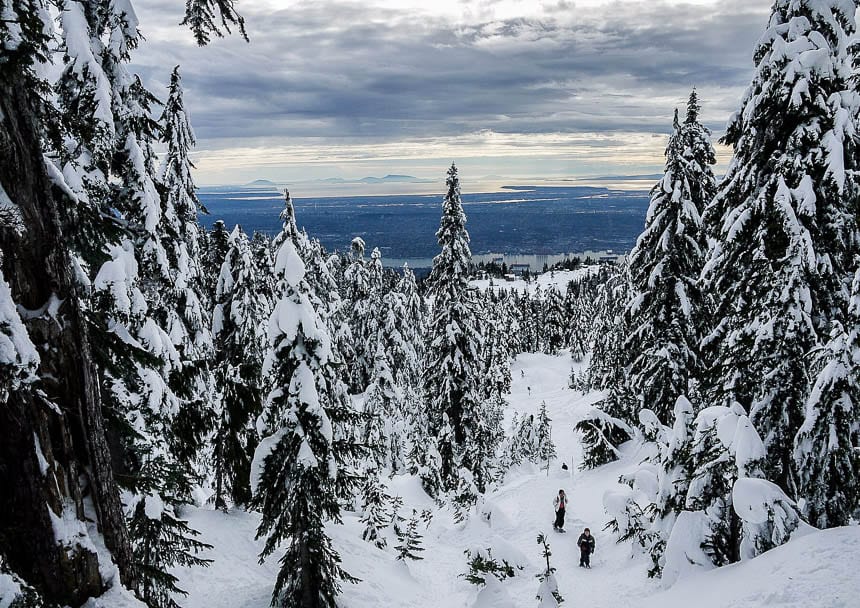 Kelowna – Penticton in the Okanagan
Kelowna and Penticton are both great places to visit in winter.
Downhill skiing is excellent at Big White near Kelowna and Apex Mountain near Penticton.
In both cities you can enjoy wine and beer tasting without the crowds. Eat at one of the wineries like CedarCreek Estate Winery outside of Kelowna or Eat Elma. I guarantee you will be in dining heaven.
Don't miss a fat bike ride on the Kettle Creek Trail out of Penticton.
Check out Yoho and Kootenay National Parks in winter
Splurge and stay in Lake O'Hara Lodge in Yoho National Park – if you can score a reservation. On a sunny day, this is one of the prettiest places to be in Canada in winter.
Snowshoe to the stunning frozen Wapta Falls. Sometimes the trail is packed down enough that you can simply walk to the falls.
Check out Marble Canyon in Kootenay National Park. It's easy to access from Lake Louise – and it's one of the things to do in Canada in winter that is quite unforgettable. But watch your kids at the edge.
For one of the most romantic hotel stays in Canada in winter, head to beautiful Emerald Lake Lodge in Yoho National Park and use it as a base for skiing and snowshoeing.
Best places to visit in Alberta, Canada in winter
For some of the top things to do in Canada in winter, visit Alberta and head to the Rocky Mountains. They are take-your-breath-away beautiful when covered in snow and there are loads of ways to experience the mountains.
Banff – Lake Louise area
The Banff – Lake Louise area is one of the most beautiful places to visit in Canada in winter. You'll find everything from sleigh rides to winter hikes, downhill skiing to wild skating, cross-country skiing, dogsledding, hot springs – and even occasionally Northern Lights.
One of the most popular things to do in Canada in winter is the Johnston Canyon Ice Walk – though you may need "icers" if the trail is slippery. Go early or late in the day to avoid the crowds. Tack on a visit on snowshoes to the Ink Pots if you want more exercise.
Rent a pair of skates and glide away on Canada's prettiest natural outdoor rink – Lake Louise. It's breathtakingly beautiful on a sunny day and one of the top things to do in all of Canada in winter.
Another option is to ski or snowshoe – and even fat bike into a backcountry lodge in Banff National Park. Sundance Lodge, Skoki Lodge and Shadow Lake Lodge are all great choices.
Go downhill skiing in the mountains. There are four major ski resorts in Banff and Jasper National Park as well as Castle Mountain – which offers cat skiing in the south.
If the Northern Lights forecast is great, head to Lake Minnewanka for excellent viewing – though you'll be sharing the experience. If you prefer solitude, drive the Icefields Parkway to Peyto Lake – and enjoy unobstructed views of the Northern Lights.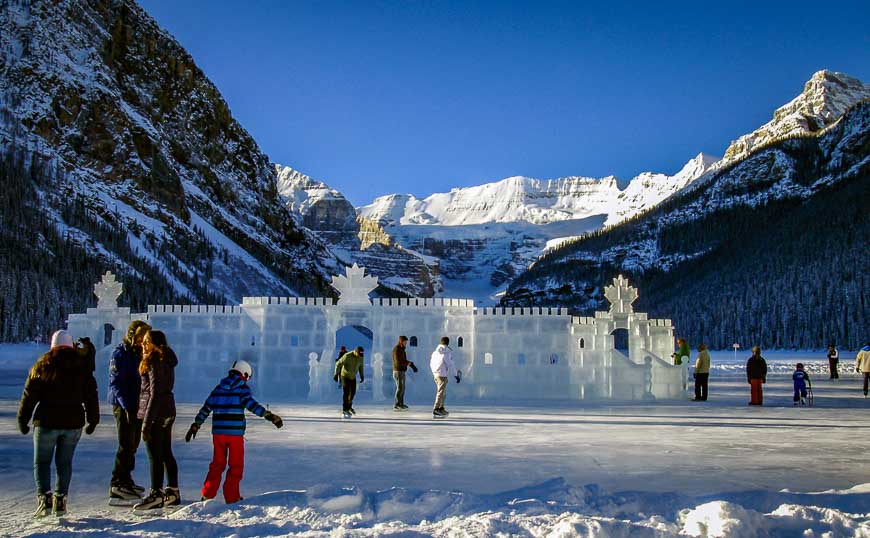 Jasper National Park in winter
Jasper is also a great place to visit in winter and there's lots to do from downhill and cross-country skiing to skating, winter walks, an ice walk, nature viewing and more. The downside is that it can be hard to get to – as the Icefields Parkway is notorious for bad weather – and no cell service. You can leave the driving to the professionals or access the park from Edmonton, about a 4-hour drive away.
One of the top things to do in Jasper is the Maligne Canyon Ice Walk. You can walk in Maligne Canyon or above it – and icers are recommended.
Try ice-climbing. It's easier than it looks and a whole lot of fun. I did it in Maligne Canyon and surprised myself with how much fun I had.
Skating is great way to spend part of a day, especially on the kilometre-long loop around Mildred Lake. Warm up by the outdoor fire pits.
A short but scenic snowshoe takes you up from Medicine Lake to Watchtower Canyon where few people go.
Canmore – Calgary corridor
It's only an hour's drive between Calgary and Canmore, so it's an easy day trip if you want a taste of the mountains. In Calgary in winter, there's lots of lovely walking down by the Bow River and some beautiful outdoor skating in the lagoon in Bowness Park. If it's a cold day, check out the Calgary Oval and consider renting speed skates.
One of the top things to do close to Canmore is the easy but fun for all ages Grotto Canyon Ice Walk.
If it's a bitterly cold winter day in Canada, try caving near Canmore as the cave stays at the same temperature year-round. The laundry chute will have a whole new meaning after this experience.
Best places to visit in Saskatchewan, Canada in winter
Saskatchewan may not be top of mind for places to visit in Canada in winter, but I've been a few times now and have thoroughly enjoyed my visits. You absolutely must bundle up for the cold – but the reward is plenty of sunshine and no crowds.
Go dogsledding in the boreal forest with Sundogs.
Lace up your skates, grab a friend or partner and enjoy the beauty of the Cameco Meewasin skating rink in downtown Saskatoon.
Check out the cross-country ski trails and the winter beauty in Prince Albert National Park.
Plan a stay at Elk Ridge Resort and take advantage of their 450 metre skating oval and several hockey rinks. Follow it up with a soak in their hot tub – and then wander outside and look for Northern Lights.
If you live in Saskatchewan you have to enjoy the winter – and one of the ways the locals do it is on a snowmobile. There are 10,000 km of trails to choose from.
Go for a whiskey or gin tasting at Black Fox Farm and Distillery, just outside of Saskatoon. They've got cozy geodesic domes set up, so you can enjoy the experience in the dead of winter outside.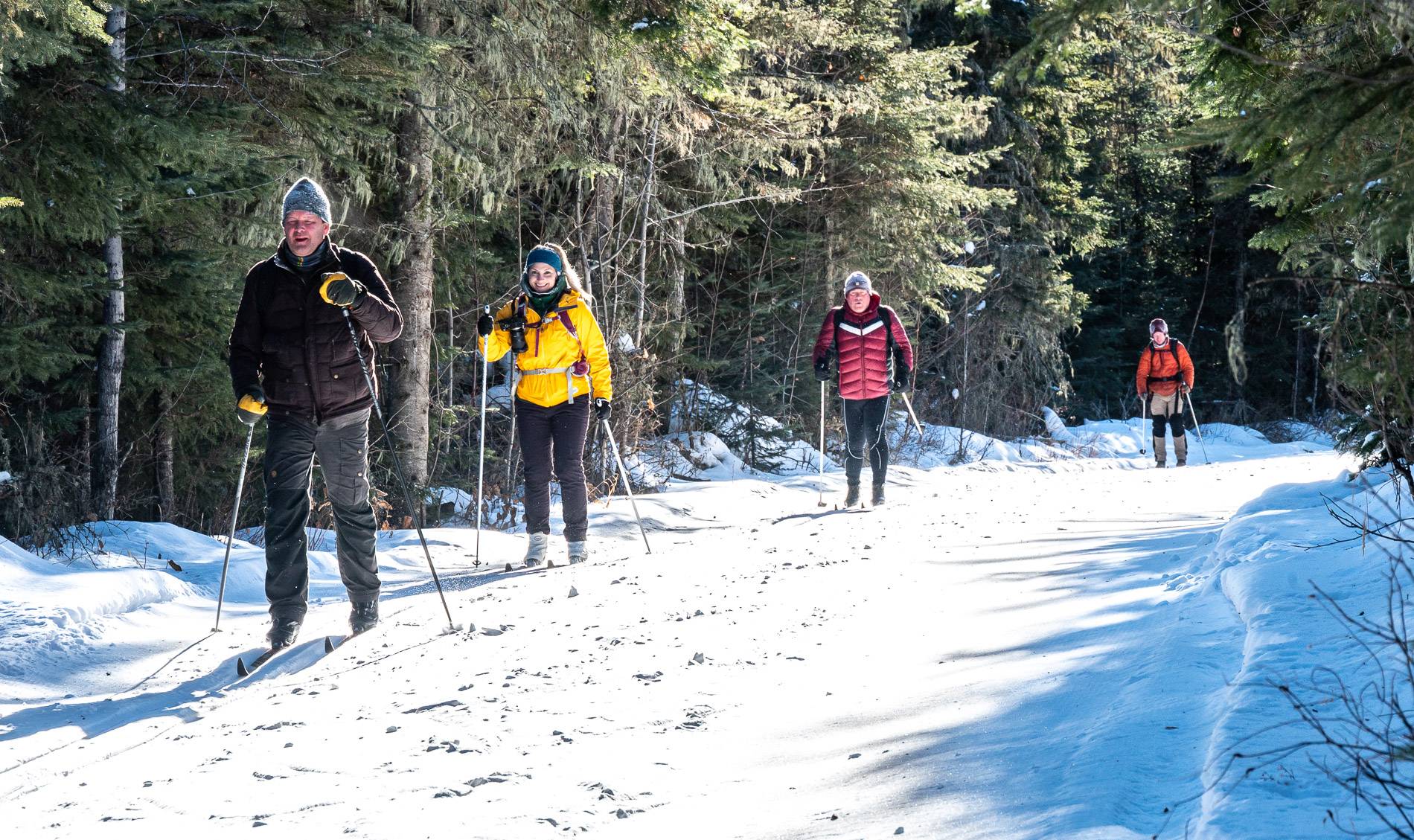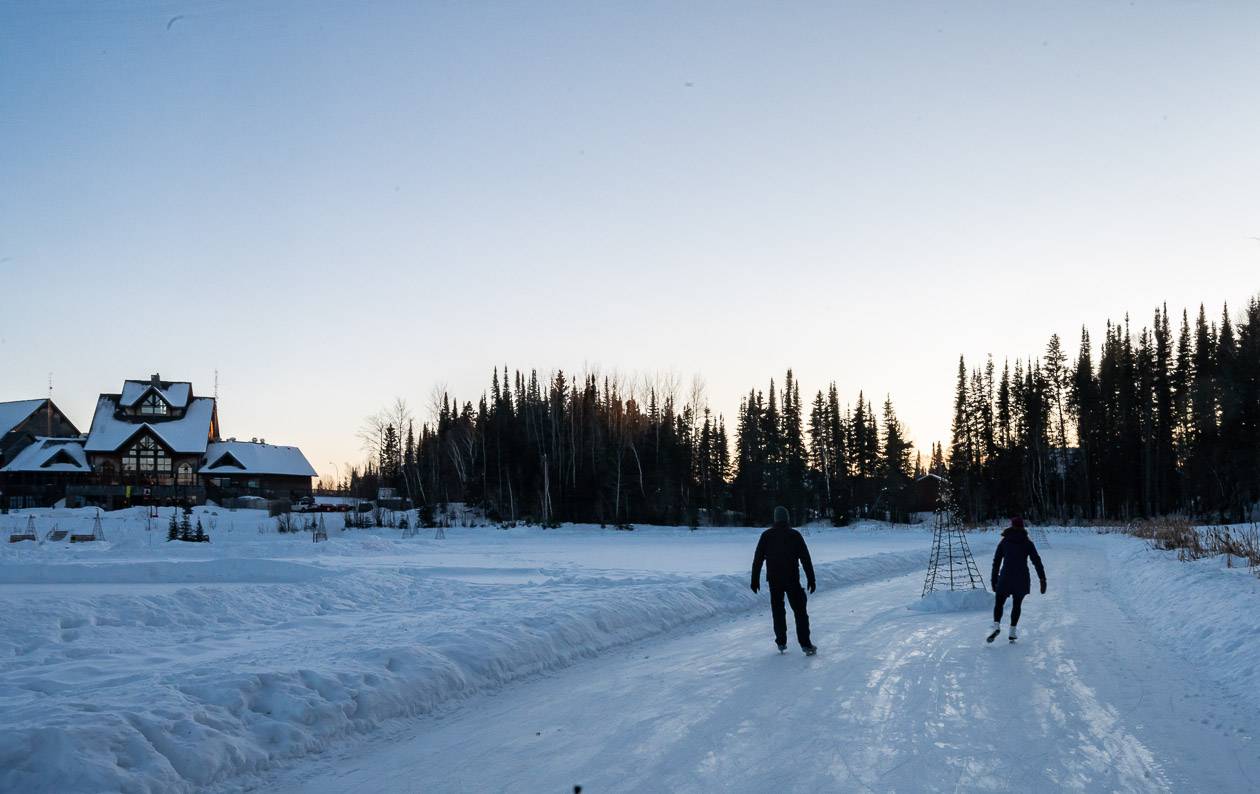 Best things to do in Manitoba, Canada in winter
Manitoba is famous for its sunny, cold winters. That might put some of you off but there are some seriously fun things to do in Manitoba – apart of course visiting the polar bears in Churchill.
In Winnipeg skate on the Guinness Book recognized, longest natural ice rink in the world – The Forks. It's located where the Assiniboine River meets the Red River. Most years skating takes place from early January until early March.
Head to Whiteshell Provincial Park –one of the areas with the greatest numbers of ski trails that's easily done as a day trip from Winnipeg. It's in the Canadian Shield so there are rock outcroppings and rolling hills. And it's dotted with lakes and rivers. It's a beautiful place for skiing and where I saw my first wild wolf.
Riding Mountain National Park is a great place for snowshoeing, cross-country skiing, skating and fat tire biking this winter. You can even book a heated oTENTik cabin and enjoy a winter experience right out your front door. This is truly one of the best things to do in Canada in winter that flies under the radar.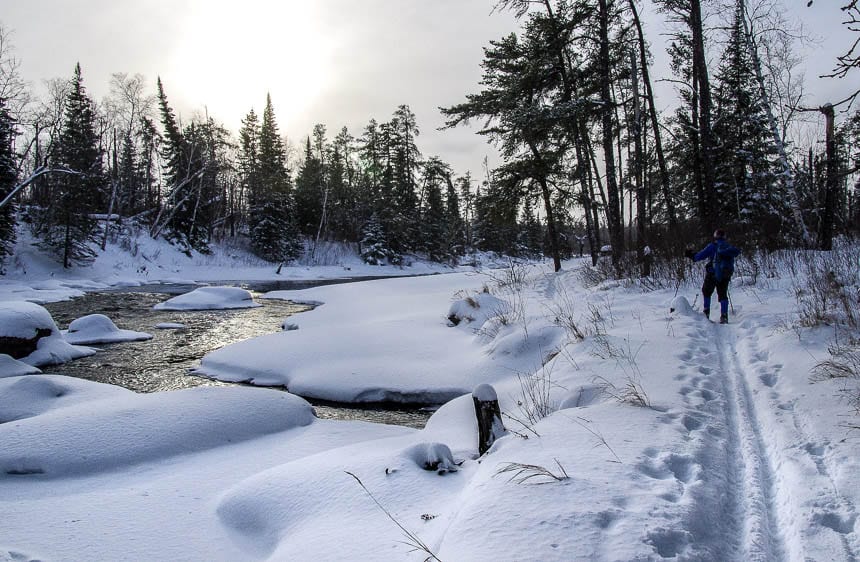 Best places to visit in Ontario, Canada in winter
Ontario can have great winters with lots of snow – but it can also rain, especially in southern Ontario and then you need to retreat indoors to museums, restaurants, shops and other activities. But when the temperature drops and it snows, you'll find that there is phenomenal skating, excellent cross-country and downhill skiing (albeit on much shorter runs than in the Rockies), and unique things like kiteboarding.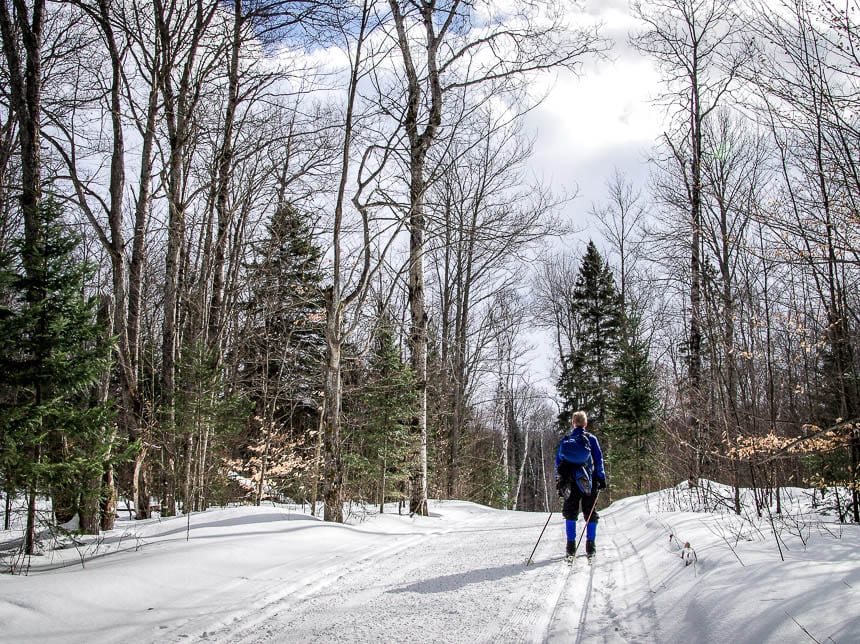 Skate through the forest on the 1.3 km long Arrowhead Ice Skating Trail.
Visit Niagara Falls in winter when its at its prettiest and the crowds are long gone. Finish the day with tastings of icewine at local Niagara wineries.
Find a snowshoeing trail near you and spend the day in the fresh air. There are literally hundreds of trails around the province. For some ideas visit the Ontario Trails website.
Head to Quetico Provincial Park in northwest Ontario. Rent a cabin beside a frozen lake – and then spend days cross-country skiing and snowshoeing on the trails. The experience for me exceeded all expectations. Expect inky black skies and silence.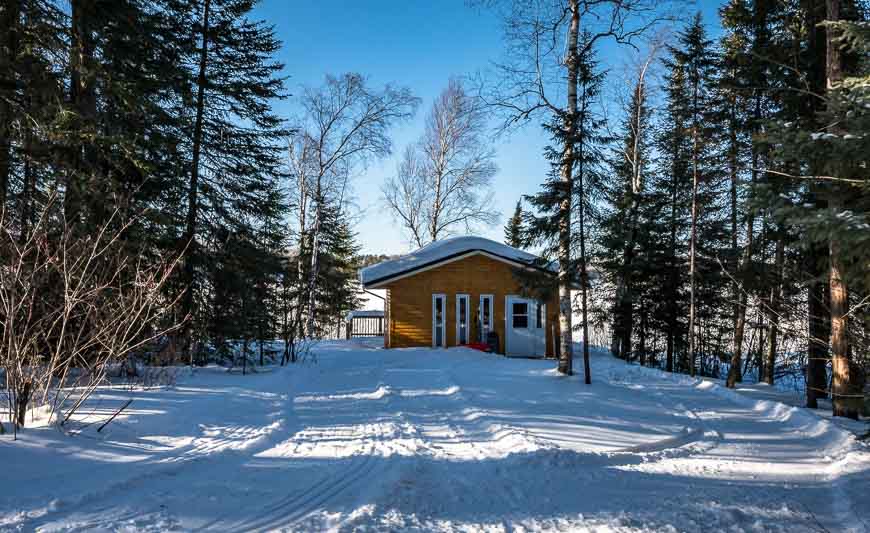 Best places to visit in Quebec, Canada in winter
You'll find some of the finest downhill and cross-country skiing in eastern Canada in Quebec. This is a province where it snows a lot and they know how to celebrate winter. Across Quebec from small towns to big cities you'll find lots of options for all types of skiing. Throw in one-of-a-kind activities like the Quebec Winter Carnival and sleeping with wolves – along with a real joie de vivre – and then visit once the temperature drops.
Cross-country and downhill skiing in Quebec
Participate in the Canada Ski Marathon, Canada's oldest and longest Nordic ski tour. Over two days you have the opportunity to ski 160 kilometres, broken into sections with shuttles so you can design your own course. It's a remarkable event that is both family-friendly and community supported. Do you have what it takes to be a Coureurs des Bois, the toughest category of the event?
Gatineau Park, just a 20 minute drive from downtown Ottawa is a fantastic destination for both skate and classic skiing with over 200 km of trails and the most beautiful warming huts I've ever seen.
Head to Mont Sainte Anne for both downhill and cross-country skiing. The cross-country skiing is some of the best you'll find in Canada – with over 200 km of trails and in a good year up to 400 cm of snow.
Just outside Saint-Félicien you'll find Club Tobo-Ski. If you're hardy and LOVE the cold, go downhill skiing. Otherwise stay warm by snowshoeing or cross-country skiing on a beautiful network of trails.
Superlative cross-country skiing awaits anyone who visits the Laurentians. As you head north from Montreal on Highway 15 you pass through the towns of St. Jérome, Ste-Adèle, Val David and Ste-Agathe-des-Monts. Each one is gorgeous and each seems to have a ski hill to call their own. My experience at Ski de Fond Mont Tremblant was amazing.
For the best downhill skiing experience in the province head to Le Massif. You'll feel like you're skiing into the St. Lawrence River. Now there's a Club Med (December 2021) at the ski hill too.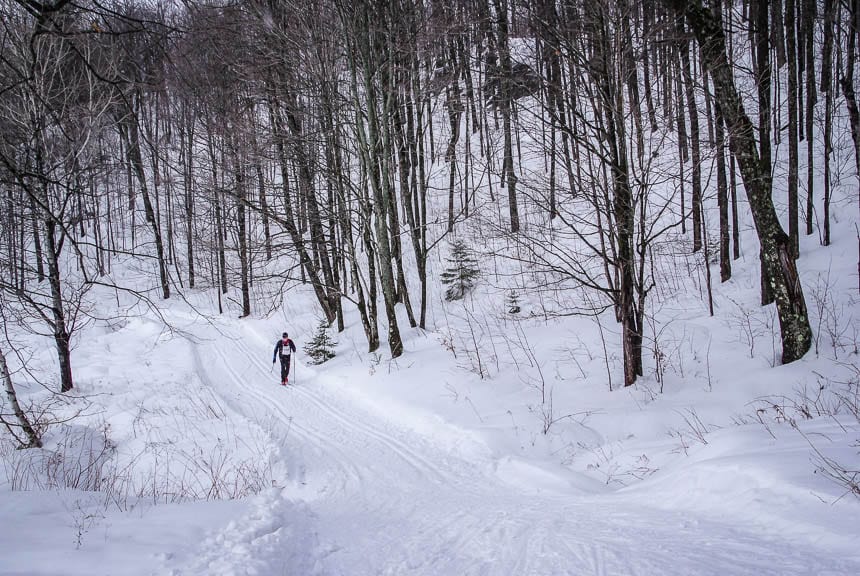 Unique winter experiences in Quebec
Walk and sleep with the wolves in Parc Mahikan, a wolf observation centre located just outside of Girardville – about 75 km north of Roberval. It's an exceptional experience. Book well in advance.
Treat yourself to a winter stay at the beautiful Fairmont Le Chateau Montebello. It's worth the splurge. Its been called the world's largest log cabin.
And for the most relaxing experience, no matter what the temperature check out Chelsea's Nordik Spa-Nature. You may never want to leave.
In La Mauricie National Park there are a huge range of winter options – from snowshoeing and cross-country skiing to snow tag where you draw a picture on snow while snowshoeing and then view it from a lookout.
Montreal and Quebec City
Montreal is a fantastic city in winter for the number of winter activities you can do. Skate on Lac aux Castors in Mont Royal. Go tubing. Try a nighttime snowshoe tour of Levi Tower. You can even try ice-fishing within sight of Old Montreal.
Sleep in Quebec City's Hôtel de Glace (Ice Hotel) or at the very least take a tour of the Ice Hotel and knock back a drink in shot glasses made of ice.
Quebec City is worth a visit in winter – not just for the Quebec Winter Carnival – but for wondering through gorgeous old Quebec with its pretty streetscapes, amazing skating and cross-country skiing in the city – and wonderful food.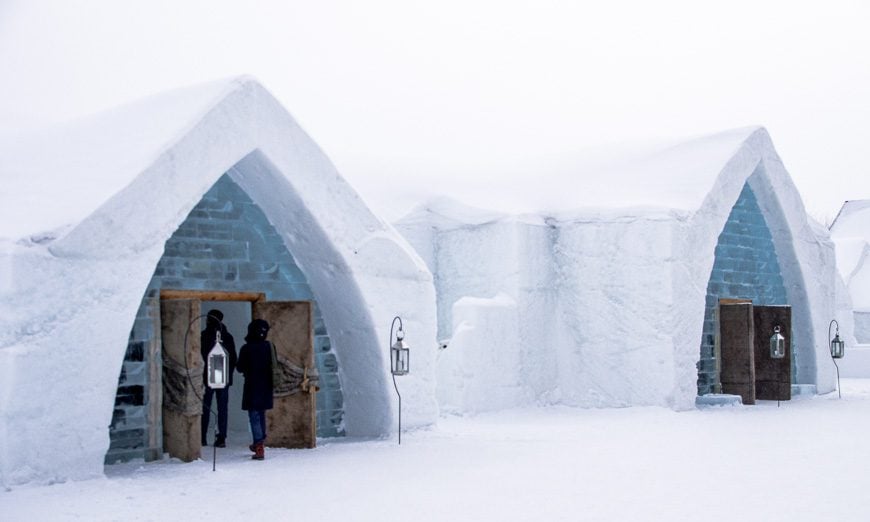 Best places to visit in
New Brunswick, Canada in winter
New Brunswick is another province that isn't on the radar for many folks in a Canadian winter. But you can enjoy excellent winter hiking, trips to deserted beaches, and two national parks where you can stay overnight. You can even visit Hopewell Rocks in winter.
Some of the top things to do in Canada in winter can be found in New Brunswick. If you're into hockey be sure to mark your calendars for the World Pond Hockey Championships in Plaster Rock, New Brunswick. Started in 2002 as a fundraiser with 40 teams, the event now sees 120 teams from all provinces, 35 states and 15 countries.
Head to Fundy National Park, where you'll find 40 kilometres of trails, across a range of difficulty, but in two separate areas – Chignecto South and North. Look for incredible scenery on these trails through the hilly Acadian highlands.
Kouchibouguac National Park is one of the best places in the province to visit in winter, It boasts 30 km of snowshoe trails, 15 km of cross-country ski trails, toboggan runs, winter camping and even fat biking.
With 8,000 kilometres of maintained snowmobile trails, you could literally spend the entire winter crisscrossing the province.
Best places to visit
in Nova Scotia, Canada in winter
Nova Scotia is the place to visit in winter in Canada if you're into surfing, Nordic spas, quiet beaches and cross-country or downhill skiing.
Surfers love Nova Scotia in winter. Reportedly there is good surfing around Halifax. Other hotspots include Lawrencetown Beach just south of Halifax and White Point Beach in Queens County.
For downhill or cross-country skiing, snowboarding and snowshoeing visit Ski Wentworth on the Northumberland Shore, Ski Martock located halfway between Halifax and the Annapolis Valley or Ski Ben Eoin on Cape Breton Island.
Head to the beach and enjoy a winter walk. Looking out at the ocean and getting exercise is good for the soul.
In the dead of winter in Canada, a trip to a Nordic spa always lifts your spirits. In Nova Scotia check out SENSEA Nordic Spa in Chester.
Best places to visit in Prince Edward Island, Canada in Winter
I think of PEI in terms of red sand beaches and lobster boils. But in winter it does offer outdoor loving folks a reason to get outside. Snowmobilers over 1,000 kilometres of trails.
If you're just learning to ski you could check out Mark Arendz Provincial Ski Park with its 250 foot vertical drop. It is also home to 25 kilometres of cross-country ski trails.
The Greenwich Dunes Trail in Prince Edward Island National Park isn't maintained in winter but it's still a popular place to visit – as long as you're not in the middle of a storm. Hike 2.4 km to get to the beach and then walk as long as you like beside the ocean once you arrive.
Things to do in Newfoundland, Canada in winter
Newfoundland can be a tough place to visit in winter – but a beautiful one too. There is lots of good downhill skiing and incredible cross-country skiing if you can get to Gros Morne National Park. Some sections of the beautiful East Coast Trail – like the Spurwink Island Path can be hiked in winter – but go early so you finish in daylight hours.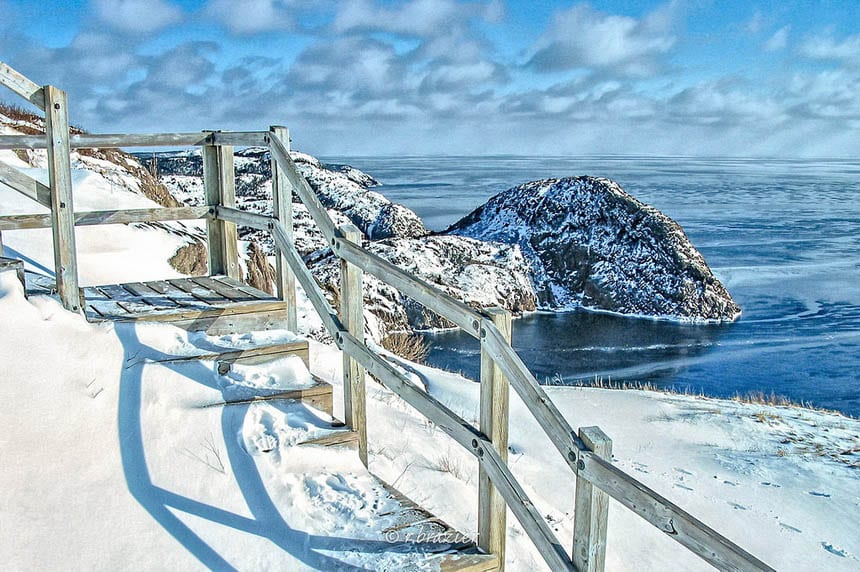 Things to do in the Yukon, Canada in winter
For a host of interesting things to do in Canada in winter head north Whitehorse in the Yukon. It's not as cold as you might expect. On tours like dogsledding and snowmobiling, the companies will suit you up in warm weather gear so you'll stay toasty on the frostiest of days. And Whitehorse offers easy accessibility to a fun northern lights experience.
Go dogsledding. You'll have an amazing experience in the Yukon – home to the toughest dogsledding race on the planet, the Yukon Quest. On many tours you're in charge of the sled from start to finish. If you're out for a full day you may be lucky to have a "shore" lunch with a big bonfire.
People come from all over the world to see the Northern Lights. Although sightings are never guaranteed, chances are very high on clear nights that you'll be whisked away on a magical journey.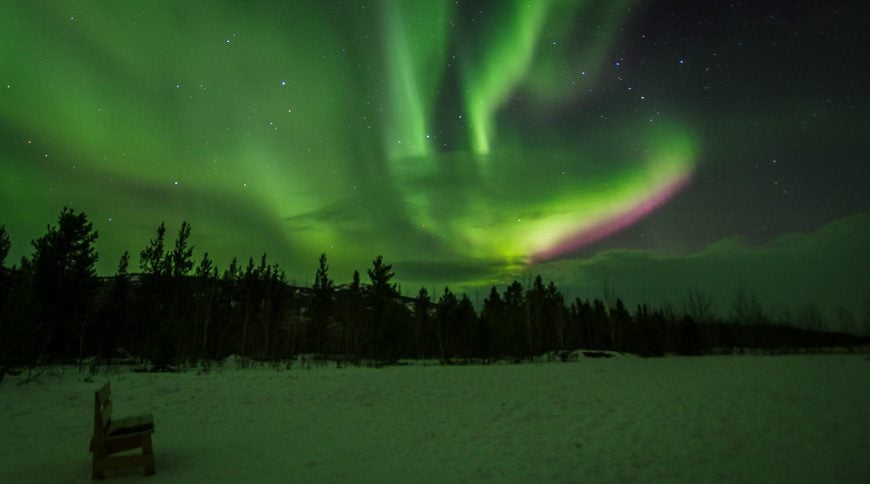 Stay at a lodge deep in the woods like the Fox Bay Retreat on Lake Laberge. Or opt for something more luxurious where you can ski out your backdoor at Inn on the Lake.
Visit the Yukon Wildlife Preserve to see 13 species of animals from the north in a natural setting including moose, caribou and muskoxen.
With its wide open spaces the Yukon was made for the snowmobile. Even if you've never driven one before you can be safe and have fun. In the magnificent landscape of the north you can rip across frozen lakes or enjoy a mellow ride through the trees of a scenic valley. Some tours offer a cooked lunch over a fire while others serve hot drinks in the comfort of a cozy cabin at day's end. You can even try a lodge to lodge snowmobile experience.
Take a winter flightseeing tour over Kluane National Park and marvel at the snow-covered peaks and desolate valleys.
Visit the Northwest Territories – the epitome of Canada in winter
The Northwest Territories can be an unforgiving place to visit in winter in Canada – as it's famous for its bitterly cold weather – but also the Northern Lights. Many of you might do well to wait till late winter and take advantage of longer daylight hours and warmer temperatures.
Looking for a unique adventure in Canada in winter? Drive the ice roads the territories are famous for, usually starting in January. Near Yellowknife you can get an idea of what's it like by driving on Great Slave Lake to Dettah.
Join Arctic Tours Canada for a variety of outdoor adventures in the Northwest Territories in winter. They offer snowmobile, ice fishing and Northern Lights tours. This is one of the best places in Canada in winter to see the Northern Lights nd Yellowknife offers easy accessibility.
In a number of communities across the Northwest Territories including Yellowknife, Hay River, Fort Smith, Inuvik and Norman Wells there are ski clubs that look after grooming trails. When the weather warms up it's a fabulous way to experience the north.
If you love snowmobiling there are some amazing adventures waiting for you. A few examples include riding from Inuvik to Tuktoyaktuk and the exploring the beauty of the East Arm of Great Slave Lake.
Don't let winter in Canada get you down
Go outside and play. Check out some of these fun things to do in Canada in winter and you'll feel a lot better for it. And if you have other ideas of what to do or if you have a company offering winter adventures or a lodge with a great winter program, please leave a comment with a link and some information.
Canada in winter – no bugs, blue bird days and lots to do. What's not to like?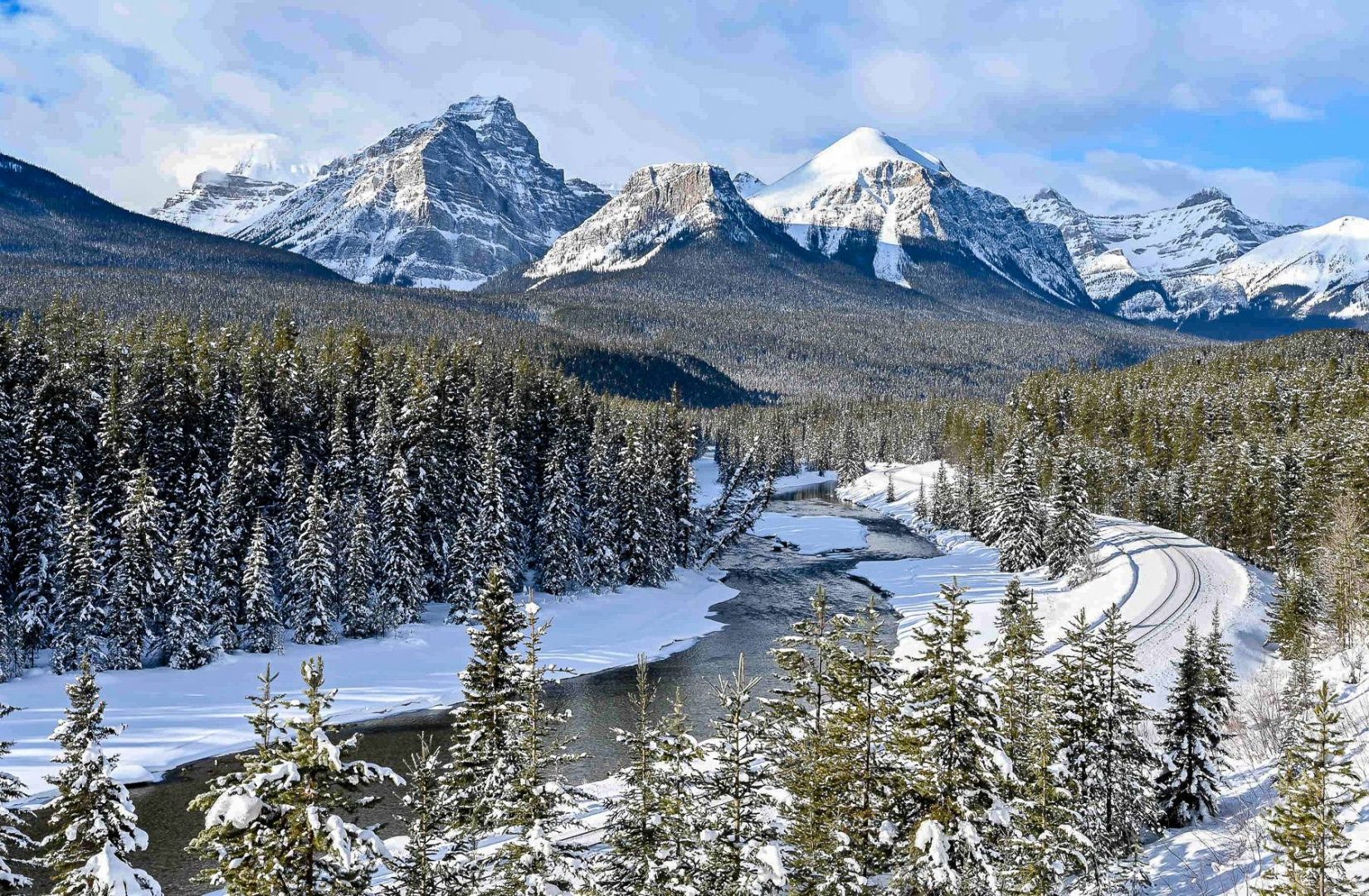 Click on the photo to bookmark to your Pinterest boards.