Canada in winter is the place to be if you love snow, cold and the outdoors. Unfortunately for many getting through a Canadian winter is an exercise in endurance and survival, with days and weeks checked off on the long road to the May long weekend. But it really doesn't have to be that way.
Invest in warm clothing. Change your mindset. And then try one of these 87 fabulous things to do in Canada in winter. Here's hoping a few strike a chord with you.
This post includes some affiliate links. If you make a qualifying purchase through one of these links, I may receive a small percentage of the sale at no extra cost to you. Thank you for your support.
Things to do in British Columbia in Winter
If you're looking for things to do in Canada in winter – but in temperatures that are usually warmer than elsewhere in the country then head to Vancouver, Victoria and Vancouver Island. But be prepared for rain.
Go to Tofino when the weather turns ugly for some storm watching. Nothing beats walking on a beach in January! And for something really special, visit Hot Springs Cove and relax in natural pools that you'll probably have to yourself. If you don't mind a brain freeze, try surfing in winter. Tofino is famous for it.
Ski the Powder Highway. It connects seven ski resorts from Revelstoke to Red Mountain in southern British Columbia.
Skate on the Lake Invermere Whiteway – a Guinness World Record holder with the title as the longest naturally frozen skating trail in the world with 29.8 km of cleared ice.
Enjoy these 9 Fun Winter Activities in the Columbia Valley, including soaks in hot springs and snowmobiling into the backcountry known for epic snowfalls.
Take the tram up Grouse Mountain in North Vancouver. At the top you can ski, snowboard and enjoy a fantastic and highly scenic snowshoeing experience. Cypress Mountain and Mount Seymour are also excellent choices.
For cross-country skiing I love the trails at the Cypress Mountain Hollyburn Nordic Area.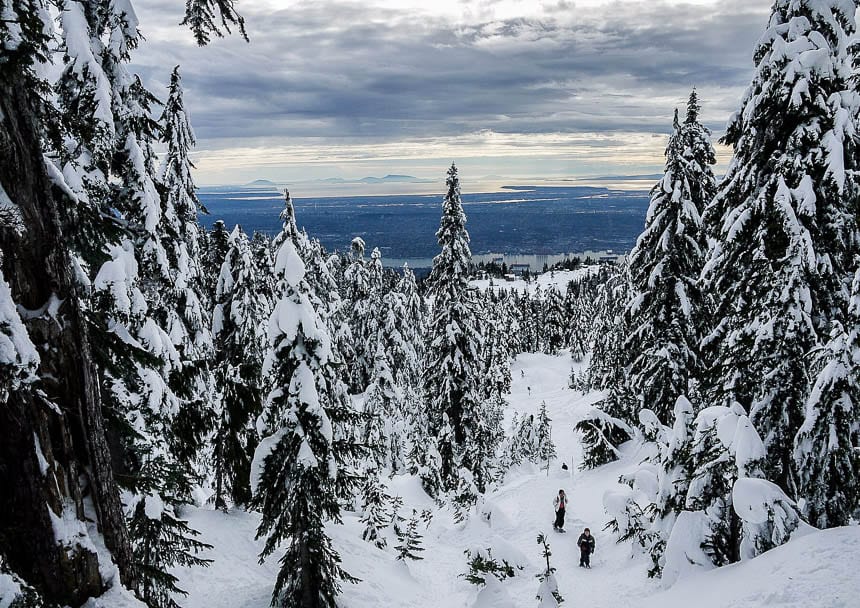 Head north to Mackenzie and ski Powder King Mountain Resort – famous for its deep powder snow.
Walk with the wolves in Golden.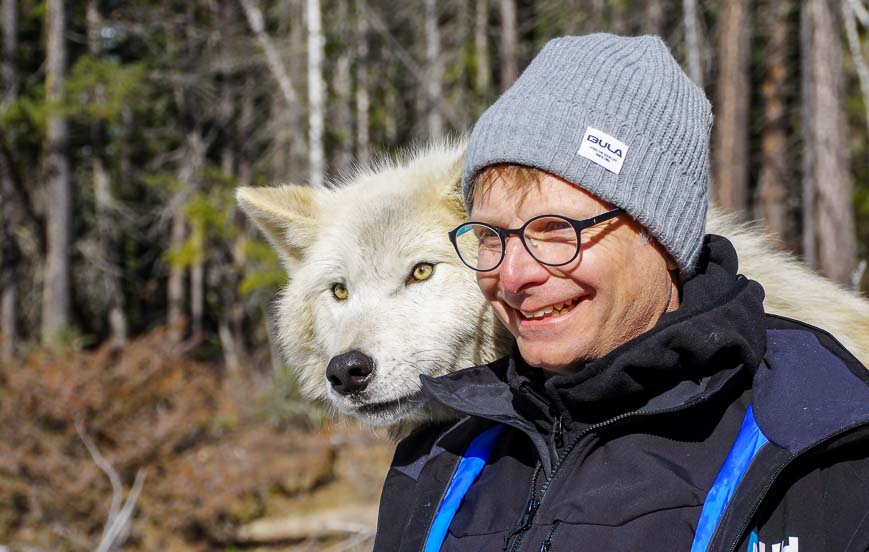 Ski into a backcountry lodge. Splurge and stay in Lake O'Hara Lodge – if you can score a reservation.
Or choose a remote hut run by the Alpine Club of Canada in some of the world's most beautiful mountain settings.
For a romantic stay head to beautiful Emerald Lake Lodge in Yoho National Park and use it as a base for skiing and snowshoeing.
Whistler and Blackcomb are perennial wintertime favourites. Don't like skiing or snowboarding? No problem. Try the luge, bobsled or zipline for an adrenaline rush – and a spa treatment to relax you.
Things to do in Alberta in winter
For some of the top things to do in Canada in winter, visit Alberta and head to the Rocky Mountains. They are take-your-breath-away beautiful when covered in snow. There are loads of ways to experience them.
Head to Banff National Park and do the Johnston Canyon Ice Walk – always a favourite though you may need "icers" if the trail is slippery.
Ski or snowshoe into a backcountry lodge. Sundance Lodge, Skoki Lodge and Shadow Lake Lodge are all great choices.
Skate on Lake Louise – the world's prettiest skating rink.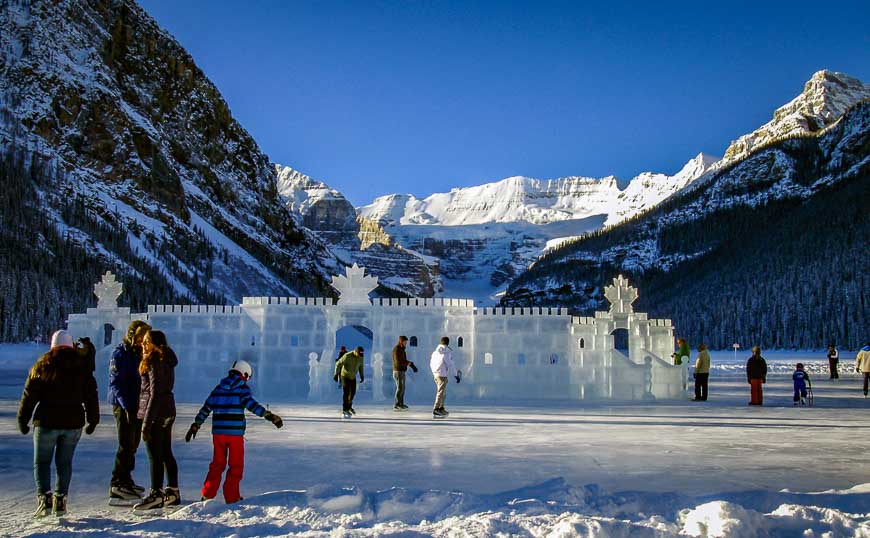 Go dogsledding out of Canmore, in Lake Louise or in Kananaskis Country.
Try ice-climbing. It's easier than it looks and a whole lot of fun. Maligne Canyon in Jasper National Park is a magnificent place to try it.
Go speed skating at the Olympic Oval in Calgary. (And it's inside so you'll be warm.)
Book off an evening with Kananaskis Outfitters and go for a snowshoe tour under the stars. Finish with chocolate fondue.
Check out the ice castles in Edmonton. (They aren't around in 2021.)
Join Canada's largest cross-country ski event – the Canadian Birkebeiner. Choose lengths ranging from 2.5 – 55 kilometres.
Ski the Wapta Traverse – a world-class hut to hut backcountry experience that takes three to five days. You will go where few people venture on this truly amazing adventure.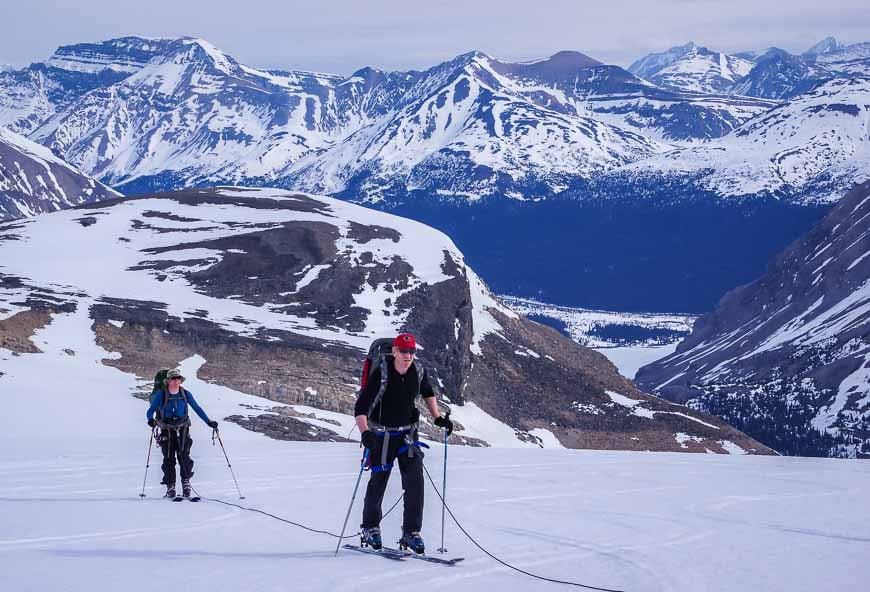 Try fat tire biking. Great trails for all abilities can be found near Banff, Jasper and in Kananaskis Country. Bike rentals are readily available.
If it's bitterly cold, try caving near Canmore as the cave stays at the same temperature year-round. The laundry chute will have a whole new meaning after this experience.
Go downhill skiing in the mountains. There are four major resorts in Banff and Jasper National Park as well as Castle Mountain – which offers cat skiing in the south and Nakiska Ski Resort in Kananaskis Country.
Visit Saskatchewan if you like real cold
Go dogsledding in the Boreal Forest with Sundogs.
Lace up your skates, grab a friend or partner and enjoy the beauty of the Cameco Meewasin skating rink in downtown Saskatoon.
Check out the cross-country ski trails and the winter beauty in Cypress Hills Interprovincial Park and in Prince Albert National Park.
If you live in Saskatchewan you have to enjoy the winter – and one of the ways the locals do it is on a snowmobile. There are 10,000 km of trails to choose from.
Things to do in Manitoba in winter
In Winnipeg skate on the Guinness Book recognized, longest natural ice rink in the world – The Forks. It's located where the Assiniboine River meets the Red River. Most years skating takes place from early January until early March.
Head to Whiteshell Provincial Park –one of the areas with the greatest numbers of ski trails that's easily done as a day trip from Winnipeg. It's in the Canadian Shield so there are rock outcroppings and rolling hills. And it's dotted with lakes and rivers. It's a beautiful place for skiing and where I saw my first wild wolf.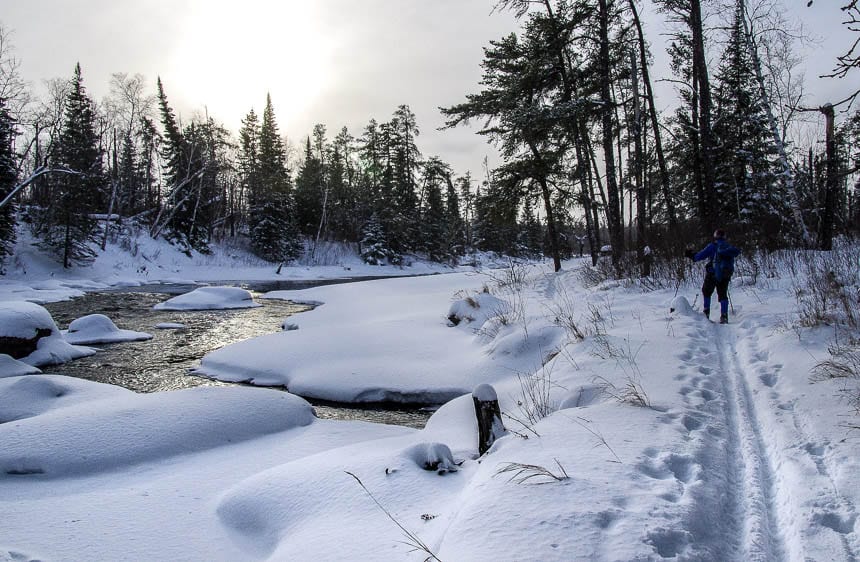 Riding Mountain National Park is a great place for snowshoeing, cross-country skiing, skating and fat tire biking this winter. You can even book a heated oTENTik cabin and enjoy a winter experience right out your front door. This is truly one of the best things to do in Canada in winter that flies under the radar.
Read: Riding Mountain National Park in Winter
Missed the fall window for polar bear viewing? No problem. Visit Wapusk National Park in late winter to catch the female polar bears coming out of their dens with cubs.
Winter in Ontario
I grew up in Ottawa so I am partial and think one of the best things to do in Canada in winter is to skate the length of the Rideau Canal – multiple times if you're after an epic burnout kind of day. There are several convenient places to rent skates.
In Toronto, choose from a wide variety of skating rinks – including Nathan Phillips Square at City Hall. Join a game of shinny at a local rink.
Algonquin Provincial Park is a winter paradise. Try cross-country skiing, snowshoeing or go dogsledding. Fat tire biking is now possible too.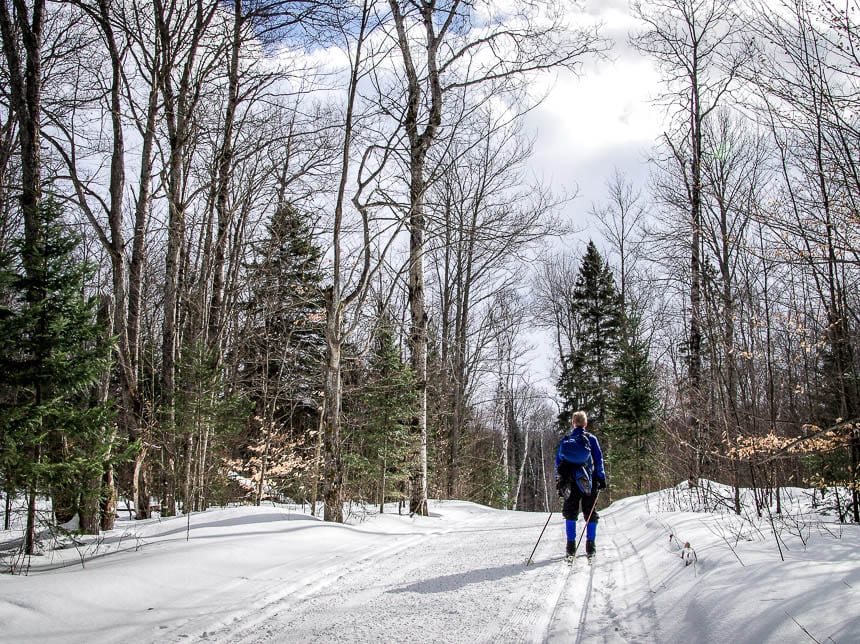 Head to Stokely Creek Lodge near Sault Ste. Marie for a huge variety of cross-country and snowshoeing trails. USA Today just ranked it (December 2021) as one of the top outdoor lodges for cross-country skiing in North America.
Snowshoe the Iron Man Trail at Scenic Caves Nature Adventures near Collingwood.
Try winter kiteboarding at the Elmhirst's Resort. This year kiteboarding will be offered on multiple occasions. It's so much fun and easy to get going!!
At Nature's Harmony Ecolodge near Mattawa enjoy 10 kilometres of very scenic snowshoe trails.
Just outside of Timmins you'll find 30 kilometres of groomed trails for classic and skate skiing maintained by the Porcupine Ski Runners, one of the largest cross-country clubs in Canada.
The North Bay Nordic Ski Club offers long loops and stiff climbs over its 50 kilometres of groomed trails that welcome classic and skate skiers.
Thunder Bay is one of the top areas in Canada for ice climbing. If you're new to the sport take a course with Outdoor Skills and Thrills.
Skate through the forest on the 1.3 km long Arrowhead Ice Skating Trail.
Visit Niagara Falls in winter when its at its prettiest and the crowds are long gone. Finish the day with tastings of icewine at local Niagara wineries.
Find a snowshoeing trail near you and spend the day in the fresh air. There are literally hundreds of trails around the province. For some ideas visit the Ontario Trails website.
Things to do in Quebec in winter
Participate in the Canada Ski Marathon, Canada's oldest and longest Nordic ski tour. Over two days you have the opportunity to ski 160 kilometres, broken into sections with shuttles so you can design your own course. It's a remarkable event that is both family-friendly and community supported. Do you have what it takes to be a Coureurs des Bois, the toughest category of the event?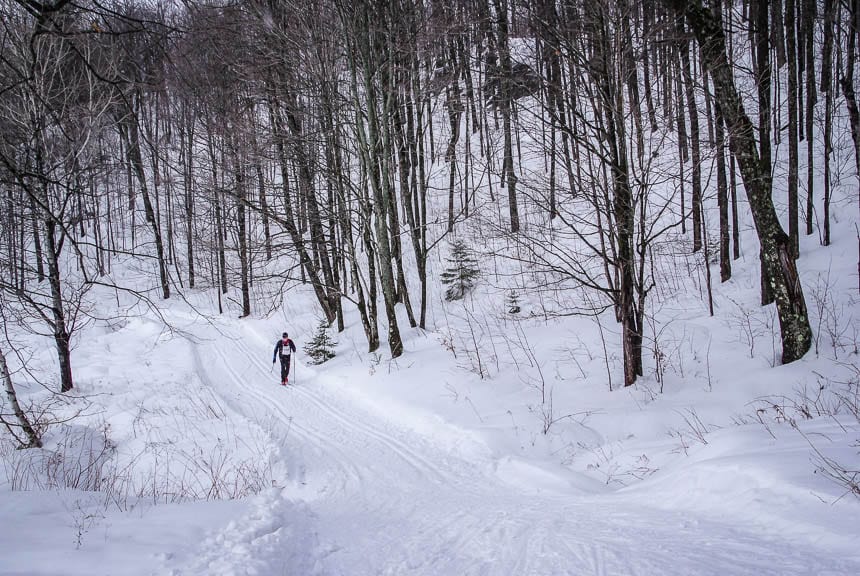 Gatineau Park, just a 20 minute drive from downtown Ottawa is a fantastic destination for both skate and classic skiing with over 200 km of trails and the most beautiful warming huts I've ever seen.
Head to Mont Sainte Anne for both downhill and cross-country skiing. The cross-country skiing is some of the best you'll find in Canada – with over 200 km of trails and in a good year up to 400 cm of snow.
Mont Grand-Fonds, with an average annual snowfall of 650 cm is located northeast of La Malbaie in the Charlevoix region. Not only does it boast a great downhill ski area, it also has a 140 km network of cross-country ski trails.
Cross-country skiing at Mont Grand-Fond
Just outside Saint-Félicien you'll find Club Tobo-Ski. If you're hardy and LOVE the cold, go downhill skiing. Otherwise stay warm by snowshoeing or cross-country skiing on a beautiful network of trails.
Superlative cross-country skiing awaits anyone who visits the Laurentians. As you head north from Montreal on Highway 15 you pass through the towns of St. Jérome, Ste-Adèle, Val David and Ste-Agathe-des-Monts. Each one is gorgeous and each seems to have a ski hill to call their own.
The number of opportunities for skiing is mind boggling. You can choose to backcountry ski in Mont Tremblant National Park. Or you can ski the old railbed known as Le P'tit Train du Nord. For more ideas you can check out the Bonjour Quebec website. My experience at Ski de Fond Mont Tremblant was amazing.
Montreal is a fantastic city in winter for the number of winter activities you can do. Skate on Lac aux Castors in Mont Royal. Go tubing. Try a nighttime snowshoe tour of Levi Tower. You can even try ice-fishing within sight of Old Montreal.
For a challenging winter vacation sign up to do the TDLG on Skis – a 200 km cross-country ski tour (or a 90 km snowshoe tour) up mountains and along the coast in the Gaspé region.
Walk and sleep with the wolves in Parc Mahikan, a wolf observation centre located just outside of Girardville – about 75 km north of Roberval. It's an exceptional experience. Book well in advance.
Treat yourself to a winter stay at the beautiful Fairmont Le Chateau Montebello. It's worth the splurge. Its been called the world's largest log cabin.
And for the most relaxing experience, no matter what the temperature check out Nordik Spa-Nature. You may never want to leave.
In La Mauricie National Park there are a huge range of winter options – from snowshoeing and cross-country skiing to snow tag where you draw a picture on snowshoes and then view it from a lookout.
Sleep in Quebec City's Hôtel de Glace or at the very least take a tour and knock back a drink in shot glasses made of ice.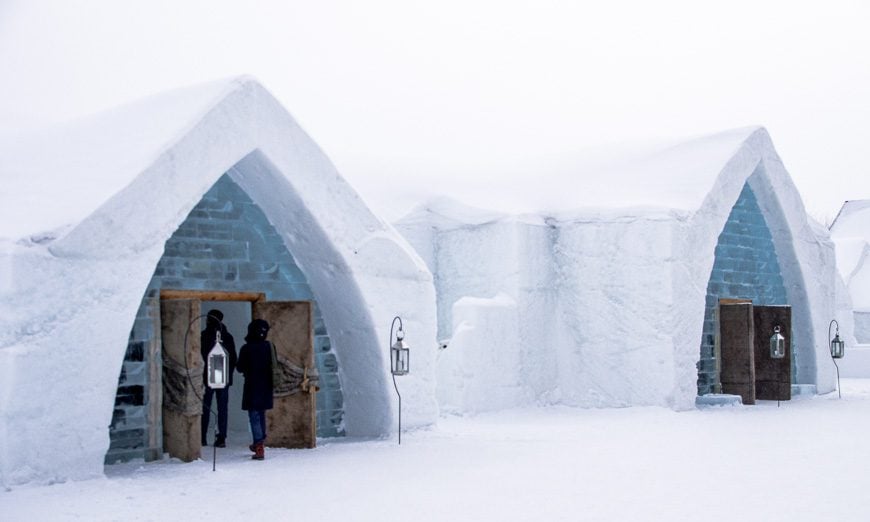 If you're in need of a butt kicking winter challenge sign up for the 32 km bike ride across frozen Lac Saint-Jean. As one world-class mountain biker said this is the toughest bike ride I've ever done.
For the best downhill skiing experience in the province head to Le Massif. You'll feel like you're skiing into the St. Lawrence River. Now there's a Club Med (December 2021) at the ski hill too.
What to do in New Brunswick in winter
Some of the top things to do in Canada in winter can be found in New Brunswick. If you're into hockey be sure to mark your calendars for the World Pond Hockey Championships in Plaster Rock, New Brunswick. Started in 2002 as a fundraiser with 40 teams, the event now sees 120 teams from all provinces, 35 states and 15 countries. In 2020 it takes place from February 13 – 16th.
Head to Fundy National Park, where you'll find 40 kilometres of trails, across a range of difficulty, but in two separate areas – Chignecto South and North. Look for incredible scenery on these trails through the hilly Acadian highlands.
Kouchibouguac National Park is one of the best places in the province for winter walking and cross-country skiing.
With 8,000 kilometres of maintained snowmobile trails, you could literally spend the entire winter crisscrossing the province.
Go dogsledding using a traditional dogsled with Snow Dog Adventures out of Allardville, south of Bathurst.
What to do in Nova Scotia in winter
Surfers love Nova Scotia in winter. Reportedly there is good surfing around Halifax. Other hotspots include Lawrencetown Beach just south of Halifax and White Point Beach in Queens County.
For downhill or cross-country skiing, snowboarding and snowshoeing visit Ski Wentworth on the Northumberland Shore, Ski Martock located halfway between Halifax and the Annapolis Valley or Ski Ben Eoin in Cape Breton.
There is a whole lot more cross-country skiing available across the province, especially in the provincial parks.
Prince Edward Island in Winter
I think of PEI in terms of red sand beaches and lobster boils. But in winter it does offer snowmobilers over 1,000 kilometres of trails.
If you're just learning to ski you could check out Brookvale Provincial Ski Park with its 250 foot vertical drop. It is also home to 25 kilometres of cross-country ski trails.
More cross-country skiing can be found near Souris, at the eastern end of the island and in Mill River Provincial Park. It boasts the longest lighted trails in the province.
Things to do in Newfoundland in winter
The Blow Me Down Ski Club in Corner Brook looks after 42 kilometres of trails, crossing through some of Newfoundland's most beautiful country. Cross-country ski trails for all levels are kept groomed and track-set.
Cross-country ski on trails throughout Gros Morne National Park. The area receives a lot of snow and a surprising amount of sunshine. You may be lucky and see moose and woodland caribou as well.
Cross-country ski, snowshoe or go ice fishing in Terra Nova National Park.
There is downhill skiing in Newfoundland. Check out White Hills Resort a few hours away from St John's or Marble Mountain Resort in western Newfoundland. It has the biggest vertical of any ski resort in Atlantic Canada.
Pick sections of the East Coast Trail to hike – but go very prepared for slippery and snow covered sections so take the icers and dress for the conditions.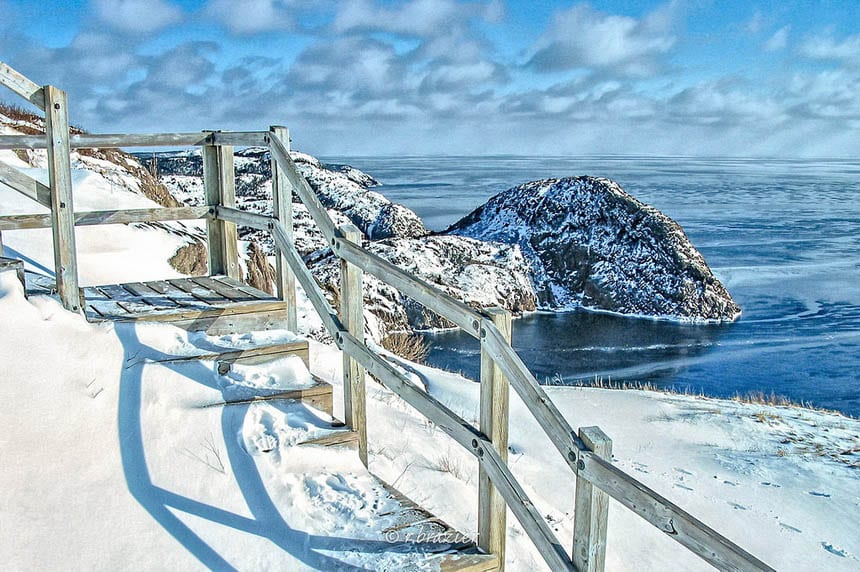 Things to do in the Yukon in winter
For a host of interesting things to do in Canada in winter head north to the Yukon. It's not as cold as you might expect. On tours like dogsledding and snowmobiling, the companies will suit you up in warm weather gear so you'll stay toasty on the frostiest of days.
Read: 9 Reasons You Should Visit Whitehorse in Winter
Go dogsledding. You'll have an amazing experience in the Yukon – home to the toughest dogsledding race on the planet, the Yukon Quest. On many tours you're in charge of the sled from start to finish. If you're out for a full day you may be lucky to have a "shore" lunch with a big bonfire.
People come from all over the world to see the Northern Lights. Although sightings are never guaranteed, chances are very high on clear nights that you'll be whisked away on a magical journey.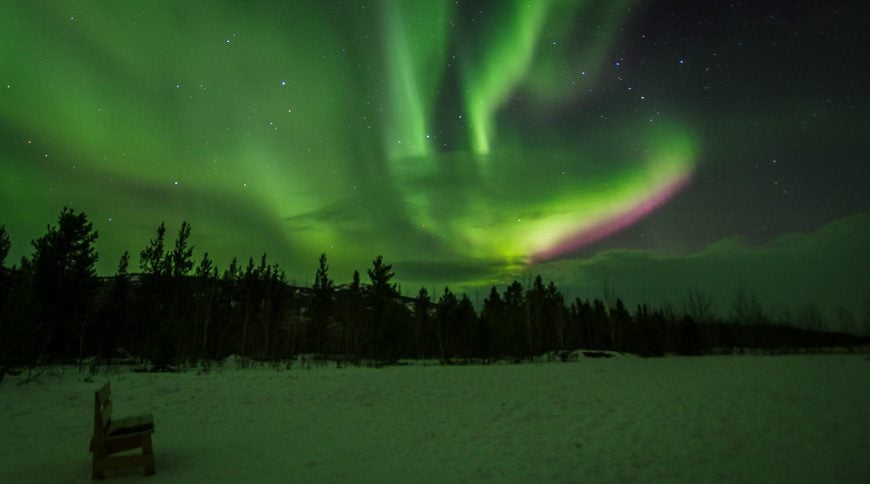 Stay at a lodge deep in the woods like the Fox Bay Retreat on Lake Laberge. Or opt for something more luxurious where you can ski out your backdoor at Inn on the Lake.
Visit the Yukon Wildlife Preserve to see 13 species of animals from the north in a natural setting including moose, caribou and muskoxen.
With its wide open spaces the Yukon was made for the snowmobile. Even if you've never driven one before you can be safe and have fun. In the magnificent landscape of the north you can rip across frozen lakes or enjoy a mellow ride through the trees of a scenic valley.
Some tours offer a cooked lunch over a fire while others serve hot drinks in the comfort of a cozy cabin at day's end. You can even try a lodge to lodge snowmobile experience.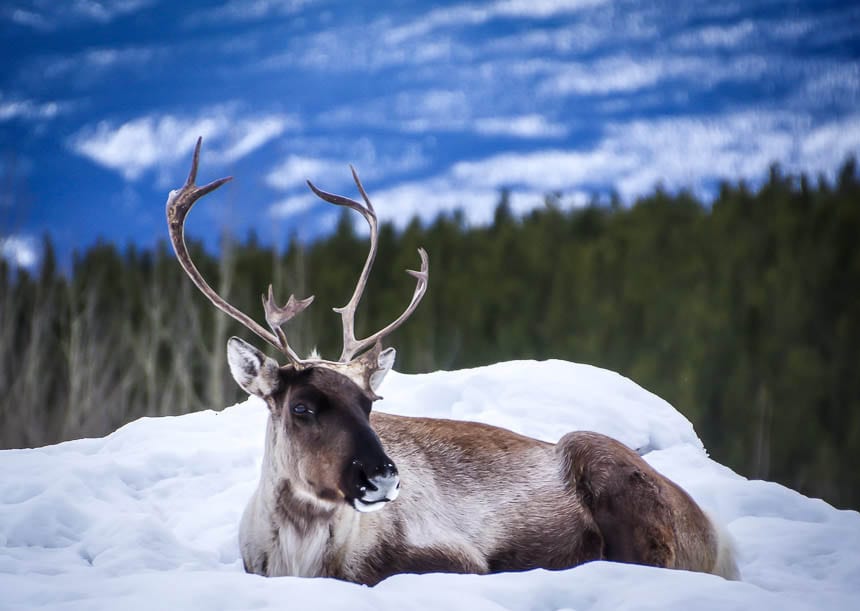 Things to do in Canada in winter – visit the Northwest Territories
Looking for a unique adventure? Drive the ice roads the territories are famous for, usually starting in January. Near Yellowknife you can get an idea of what's it like by driving on Great Slave Lake to Dettah.
Stay in a backcountry lodge and enjoy the magic of the Northern Lights from a hot tub. Check out Blachford Lake Lodge, a 20 minute flight via bush plane from Yellowknife.
Join Arctic Adventure Tours for a fabulous dogsledding adventure along the frozen Mackenzie River where as they say "caribou graze". And with short days you might catch the Northern Lights at the same time.
In a number of communities across the Northwest Territories including Yellowknife, Hay River, Fort Smith, Inuvik and Norman Wells there are ski clubs that look after grooming trails. When the weather warms up it's a fabulous way to experience the north.
If you love snowmobiling there are some amazing adventures waiting for you. A few examples include riding from Inuvik to Tuktoyaktuk and the exploring the beauty of the East Arm of Great Slave Lake.
Visit the territories for the sole pleasure of viewing the Northern Lights. There are tours available right out of Yellowknife – and again people visit from all over the world.
Read: Where to See the Northern Lights in Canada
Don't let winter in Canada get you down
Go outside and play. Check out some of these fun things to do in Canada in winter and you'll feel a lot better for it. And if you have other ideas of what to do or if you have a company offering winter adventures or a lodge with a great winter program, please leave a comment with a link and some information.
Canada in winter – no bugs, blue bird days and lots to do. What's not to like?
Click on the photo to bookmark to your Pinterest board.