Who ventures up to the Yukon Territory in the dead of winter? Do you have to be half-baked to visit? From my experience on a five day trip to Whitehorse in early March (which I appreciate is hardly the dead of winter) I can tell you with certainty that not only is it an awesome destination but there is a heck of a lot to do. Everything listed in this blog can be done as a day trip from Whitehorse in winter.
This post includes some affiliate links. If you make a qualifying purchase through one of these links, I will receive a small percentage of the sale at no extra cost to you. Thank you very much for your support.
Approximate location of the activities you can do in Whitehorse in winter
The top things to do in Whitehorse in winter
Listed below are the top things you can enjoy doing in Whitehorse in winter. I've done all of them – and would have a hard time picking a favourite. But if I could do only one thing it would probably be dogsledding – as it was so much fun.
1. Walk the Millennium Trail
Get up at a civilized hour, walk over to Baked Café and Bakery, and grab a coffee and one of their delicious homemade baked goods. Then head for the trail beside the Yukon River and walk south, past the SS Klondike Historical Site, around the bulge in the Yukon River and hook up with the 5 km Millennium Trail.
It's part of the Riverfront Trail and a connector route of the Trans-Canada Trail. It weaves through a natural area, crosses a narrow section of the Yukon River and then takes you along the river's edge to Lewes Boulevard. Cross the bridge and return to your starting point. Allow 60-90 minutes.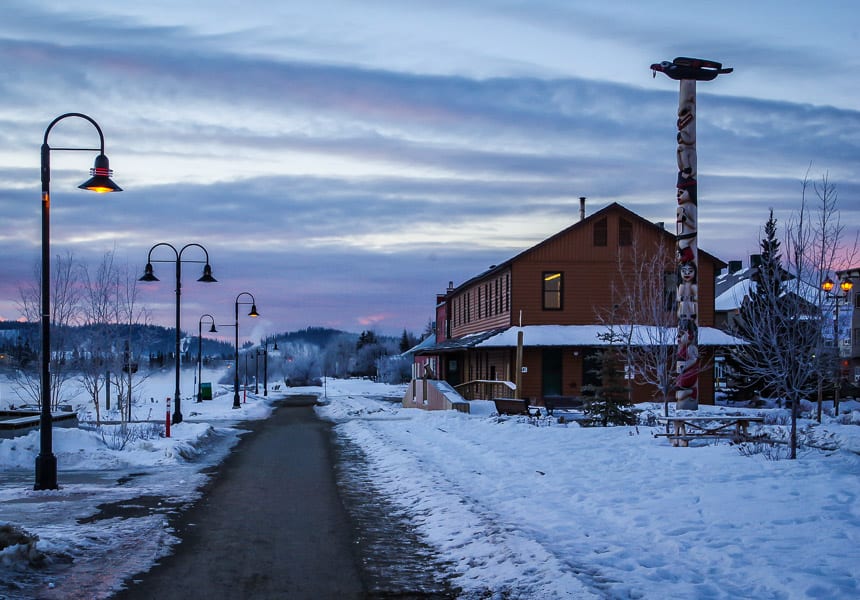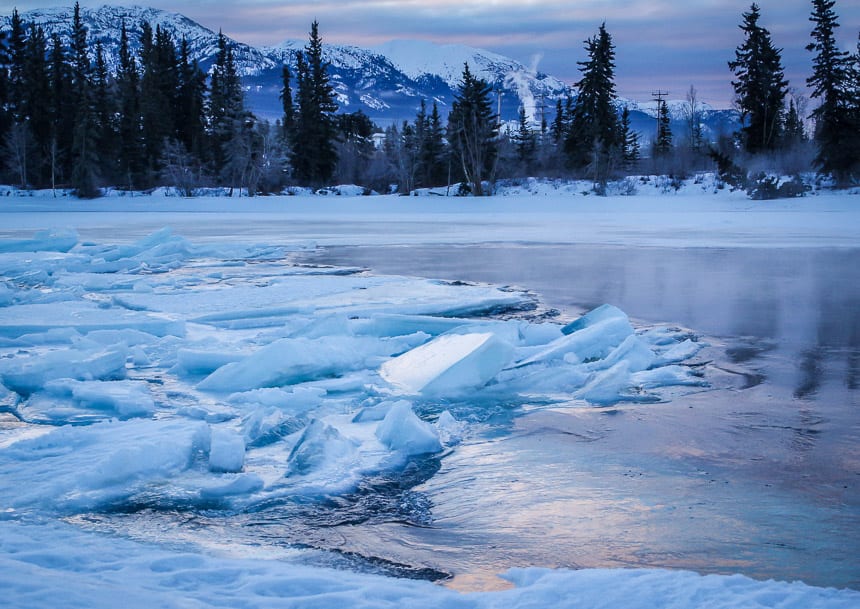 2. Take a winter flightseeing trip over Kluane National Park
For a trip that feels light-years removed from civilization, sign up to do a flightseeing trip with Rocking Star Adventures over Kluane National Park. You can easily do it as a day trip from Whitehorse. Start the adventure with a scenic 150 kilometre drive to Haines Junction.
Once you're up in the air you'll be awestruck by the size, beauty and emptiness of the park. If you sign on for the 90 minute flight, not only will you see Mount Logan, the highest peak in Canada, but another 16 of Canada's highest 20 peaks and some of the most impressive glaciers on the planet.
Read: Kluane National Park Flightseeing – A Grand Experience
3. Go dogsledding near Whitehorse
Dogsledding is exhilarating when you're the one in charge of the sled. It's even more fun if you can spend the whole day with the dogs. And it's off the charts amazing when you realize you're covering some of the same territory that is used in the Yukon Quest – a dogsledding race that's actually tougher than the Iditarod in Alaska.
Sign up with Muktuk Kennels (who will provide all the warm-weather clothing you need) if you want what I would call an experience of a lifetime.
Read: Dogsledding in the Yukon: Learning to Mush Like a Local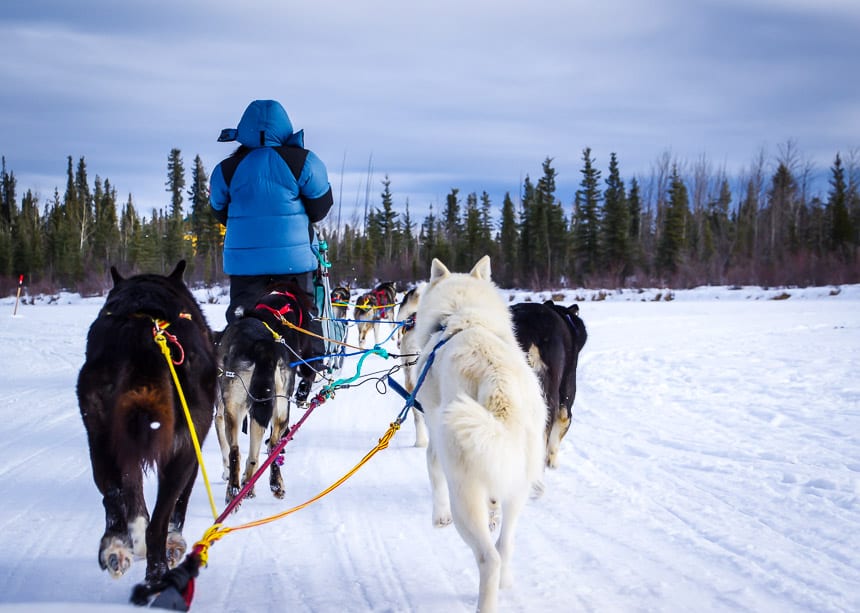 4. Check out the Yukon Wildlife Preserve
If you want to stare a moose in the face visit the Yukon Wildlife Preserve, an easy 25 minute drive north of Whitehorse. Its home to 13 species of northern animals living in their natural environment.
You'll see woodland caribou, wood bison, Arctic fox, wood bison and Thinhorn sheep (a species of Dall sheep) to name a few. Snowy owls are also on the property. Experience the preserve on foot, walking either a 2.5 or 5.0 kilometre trail or via a narrated 75-90 minute bus tour.
5. Catch the Aurora Borealis or Northern Lights
One of the chief reasons people literally flock to the Yukon from all over the world in winter is to see the Aurora Borealis, also called the Northern Lights. Although the probability of seeing the lights is very high, there are no guarantees.
Our group got lucky with the Northern Lights making an appearance around 1:30 AM for about an hour. Time melts as you get lost in the magic of a dancing sky. There is nothing else like it on earth – and the area near Whitehorse is one of the most accessible for dark night skies.
Book an outing with Northern Tales. Not only will they pick you up and drop you off at your Whitehorse hotel, they stoke big bonfires and offer warming cabins with hot drinks and snacks. For the photographer they provide heavy duty tripods and lots of advice on how to get great pictures.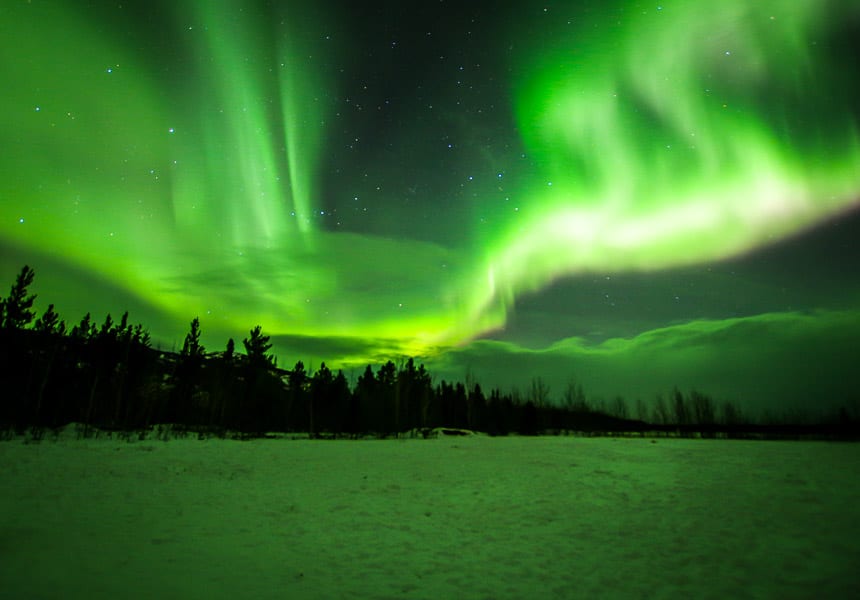 6. Go snowmobiling on Lake Laberge
Whether you're new to the sport or an expert, snowmobiling Yukon style is memorable. On the expanse of Lake Laberge – made famous in the poem The Cremation of Sam McGee by Robert Service, you have the opportunity to let 'er rip.
Or learn to maneuver your machine through the trees of a scenic valley without flipping on a side hill. Take a break and smile as you bask in late winter sunshine while chowing down on a perfectly smoked sausage cooked over a fire on the shore of the lake.
And finally finish the day beside a bonfire at the beautiful Fox Bay Retreat. Who knew snowmobiling could be so much fun? Geared up like the Michelin man in a snowmobile suit, helmet and warm mitts and boots, you'd be surprised how easy it is to comfortably spend a whole day outside.
7. Soak in the Eclipse Nordic Hot Springs
There is nothing that takes the chill out of your bones like a soak in a steaming hot pool. Locals and visitors alike enjoy easing their bodies into water at the Eclipse Nordic Hot Springs that is anywhere from 36 – 42 °C. These hot pools are only for those of you who are 19 years or older BUT there is a new family hot springs pool in the works. You must reserve online as walk-ins are nor permitted.
Located near the Nature Preserve, 28 kilometres north of Whitehorse, the hot pools are open year round. They are on the site of the former Takhini Hot Springs which was demolished in September 2020 after a half century of use.
8. Spend a night or two at Inn on the Lake near Whitehorse in winter
If you want to get out of Whitehorse for a few nights but you don't want to drive far, visit the Inn on the Lake located on the shores of Marsh Lake about a 30 minute drive away.
Come here for rest and relaxation, great food and the chance to explore the area on snowshoes (which the inn provides). You may even get lucky and see the Northern Lights from the comfort of your cabin.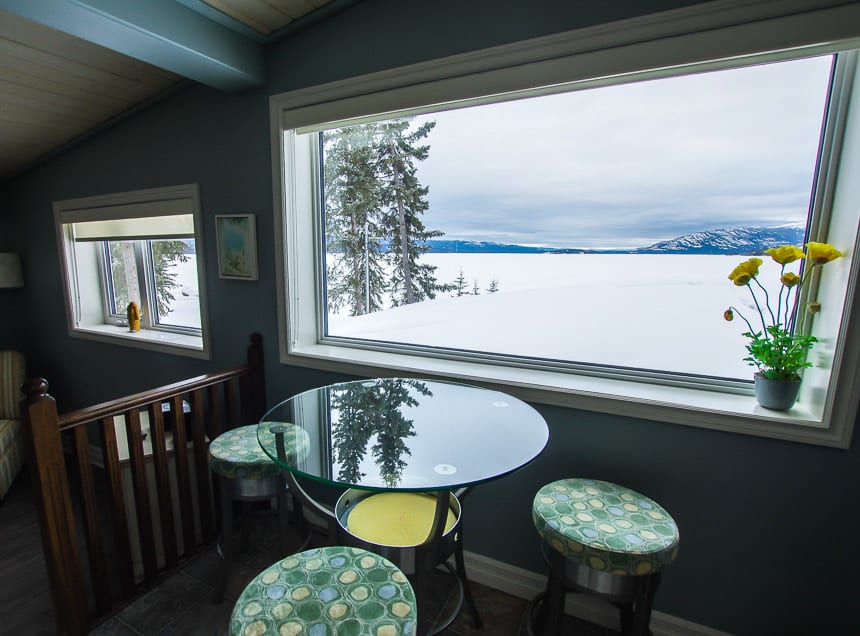 9. Visit the Yukon Beringia Interpretive Centre
On a previous visit I spent a few hours with my husband in the Yukon Beringia Interpretive Centre, just minutes away from the airport and a great last stop on any trip. I would recommend it to all visitors. As an aside the washrooms here are the best in the north!
Beringia was the land bridge that connected Siberia to the Yukon. There were no glaciers or forests – but a landscape of plains called the mammoth steppe. An eclectic assortment of animals lived here – from the giant beaver pictured below to giant short-faced bears, American lions, woolly mammoths and North American's first humans.
The museum brings to life through a fantastic and educational set of displays, skeletons and artwork the life in Beringia – and for only $6 per adult.
How to get to the Yukon
The Yukon is accessible via a 2 – 2.5 hour direct flight (seasonally) from Calgary, Vancouver, and Edmonton on Air North (free baggage), West Jet and Air Canada (from Vancouver only).
Whitehorse in winter accommodations
You won't find five star properties in Whitehorse but there are plenty of hotels and B&B's that are clean and comfortable. I stayed at the conveniently located Sternwheeler Hotel & Conference Centre.
If you want to stay outside of the city have a look at Northern Lights Resort & Spa.
One of the newest places to open in Whitehorse is called the Black Spruce Hotel, designed to blend into the natural beauty of its surroundings. The modern interior features a kitchenette, heated marble tiles, hardwood flooring, and a sauna that opened in summer 2022. It is only a 5-minute drive from the Whitehorse airport.
I love the Yukon and have since I visited the first time in 1999 when I came to raft the Tatshenshini River. This was my fourth trip and was made possible by Travel Yukon. Thank you for the extraordinary experiences – all of which are available to anyone should they choose to visit.
Click on the photo to bookmark to your Pinterest boards.