Have you ever thought about ice climbing in Alberta? I'd never given it any serious thought, until I was asked, I could even say coerced into saying yes, I'd give it a go. From what I'd seen of ice climbing in Alberta – both in Maligne Canyon and Johnston Canyon, it looked scary and quite frankly cold and unappealing.
But once you've said yes to something, you change your tune and your thinking. If I was going to go ice climbing in Alberta, I didn't want to be a wimpy, middle-aged woman, complaining and shivering with fear.
Fortunately my guide Max, the owner of Rockaboo Mountain Adventures in Jasper was friendly, encouraging and very helpful – exactly what you want in a guide.
Ice climbing in Alberta – what you'll need for gear
You need to get geared up before you go anywhere. Layers of warm clothes are a must as is a helmet, climbing harness, boots and crampons. You also need a couple of ice axes.
Fortunately guiding companies provide all the gear except for the clothing. Guides also look after anything else you might use – like ropes, slings and ice screws. They're also very proficient at teaching you how to put on all the gear.
My ice climbing experience took place at the far end of Maligne Canyon on the Queen of Maligne, a beautiful frozen waterfall I'd admired on an icewalk I'd done a few years back.
Mistakenly I thought we'd hike the length of the canyon and start climbing from there. But in fact you walk only a short distance from the parking lot and then rappel into the canyon.
I think this is the crux of the ice climbing experience for many people. It is an act of trust that you can lean back on a rope and safely disappear over the edge. I always find the first few seconds scary – but then it's one of the biggest rushes on the planet.
The Alberta ice climbing experience
Once I was at the base of the frozen icefall looking up, I actually felt less fear. I think the experience of rappelling down the icefall was so magical and the views so otherworldly that I really looked forward to testing my mettle on the ice.
The beauty of a beginner ice climbing experience is that you can climb as little or as much as you like. It all depends on your comfort level. After watching Max and his buddy/co-guide Bryan demonstrate the proper technique, it was my turn.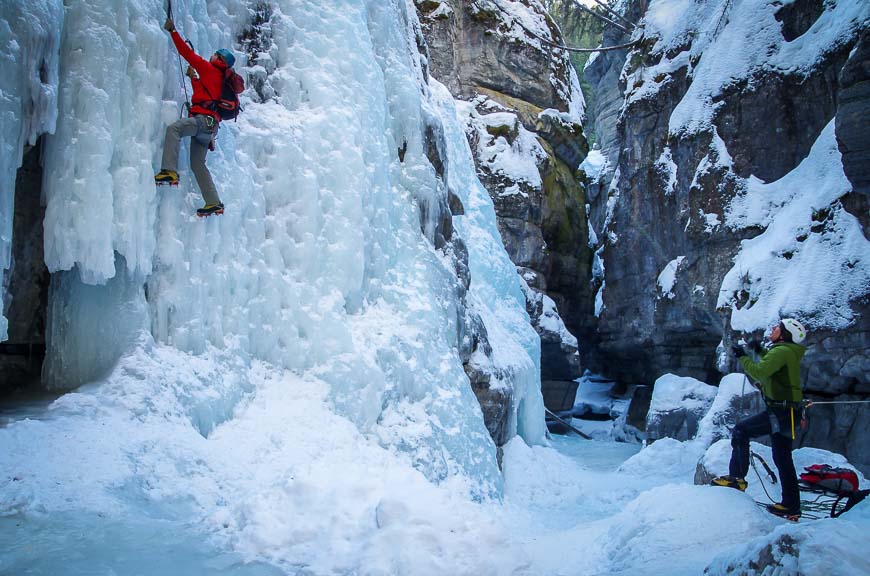 Ice climbing is like dancing
There's a rhythm to it. The good ice climbers are graceful and make it look easy. Basically with a count of one, two, three, four you swing your ice axe into a point where it holds, preferably with your arm very straight – as that conserves energy.
Then find a point with the other ice axe – which is easier than it sounds, check your foot position, kick into toeholds, stand up. Repeat. When you need a rest, let the ice axe hang off a point of contact and shake out your arms.
You're always on belay and attached to a rope so should you ever fall, the distance will be minimal, at most a foot or two until the rope catches.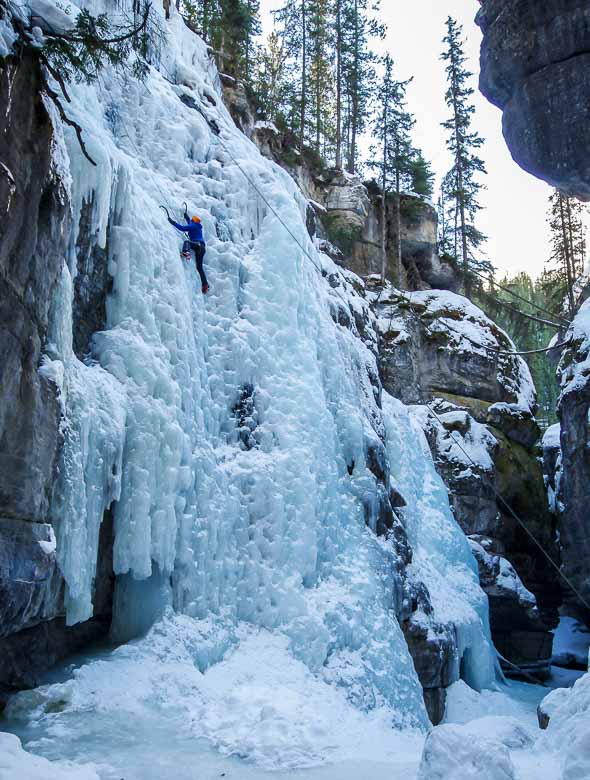 Climbing in Maligne Canyon is not as difficult as it looks from below. Part of the reason is that the icefall is pockmarked with holes from all the climbers using it.
If you were climbing fresh ice in the middle of nowhere, far more effort would be put into chipping holes in the ice to get a grip for your ice axe.
However, my technique was not up to snuff so by the end of the climb I was good and tired. I muscled through with my arms far more than I should have; next time I would work more on engaging my core and my legs.
Where else can you go ice climbing in Alberta?
According to Dave Stark, the Director of Yamnuska Mountain Adventures, there are literally thousands of ice climbs you could do in Alberta. But the reality is that many of them have long approaches and accessibility is a big issue.
For the beginner ice climber who just wants to do what I did, but in the Canmore – Banff – Lake Louise corridor, then there are four great options, all offered as guided trips by Yamnuska.
Dave tells me that the Canmore Junkyards near Grassi Lakes are excellent. The approach is short, with just 20 minutes of walking required and the icefalls offer something for the beginner through to the experienced climber.
For beauty and a wonderful experience from start to finish he definitely recommends Johnston Canyon. As he says "the approach is fantastic and the falls themselves are stunning. You can find everything from beginner to expert level routes here."
Haffner Creek is another great choice, especially if you're staying in Lake Louise. It's off Highway 93 in a beautiful canyon and offers mixed rock and ice climbing as well as some steep climbs, though those are geared more towards the expert.
King Creek in Peter Lougheed Provincial Park offers the beginner a full day of climbing.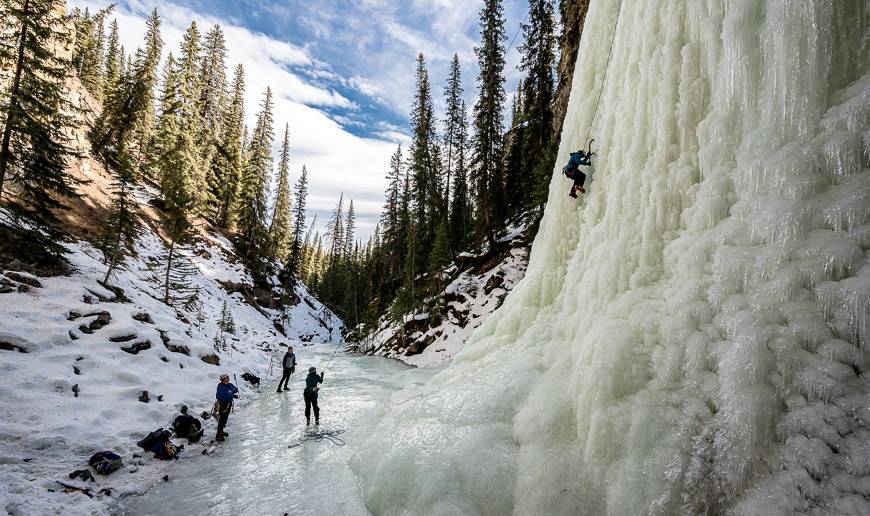 Would I go ice climbing again?
I'd definitely ice climb again but only if it wasn't bitterly cold. What ice climbing offers the novice is a fun and empowering experience. I was beaming when I climbed out of Maligne Canyon and so pleased I didn't let my age hold me back.
As I later learned Max has guided clients between the ages of 8 and 80 years old. You don't have to be super fit. Just take the right attitude onto the ice.
Further reading on outdoor adventures in Alberta
Click on the photo to bookmark to your Pinterest boards.
A big thank you again to Travel Alberta for making this post possible.