One of the premiere hut-to-hut ski trips in North America is the Wapta Traverse. It rivals the classics – like the Haute Route that you'll find in the Alps. And it's very accessible. Over the 45 kilometre length of the Wapta Traverse you are treated to big in your face mountain and glacier vistas and incredible morning and evening light shows. To top it all off you get epic, spine-tingling descents along with some incredible glacier skiing if you hit the snow right.
The Wapta Traverse crosses two major icefields – the Wapta and the Waputik that together cover about 600 square kilometres. The route can include as many as four huts, depending on what variation you do.
This famous backcountry ski trip has been on my bucket list since I first moved to Calgary four years ago.
My chance to do it came this spring thanks to Travel Alberta. It should only be attempted IF you're comfortable skiing in the backcountry with risks that include avalanche and crevasse hazards, rock and ice fall, a steep, challenging descent on the final day and limited to no visibility should the weather turn bad.
What I did have going for me was loads of backcountry skiing experience from 10 years of hut-to-hut skiing in Colorado. But the Wapta Traverse is different.
It's a serious undertaking. Not only do you need the right gear, you need to know how to use it; exceptional navigational skills are required and the know-how to rescue someone from a crevasse or an avalanche.
Every day on this trip I started with butterflies in my stomach. There were several sections, particularly on the final day, where I was scared silly – yet I had to keep moving forward as there was no way to turn back. In the end, I am over-the-moon pleased that I did the traverse.
If you're a backcountry skier the Wapta Traverse needs to be on your bucket list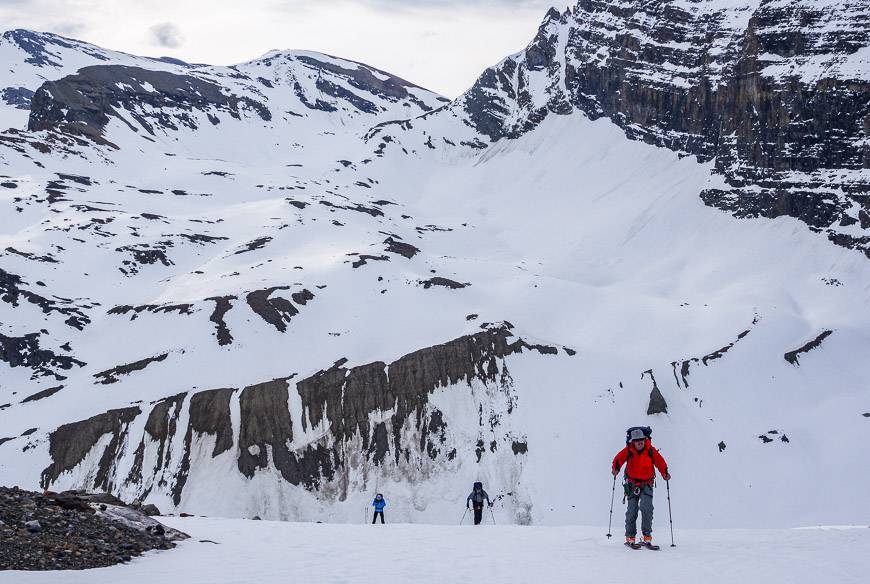 The Wapta Traverse starts at Bow Lake by Num-Ti-Jah Lodge in Banff National Park, about 45 minutes north of Lake Louise. It finishes at the Great Divide Lodge in Yoho National Park beside the Trans-Canada Highway.
John and I did the trip with Yamnuska Mountain Adventures – a company out of Canmore with a great track record that's been around for a very long time. They dropped us off and picked us up which made for a very smooth start and finish.
Day One: Bow Lake to Bow Hut
Our group of 12 – nine guests (ranging in age from 18 to about 60) two guides (Shaun and Adam) and one practicum st
udent (Jason) got a late start crossing Bow Lake. With an earlier than normal thaw starting to happen, I was happy when we made it to the far side of the lake.
The guides commented that the conditions were more like early June. We were into a combination of rock and snow after the lake where normally there would only be snow; and the creek was starting to run. Over a solid 1.5 hours we took off and put on our skis at least eight times – and some of us got a bit of a boot soaking in the stream crossings.
The section through the canyon is beautiful but you shouldn't linger. Rock fall is a constant hazard. After climbing out and up a steep bank, there's a great place for lunch.
Then it's a traverse at a gentle angle through the trees until the route opens up to a large mountain cirque. You can see Bow Hut up on the ridge from here. There's one more prominent hazard before you reach the hut – avalanche terrain. You need to choose the line up the hillside to the hut with caution. The final climb gains 100 metres.
Over 5.5 hours we skied eight kilometres and climbed a total of 390 metres. On a day with good snow, you could ski it in about four hours.
Bow Hut itself is one of the nicer huts. It's got a separate area for sleeping though it's still crowded – and noisy at night with snorers. It can sleep 30 people in total.
Kitchen facilities include propane stoves and kitchen utensils, pots, etc. You have to melt snow for water – an ongoing job with that many people. Off the kitchen there's a deck with a view – and that's where you'll want to hang out on a sunny day.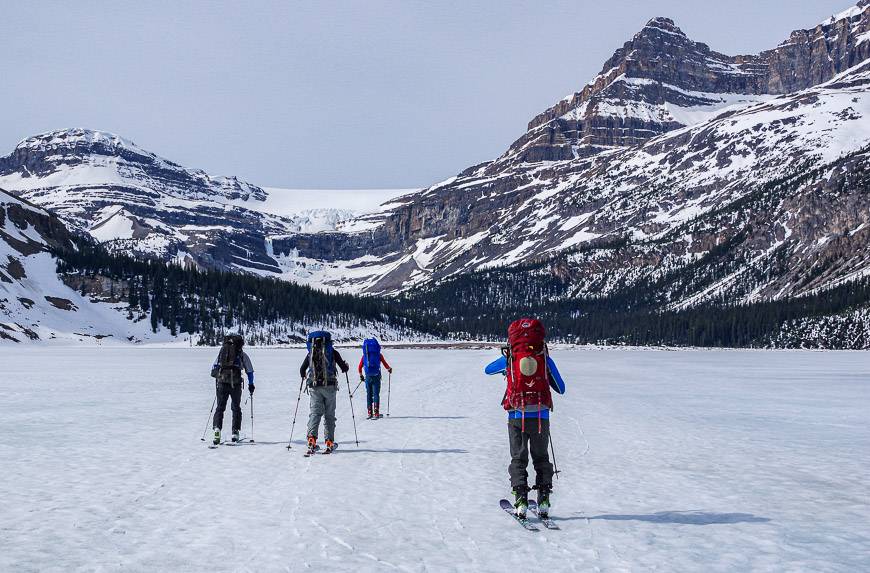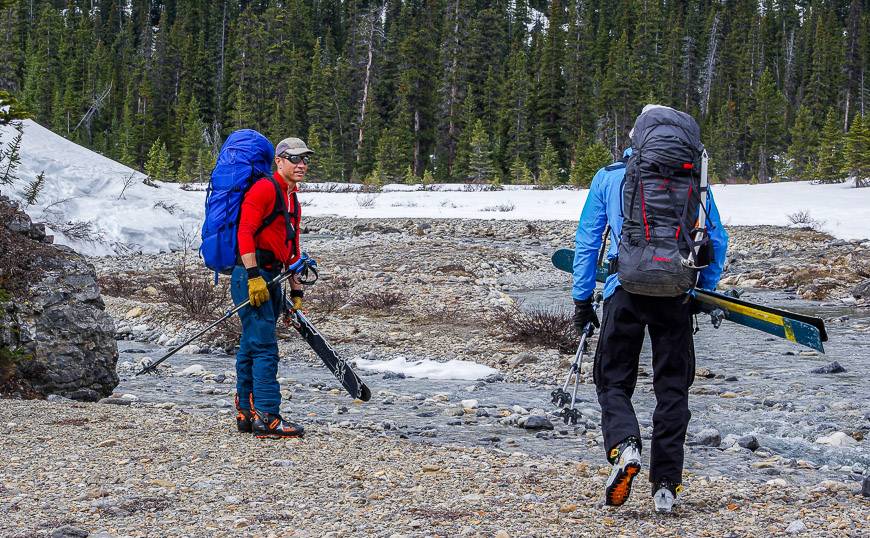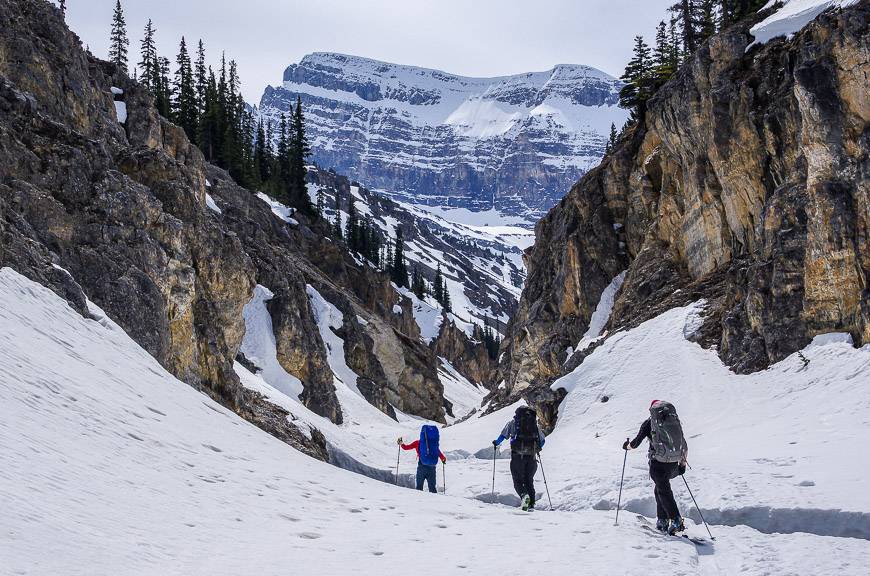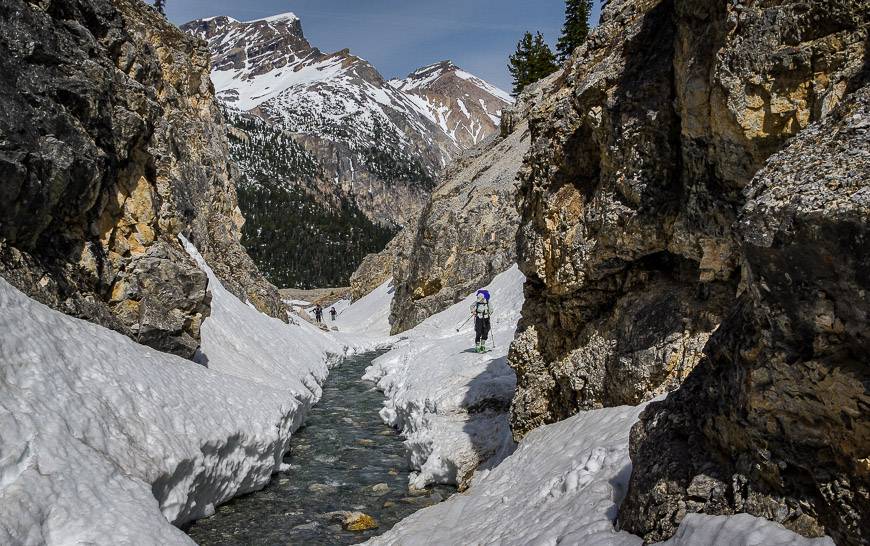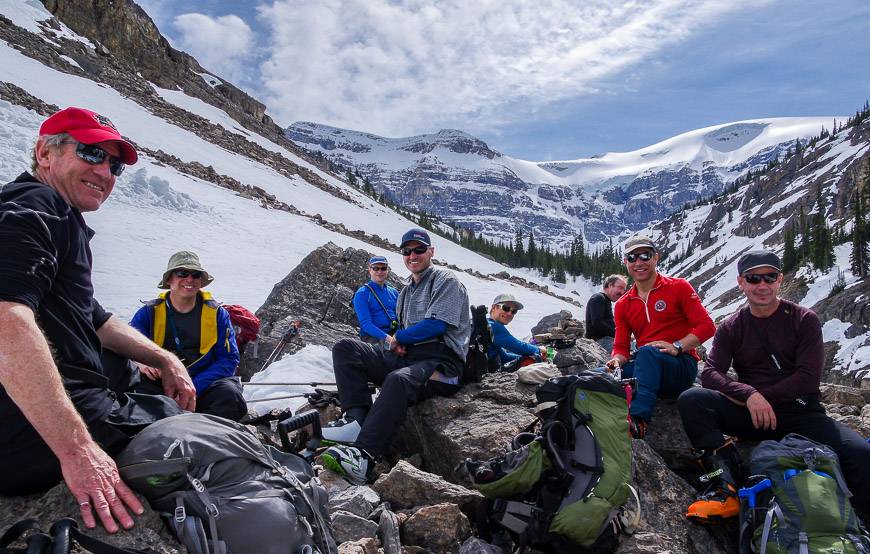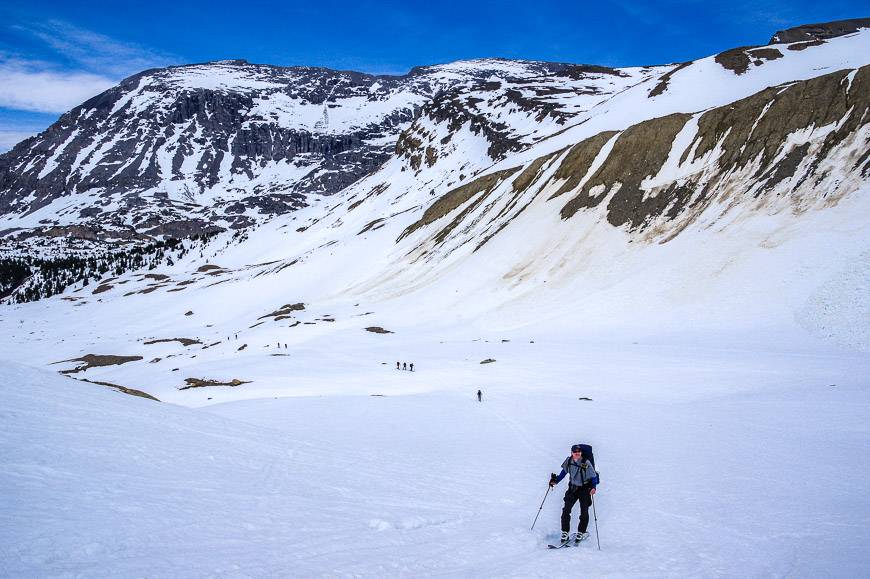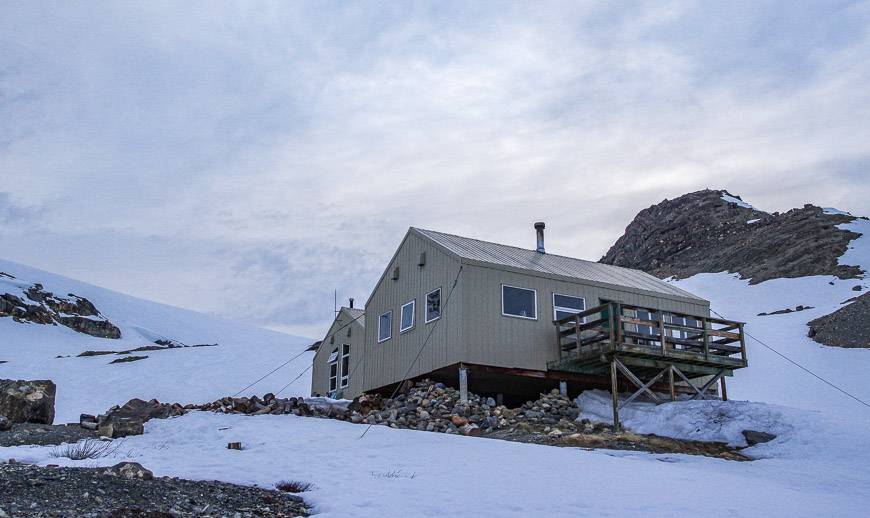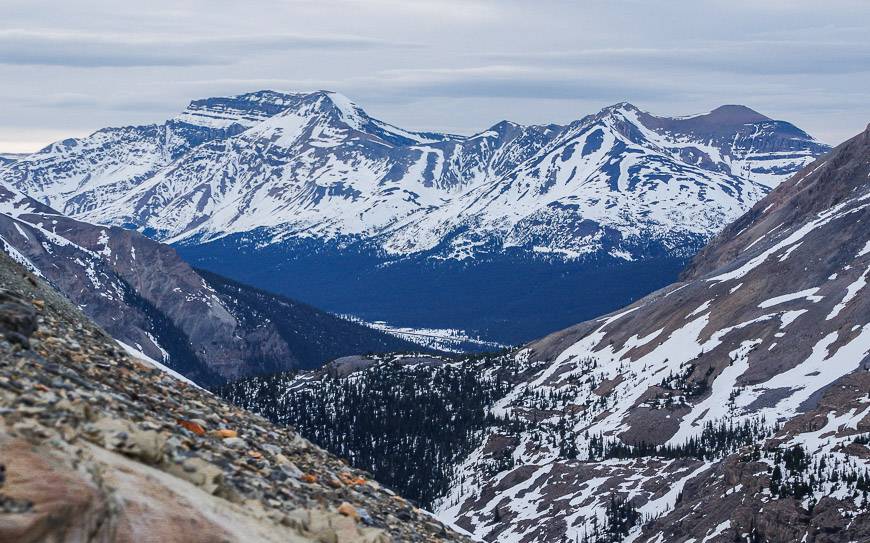 Day 2: Bow Hut to Balfour Hut
We started the day in sunshine – and finished with a rain storm but fortunately that didn't start until after dinner. This was the easiest of the four days by far though there was still 580 metres of climbing, and 430 metres of a glorious descent over a total distance of seven kilometres.
There was also the option to climb Mount Olive – but I was feeling tired – even lazy and declined. I was told the views from the top were magnificent. From the pass it took the group that did it an extra 90 minutes or so to go up and come down.
A good part of the ascent was done roped up, partially for practice for the next day when the terrain would be more difficult but also because we were on a glacier. From the pass, it's an absolute treat, especially with good visibility to make some turns on the descent to the hut.
Balfour Hut is compact, especially when 20 people are sleeping when there should only be 16. Throw in cooking and storage for packs and boots, and the space is cramped in no time. Again we lucked out and with 15°C weather sitting outside until dinner was a great option.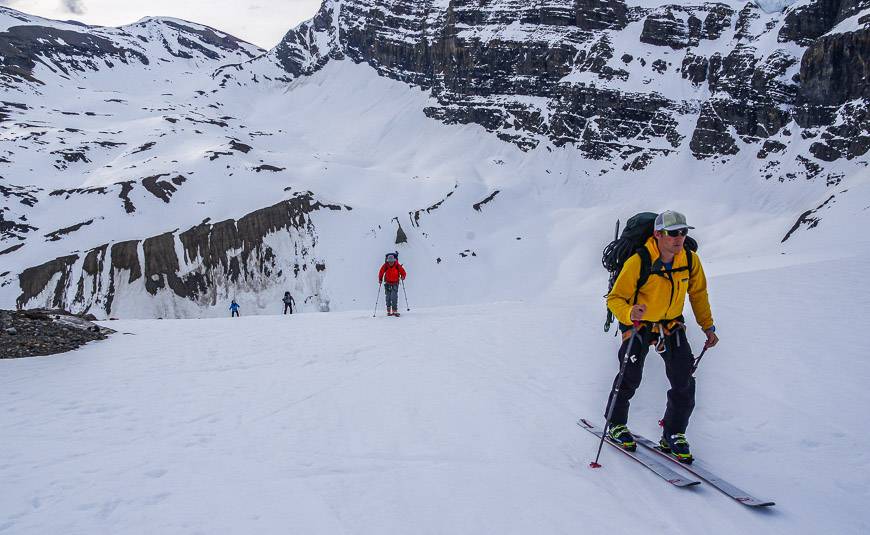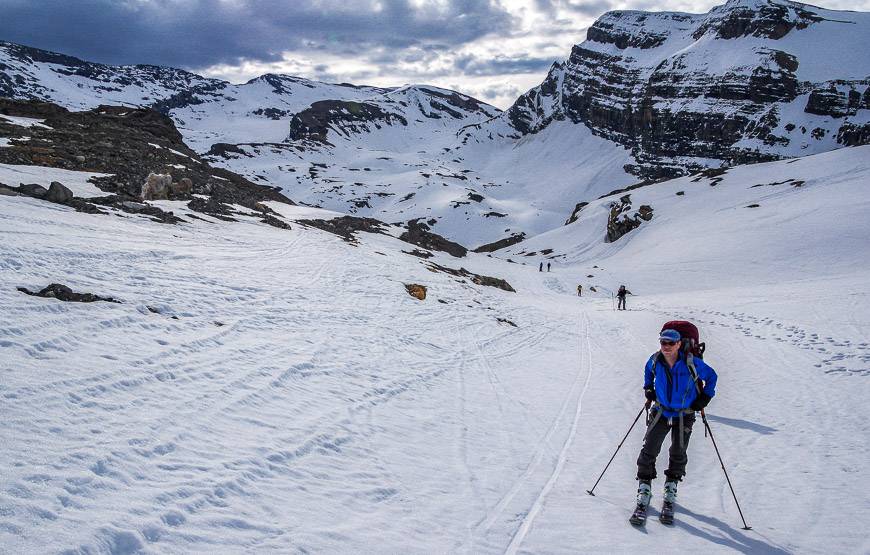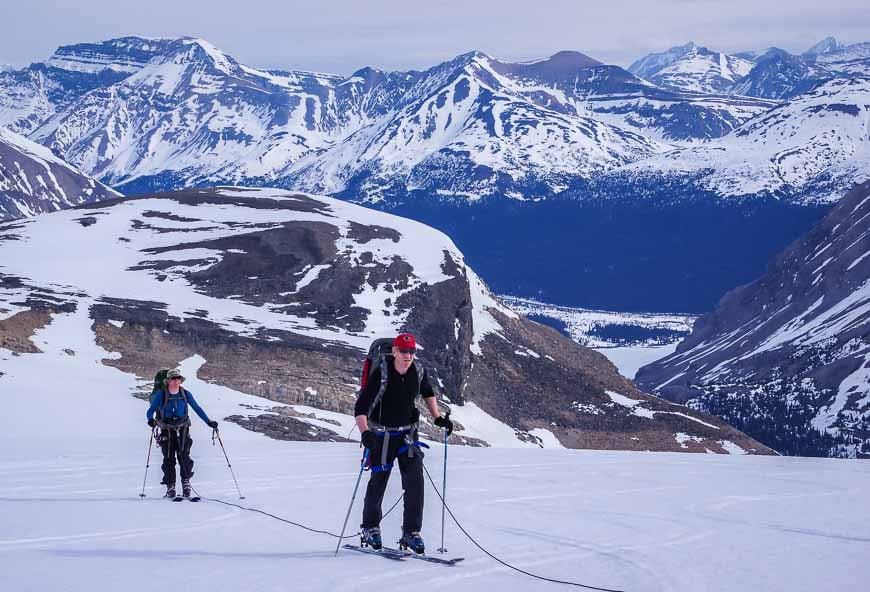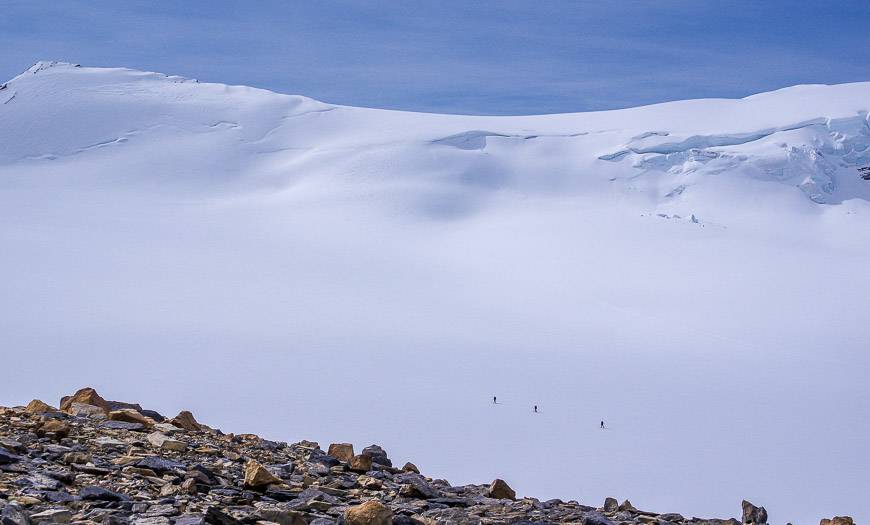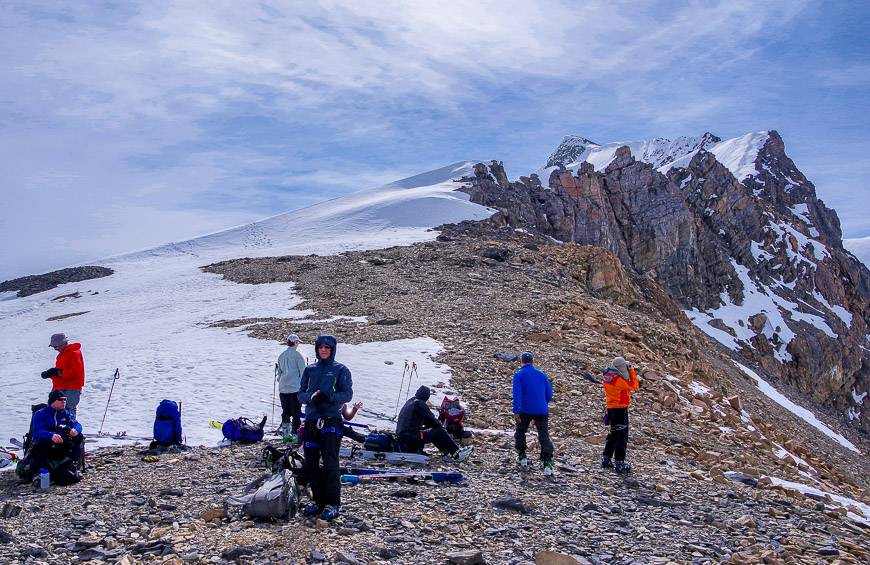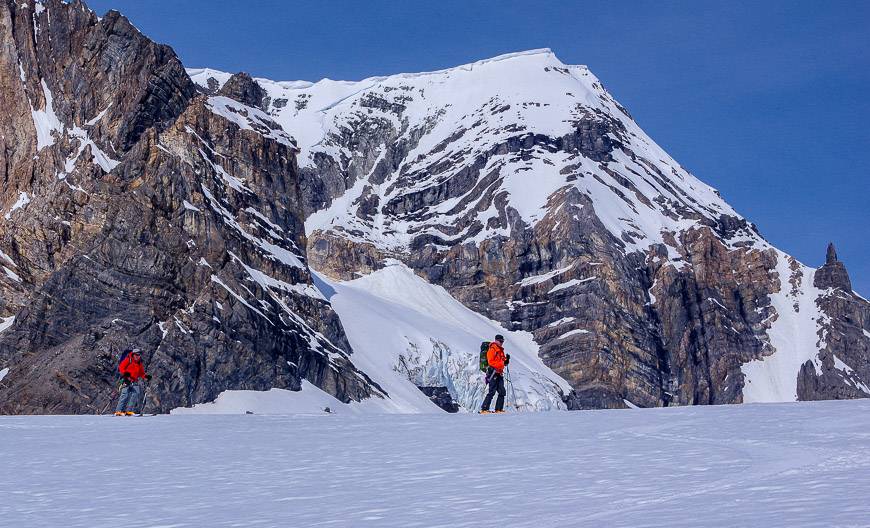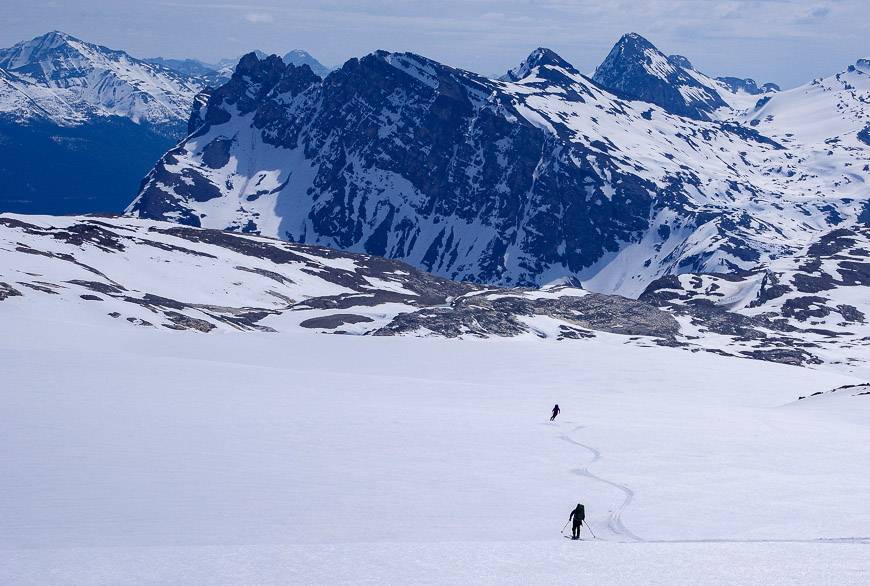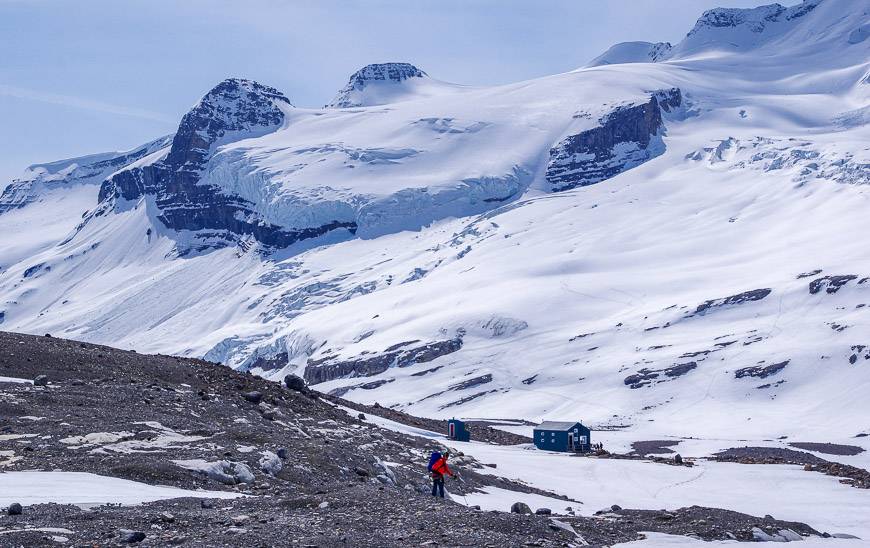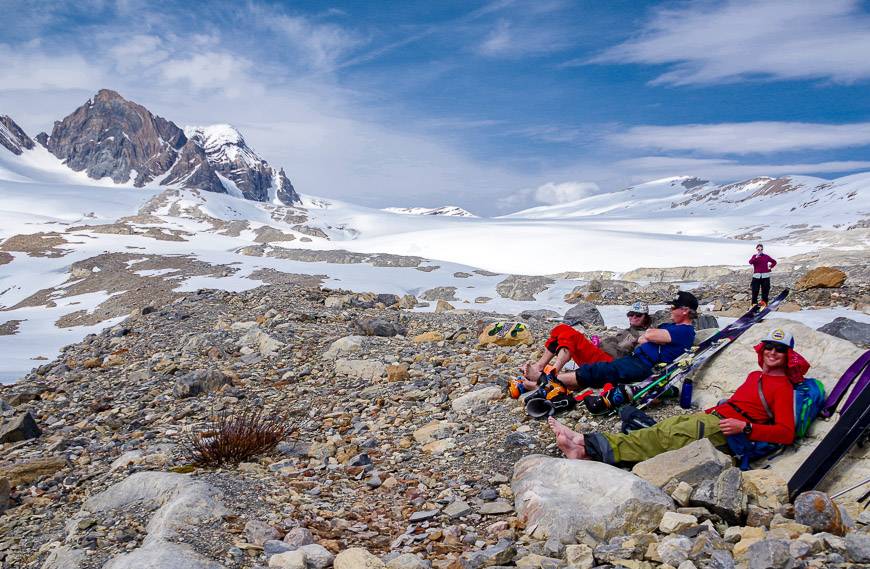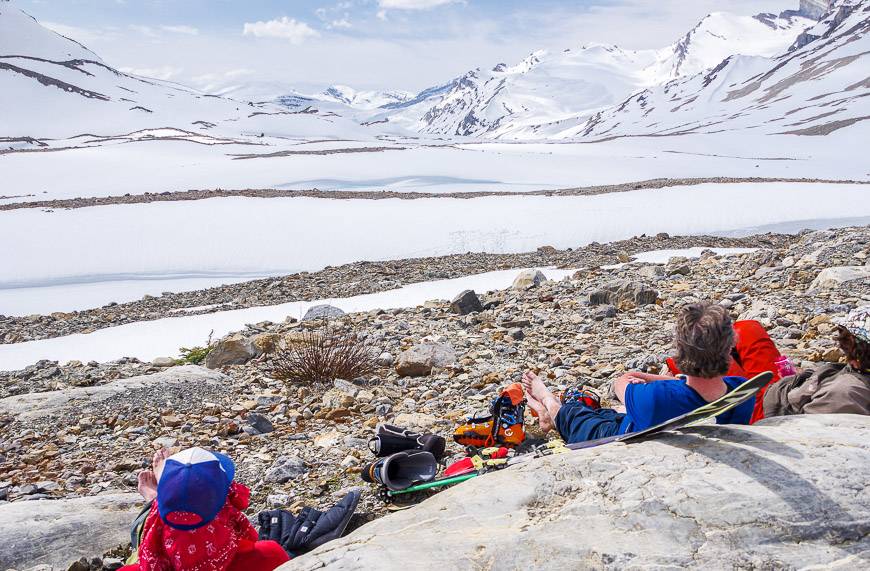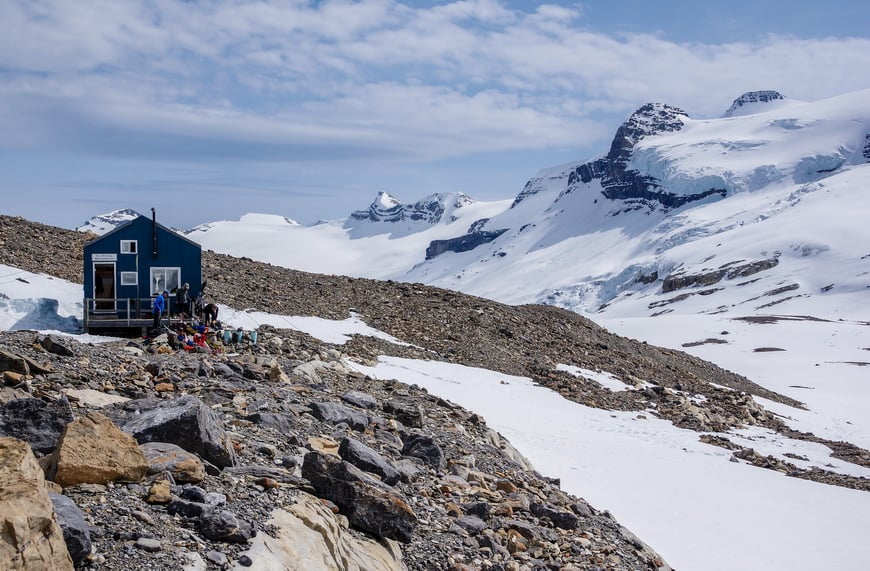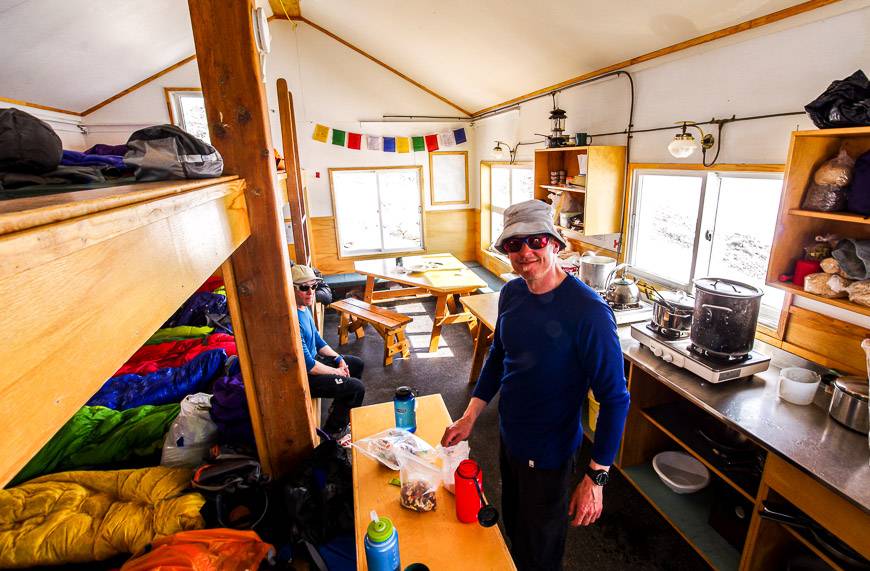 Day 3: Backcountry skiing from Balfour Hut to Scott Duncan Hut
Two of our group had tried to do the Wapta Traverse a number of years ago but were turned back at the Balfour Hut because of weather. They had to retrace their route back to Bow Lake and ended up spending another night at Bow Hut.
Many private groups also turn back at the Balfour Hut, especially if their navigation skills aren't up to snuff. Our worry wasn't weather so much as the snow. Once it started to heat up, the snow was far more difficult to ski on – and less stable.
It was a 4:30 wake-up call so we could be on skis at 6:30. As hard as it was to roll out of bed at that hour, it did pay dividends. Not only did we see the sun come up over the mountains, we enjoyed excellent snow conditions.
In total it's a 10 kilometre trip between the Balfour and Scott Duncan Hut. It's a 520 metre climb to reach the Balfour High Col over a distance of 4.75 kilometres.
The route requires excellent navigation and decision making skills – and that's where years of guiding experience come into play. Except for one short steep section on snow, before we roped up, I felt very safe traveling up to the col.
The 350 metre descent across the Waputik Icefield was great fun. It wouldn't be in whiteout conditions. Under those circumstances it would be a nightmare and you'd have to use Lilliput Mountain as a handrail to make your way down.
If you head directly towards Mount Daly from the col, then you'll have to cross a lot of crevasses. Someone fell into a crevasse and died in here sometime three years ago. Inadvertently I met the son of the fellow who died a few years later so the tragedy really hit home.
After the fun descent there's still another 100 metres of climbing over 1.5 kilometres. The hut is difficult to see from afar, sitting up on a bench beneath Mount Daly. As a side note – just before you reach Scott Duncan Hut you cross into British Columbia and Yoho National Park.
The Scott Duncan Hut was built as a memorial to Scott Duncan – a 25 year old mountaineer who had climbed peaks around the world. While working at a camp in northern Alberta in 1985, he had a chance encounter with a bat and three months later got the diagnosis of rabies. He died on November 26, 1985. As a memorial, the family and the Alpine Club of Canada, constructed the hut in 1988. It's called a "vital link in terms of completing the Wapta Traverse" by Carl Hannigan, the ACC Vice President of Facilities back then.
This hut holds 12 – and even then it's cramped with backpacks and boots stuffed under bunks. But the views from here are second to none – and the outhouse has quite the location.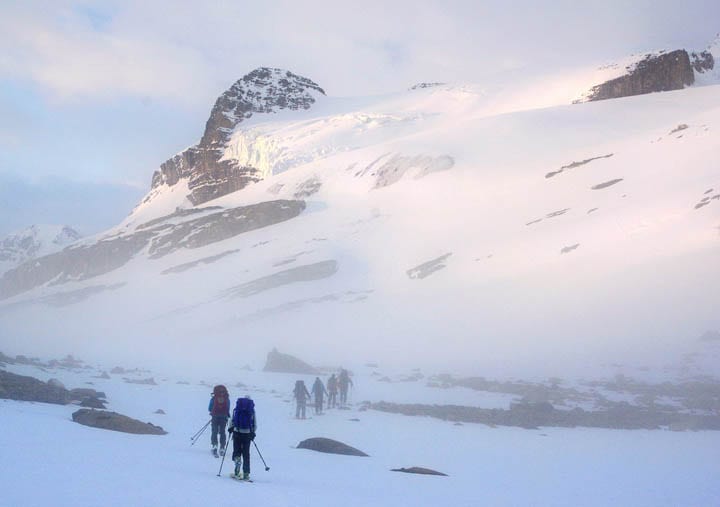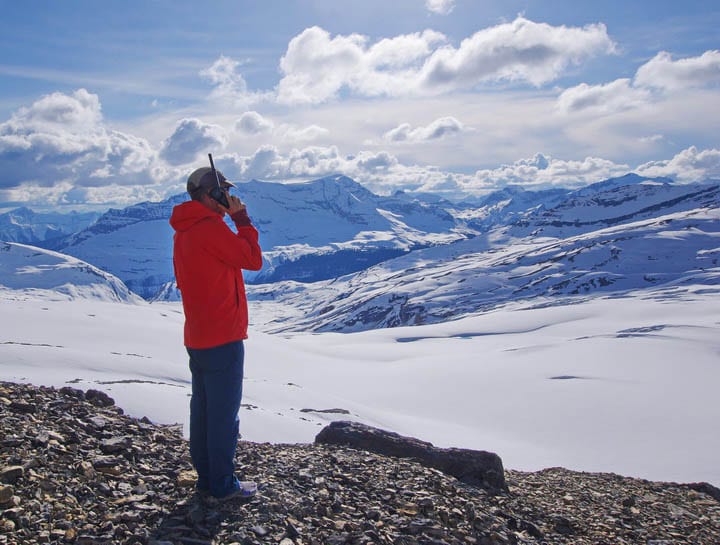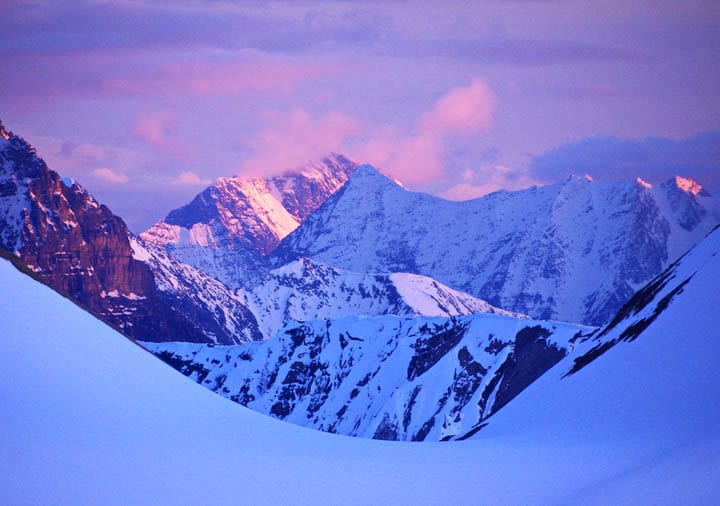 Day 4: Skiing from Scott Duncan Hut to the Great Divide Lodge, Yoho National Park
You might think that the last day with almost no climbing and a descent of 1,060 metres would be the easiest. I found it to be the hardest – and mentally challenging to boot.
Again we were up early and on skis by 6 AM. And thank heavens we did this as the snow conditions would have been awful with a late start. After an easy half hour of gentle climbing it was time to descend. Little did I know what was in store for me.
Over the next four to five hours (I lost track of time) I said the F word about 100 times. I couldn't help myself. In fact I developed a rating system on how scared I was. Don't get the wrong impression. Some people loved the descent. But I'm not a fan of steep. Or dropoffs. Or cornices. Or exposure.
There are no pictures – only memories from the descent until we got through the worst of it. But even when I thought the hard stuff was behind us, we'd have a short, steep section which would end in a creek if you made a bad turn or fell.
The bright side to being scared half to death is the sense of satisfaction you feel upon completion. As Stan, one of the talented mountaineers said to me when I walked up to the van in the parking lot – You are one tough cookie! I definitely take that as a compliment.
All told I believe it took us about six hours to descend to the Great Divide Lodge. We needed extra time to go around Sherbrooke Lake as it was starting to melt. And the final descent was a mix of snow and muddy trail so we were back to the on again – off again scenario with skis.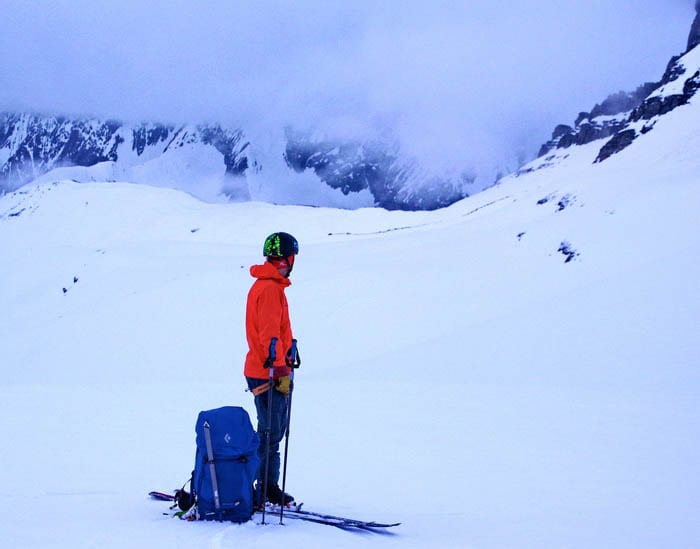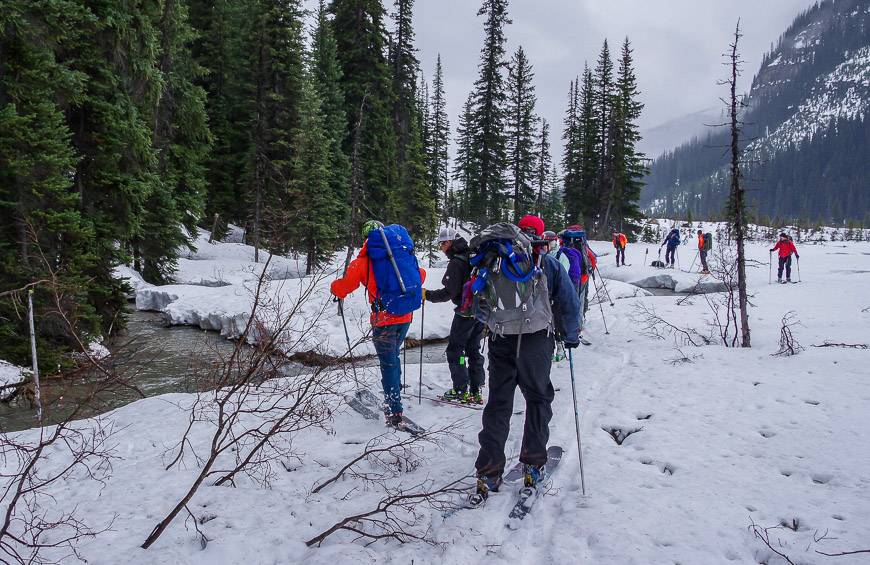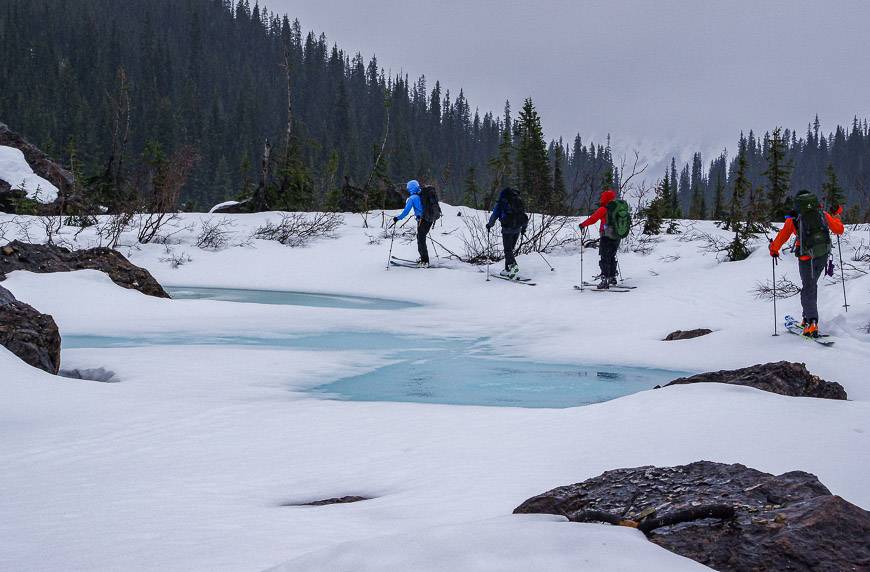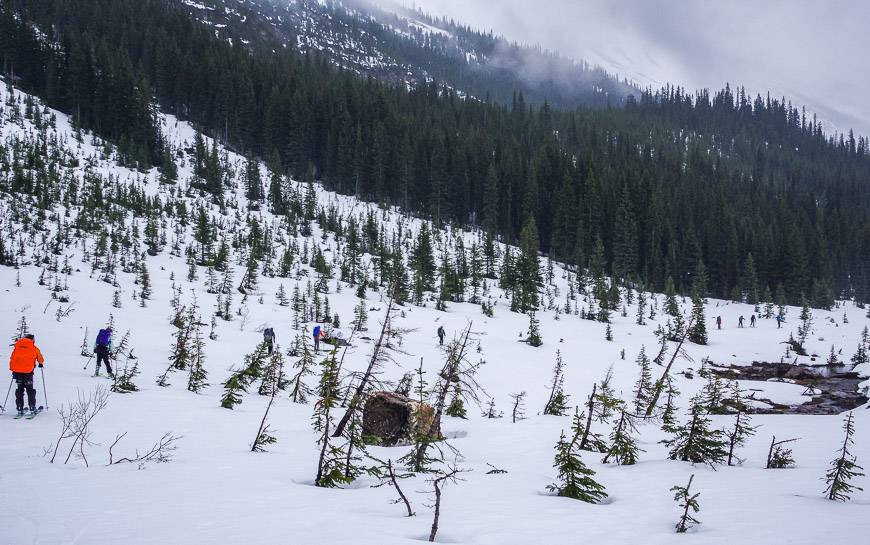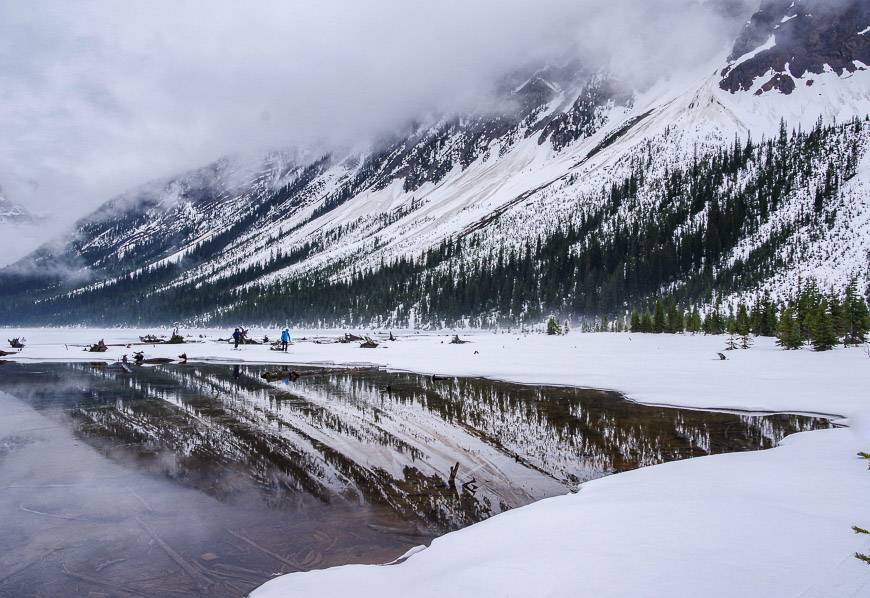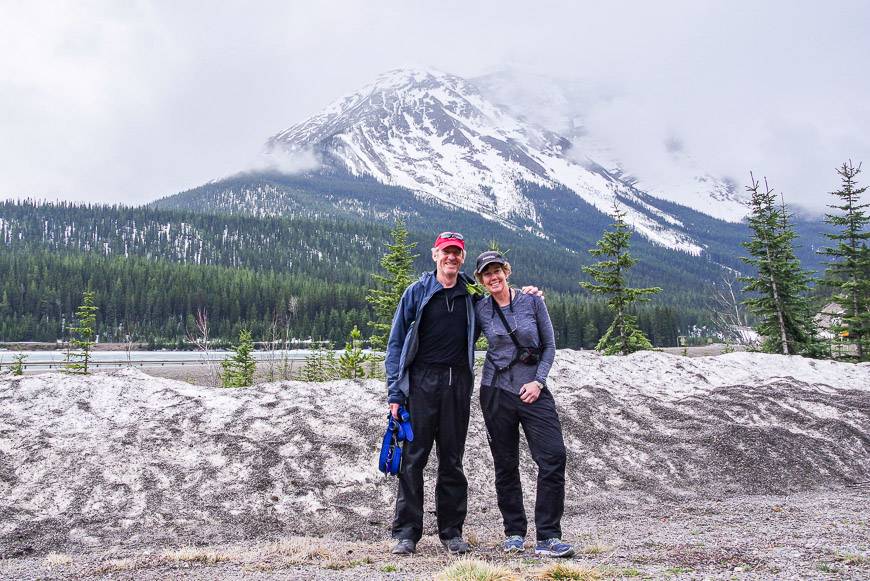 Experience and fitness needed for the Wapta Traverse
Train for this ski outing as much as you can. Since the Wapta Traverse is at its best in the spring, you have all winter to get into shape. Keep your pack light. Pare down to the minimum for safety and comfort.
This should not be a first time backcountry ski outing. The more experience you've got – when it comes to winter preparedness and navigation skills, the better the trip will be.
Best time to go
With more daylight in March and April, you've got a wider margin of error. The weather can still be wintry but in late April we had temperatures in the afternoon of 15°C – hot enough to get burnt at altitude with all the reflection from snow.
In theory the Wapta Traverse can be done year round – as a hiking trip when the snow is gone and as a winter trip if you're tough.
The Balfour and Scott Duncan Lodge have no heating per se – just the warmth from cooking over the propane stove and bodies. In our case, both huts were extremely warm – in fact too much so at night, especially on the upper bunks.
Don't forget the following
Skis, binding repair kit, skins, poles, extra basket, boots
Avalanche transceiver, probe and shovel with extra batteries
Ropes, climbing harness, 2 locking carabiners, 2 regular carabiners, 2 prussiks, crevasse rescue gear
Food – lightweight but high calorie; bars – and lots of variety
1-2 large water bottles, water purification tablets if you don't want to wait for water to boil
Layered clothing – all quick dry from t-shirts for sunny days to long sleeved shirts with fleece jackets, windproof layers, neck warmers, waterproof gloves, hat, sunhat or ballcap; extra socks
Never used a towel as washing with limited water is next to impossible. Bring hand cleanser.
Book, camera, ear plugs
SAT phone (optional)
Maps, GPS, compass
Sleeping bag (my heavy duty down one was too warm)
First-aid kit including a blister repair kit
The option to go guided on the Wapta Traverse
You can book huts through the Alpine Club of Canada and do the trip on your own – as many do. The people we met that did this had a lot of experience.
Some were guides with a strong avalanche background from CMH. Others were in the Adventure Guide program at Thompson Rivers University in Kamloops. But many people on their own only went as far as the Bow Hut.
If you want to do the Wapta Traverse – whether it's the four day version I did or the six day version that starts with a stay at Peyto Hut, and you aren't sure about your skills, go with a guide.
We certainly had a great experience with Yamnuska – but there are many other guiding companies and individuals, especially out of Canmore. A guided four day trip runs about $Cdn 995 + avalanche gear rental + extra food + ski/boots/skins rental.
A great place for ski rentals is Gear Up Mountain Sport & Rentals in Canmore. It's open 7 days a week from 8 AM to 8 PM.
Final thoughts about the Wapta Traverse
I'm thrilled I did the trip! I'd do a partial version next time – for something different that would include skiing into Peyto Hut, skiing to Bow Hut and then out. Maybe next year. It's a glorious feeling being up high in the mountains!!
Further reading on Alberta in winter
Click on the photo to bookmark to your Pinterest boards.