I'd never even heard of Castle Mountain Ski Resort in southwest Alberta until last year. There are plenty of skiers and boarders who would like to keep it that way – so my apologies to them for penning this blog. I knew that Castle Mountain Ski Resort was somewhere in southern Alberta, but that was the extent of my knowledge.
It's about 20 minutes from Pincher Creek, down in the southwest corner of the province. The British Columbia and Montana borders aren't far away – at least as the crow flies.
On a media day I attended, a few things about Castle Mountain Resort stood out. Castle Mountain has come up with an edgy manifesto. It truly brought a smile to my face as I loved the honesty of what they were saying and the lack of pretension. They aren't trying to be something they are not.
These are some of the things that Castle Mountain Ski Resort stands for
If you're looking for a ski hill that's all about high speed quads and big, comfy lodges while sipping complicated lattes, then this place is not for you.
Castle Mountain is not a ski hill. It's a mountain.
Castle Mountain is operated for skiers by skiers and riders.
Castle Mountain believes in deep powder and challenging terrain.
Après-ski means summer to the people here.
That should give you a sense of what you'll find at the mountain.
What it doesn't mention is the fact that the people running the place are a total delight and genuinely very friendly. In fact, Huggy Marie is in the running for the friendliest liftee in all of Canada.
Castle Mountain is the only Alberta resort that offers both cat skiing and resort skiing.
I did both on the day I was there.
Cat skiing at Castle Mountain Ski Resort
Cat skiing is offered three times a week – on Thursday, Friday and Saturday. On a typical day you'll ski or board 8-10 runs, with each run offering roughly 2,000 feet of vertical.
But before you even get started, it's a good idea to rent some fat skis (available at the base of the mountain) to make the skiing easier. Then, you must ride the Huckleberry Chair to reach the cat. From there, it's about a 15 minute ride to reach the starting point. At times the grade is well over 30% – and the views are terrific.
Once at the top, before you even click into your skis, you must undergo avalanche training. Everyone is given an avalanche beacon and a shovel and although the risk is very low, safety is something the resort takes very seriously.
And then the fun begins.
Prime time for cat skiing is typically mid-February to mid-March when the big dumps of snow arrive. We had a mix of crusty snow and powder which though not ideal, sure beat skiing the usual groomed runs according to my husband who loved the day.
You should be at least an intermediate skier or boarder to enjoy the experience. Being in shape is a bonus that will pay dividends on the descent.
What the downhill skiing is like at Castle Mountain
After some cat skiing, I decided to do some exploring of the resort on my own.
There are six lifts in total. The combination of the Sundance and Tamarack chair will leave you high on the mountain – where views of the valley below are simply gorgeous. Never did I wait for a chair – and granted, it was mid-week, but I hear that's the norm.
When I arrived at the top of the mountain, I quite literally had the place to myself. There wasn't a soul around. Don't go to the top if you are a novice skier for its all intermediate to expert terrain until you're at least part way down the mountain.
The terrain at Castle Mountain Ski Resort
Look for 15% beginner, 35%intermediate, 40% advanced and 10% expert terrain. Quite frankly the expert terrain just scares me.
The steep chutes offer up the longest continuous fall-line in Canada – and for me that just doesn't sound like fun. But if you're an expert, you're going to love them.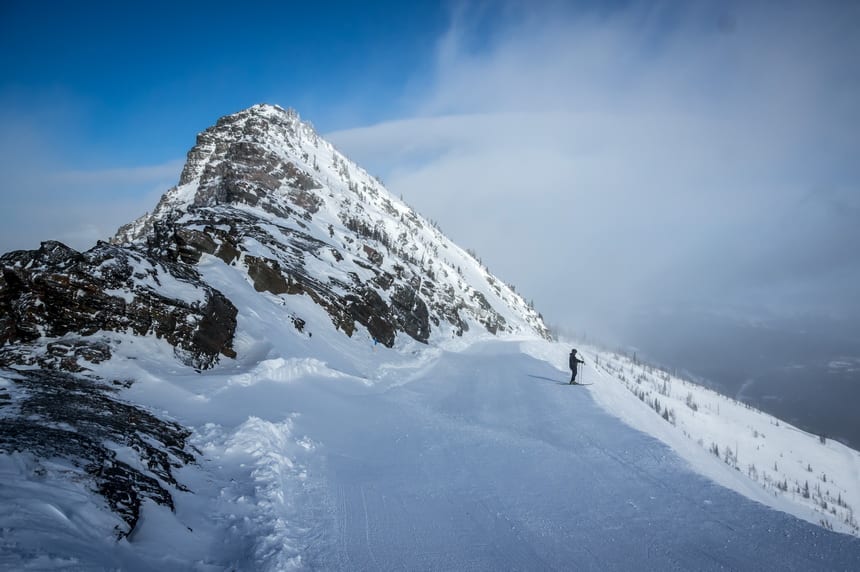 Expect a long ski season
Castle Mountain enjoys a long season. Most years it stays open into April. It will be open until April 10th, 2022. Ticket prices are $109.95/day (in 2022) but a pre-purchase can save you 20%.
Cat skiing is $424.95 + GST (off peak season in 2022), $524.95 +GST in peak season. Prices include a gourmet breakfast, a bagged lunch, a celebratory drink and a full guided day of cat skiing.
Where to stay at Castle Mountain
You can stay at the resort – either at the ski lodge/hostel combo or at one of the ski-in/ski-out properties. There are motels and hotels in Pincher Creek as well as some B&B's that are a 15-20 minute drive away. John and I stayed overnight at the Aspen Grove B&B. They offer a big breakfast and a full kitchen so you can make your own meals – and they're a reasonable $95 per night.
There's one place to eat on the hill – the T-bar Pub & Grub and in nearby Beaver Mines, check out Stella's Inn & Pub Grill.
Castle Mountain is truly a paradise for skiers and boarders. For more information visit their website.
Further reading on things to do in winter in Alberta
Click on the photo to bookmark to your Pinterest boards.
This post was sponsored by Travel Alberta but all thoughts and opinions as always are strictly my own.