Saskatoon in winter can be tough. Make no mistake. The winter is long and it can be cold, numbingly cold. But Saskatoon is a city where it's possible to not only survive the winter – but to thrive in it. Here are 10 fun things you and your family can do in Saskatoon in winter. Just be sure to dress warmly. In fact you might just want to read What to Wear in Canada in Winter on a -20°C Day.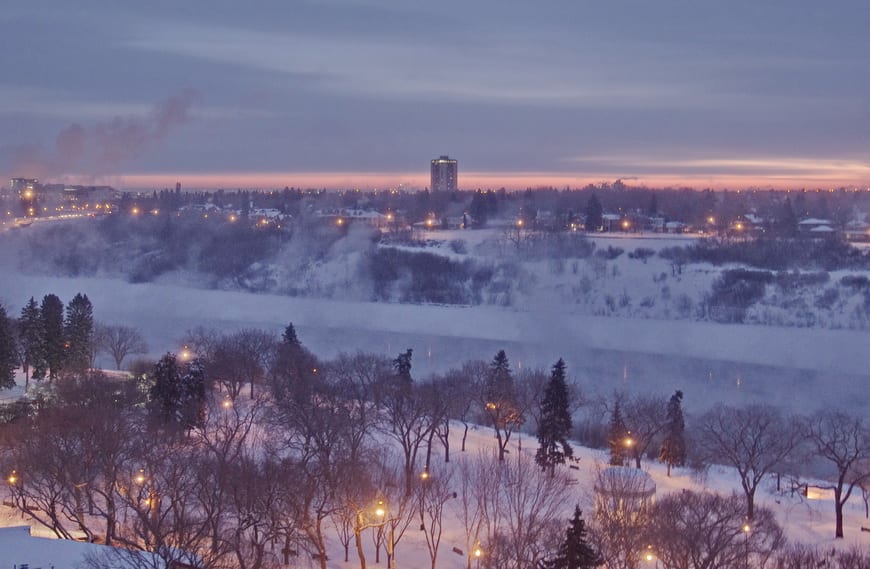 Explore the Meewasin Valley trail
Pick a section of the Meewasin Valley trail to walk – either within the city or through the Rural Municipality of Corman Park. The trail is almost 60 kilometres long. The stretch I walked in downtown Saskatoon was beautiful, even on a -30°C day. Picture deep blue skies, sparkling snow and brilliant sunshine- all the hallmarks of a Saskatoon winter.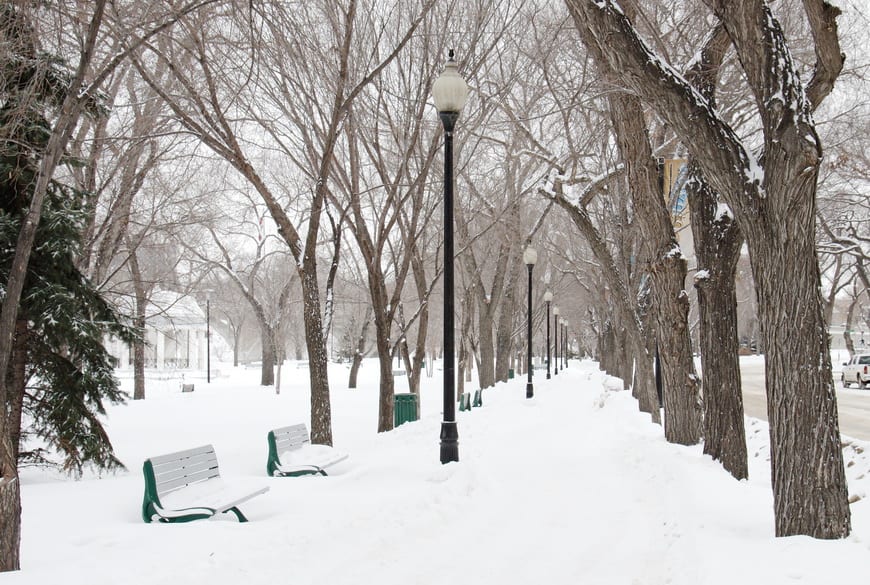 Check out downtown Saskatoon on foot – even in winter
Take a walk through the parks and around the downtown area looking for colourful murals and statues erected to honour historical figures. If you have time visit Remai Modern at River Landing.
It opened in October 2017. By all reports it's an amazing place especially with the world's largest number of Picasso linocuts featured in the Picasso gallery.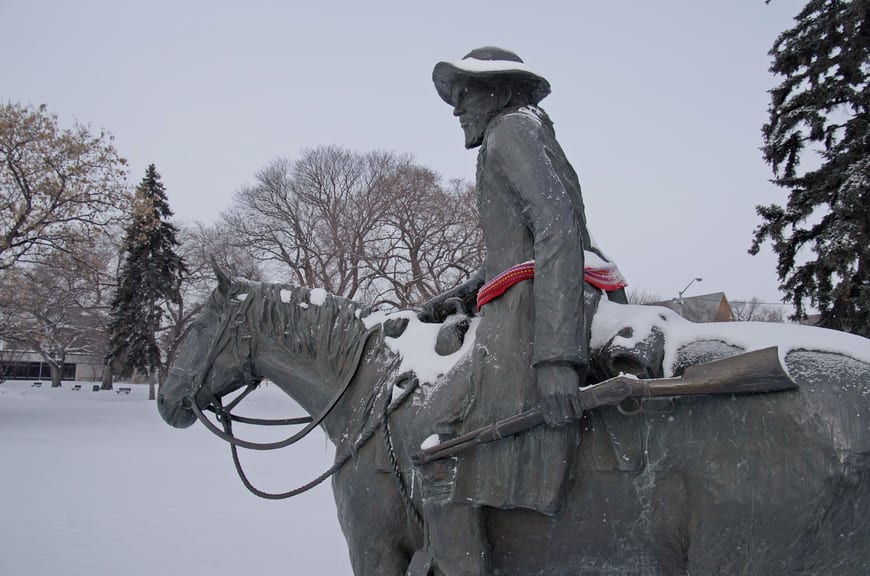 Try cross-country skiing in downtown Saskatoon in winter
Go cross-country skiing for a few hours to get those happy hormones going. If you're short on time, make a few laps around Kinsmen Park in downtown Saskatoon.
But if you've got a whole day then definitely head for Eb's Ski Trails – a 55 kilometre wilderness ski trail system maintained and groomed by the Saskatoon Nordic Club. And if you need help getting started cross-country skiing give Cliff at CanoeSki a call.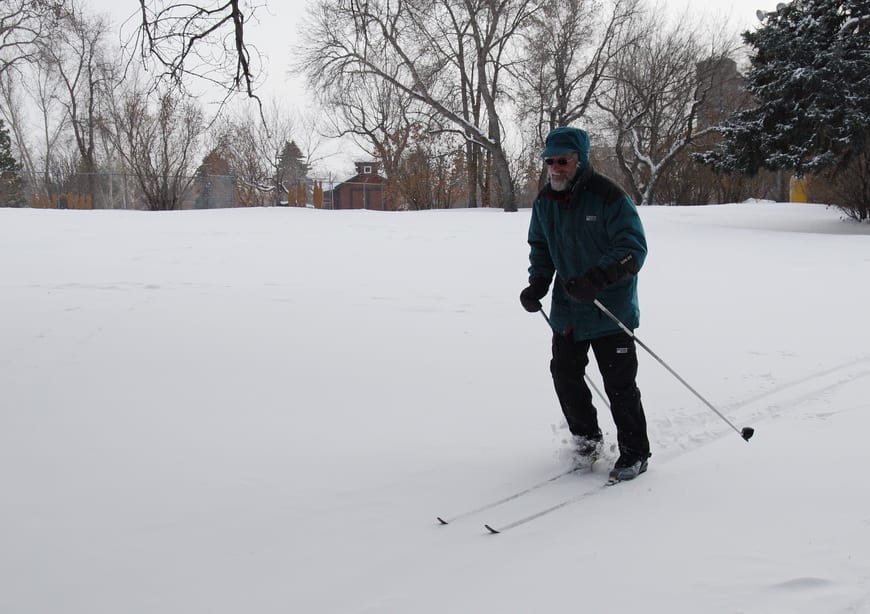 Go for a tasting at Lucky Bastard Distillers
For an indoors activity take a tour or arrange a tasting at Saskatoon's LB Distillers. They manufacture Saskatoon's only vodka, gin, whiskey and liqueurs. And they bill themselves out as making the only gin in the world that includes Saskatoon berries in the recipe.
Some of the other interesting products they sell include Lucky Bastard Ginger Pear Vodka and Lucky Bastard Blood Orange Hibiscus Vodka.
Try kick-sledding
Rent a kick sled from Escape Sports and work up a sweat on the trails in the city no matter what the temperature is outside. Look for some hills because I can assure you from my kick sledding experience that you'll get an adrenaline jolt on the way down. Kick sleds differ significantly from dog sleds in that they are designed to be propelled by humans.
Go ice-skating in downtown Saskatoon
Go skating at the Cameco Meewasin skating rink – next to the Bessborough Hotel. Skating and skate rentals are free – and the warm-up lodge is a pleasure to hang out in, especially with the wood burning fireplace adding to the charm.
There are many more outdoor skating rinks around the city (full list here) as well as five municipal indoor rinks and a skating oval.
Explore Saskatoon's Broadway neighbourhood
Take a stroll down Broadway – a dynamic area rich in the arts that is easily accessed on foot from downtown via the Broadway Bridge. Look for unique and locally owned retail shops, small cafes, pubs, restaurants and art galleries.
Attend a winter festival – a fun way to spend time in Saskatoon in winter
Plan to attend the annual WinterShines Festival in January and February. The Festival celebrates winter and features something for everyone including ice carving by international ice carvers, a soup cook-off with the Heart and Stroke Foundation as the beneficiary, an outdoor ice climbing wall and a petting zoo.
I would like to mention that the chef I was teamed up with on my visit – Doug Hyndford from the Saskatoon Inn – won the Judge's Choice Award for his soup – Gin Rickey Rabbit soup.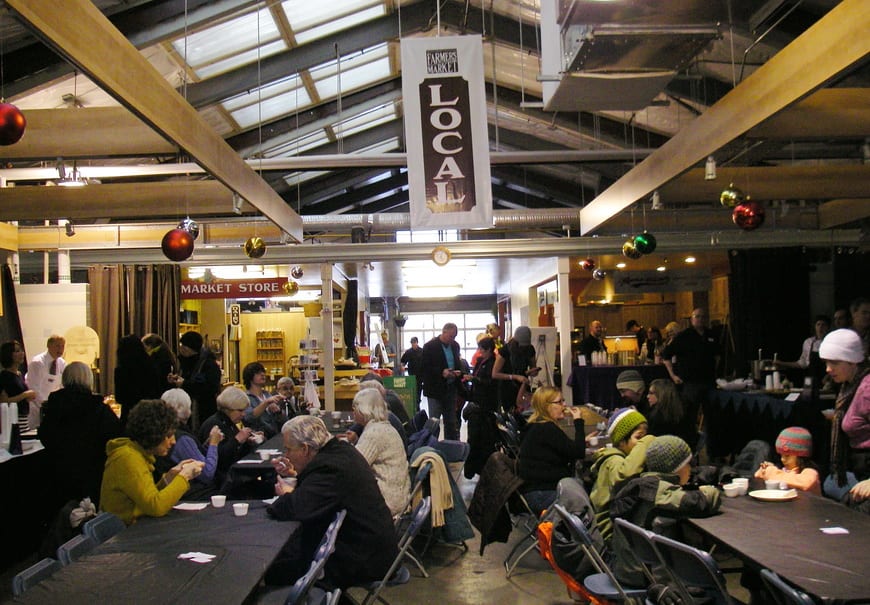 Dine in one of the excellent restaurants in
Saskatoon
Tired of cooking? Then visit one of Saskatoon's great restaurants suggested in this post. Perhaps the start-up costs for new restaurants are less expensive than other cities in Canada or there are just a lot of talented chefs in the area, but Saskatoon surprised and delighted me with its restaurants. Look for creative cooking with local ingredients at affordable prices.
Go for a bike ride in winter
And if you're completely crazy – go for a winter bike ride. Just bundle up in layers so you don't end up with frostbite. Fat bikes take more energy to ride that any bike you ride in the summer, so I think you'll be pleasantly surprised at how warm you stay.
There are several places that rent fat bikes – like Bike Doctor on Broadway. They can provide local intel on the best places to cycle.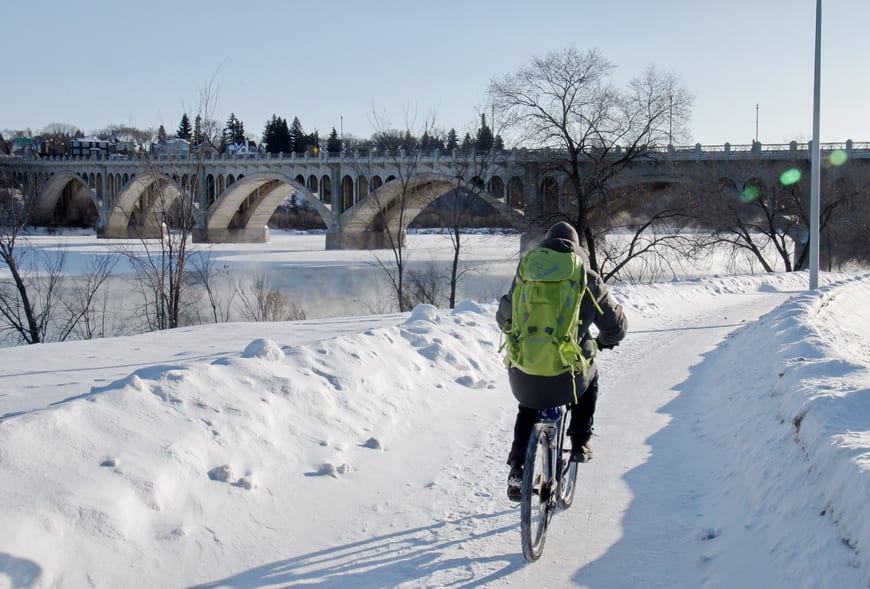 Location map of things to do in winter
What other things to do in Saskatoon would you recommend in the winter?
Where to stay in Saskatoon in winter
This post includes some affiliate links. If you make a qualifying purchase through one of these links, I may receive a small percentage of the sale at no extra cost to you. Thank you for your support.
I have had the pleasure of two excellent hotel stays in Saskatoon. I'd highly recommend the Delta Hotels by Marriott Bessborough. Try and score a room with a view of the river.
Another solid choice that's close to everything downtown is Alt Hotel Saskatoon.
Need more information? Visit the Tourism Saskatoon website.
Further reading about Saskatchewan
Click on the photo to bookmark to your Pinterest board.