You would think I'd know better by now. But apparently I'm a slow learner. It's not as though I haven't already done three long bus rides in South America – including one that was 16 hours long. But those bus rides were in Chile and Argentina – where the buses have leather seats like a business class seat on an airplane. They recline. They're roomy. And they allow you to see outside.
Not so – on my recent bus ride from Bogota to Guican – now regarded by me as the BUS RIDE FROM HELL.
If I'd been smart I would have re-read my 30 tips for long distance bus rides – before getting on the bus. We all need a little refresher if we haven't been traveling in countries where travel isn't as straight forward as it usually is in North America.
This post includes some affiliate links. If you make a qualifying purchase through one of these links, I will receive a small percentage of the sale at no extra cost to you. Thank you very much for your support.
The bus ride in Colombia
The bus ride was the one big unknown with regards to our Colombia trip. We knew we had to get to Guican – the gateway town for hiking in the Sierra Nevada del Cocuy – from Bogota. There were two options – a supposed 10-12 hour bus ride OR an expensive trip by private car that would take about nine hours.
So in the interests of saving money and absorbing some local flavour we chose to travel to Guican by bus.
Just getting information was painful. There are confusing websites and the individual bus lines don't have websites. Fortunately Rodrigo our guide let us know that the bus companies to choose from were Fundadores, Concorde and Libertadores – though Libertadores only goes overnight.
We also weren't sure if we should buy a ticket ahead of time – but that would have been a lot of work and as it turns out unnecessary. But to be on the safe side we made our way to the Main Bus Terminal in Bogota – a huge, sprawling affair – an hour before our 6 AM bus was scheduled to leave.
If you know what bus company you're using then it's a snap to buy a ticket. But there are dozens of bus companies so that information is very useful to have beforehand.
Buying our ticket took seconds. It is not possible to purchase tickets online. To be on the safe side, bring cash for the tickets. Ours were only about $US 25 one way.
Why was this the bus ride from hell?
A number of things turned it into a mini-nightmare.
Even though there is a washroom on the bus, it doesn't work and I have heard that is the case on all buses these days in Colombia (please correct me if I'm wrong).
Finding bathrooms
So you have to find a bathroom in one of the small towns along the way. That can be time consuming and you never quite know if the bus will leave without you. In fact I had to hold the bus back from leaving as John hadn't returned when the driver was about to pull away. (Don't forget to bring your own toilet paper and small change in case you have to pay to use the facilities.)
John and I had both started taking Diamox the morning we left for Guican. It's a drug that does wonders to prevent and alleviate the symptoms of altitude sickness. But one of the side effects is that it acts as a diuretic so you have to pee A LOT. And you're supposed to drink a lot but that wasn't going to happen on this bus ride. So if you choose to go by bus, do not start taking Diamox until you get to Guican.
Darkened windows
The windows on our bus had a darkened section – which I'm sure is helpful in the hotter, sunny regions, but it prevented you from seeing out properly. There was always a line in the middle of your vision. And it was very annoying.
Hard as rock seats
The seats are wildly uncomfortable. If you do recline them and someone is behind you they quite literally have no room. The seats go back to within one inch of the seat behind so being jammed is a problem. The one bit of good news is that for a few hours here and there we would get two seats to ourselves.
Non-stop receptive music
If you didn't bring noise cancelling headphones then you are in for 14 hours of non-stop, repetitive music. And some of it was the squeaky, disco type that was just about as bad as fingernails on chalkboards.
Too many people on board = bus ride from hell
If the bus gets crowded then kids go on mother's laps and you could end up seating three people where there should only be two.
Awful roads
The roads after Tunja are potholed, washed out, broken down and a mess. Expect to go no more than 30 km per hour as a top speed for at least four hours. It took us in a car on the return four hours to do 140 km.
Landslides are a common occurrence
The drive, though beautiful, takes you through country that is rife with landslides. If it's raining which it was for us for the last few hours, try not to obsess about the fact that the bus might just be thrown over a cliff in a very real landslide. There are numerous signs that speak to the geological faults in the area. And sometimes in rainy season the road can be closed for DAYS.
A VERY LONG day on the bus
Keep your expectations in check. I was counting on arriving in Guican in 10 hours. When 4 PM rolled by and I found out how far away we still were I almost went into shock. Plan on the trip being 14 hours.
The bus is a milk run. Anyone can flag it down over the entire route. So there is loads of stopping and starting and loading of bags.
Lack of food options
Food and drinks are best bought in quantity in Bogota. That way you won't be worrying about the bus pulling away without you. We ate a few bars we had and that was about it. When we arrived in Guican the restaurant had closed so other than a hunk of cheese and a piece of bread we had nothing else to eat all day.
But there are a few good things about the bus ride from hell I should mention.
Gorgeous scenery
The scenery is stunning once you get past Tunja. Deeply incised valleys, tall mountains and even glacier views can be seen. And you get a taste of what the rural life is like in Colombia. People on the bus were friendly and helpful.
In the last hour I pulled out my computer and entertained kids and adults with photos of Canada.
The rest of the photos are taken on our return trip – done from the comfort of a car. There was no way you could pay me to do the trip by bus back to Bogota – especially since we would have arrived back in Bogota in the middle of the night.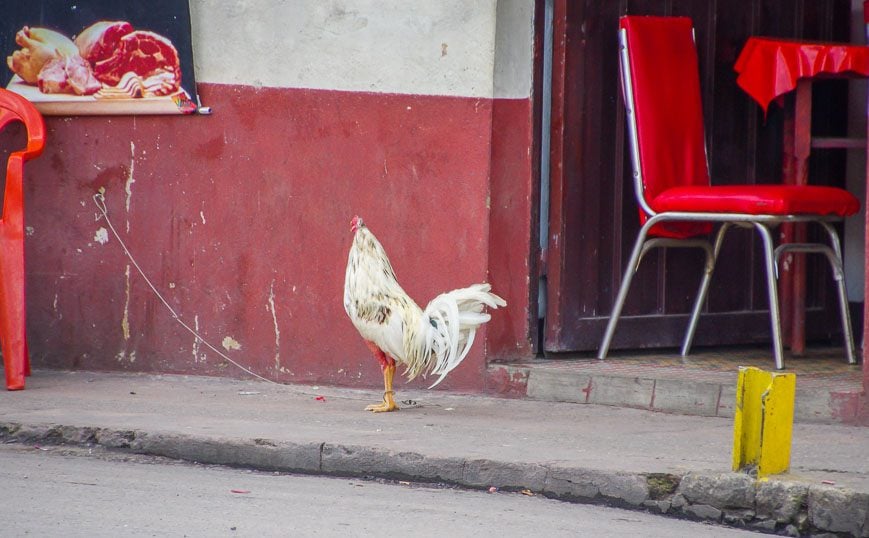 Booking a bus in Colombia
Where you can I highly recommend using Busbud. Then there are no language issues and its easy to see without going to the bus station when the buses run.
Would you concur and call this the bus ride from hell?
Further reading on travel in South America
Click on the photo to bookmark to your Pinterest boards.