A trip to see the Northern Lights in Canada is bucket list worthy. Canada ranks high as one of the top places in the world to see the Northern Lights, though that shouldn't come as a surprise considering our northern geography.
And yet I suspect only a small percentage of Canadians have actually seen the Northern Lights in Canada. You need clear nights without light pollution and the ability to stay up late. Often the Northern Lights don't show until well after midnight.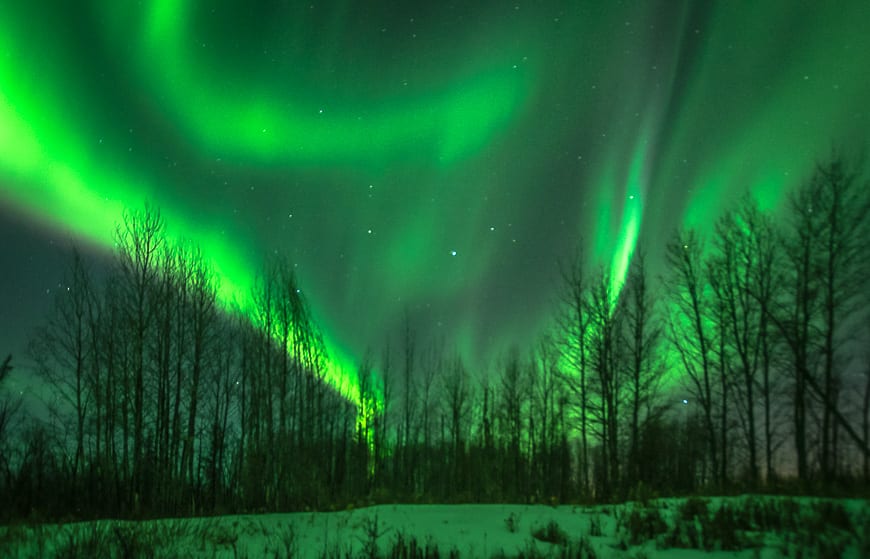 You'll find time disappears when you see the Northern Lights in Canada
Hours float by like minutes when you catch a northern lights display. Time disappears. You get caught up in the moment – mouth agape not quite believing what you're seeing. There's nothing like it on earth – the magic of the night skies dancing overhead with shapes changing by the second and colours of pink, green and purple weaving across the night sky.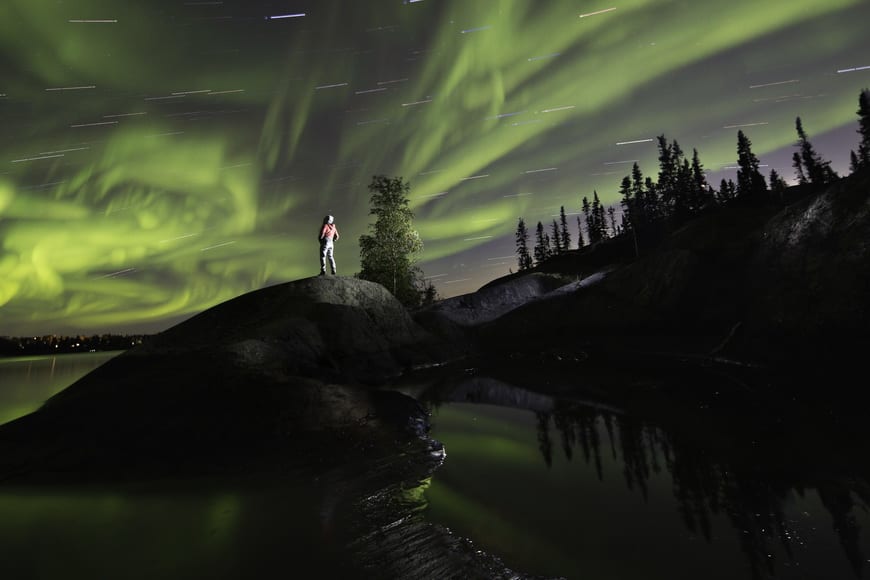 This post includes some affiliate links. If you make a qualifying purchase through one of these links, I will receive a small percentage of the sale at no extra cost to you. Thank you veyr much for your support.
8 places where you have a high probability of seeing the Northern Lights in Canada.
Whitehorse, Yukon for incredible Northern Lights displays
While you could hop in a car and head out to a deserted field after looking at the latest aurora forecast, you can also sign up for a Northern Lights tour with Northern Tales. There are several advantages to joining a tour.
You get picked up and dropped off at your accommodation in Whitehorse but most importantly once out at the viewing area, you can enjoy warming huts and bonfires that make the three to four hour winter experience a whole lot more comfortable (along with cookies and hot chocolate).
In addition there are guides that can tell you about the northern lights and help you with photography. Note: They do provide heavy-duty tripods.
Read: A Trip to See the Yukon Northern Lights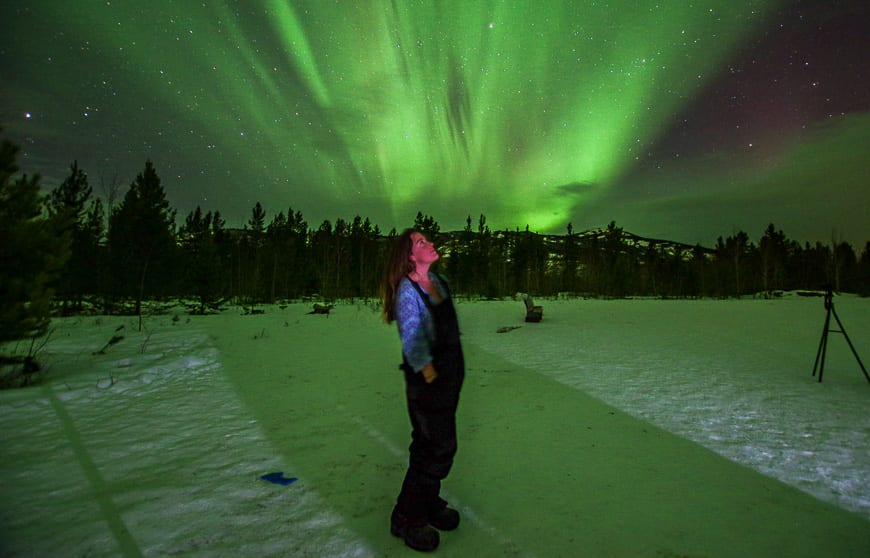 The Aurora 360 Northern Lights Experience out of Whitehorse
The Aurora 360 Experience was cancelled while we are in the midst of COVID. They are hoping to line it up again with flights scheduled to take-off from Whitehorse but no dates are yet set.
Fly through the Northern Lights in a plane. In 2018, the inaugural year, Robin Anderson, Global Marketing Manager at Tourism Yukon stated that "Last year passengers saw the Aurora Borealis just nine minutes after take-off and the lights continued for 3 straight hours. We hope they break that record this year!"
There are just 80 seats available.
Dawson City, Yukon
In Dawson City, located about a seven hour drive north of Whitehorse, the northern lights make an appearance from late August until April. If it's a tour you're after, you can stay at the Aurora Inn in Dawson City's colourful downtown and sign up for one of their tour packages.
Yellowknife, Northwest Territories for the Northern Lights
Yellowknife calls itself the "best city in the world to view the Northern Lights" with mid-November to early April the prime time to see them. With Yellowknife's proximity to the North Magnetic Pole, Northern Lights are considered not just a common experience, but a VERY COMMON experience in the city. The other thing the city has going for it is a flat landscape and a semi-arid climate.
While I haven't been, I sure love the offerings of Aurora Village, an Aboriginal-owned business since 2000. They offer "custom-made, heated outdoor viewing seats that swivel 360 degrees…across five viewing hills located throughout our expansive wilderness property."
Nearby Great Slave Lake, a short drive outside the city is another popular spot for northern lights viewing in Yellowknife.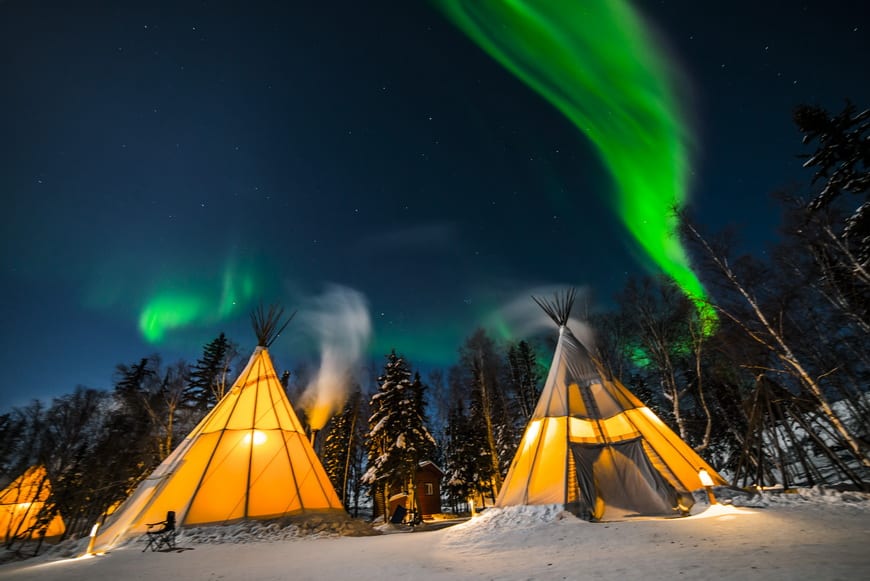 Northern Lights in Canada – Visit Churchill, Manitoba
If you like the thought of combining a trip to see polar bears along with the Northern Lights, then head up to Churchill, Manitoba. With a location under the "auroral zone" the lights are best viewed from January to March.
If you sign up for a tour with Natural Habitat Adventures you can enjoy a "custom-built Aurora Pod®, which offers 360-degree views of the Northern Lights through its glass ceilings and walls." Even better – no need to freeze as you can lie back in heated comfort to enjoy the magic of the night skies.
Muncho Lake Provincial Park, British Columbia
Up in northern British Columbia, Muncho Lake Provincial Park is one of the prime places to see the Northern Lights. It's inland from the coast so it enjoys clearer skies with less cloud cover.
Access is easy from the Alaska Highway and for photographers it offers a beautiful backdrop of folded mountains.
There's also a place to stay too, the Northern Rockies Lodge which you can book here.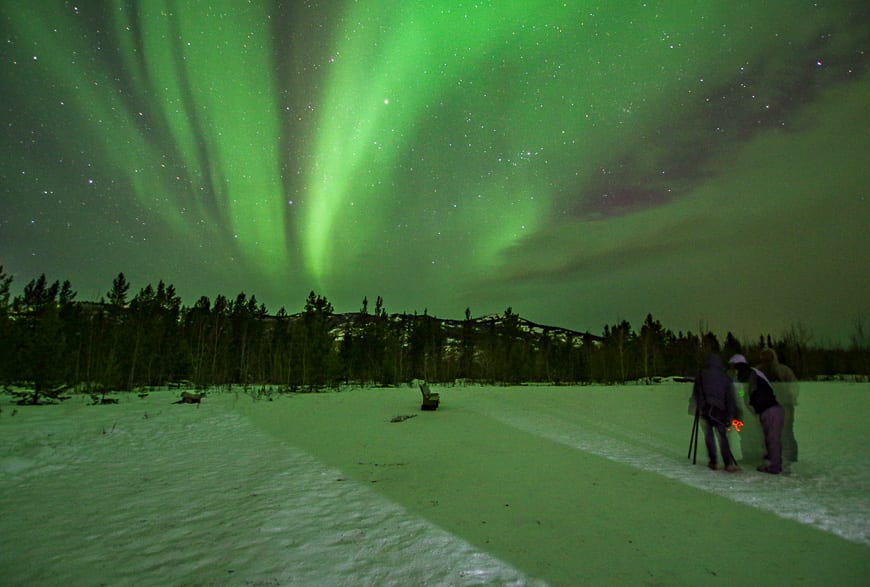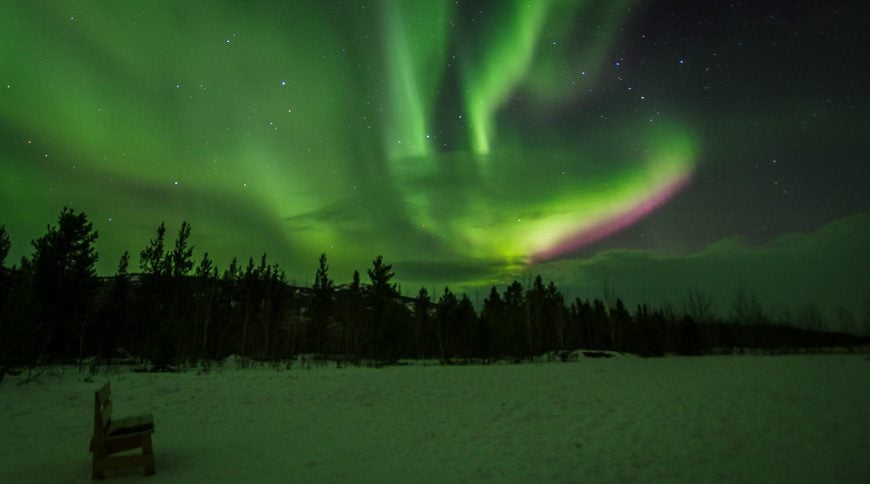 Northern Saskatchewan
One of the best Northern Lights displays I have ever seen was in northern Saskatchewan at a fly-in camp north of La Ronge. The brilliance of the night sky and the absolute magic I encountered has never left me. That was the best middle of the night bathroom break I've ever taken.
If you travel north of Saskatoon you'll find Prince Albert National Park. Head to South Bay or Paignton Beach along the Narrows Road for as they say "wide open views of the night sky." They also recommend visiting in August, October and December for the annual meteor shower.
Jasper National Park for Northern Lights
Jasper National Park is one of the worlds largest and most accessible dark sky preserves. In October it is also the site of the annual Dark Sky Festival.
To see the Northern Lights get away from the Jasper Townsite per se, to avoid the light pollution. The northern lights are best viewed between October and May.
Fort McMurray – an exceptional place to see the Northern Lights in Canada
While Fort McMurray gets a lot of press, it's not usually for the Northern Lights. Certainly the lights have been around since time immemorial, but as a dedicated tour for a visitor it's a new things. Fort McMurray is easy to get to from Calgary or Edmonton and the Northern Lights seen from just out of town are one impressive sight.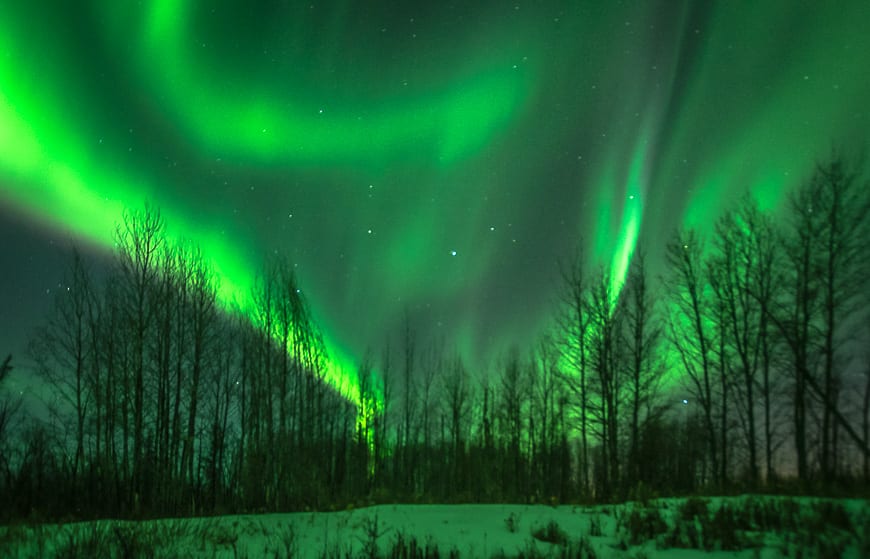 Lady luck and the northern lights in Canada
If you're visiting northern Canada – and even some cities like Calgary or Edmonton you can catch the Northern Lights if you're up late at night and Lady Luck is on your side.
Years ago I was lucky to catch them on a November drive between Manitoulin Island and Parry Sound. But if your heart is dead set on seeing them and they've been on your bucket list for years, sign up for a two to three night tour in the far north to maximize your chances of viewing success. You'll be happy you did.
Further reading on winter in Canada
Click on the photo to bookmark to your Pinterest board.