The Fort McMurray Northern Lights viewing experience deserves to be on the world stage. While the city gets a lot of press, it's rarely for Northern Lights – yet. The northern lights have been around since time immemorial, but the viewing experience for tourists is a newer thing – and all part of diversifying the local economy.
Fort McMurray has lots going for it. It's a short easy flight from both Calgary and Edmonton. The northern lights viewing season is longer than in other Northern Lights hot spots like the Yukon – and there are plenty of fun activities to do in Fort McMurray during the day.
Other winter activities in Fort McMurray include snowshoeing, cross-country skiing, downhill skiing, snowmobiling and even dog-sledding. There are museums to visit and excellent coffee shops to warm your chilled bones.
This post includes some affiliate links. If you make a qualifying purchase through one of these links, I will receive a small percentage of the sale at no extra cost to you. Thank you for your support.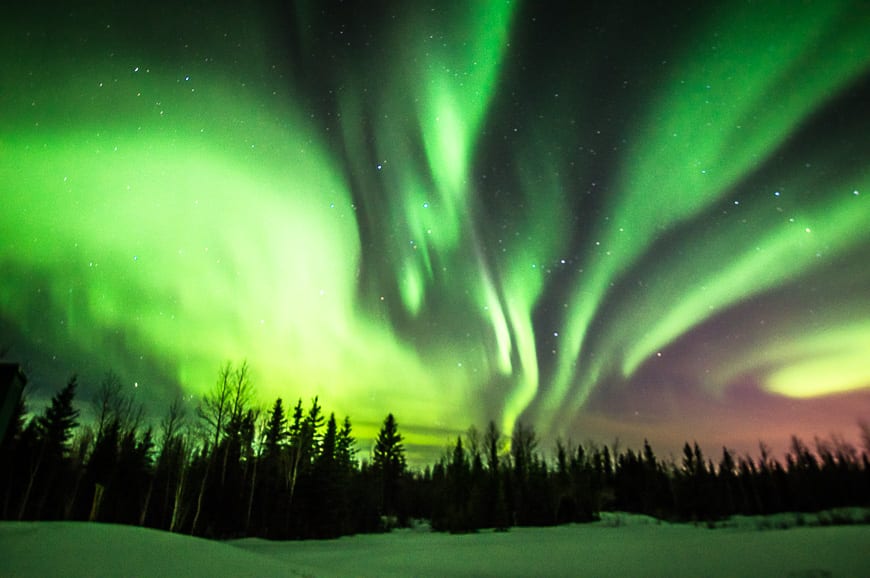 I was part of a group of adventure travel writers and bloggers that landed up in Fort McMurray as part of a conference pre-tour in March.
I was delighted for I'd never been up to this part of Alberta and it's always a thrill to see the Northern Lights, though I appreciate sightings are never guaranteed. Mother Nature can be fickle.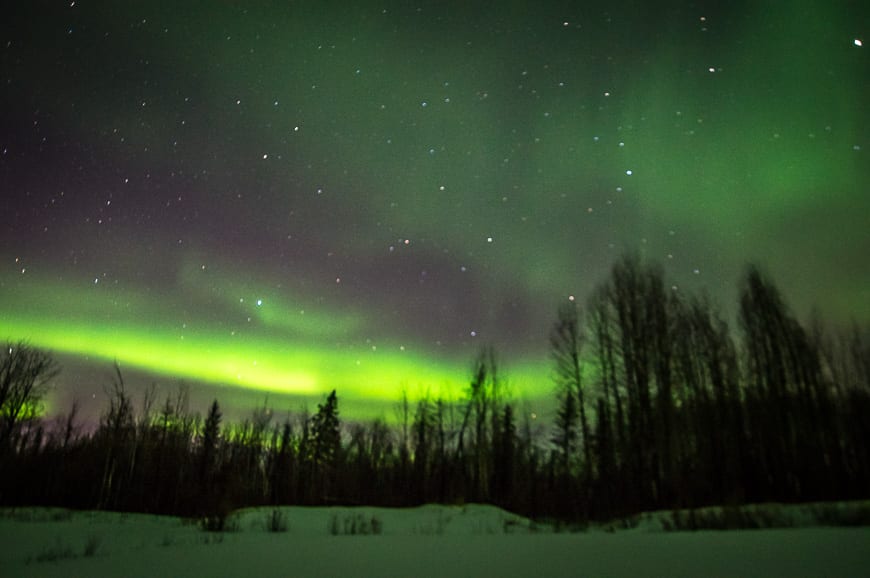 When is the best time to be in Fort McMurray for the northern lights?
While Northern Lights are present every month of the year they are hard to see in the summer months when days are long. Prime time Northern Lights viewing in Fort McMurray is from the last two weeks of August until the first two weeks of May.
Really cold weather enhances the clarity of the sky but a clear sky doesn't necessarily equal great Northern Lights. There also needs to be solar flares on the sun sending gusts of charged solar particles that strike atoms and molecules in Earth's atmosphere, causing them to light up.
There are apps and websites devoted to predicting the Northern Lights but if you've made plans far in advance to travel, they won't be of much use. The bottom line when it comes to seeing a spectacular Northern Lights display – Lady Luck needs to be on your side!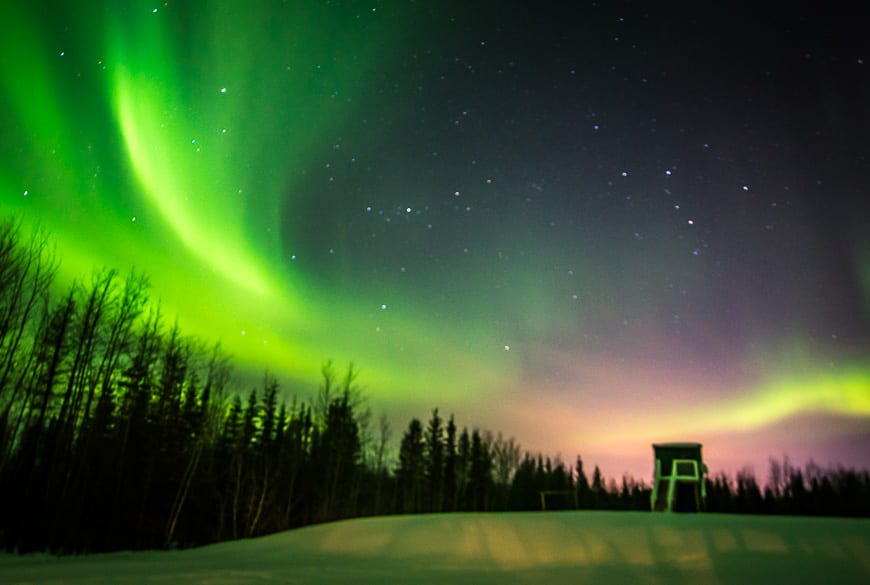 3 hours of non-stop northern lights magic
Lady Luck was around in spades for our group. We had THREE HOURS of non-stop magic as the Northern Lights danced, shimmered and glowed around and overhead on our first night out, starting within minutes of our 10:15 PM arrival.
According to Bill Rockwell – our astronomer guide and photographer, that kind of lengthy display only occurs 10-20 times in a year. Hour long displays are more typical. On the second night we had them again but to a much lesser degree.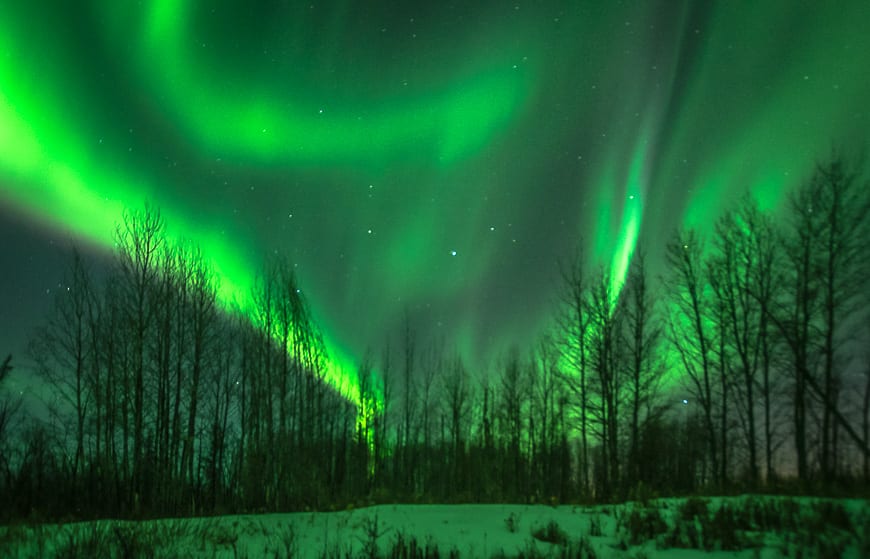 Fort McMurray northern lights experience
Northern Lights Outdoor Excursions Alberta offered a two night, three day package so you got two chances to see the Aurora Borealis while in Fort McMurray. I'm not sure they are still operating in 2022.
Included in the package are the services of a professional photographer so if you're new to taking photos of the Northern Lights and the night sky you'll be able to get some help. And on one night a presentation by a professional astronomer is included.
The temporary quarters for viewing the Northern Lights is at a game and fishing lodge, about 20 minutes outside of Fort McMurray. (The former site burned in the fire but there are plans to rebuild.) The lodge offers a warm environment, bathrooms, hot drinks and as many Timbits as you can eat.
Where to stay in Fort McMurray
You'll mostly find chain hotels in Fort McMurray. Here are a few of the top ranked hotels available via Booking.com.
BCM Inns Fort McMurray – Downtown is a top rated hotel.
Best Western Plus Sawridge Suites includes breakfast with your stay.
Clearwater Suite Hotel is rated as very good and also includes breakfast.
Dress for the weather when you visit
In January and February, two prime northern lights viewing months in Fort McMurray, the average low temperature is -22°C and -21°C respectively. If you want to have fun watching the lights – let alone take photos, plan to bundle up, paying particular attention to your hands and toes. Better yet read the full post on what I suggest you wear to make it through a 3 -4 hour cold night.
Read: What to Wear on a Northern Lights Trip
Further reading on winter trips
Click on the picture below to save to a Pinterest board.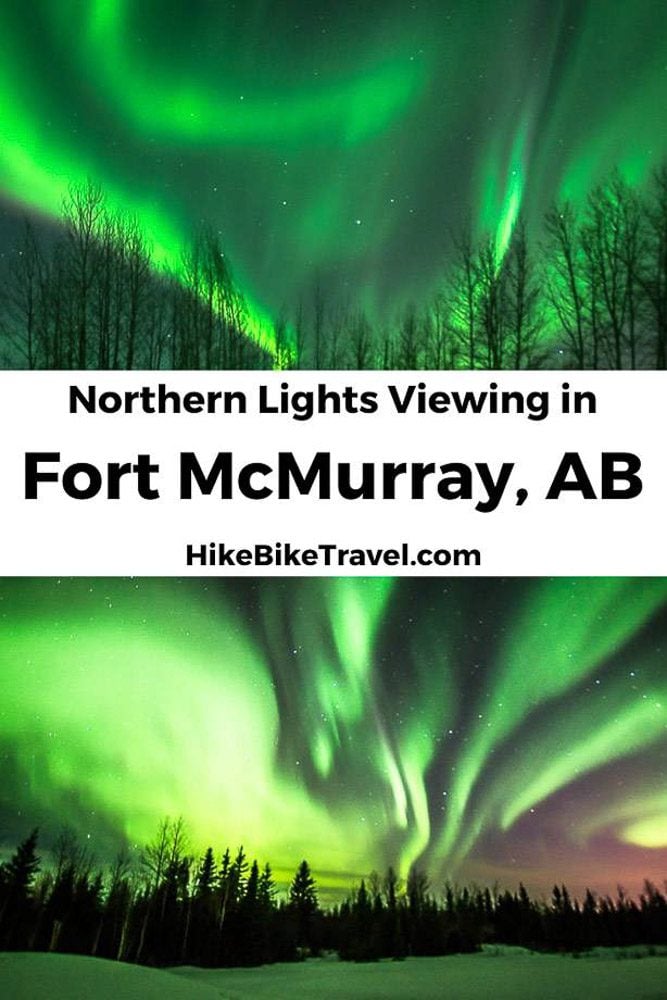 Thank you to Travel Alberta and Fort McMurray Tourism for hosting my stay.