If your teeth are chattering and you can only think about how cold you are, I guarantee you will be hard-pressed to enjoy the Northern Lights experience.
Do you know what to wear on a Northern Lights trip? The right clothing can make or break Mother Nature's spectacle in the sky especially on a winter trip when temperatures can dip to -25°C and below.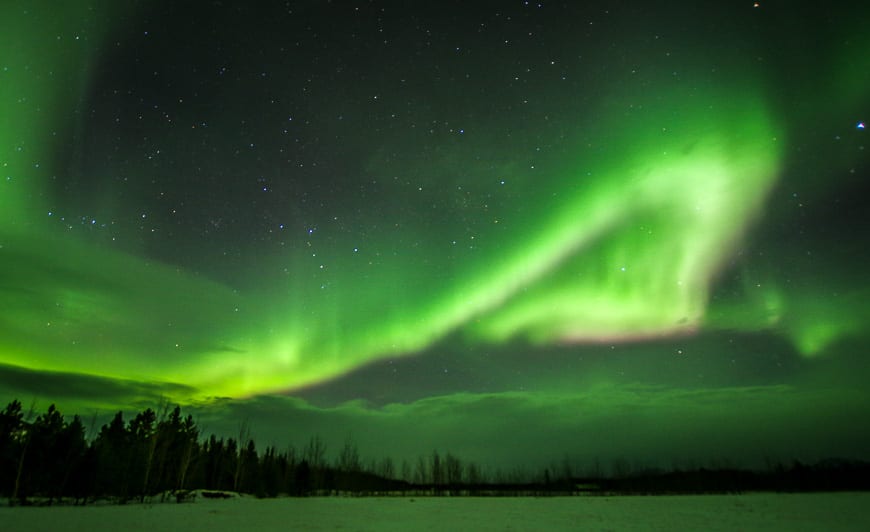 This post includes some affiliate links. If you make a qualifying purchase through one of these links, I may receive a small percentage of the sale at no extra cost to you. Thank you for your support.
Where I've seen the northern lights
I've had the privilege of seeing the Northern Lights four times – once on a trip to the "loo" in northern Saskatchewan when it was bitterly cold and I could barely bring myself to leave the tent.
Another time I saw them while driving on Manitoulin Island in late fall when the sky just lit up and started dancing. I caught them on a northern lights trip to the Yukon and most recently in Fort McMurray, Alberta.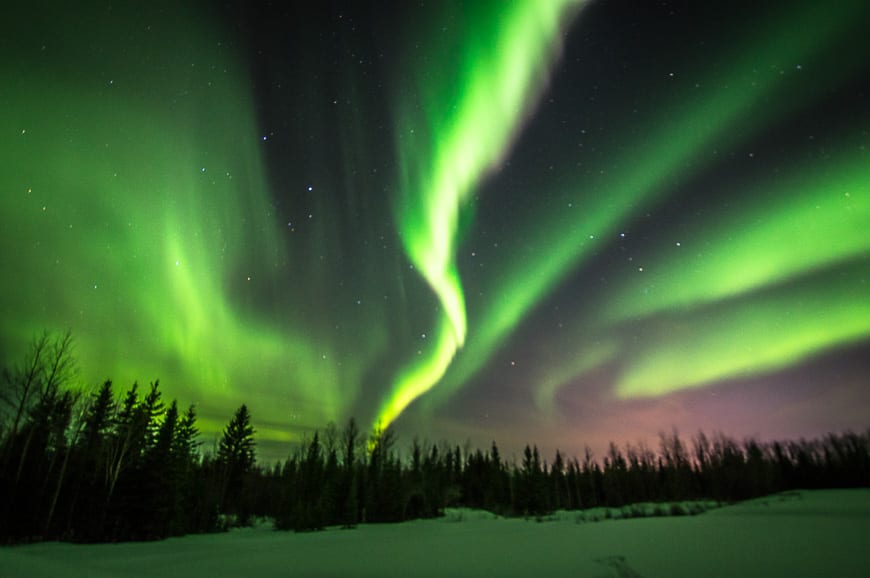 If you're going on a dedicated Northern Lights trip with a tour company there's a good chance they'll provide a parka and perhaps a pair of heavy duty, super-warm boots.
But in case they don't I'll run through what to wear so you can stay out for a few hours at a time. Dressing properly is even more important if you plan to photograph the Northern Lights as you'll probably need to take your gloves or mitts off multiple times.
Don't wear cotton in the cold
No matter what brand of clothing you buy, the most important consideration is that it not be cotton. Cotton kills when it gets cold, drawing heat rapidly away from the body. Stick to wool, synthetics like capilene, fleece and down. Windproof outer-wear is a bonus.
Here's what to wear on a Northern Lights trip starting from the top down.
An insulated fleece hat paired with a wind-proof hood on a parka will go a long way to keeping you toasty. In my books a neck warmer is a necessity, but be sure to buy one that isn't too loose or I find the heat still escapes. A balaclava for bitterly cold days would also come in handy.
For base layers on top and bottom I recommend both wool long underwear like that made by Icebreaker or synthetics like capilene made by Patagonia. In both instances you can buy different weights of long underwear. My day to day is mid-weight but I know if it's going to be really cold I'll go to the heavy or thermal weight long underwear.
Over my capilene or merino wool base layer I'll throw on a wind-proof fleece and then a down vest like this one on top of that – if it's a really cold night. Then you need a parka like the Patagonia parka or a very warm winter coat with a high collar and a hood like the one I've got from Lolé, pictured below.
I never find that my legs get as cold as my core, partially because a proper parka will cover you to the knees. I find that wind-proof mountaineering style pants – no matter what the price tag are adequate as long as I've got a great base layer. Other people prefer a pair of snow pants on top of that so consider that if you run on the cold side.
By now you're going to be looking and feeling like the Michelin man. The goal here is warmth so you can spend time outside enjoying the magic unfolding before your eyes.
The trickiest part if you're a photographer is keeping your hands warm, especially as you usually have to fine tune the settings on your camera, pull out a flashlight to see what's happening and fiddle with a tripod.
Buy a super-thin pair of liner gloves that will help you with those 5 – 10 seconds camera adjustments. Depending on the night, take an extra warm pair of mittens and a heavier glove for the photography part of the evening. Don't forget the hand warmers. They can be an invaluable addition for keeping your fingers warm in a mitt and your spare camera batteries warm in an inside pocket.
For boots you can't beat a pair of Sorels paired with a thermal sock. If you're like my husband and you've frozen your feet one too many times, a battery operated heated sock might be just the ticket. Remember – don't wear cotton socks!
That should do it for an evening of Northern Lights watching. If you go on a Northern Lights tour with a company, typically there are bonfires going outside and heated cabins where you can retreat to for a hot drink. Do plan to spend anywhere from one to four hours outside waiting, watching and photographing the Northern Lights.
At the end of the trip throw on a cozy sweater and spend the next hour or two coming down from your Northern Lights high. It truly is one of the most amazing spectacles on the planet.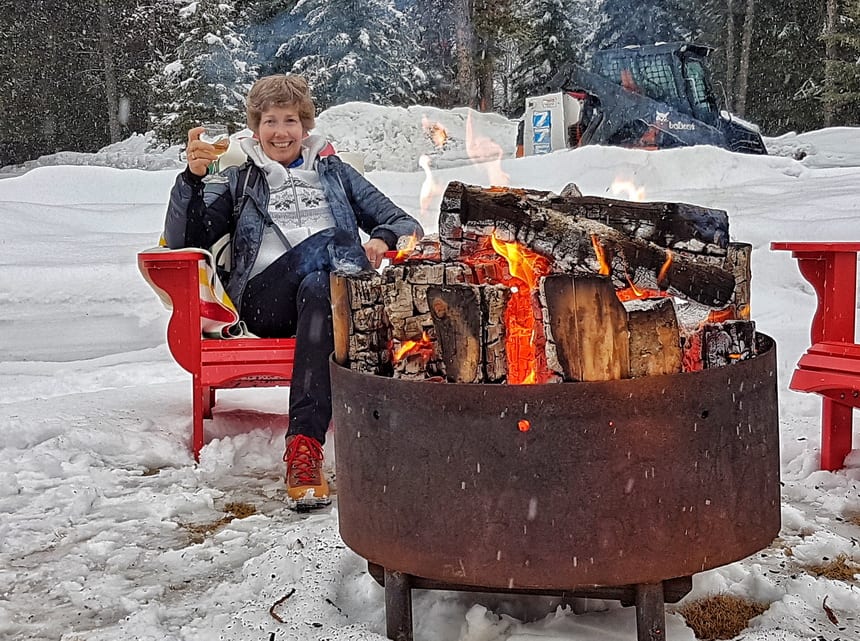 Further reading on winter themed activities