If you're looking for the classic Mount Assiniboine view then hiking the Nublet is essential. It's an easy day hike from either the Lake Magog Campground or from Mount Assiniboine Lodge. Strong hikers can continue on to Nub Peak for the ultimate view in Mount Assiniboine Provincial Park.
Hiking the Nublet happened for us in the second week of September after a big early season snowstorm came through leaving the area looking very wintry. Although it wasn't much fun getting into the park the day before – due to horrendous driving out of Calgary, the payoff – incredible beauty of the snow covered peaks along with deep blue skies.
This post includes some affiliate links. If you make a qualifying purchase through one of these links, I will receive a small percentage of the sale at no extra cost to you. Thank you very much for your support.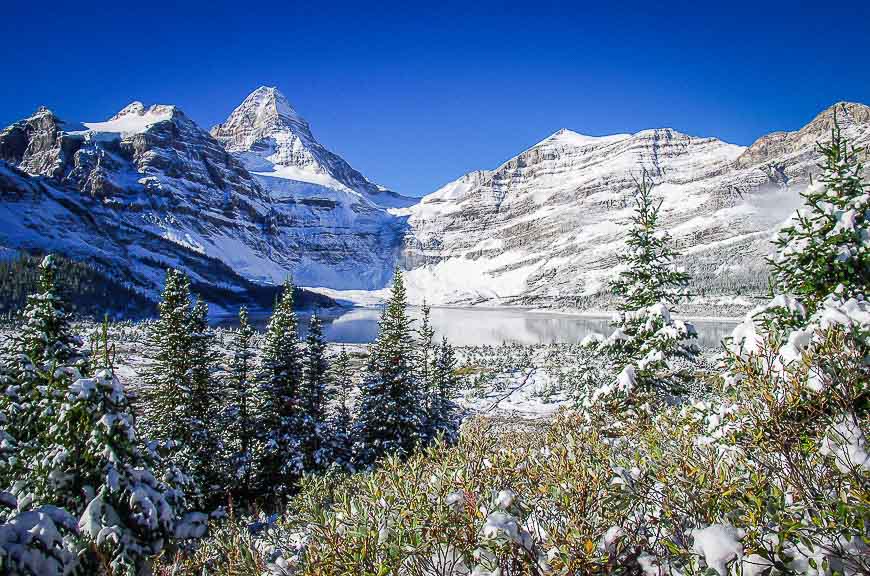 Hiking the Nublet summary
Distance: 6.4 km or 4.0 miles round trip from Assiniboine Lodge as an out and back hike.
Elevation gain: 365 m or 1,198 feet
Time needed: 2 – 3 hours
Level of difficulty: Moderate
Best time to hike: June to September
Backcountry camping: Yes, at Lake Magog and several other sites not too far away.
Dogs allowed: Yes, on a leash.
Get the weather forecast before you go. As you can see we had a lot of snow the second week of September.
If you park your car at the Mount Shark trailhead or helipad, you will need a Kananaskis Conservation Pass.
If you want to camp in the park make backcountry reservations, well in advance as the Magog Lake and Og Lake campsites are very popular.
Starting point for hiking the Nublet
We started our hike right in front of Mount Assiniboine Lodge. If you're camping at Lake Magog, it's very easy to find the signed trail to Nub Peak. The distance between the lodge and the campsite is 1.6 km.
Within minutes of starting out on the trail, we ran into the bird pictured below. It seemed totally unafraid of us – and was probably far more interested in just trying to stay warm. The temperature first thing in the morning was -16°C – in September.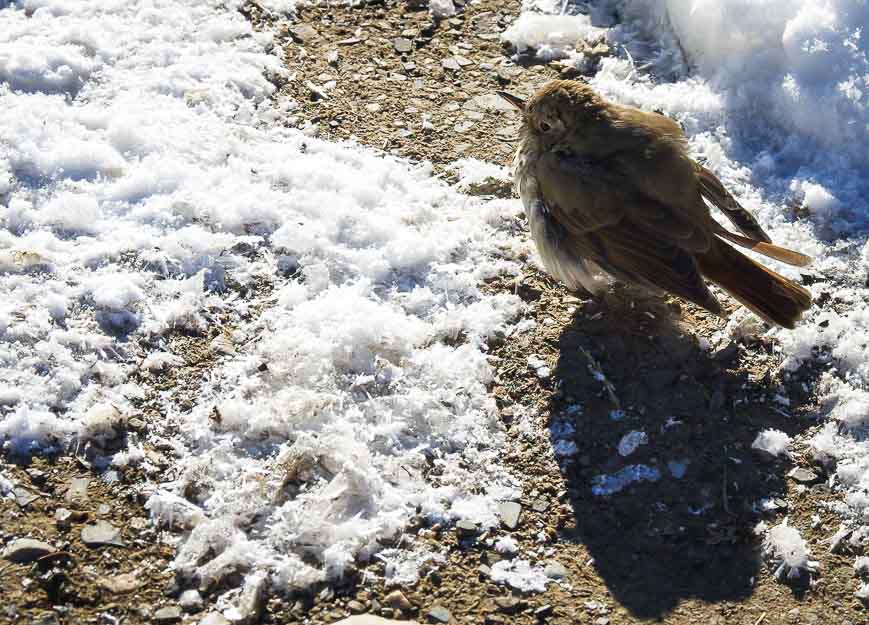 From this intersection, it was a steady climb to the ridge below the Nublet. The views as you'll see in the photos left me with my mouth open in awe.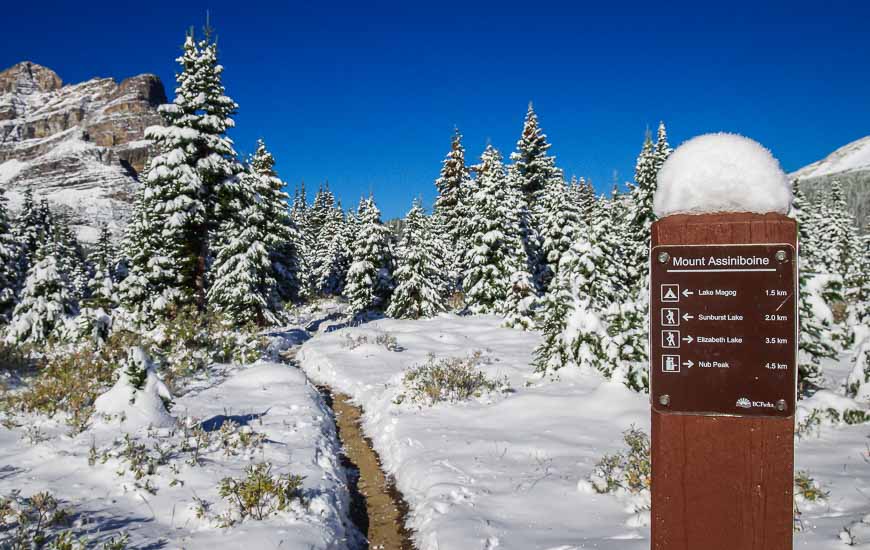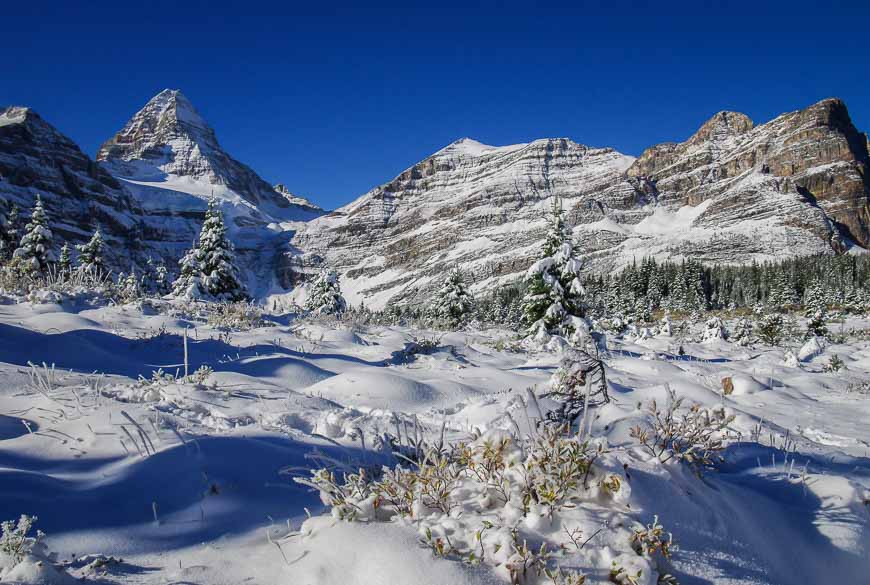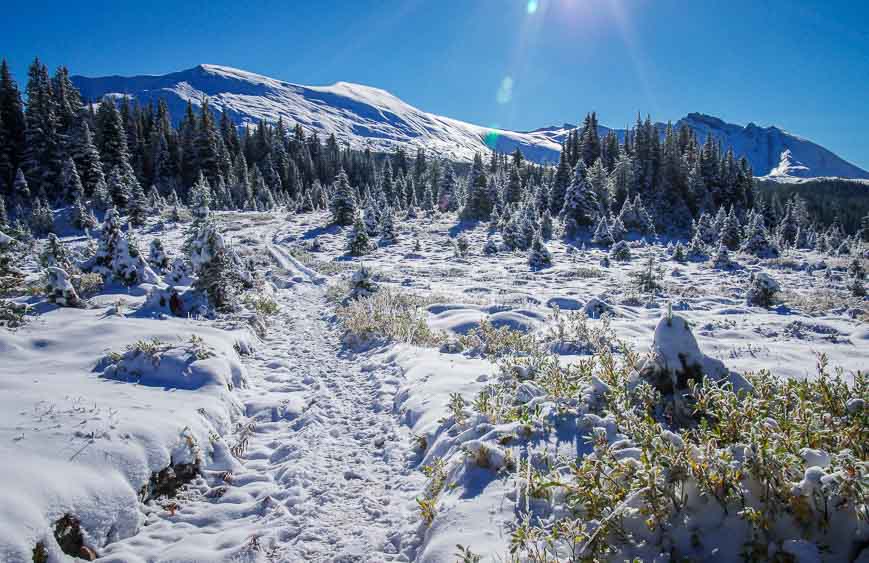 Easy route-finding hiking the Nublet
Once we got to the ridge, we had to break trail with snow knee-deep in places. But even with the trail snow covered, it was easy to find a route up to the top of the Nublet.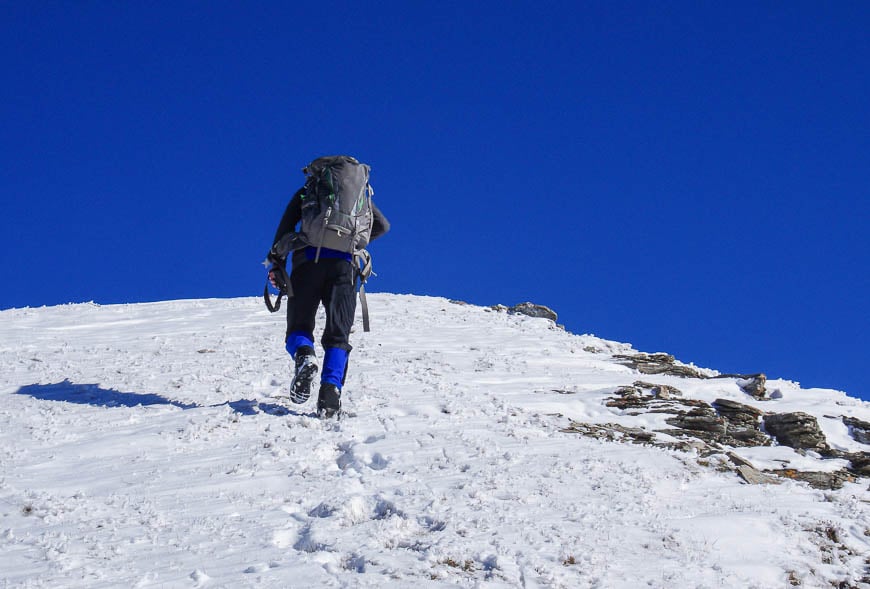 Our original plan had been to hike to the summit of Nub Peak. To get there, you must traverse an airy ridge from the Nublet which is really more of a scramble, but under snowy conditions I wasn't feeling "it".
Chances of falling were slim but still it wasn't in me to continue. Plus I wasn't in the mood that day to hike for another three hours so after climbing about a third of the way along the ridge, I talked John into turning around. I don't do that often, but after a wildly busy summer, I think I was just a little burnt out.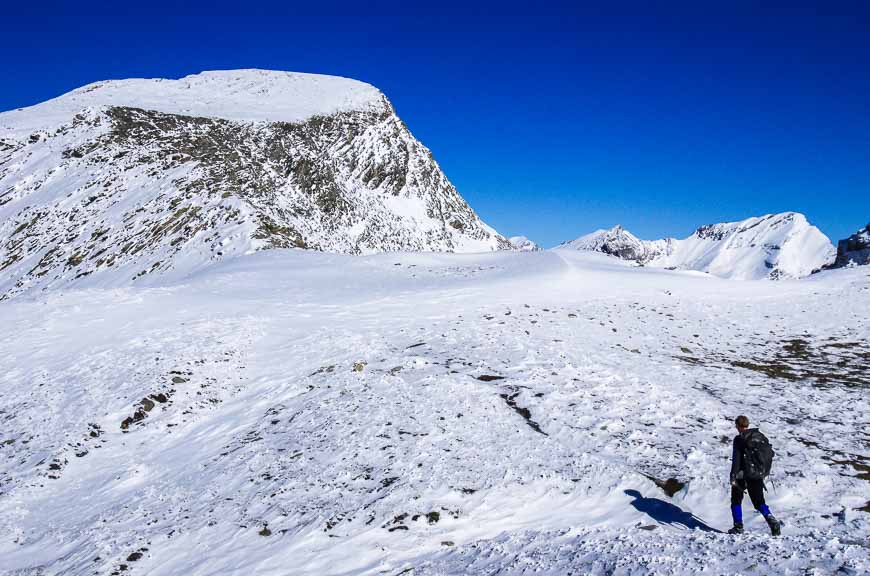 After hiking the Nublet, the return was a snap. I think we were back at the signed intersection in less than an hour – and in the two – three hours since we'd started hiking, the temperature had climbed enough that the snow started to melt.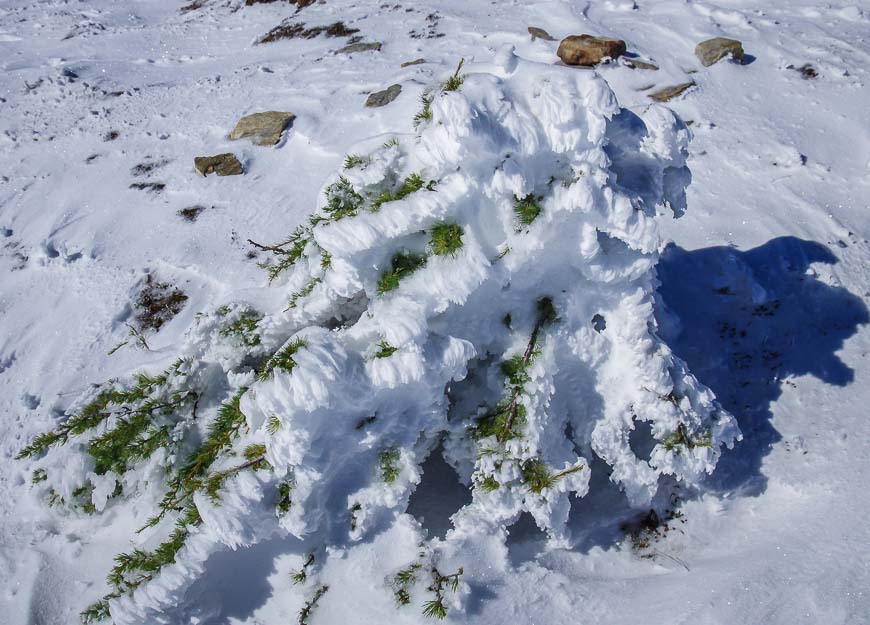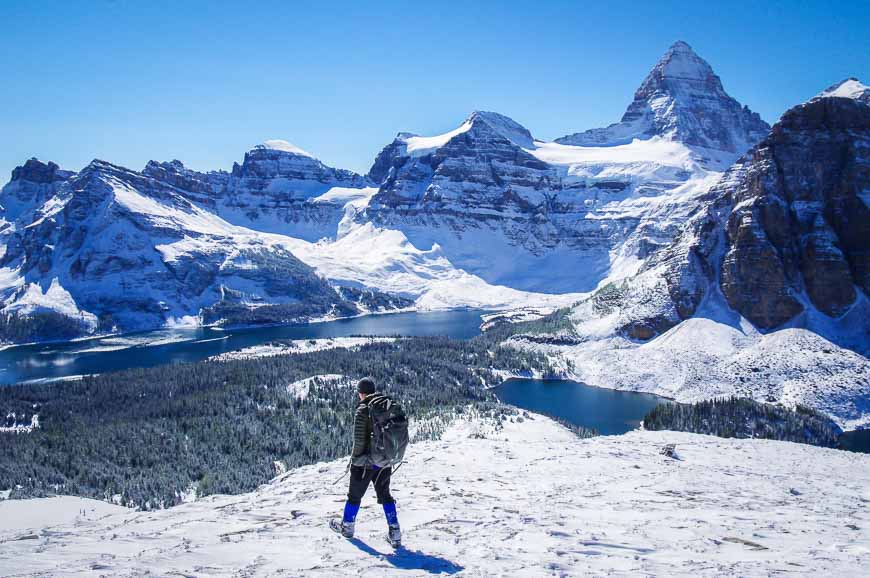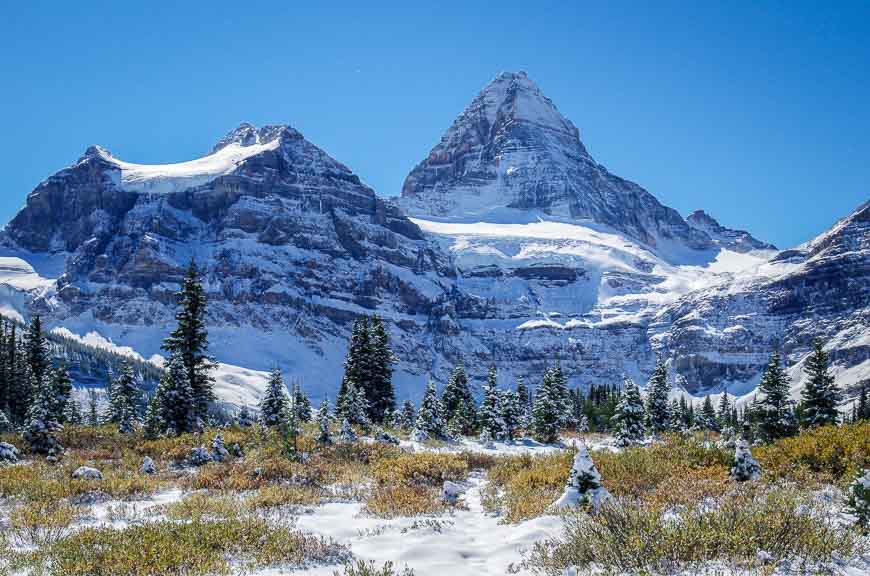 Getting to the Lake Magog Campsite & Mount Assiniboine Lodge
You have three options for getting to the Lake Magog Campsite – and Mount Assiniboine Lodge. Two are difficult and one is easy but expensive.
Easy but expensive
Fly in via helicopter. It's about a 10 minute flight from the Mount Shark Trailhead. From what I was told, you have to be staying at either the Naiset Huts or Mount Assiniboine Lodge to get on a flight. It hasn't always been this way, so I don't know if I just got bad information.
Hike via Citadel Pass
Hike in starting at the Sunshine Trailhead. It's accessed via a ride on the gondola from the Sunshine Village Ski Resort, located 18 km west of Banff. From the resort it's a 29 km one way hike – that many people split up by spending a night at Og Lake.
Hike in from the Mount Shark Trailhead
Hike in from the Mount Shark Trailhead, located 38 km south of Canmore via the Smith-Dorrien Trail. Much of the hiking is tedious but it's a shorter route – around 25 km one way. It too can be broken up by staying at the Bryant Creek Shelter. Once you get to Marvel Lake it gets more interesting.
In my opinion, the ultimate trip would involve hiking in from Sunshine Village, spending a few nights at the Lake Magog Campsite and then hiking out over Wonder Pass to the Mount Shark Trailhead. But you'd need to arrange a car shuttle or pick-up to do that.
Final thoughts
I feel like I have unfinished business in Mount Assiniboine Provincial Park. I would like to return and explore the area in more depth – and summit Nub Peak.
Where to stay the night before you hike or helicopter into Mount Assiniboine Provincial Park
Canmore
If you're coming from Canmore then you have lots of choice. Some of my top picks for the Canmore area include the following.
For a great B&B with delicious breakfasts and friendly faces, check out A Bear and Bison Country Inn.
If you're after a hotel with a pool with a view and a hot tub, the Malcolm Hotel would be an excellent choice.
For budget minded travelers the Canmore Hostel downtown should fit the bill.
Sunshine Ski Resort
If you want to hike into the Mount Assiniboine area via Citadel Pass, book a night at the Sunshine Mountain Lodge. It would be a great place to stay.
Kananaskis
If you want to hike or heli in from Kananaskis Country, the most convenient place to stay – and it's a lovely one with all meals included is Mount Engadine Lodge.
If you want a hostel situation about 45 minutes away, check out the Kananaskis Wilderness Hostel.
If you want to camp the night before read A Complete Guide to Camping in Kananaskis.
Further reading on things to do in the Mount Assiniboine area
Click on the photo to bookmark to your Pinterest page.