From Canmore, it's easy to access the Smith Dorrien Trail – Highway 40 loop, a spectacular road trip in Alberta's Rocky Mountains that can be done on your own or in luxury with Canadian Rockies Experience. The road trip can be done in either direction, but if you're driving in summer consider returning via the Smith Dorrien Trail so you catch the sunset. There are numerous scenic spots along the route along with access to plenty of hikes, of all lengths and difficulties.
I have done the road trip numerous times in all seasons, and it never fails to impress. However, I had never done the Smith Dorrien Trail as part of a luxury experience until the summer of 2021. I was invited by Laura Dowling, owner of Canadian Rockies Experience, to spend a late afternoon – evening with her. Over the course of about 5.5 hours, Laura drove me and my 90-year-old neighbour (she had never driven the Smith Dorrien Trail before) in a spacious Ford Expedition.
We stopped to do a hike to Upper Troll Falls off of Highway 40 and spent a good hour enjoying a delicious charcuterie dinner overlooking Upper Kananaskis Lake. On the Smith Dorrien section of the trip, we pulled over countless times to capture the magnificent sunset. All in all, it was a noteworthy and highly enjoyable experience.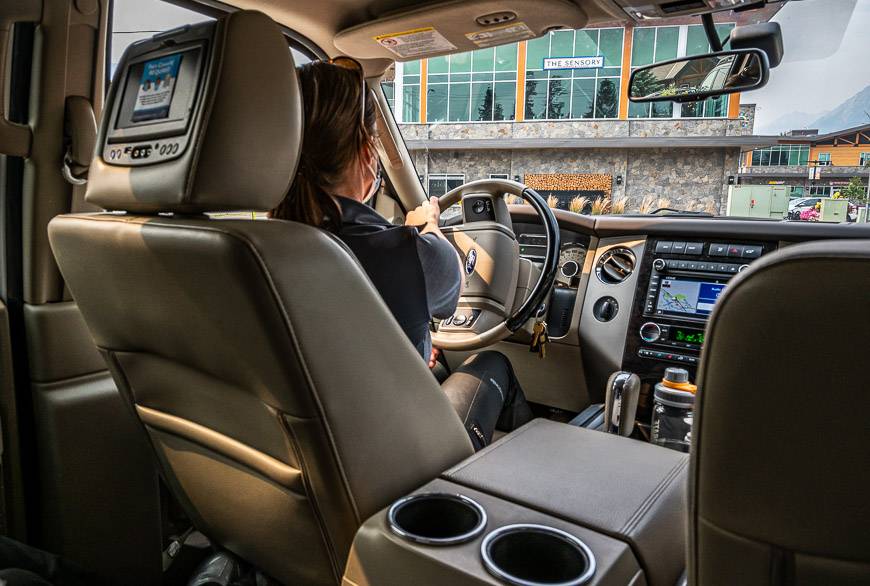 Starting the Smith Dorrien Trail loop drive
We met Laura in Canmore, a good place to start the drive whether on your own or with her. We drove east on the Trans-Canada Highway to the Highway 40 turnoff and then south to reach the Troll Falls trailhead in just under 40 minutes.
Before we left the parking lot, we were offered an assortment of snacks including fresh pastries, energy bars and drinks. Then we just sat back, chatted, and enjoyed the scenery.
Troll Falls – our first stop
Troll Falls is an easy family-friendly hike but with the addition of a trail to Upper Troll Falls, the enjoyment factor of the hike has gone way up. It's notoriously busy on weekends, but when we started out at 5 PM, we hardly met a soul. If you decide to do the hike, I think the extra effort to reach the upper falls is warranted. Allow at least 90 minutes to do the return hike and take photos.
Laura offers the Troll Falls hike in both summer and winter. You can see all her summer tour offerings right here.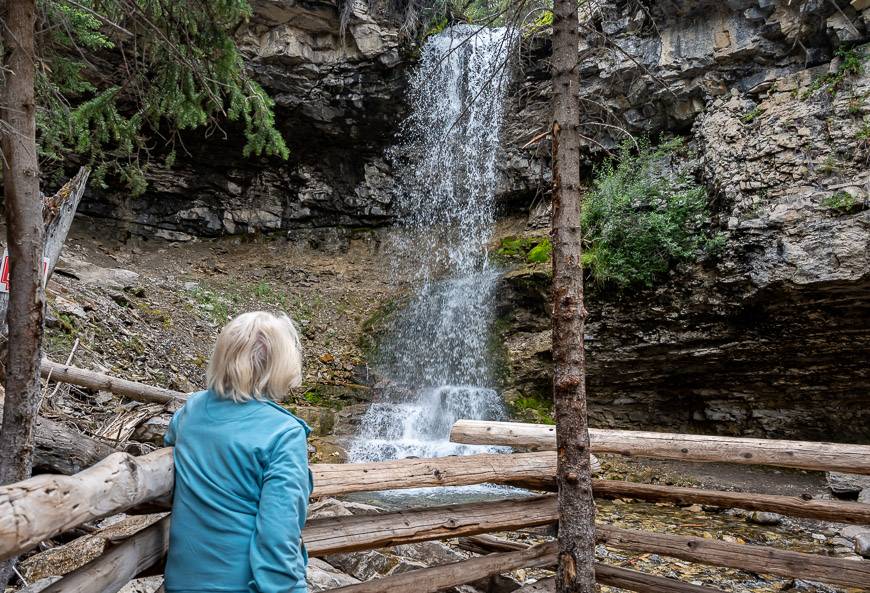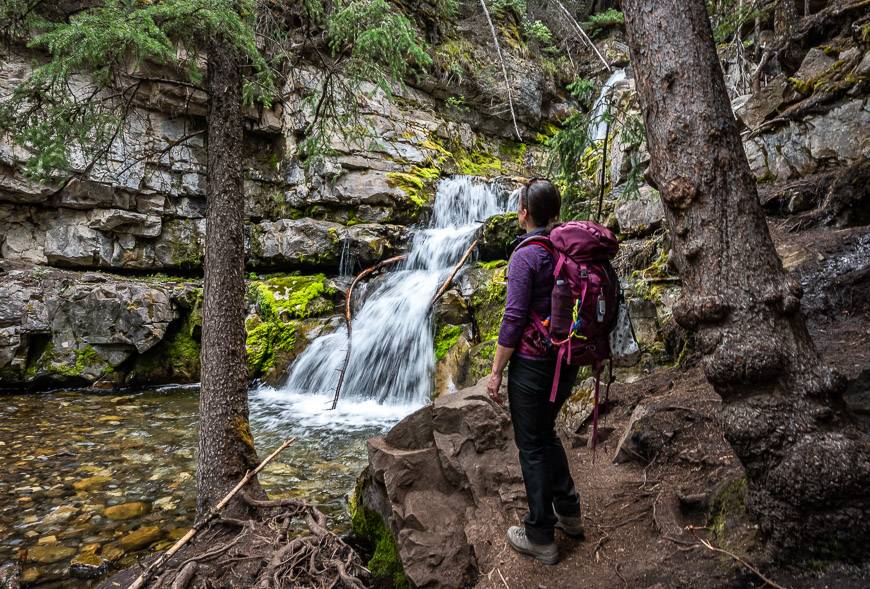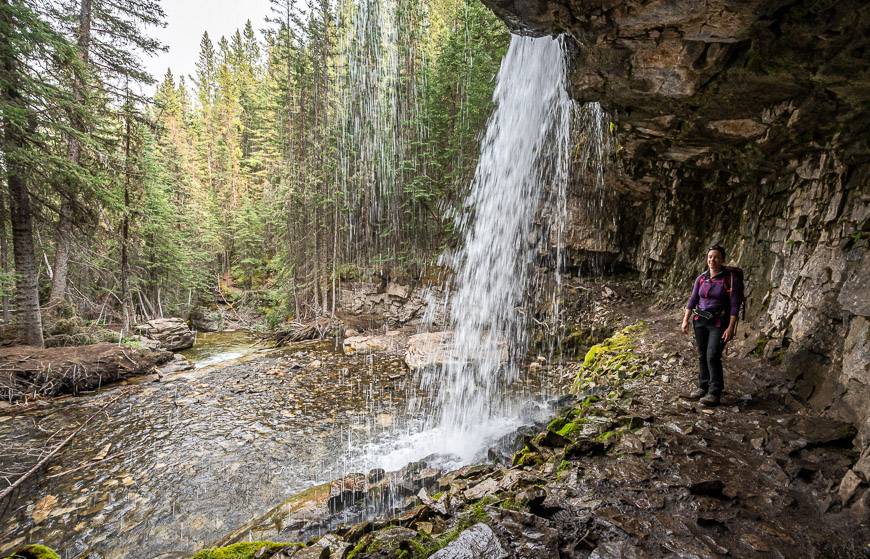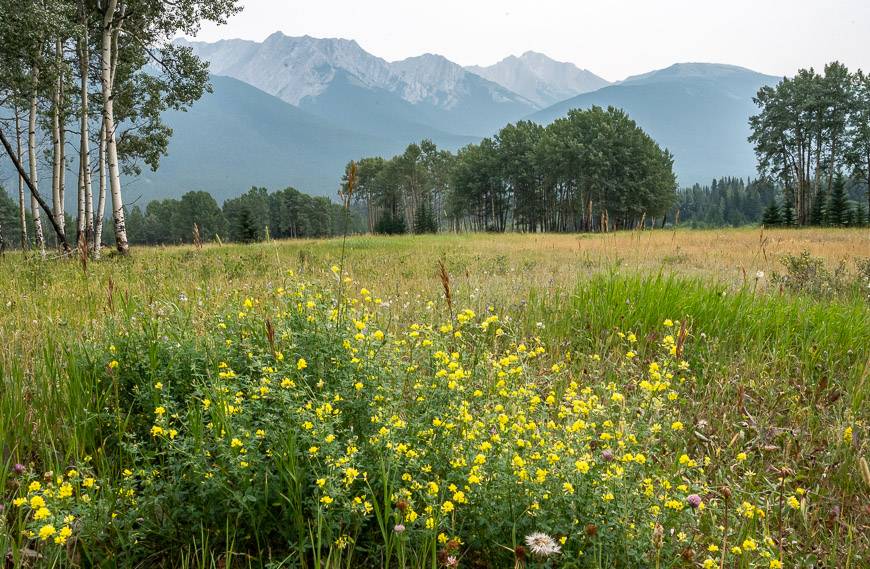 Dinner at Upper Kananaskis Lake
The drive south on Highway 40 is extremely beautiful, no matter what season you do it. There are lots of pull offs along the way. If its the first time you're driving it, consider a stop a Mount Lorette Ponds and Wedge Pond before continuing towards Upper Kananaskis Lake in Peter Lougheed Provincial Park.
It's about a 40-minute drive without stops to reach the Upper Kananaskis Day Use Area via Highway 742 and the Kananaskis Lakes Trail. There is a place to gas up and get snacks at the Fortress Junction Service Station before you turn onto Highway 742.
Once we arrived at Upper Kananaskis Lake, Laura got to work setting up chairs and a table, offering hot drinks and then the charcuterie dinner and dessert. We were lucky with a beautiful summer night – even with smoke. Views were fantastic, Laura is easy company, and the dinner and dessert were delicious.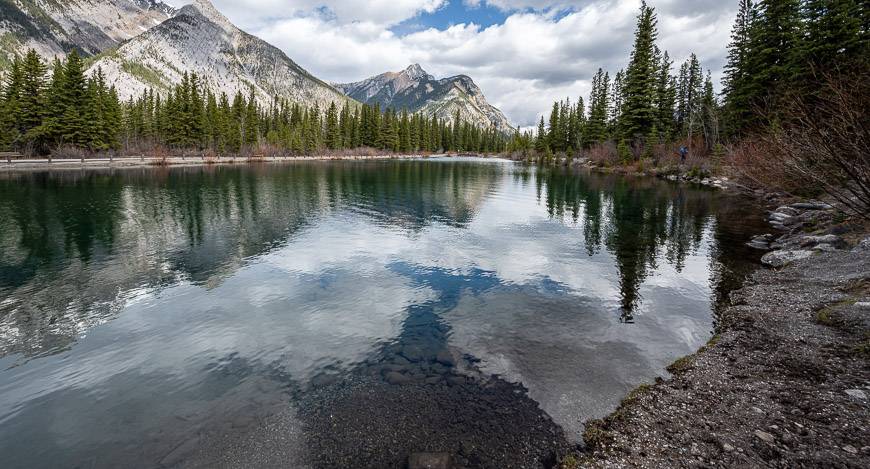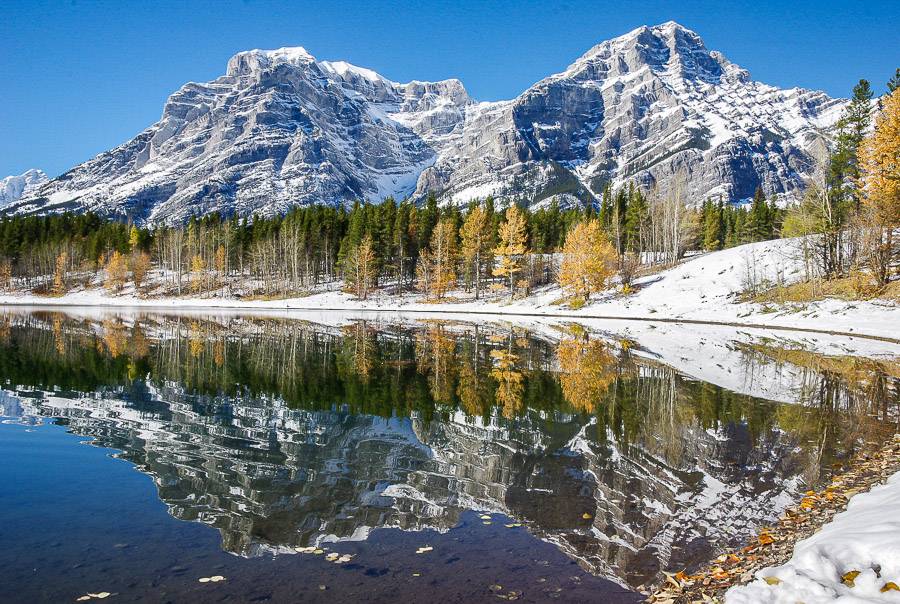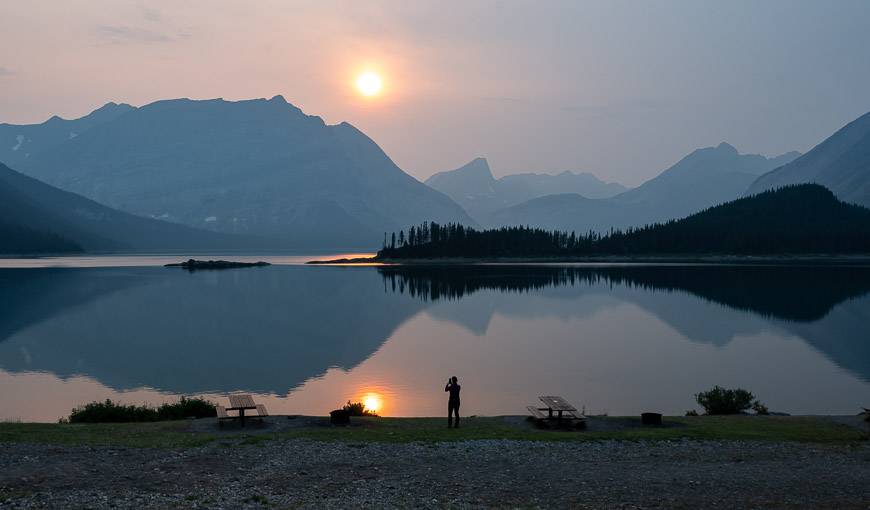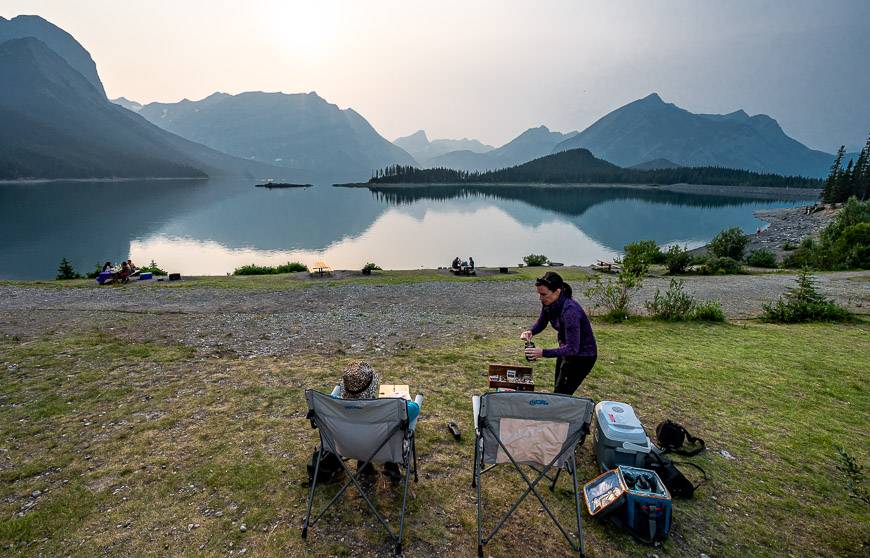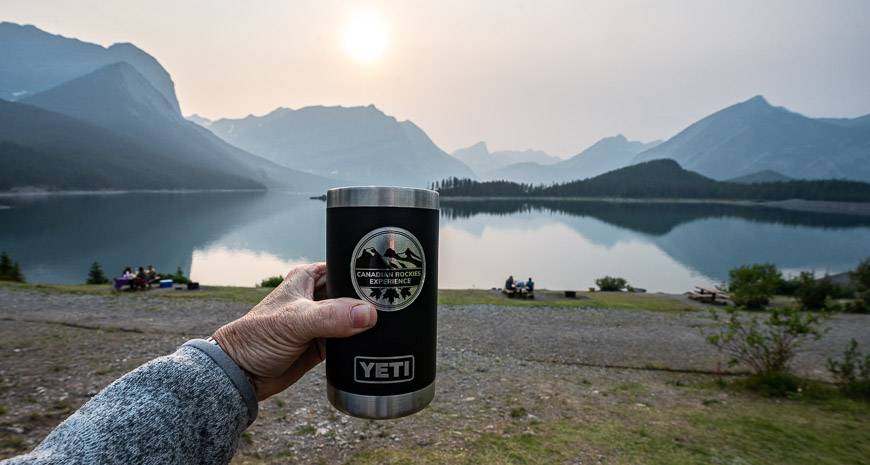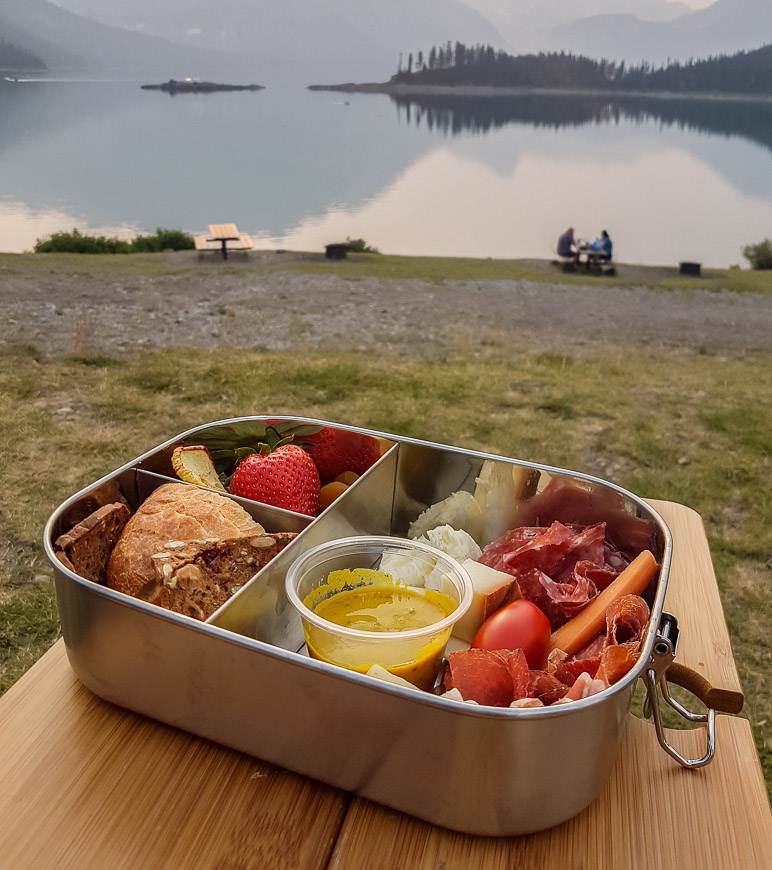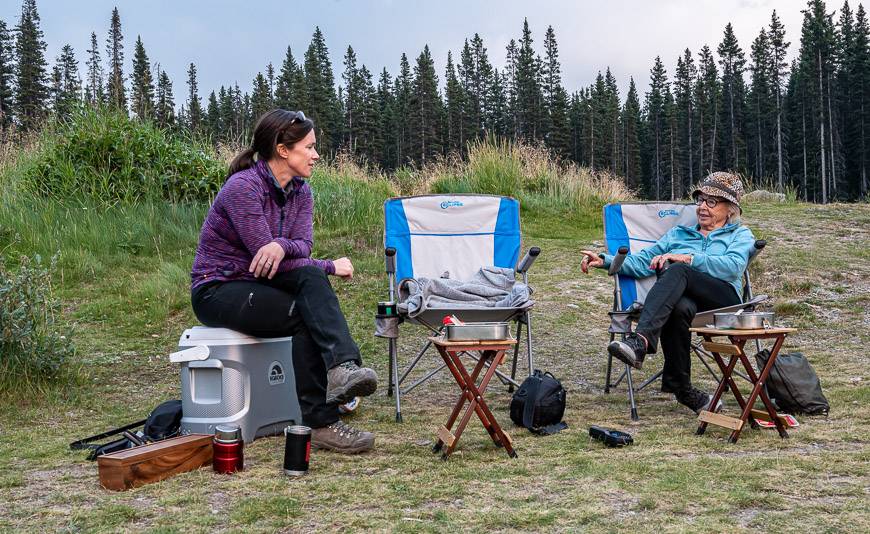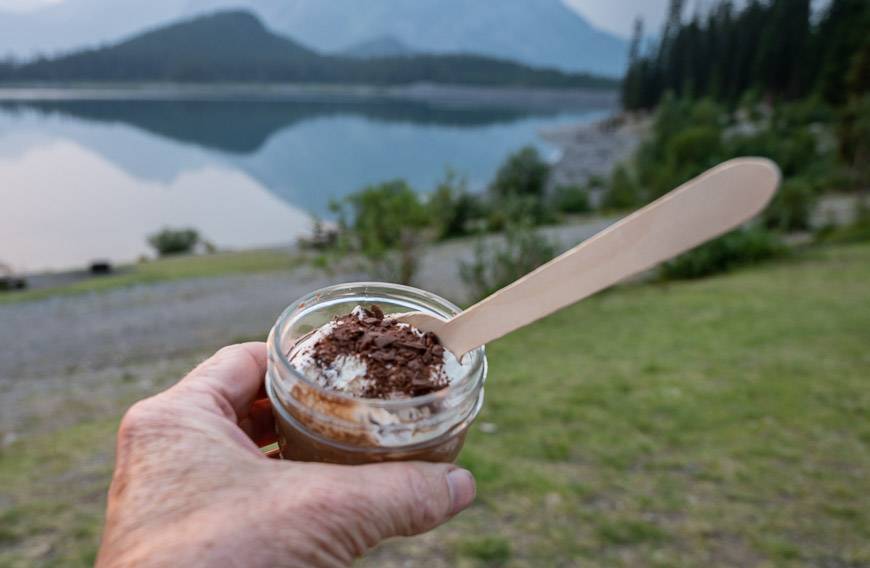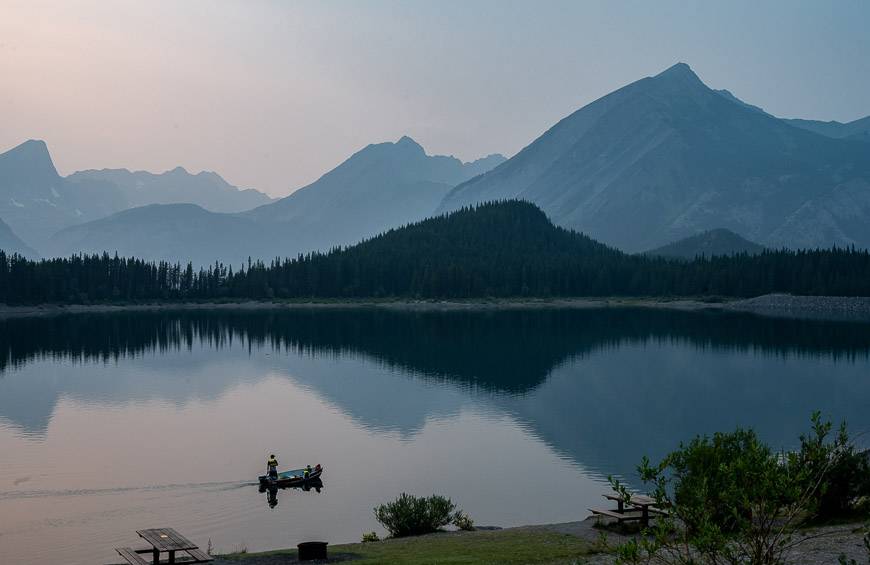 Driving the Smith Dorrien Trail
The 62 km Smith Dorrien Trail – Spray Lakes Road is also known as Highway 742. It connects Kananaskis Trail in Peter Lougheed Provincial Park to the east side of Canmore via a dirt road that traverses the Smith Dorrien Valley. It can sometimes be in rough shape and in summer, it is famous for the dust it generates. However, it can also be a very quiet road – especially early in the day or later in the evening.
It's also one where you have a good chance of seeing wildlife. I have seen moose on it on several occasions, black bear, coyote, bighorn sheep and most recently Rocky Mountain goats.
There is a long section where you get great views of the Spray Lakes Reservoir as you can see below. There isn't much in the way of services save for one campground and the fabulous Mount Engadine Lodge, where you can get a late afternoon "tea" which consists of a delicious charcuterie plate and small dessert.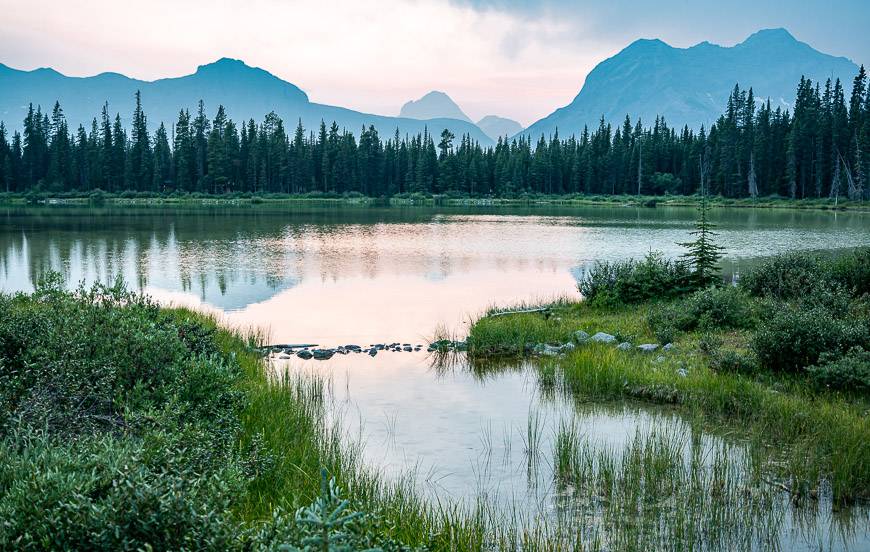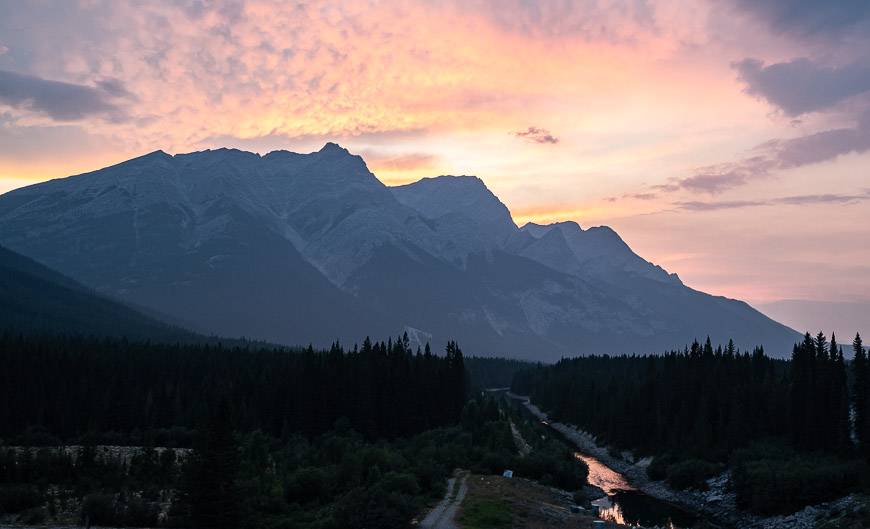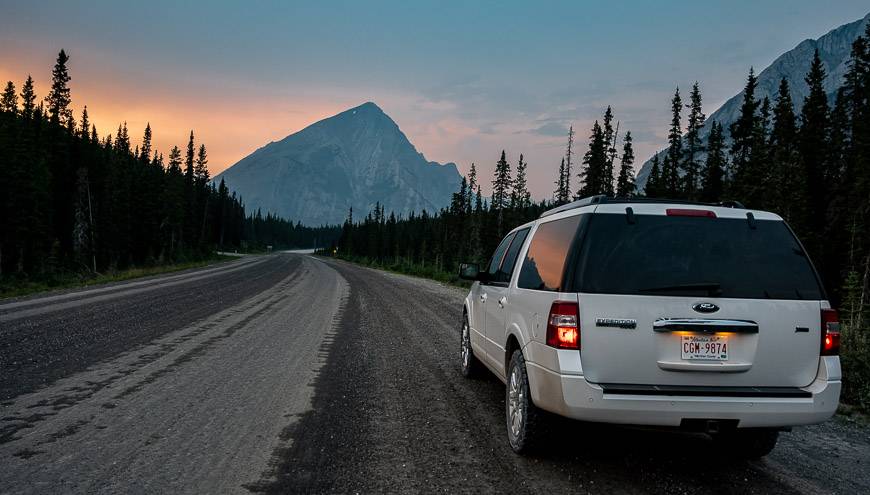 Picnic stops along the trail
There are a couple of picnic spots along the Smith Dorrien including Sparrowhawk-Spray Lake Day Use Areas – with a nice view of the lake, Buller Pond, Hogarth Lakes – Mud Lake area by the Burstall Pass trailhead, Sawmill and Black Prince. There are also several places along Kananaskis Trail on the way into Upper Kananaskis Lake.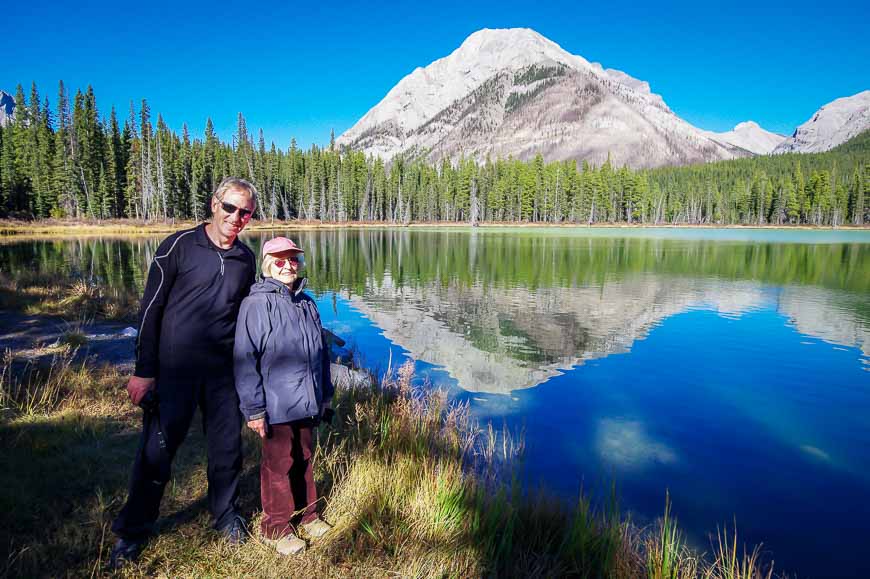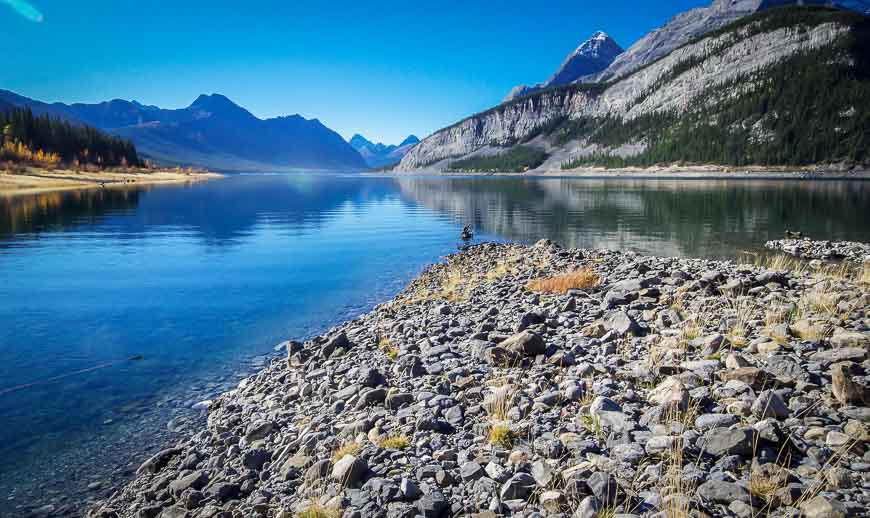 Hikes along the Smith Dorrien Trail
There are some exceptional hikes (and snowshoe trips) that are accessed from the Smith Dorrien Trail.
One of the easier hikes is the Black Prince Cirque that takes you to Warspite Lake. (Laura offers this as a guided hike.)
Chester Lake is a perennial favourite in any season. Also try the Headwall Lakes hike accessed from the same trailhead.
I also love Burstall Pass, Buller Pass (good in larch season) and Sparrowhawk Tarns – a hike that's closer to Canmore.
And for incredible views and a workout, hike the Windtower Trail.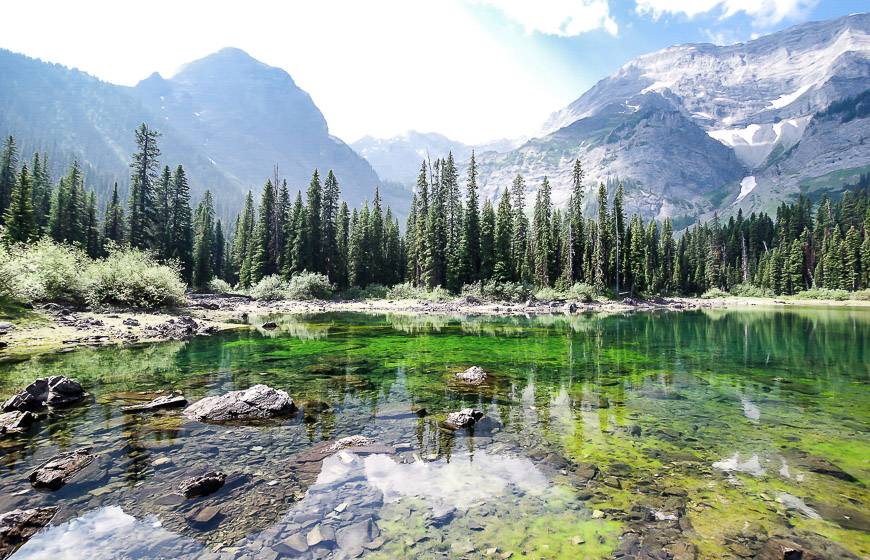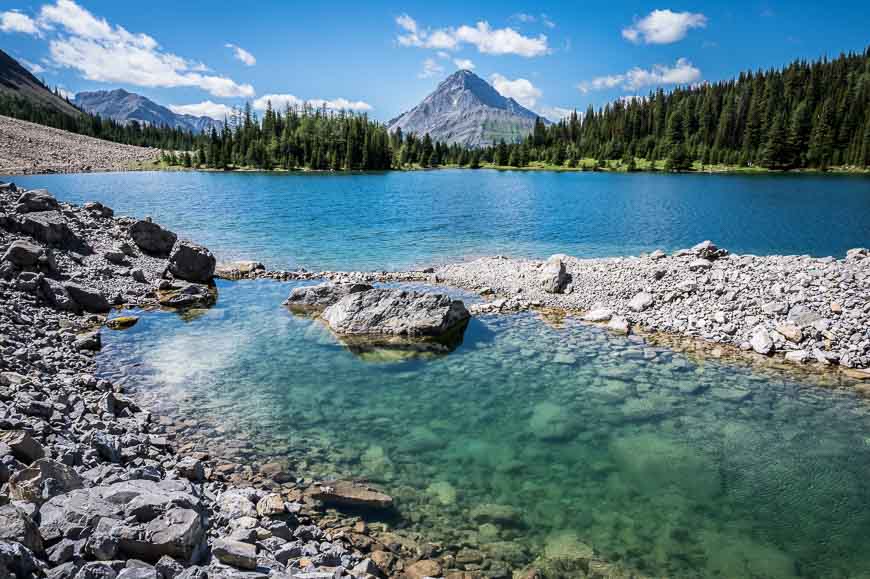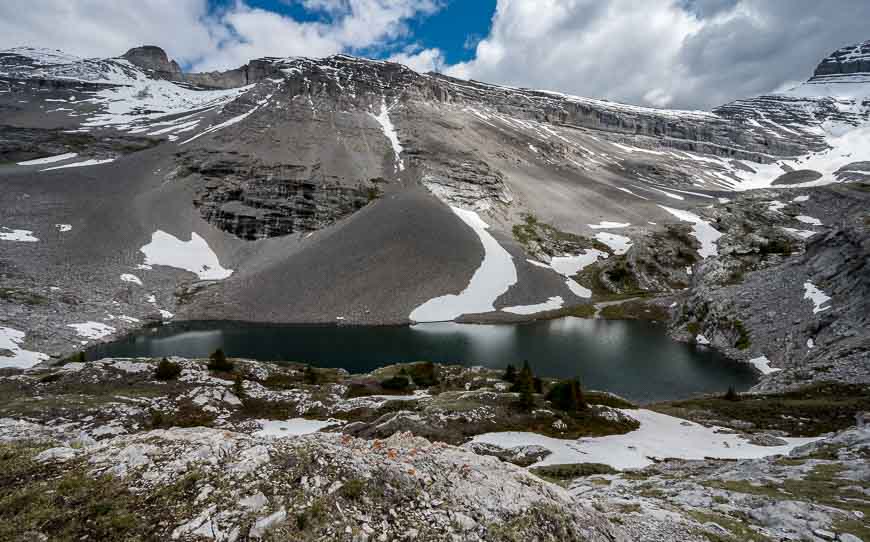 Why you'd want to book a trip with Canadian Rockies Experience
If you have out of town guests or you're a local Albertan who has never spent much time in the Rockies, then Laura's trips are ideal. She is very knowledgeable – and in addition takes all the hassle out of driving, especially in winter. Nothing beats a personable guide for shedding light on your travels and just making the getting around so easy. It's a seamless, luxurious experience to go with her.
Click on the photo to bookmark to your Pinterest boards.