The Mount Lorette Ponds in Alberta's Bow Valley Provincial Park haven't always been in existence. At one point they were an oxbow (a u-shaped bend) on the Kananaskis River but were cut off when Highway 40 was upgraded. Instead of letting the ponds die, someone recognized their potential and tapped into a groundwater source that replenishes the ponds several times a year. Now they are a scenic spot for nature viewing, fishing, picnicking and even a short paddle.
It took me years of driving Highway 40 before I decided to stop at the Mount Lorette ponds. I was always heading out on a hike and just couldn't be bothered. That was a mistake. They are simply beautiful from early spring until late fall when you can catch a mountain reflection in the pond. And in the winter the easy hike around the ponds (on a snowy trail) would put you in a fine frame of mind. They are an excellent destination as a day-trip from Calgary or Canmore.
Mount Lorette Ponds summary
The Mount Lorette Ponds are located at the Mount Lorette Ponds Day Use Area off Highway 40 in Bow Valley Provincial Park.
The ponds are a postcard-perfect destination year round, but especially in fall after a dusting of snow, before the ponds have frozen.
There is one kilometre of walking trails around the ponds that are wheelchair accessible – though the trail is not plowed in winter.
You can fish in the ponds as they are stocked with trout three times a year.
Note that effective June 1, 2021 there is a $15 charge per day per car to visit anywhere in Kananaskis Country. You can also buy a yearly Kananaskis Conservation Pass for $90 and it allows you to registers up to two vehicles at the same address. More information here.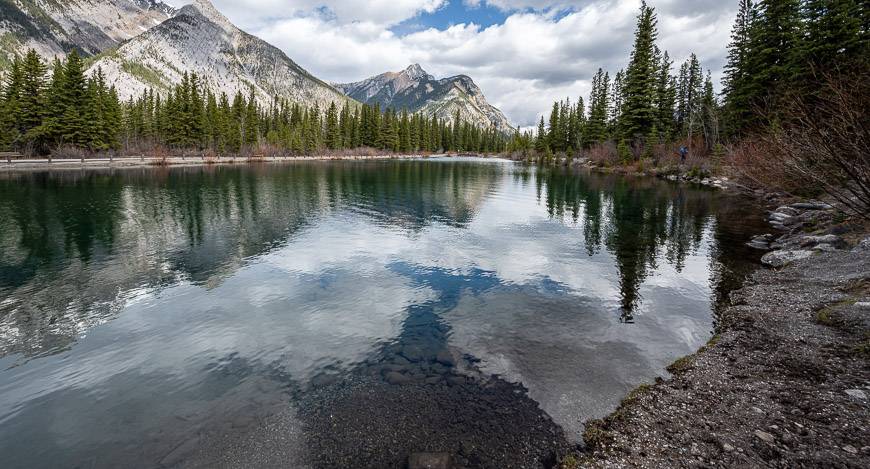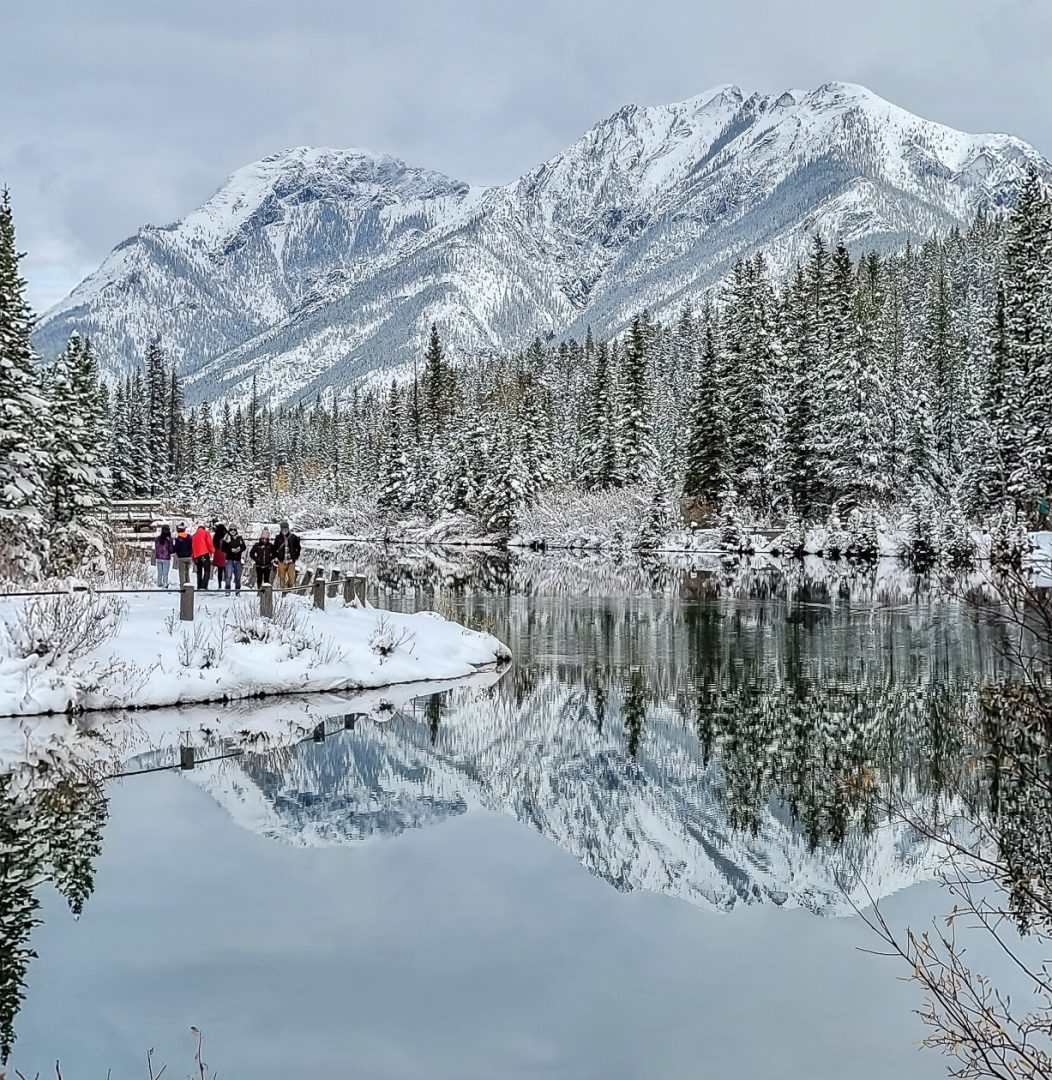 Mount Lorette Ponds – and what you can do on a visit
The ponds were busy when we visited on a spring weekend. Many families had gathered to enjoy a picnic either beside the pond or close to it. Young kids were rollerblading and playing near the water. There were a couple of adults putting in inflatable kayaks to try their hand at fishing – as the ponds are stocked, primarily with rainbow trout and brown trout three times a year.
John and I had come to enjoy a picnic lunch on a bench with a view. After that we wandered the kilometre or so of trails admiring just how many private picnic spots there are. I didn't count how many but there have to be at least a dozen sites – many with firepits.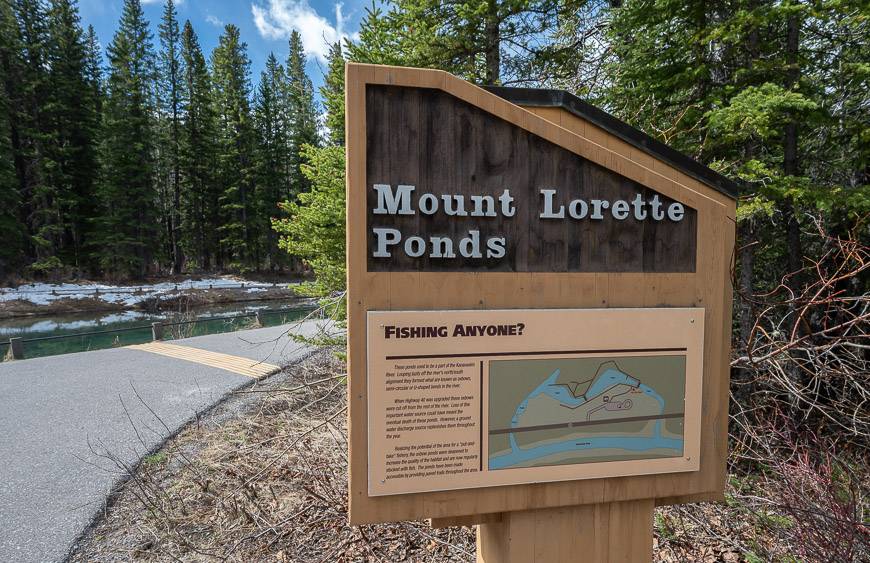 Birding at the ponds
We spotted a surprising number of bird species on our most recent visit. A couple of common mergansers (a type of duck) were swimming in the ponds. A belted kingfisher flew lengths up and down the pond, making its presence known. Overhead you could see ravens and around the sitting area were dark-eyed juncos and red-breasted nuthatches.
According to one bird report I read, the following birds have been seen over the last two weeks of April: Barrow's goldeneye, ring-necked duck, northern flicker, ruby-crowned and golden-crowned kinglets, boreal and mountain chickadees, American robin, bald eagle, Canada goose (no surprise there), American widgeon, bufflehead, American dippers, American pipit, varied thrush, and savannah sparrow.
That's just a fraction of the bird species that have been sighted here over the course of a year – with loads of warbler species coming through in the fall.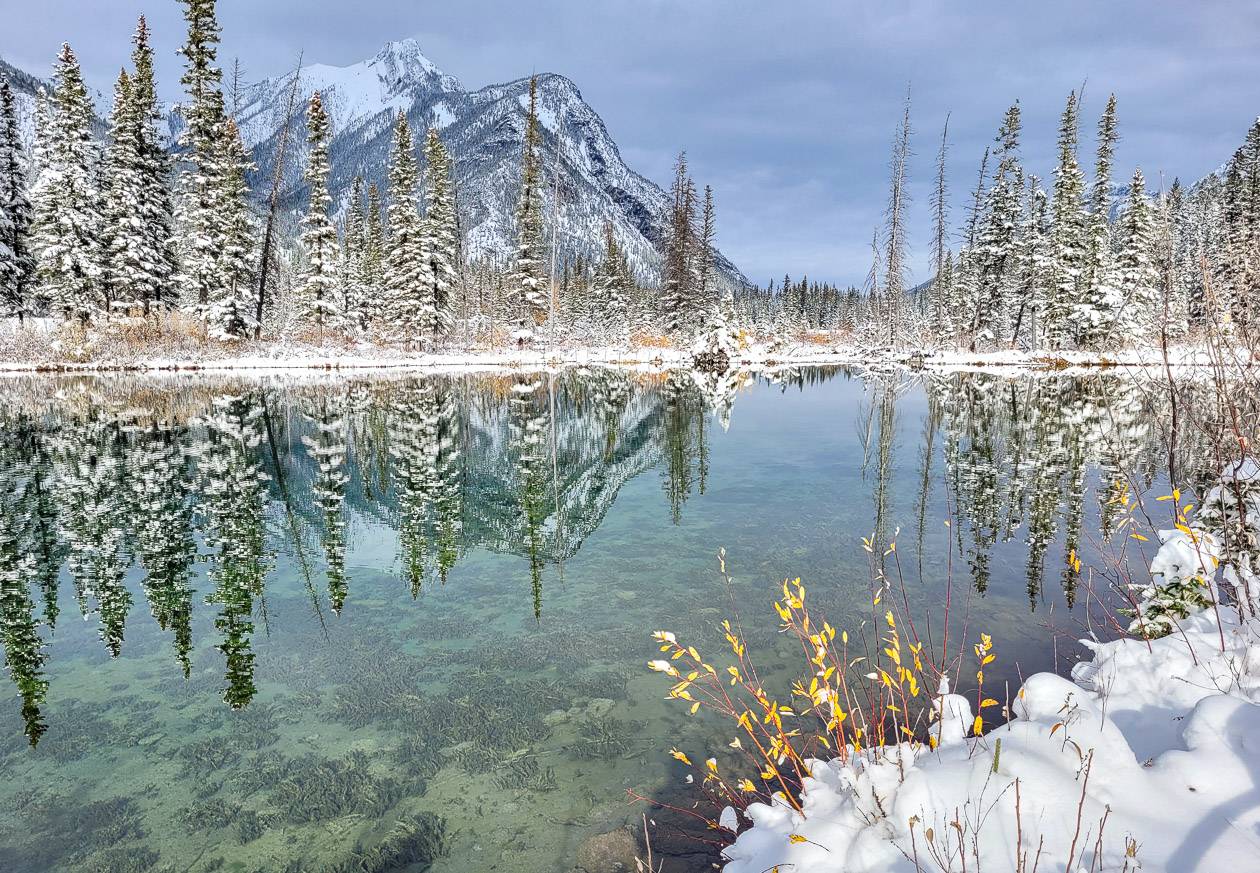 Who would enjoy a visit?
The ponds are family-friendly and will appeal to those with kids in strollers and toddlers though none of the kids we saw that looked to be about 12 years old looked the least bit bored. With asphalt paths, its easy to push a stroller – or wheelchair around the 700 metre long main loop. There is an additional 230 m loop – so you can get up to a full kilometre of walking – albeit all flat.
Really anyone needing a dose of nature and some quiet time would benefit from a stop here.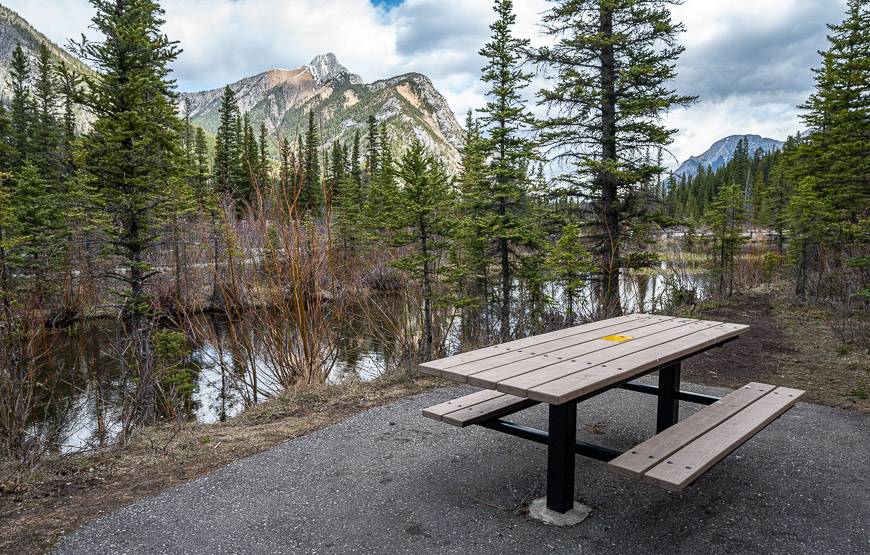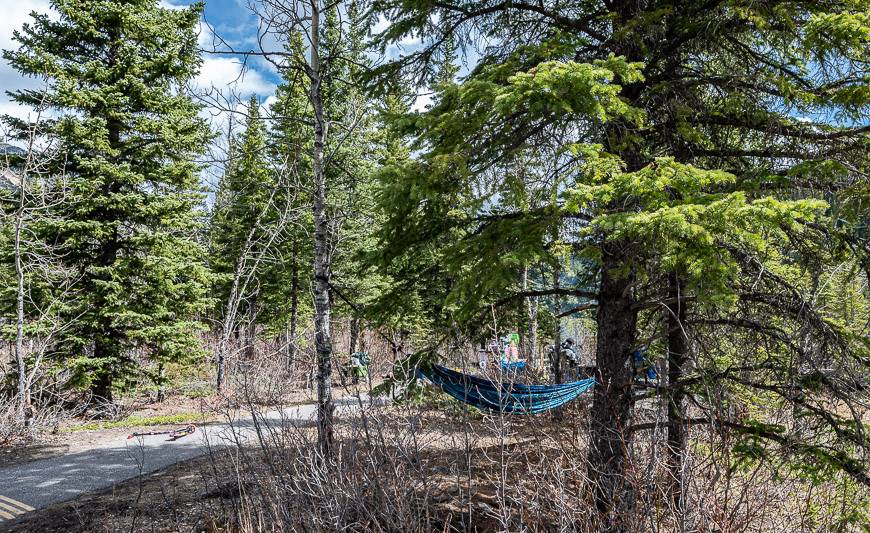 Visit at different times of the year
The ponds never disappoint no matter what time of the year you come. But for absolute beauty, try and catch a sunny day after a snowfall but before the ponds are frozen. That's usually sometime in October every year. Check out this Instagram reel to see how stunning it is.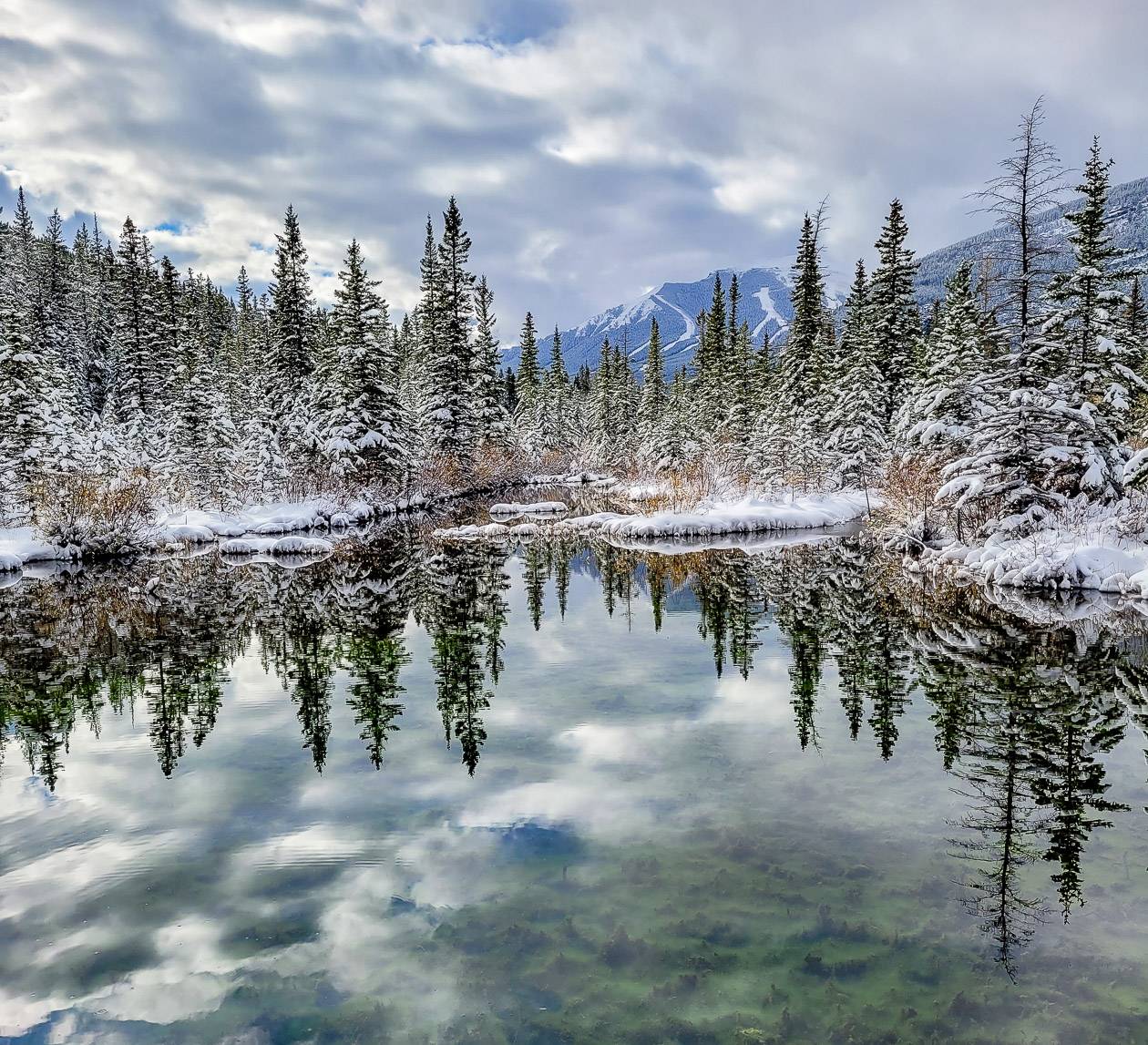 Other things to do and see near the Mount Lorette Ponds
The Mount Lorette Ponds are situated between Kananaskis Village and Barrier Lake.
At Barrier Lake you could simply wander the shoreline and if enthusiastic, do an out and back on the Stoney Trail, located on the north side of the lake. Or you could hike the Prairie View – Jewell Pass Trail.
Another family-friendly hike is the short outing to Troll Falls – accessed off the road to Nakiska Ski Area.
If you're into the pond experience, drive another 10 minutes south on Highway 40 to Wedge Pond. There's another 1.0 km loop that's not difficult. This place is spectacular in the fall with the combination of yellow leaves and mountain reflections.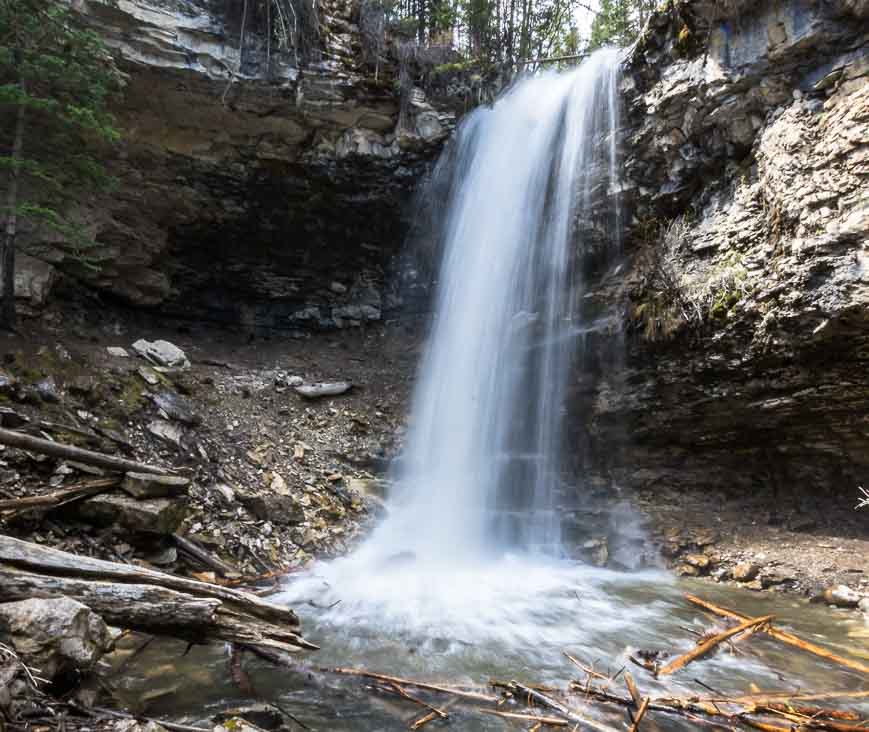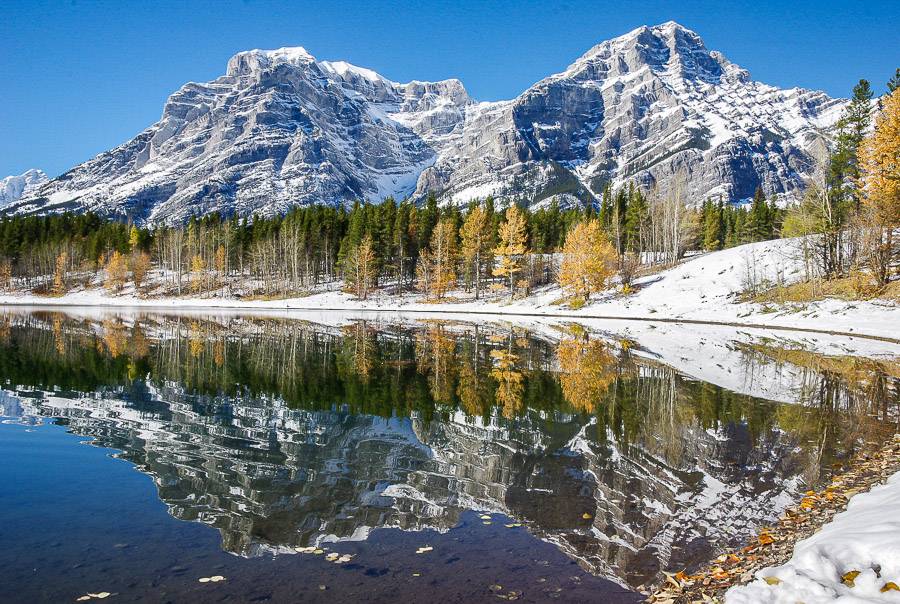 Location of the Mount Lorette ponds
The ponds are approximately 18 km south of the Trans-Canada Highway via Highway 40 . There is good signage on the highway. You'll find a large parking lot with bathrooms on the east side of the highway. From Calgary it's only about an hour's drive.
Location map
Click on the photo to bookmark to your Pinterest boards.