Drive 35 minutes north from Peterborough or two hours northeast from Toronto and you'll reach the Kawartha Nordic Centre. With trails for both classic and skate skiing running through Canadian Shield country you're in for a delightful day of skiing in an exceptionally picturesque setting. Ski through stands of towering white pine trees, past frozen rivers and small lakes. Make one of the four warming cabins your destination for the day.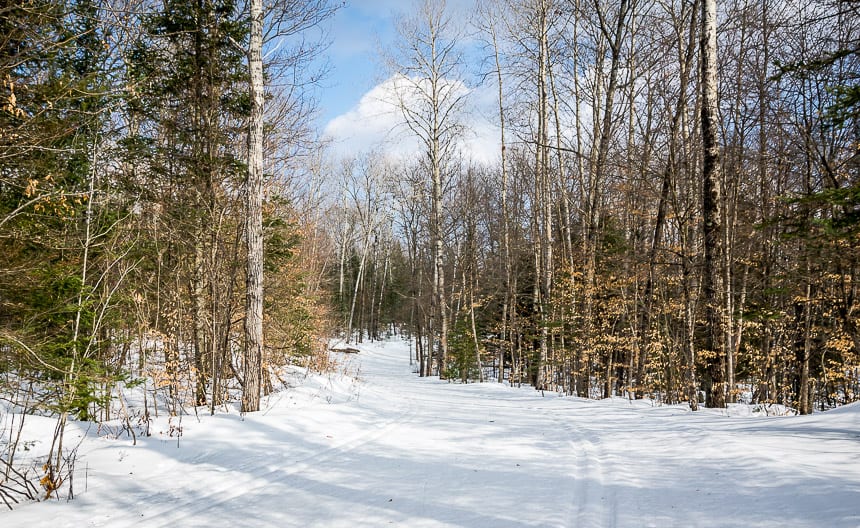 Kawartha Nordic rents skis for classic and skate skiing as well as snowshoes. On the day I visited it was t-shirt weather, a balmy 13°C, and not a day you'd think would be very good for skiing. But with rental skis that have a combination of fish scales and "skins" under the foot area, I actually had good traction. It sure beats putting klister on skis.
I spent several hours skiing a loop that included the Beaver, Trillium, Kenner and Fisher trails. After a group of school kids passed me I didn't see a single soul. It was bliss to be out enjoying the silence of nature.
Cabins at Kawartha Nordic
A stop on the steps at Tanney Cabin was a chance to cool down. How often do you do that in late February? If you're looking for something a little wilder with even fewer people, head for Bennett Cabin via 4.7 km of ungroomed wilderness trails. That's the sort of skiing I really love but there wasn't enough time on this trip.
You must buy a trail pass to ski at Kawartha Nordic. Rates are $18/adult, $11 for kids aged 4 – 17 and $11 for students with ID. The trails are still open but it's always worth checking out the most updated trail report before heading off. You can do that here.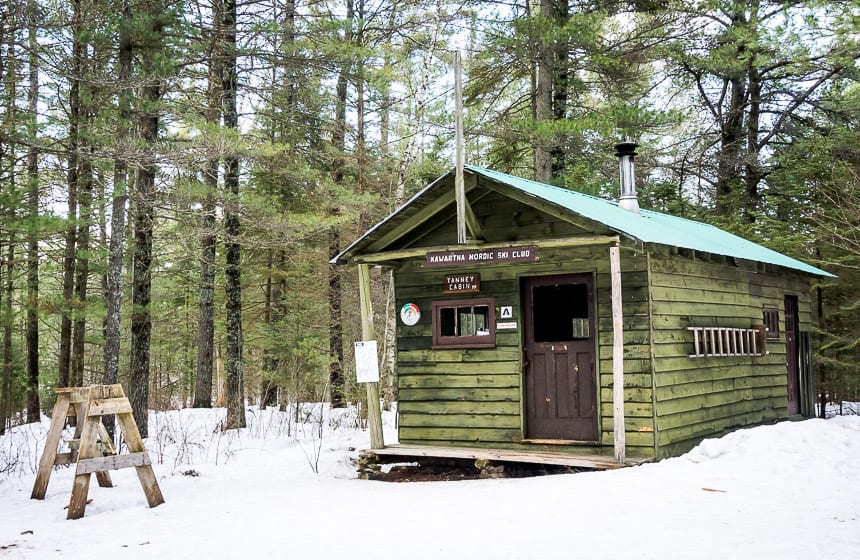 Snowshoeing at the Kawartha Nordic Centre
If you're not into skiing you can snowshoe on three loops totaling approximately 10 kilometres. That's what these guys did pictured below.
A company run by Bretton Clark (far right) and his wife Briagh called The Land Canadian Adventures is becoming well known for introducing new Canadians to the outdoors in all seasons. The men in the photograph come from Syria and Kenya and by all accounts had a marvelous experience on snowshoes.
If you have more time in the area, sign up for an overnight excursion with The Land into their backcountry winter camp. Stay in a prospector's tent; dine on homegrown, organic and locally sourced meals (with halal and vegetarian options) and learn about the Land Between – that environmentally rich region between the Canadian Shield, the boreal forest and the St. Lawrence Lowlands.
Getting to the Kawartha Nordic Centre
If you've never driven north from Peterborough before you're in for a treat, even in winter. From Peterborough take Highway 4 east to Highway 28 north and follow it for 35 kilometres. It's that easy.
You'll drive through Burleigh Falls as it's just a few minutes south of the Kawartha Nordic Centre. It's worth getting out of the car to admire them. In the summer you can float through these rapids.
For more information on the Kawarthas in winter check out their website.
Further reading on Nordic skiing in Canada
Click on the photo to bookmark to your Pinterest boards.
A huge thank you to Peterborough and the Kawarthas, Kawarthas Northumberland and Ontario Tourism for hosting my visit. You know the drill – all opinions are my own.