I spent a lot of time researching what things there are to do in Panama if you only have eight full days. Our group of four didn't want the hassle of an internal flight which limited options. I think these are 10 of the best things to do in Panama if you have five – eight days to visit and you're not trying to see the whole country.
If you have more time in Panama, add a trip to the San Blas Islands for kayaking and/or fly north to visit the coffee plantations and beaches.
This post includes some affiliate links. If you make a qualifying purchase through one of these links, I will receive a small percentage of the sale at no extra cost to you. Thank you very much for your support.
The best time to go to Panama
If you want to visit Panama, plan to go during the dry season. It lasts from late December through to April. In the dry season, it tends to be windier with more cloud cover – which also brings relief from the sun.
From May till December you can expect daily showers and high humidity.
We visited in mid-November and had rain most days, but only for a short amount of time. We did feel the humidity unless we were close to the ocean.
10 best things to do in Panama
If you've got a week check out the following fun and interesting things to do in Panama that our group of four enjoyed. It helps if you're a nature lover.
1. Dine by the Panama Canal – one of the unique things to do in Panama
Don't just visit the Panama Canal. Plan to dine by the locks so you can enjoy watching the boats make their way through the Panama Canal over a couple of hours. The food is okay – nothing amazing – but I surprised myself with how much I enjoyed the experience.
It was actually one of the top things I did in Panama. You can take a taxi from Panama City to the Miraflores Locks but reserve the restaurant in advance. Ask for an outside table.
2. Visit Monkey Island
You can visit Monkey Island as part of a day tour from Panama City. Explore Lake Gatun by boat, see up to four different types of monkeys in addition to many types of birds – some exotic. It's also fun to see the ships in the Panama Canal at water level. They are an imposing sight!
3. Go birdwatching in Panama
Reportedly there are 1,002 types of birds that have been seen in the country including five species that are endemic. You can expect phenomenal bird watching across the country.
One of the best and most accessible places to go is the world-famous Pipeline Road in Soberania National Park (easily accessed from Panama City). If you stay at Canopy Tower they will include a tour here. One very keen birder we spoke with exclaimed that "the birding on the Pipeline Road was the best he'd ever encountered."
4. Visit Fort San Lorenzo – a UNESCO site
The now abandoned Fort San Lorenzo in Panama is one of the oldest Spanish fortresses in America. In 1980 it received UNESCO World Heritage Site status. Wander the grounds, check out the rooms that at one time held prisoners and admire the views of the Caribbean and the Chagres River.
The fort has a violent history. It was repeatedly attacked between 1668 and 1671, destroyed three times and rebuilt three times. Its importance with a location high above the mouth of the Chagres River prevented boats from gaining access to the river, and ultimately Panama City.
5. Visit Casco Viejo in Panama City
Casco Viejo was Panama City's downtown until the 1930's. After its heyday it went into a long decline that has just been broken in the last decade. Ongoing restoration will return the area to its former glory.
Today you'll find Spanish colonial architecture in a rainbow of colours – some restored, some with years to go; excellent restaurants, markets, small museums and a throbbing, beating nightlife. You can easily spend a half day poking around – even a full day if you go slowly, chat with the locals and grab something to eat.
The area is best explored on foot. Wander along narrow streets, surrounded by a mixture of old buildings being restored, those that already are and many that need to be.
Check out French Park for a view of the Amador Causeway, the Bridge of the Americas and the skyscrapers of downtown Panama City. Visit museums. Support the local shops. Stay in one of the many excellent hotels in the area (see below). Absorb the culture.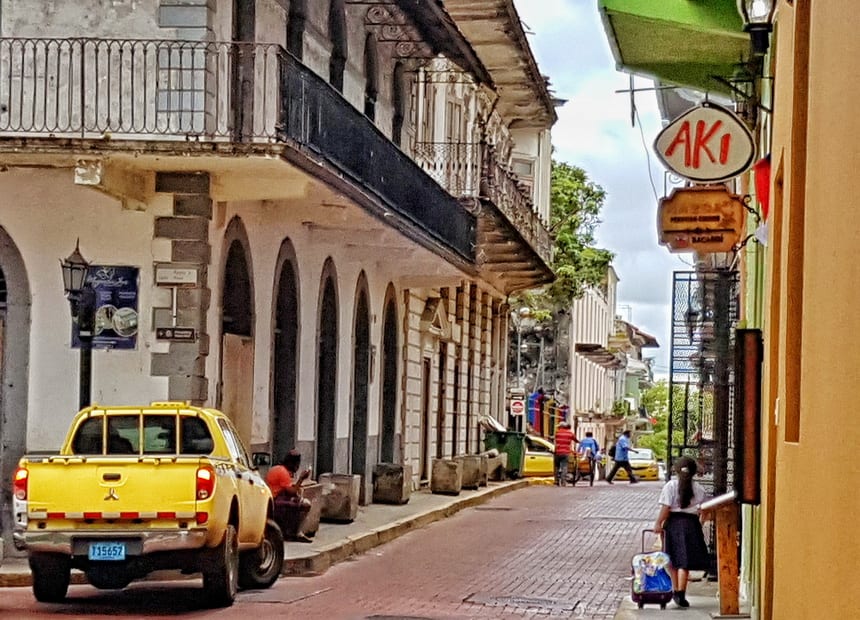 6. Visit Panama City's Metropolitan Park
Grab a taxi and in short order you'll go from the frantic pace of downtown Panama City to one where it's green, lush and peaceful. Panama City's Metropolitan Park is the ONLY tropical rain forest located within a city (and Soberania National Park where we stayed at the Canopy Tower is only 45 minutes away).
On one of four hikes that loop through the park, look for some of the 976 bird species that are found in Panama along with a dazzling array of orchids and plant life.
From high points in the park you can see the Panama City skyscrapers, the Panama Canal and a few of the nearby islands.
One of the highlights for us was watching leaf cutter ants carry their enormous loads. Simple pleasures!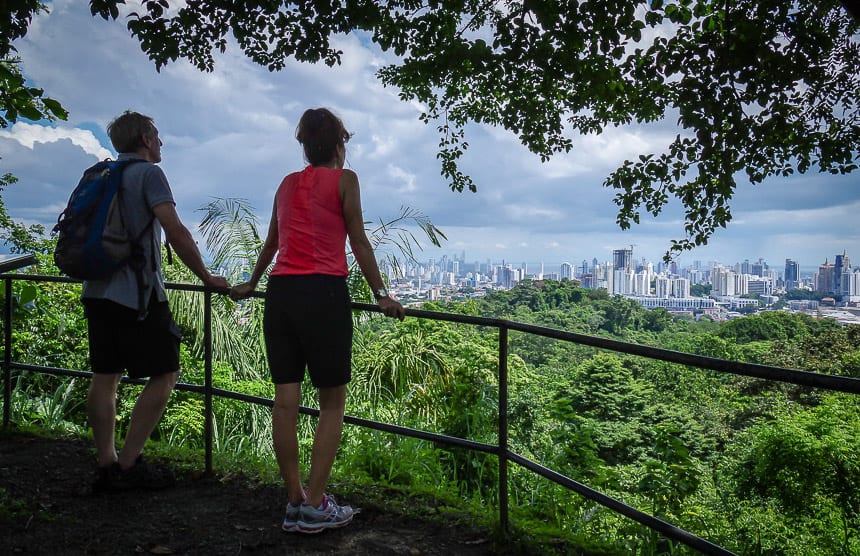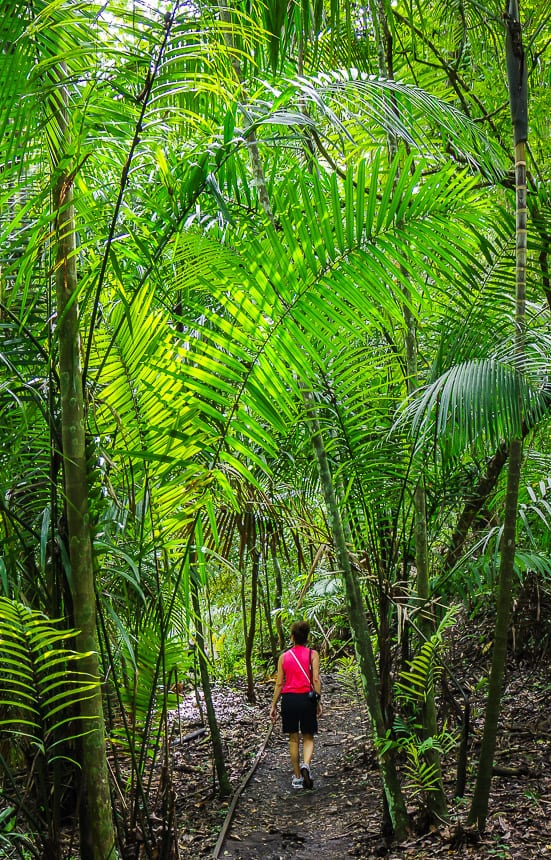 7. Walk or bike around Cinta Costera
From the fish market just outside of Casco Viejo walk or bike on a pathway until you reach the skyscrapers of downtown Panama City. Despite the fact busy Balboa Avenue runs parallel to the paths, there seems to be enough space and greenery to dull the noise.
On weekends this is a very popular area. The ocean is your constant companion on this walk along with birds, boats and all the wonderful clouds you see.
Allow about an hour each way, and more if you sit on a bench and just watch the world go by. You can also rent a bike just outside of the fish market if you'd prefer not to walk.
8. Eat like the locals in the Fish Market (Mercado des Mariscos)
When you arrive at the Fish Market in Panama City you will be besieged by vendors trying to get you to eat at their location. I don't know how you really pick one over the other. We looked for restaurants that were hopping and full of locals.
The fish market is a colourful spot with a lot of character and the food is decent, not amazing. Adjacent to the fish market you can watch all the activity around loading and unloading of boats, repairing boats and just hanging out watching boats.
9. Find a sloth
I think a lot of us have an attraction to sloths. Fortunately we were able to get close-up views of one at the Canopy Tower. My husband had breathlessly come running down to our bedroom to tell me about the sloth. I replied – it's a sloth. They don't move very quickly.
And it didn't. In fact it barely moved a muscle over an hour but still it was a thrill to get so close.
10. Spend a night or three in the Canopy Lodge in Panama
Located in El Valee de Anton in the Panama highlands, the Canopy Lodge is part of the Canopy Tower group and an ideal spot for nature lovers.
Rooms aren't fancy but they are comfortable. Family style meals were way better than expected. And the bird life around the lodge is remarkable, especially as they put out big trays of fruit to attract them.
You can also walk into town and check out craft stores, walk to a waterfall or go horseback riding. The area does not feel touristy in the least.
The one thing you shouldn't do in Panama City
My husband, John has exceptional navigation skills which he demonstrates time and time again in the wilds of Canada. I would have to say his city navigation skills aren't quite so good. Of course it doesn't help if you don't have a map or any landmarks either.
Rather than take a cab we all decided to walk back to our hotel in Casco Viejo from our lunch spot at the Fish Market (Mercado de Mariscos). How hard could that be?
What we didn't appreciate was the location of El Chorrillo, a sketchy neighbourhood adjacent to Casco Viejo. Somehow we took one wrong street, then another and in no time ended up getting deeper and deeper into the El Chorillo neighbourhood.
You could tell. People watched us like a hawk. We knew it wasn't good but nor did we ever feel unsafe, merely unsettled. After about 15 minutes a police car pulled up beside us shouting muy peligrosa (very dangerous) at the same time as a women was about to come to our rescue and point us in the right direction.
The police were kind and helpful and rather than stick us in a cab insisted that we all jump in the back seat and they'd drive us back to our hotel. That was a first for all of us and one of my more memorable travel experiences. And we're all thankful it ended so well.
Where to stay in Panama City, Panama

We stayed in two places in Panama City – the American Trade Hotel and the Tántalo Hotel. Tántalo has very arty rooms and a rooftop bar with a hopping nightlife – which translates to a lot of noise in some of the rooms well into the wee hours.

Between the two I preferred the American Trade for its lovely though small rooftop pool and quieter ambiance.

We also loved both the Canopy Tower and the Canopy Lodge. Both are best suited to birders and nature lovers.
Useful information about Panama
English is widely spoken.
The currency is the US dollar.
There are no hurricanes in Panama but there is a wet and a dry season.
The standard voltage in Panama is 110 volts. You don't need a power plug adapter if you're from the US or Canada. Plugs and sockets are types A and B.
The roads are generally good in Panama though traffic in Panama City can be nuts. We didn't rent a car. Instead in Panama City we explored on foot and used a taxi once. Outside of the city, we used the cars and drivers provided by the hotels we stayed in.
Location map of things to do in Panama
Interested in more traveling in the Caribbean and Central America?
In Dominica
Try the Boiling Lake hike. It's an all day affair – and a tough hike but a great one.
Love adventure? Stay for 3 nights to a week in Dominica at Wanderlust Caribbean and experience a cross section of non-touristy things like soaking in natural pools beside the ocean, walking up to a massive waterfall, walks on red rocks, and kayaking in quiet lagoons.
Costa Rica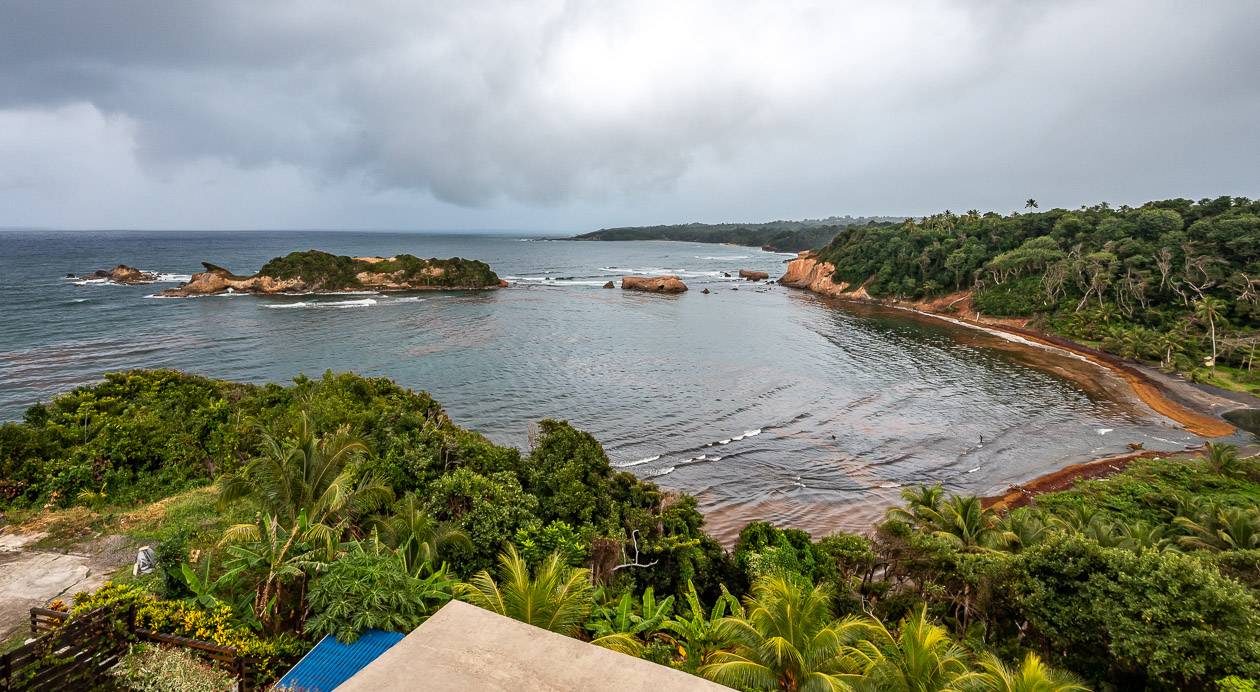 Click on the photo to bookmark to your Pinterest boards.