The Lake Agnes – Big Beehive hike delivers world-class mountain scenery. Normally the hike to Lake Agnes Teahouse is a ridiculously busy one, especially in the summer. But we elected to do the Big Beehive hike in the third week of October, a couple of weeks after a particularly big, early season snow storm, so the number of hikers was way down.
Starting early always helps but on this occasion the trail to Lake Agnes was also like a skating rink early in the morning. Lots of people turned back unless they had brought "icers or traction devices" with them. By the time we got to Lake Agnes and the start of the Big Beehive hike, the sun was melting snow and the going was much easier.
This post includes some affiliate links. If you make a purchase via one of these links, I will receive a small commission at no extra cost to you. Thank you very much for your support.
Big Beehive hike summary
Distance: 9.6 km (6.0 miles) return from Lake Louise via Lake Agnes; you can also get to the Big Beehive from a spur trail off the Highline Trail,
Elevation gain: 540 m or 1,772 feet
Level of difficulty: Easy to moderate depending on your fitness level
Time needed: 3 – 4 hours
Dogs allowed: Yes, on a leash.
Best time to hike: Mid – June until mid-October or whenever the snow starts to stick. Don't hike the trail around Lake Agnes after a big snowstorm because of avalanche danger.
Permit: You will need a Parks Canada pass to do the Big Beehive hike. On the way into the park you can buy one, but to save time on busy summer weekends, I would recommend buying a park pass online.
Trail conditions: Check trail reports in Banff National Park before you start the hike.
Bears: Although the chances of running into a grizzly are low on the Big Beehive hike, I would still recommend taking bear spray – in a bear spray holster so you don't set it off accidentally. You can rent bear spray in Lake Louise Village at Wilson Mountain Sports.
Weather: Check the weather forecast before you start the Big Beehive hike.
Don't forget: Always carry the hiking essentials.
Map: Pick up a copy of the Gem Trek Best of Lake Louise map to figure out the maze of trails in the Lake Louise area. Organic Maps is a great offline hiking app.
Getting to Lake Louise
Drive up from Lake Louise Village to reach a large parking lot to the east of Lake Louise. Unfortunately, it's usually full by 8 AM and you have to pay $12.25/day for parking. If the parking lot is full, parking attendants will turn you around and won't let you wait for a space to open up.
You can also book a shuttle from the Lake Louise Ski Hill to Lake Louise. Reservations open on April 13, 2023 at 8 AM MST on the Parks Canada website. The shuttle is available from May 19 – October 9, 2023.
Another good option is to use Roam Transit from Banff to Lake Louise. Reservations for the summer open in May.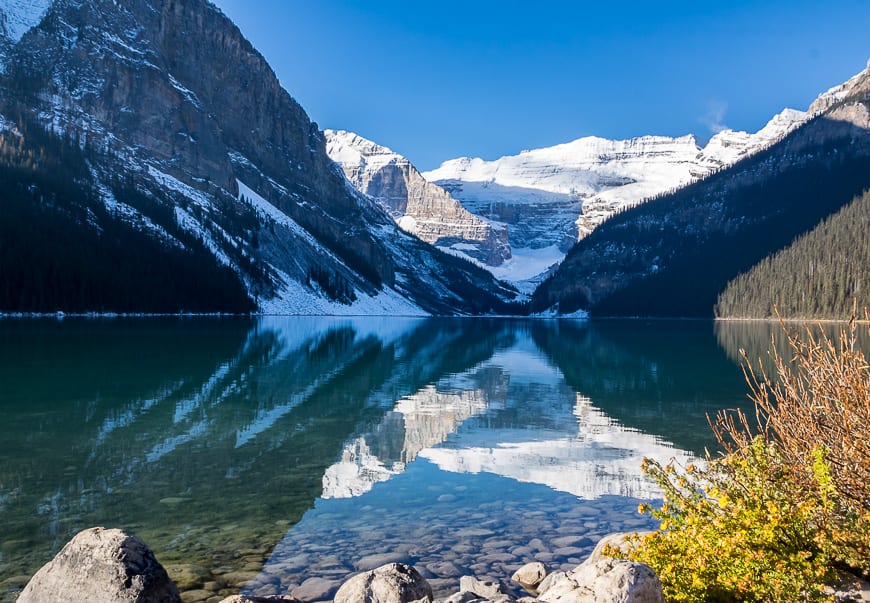 Finding the trailhead to Lake Agnes and the Big Beehive hike
The Big Beehive hike starts beside Lake Louise. To find the trail, follow the shoreline path west-northwest in front of the Fairmont Chateau Lake Louise. Look for a trail intersection and you'll see signs at the north corner of the lake.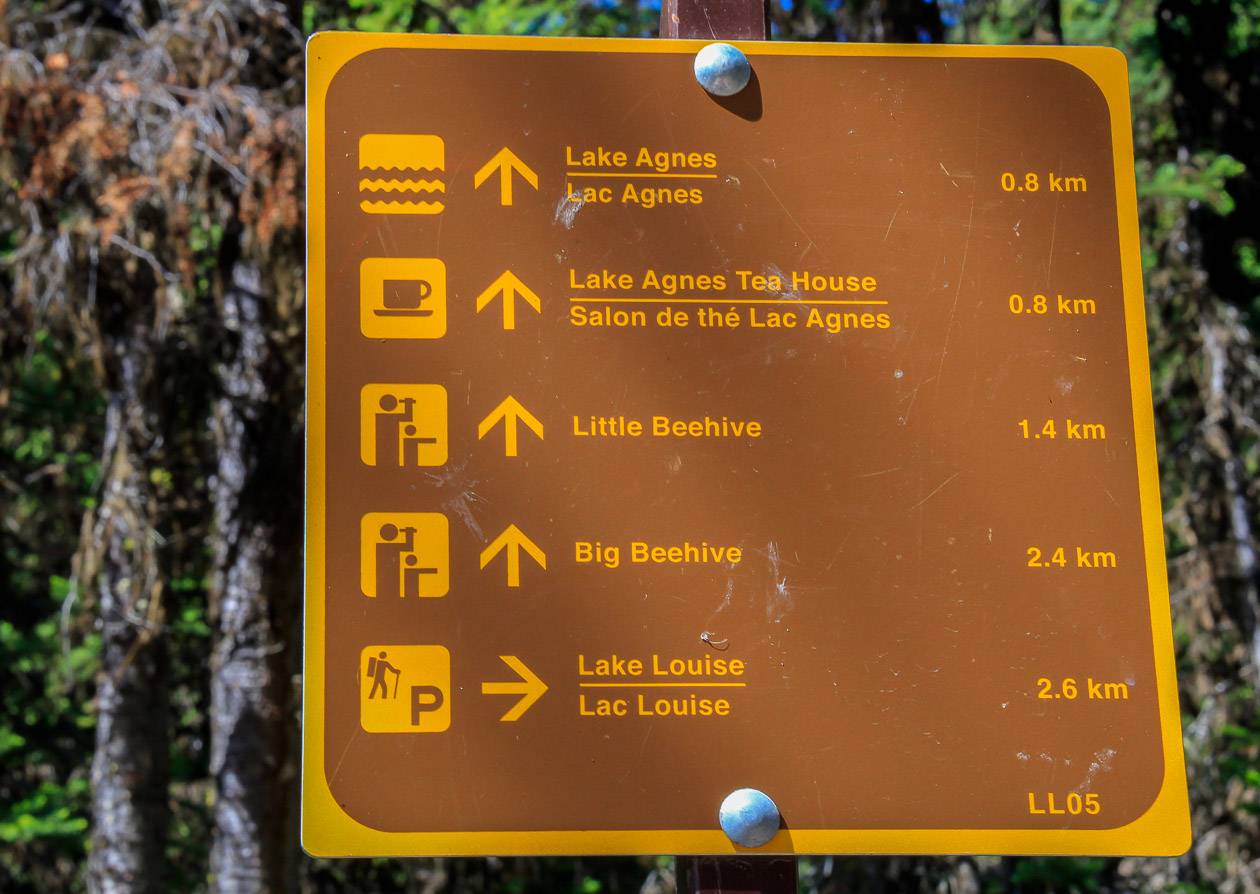 Big Beehive hike description
Follow the well-maintained trail up through the woods towards the Lake Agnes Tea House. Around the 1.7 km mark you'll get some decent views of Lake Louise, lying many hundreds of feet below. Be careful that you don't take the horse trail that returns to Lake Louise at the 2.4 km mark.
Once you've reached Mirror Lake at 2.6 km you have a choice. Go left and take the Highline Trail or stay right to reach Lake Agnes in 3.5 km after climbing a couple of sets of stairs by a waterfall.
The second option is also the route to reach the Little Beehive and Mount St. Piran. In the winter the final stretch before Lake Agnes passes a slope that gets loaded with snow – so there can be avalanche danger.
The Lake Agnes Tea House
The Lake Agnes Teahouse named for Lady Agnes MacDonald, Canada's original first lady – was closed when we were there – much to the disappointment of some hikers we met later in the day. It opens yearly starting early in June through until Thanksgiving weekend in October.
After stopping for a few photos at Lake Agnes continue in a southwesterly direction on a trail that follows the north shore of the lake. It's easier walking now. An in October the trail is still very pretty with larches showing their fall colours.
The trail to Big Beehive is well-signed from Lake Agnes.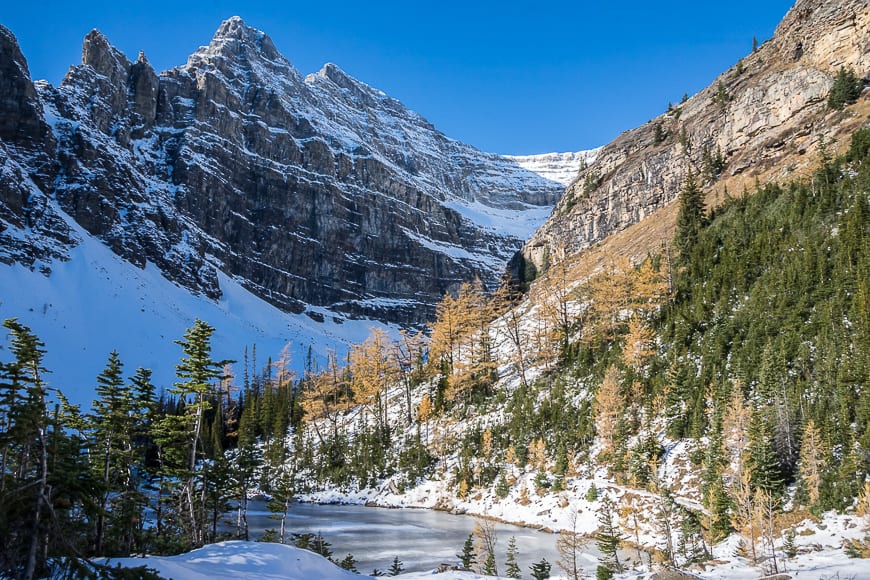 The hike to Big Beehive
The hike up to Big Beehive curves around the west shore of Lake Agnes on a gentle grade. It was well stomped out when we did it and it would be equally obvious without snow. Switchback up the gully to reach a four-way intersection.
To reach the Big Beehive go left. If you want to return via the Plain of Six Glaciers you would go straight to reach the Highline Trail. If its the challenging Devil's Thumb you want to hike, turn right. There is signage so it's easy to figure out when you're there.
Once you've reached the intersection the elevation gain is over. Simply follow the trail through pretty woods – at times with some breathtaking views of Lake Louise all the way to the Big Beehive Lookout. There are lots of viewpoints around the Big Beehive that make for a good lunch spot.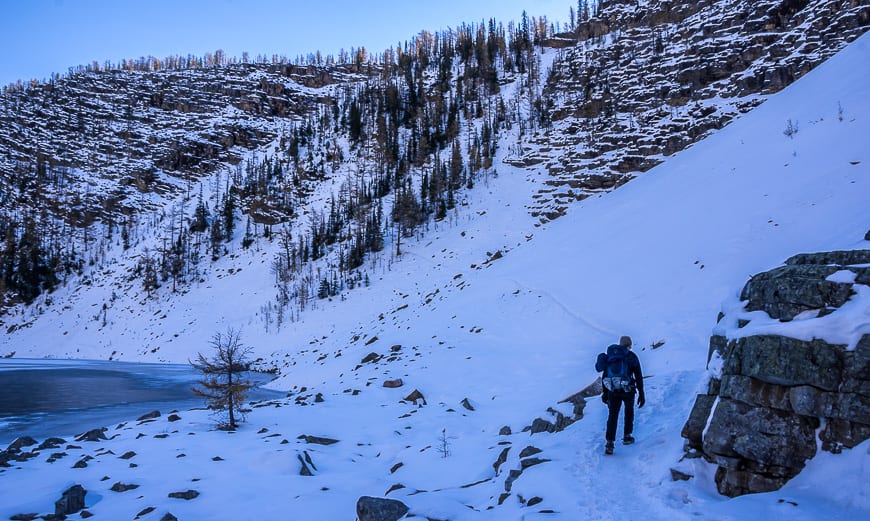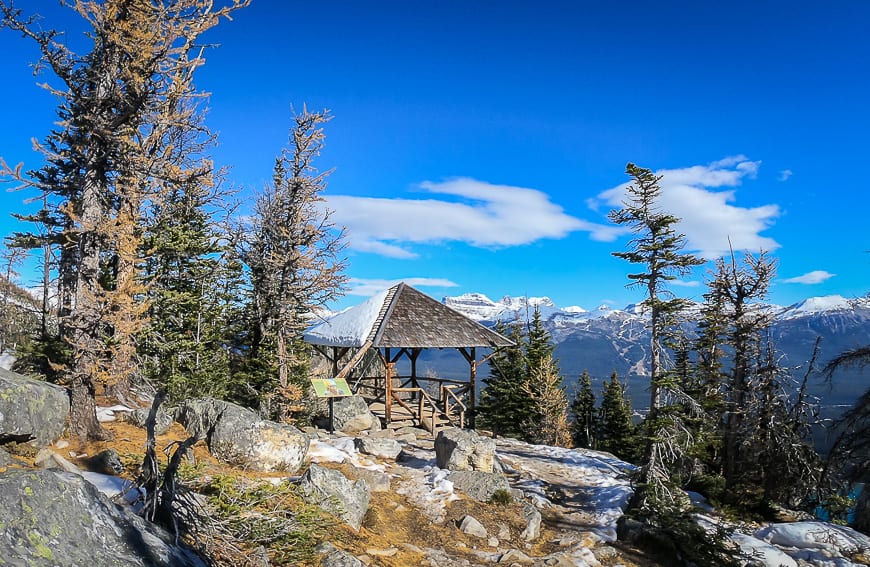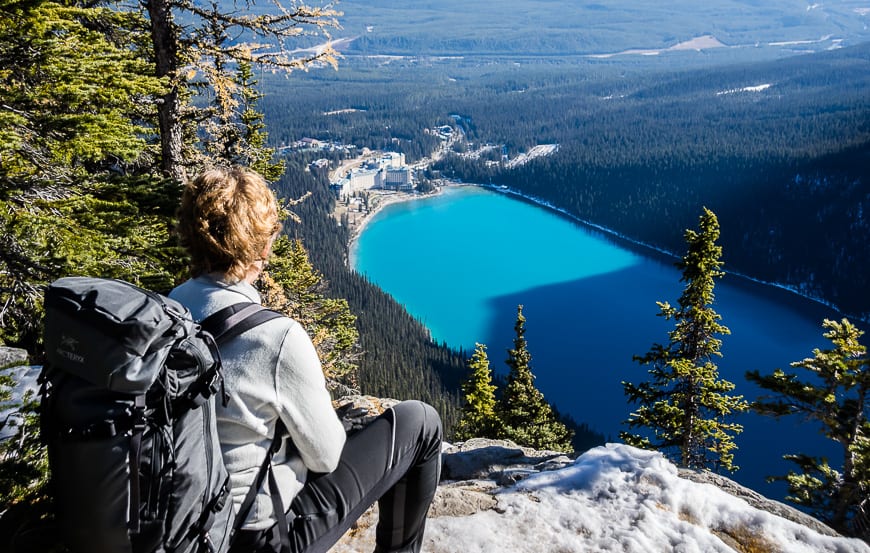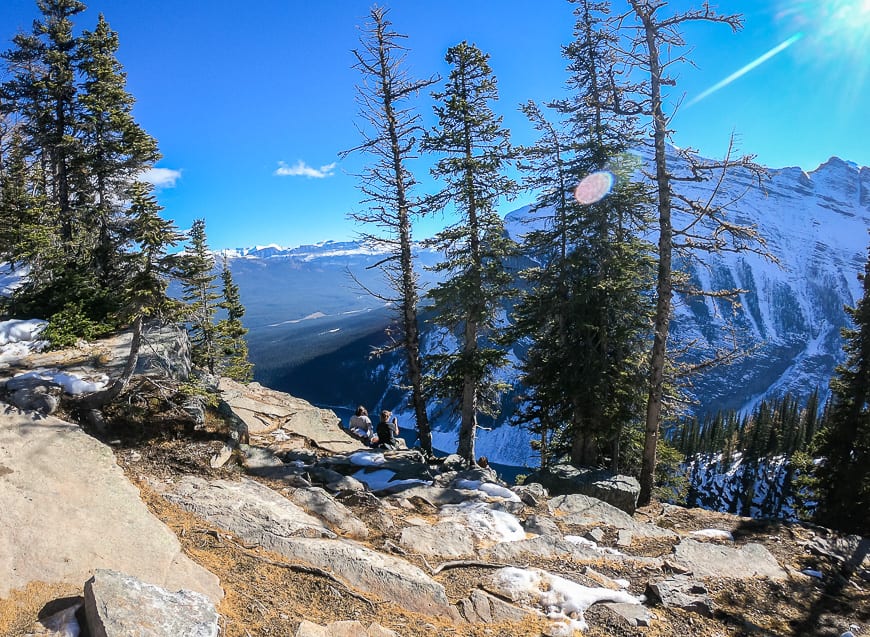 Options on the Big Beehive hike back to Lake Louise
Retrace your steps to return to Lake Louise. Keen hikers might want to knock off Devil's Thumb as well but with all the snow around I figured we'd come back and do it in the summer instead as there is some challenging scrambling involved.
There is also the option to hike to Little Beehive – by taking the trail above the Lake Agnes Teahouse and following the signs. That would at most add about an hour of hiking to the day, and if you've never been, I'd recommend it.
Highline Trail option
Another great option that allows you to hike a loop is to take the trail down towards Lake Louise for 1.0 km to reach the Highline Trail. At that intersection you can go left to Mirror Lake – and then down to Lake Louise.
Alternatively you can go right for 0.7 km to reach the Highline Trail/ Connector Trail intersection.
If you stay on the Highline Trail then you're only 2.7 km away from the Plain of Six Glaciers Tea House. If you take the 1.0 km Connector Trail you'll reach the Plain of Six Glaciers Trail. Go left to return to Lake Louise. Then you can hook up with the Lakeshore Trail and enjoy an easy walk along the length of Lake Louise to return to your starting point.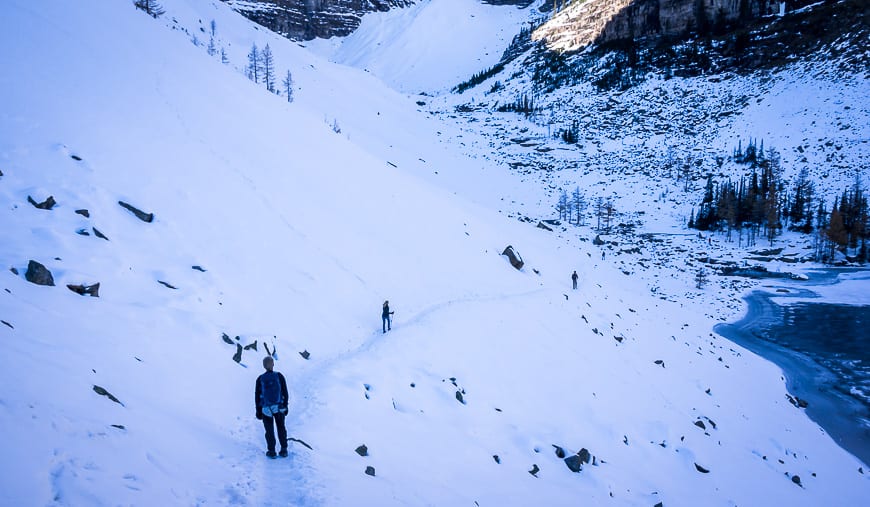 Where to stay in and near Lake Louise
With Lake Louise becoming increasingly busy and popular as a hiking destination you might want to consider treating yourself to a night or two in the area so you can avoid a lot of driving, though it sure is getting expensive.
Your other option is to camp. There are campsites for tents (open June 1 – September 24, 2023) and hard-sided vehicles – and that campground is open year round. Make a campsite reservation online.
A few places I'd recommend include Paradise Lodge & Bungalows, just a kilometre from the lake, the Lake Louise Alpine Centre Hostel, and Deer Lodge IF you get a renovated room (their food is very good).
Nearby you might also want to check out Baker Creek by Basecamp.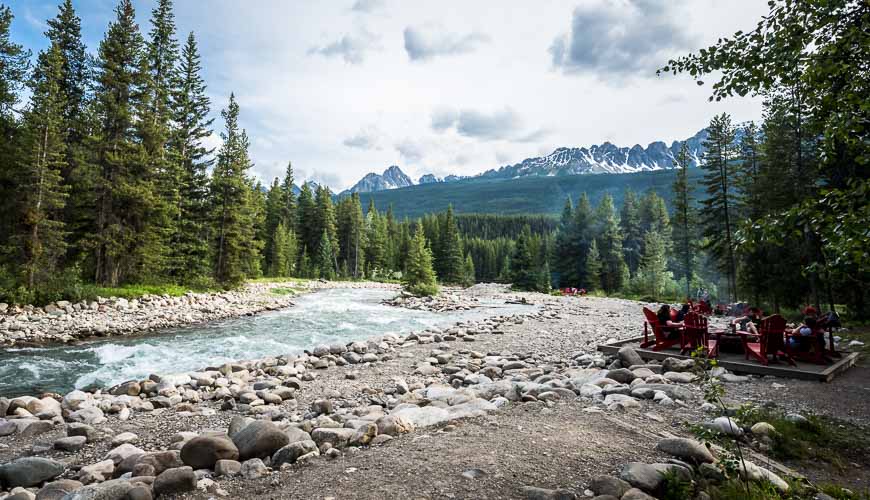 What I'd recommend on the Big Beehive hike
I like something comfortable to sit on at lunch time. I swear by my blowup inflatable seat cushion.
I like using hiking poles, especially when there is steep terrain or when a stream crossing is involved. Invest in a good pair that are collapsible and lightweight.
I always pack a buff. It's a multi-purpose piece of cloth that has at least a dozen uses – including keeping your neck and head warm if the temperature drops.
If I'm not going on a long hike, I like to take water purification tablets in case I drink more than normal or someone in my group runs out of water.
Another nice addition for those of you who love wildflowers is the book Popular Wildflowers of Alberta and the Canadian Rockies.
Looking for more ideas on where to find nature in Alberta? Check out my book – 200 Nature Hot Spots in Alberta.
Other hikes around Lake Louise to consider
Other hikes that tend to be busier that start from Lake Louise I can recommend include:
I would also recommend some hikes that aren't too far away but they don't require a Parks Canada shuttle. Arnica Lake and Taylor Lake are excellent larch hikes in September.
Visit the Banff National Park website for updated information on trails.
Click on the photo to bookmark to your Pinterest boards.