The Gorge Creek Trail, a 12.8 km return hike in Manitoba's Riding Mountain National Park takes you to another world, more akin, at least when I was there, to a rainforest in Costa Rica. The landscape is a total surprise and not one I expected in a prairie province. Considered to be one of the best hikes in the park, the Gorge Creek trail takes you up and down the Manitoba Escarpment through a range of eco-systems.
The gorge itself, formed after thousands of years of erosion, moves through vegetation types beginning with aspen and hazel forests and descending through old oak forests to finish at the Birch Picnic Area in a leafy setting of white birch and Manitoba maple.
This post includes some affiliate links. If you make a purchase via one of these links, I will receive a small commission at no extra cost to you. Thank you very much for your support.
Gorge Creek trail summary
Distance: 12.8 km (8.0 miles) return
Elevation gain and loss: 300 m (984 feet)
Level of difficulty: Moderate
Time needed: 3.5 – 5 hours
Best time to hike: May until late October
Highlights: Scenic overviews, Manitoba escarpment, variety of birds and vegetation, wildlife
You will need a Parks Canada pass to hike the Gorge Creek Trail.
Always carry the 10 hiking essentials.
There are black bears in the park, so carry easy to access bear spray.
The Riding Mountain National Park Visitor Center is in Wasagaming, approximately 265 kilometres northwest of Winnipeg and 95 kilometres north of Brandon
There are lots of hikes to choose from in Riding Mountain National Park, ranging in length from 1.2 to 23.9 km one way.
Gorge Creek trailhead location
The western trailhead is on the north side of the road, immediately across from the South Escarpment Trail, approximately 27 km east of Wasagaming. It's accessed via Highway 19, a dirt road.
The eastern trailhead can be found just inside the East Gate of Riding Mountain National Park at the Birches Picnic Site.
Gorge Creek trail description
As an out and back hike, there is no way to avoid going both up and down the escarpment on the Gorge Creek trail. Choosing to descend first, we started at the western trailhead, located directly across from the South Escarpment Trail.
For the first kilometre as we hiked through dense forest, with the occasional clump of bright yellow wildflowers, I wondered why we were here. Big trees and no views do not make a great hike in my opinion, but with the start of the descent everything changed.
Emerging from the dense forest, the trail suddenly offered views out to the plains – as far away as the town of McCleary. Looking across the gorge itself, is the scene I think is so reminiscent of Costa Rica.
It's a 300 metre descent in total and very steep in places. But it's always doable with the help of stairs built into the escarpment and well-constructed bridges for stream crossings.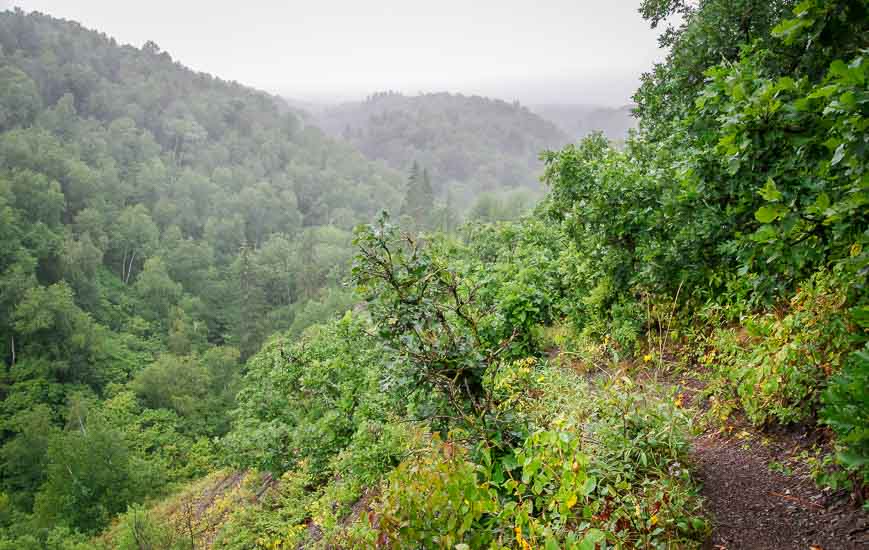 Watch out for poison ivy!
Poison ivy is everywhere and is unavoidable for several kilometres. Long pants are a must on this trail. When you're finished with the hike, don't forget to wash your hands well with soap and water to remove any oil from the poison ivy – and change into a clean set of clothes.
With these precautions, John and I never got a case of poison ivy.
It's black bear country on the Gorge Creek trail
There's a chance you might see a black bear, a moose or a wolf as there is certainly scat around to announce their presence. Make noise and consider carrying a can of bear spray. Towards the bottom of the trail, listen for bird song. Birds were plentiful but difficult to see.
Read: Tips for Staying Safe in Bear Country
The Gorge Creek Trail is really a delight – despite the shaky start. When you finish the hike, drive out of the park through the East Gate and admire the Manitoba Escarpment from afar. It's a beautiful sight.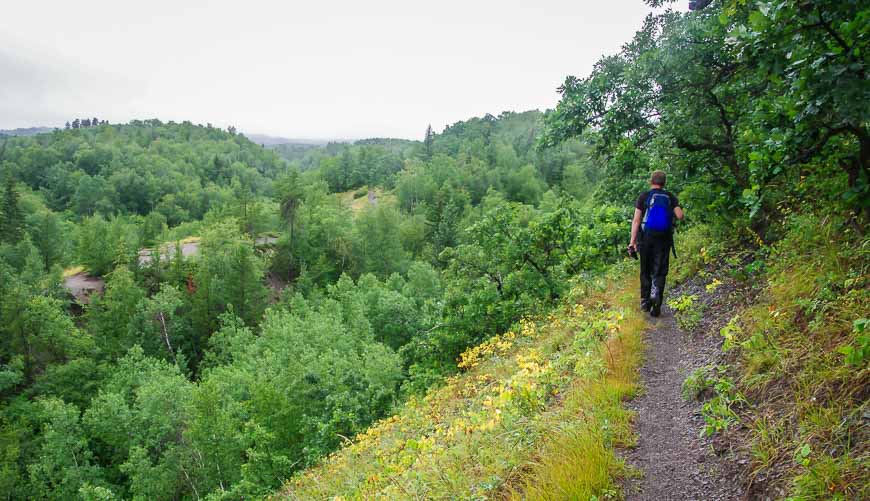 5 Things That Come With Me on Most Hikes

I like something comfortable to sit on at lunch time. I swear by my inflatable seat cushion that weighs next to nothing.

I like using hiking poles, especially when there is any sort of descent involved. Invest in a good pair that are collapsible and lightweight.

No matter how the day starts I always carry rain gear like this coat with pit zips which are useful in summer.

I find a brim hat with a chin strap invaluable in the rain or on a hot, in your face sunny day.

In Manitoba don't forget the bug repellent.
Further reading about things to do in Manitoba
Click on the photo to bookmark to your Pinterest boards.