There's a good chance that unless you live in Manitoba or you've got some Icelandic blood in you, that you've never heard of Hecla Island, named for Mount Hecla, one of the most active volcanoes in Iceland.
Located about 90 minutes by car north of Winnipeg, Hecla Island has an interesting history as we learned from our hosts, Sharon and Dave at Solmundson Gesta Hus in Hecla Village. Sharon was actually born in the house and has lived through many of the changes the island has seen. ( The B&B is now permanently closed.)
This post includes some affiliate links. If you make a qualifying purchase through one of these links, I will receive a small percentage of the sale at no extra cost to you. Thank you very much for your support.
Hecla Island history
Originally settled in 1876 by people fleeing Iceland – initially because of an erupting volcano, Hecla Island has been the recipient of off and on again economic success, mostly related to the freshwater fishing industry.
By the time the late 1960's rolled around too many people were leaving the island, in large part because of a decline in the fisheries industry. To save the community and to provide employment, the islanders banded together and petitioned the Manitoba government to make the island a park. The park formally opened on July 26, 1975.
Now, as part of Hecla/Grindstone Provincial Park, the island has plenty to offer the hiker, biker, kayaker, birder, and history buff. And in winter, it's great place to visit for cross-country skiing.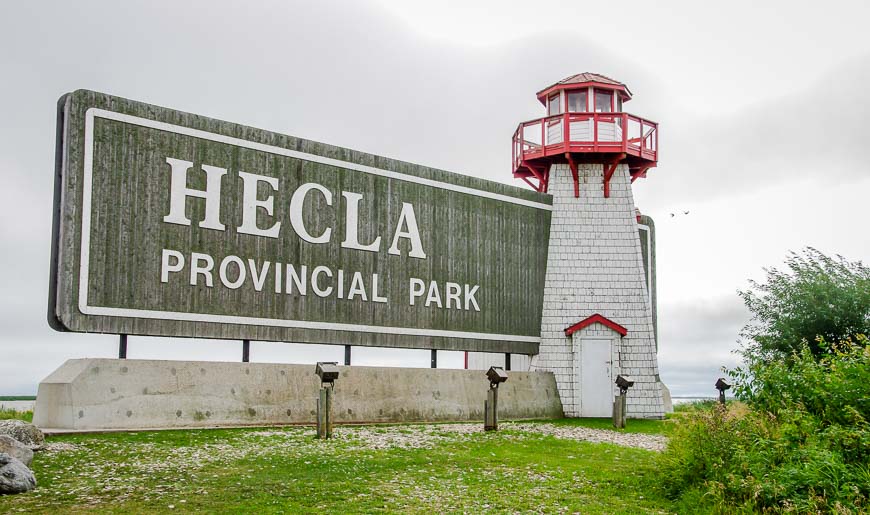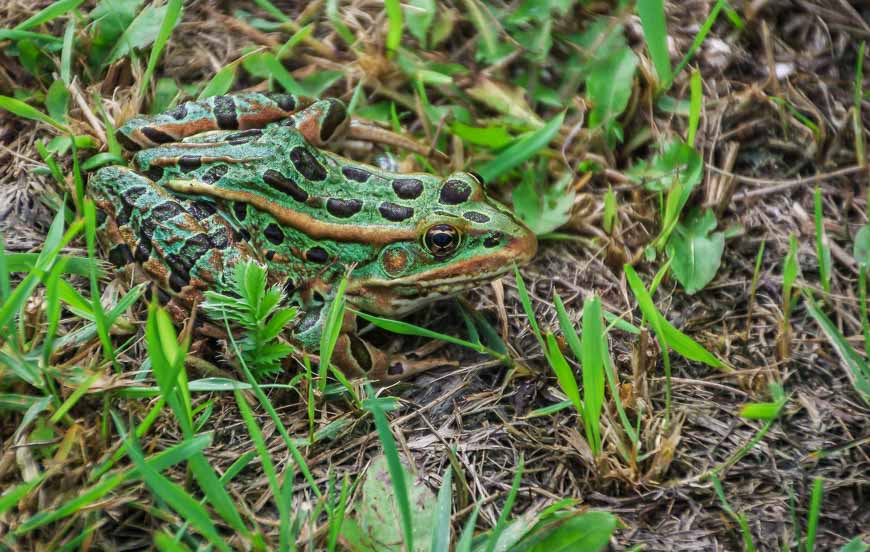 Hiking on Hecla Island
I had come to Hecla Island, primarily for the hiking but in August when I visited, it was a wet one. Many of the hiking trails were actually underwater. We made the most of it and checked out the following trails.
The Lighthouse at Gull Harbour
Throwing on some water shoes we waded through the water to the Lighthouse at Gull Harbour. You could have taken a dry route but this was actually more fun. As a a 6 km return hike, it offers beautiful island views, rocky beaches and loads of bird life. And the lighthouse itself is very photogenic.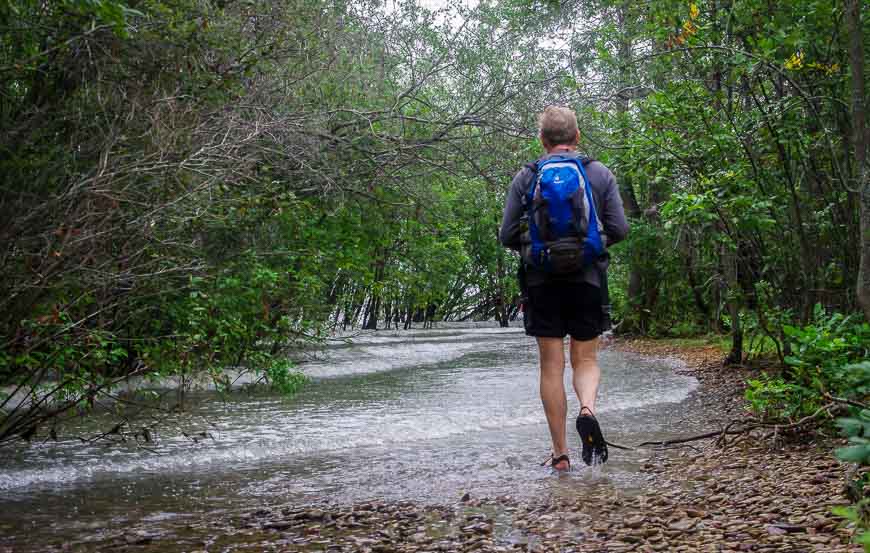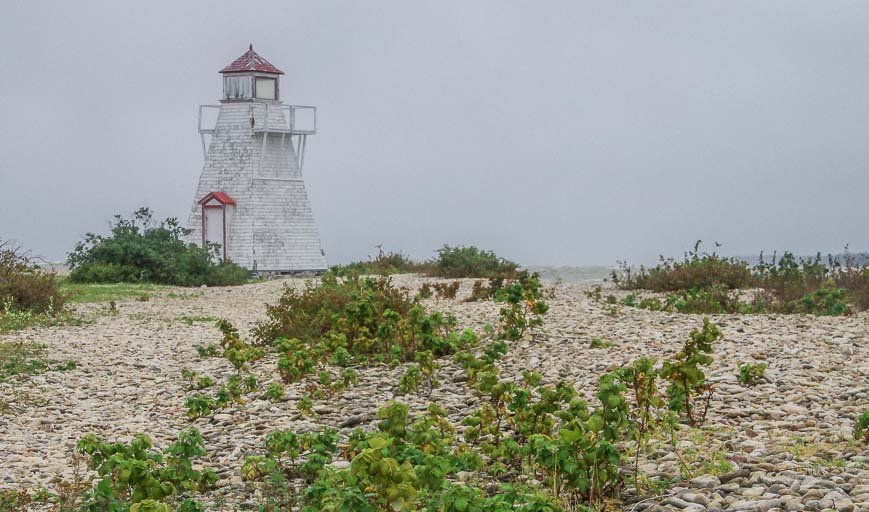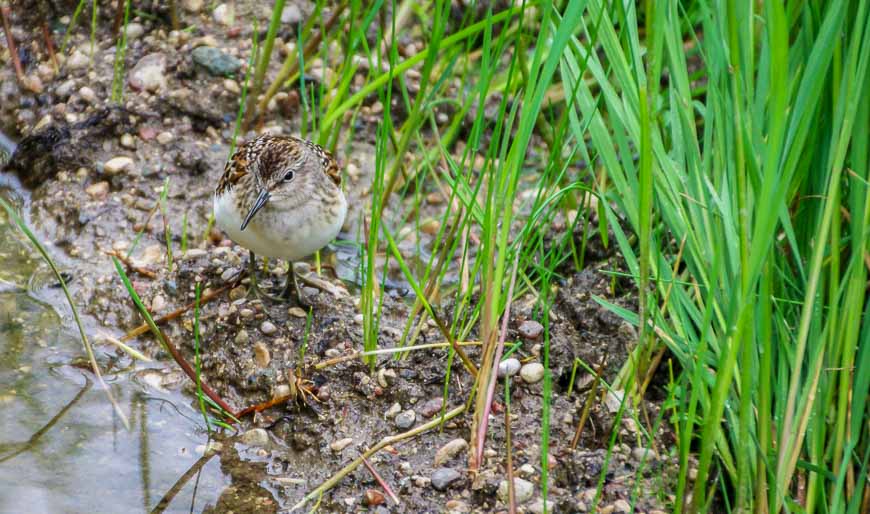 Hike to the north end of Hecla Island
Another option is an easy hike to the north end of Hecla Island. It takes you to a pretty park filled with birch trees and a viewing tower worth climbing for the views out to nearby Black Island.
Continuing around the top of the island, you run into a few beaches, though I think the prettier ones are accessed best from the trail to the lighthouse. For a look at some local history and an old limestone quarry, hike the10 km West Quarry Trail found in the northwest corner of the island.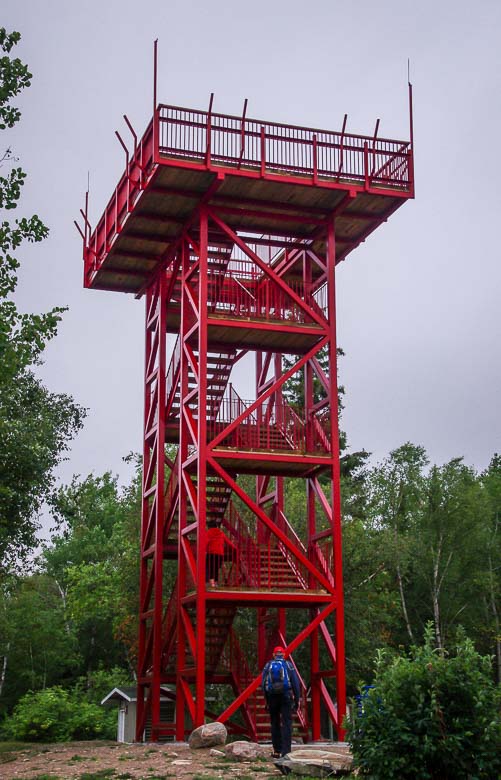 Grassy Narrows Marsh Trails
The Grassy Narrows Marsh Trails are accessed just after driving onto the island via the causeway. In total there are 25 km of hiking available over five different trails, some of them on boardwalk – though not in the summer I was there.
The one exception was the short Madtom Trail that was exclusively on boardwalk. A walk along it provided our first ever sighting of a bird called a Virginia Rail.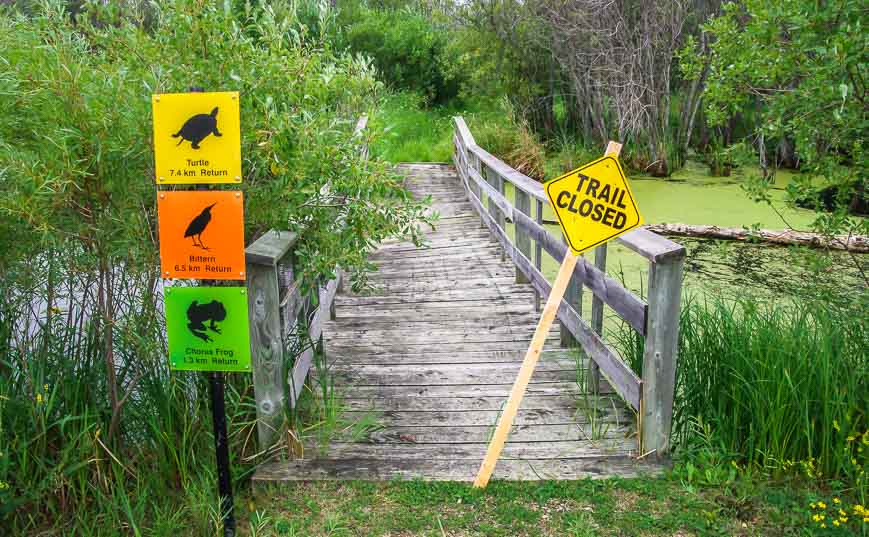 Black Wolf Trail hike on Hecla Island
The Black Wolf Trail would under lower water conditions be the trail to access the most untouched areas of the park. With options to hike over 22 km, you can explore a landscape that includes marsh, forest and a section of Lake Winnipeg. Large mammal sightings are also possible, in particular black bear and rarely, black wolves.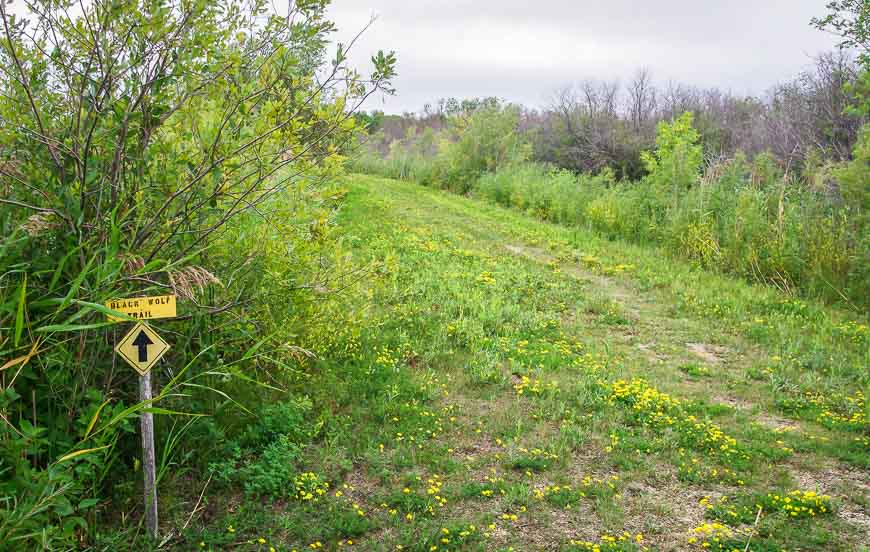 More things to do on the island
The wind was blowing hard on the weekend we visited. Otherwise we would have considered renting kayaks and going out for a few hours. The waves were big and the skies forbidding so it just didn't make sense on this visit.
We did see people riding bikes on quiet roads and if we'd had more time we would have investigated Hecla Village – where you can take a guided walking tour.
Where to stay on Hecla Island
There are many options ranging from camping to luxury. You can camp south of Hecla Village, with primitive toilets only. The bulk of the campsites are at the north end of the island, close to tennis courts, beaches and a playground.
For a dash of luxury book the Lakeview Hecla Resort. It overlooks bird-filled marshes and is an easy walk to a pretty beach on Lake Winnipeg.
Where to eat on Hecla Island
You can eat at Seagull's Restaurant at the Lakeview Hecla Resort. But if you're visiting the island on a Friday or Saturday night between mid-June and mid-September, I would recommend heading to Integrity Foods, located north of Riverton, but before you reach the island.
Starting at 5 PM you can choose a pizza topping, perhaps one where you've gone into their garden to pick some of the herbs and garden vegetables you want on the pizza, and then watch as it bakes in the outdoor wood-fired oven.
Grab a lawn chair and enjoy your pizza – with an organic spelt crust – surrounded by flowers and farm country – farm animals included. This is a fantastic multi-generational outing.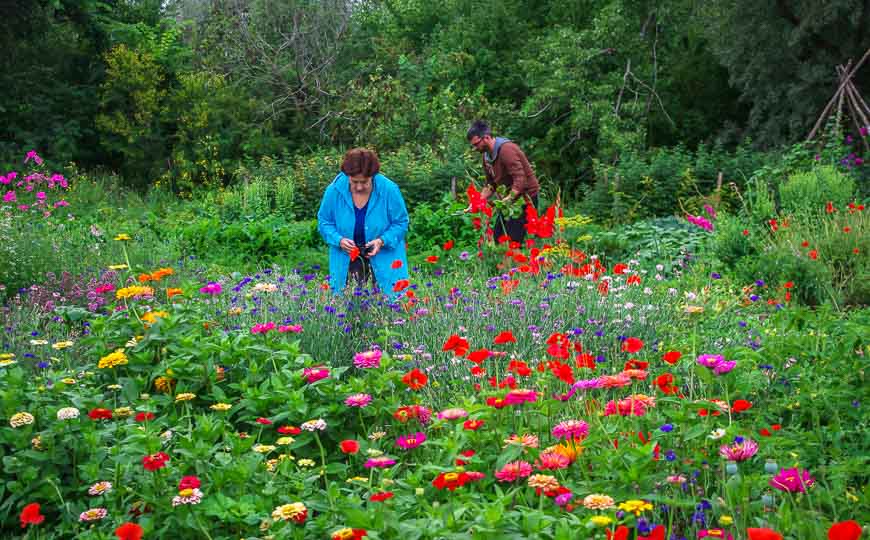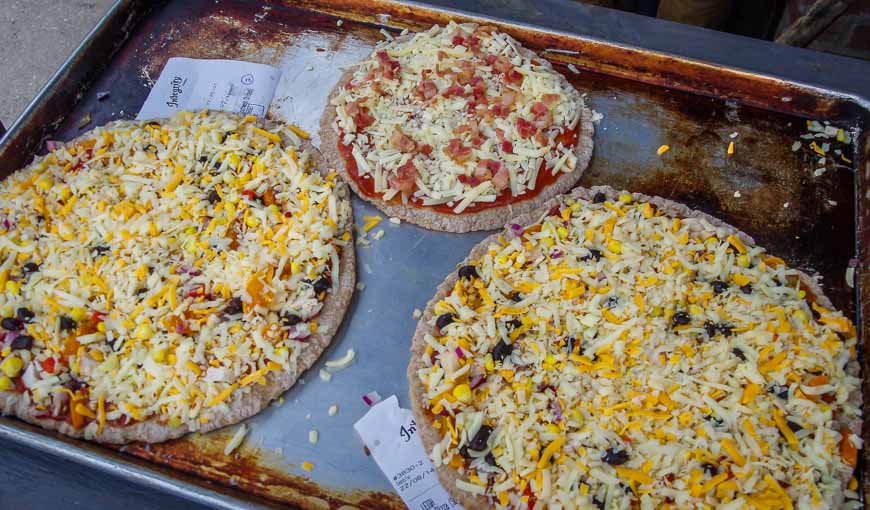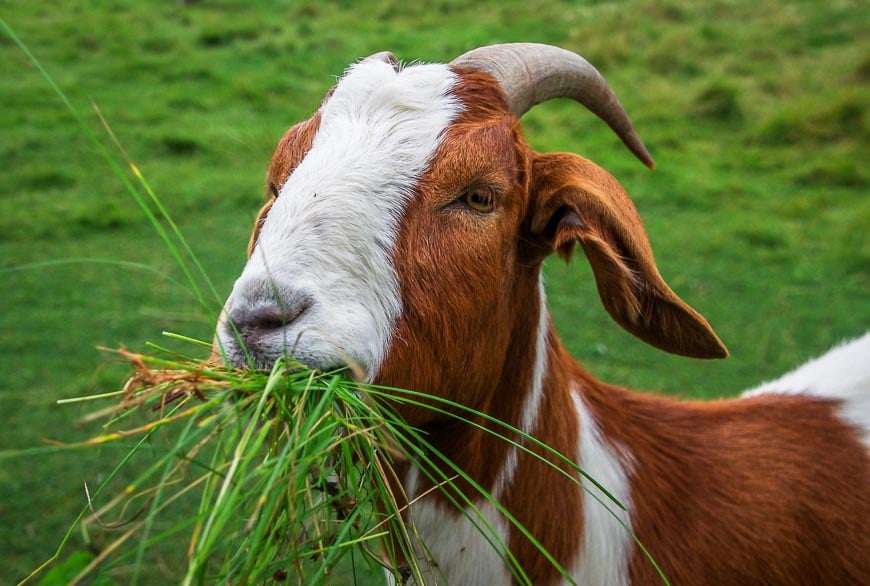 Further reading on things to do in Manitoba
Click on the photo to bookmark to your Pinterest boards.