Canada has its fair share of long distance and backpacking trails. I tend to think of Europe when I think of long distance hiking trails or walks. Maybe they've just done a better job of publicizing them. But in Canada there are long distance and backpacking trails in every province and territory. Several are a work in progress.
Described are 37 long distance and backpacking trails in Canada.
Some of the long distance trails are built only for hiking, while others are shared-use trails. Almost all of the national parks have extensive trail systems with many multi-day backpacking trips possible, though only a few of these ones are mentioned – at the end of the post.
(Updated January 2020)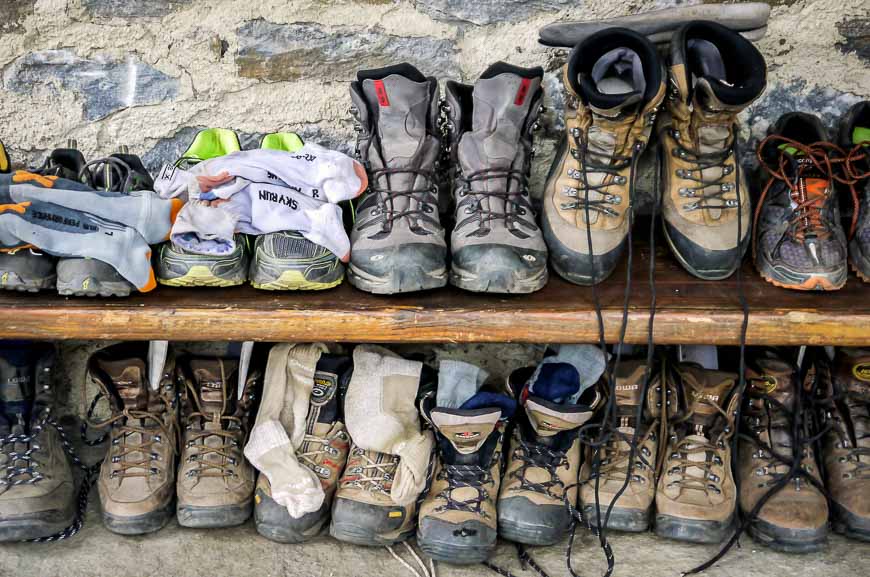 Many, but certainly not all of the trails are designed for adventurous folks with expert navigation and wilderness skills. Fortunately, there are still plenty of trails that are well-marked with multiple access points so they can be done in sections as you have the time.
This list and brief description of many of Canada's long distance hiking trails keeps growing as I hear of or try new trails.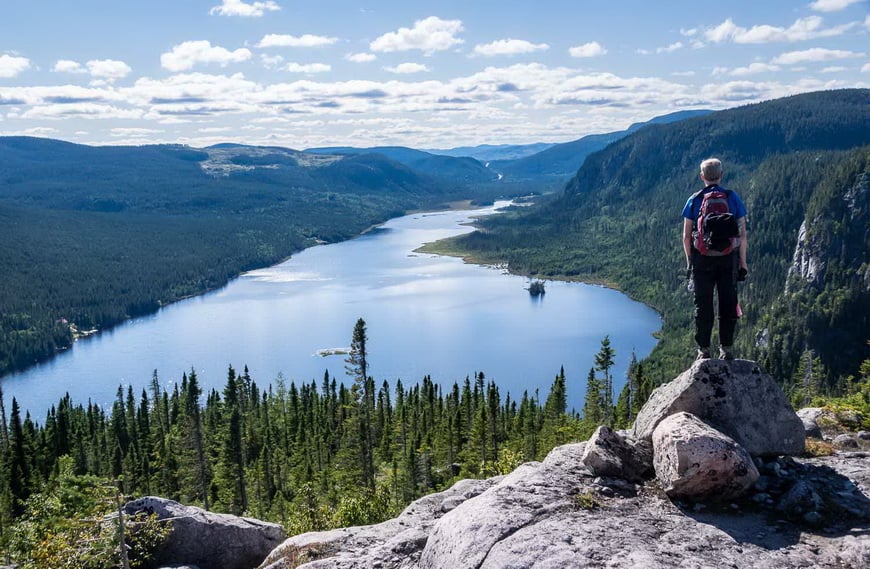 British Columbia long distance hiking trails
The West Coast Trail
The West Coast Trail is one of the most popular long distance hiking trails in Canada with up to 8,000 people per season tackling the strenuous 75 km (45 mile) section of beach and rain forest between Bamfield in the north and Port Renfrew in the south. Allow 6-8 days.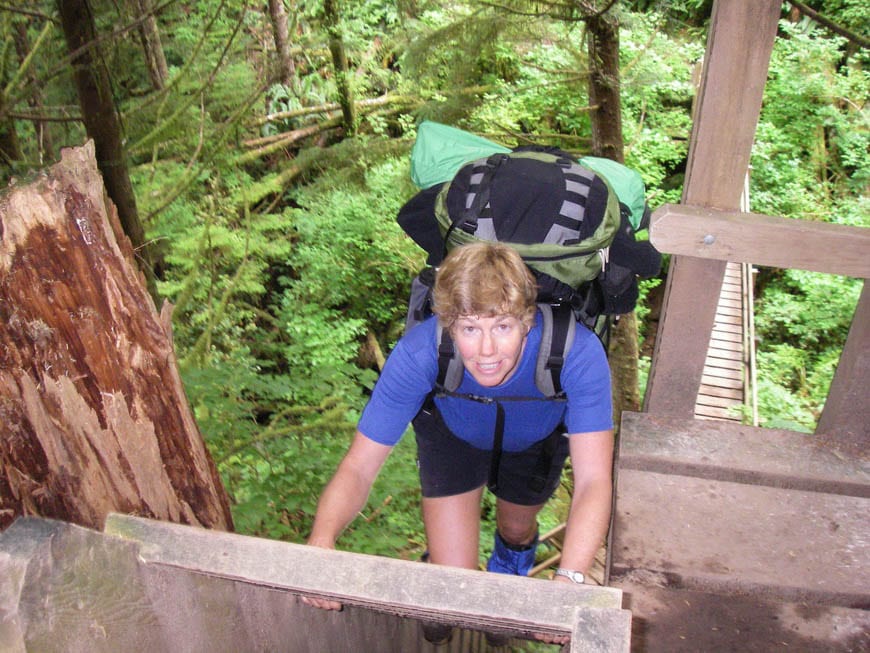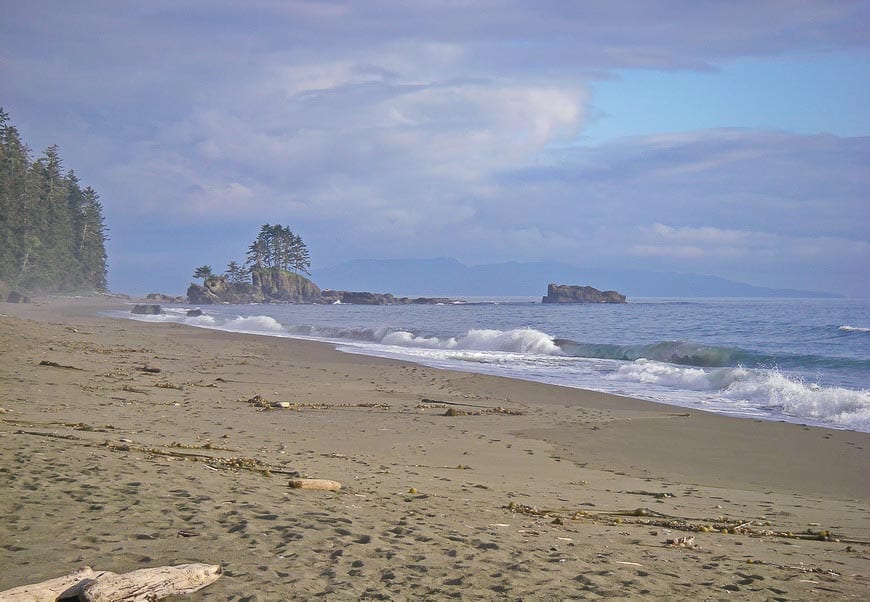 The Juan de Fuca Trail
The Juan de Fuca Trail, is a 47 km (29 mile) strenuous but well-marked trail that follows the coast from Port Renfrew to the small town of Jordan River.
It's easier than its northern neighbour, the West Coast Trail, and perfect if you have three to four days. You can also hike it in sections because of its multiple access points.
Read: Juan de Fuca Trail: What You Need to Know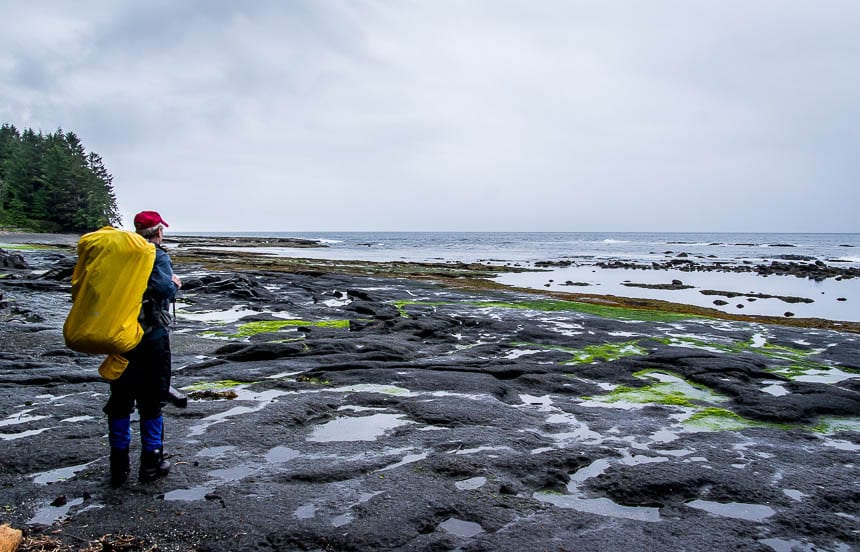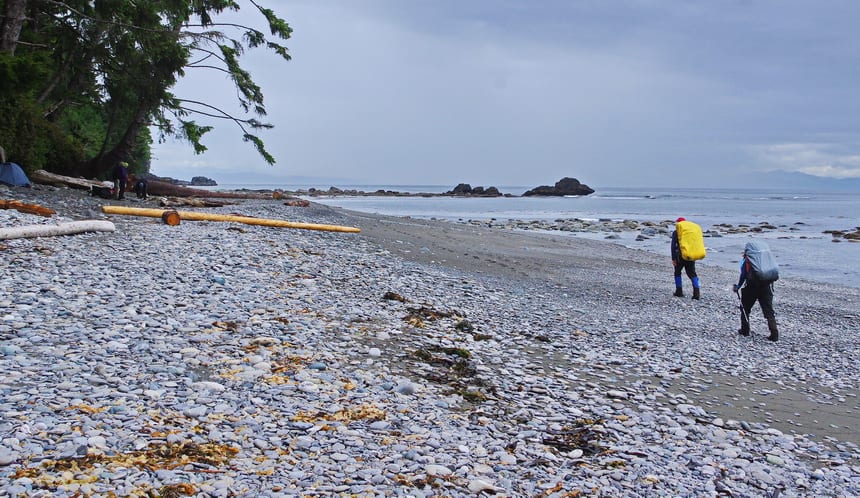 The North Coast Trail
The North Coast Trail at the northern end of Vancouver Island offers 43 km (27 miles) of tough and often extremely muddy hiking. It runs from Nels Bight in Cape Scott Provincial Park to Shushartie Bay.
Add in another 15 km to get to the trailhead at San Josef River. You might see black bears, cougars, wolves and seals, sea lions and sea birds.
Read: Muddy but Fabulous: The Cape Scott Trail
The Nootka Island Trail
The Nootka Island Trail takes you approximately 35 km (22 miles) from Louie Bay on the north side of the island to Friendly Cove on the south side – and for that you need to allow 5-7 days. This is another tough trail but it rewards with beautiful beaches and quintessential west coast scenery.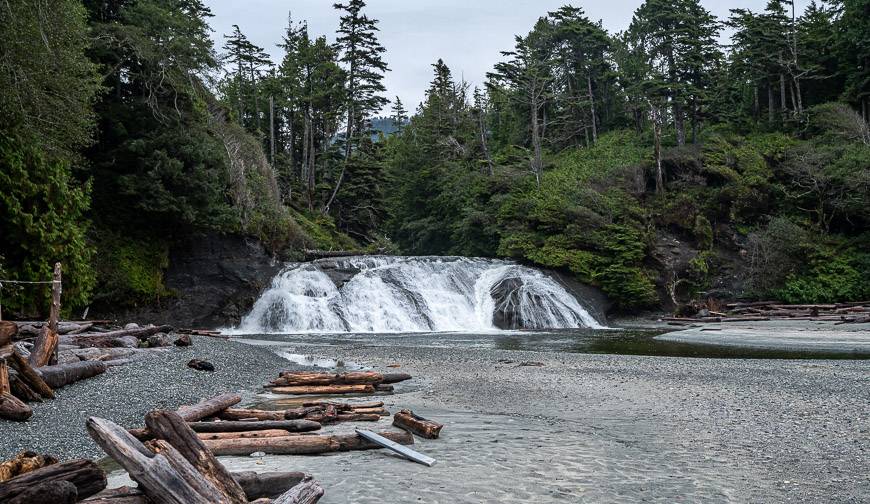 The Sunshine Coast Trail
The Sunshine Coast Trail in the Powell River area takes you 180 km (112 miles) from the Desolation Sound area in the north to Saltery Bay in the south. There are over twenty access points to choose from but if you do it in one go, allow at least 10 days. It offers free huts along its length but they cannot be reserved.
Read: Sunshine Coast Trail: What you Need to Know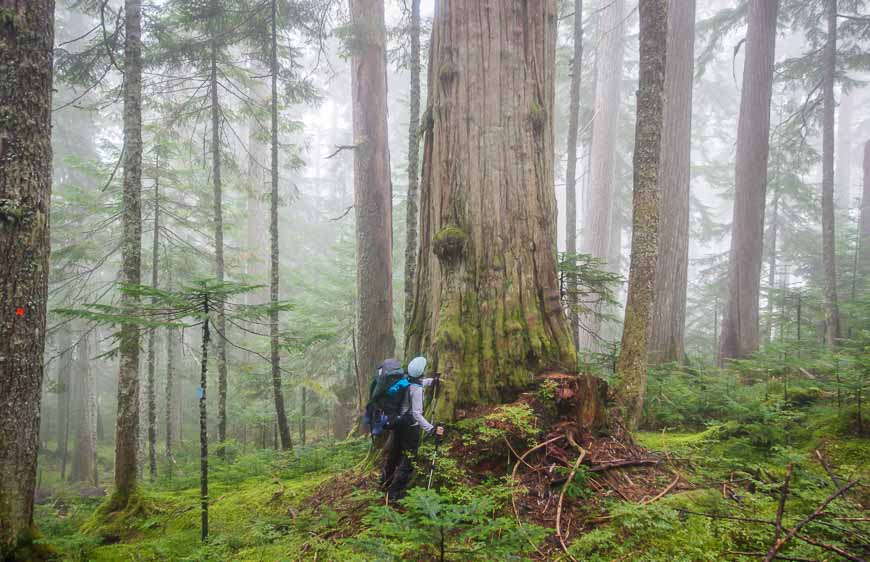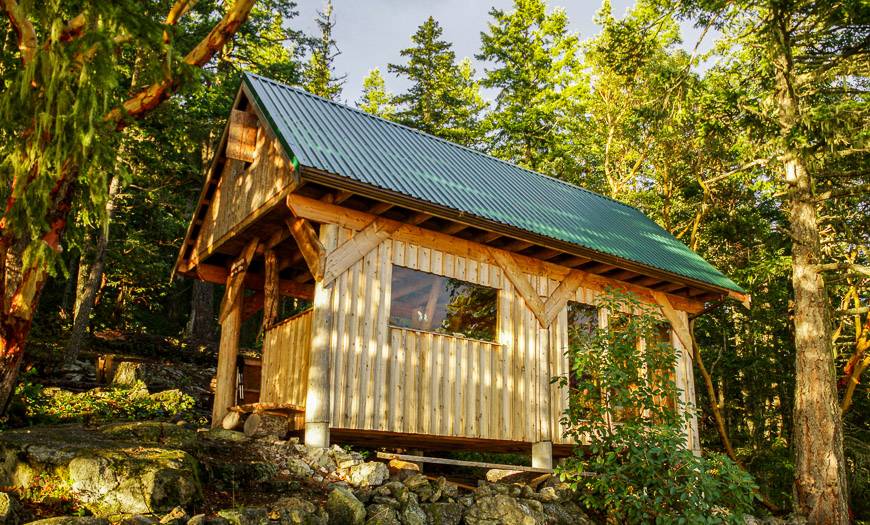 Stein Valley Trails
The Stein Valley trails in Stein Valley Nlaka'pamux Provincial Park, east of Whistler, are notoriously arduous. The 52 kilometre (32 mile) hike from Blowdown Pass to the Stein trailhead near Lytton requires four to five days.
The scenery is reportedly excellent but the trails can be very tough going and you need excellent route finding skills.
The Alexander Mackenzie Heritage Trail
The 420 km (260 mile) Alexander Mackenzie Heritage Trail (also known as the Nuxalk-Carrier Grease Trail) takes you from Bella Coola in central BC to Quesnel.
Allow three weeks though it's possible to do the 80 km section through Tweedsmuir Provincial Park in a week. This historic trail was used by the native people to transport fish grease to the interior for trading.
The Telegraph Trail follows an historic telegraph line for 100 km (62 miles) between Quesnel and Hazelton.
Alberta hiking trails
The Waskahegan Trail
The Waskahegan Trail offers a remote 309 km (192 mile) experience. The trail makes a loop, beginning south of Edmonton and heading to Wetaskiwin, then east to Miquelon Lake Provincial Park, north to Elk Island National Park and west to Fort Saskatchewan. It's often done as a series of day hikes.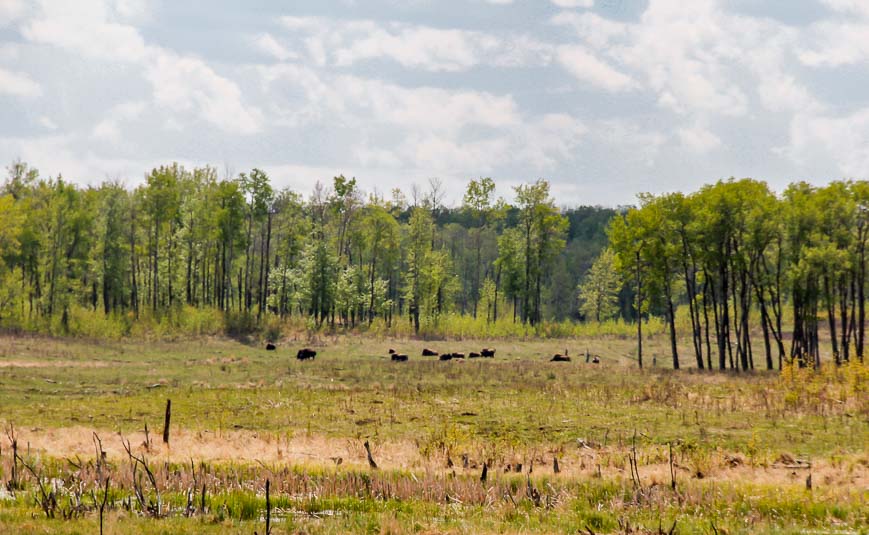 The Great Divide Trail
The Great Divide Trail takes you 1,200 km (744 miles) from the US border north to Kakwa Provincial Park, north of Jasper National Park. Other than a 100 km section between Crowsnest Pass and Kananaskis Country, it's an informal route.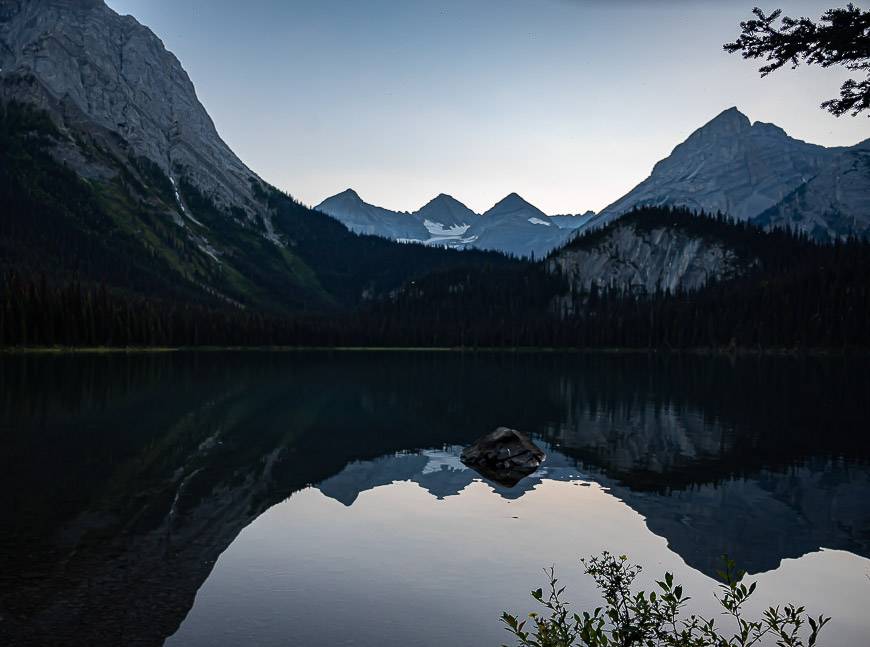 Multi-day hiking trips in the Rocky Mountain National Parks
For a look at a couple of backpacking trips in Banff, Jasper and Kootenay National Parks that are three to four days in length check out the following blogs.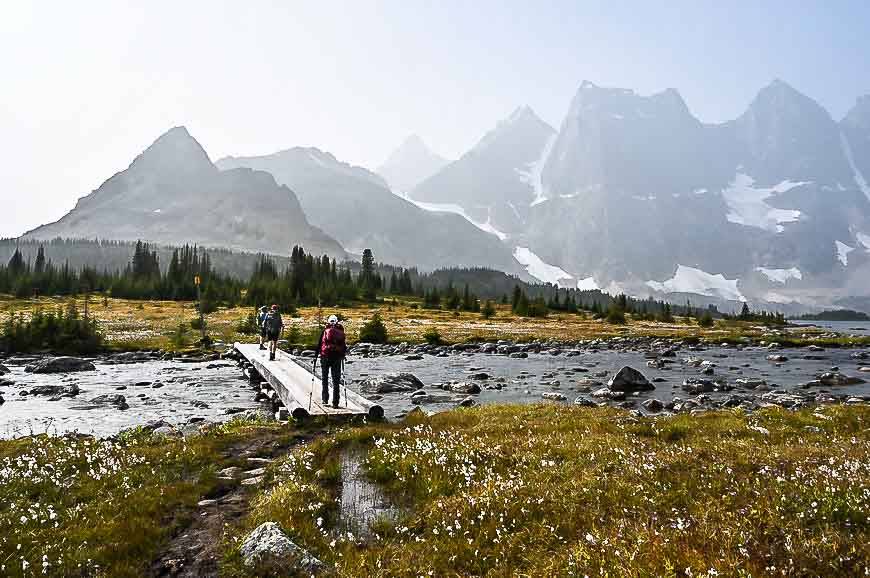 Saskatchewan long distance hiking trails
The Boreal Trail
Saskatchewan offers lots of hiking in the provincial and national parks. They do have one long distance hiking trail – the 120 km Boreal Trail in the western part of the province. It offers a variety of starting and ending points. In 2019 the trail suffered some damage after a big storm so check in with the park before you go. Fortunately I did have a reader say she did the whole trail after the storm.
Read: Hiking the Boreal Trail in Saskatchewan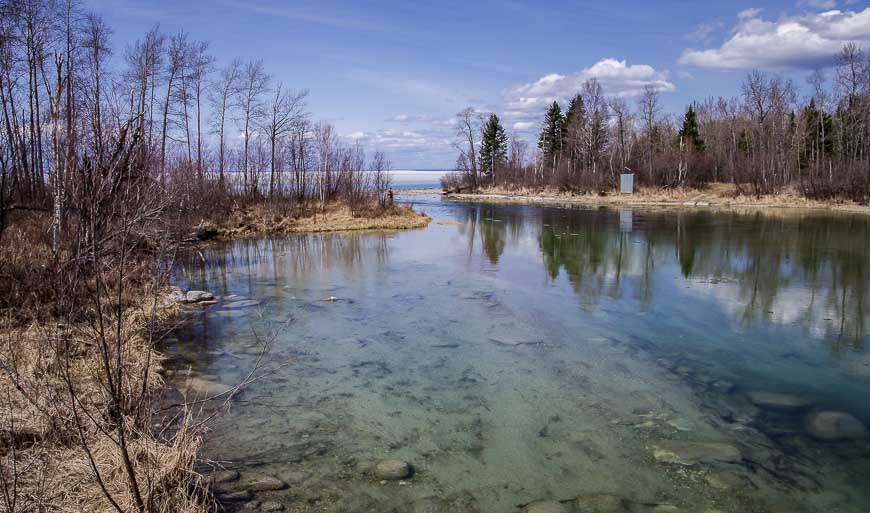 Manitoba hiking trails
The Mantario Trail
The Mantario Trail traverses 66 km (41 miles) through the Canadian Shield and boreal forest, near the Manitoba – Ontario border. This trail is for experienced backpackers only who are prepared for tough conditions – at least according to the trip reports.
Ontario hiking trails
The Voyageur Trail
The Voyageur Trail is a work in progress. Eventually it will link Thunder Bay on the north shore of Lake Superior to Manitoulin Island.
There are four sections of some length that are finished now: Rossport to Terrace Bay (52 m), Pukaskwa National Park Coastal Trail (60 km), Lake Superior Provincial Park Coastal Trail (55 km) and Goulais River -Sault Ste. Marie – Thessalon – Elliot Lake (250 km).
Read: A Challenging Hike on the Lake Superior Coastal Trail (highly recommend it for it is extremely beautiful).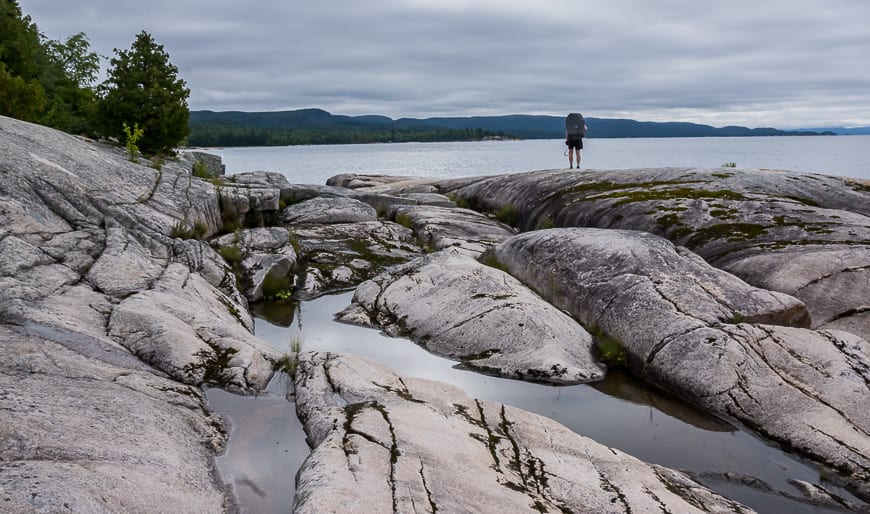 Also read about the Coastal Trail in Pukaskwa National Park. It's a spectacular trail but plan a trip in late August or September as the bugs can be ferocious.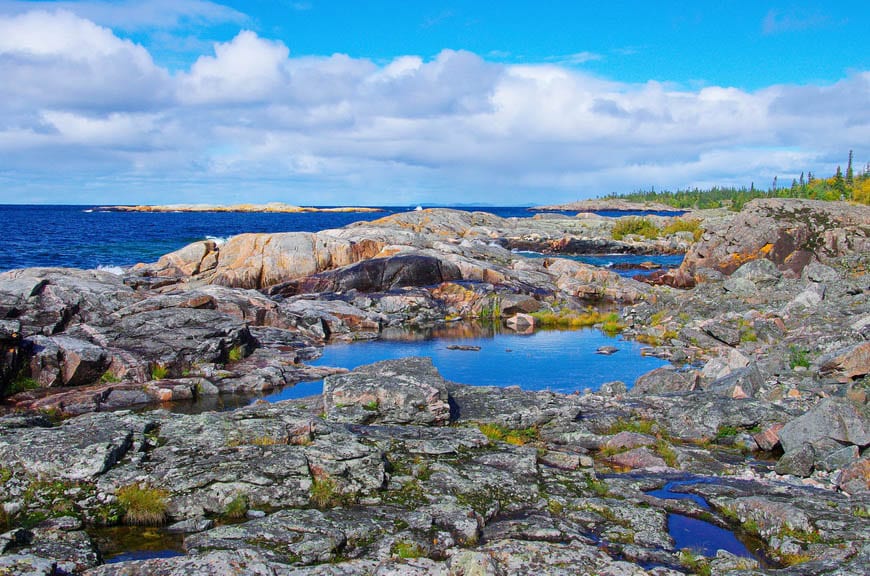 The Ottawa – Temiskaming Highland Trail
Ottawa-Temiskaming Highland Trail is a rugged wilderness trail approximately 100 km in length. There are six access points via road so it's possible to break the trail up into day trips.
The Bruce Trail
The Bruce Trail is an 800 km (496 mile) trail that follows the Niagara Escarpment from Niagara to the tip of the Bruce Peninsula. There are over 300 km of additional side trails. Numerous access points allow day long or weekend trips. It is Canada's original long distance hiking trail.
The section through Bruce Peninsula National Park is spectacular – but surprisingly tough.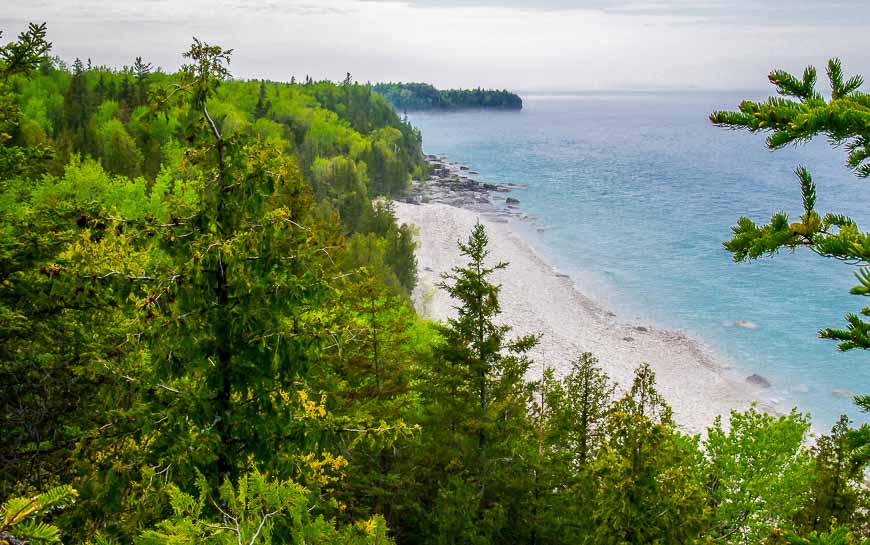 Grand Valley Trail
The Grand Valley Trail takes you 275 km (171 miles) between Rock Point Provincial Park on Lake Erie and the town of Alton near Orangeville. Watch out for poison ivy and ticks.
Avon Trail
The Avon Trail stretches from St. Mary's to Conestoga over 110 kilometres (68 miles). Hike across scenic farmland, occasionally along a country road and even through small towns. The trail links to the Thames Valley and Grand Valley Trails.
The Thames Valley Trail
The Thames Valley Trail is a 110 kilometre (68 mile) hiking trail along the Thames River Valley from London to St. Mary's. Through London it follows multi-use trails.
The Oak Ridges Trail
The Oak Ridges Trail follows the Oak Ridge Moraine for over 160 kilometres (99 miles) just north of Toronto. There are over 100 km of side trails that link up with it including the Bruce Trail to the west.
Read: An Easy Hike on the Oak Ridges Moraine Trail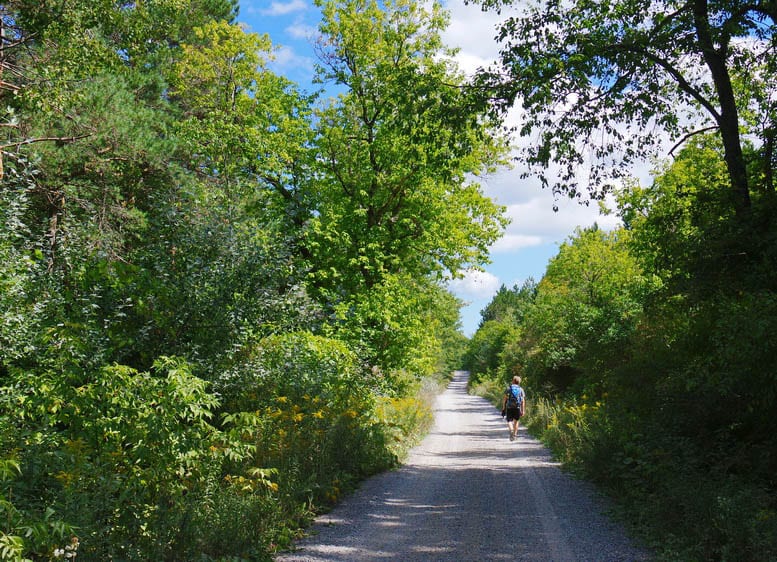 Ganaraska Trail
The Ganaraska Trail connects Port Hope, Barrie, Orillia and the Bruce Trail over a distance of 500 km (310 miles). Some sections of the trail traverse remote wilderness. There are many sections that can be done over a number of weekends to complete the entire trail.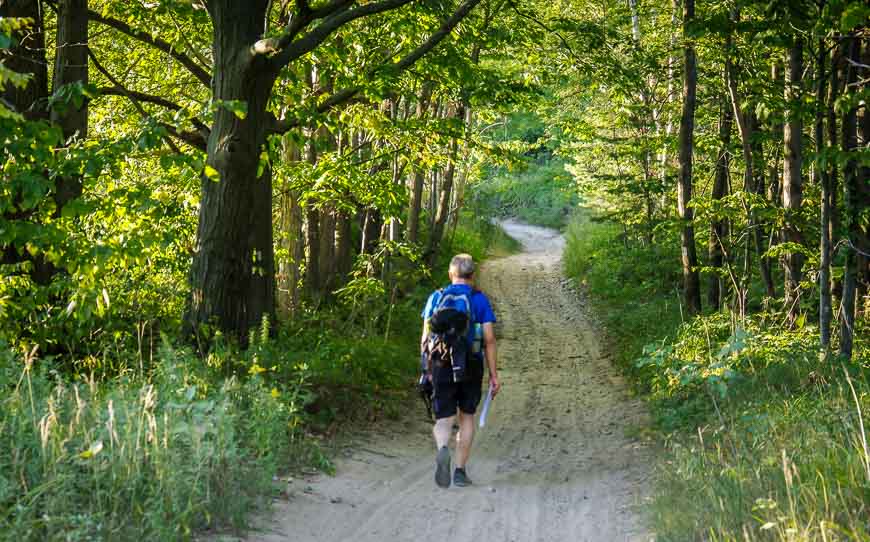 The Rideau Trail
The Rideau Trail is a 387 km hiking trail network between Ottawa and Kingston that takes hikers through two provincial parks, a UNESCO Biosphere Reserve & a UNESCO World Heritage Site.
Numerous access points make it an ideal trail for hikers completing it in sections but backpackers are through hiking the trail in increasing numbers as well.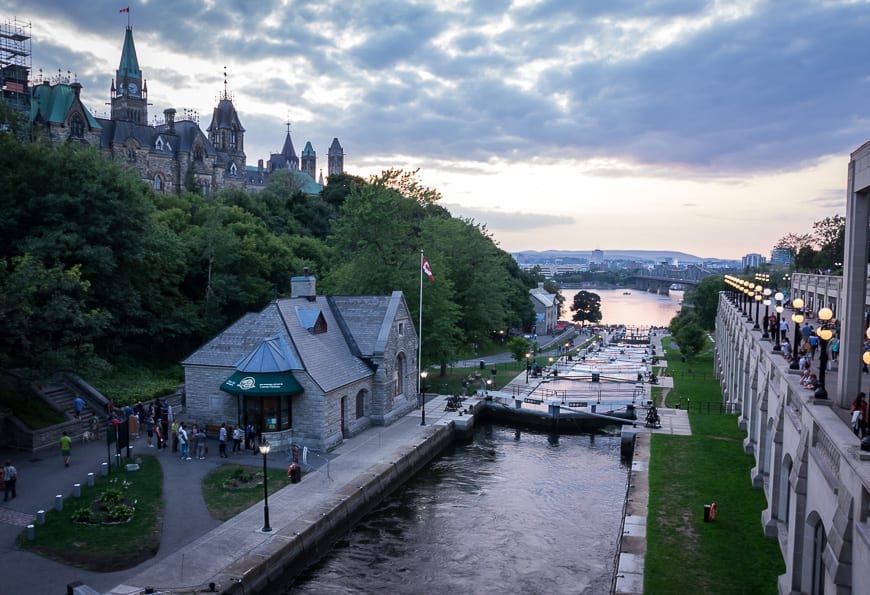 Quebec long distance hiking trails
Quebec's section of the National Hiking Trail will eventually be close to 1,500 km (930 miles) in length. The trail will run from the Ottawa/Gatineau Park area, head across the Laurentians and Charlevoix regions before crossing the St. Lawrence at Les Escoumins.
There will be a 160 km lower St. Lawrence section too, stretching all the way to the New Brunswick border. More than half the trail is completed now.
The Chic Choc Mountains boast 150 km (93 miles) of trail that are the northern part of the International Appalachian Trail. Stay in one of the approximately 20 backcountry huts and keep your eyes peeled for caribou, especially at the higher elevations. For a day hike that offers spectacular scenery you would do well to hike to the summit of Le Mont Albert.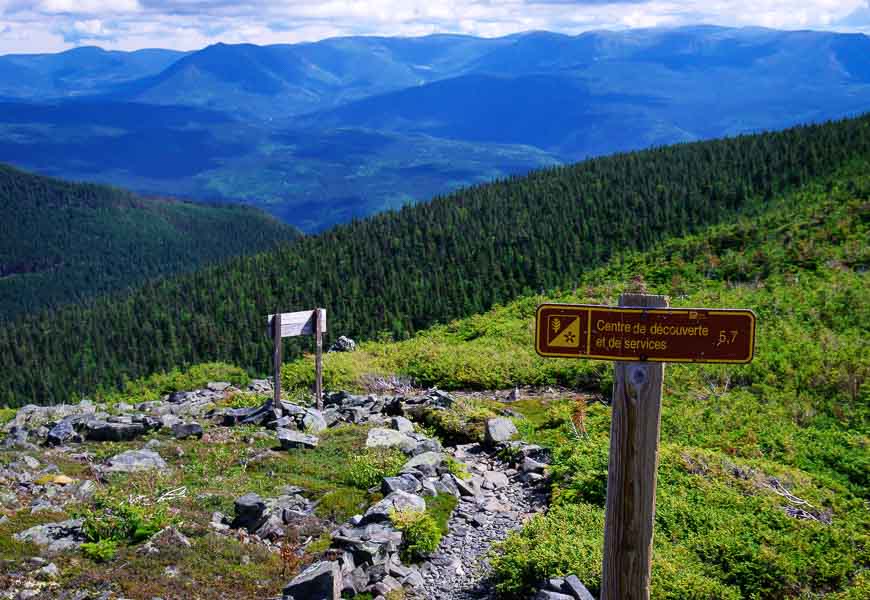 Les Sentiers de l'Estrie
Les Sentiers de l'Estrie takes you 150 km from the Vermont border to Kingsbury and connects several peaks over 2,000 feet high. Membership is required to walk the trails.
The Sentier du Lac Kénogami
The Sentier du Lac Kénogami is a 45 km trail along the shores of Lake Kenogami. Allow four days. The trail begins near Hébertville and the east end is south of Chicoutimi.
The Traversé de Charlevoix
There's a 105 km hut to hut hiking trail near Baie St. Paul called the Traversé de Charlevoix. It takes most people 6 – 7 days to do it. The first four days are the most scenic, with the last three mostly in the woods. In September fuel up with blueberries.
Read: Hut to Hut Hiking on the Charlevoix Traversé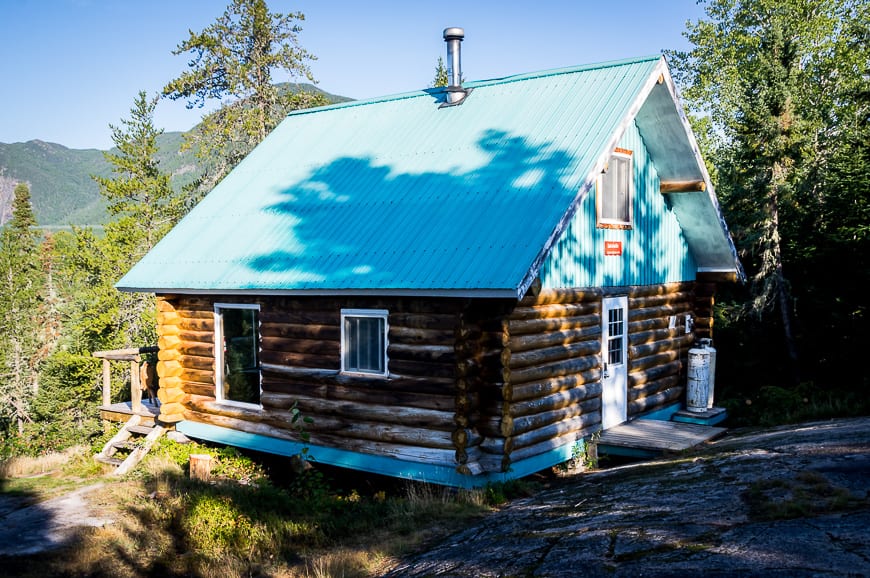 New Brunswick hiking trails
The Fundy Footpath
The Fundy Footpath hike is a rugged 64.3 km (40 mi) trail that requires at least four days. It takes you along the Fundy shore from the Fundy Trail Parkway near Big Salmon River to Fundy National Park. Be prepared for slippery rocks and cliffs. Plan your hike around the tides. Enjoy superlative coastal views.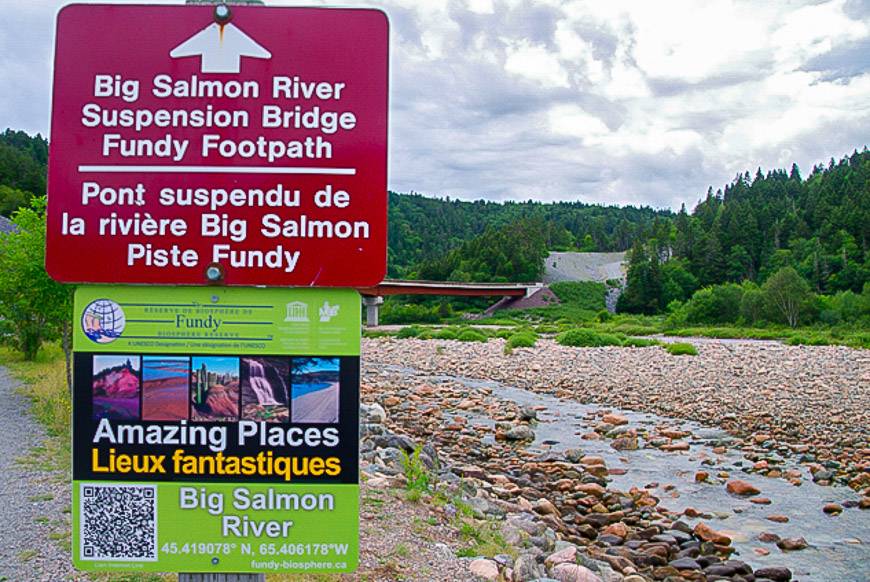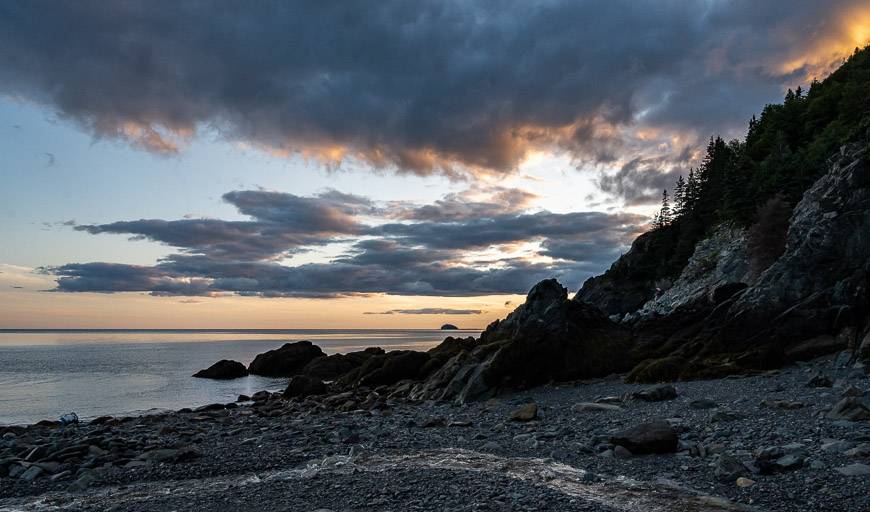 The Fundy Circuit
The Fundy Circuit is another possibility. It's a 48 km backpacking circuit made up of seven linked hiking trails within Fundy National Park. Allow three to five days to hike it. Be sure to make backcountry reservations.
Nova Scotia hiking trails
The Cape to Cape Trail is in the planning stages. Ultimately it will take you from Cape Chignecto to Cape George, a distance of about 400 km (248 miles).
Cape Chignecto Coastal Trail
The 51 km physically demanding Coastal Trail in Cape Chignecto Provincial Park requires three to four days. You can tent or book a hut. The hike offers beautiful coastal scenery, complete with numerous 200 m high red cliffs, sheltered coves and remnant old growth forest.
Read: A 3 Day Hike on the Cape Chignecto Coastal Trail in Nova Scotia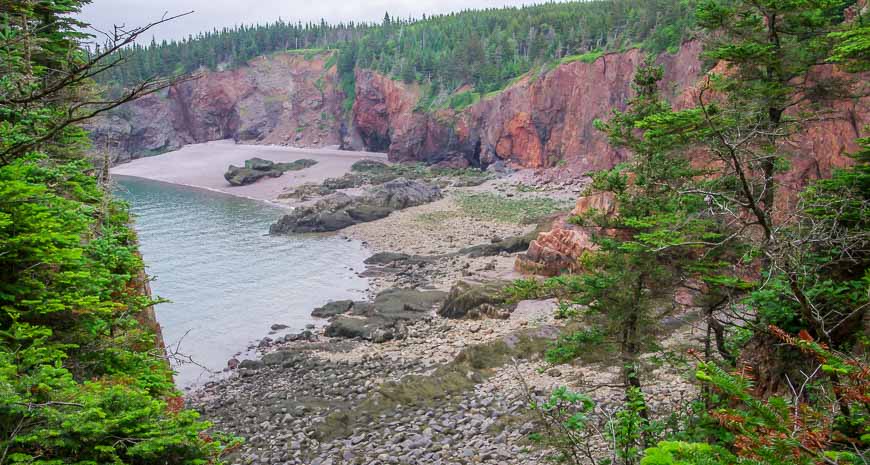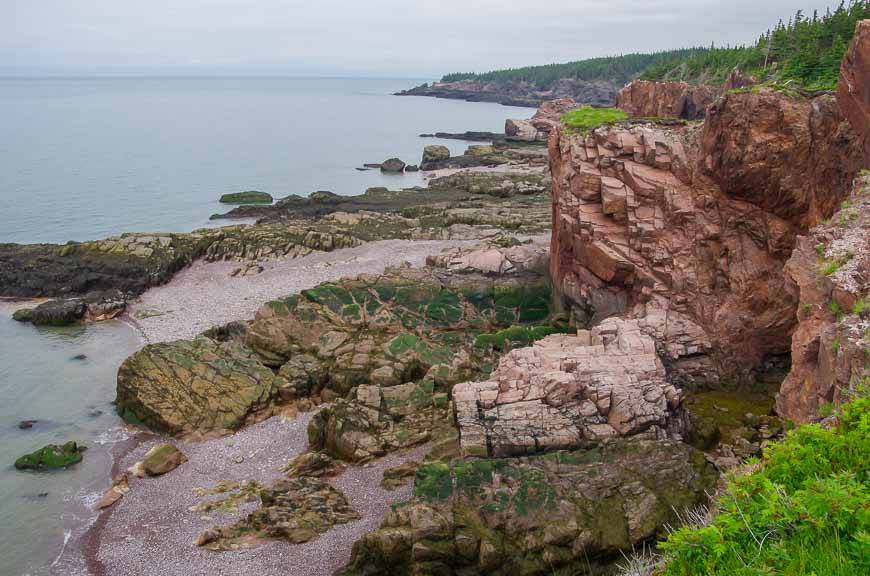 Prince Edward Island long distance hiking trails
The Confederation Trail
In PEI look for the Confederation Trail, a 250 km (155 miles) trail on old railway lines. It's meant to be shared so assume you'll run into cyclists. Wind your way through pretty villages, through hardwood groves and along many a river. It's easy to follow and flat.
The latest addition to PEI is the Island Walk – a 700 km circumnavigation of the entire island over 32 sections.
Newfoundland hiking trails
The East Coast Trail
The East Coast Trail is a 540 km (335 mile) trail running along the eastern cliffs of the Avalon Peninsula. It's broken into 18 sections and each section can be accessed for a day hike.
The trail links 32 historic communities and features spectacular scenery including cliffs, sea stacks, fjords, lighthouses, icebergs and even a caribou herd.
Read: East Coast Trail Hiking Guide and The Spurwink Island Path Hike in Newfoundland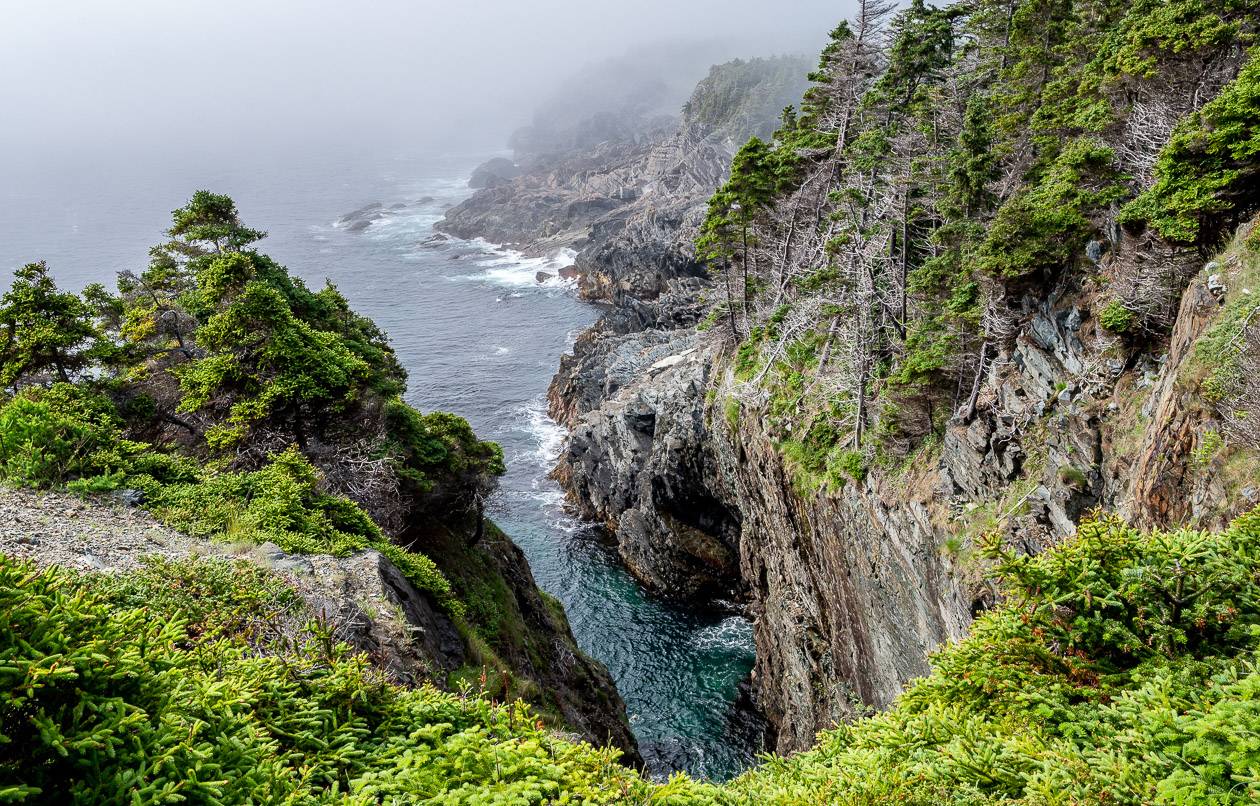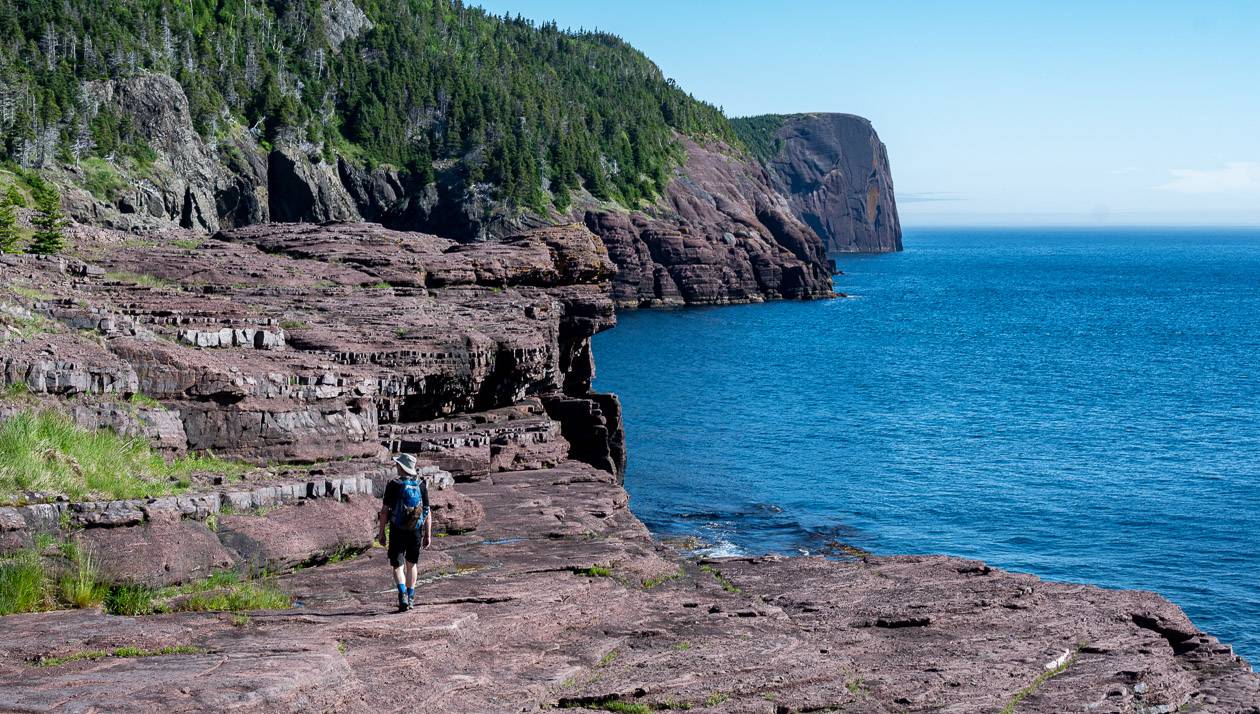 The Long Range Traverse
Gros Morne National Park boasts two wilderness backpacking routes – the North Rim Traverse and the Long Range Traverse. Both require solid navigational skills and prior experience OR go with a guide.
The Long Range Traverse typically takes four days to complete. Enjoy fjords, spectacular rugged mountains, many a small lake and numerous wildlife sightings including moose and caribou.
Read: Backpacking the Long Range Traverse – Day 1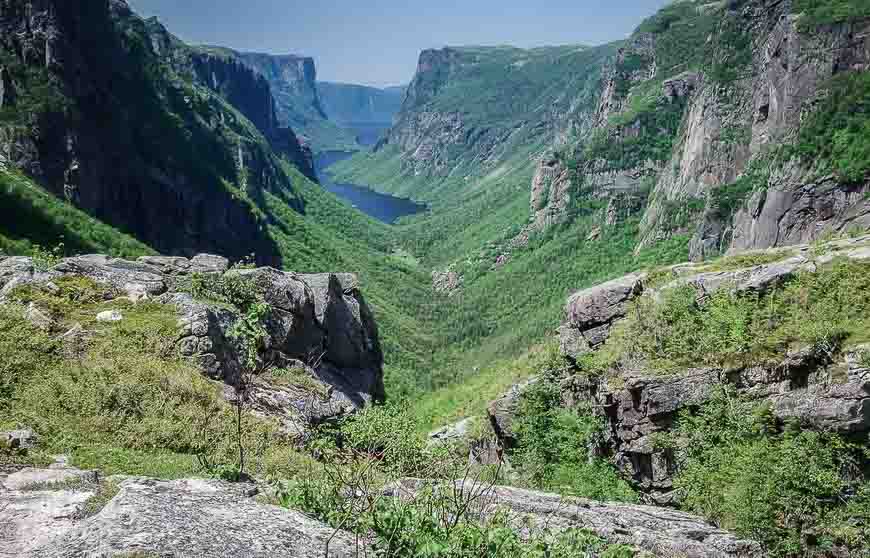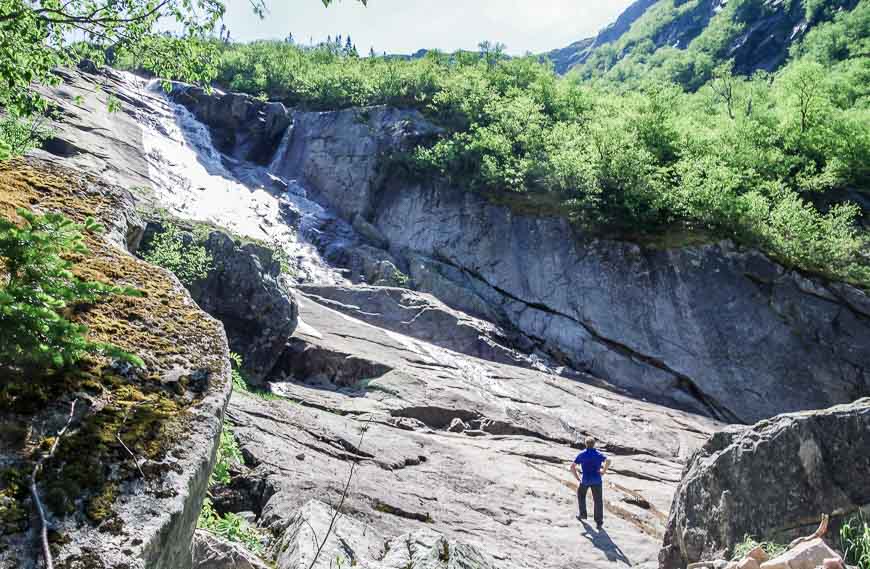 Yukon Territory hiking trail
The Chilkoot Trail
The Chilkoot Trail, a 53 km former gold rush trail, is the most famous one in Canada's north. It's a demanding four to six day hike that starts on tidewater in Alaska and ends in Bennett, BC. Campsites need to be booked well in advance.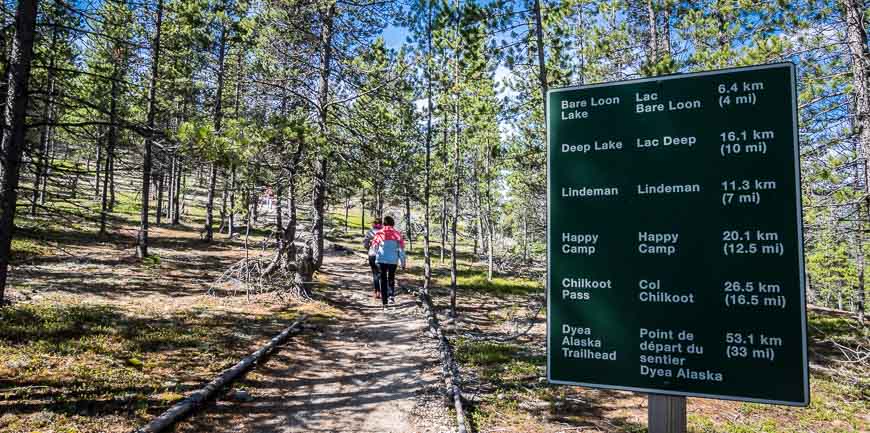 Northwest Territories hiking trail
The Canol Heritage Trail
The Canol Heritage Trail is an abandoned road that runs 350 km (217 miles) between MacMillan Pass and Norman Wells. The road was built during World War II to reach oil fields. Plan on hiking 20 days to traverse this spectacular country. It is a very remote wilderness experience.
Nunavut hiking trail
Akshayuk Pass
Akshayuk Pass in Auyuittuq National Park on Baffin Island is a 105 km (65 mile) hike that showcases a wild landscape with the world's tallest rock cliffs – Mt. Thor. You'll see hanging glaciers, shear-faced mountains and perhaps even a polar bear.
Read: A Backpacking Trip in Auyuittuq National Park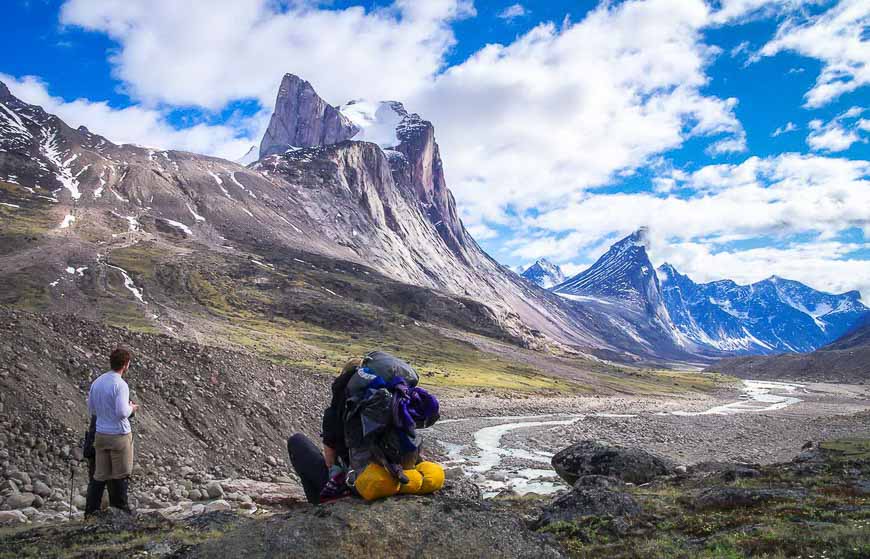 Do you have any long distance and backpacking trails in Canada to add to this list? What have I missed?
5 things that come with me on most every hike
At lunch time I like something comfortable to sit on. I swear by my almost weightless inflatable seat cushion.
I like using hiking poles, especially when a stream crossing is involved. Invest in a good pair that are collapsible, preferably made of carbon because of their weightless quality.
No matter how the day starts I always carry rain gear. I find a ball cap or brim hat with a chin strap invaluable on rainy or hot, sunny days.
I always pack a buff as it's a multi-purpose piece of cloth yet it takes up almost no room.
More reading on long distance hikes in the world
Click on the photo to bookmark to your Pinterest board.