The Sunshine Coast Trail in British Columbia is a 180 km hut to hut hiking and backpacking trail that runs from Sarah Point overlooking Desolation Sound to Saltery Bay where the ferries come in from Earl's Cove.
As the brainchild of Eagle Walz, the Sunshine Coast Trail was built, starting in 1992, to link sections of old growth forest before they disappeared. Eagle continues to play a major role in expanding and upgrading the trail though countless volunteers are also to be thanked for what we see today.
I spent a week backpacking two of the prettiest sections of the trail as recommended by Eagle. I figured the information I learned on this trail would be useful to anyone heading out, whether it be for a day or a week or more. Hopefully all your questions get answered and if not please leave a comment and I'll try to help.
This post includes some affiliate links. If you make a qualifying purchase through one of these links, I may receive a small percentage of the sale at no extra cost to you. Thank you for your support.
Getting to Powell River or Saltery Bay
Powell River is the only major town you'll visit on the trail. You can fly into the city directly from Vancouver's South Terminal on Pacific Coastal Airlines. It's a very scenic 25-minute flight. The other option is to take a floatplane on Harbour Air from downtown Vancouver. You'll land on Powell Lake, short drive from downtown.
Your other alternative is to drive from Vancouver. That entails two ferries and an hour of driving between ferries on the Sunshine Coast. Timing is crucial so you don't sit in line-ups.
You must take the ferry from Horseshoe Bay to Langdale (a 40-minute crossing) and then do the 50-minute crossing from Earl's Cove to Saltery Bay. You can make a reservation to get to Langdale but its first come first served to get to Saltery Bay. I would allow six hours of travel time from Vancouver to Powell River. Visit BC Ferries to see the schedules and make reservations.
From Comox on Vancouver Island you can also take a ferry to Powell River. The crossing time is 90-minutes and the ferry can be reserved.
Another option is to grab a bus called the Sunshine Coast Connector. It stops in various places in Vancouver and along the Sunshine Coast. And there is the Island Link Bus that services Vancouver Island and can get you to the Comox Ferry terminal.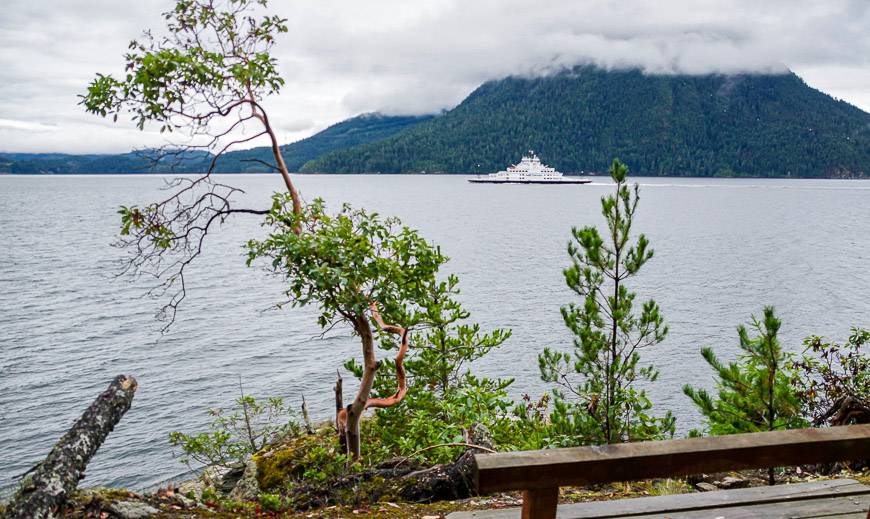 How to get to the start of your hike
Sarah Point is the official start of the trail but that doesn't mean you have to start here. You can start anywhere there is an access point and there are plenty.
Most people don't do the whole trail and explore the trail as a daytripper instead – perhaps heading to one of the huts for a picnic before returning to their car.
But assuming you're interested in backpacking a part of the trail you will need to get to one of the trailheads. We did two sections of the trail and got onto the trail via a water taxi to Sarah Point and a shuttle up the Branch 41 Road to access the trail to Mt Troubridge Hut.
To get to Sarah Point, we took the water taxi operated by TerraCentric Adventures in Lund. Contact them beforehand to reserve. If you're heading to Manzanita Hut, I'd recommend leaving no later than 9 AM from Lund as it will be a long hiking day. As of 2022, there is also a hut at Sarah Point so you can finish there as well and get picked up the next morning by the shuttle.
They will provide you with warm clothes for the boat ride but put your rain cover on your pack so it starts the trip dry. (And before you head out stock up with bakery items, fresh sandwiches, homemade pizza….at Nancy's Bakery, located underneath TerraCentric Adventures in Lund.)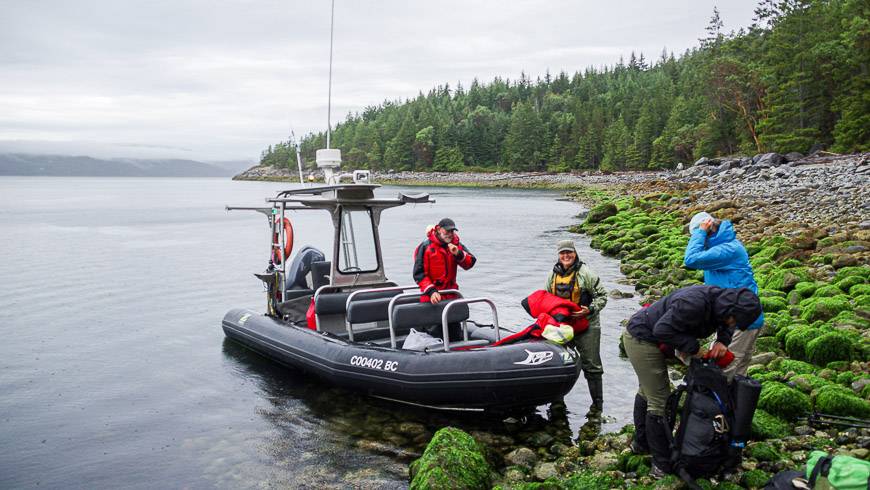 If you choose another starting location, chances are you may need a shuttle. Email Jesse Newman ([email protected]) the congenial owner of Sunshine Coast Shuttles and two-time Grey Cup champion with the BC Lions and Calgary Stampeders. His prices are reasonable and he can take up to six of you in his four wheel drive sedan just about anywhere.
One of the prettiest huts to visit on the trail is called Tin Hat Mountain Hut. If you want to start your trip at Fiddlehead Landing and access that area then you'll need a boat ride out of Powell River. Text Justin Behan at 1-604-483-6527 to arrange the service.
Is there cell service along the trail?
I wasn't sure how much cell service I'd find along the trail and before I left I received conflicting reports.
On the first section from the Branch 41 Road below Mt Troubridge Hut to Saltery Bay I found cell service at Jocelyn Pond, at Fairview Hut and most of the way along the trail to Saltery Bay.
On the Sarah Point to Powell River section I had good cell service at Manzanita Hut and then in a random valley on route to the Rieveley Pond Hut. I also had cell service at Rievely Pond and then of and off again to Sliammon Lake. I tried not to use my battery but for social media purposes I posted on Instagram most days. I can't speak for the rest of the trail but suspect you'll get a weak signal along high points.
Where do you sleep on the trail?
This trail is Canada's longest hut to hut hiking trail. There are 14 huts along the trail (and at least one emergency shelter) spaced approximately a day's walk apart.
In theory you don't need to camp. The 14 shared use huts are free and are filled on a first come, first served basis. In summer some of the more popular ones are likely to be filled, especially on a sunny weekend. It would be a good idea to take a lightweight tent as a backup.
Popular huts would include Manzanita Hut, Tin Hat Mountain Hut, Fairview Hut and Mount Troubridge Hut.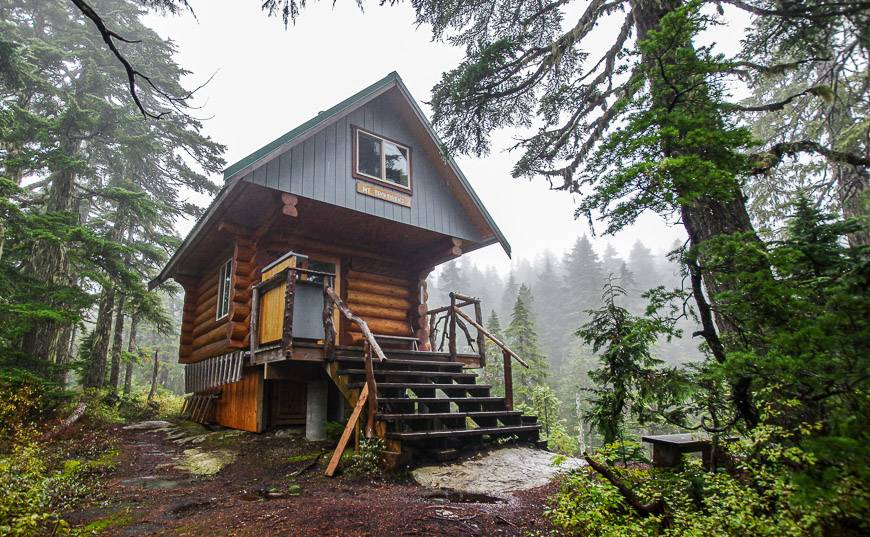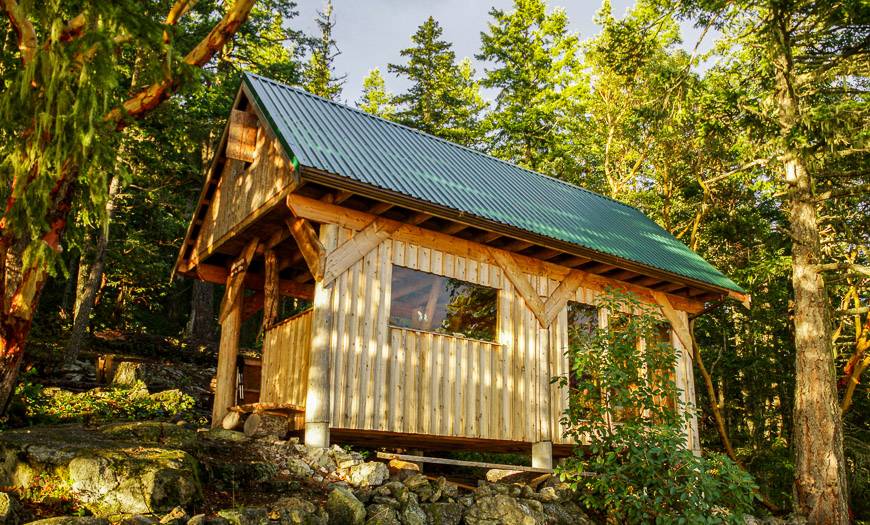 What do you get in a hut along the trail?
The huts are basic. Some have only a dirt floor and are open to the elements on all sides, while others are partially enclosed. Only a few are fully enclosed.
Sleeping is upstairs on a wooden floor – dorm style with most huts able to accommodate 10-12 people though the fewer people the better. There are outhouses and picnic tables and/or benches at all huts.
But be warned. Not all huts have a water source so you must carry all that you need – eg. for Manzanita Hut you must fill up 4 km before you get to the hut if coming from Sarah Point.
Not everyone has the stamina to hike the full distance between huts. There is the option to camp at designated campsites along the way. Most campsites have outhouses; some have picnic tables and a fire ring (good luck getting a fire going with wet wood!!)
None of the campsites we saw had bear lockers or poles for storing food. In hindsight taking a bear proof canister for food would have been a good idea – even if just for peace of mind.
How well signed is the trail?
My biggest concern before leaving was how well-signed the trail would be. I really had no idea of what to expect.
Put all your fears to bed. This is probably the BEST SIGNED trail you will ever hike. As of a few years ago there were 12,000 markers and 700 wooden signs. The Powell River Parks and Wilderness Society (PRPAWS) is to be commended for its exceptional job. There is a kilometre marker every kilometre.
But don't just take my word for it. This excerpt is from the visitor logbook at one of the cabins.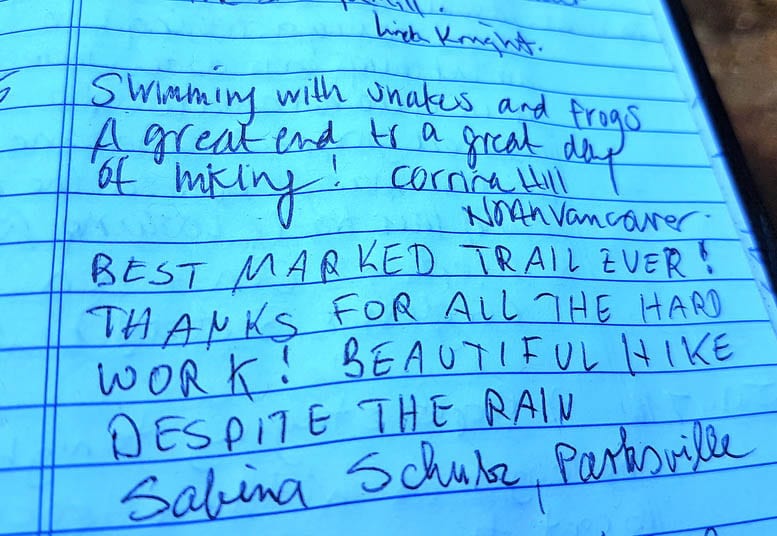 At major trail junctions there are excellent maps that also show the elevation in profile.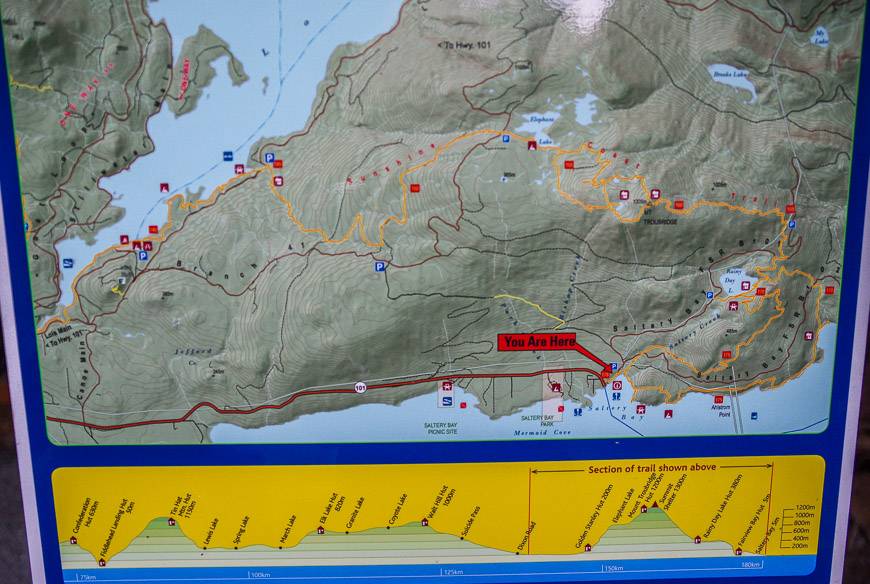 Where can I buy food?
If you haven't brought food with you, stop in Powell River for the largest selection. Lund is your other choice though it only has a small grocery store and the bakery.
When you exit the trail just outside of Powell River you'll end up right outside the Shinglemill Pub and Bistro. It's worth a stop here for lunch, dinner or just a beer. (You can also leave a car here for $5/day and then get a shuttle to Lund and a water taxi to Sarah Point.)
If you're planning to do the whole trail you may need to arrange food drops. Contact Jesse Newman as he may be able to help. (Contact info under shuttles)
What should you take with you on the hike?
When you've done a number of backpacking trips, you usually have a pretty good idea of what you need to take. On this trail I would suggest you include the following
good boots that are well broken in and waterproofed
full first aid kit including blister protection. I highly recommend paying for a product called Compeed. You'll never use a traditional bandage again. Buy it here

on Amazon

.
water purification tablets or a water filter along with several water bottles so you can stock up for the huts lacking easy access to water
camp shoes
layers of clothing including a set that stays dry for in camp
backpackers stove, fuel and a lighter
Recreation Map (provided by the Powell Lake Visitor's Centre) and a copy of The Sunshine Coast Trail – Hut to Hut Hiking by R. E. Walz. You can purchase the book on the Sunshine Trail website.
bear spray
hiking pole(s)
lightweight down jacket or a very warm jacket plus mitts and a hat
full rain gear; in summer a poncho might work well
garbage bags so everything in your pack stays dry
rain cover for your pack
sleeping bag (synthetic is best in this part of the world) and a sleeping pad
lightweight, high energy food
toilet paper
Do I need to worry about wildlife?
Within 10 minutes of stepping onto the trail we saw big piles of bear scat. Fortunately they weren't steaming. But they were filled with blueberries.
Over the course of a week there were probably five areas that had quite a bit of scat but never did we see a bear. If we saw scat, we started making a lot of noise. Personally I hate bear bells – and suggest using your voice instead. Always keep your bear spray handy – and make sure it's less than two years old or the propellant might not work.
Read: Bear Safety Tips: What You Need to Know
We saw two garter snakes and loads of birds. One night I woke up in the tent and though I heard wolves howling but I think in reality it was an owl. You'll almost certainly see and hear frogs.
How many days do I need to hike the full trail?
Allow 10 – 12 days to backpack the entire trail. In the logbook I read about one fellow who did it in five days but that wouldn't be a whole lot of fun.
The driest months to hike the trail are May, July, August and September. In the last week of September we had two half days of drizzle and rain, lots of cloudy days and a few days of sunshine. By late September you'll be waking up to 3°C cabins. Hypothermia becomes a very real issue.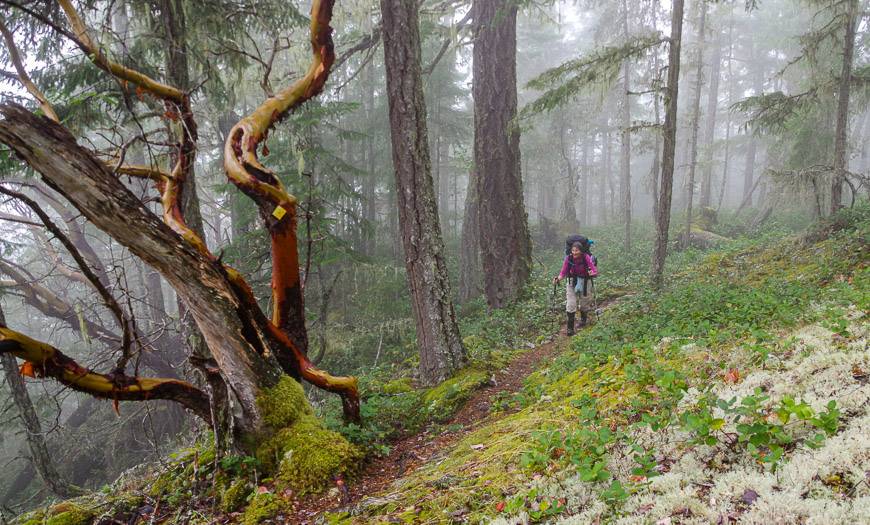 Can I do it alone?
We met both a solo female and a solo male on the trail. You should be a very competent hiker – who doesn't scare easily to do this on your own. Considering the ruggedness of the terrain, I wouldn't really recommend it – but it's regularly done. You'll have to make that call.
My hat goes off to Eagle and all the volunteers that have made the trail such a success. You really get into the groove and the rhythm of the trail if you hike it for three or more days. I highly recommend it!
Further reading on hiking in BC
Click on the photo to bookmark to your Pinterest boards.
Thank you to HelloBC for help in making this trip a reality.