I completed two sections of the Sunshine Coast Trail with my friend Judy (who was a very good sport) during the third week in September. The first section from Mount Troubridge to Saltery Bay was a complete delight so we were both looking forward to the next four days which in theory would take us from Sarah Point to Powell River – with an overnight break in a cabin with hot showers at SunLund by the Sea.
In the end we cut out the last 13 kilometres on the Sunshine Coast trail and stopped just short of Sliammon Lake. We decided after a tough hike to Manzanita Hut that we would camp instead on route to Rieveley Pond Hut – and have a couple of easier days. Bringing a tent with you allows the option of making changes to plans while on the trail.
Read: Sunshine Coast Trail: What You Need to Know
Here's what hiking looks like on one of the popular sections of the Sunshine Coast Trail.
Sarah Point to Manzanita Hut
Distance: 16 km (+ 0.6 km to reach the starting point because of low tide)
Time Needed: 6 – 9 hours depending on hiking speed; we took 7.5 hours
Our day started with a breakfast of homemade baked goods at Nancy's Bakery, followed by a boat shuttle to Sarah Point from Lund with TerraCentric Coastal Adventures.
I would recommend getting the earliest shuttle possible to give yourself plenty of time to get to Manzanita Hut. We'd been warned by a fellow at the Fairview Hut that it would take us 10 hours to hike but I do think he was off base unless you're a very slow hiker.
The hike starts with stellar views of Desolation Sound. You could in fact camp on tent platforms right at Sarah Point but you would need to bring all the water you'd plan to use for the evening and morning with you.
I believe there are three tent pads and an open air outhouse. Payment is required. Check out the BC Parks website for more information.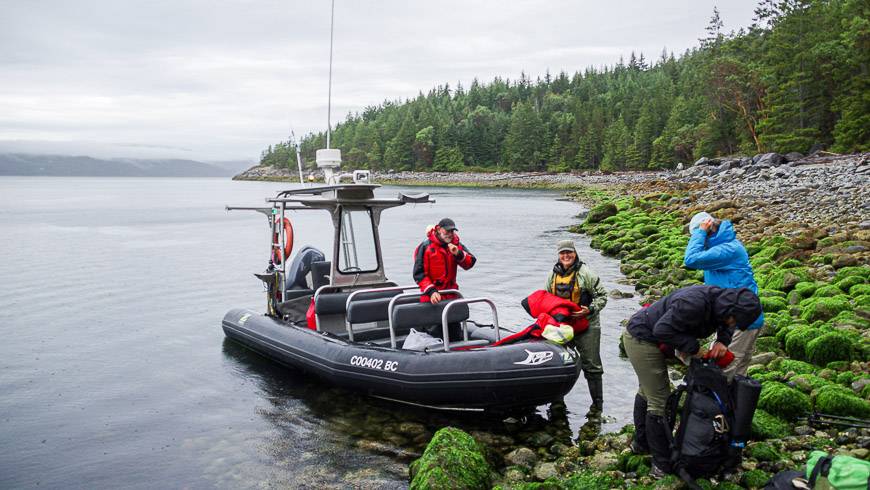 The first part of the trail is truly glorious with lots of mossy rocks, arbutus trees and occasional views. There is a bench with a view at the 1.9 km mark. We did not stop to enjoy it as it was raining at that point and we just wanted to get some miles under our belt.
The next bit of hiking included a lot of up and down – nothing big but there seemed to be a lot of it. This section of forest included smaller trees – most moss covered and loads of ferns. Under wet conditions the ferns ensure your lower body and feet in particular get wet. This is where the gaiters really made a difference.
At the 7.6 km point you reach The Knob – a knoll that offers great views of the Malaspina Strait. The next few kilometres of hiking are somewhat repetitive. But at the 12 km mark once you reach Wednesday Lake, where you can camp, it starts to get more interesting again.
The lake itself would be a delight on a hot summer day. There's a bench that beckons hikers to relax and take in the views.
Either at the lake or at the creek – 0.2 km away, fill up all your water bottles as there is no water at Manzanita Hut.
The last four kilometres felt longer than they were – probably because of all the water we were carrying. The upside was the beauty and magic we experienced every time we climbed to the top of a knoll. The area around Manzanita Hut is spectacular.
Enjoy all the benches, seating area and picnic tables as you look out to Savary Island.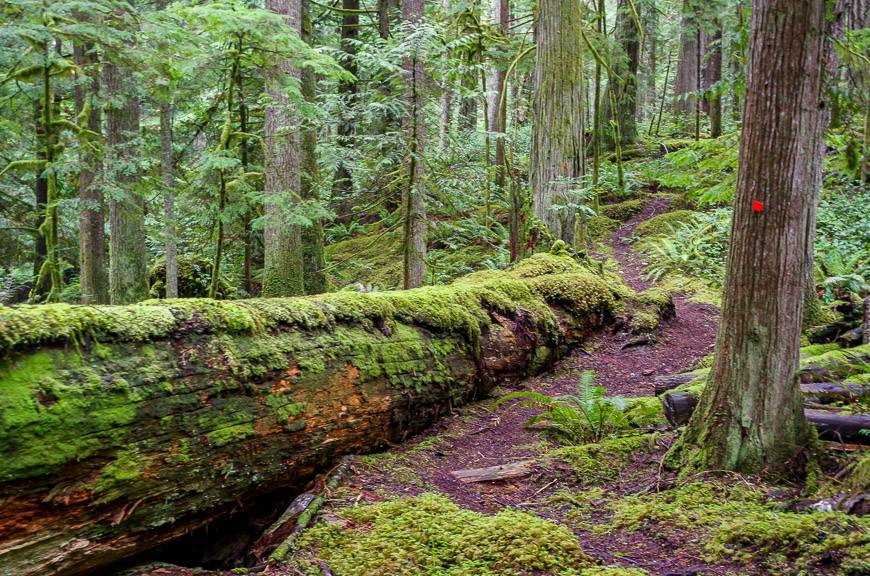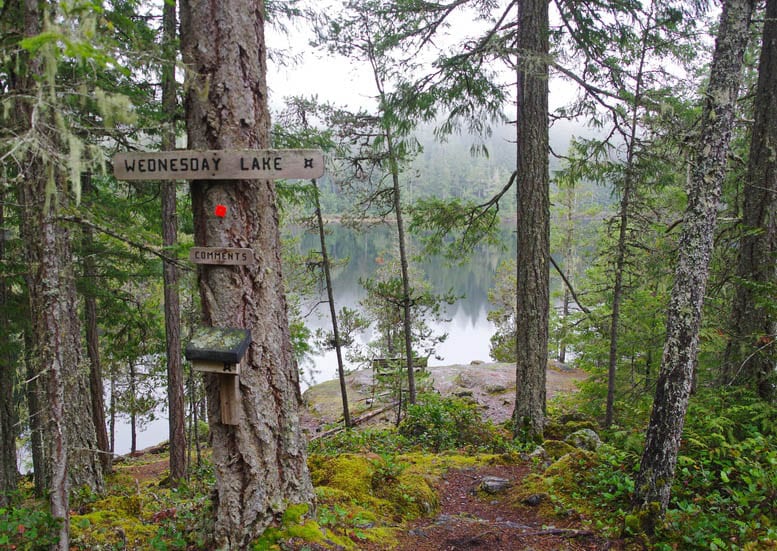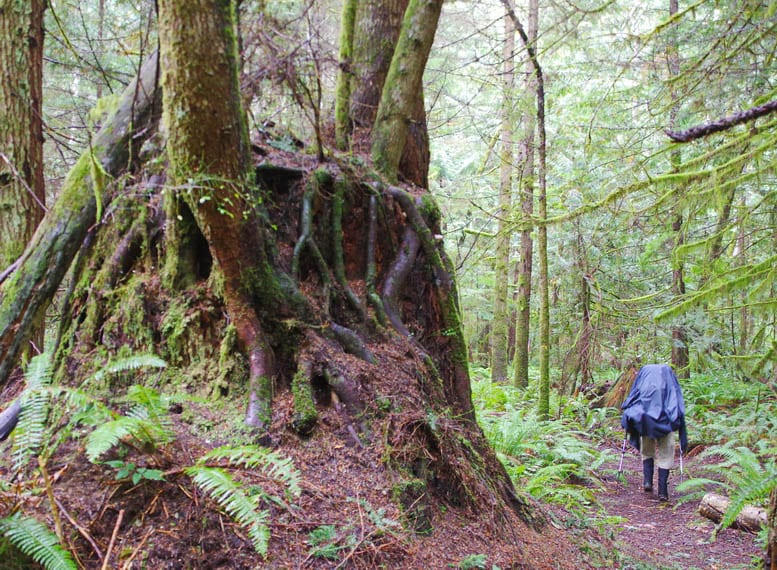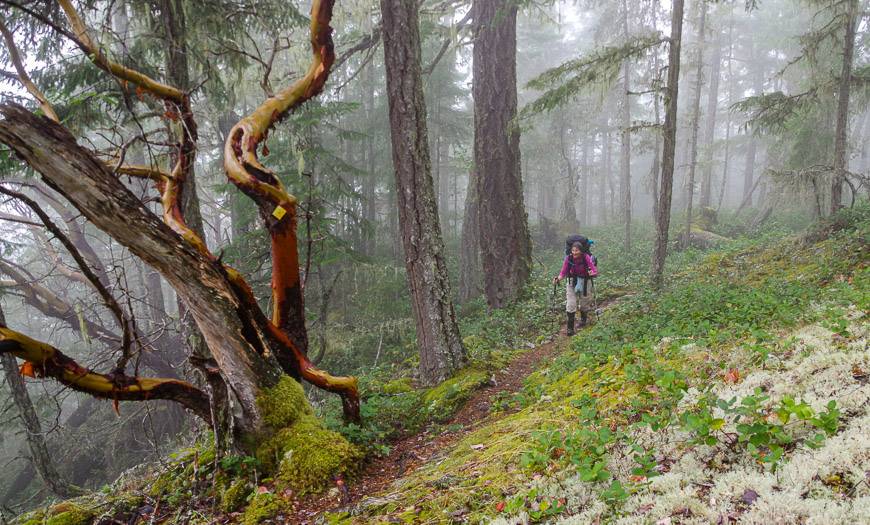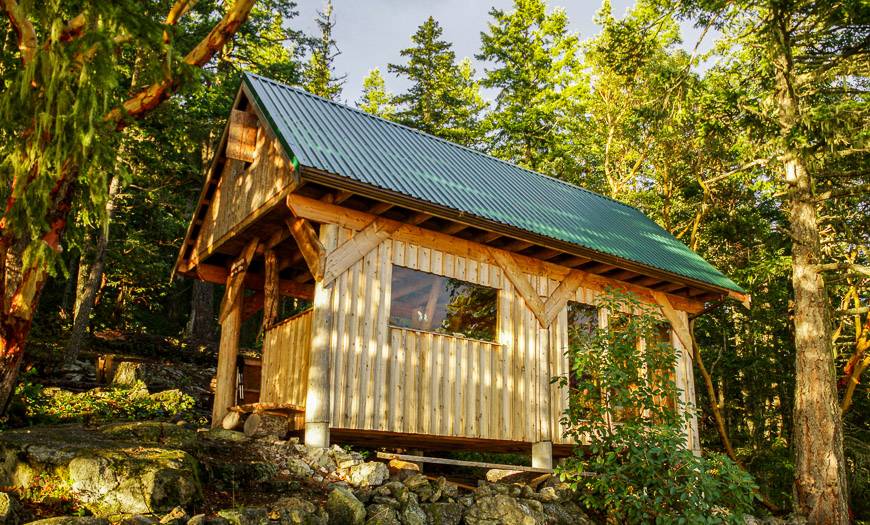 Manzanita Hut to Plummer Creek Campground
Distance: 9.8 km
Time Needed: 4 – 5 hours
We woke to a different day filled with sunshine, clear skies and stellar views of Savary Island. There was no panic to get going as we knew in advance that we were planning to camp somewhere along the way and the area around the hut was a great place to hang out.
The day started with some up and down through beautiful woods until we reached a large open block section that afforded some views. Our next stop was Emil's Bench built with wide boards to accommodate a pack. It's got a marvelous view to enjoy as well.
At the 6.3 km mark we reached Fern Gully Creek Campground – rather a green, depressing kind of place. It certainly didn't speak to us so we continued onto the Plummer Creek Campground hoping it would meet our expectations.
The rest of the day – which was pretty easy in comparison to the previous day, included a mix of very woodsy walking along with a final steepish descent towards the water. You could see cabins and hear boats off in the distance. In this area there was also a lot of bear scat so we moved quickly to leave it.
The final stretch of walking was easy and in short order we saw the sign to the campground. The next camping option was a further three kilometres away so we were biased before we even saw it to call it a day.
Fortunately Plummer Creek Campground, though a little spooky feeling, is quite alright though lacking in bear boxes. There's a picnic table, a fire ring and an outhouse. Nearby via a steep hill is a small river – which was perfect for drinking water and a quick clean-up. The only thing we didn't have any success with was starting a fire.
After an hour of smoking green wood we called it a day and sat down with a glass of wine instead. We'd both decided that we'd had enough of a dry trip and figured it was worth carrying a 750 ml bottle of wine in a Nalgene bottle to enjoy over a couple of nights.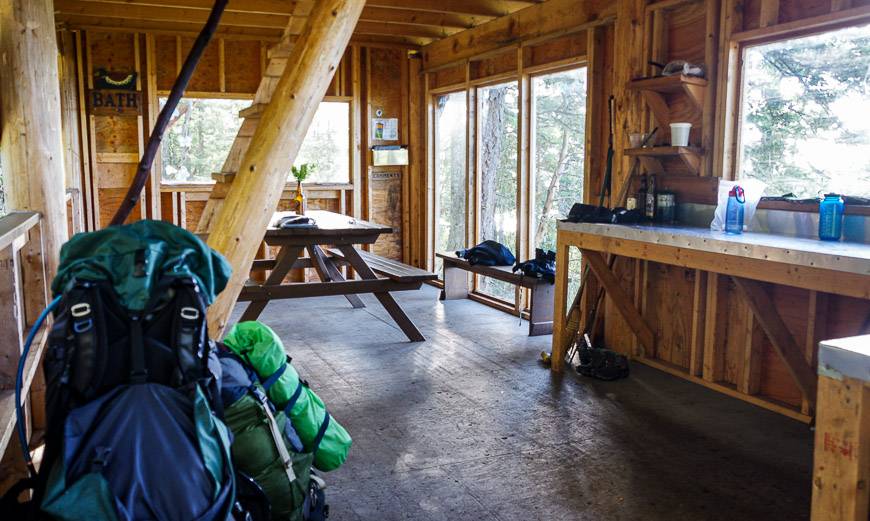 Plummer Creek Campground to Rieveley Pond Hut
Distance: 7.6 km
Time Needed: 2.5 – 4 hours
This part of our hike felt incredibly easy but I doubt most people on the way to Rieveley Pond feel quite the same way, at least if they're doing the full 17 km distance in a day. We knocked 7.6 km off in 2.5 hours. Most of the hiking was either flat or climbed gently.
We did notice for the second time on the hike a culturally modified tree – a term I wasn't familiar with but Judy had heard of. A strip of bark is removed so as not to harm the tree but I'm not sure what the bark is used for – baskets perhaps??
Just one kilometre into today's hike, we came to Toquenatch Falls, the first ones we'd seen on the trip. At the threee kilometre stop to admire the massive Toquenatch Douglas fir. It was truly awe-inspiring to look up its trunk into the sky. There were several other notable specimens around – both dead and alive.
After 3.7 kilometres we reached Homestead Campsite. It's got road access and isn't very pretty or private. In hindsight we were very pleased that we chose Plummer Creek for the night.
The next hour was a delight – perhaps because we knew it was a short day and the sun was shining. Rieveley Hut is more rustic than some with an earthen floor downstairs and an open air kitchen area. But upstairs you sleep on wood, just like all the other huts.
After lunch at the hut Judy found a trail leading to a beat-up wharf – but that wharf was in the sun, and the perfect place for a little sunbathing and relaxation.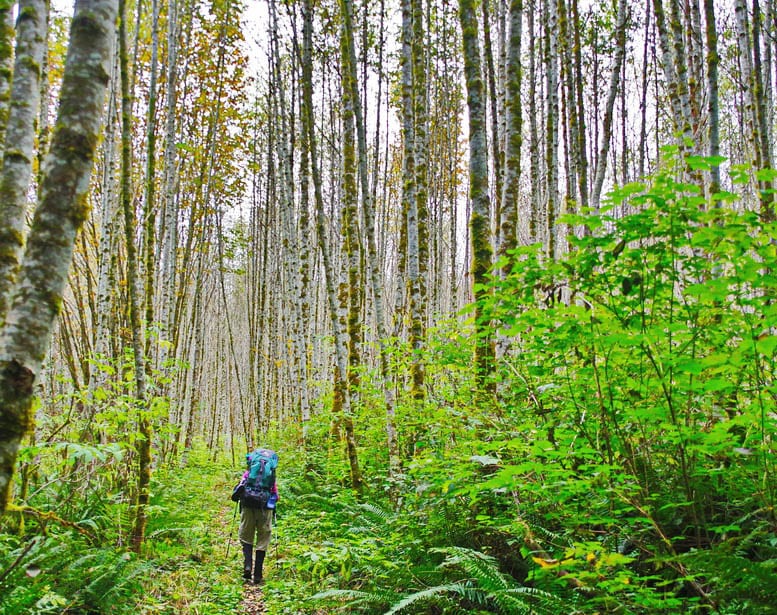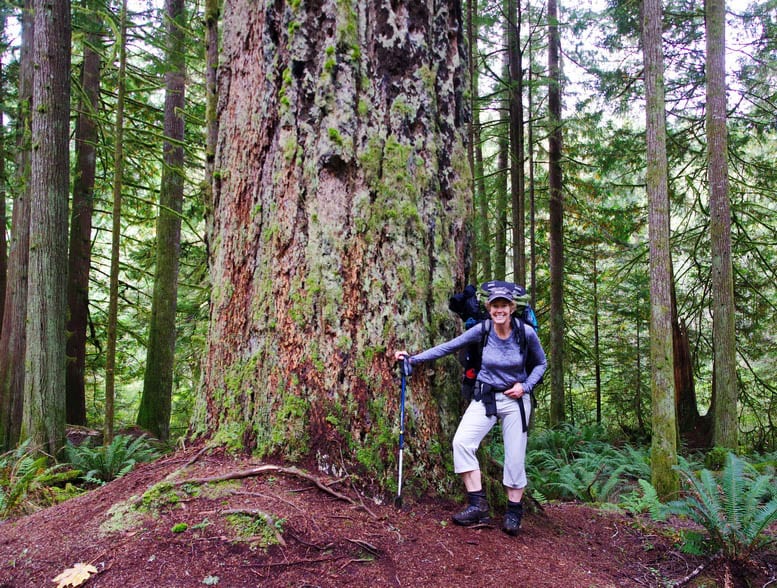 Rieveley Pond Hut to our finish
Distance: 4.3 km to reach Theodosia FSR Br.01 plus another few kilometres down the road to meet our shuttle
Time Needed: 2 hours
It was a short and beautiful day of hiking with fabulous sections of forest, including ancient Douglas firs along with the Appleton Canyon Trail, marked by waterfalls and canyon views. (You can drive to a parking lot via Tomkinson Road and access the Appleton Canyon portion of the Sunshine Coast Trail as a day hike.)
There are places where you could safely cool off in the summer heat and the very brave may want to try a freezing shower under Gorge Falls. Take your time through here. It's a soothing part of the woods to be in.
Our trip ended with a shuttle pickup on Theodosia FSR Br.01 road. It's in good shape so anyone with a vehicle that has a decent amount of clearance should be fine. We did see many enormous piles of bear scat once we hiked down the road – but again never saw a bear.
Our seven days on the Sunshine Coast Trail was at an end. It felt like the right amount of time to get into the rhythm of the trail. In many ways I would have liked to keep going but in late September the nights were getting really chilly and the thought of creature comforts very appealing.
I would highly recommend a minimum of three days on the Sunshine Coast Trail.
Further reading on hikes in British Columbia
Click on the photo to bookmark to your Pinterest boards.
Thank you to Hello BC for all your help with this superb adventure.