British Columbia is a dream destination for hikers and backpackers. The geography of the province is diverse with scenery that includes rocky coastlines, ancient forests, lakes, sandy beaches, mountains, and even an inland desert. Deciding what part of the province you want to focus on is important – not just from the perspective of what type of landscape you like to hike in but because distances are huge. Did you know that British Columbia is the size of France and Germany combined? The best hikes in BC cover a variety of landscapes – so have fun trying out an assortment of hikes across the province.
Choose a hike depending on your ability and ease of access. I have chosen 21 of what I consider to be the best hikes in BC – with lots of personal faves. There are a few I haven't done like Heiko's Trail and the Cape Scott Trail – but their reputation is such that I had to include them. This is most definitely a subjective list and you may have your own list of best hikes in BC. I personally love to get fresh ideas on where to go hiking – and I'm hoping my post puts a few new ones on your radar.
This post includes some affiliate links. If you make a purchase via one of these links, I will receive a small commission at no extra cost to you. Thank you VERY MUCH for your support.
Location map of the best hikes in BC
Click on the three pronged symbol in the top right hand corner to email a copy of the map.
Best hikes in BC summary
If you haven't done a lot of hiking start with some of the easier hikes and build up. No matter what the day's weather forecast or the difficulty of the hike, take the 10 hiking essentials.
If you're in bear country always carry a can of bear spray THAT IS EASILY ACCESSIBLE. I recommend keeping it in a bear spray holster.
Practice Leave No Trace principles.
Always let someone know where you're going and when you're due back.
Before you head to the trail, check to see if the dog is allowed. Many of the best hikes in BC don't allow dogs.
If it's a provincial park or national park you're heading for, check trail reports before you go. Trails get closed on short notice for many reasons.
Gwillm Lakes in the Kootenays – one of the magical hikes in BC
I found out about this hike from a Kootenay local. She called it the top hike in the Kootenays – high praise considering how many great ones there are. (Monica Meadows is still on my wish list.)
It's only a 6 km one-way hike to reach Gwillm Lakes but that comes with an elevation gain of somewhere between 680 m – 894 m depending on your source. So, count on some steep sections but most of the hike is very beautiful and the lakes themselves are truly stunning.
You could easily spend a night or two here (great camping on tent platforms) so you could continue up to the Upper Gwillm Lakes or Lucifer Pass. We didn't leave enough time to do that.
Getting to the trailhead can be tough as there are a confusing number of logging roads with signs suggesting you call in your location on radios. (We didn't and survived.) If you're thinking about hiking it, be sure to read the description in my post. The nearest towns are Nelson and Castlegar.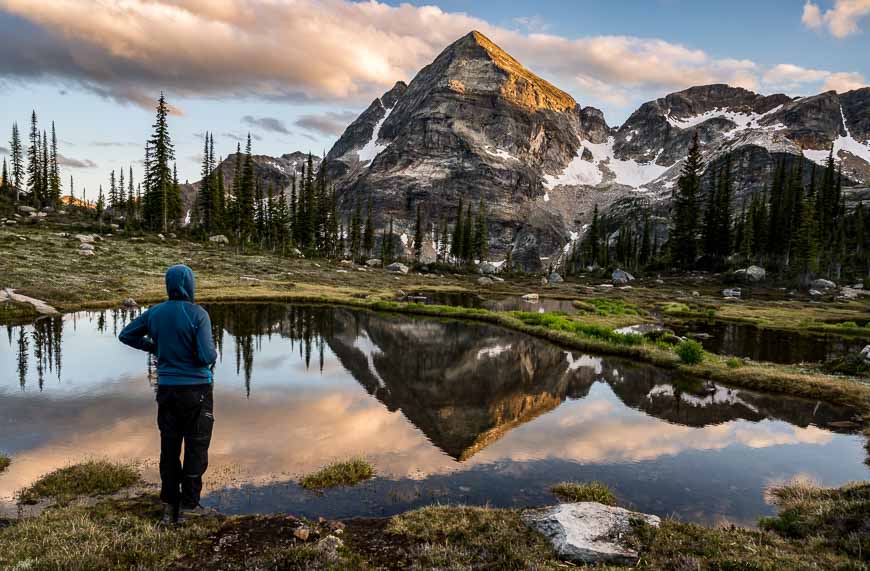 Sunshine Coast Trail – one of the best multi-day hikes in BC
The Sunshine Coast Trail stretches for 180 km from Sarah Point overlooking Desolation Sound to Saltery Bay where the ferries come in from Earl's Cove. The whole trail can be hiked in one long backpacking trip, staying in free huts or you can break it into manageable sections or even day trips.
I spent a week hiking two sections of the trail based on advice from Eagle Walz, one of the principal founders of the trail and someone who knows the trail inside out.
I know the view from Tin Hat Mountain Cabin is one of the most beautiful but if you've got three days, I highly recommend hiking from the Branch 41 Road (can be done with a shuttle) to Saltery Bay. This section of trail is home to breathtakingly beautiful giant trees that leave you in awe of Mother Nature. Throw in the moodiness of west coast fog and enjoy.
Read: What You Need to Know to Hike The Sunshine Coast Trail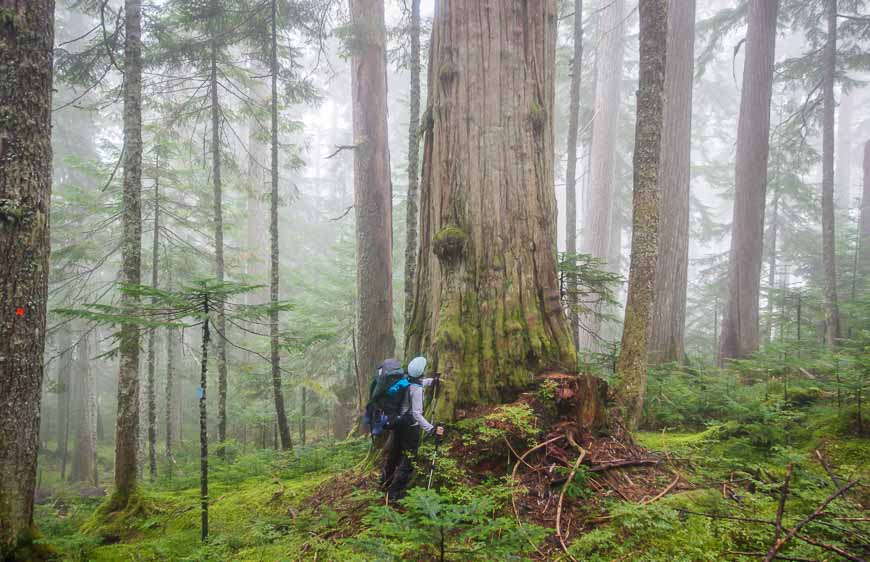 Juan de Fuca Trail on Vancouver Island
The Juan de Fuca Trail is generally done as a four-day hiking trip. But unlike the West Coast Trail there are access points along the way so you can do some sections of it as a day hike. There is an easy 2 km hike to Mystic Beach from the southern trailhead that is well suited to families.
But if you've got four days, I highly recommend the full 47 km walk. You don't need reservations and there is a shuttle service, so access and the trip logistics are far easier than the West Coast Trail. I would recommend the shoulder season as it's very popular in the summer.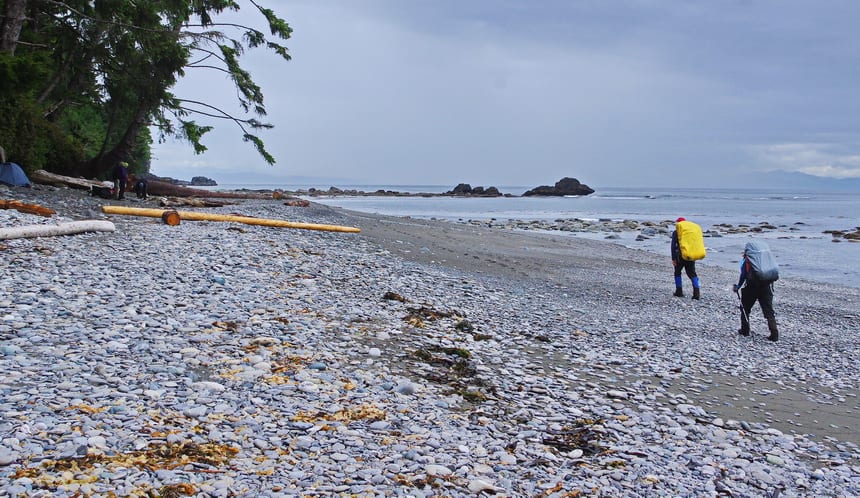 Iceline Trail in Yoho National Park, BC
The Iceline Trail is a standout hike from start to finish. Enjoy exceptional views of Takakkaw Falls, panoramic vistas of Yoho Valley, Emerald Glacier, glacier-fed streams and three mountain peaks – the Vice President, Whaleback and Isolated Peak should you make it to the high point on the trail.
Hike anywhere between 12.8 km to 21.1 km over a maximum elevation gain of 690 m depending on which hiking option you choose to do and there are several. Allow a minimum of five hours to knock off the return hike. This truly deserves to be on anybody's best hikes in BC list.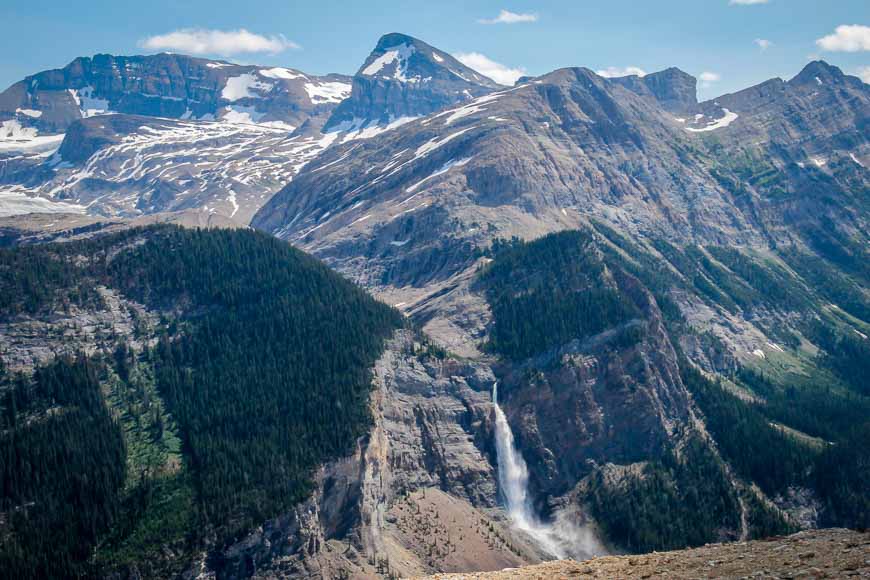 Rim Trail, Cathedral Provincial Park
Head for Cathedral Provincial Park near Keremeos in the Okanagan region so you can hike the moderately challenging 15 km loop known as the Rim Trail.
Boasting an elevation gain of 650 m, this is as Offtrack Travel says "one of the best day hikes in BC." Along the hike enjoy two sparkling glacial lakes and phenomenal views filled with mountain peaks as far as the eye can see.
Note: I had booked Cathedral Lake Lodge to do it in September 2023 – but then came the fires. I've booked again for 2024 so I'll be able to provide an update on what the area is like post fires.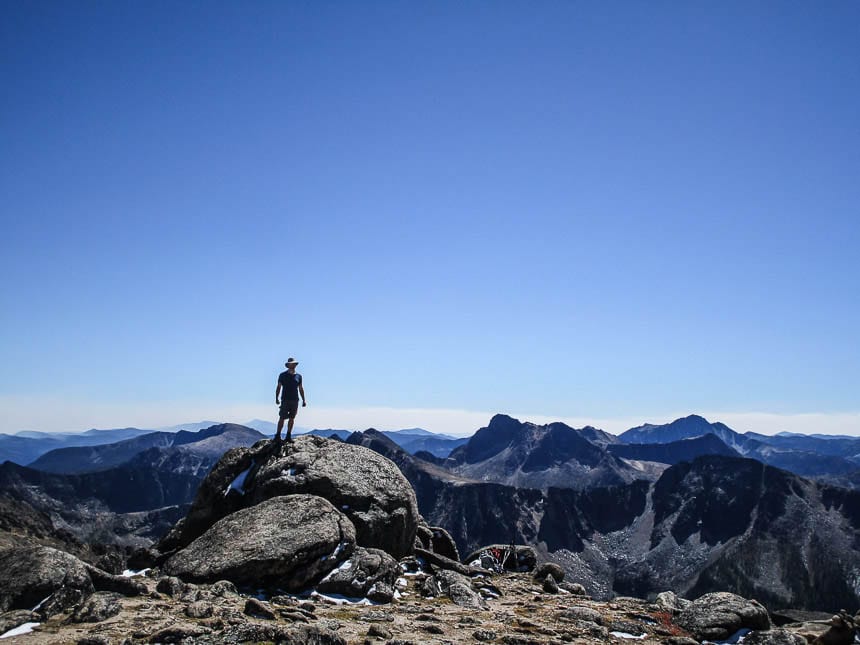 Heiko's Trail in Fernie
Up for a grueling hike over three mountain passes in the Fernie area? Check out the epic, not for the out-of-shape 22 km Heiko's Trail (formerly called Mountain Lakes Trail), named after local entrepreneur Heiko Socher who forged this trail over three summers starting in 2000.
The trail is best done as a one-way hike as even that will take you between 8 – 12 hours. The 1,200 m of elevation gain and possible route-finding issues will test your mettle. The rewards are a giant cave, wildflower-filled meadows, waterfalls, superb mountain vistas and some airy ridgelines.
Don't hike it until the snow melts, usually sometime in early July. You might even want a guide on this one as finding the trailhead off the Hartley Lake Road (a logging road) can be a challenge. The hike finishes at Island Lake Lodge – a great place for a cold beer and dinner after a long day. They can also help organize a guide.
Elk Lakes and Petain Basin, Elk Lakes Provincial Park near Sparwood
You can hike to Elk Lakes and the Petain Basin from either Peter Lougheed Provincial Park in Alberta or via logging roads accessed from Sparwood, BC.
The Sparwood option is the fastest and easiest option as the hike into Lower Elk Lake is only about a kilometre. There is camping here – first come, first served and BC Parks even offers carts to move your gear.
While Lower Elk Lake is a first-class destination, the hike to Upper Elk Lake and the Petain Basin put it into the outstanding category.
You could certainly hike to Upper Elk Lake, Petain Falls and even the Petain Basin as a day trip if you're coming from Sparwood, but if you're hiking in from Alberta I'd recommend at least a night of camping.
Petain Basin is the prize, accessed by a very steep climb. You could easily spend a full day in here admiring the meadows, waterfalls, and Petain Glacier. Fit hikers could even summit Mt. Foch – called the "ultimate vantage point" to survey the basin.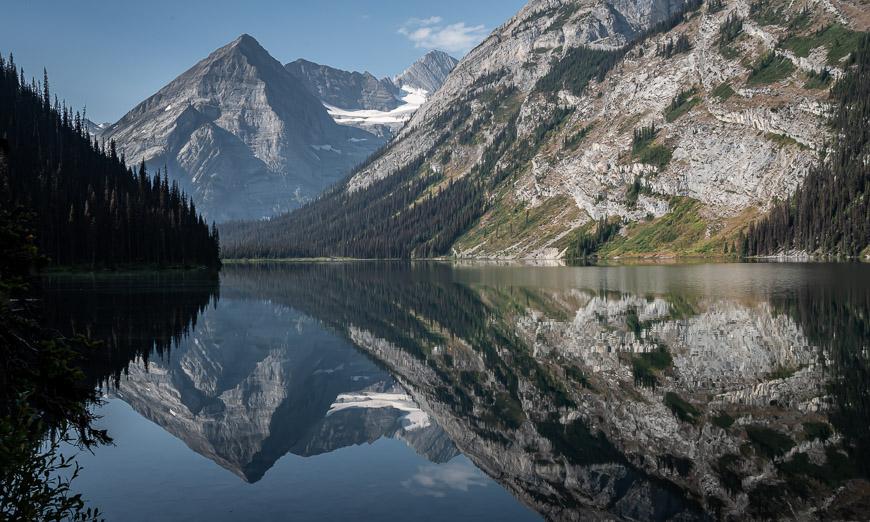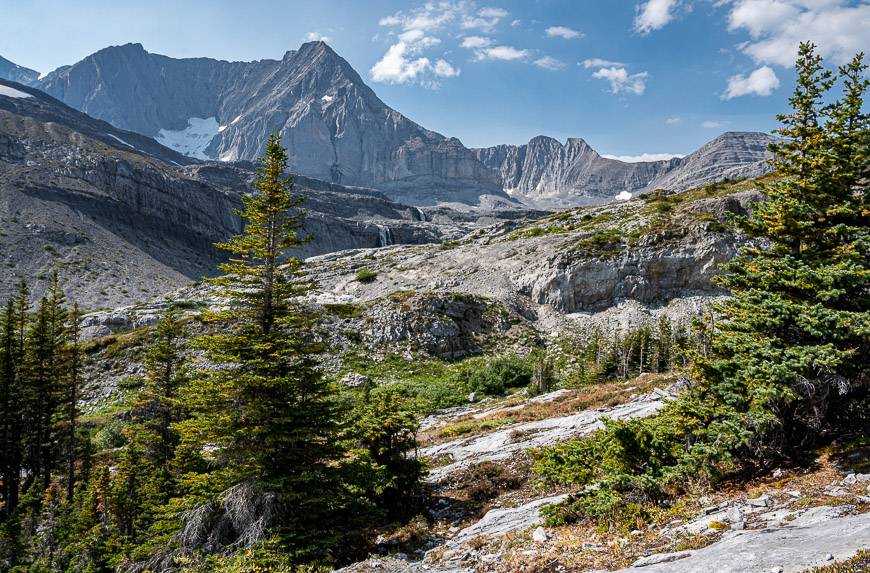 Rainbow Range hike, Tweedsmuir Provincial Park
The Rainbow Range hike is one of my all-time favourites and one of the exceptional hikes in BC. Located in Tweedsmuir Provincial Park, far from any population centre, you won't ever have to battle the crowds.
As a day hike, you can knock it off in five or six hours as it is only 8 km one way with an elevation gain of 300 m. But there is lots of beautiful country here to explore, so if you've got time, plan to camp for a night. When I did the hike there were bear boxes at one of the small lakes, but I'd recommend that you check in with the park to get an update.
This hike offers wildflowers galore, rainbow-coloured mountains, gorgeous alpine lakes, and tarns, along with plenty of peace, quiet and solitude.
While we didn't so much as see bear scat there is reportedly a high concentration of black bears and grizzly bears along with mountain goats, moose, deer, wolves, cougars and coyotes. Don't forget the bear spray.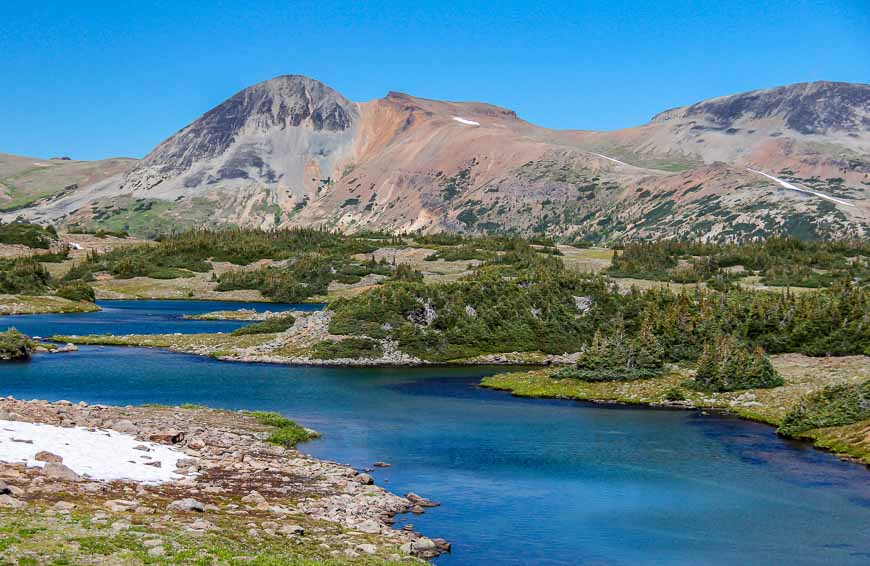 Lake O'Hara Alpine Traverse – one of the top hikes in Canada
Enjoy world-class mountain scenery on the Lake O'Hara alpine traverse – which is a loop hike – or any of the other hikes in the Lake O'Hara area for that matter. There are few hikes in Canada or the world that will stir your soul the way this one does.
There are seven sections to this hike, including some that have exposure so not all will feel comfortable with that. Fortunately, it's easy to cut out one of the sections like the All Souls Alpine Loop which we did as it was still snowed in. Our loop without it was 8.8 km long.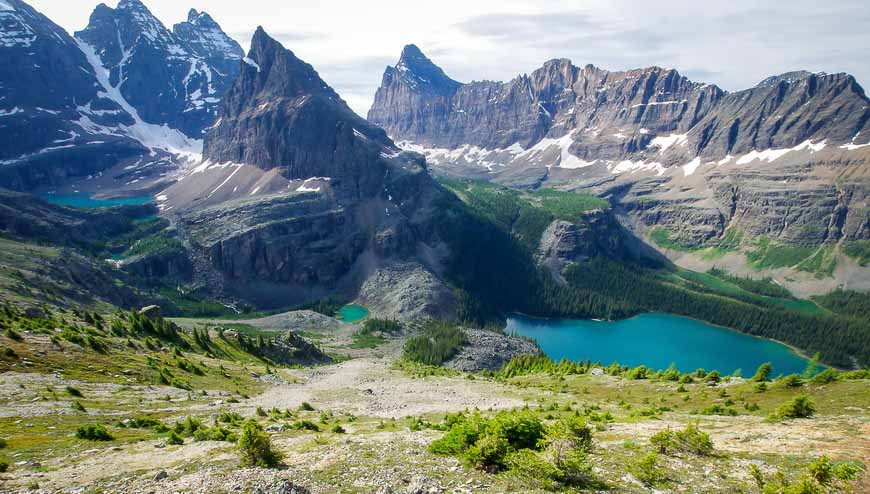 Eva Lake hike, Mount Revelstoke National Park
One of the top hikes in Mount Revelstoke National Park is the 14 km return hike to Eva Lake. There isn't a lot of elevation gain – just 209 m, so even people that don't hike very often can enjoy the sub-alpine scenery, the wildflower displays, the mountain vistas and of course the stunning turquoise-coloured lake.
Be sure to hike the trail around Eva Lake. There is a new vista at every turn. Camping overnight at the lake at one of four backcountry campsites is an option but sites are available on a first come, first served basis.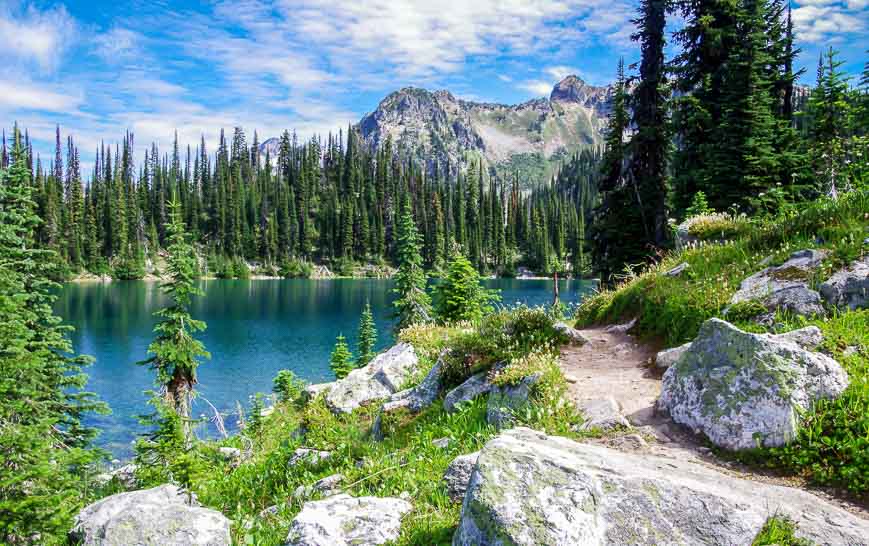 Mount Albert Edward hike, Strathcona Provincial Park
If you've ever been up the Mount Washington ski hill on a clear day, you've seen Mount Albert Edward – perhaps unknowingly. Its the sixth highest peak on Vancouver Island.
The mountain, located at the edge of the Forbidden Plateau, can be hiked in one very long day but it's best done as a backpacking trip as it's 30.9 km return with a heart-pounding 1,635 m (5,364 feet) of elevation gain. If you do it as a day trip go very well-prepared!
The hike is gorgeous once you're out of the trees and the views across the plateau unfold but before you get there, enjoy some beautiful lakes, pretty meadows and a section through old forest. At the summit, views into the heart of the park are sublime. Note the Golden Hinde to the west, the highest mountain on the island and the Comox Glacier to the south.
Coastal Trail hike in East Sooke Regional Park
Coastal trails always sound easier than they are. The Coastal Trail in East Sooke Park is no exception. Over the 10 km one-way distance I'd suggest you allow 4 – 6 hours. While it's nowhere near as hard as the West Coast Trail, there are loads of ups and downs between shaded valleys and narrow cliff-side paths.
But the trail is uniquely beautiful along its entire length. Enjoy rugged coastal scenery, broken by temperate rainforest filled with massive cedars and firs. Along the way stop to enjoy pocket beaches, tide pools and views of the Olympic Mountains. In spring the wildflowers are outstanding in numerous places.
It's ideally done as a one-way hike so a car shuttle or drop-off is required.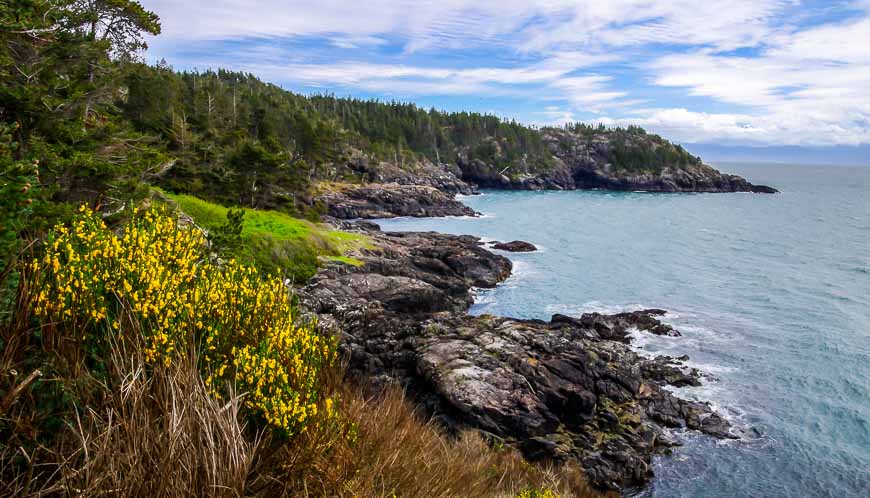 Emerald Lake Loop hike, Yoho National Park
On the day you're looking for an easy but beautiful family-friendly hike that won't take more than a few hours choose the 5.2 km loop around stunning Emerald Lake. At most you'll gain about 15 m – so you're not doing it for the workout – but the beauty of the area. It's particularly beautiful in fall.
There are hikes to do off the Emerald Lake Loop that can knock the difficulty level up several notches. If you're looking for a longer hike do the 9.2 km return hike to the Emerald Basin or the 19.7 km Emerald Triangle – a loop hike that will take you up to 8 hours to complete.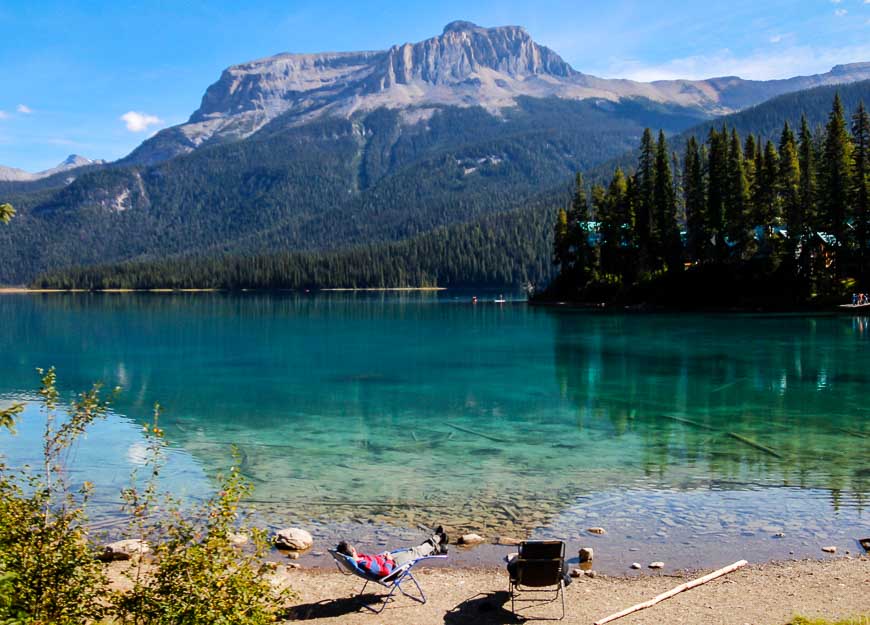 Floe Lake hike in Kootenay National Park
Floe Lake can be visited on a day hike though it's often the first stop on 3 – 5-day backpacking trip on the Rockwall Trail.
The 10.7 km one-way hike to Floe Lake starts beside the Vermillion River. It heads up through an old burn, the result of a forest fire that swept through the area in 2003. After a tough set of steep switchbacks the reward is Floe Lake, sitting in a gorgeous setting at the base of the Rockwall, 697 m higher than the parking lot. Take a refreshing dip and retrace your steps.
If you plan to continue, you will need backcountry camping permits that should be booked as soon as they become available.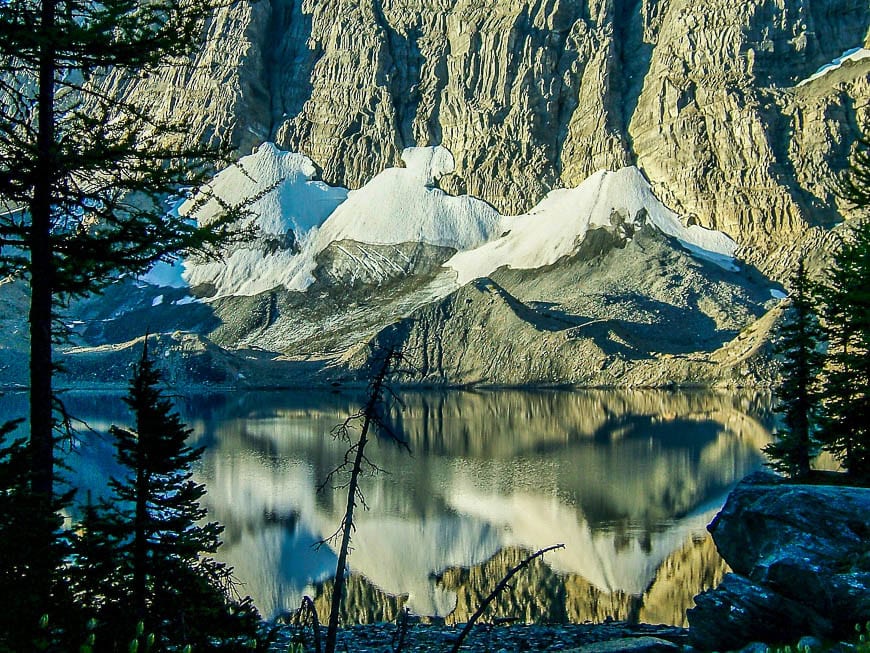 Paget Peak hike in Yoho National Park
Paget Peak is not for the novice hiker but it is a great choice if you're comfortable on scree. The trailhead, located in Yoho National Park near the parking lot for Lake O'Hara, is only a 15 minute drive from Lake Louise. We ended up on this hike as there was no parking anywhere near Lake Louise.
The first part of the hike climbs 520 m over 3.7 km to reach the Paget Lookout – an abandoned fire lookout offering great views. It's also family-friendly for kids 8 and older.
From there you can decide if you're up for the next part of the hike. To Paget Peak you climb a further 446 m over 1.4 km. Put once you're at the top the rewards are fantastic – turquoise-coloured Sherbrooke Lake lying spread out several thousand feet below along with far-reaching glacier and mountain views.
Read: The Paget Lookout – Paget Peak Hike in Yoho National Park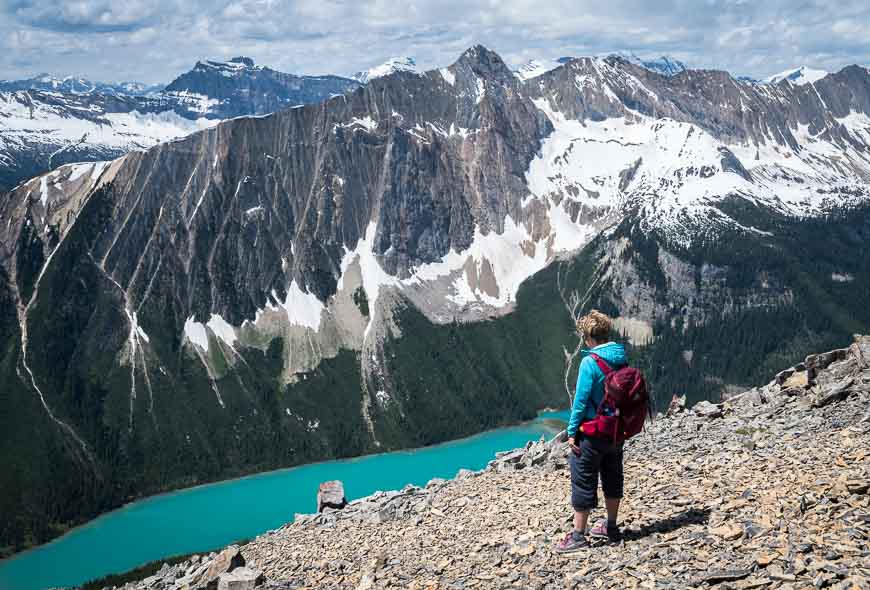 Berg Lake hike, Mount Robson Provincial Park – one of the top hikes in BC
Note: Most of the trail is still closed in 2023 because of flood damage from a few years ago. You can hike as far as Kinney Lake now. From what I've read it likely won't fully open until 2025.
The hike to Berg Lake meets my standards as one of the best hikes in BC. Not only is the lake itself a first-class destination, but the trail to the lake takes you through quite the diverse landscape. The trails starts off easily, climbing beside the Robson River through a micro rainforest of hemlock and cedar.
Kinney Lake is the first major landmark followed by the fantastic Valley of a Thousand Falls, accessed via a very steep climb. From the last of the waterfalls you still have 3 km to reach the lake where you just might be lucky enough to see a recently calved iceberg. Look up too as the face of Mount Robson rises over 2300 m above the lake.
Most people do the hike to Berg Lake as part of a multi-day backpacking trip. I think that's wise as it's 21 km to Berg Lake, and 23 km to the Robson Pass Campground with a vertical gain of 800 m. There's lots of exploring to be done with one of the options to hike to Snowbird Pass.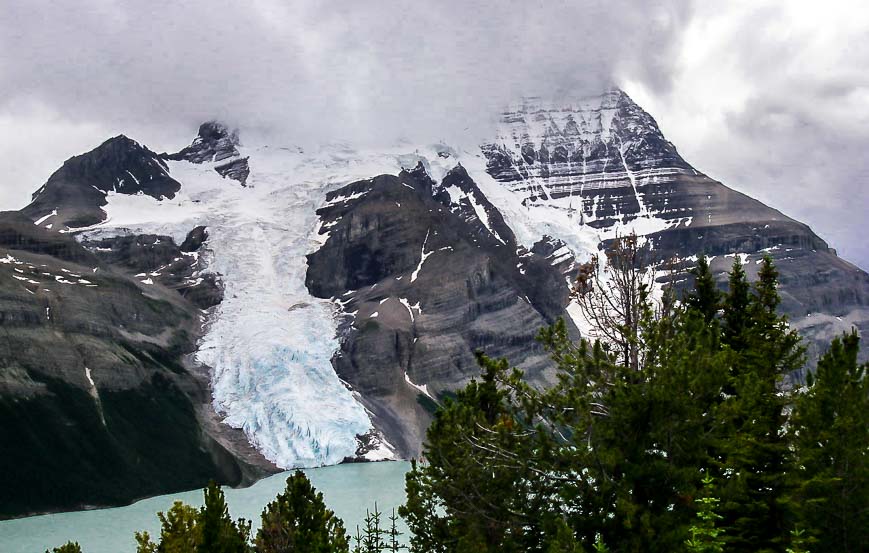 Cape Scott Trail, northern tip of Vancouver Island
Have you always wanted to explore the northern tip of Vancouver Island? Allow three days for the best experience. That will allow you to hike to both Nels Bight and the Cape so you can see the lighthouse. Those with little time on their hands can do the easier 5 km return day hike to San Josef Bay via a gravel trail.
The Cape Scott Trail can be difficult – especially after a rain when you must deal with large swaths of mud and slippery boardwalks. But the rewards are plentiful and that's why it gets one of the best hikes in BC rating. It is home to massive ancient trees, gorgeous sweeping sandy beaches, campsites overlooking the Pacific Ocean, and a storm-battered lighthouse perched at the edge of the wildest coast in British Columbia.
If you're looking for even more of a challenge continue the hike on the North Coast Trail – but you'll need 6 – 8 days to do that.
Stawamus Chief hike near Squamish
One of the best hikes in BC if you're looking for a quick but intense workout is the hike up Stawamus Chief, the second largest hunk of granite in the world that rises 541 m above Howe Sound. From first appearances, the rock looks like it's the domain of rock-climbers only. But the backside has hiking trails to the First, Second and Third Peaks.
Most people do the hike to the First Peak. It is 1.3 steep kilometres one way with an elevation gain of 535 m. There are steps galore near the start of the hike, a lovely forest section and then a final climb up the rock – aided in places with chains though really you can do it without them.
At the top enjoy views of Howe Sound, the Sea to Sky Highway and the Tantalus Range.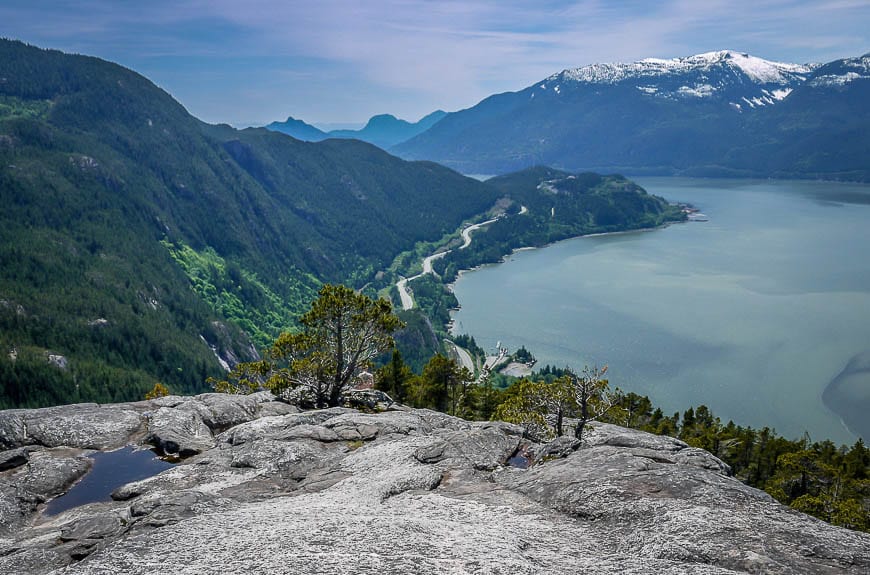 Elfin Lakes hike in Garibaldi Provincial Park
I have hiked to Elfin Lakes on numerous occasions and it's always been a rewarding one, even the year it was still under snow in late August (2011).
The first hour up to the Red Heather Shelter isn't so interesting – but after that the views explode, and the grade moderates. Enjoy superb views of Diamond Head, Opal Cone, Columnar Peak, and Atwell Peak – plus a host of glaciers and plenty of wildflowers too.
What I also love about this hike is that you can add mileage – and continue to Opal Cone and even Mamquam Lake, 11 kilometres past the Elfin Lakes.
All told it's 22 km round trip with an elevation gain of 600 metres. Dogs are not allowed.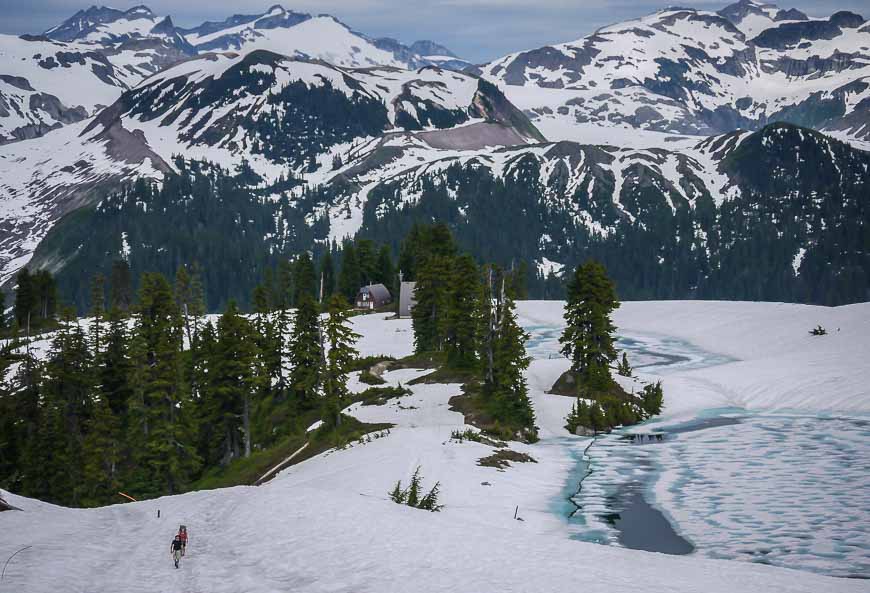 Joffre Lakes hike near Pemberton – one of the most popular hikes in BC
When I did the hike to Joffre Lakes years ago – when dogs were still allowed, it wasn't very busy. Now the hike to the turquoise-coloured Joffre Lakes is very popular, despite the fact the trailhead is almost a three-hour drive from Vancouver.
The 10 km round-trip hike visits three lakes over a reasonable elevation gain of 400 m. You'll come to Lower Joffre Lake within minutes of the trailhead, Middle Joffre Lake at about the 3 km mark and Upper Joffre Lake at the 5 km point. Views from the first and third lakes of the Matier Glacier are gorgeous.
You can camp around Upper Joffre Lake though a backcountry permit is required from June 1 – September 30th.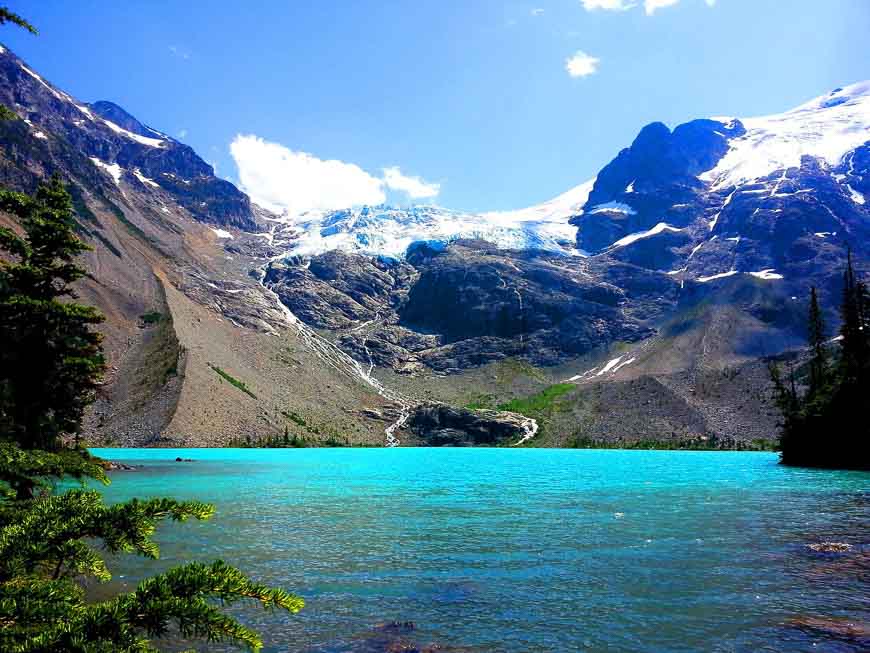 Black Tusk hike in Garibaldi Provincial Park – one of the longest day hikes in BC
The Black Tusk is a volcanic dome and an unmistakable landmark that sticks out from all the surrounding mountain peaks. You can see it from the Whistler Ski Resort and from many places along the Sea to Sky Highway. You don't have to summit it (and many people won't because of the final airy chute) to feel like you've had an up-close experience.
If you're a hiker and you live in Vancouver, then the Black Tusk hike is one of the must-do hikes. It's a bloody long one that can be broken up by camping at the Taylor Meadows, Garibaldi Lake or Helm Creek Campgrounds.
Over the 29 km round-trip hike enjoy alpine meadows, wildflowers, and of course spectacular mountain views. Allow 8 – 10 hours to do the hike if you're coming in from the Rubble Creek Trailhead as there is a 1735 m (5691 feet) elevation gain. If you're hiking it from one of the campgrounds allow 5 hours.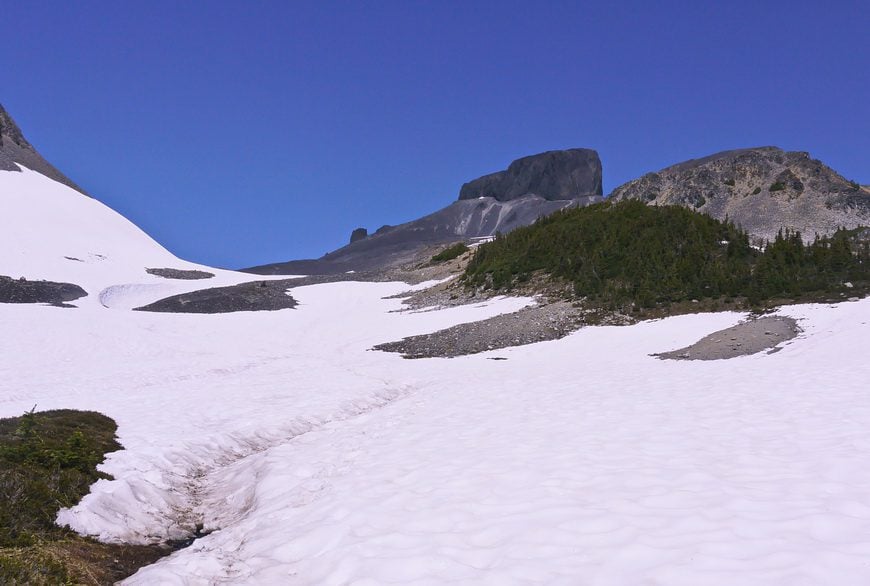 What I'd take on any of the best hikes in BC
I highly recommend compeed for blisters. I have found it to be way better for fast healing than anything else I've used and worth every penny.
Don't forget water purification tablets or a water bottle with a built in filter. There are some summer days where you need to drink an incredible amount of water.
I like something comfortable to sit on at lunch time. While it can be as something as simple as your coat, I swear by my inflatable seat cushion.
I like using hiking poles, especially when a stream crossing or a steep descent is involved. Invest in a collapsible pair, preferably made of carbon because of their weightless quality.
I always pack a buff as it's got so many purposes – neck warmer, keeps hair off your face, good in dust or smoke, dip it in water to cool your neck, and a 100 other things.
Another nice addition for those of you who love wildflowers is the book Popular Wildflowers of Alberta and the Canadian Rockies.
A lifetime of hiking in British Columbia
I appreciate that there is literally a lifetime of hiking possible in British Columbia. I know I've just scratched the surface of what is out there – so if any of you have strong feelings on hikes you think I missed or would love, I'd like to hear from you. My hiking bucket list gets longer every year, never shorter.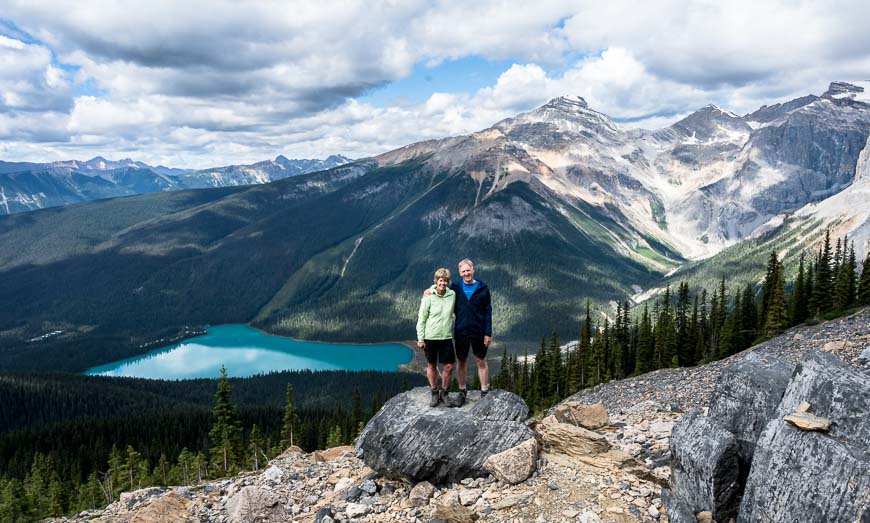 Click on the photo to bookmark to your Pinterest boards.