I spent a week hiking the Sunshine Coast Trail with a friend – Judy, one of the few people I know that would actually agree to long days of hut to hut hiking with a pack followed by sleeping on a hard, wooden floor in a hut in the forest. Without wine.
Most of my friends have chosen luxury now over roughing it and real adventure. And hut to hut hiking with no showers, hard floors, sleeping with strangers and some epic days of hard physical exercise sound like some madman's version of hell to them. But not to me.
I chose two sections of the Sunshine Coast Trail to hike, based on advice from Eagle, one of the principal founders of the trail and someone who knows the trail like the back of his hand.
Our plan was to hike up to the Mount Troubridge Hut from the Branch 41 Road and end three days later at Saltery Bay. Originally we'd planned to go in the opposite direction – but I wouldn't recommend it.
There would be over 4,000 feet of climbing to get to the summit of Mount Troubridge from Fairview Hut. Descending that distance is at least aerobically easier.
Read: Sunshine Coast Trail: What You Need to Know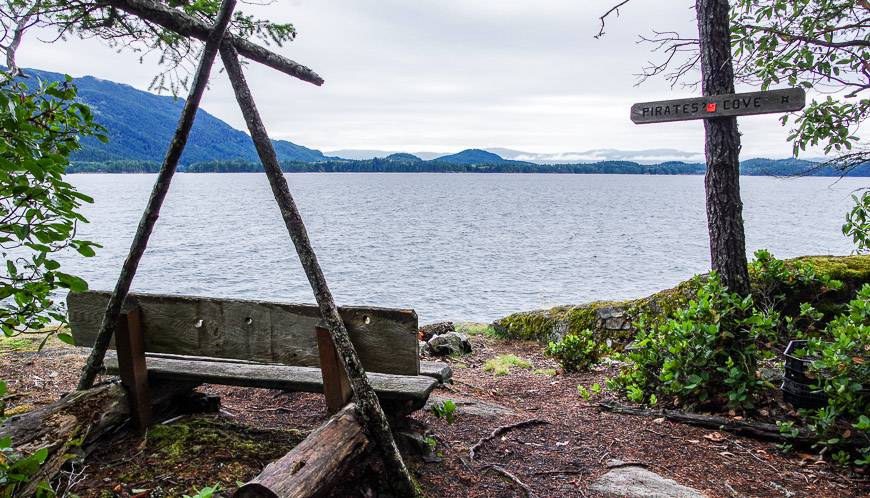 Here's a look at how hiking over 3 days from Mount Troubridge to Saltery Bay on BC's Sunshine Coast trail stacked up.
Branch 41 Road (near Elephant Lake) to Mount Troubridge Hut
Distance: Approximately 6 kilometres and about 400 metres of elevation gain
Time Needed: Three hours
We elected to get dropped off close to Elephant Lake to save several hours of walking through what we figured would be less than interesting forest. We may have been wrong but we had no regrets starting the trip with an easy day of backpacking.
Although I'd flown in the night before in beautiful sunshine, our start on the Sunshine Coast Trail was in the rain. Fortunately it wasn't a hard rain, more of a soft drizzle.
Within 10 minutes of setting out we came across large mounds of blueberry-filled bear scat. I'm sure the bear had a great time gorging on the blueberries that were thick over several hundred metres. They were just coming to an end in the fourth week of September. We made lots of noise and didn't linger except to admire Elephant Lake. On a hot day this would be a great place for a cooling swim.
Our concerns about signage on the trail were quickly put to rest. From the minute we started we found it to well-marked and signed.
The hiking up to Mount Troubridge hut was easy – and often incredibly beautiful, especially as we got into the old growth forest. The rain and cloud actually contributed to the magical feeling I got in the vicinity of Mount Troubridge.
Mount Troubridge Hut is one that is fully enclosed and in theory winterized. It's got a pellet stove but after a few hours of trying, we couldn't get it going.
Still it's a lovely hut that sleeps around 6 – 8 depending on how tightly packed you want to be. The area around the hut is gorgeous especially in the fall with all the muted red, orange and yellow deciduous foliage.
Jocelyn Pond is a short walk from the hut and an easy place to replenish your drinking water. It's got a small dock so I'm assuming people swim here in summer but with a muddy bottom I'd probably give it a pass.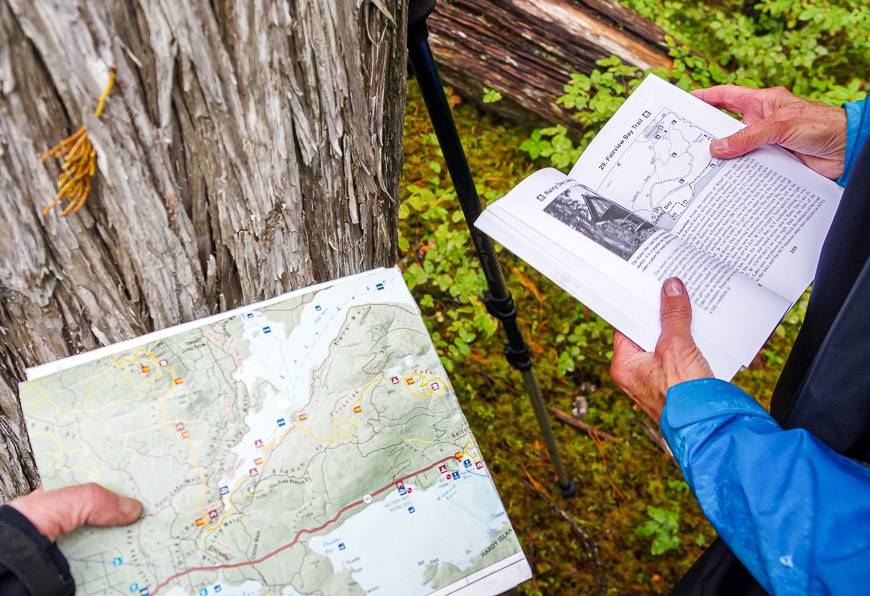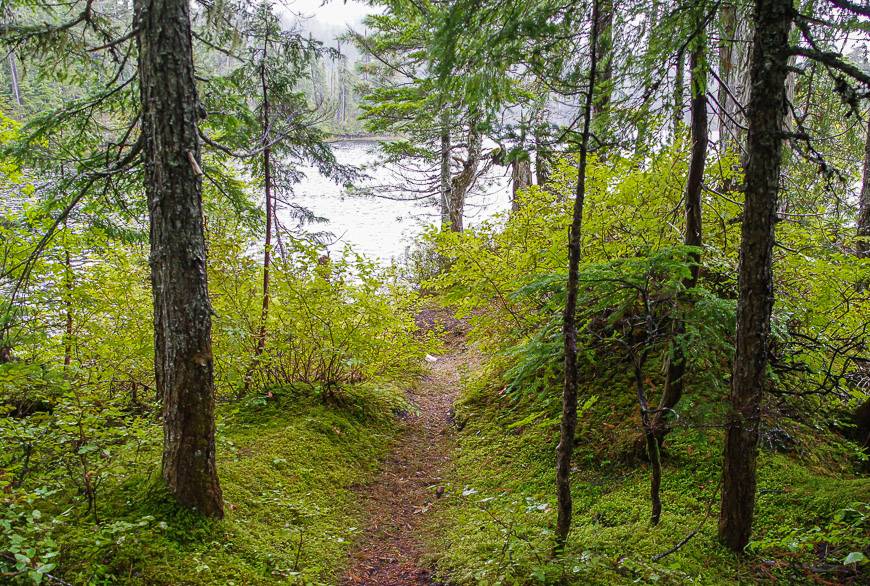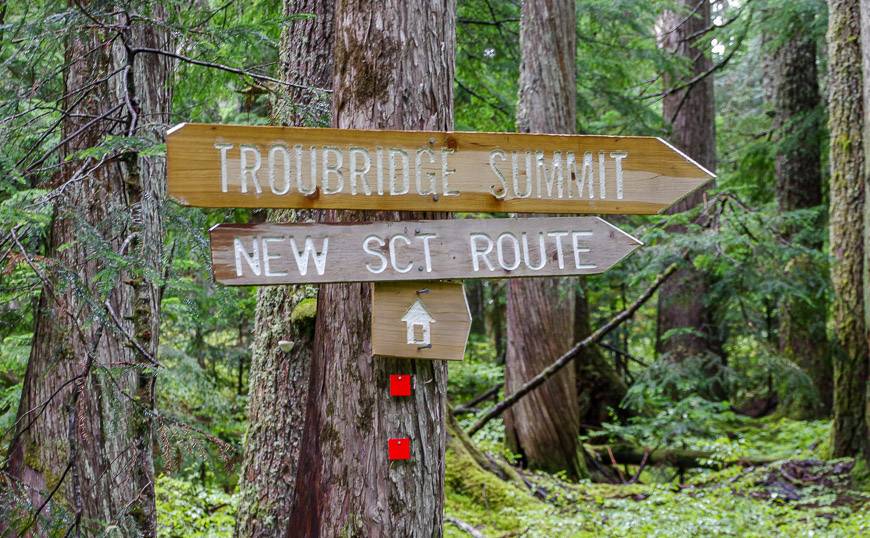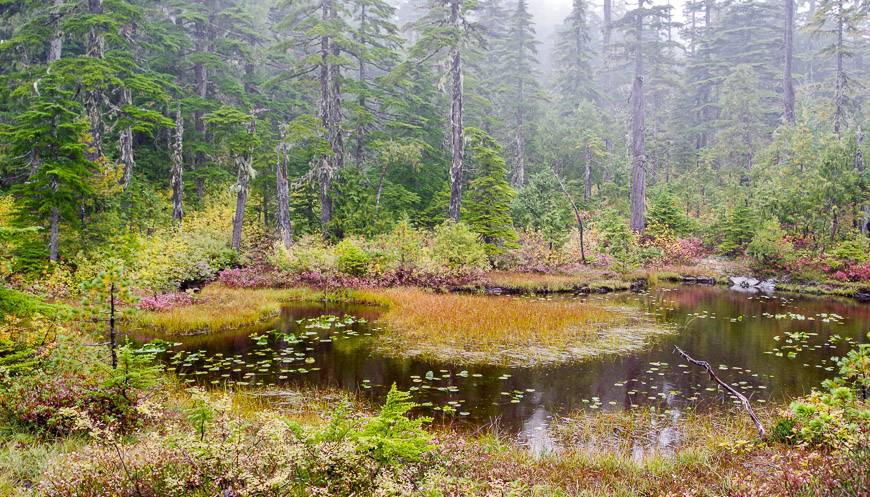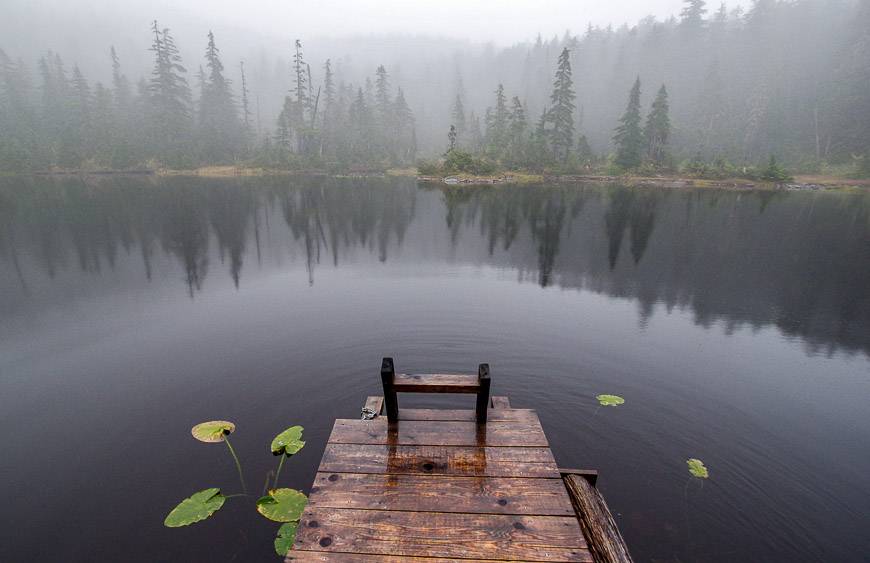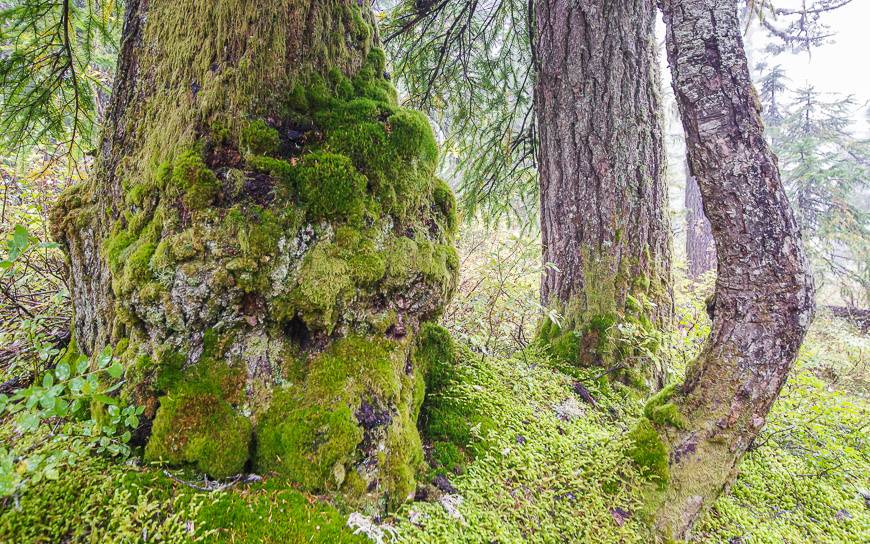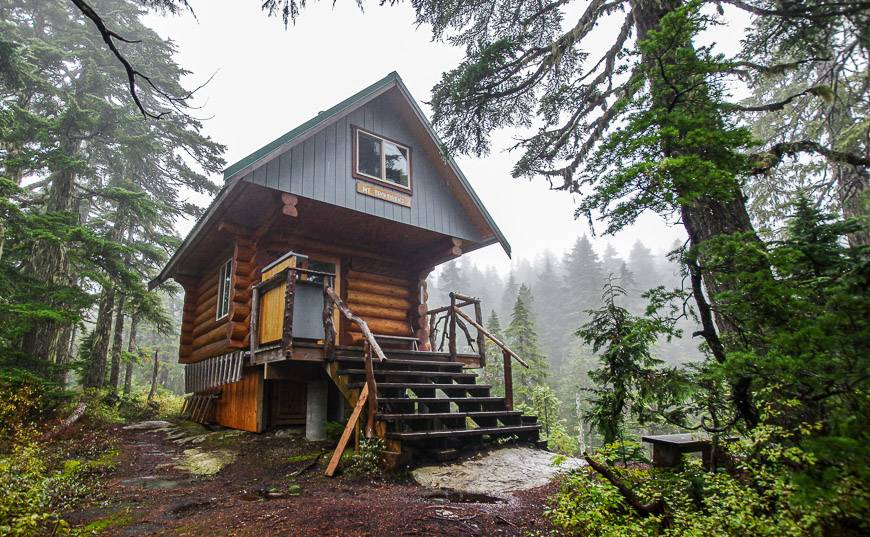 Mount Troubridge to Fairview
Distance: 13.7 kilometres and a 1,300 metre descent
Time Needed: 5 – 7 hours
When you wake to 3°C it's hard to climb out of a cozy sleeping bag. But once you're out, you're ready to move. We hit the trail by 9 AM under cloudy skies. For the next few hours the hut to hut hiking was some of the best we enjoyed on the trail. I couldn't wipe the smile off my face. Beauty was everywhere in the old growth forest.
Our first stop was at the summit of Mount Troubridge where you'll find an emergency shelter which would sleep two, three in a pinch. There wouldn't be any water on top.
Normally you get a great view of Jervis Inlet from up here, but our view was more of the peek a boo variety, with so many clouds swirling about.
On the descent it was interesting to see the different eco-zones from old growth forest with ancient cedars like the Queen of the Mountain at the 162 kilometre mark through to ferns with moss covered trees. Eventually you end up in forest that's been logged – but at least you get a view.
At the 167 kilometre mark we made the decision to continue to Fairview Hut. Our other option was to go to the Rainy Day Lake Hut – but we didn't want to go down and then hike up again just to see it. There's an inland route back to Saltery Bay via Rainy Day Lake but we knew we wanted to hike the trail that winds along the ocean.
The last couple of kilometres to Fairview Hut were nothing special, but that might be because we were tired and ready to call it a day. We both agreed that it felt longer than the reported 2.2 kilometres.
The Fairview Hut enjoys a beautiful location just up from the ocean, overlooking Nelson Island. It's fully enclosed with room for about 10 people upstairs.
Unfortunately it was the dirtiest hut we came across with cigarette butts on the floor and garbage on the counters. I think the odd duck we shared it with that night was likely responsible for some of it. So we gave it a sweep and instantly it felt better.
Outside the hut you can watch the world go by from a well-placed bench on the rocks – or sit on the beach at low tide. That's the magic of this hut.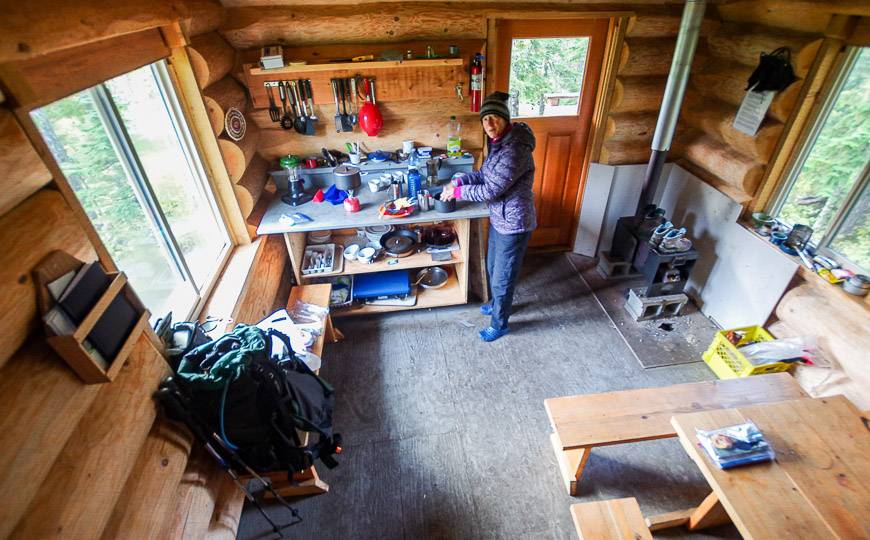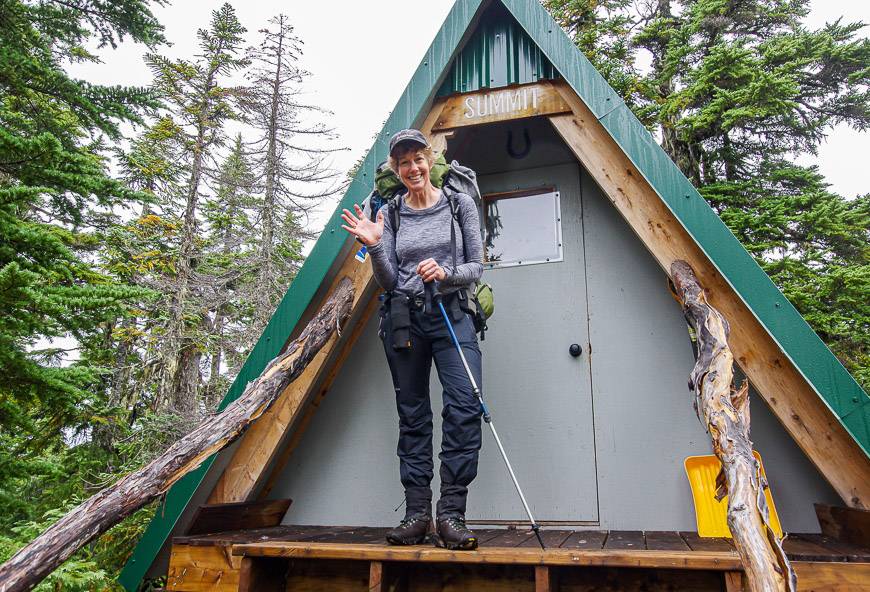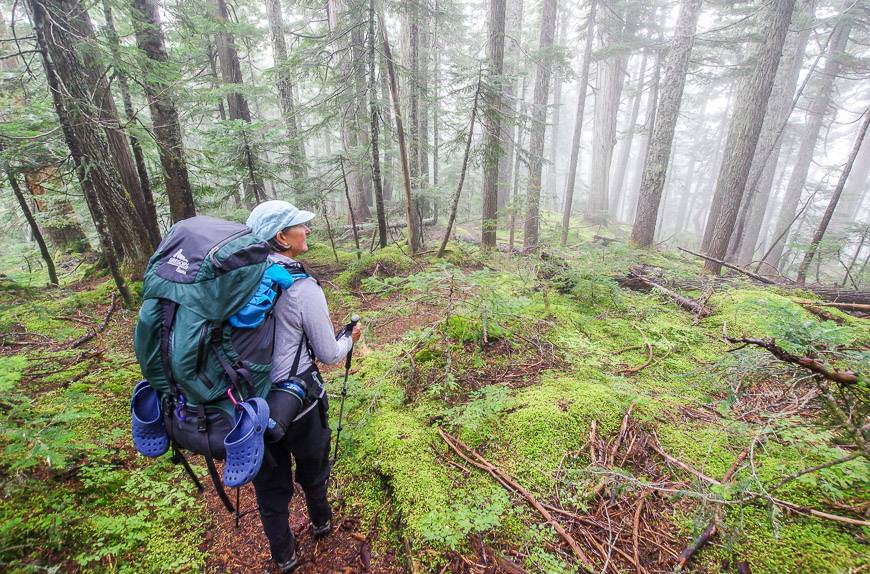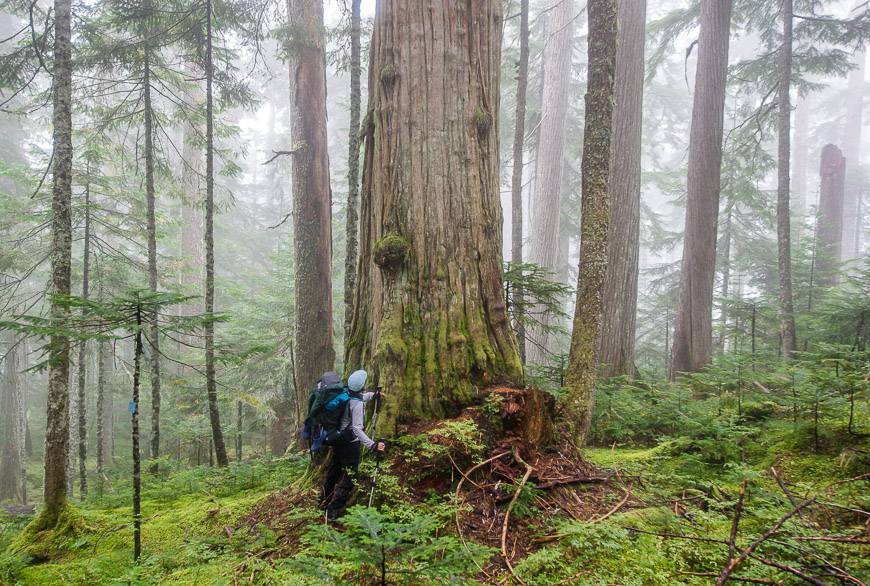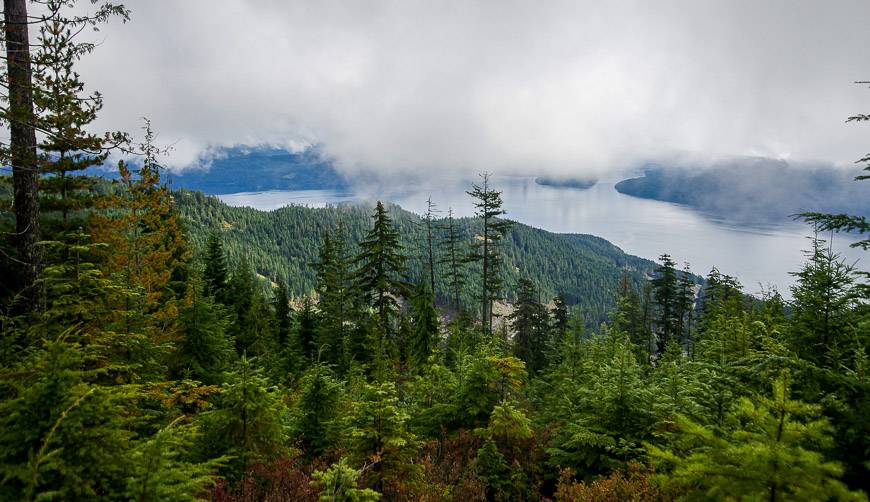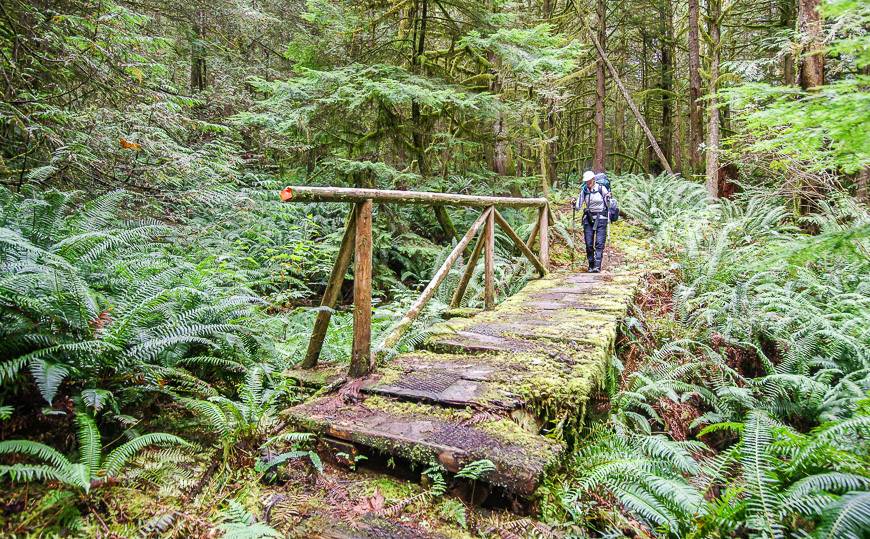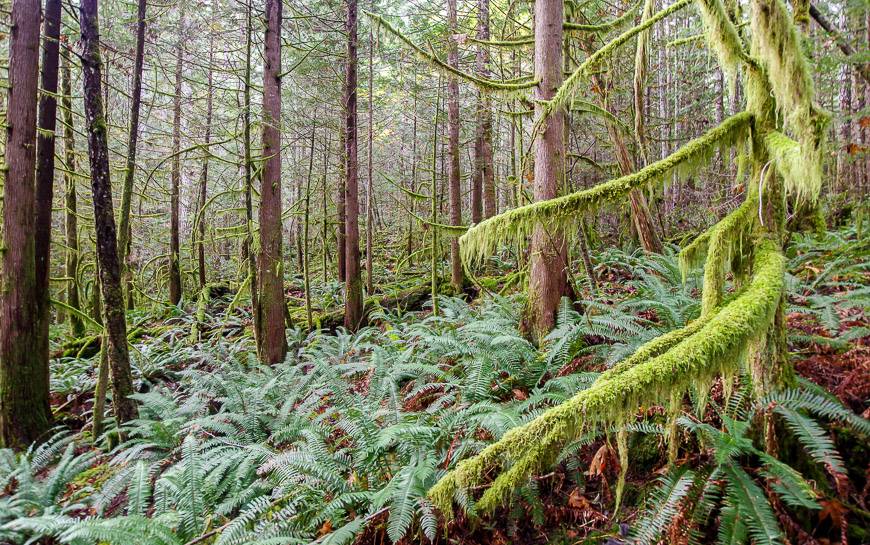 Fairview Hut to Saltery Bay on the Sunshine Coast in BC
Distance: 6.8 kilometres with lots of up and down
Time Needed: 2.5 – 3 hours
The trail between Fairview Hut and Saltery Bay delivers a surprising amount of up and down – as I find most coastal trails do. Most of the hiking was quite beautiful, especially when we were anywhere near the coast. The arbutus trees with their muscular bare or red barked branches make an appearance whenever we hiked near the water. Beautiful, soft white mosses added a lovely touch.
Along the trail there are a couple of spots with benches – which on a warm summer day would definitely beckon you to stay longer. But we were on a mission as we had a shuttle to catch – and a hot shower with good food waiting for us at our next stop in Lund.
The trail finishes within spitting distance of the Saltery Bay ferry. There's lots of parking and a shelter with detailed maps. Powell River is about a 30 minute drive away. You can get taxis, arrange a shuttle or stick out your thumb. Someone told us hitchhiking is an acceptable form of transportation in the area.
Next up was a four day section of the trail from Sarah Point near Lund to Powell River.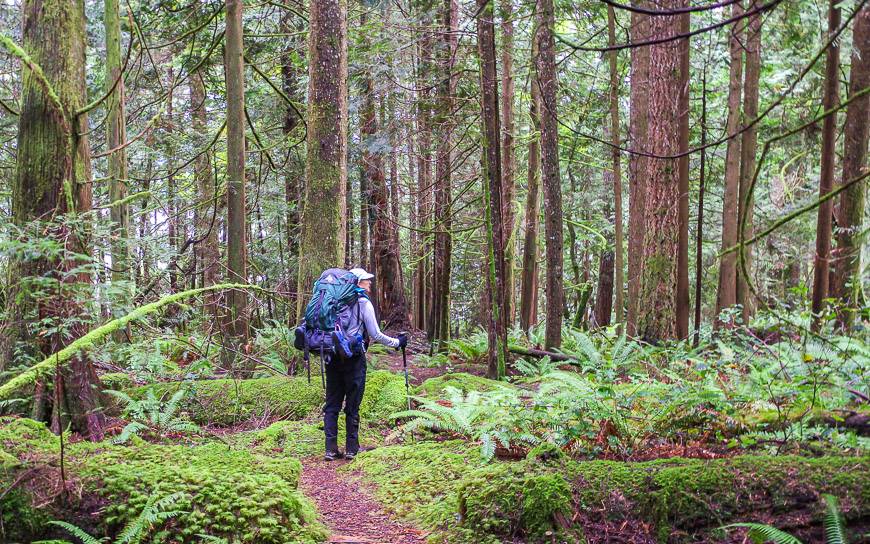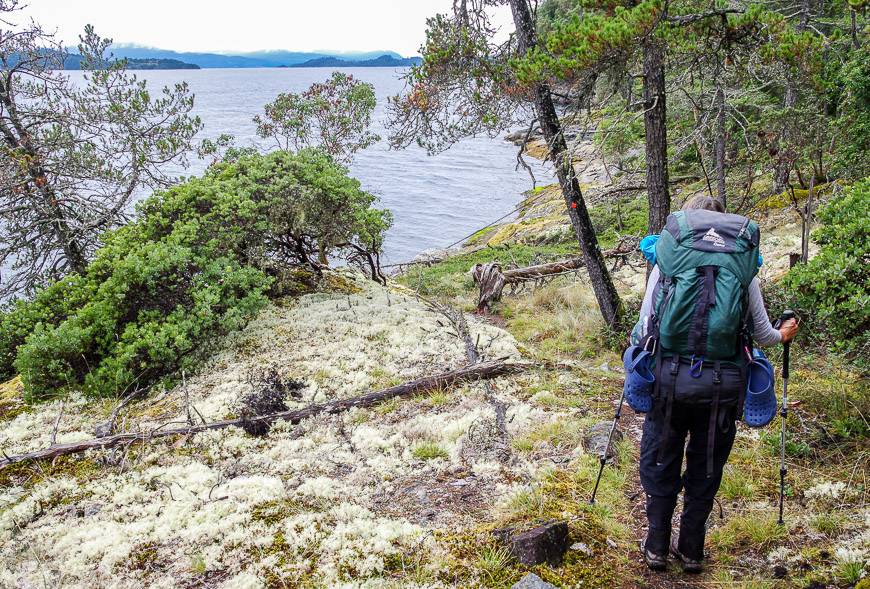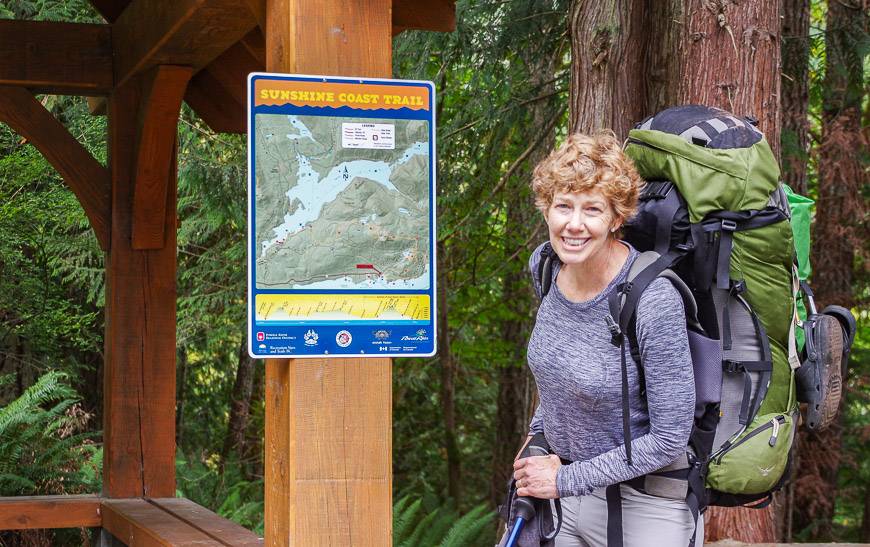 For more information on the Sunshine Coast Trail visit their website.
Further reading about hiking in BC
Click on the photo to bookmark to your Pinterest boards.
Thank you to HelloBC for help in making this trip possible.