The Emerald Lake hike in Yoho National Park is the perfect outing for a young family or – as in my case, for my visiting mother-in-law who turned 80 just days before we visited.
The Emerald Lake hike is also the base for a number of longer, harder hikes including the Emerald Basin Trail, the Yoho Pass Trail, the Hamilton Lake Trail and the famous Burgess Shale hike that takes you up to the UNESCO designated Burgess Shale – one of the world's most significant fossil sites. It requires a reservation, a guide and stamina since you'll be hiking for up to 10 hours.
This post includes some affiliate links. If you make a qualifying purchase through one of these links, I may receive a small percentage of the sale at no extra cost to you. I really appreciate your support.
Emerald Lake hike summary
Distance: 5.2 km (3.2 miles) loop
Elevation gain: 50 metres or 164 feet
Time needed: 1 – 1.5 hours
Difficulty: Easy and family-friendly
Best time to do the hike: It's a year-round hike but in winter there is an avalanche path you must cross, so take that into account.
Dogs allowed: Yes, on a leash
Make sure you have a valid Parks Canada pass. They can be bought at the Visitor Center in Field or ordered online. If you're planning a lot of visits to Canadian National Parks over the next year, opt for the Discovery Pass, good for a year.
This is a great hike to combine with a trip to see Takakkaw Falls in Yoho National Park.
The parking lot isn't large so plan to arrive either early or late in the day.
This is a hike that can get busy.
The map for the hike – and the area is Gem Trek Lake Louise and Yoho.
Even though it's an easy hike, I recommend packing the 10 hiking essentials.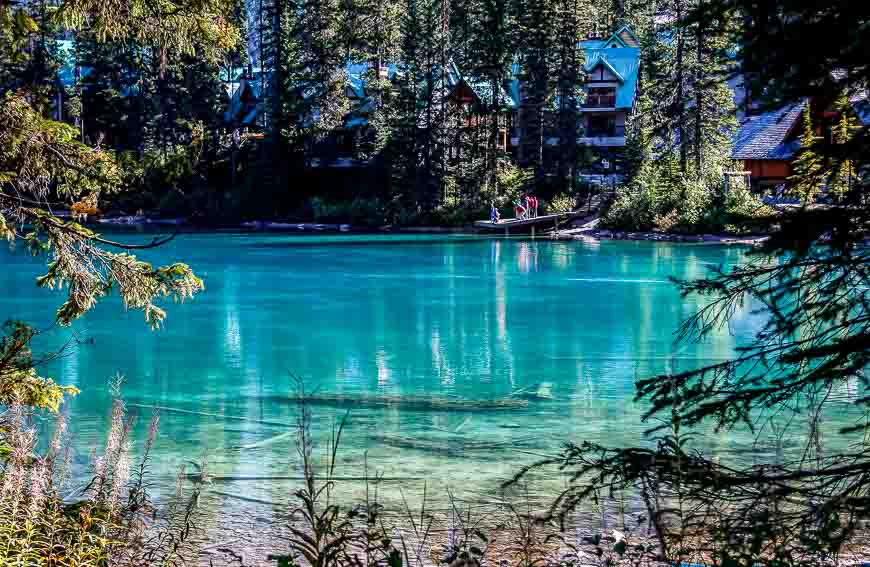 Emerald Lake Hike Description
Starting from the parking lot, head towards Emerald Lake. Start the Emerald Lake hike in a clockwise direction by walking past the canoe rental shop. That means you don't need to cross the bridge to Emerald Lake Lodge. Stay on the wide trail as it hugs the shoreline offering up plenty of views of turquoise-coloured Emerald Lake.
In short order you'll see signage about an avalanche path. You don't have to give the actual avalanche path a second thought, unless you're doing the Emerald Lake hike in winter. Continue walking to the end of the lake, enjoying views up towards the Burgess Shale. You'll also see signage directing you to Emerald Basin or Yoho Pass.
Continue hiking around Emerald Lake, crossing several streams over a wooden bridge. On the far side of Emerald Lake, the vegetation and feel of the hike is quite different. In fact, it's a whole other ecosystem expect to see many large cedar and hemlock trees as you continue heading towards the cabins that are part of Emerald Lake Lodge. Once you reach the cabins, continue walking through the property to reach the pretty patio at Cilantro's. This is a scenic place for a drink or a light meal.
Despite the short distance the Emerald Lake hike offers ever changing panoramas including majestic mountains, Emerald Glacier views and a section through the woods with hemlock, cedar and devil's club.
The hike around Emerald Lake is especially beautiful in fall with loads of colourful leaves and berries adding to the drama in an area that already sees plenty of it.
If you are adverse to a lot of people on the trail, plan to hike the loop first thing in the morning or late in the day.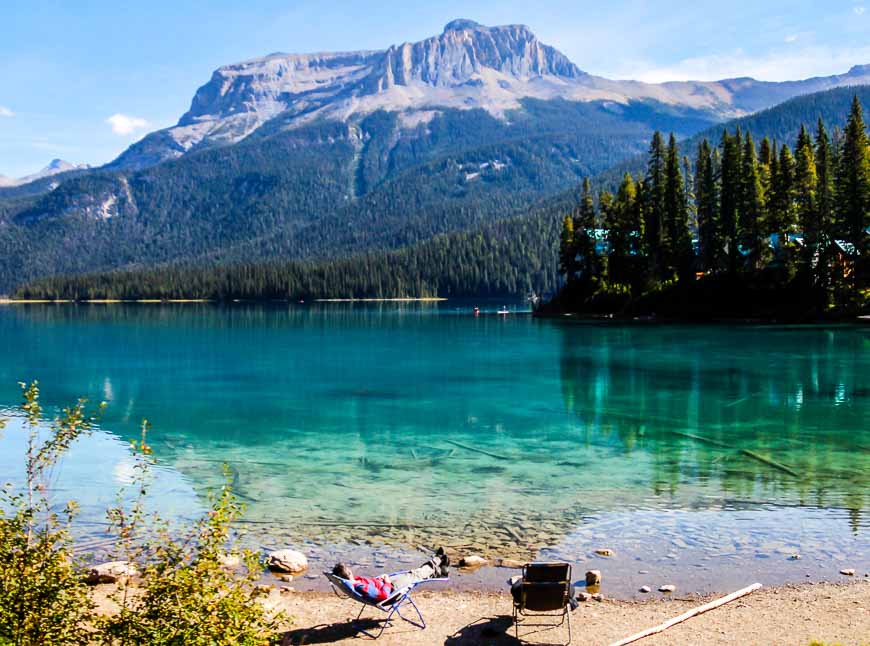 Canoeing on Emerald Lake
If you don't want to hike you can rent canoes but they are $90 per canoe with a maximum of three adults or two adults and one dog. Judging by the number we saw out on the lake, it's a very popular activity.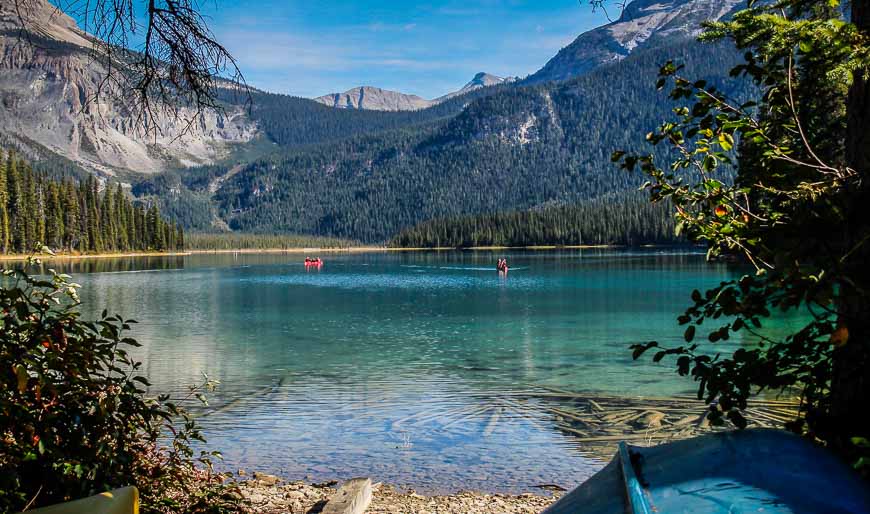 Birds to look for on your hike
On the Emerald Lake hike you can see a variety of wildflowers and berries. When we did the hike salmonberries and black currants were still hanging onto the bushes. In June and July keep an eye out for wild orchids. And for all nature enthusiasts and wildflower lovers, I'd highly recommend a copy of the pocket-sized Popular Wildflowers of Alberta and the Canadian Rockies.
There are lots of birds around too including spruce grouse, grosbeaks, stellar and gray jays and of course, the noisy ravens.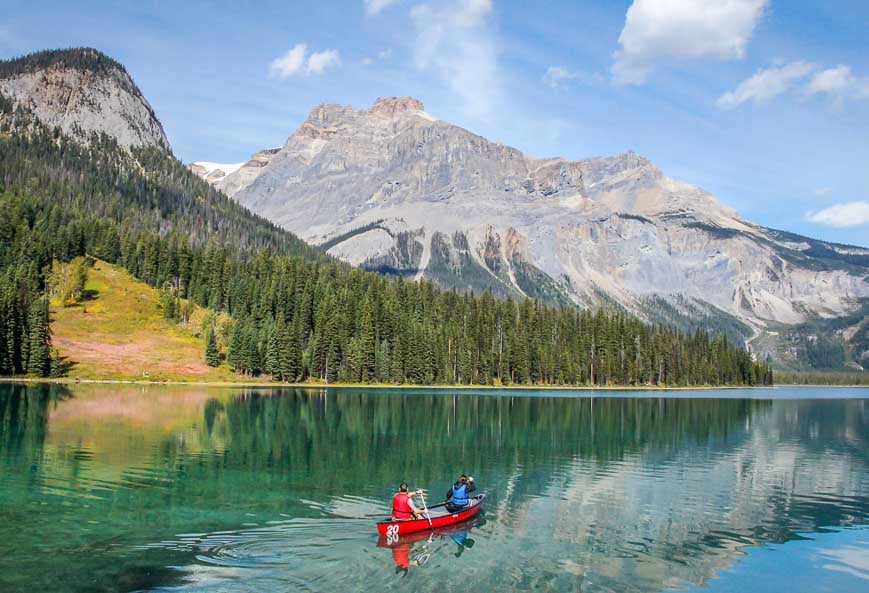 How to get to the start of the Emerald Lake hike
Drive west on the Trans-Canada Highway, looking for a right hand exit, 1.6 km west of the Yoho Park Visitor Center in Field, BC. Follow Emerald Lake Road for 9.2 km to reach the Emerald Lake parking area. It's the one closest to Emerald Lake itself.
It's also only about a 25-minute drive from Lake Louise, so staying there and visiting as part of a day trip is another option.
Where you can eat?
If you get hungry after the Emerald Lake hike and you haven't brought food, you can eat at Cilantro Café at the end of the bridge by Emerald Lake, at the Kicking Horse Lounge, or in the Mount Burgess Dining room.
These are all part of Emerald Lake Lodge. There are a few places to get food in Field; otherwise plan ahead and bring from home.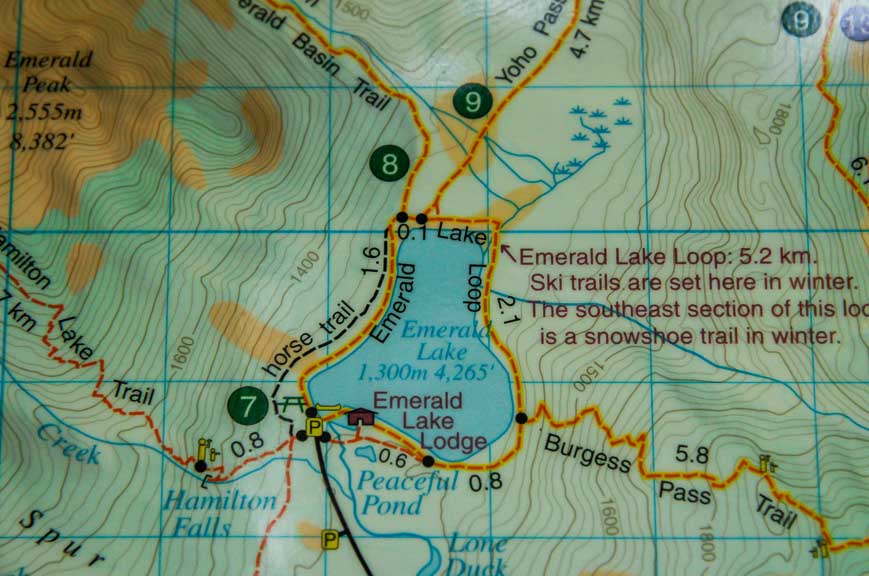 Other hikes and things to do Yoho National Park
In this blog you'll find lots of things to do in Yoho National Park.
If it's hiking you're after, I highly recommend the full day hike on the fabulous Iceline Trail. The President Range hiking trails are superb too – but you'd need an extra long stay or an overnight. If you can possibly score a bus ride or a a camping spot up at Lake O'Hara then think about hiking the Lake O'Hara Alpine Circuit.
Paget Lookout and Paget Peak is another great option as is the hike to Wapta Falls.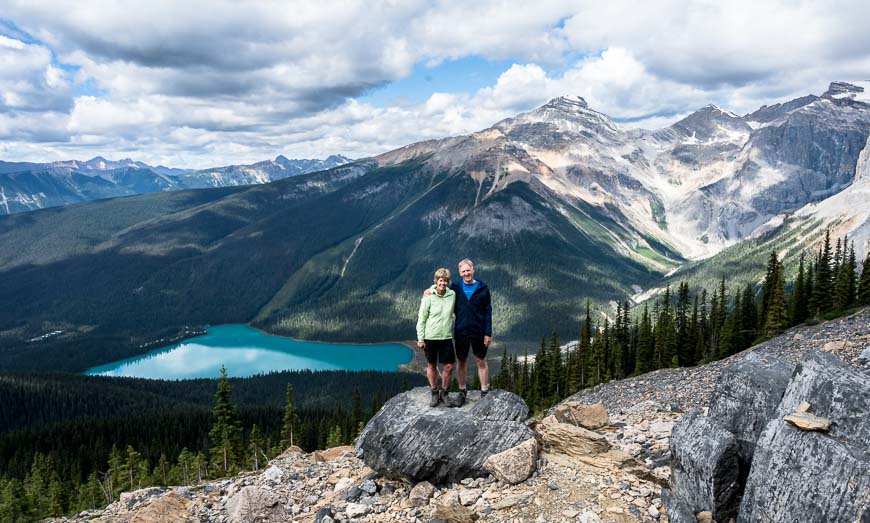 Where to stay near Emerald Lake
Yoho National Park
Right at Emerald Lake you can stay at Emerald Lake Lodge. Nearby is the equally lovely Cathedral Mountain Lodge – where you get your own log cabin. Or try the adults only Canadian Rockies Inn in Field.
Lake Louise
If you want to stay near Lake Louise, check out Baker Creek by Basecamp along the Bow River Parkway.
The Mountaineer Lodge in Lake Louise Village and the Lake Louise Hostel are less expensive options.
If it's luxury you're after, check out the Post Hotel & Spa or the Fairmont Chateau Lake Louise.
Click on the photo to bookmark to your Pinterest boards.