Kayaking to Cumberland Island, one of Georgia's outer islands, is a great adventure and destination for a day. The island is home to gorgeous white sand beaches, seashells galore, mossy covered trees and even wild horses.
While most people take the ferry over, half the adventure of going to Cumberland Island is getting there. Kayaking to Cumberland Island is definitely a fun way to get there. Note that there is one four star resort on Cumberland Island – Greyfield Inn – that offers private ferry services.
Kayaking to Cumberland Island isn't always this calm
If you're an experienced paddler you can rent kayaks for the day, load up on local knowledge, courtesy of Jennifer and Pete Koerner of Up the Creek Expeditions and take off. (They do guided trips too.)
The local knowledge part is actually very important especially with regards to tides. The lovely calm looking water you see in the photo above and below is quite capable of changing personalities. We're told by Pete that currents can run through here at seven knots and Olympic paddlers have been caught and had to wait for the tide to change.
In fact we were told to leave Cumberland Island no later than 3 PM to give ourselves a window of safety on our return. More about that later.
How many miles is it to Cumberland Island?
It's normally a two hour paddle to Plum Orchard, six miles away from the put in at Crooked River State Park.
Other options – though you have to time the tides correctly – are an eight mile paddle to Sea Camp or a 12 mile paddle to Brickhill Bluff.
There are some navigation issues but if you can read a map you should be fine. Plus there are a couple of man-made markers that are hard to miss – the King's Bay Naval Submarine Base and the markers on the Intracoastal Waterway.
Loads of wildlife on the way over to Cumberland Island
Kayaking over to Cumberland Island was a sheer delight. It was easy for one – a lovely change from what the waters I often paddle. And there were magnificent manta rays – giant six foot plus manta rays – jumping at regular intervals – unpredictably of course, so no chance I can prove that statement with a photo.
What we didn't see were the manatees or dolphins that frequent these waters. But we did get close to great white egrets, spied ospreys riding the thermals and watched the blue herons grab fish with practiced ease.
And at the end of the day we met up with one fisherman who proudly displayed his thirty pound drum fish.
Despite the fact we had to cross the Intracoastal Waterway, there was close to zero boat traffic. In total we may have seen a half dozen boats, and most of these were small pleasure craft.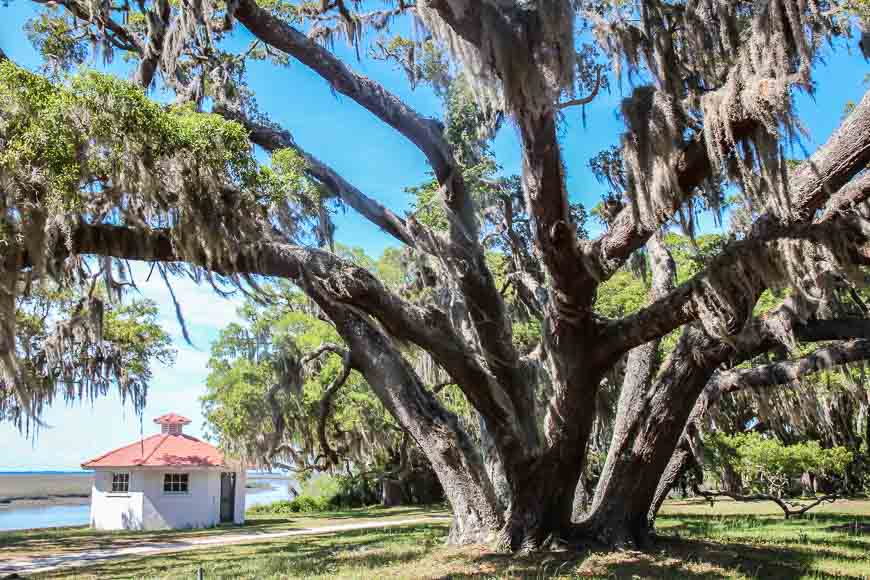 Walking across Cumberland Island
Landing on Cumberland Island was easy, though muddy. After getting our kayaks up on the embankment, we left to explore with no fear of theft. Our plan was to walk across Cumberland Island – a good one hour hike each way – and start paddling back at about 3 PM.
However, it is so beautiful on the other side of Cumberland Island – with miles of uninhabited, clean, white sand beach, wild horses and though we didn't know it at the time – Thank GOD!! – water moccasins in the woods (I'd been told in the comments that they aren't actually water moccasins – read through for more information.)
We spent a little more time than we should have on the beach so by the time we pushed off from shore it was closer to 4 PM.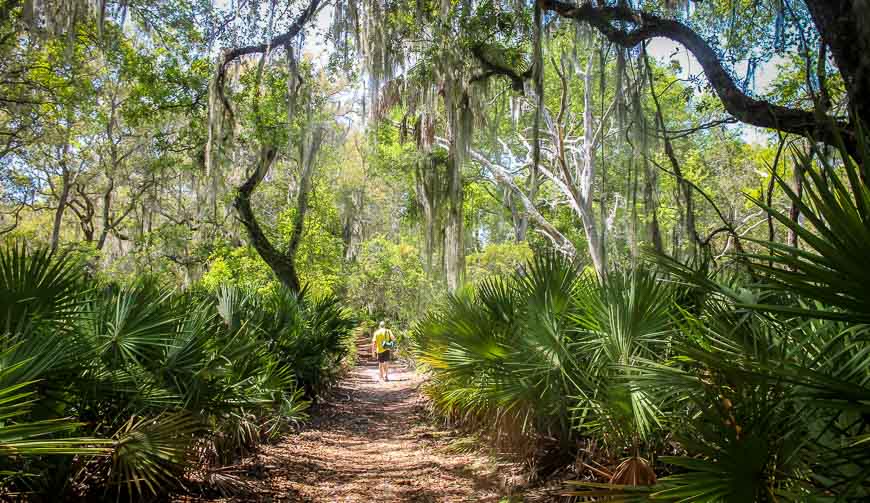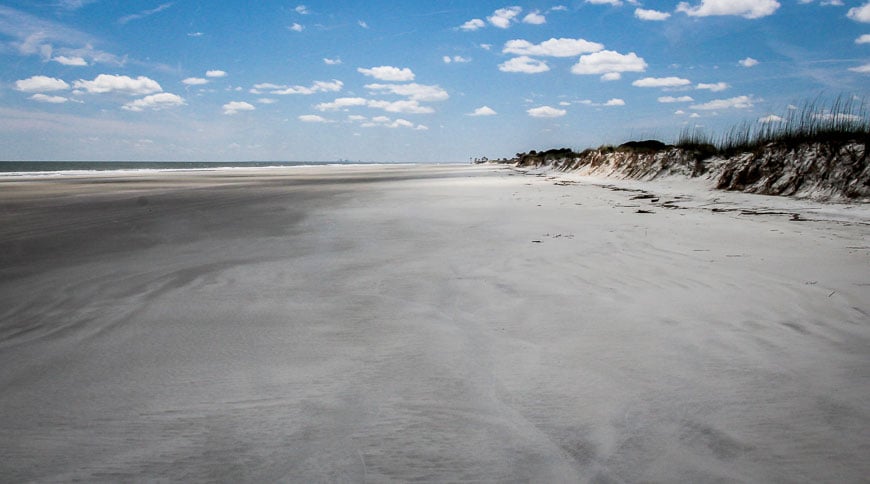 Kayaking back to the mainland
Right from the start we were dealing with headwinds and they never let up. Those calm waters we had paddled over on were a distant memory – but at least the water was warm.
It wasn't the wind worrying me going back, but the darkening skies and the threat of a thunderstorm. None of us fancied getting caught out on the water with nowhere to hide.
We paddled hard and steadily for 2.5 hours – with the dark skies producing nothing but adrenaline on my part. A 7 pm deadline was also looming in my mind for that's when the tides would turn and we'd be fighting a losing battle against the current.
It was with a terrific sense of accomplishment and relief that we pulled up our kayaks and called it a day at 6:30 PM with thirty minutes to spare. This is one kayaking trip I would recommend to anyone interested in an adventure. For me it was the highlight of our eight days in the south.
Useful information when it comes to kayaking to Cumberland Island
It costs $4 per person to land on Cumberland Island. Bring cash and stick it in the honour box.
Kayak rentals for the whole day, with PFD's and safety equipment included, are $50 per person.
Bring a picnic lunch and lots to drink as there is nothing to buy on the island.
Include a sun hat. In early April, temperatures were already in the eighties.
You can camp at Cumberland Island but make reservations beforehand at 1-877-860-6787.
Check yourself for ticks after walking across the island. My friend Jo, found several on her.
Further reading about the southern United States
Click on the photo to bookmark to your Pinterest boards.