An adventure I highly recommend – that is perfect for all ages, is a one day visit to Okefenokee Swamp in southern Georgia. It was one of the the highlights of our trip to the southern US. Now I know not many people would get excited about a visit to a swamp but this isn't just any old swamp!
Okefenokee Swamp is home to the Okefenokee National Wildlife Refuge – established to preserve 402,000 acres of habitat that includes not only the bog with its tea-coloured water but lakes, cypress forests, scrub shrub areas and even open, though wet prairie.
This post includes some affiliate links. If you make a qualifying purchase through one of these links, I will receive a small percentage of the sale at no extra cost to you. Thank you very much for your support.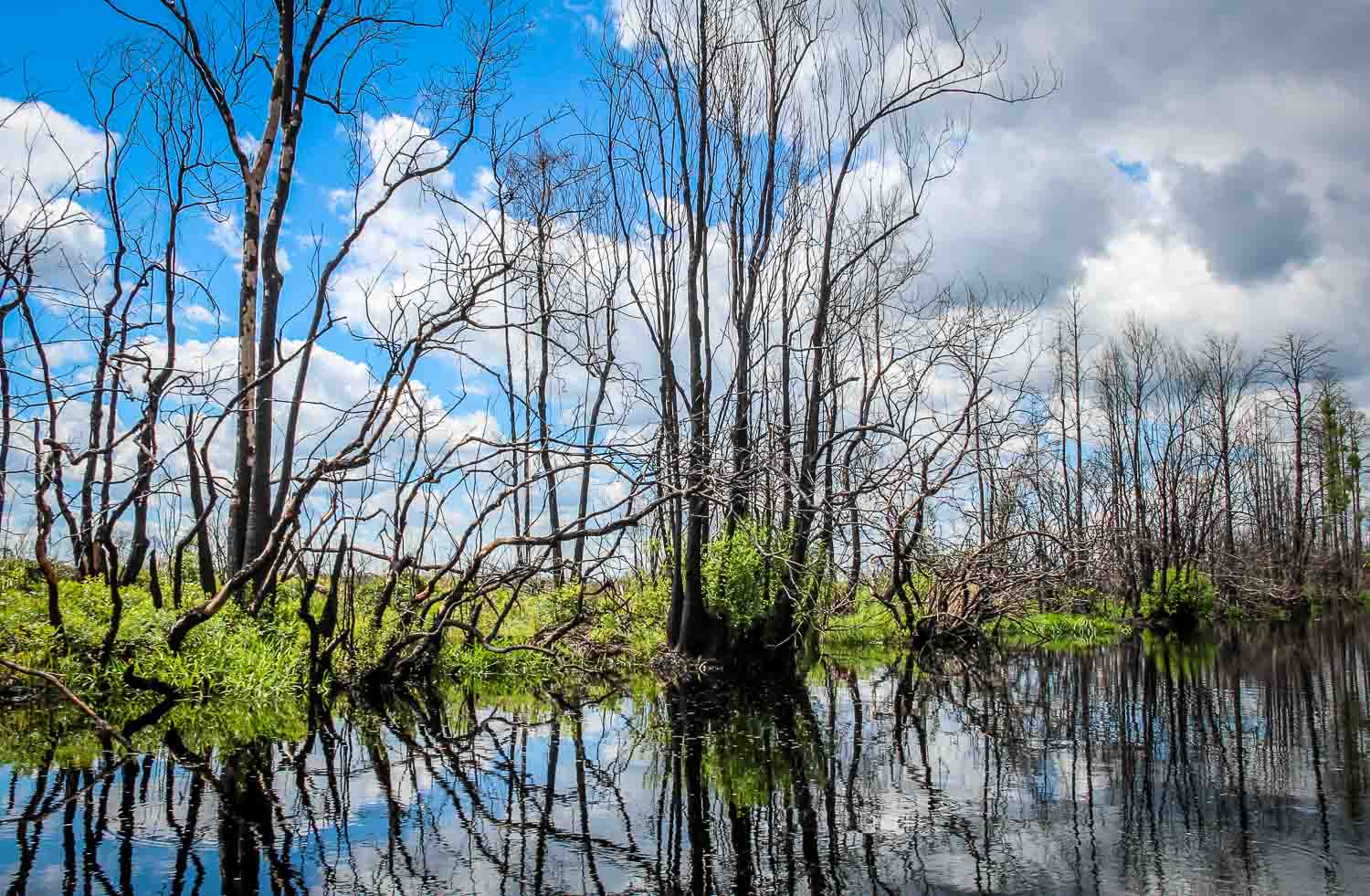 Cool Okefenokee Swamp facts
The Okefenokee Swamp is a land that goes through a cycle of fires and regrowth largely because the peat deposits, which are up to 15 feet deep, are capable of burning.
Okefenokee Swamp has been protected since 1937 when it became part of the Okefenokee National Wildlife Refuge.
Okefenokee is the biggest, continuous blackwater swamp in North America covering close to 700 square miles. It's home to over 200 species of birds, 50 reptile species, 40 amphibian species, 40 species of mammals and an unknown number of insect species, a true nature-lovers paradise.
The waters of the Okefenokee Swamp are the colour of steeped tea all because of the tannic acid released from decaying plants.
The water does not look the least bit hospitable; especially when you consider how many alligators you can see in a two mile boat ride. We counted seven!
History of Okefenokee Swamp
While there are signs that the swamp was inhabited as early as 2,500 BC by tribes of the Depford Culture, the recent history of the swamp is also quite interesting.
In 1891 the Suwanee Canal Company purchased most of the swamp from the State of Georgia with the intention of draining the land and growing crops. Over a period of three years, 11.5 miles of canal was dug into the swamp but the economy forced the company into bankruptcy.
The Hebard Cypress Company was the next business to tackle the swamp. Over 28 years, 431 million board feet of lumber – mostly the gorgeous cypress trees were removed.
More information about the Okefenokee Swamp
You can rent canoes and motorboats and in fact you can do a two to five day wilderness canoe trip. Make reservations up to 60 days in advance by calling 912-496-3331. (I'll take the bears in my neck of the woods over the alligators, snakes and creepie crawlies!)
The entrance fee is $8 per person. Dogs are allowed on leash.
The three hour swamp experience includes a 45-minute long boat tour that is fun are very informative. The cost is $35 per adult in 2023. The boat tour only is $25 per person.
There is a diverse amount of wildlife to be seen in the swamp including alligators, endangered red-cockaded woodpeckers, ospreys, wild turkeys, sandhill cranes, prothonotary warblers, turtles, frogs, lizards and as they say, an unknown number of insect species
Finding the swamp
There are three main entrances to Okefenokee Swamp – via the east entrance, 11 miles southwest of Folkston, Georgia; via the west entrance 17 miles east of Fargo, Georgia; and via the north entrance located eight miles south of Waycross, Georgia.
If you'd like to explore more than the swamp
Not keen on a boat tour? If you have a few hours why not rent a bike and cycle 7 miles on a flat, paved road – keeping an eye out for alligators and birds while you're at it.
If you're the adventurous sort you can do a guided or self-guided paddling trip for one to four nights. The paddling takes you through pine, evergreen shrub boglands, wet prairies and loblolly bay and cypress forest. Camping is done on wooden platforms via seven overnight shelters.
To organize your own trip and get a permit or to find a list of outfitters visit the US Fish & Wildlife Service website.
Learn some history at Chesser Island Homestead
The Chesser Island Homestead can be accessed by vehicle or bike. It provides a fascinating glimpse into the tough life of a homesteader in Okefenokee Swamp.
In the late 1800's W.T. Chesser and his family settled at the homestead. They carved out quite a life here as you'll see. Check out the smokehouse, sugar cane mill and an assortment of outbuildings including a hog house, chicken yard, grind stone and syrup shed. In the house be sure to check out the beautiful hand-sewn quilts on all the beds.
Where to stay near Okefenokee Swamp

In Stanley Landing, the Okefenokee Pastimes Cabin & Campground is rated as excellent.

Another option would be the Comfort Inn Blackshear, rated wonderful.
As much as I loved visiting Okefenokee Swamp, I'm glad I'm not a permanent resident.
Further reading on things to do in the southern United States
Click on the photo to bookmark to your Pinterest boards.