The Tour du Mont Blanc (TMB) is one of the top long distance hikes in Europe, and in fact the world. It delivers superlative, pristine mountain scenery day after day for over a week. The hiker's tour is a 168 km loop around the base of Mount Blanc, the highest peak in western Europe at 4810 m (15,782 feet).
Most hikers start just outside of Chamonix, France if they're hiking the traditional counter-clockwise direction or they start in Champex, Switzerland if it's the clockwise direction they're going.
I have read about people starting in Les Houches and going to La Flagere first so really, anything seems to go. No matter what, you hike through three countries – France, Italy and Switzerland over a 9 to 11 day period.
I hiked the TMB through France, Italy and Switzerland over 9 days with my daughter. After just a few days on the trail, we both realized that we tried to cover too much ground in too few days. At least you the reader will be able to benefit from my mistakes. (See day 3 and our last day!)
We started the hike in Les Houches, just a 25 minute bus ride away from Chamonix. It's extremely easy to access from the Geneva airport with AlpyBus providing quick door to door service in just 90 minutes for about 26 Euros (2019 prices). There are plenty of places to stay in Les Houches.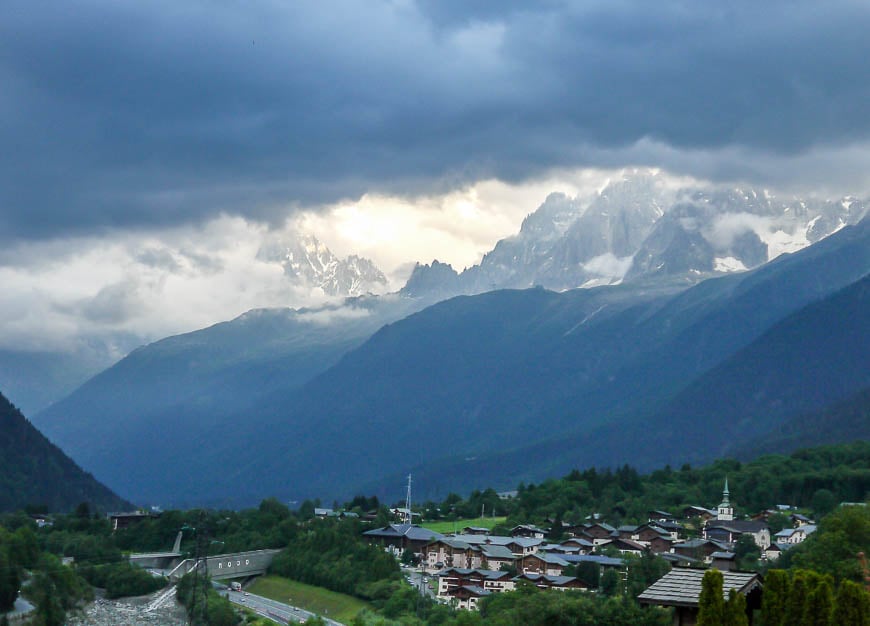 This post includes some affiliate links. If you make a qualifying purchase through one of these links, I may receive a small percentage of the sale at no extra cost to you. Thank you for your support.
Les Houches to Les Contamines
The first day is demanding enough to get your attention and to test how well your fitness program has worked. It's a steep climb right off the bat followed by a steep descent and then an undulating track for the balance of the day. In total you can expect to hike 16 km, climb 646 m (I think that's low!!) and descend 633 m.
Here's a look at the type of scenery you encounter on day one with the sun shining.
Les Contamines offers lots of accommodation choices – across all price ranges, including camping. You can also stay at the Refugio du Fioux (2h, 40 mins out), Bionnnassay and in Le Champel, 3.5 hours out.
In all expect the first day to take 5 – 6 hours without stops.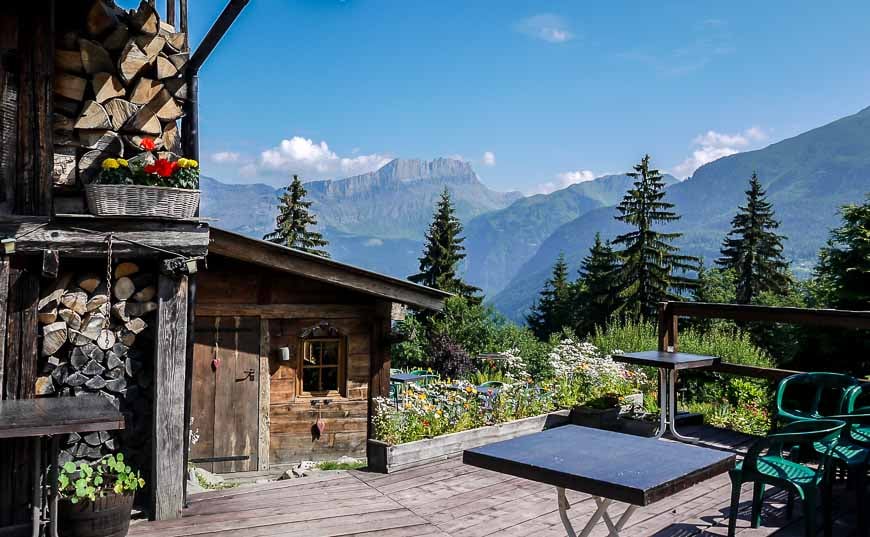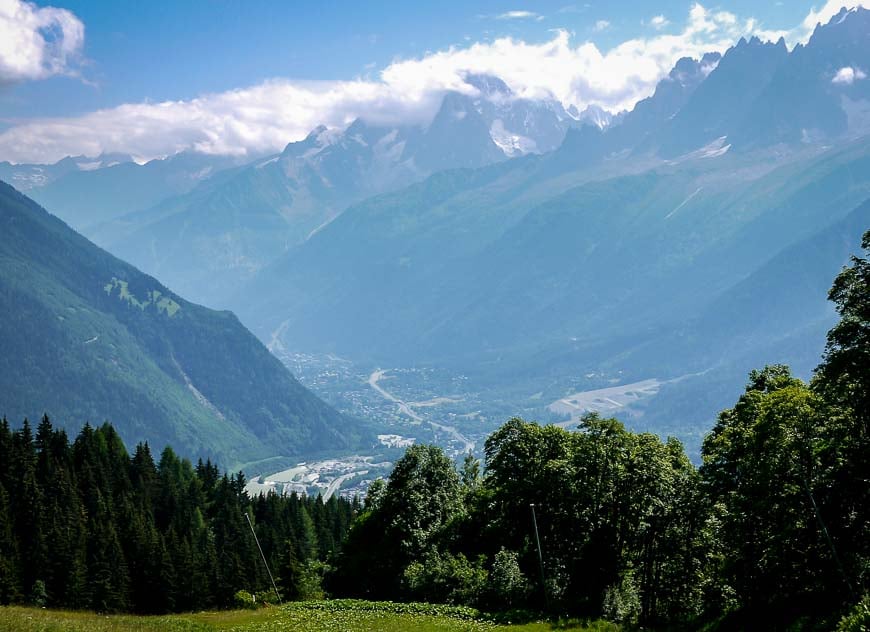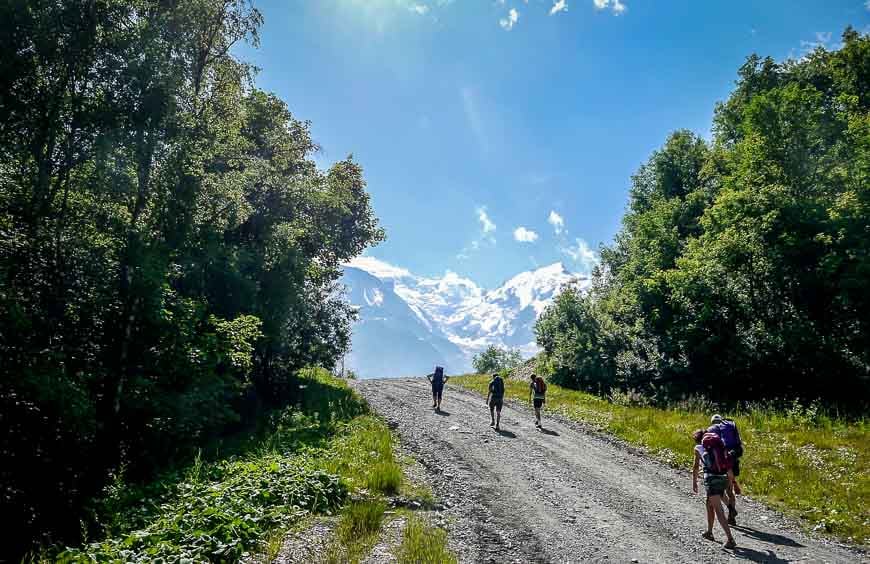 Day 2: Hiking from Les Contamines to Les Chapieux
In hindsight I think our second day ranks as one of the hardest days on the TMB. Partly it's because you're still getting used to long days of physical effort – which let's face it, are hard to train for in a gym. (Case in point – My daughter ran into a friend from her Everest trek – who by the third day out had lost 8 toenails because of the steep descents.)
The morning starts out gently from Les Contamines but once past the gorge the grade increases and stays constant until you reach the Col du Bonhomme. There are a couple of refugios on the way to the Col du Bonhomme – and they both provide good views and coffee if you need an excuse to stop.
Wildflowers showed up in abundance the higher you climbed. Campanula, alpine ladies mantle, Joe Pye weed looking flowers and a host of ones whose names I didn't know made the walking even more beautiful.
The Col du Bonhomme was reached after about 3.5 hours of walking. It was another hour to reach the Col de la Croix – the highest point of the day.
The Refugio du Bonhomme was a hopping spot with lunchtime and overnight visitors in abundance. Meals are available as are drinks including beer and wine.
We hadn't brought much in the way of snacks so after close to 5 hours of hiking we were starved. Spaghetti carbonara was our lunch of choice – especially knowing we still had several more hours of steep hiking ahead of us to reach Les Chapieux.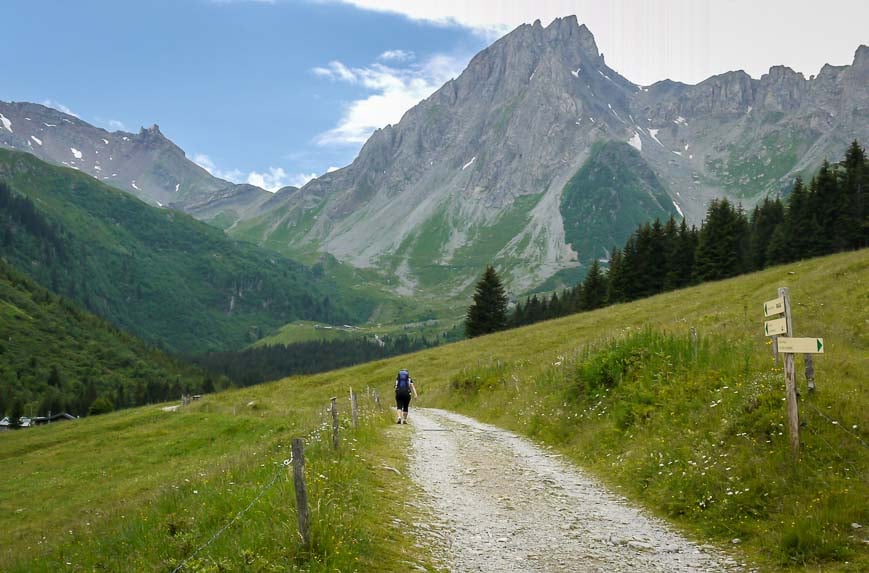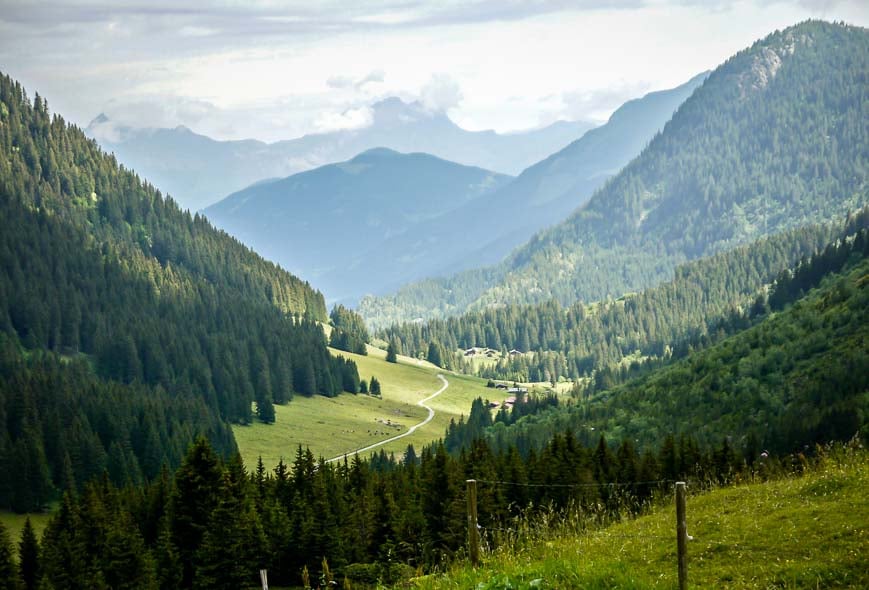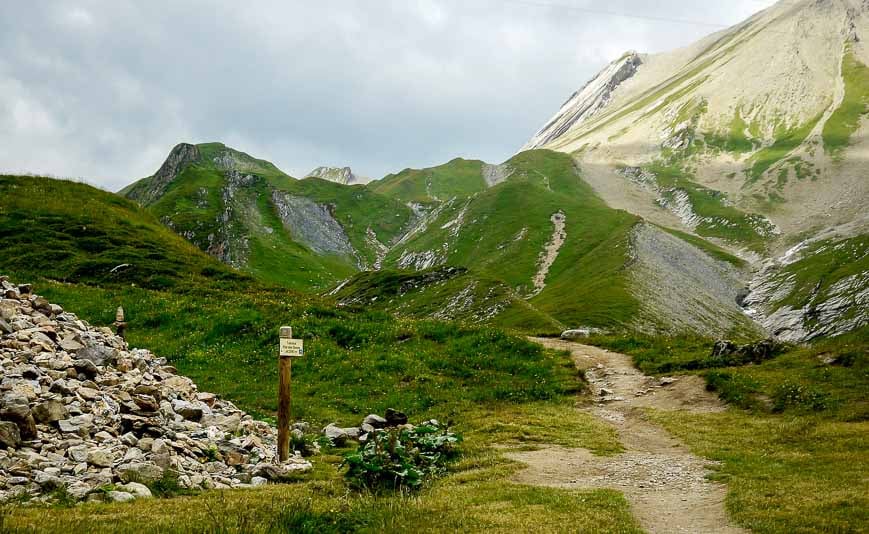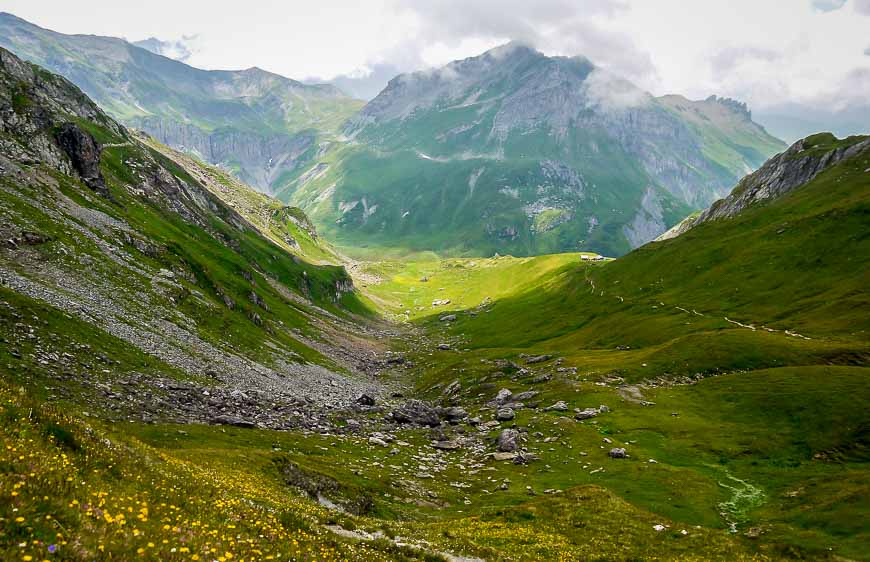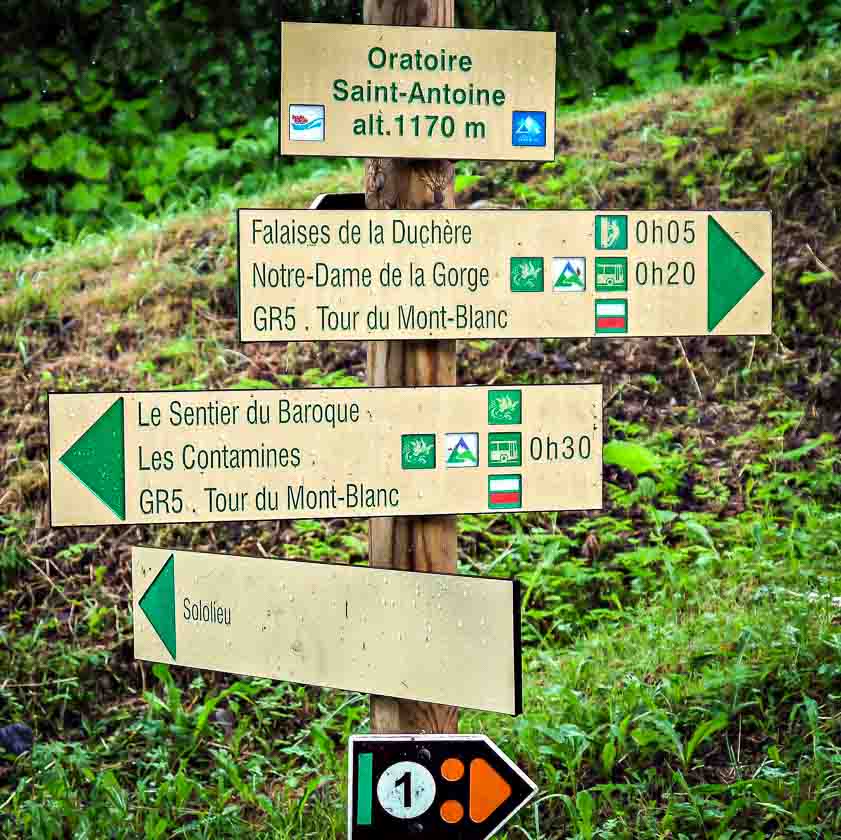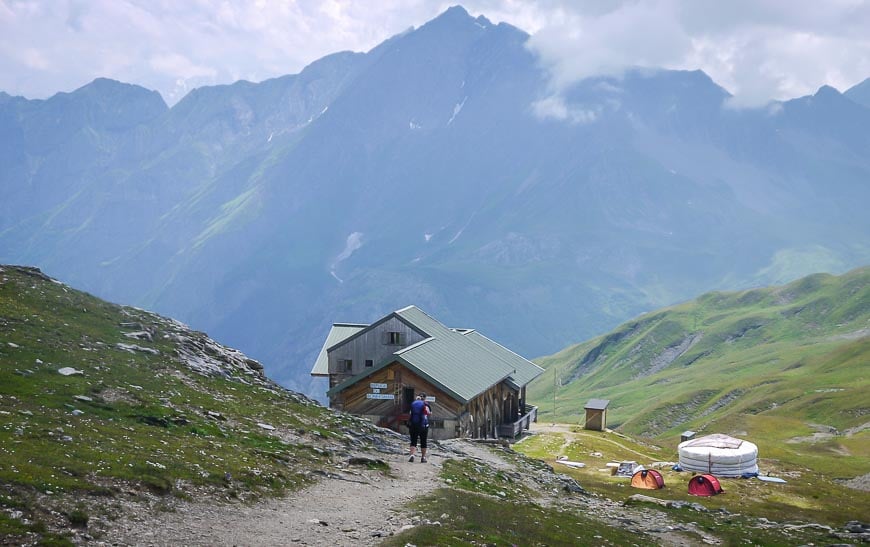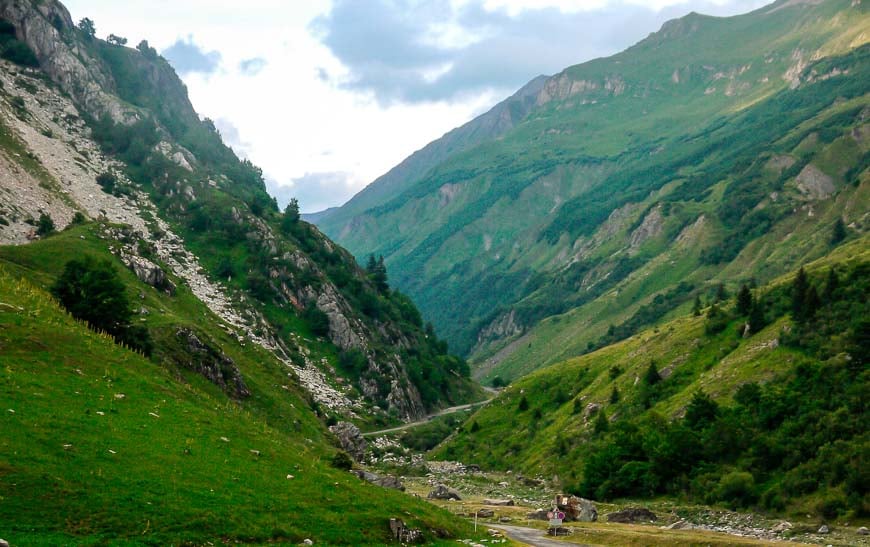 The descent is steep and careful attention to your footing is important. I think it's much harder going down than up. The trail ends right in front of the Auberge de la Nova – the only accommodation choice unless you plan to camp.
Useful information for the hike from Les Contamines to Les Chapieux
Total distance is 18 km (11 miles)
Height gain – 1316 m (4318 feet)
Height loss – 929 m (3048 feet)
Time needed – 7 to 8 hours
Refreshments available at Refugio Nant Borrant, Refugio de la Balme, Refugio de la Croix and at Auberge de la Nova
Auberge de la Nova has 35 dormitory spaces and 35 beds. Rooms are basic and bathroom/shower facilities are shared. Breakfast and dinner are included in the price.
Day 3: Les Chapieux to Courmayeur
Most people hiking the TMB in a counterclockwise direction hike from Les Chapieux to Rifugio Elisabetta on Day 3. Not my daughter and I.
We planned to combine Day 3 and 4 and hike all the way from Les Chapieux to Courmayeur – a distance of 33 km (19.8 miles) with an ascent of 1,464 m (4803 feet) and a descent of 1,818 m (5964 feet). Dumb idea. Don't make my mistake.
The TMB is a hard trip to plan without a proper guidebook and map – and that's how I planned it. In February when I was booking I also figured – from the comfort of my chair – that Day 3 would be a hard day – but what the heck – it wouldn't kill us. And the scenery on the fourth day from Rifugio Elisabetta to Courmayeur is worth enjoying.
***I highly recommend purchasing Trekking: The Tour of Mont Blanc. It's basically the bible for the hike.***
You leave Les Chapieux and follow a tarmac road up for the better part of an hour. We saw no other hikers walking. Anyone we saw had elected to take a shuttle and cut out a serious amount of uphill. We saved our cheating till the end of the day.
The hiking is pretty enough and the higher you climb the wilder it gets. After two hours you reach the Refuge des Mottets, a former dairy farm and a place where you can get refreshments or a night's lodging.
From the refuge it's another 1- 1¼ hours of hiking to reach the Col de la Seigne, on the border of France and Italy, and a whole new world.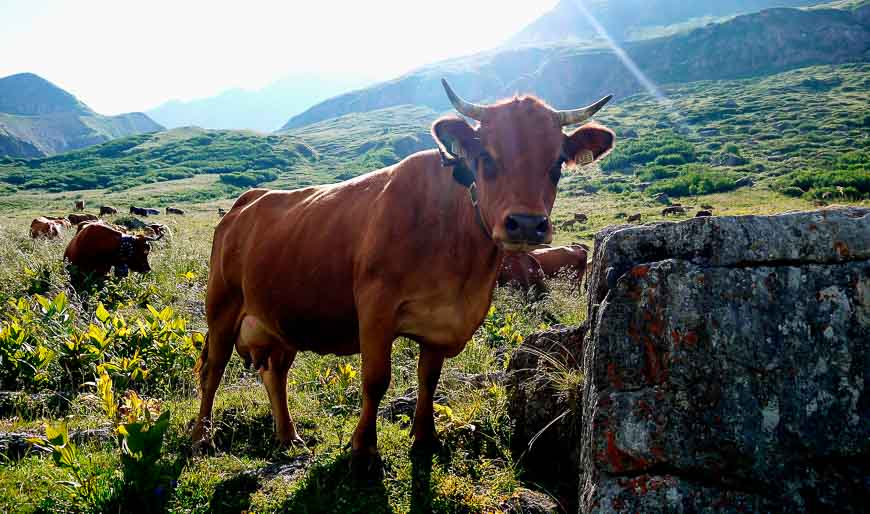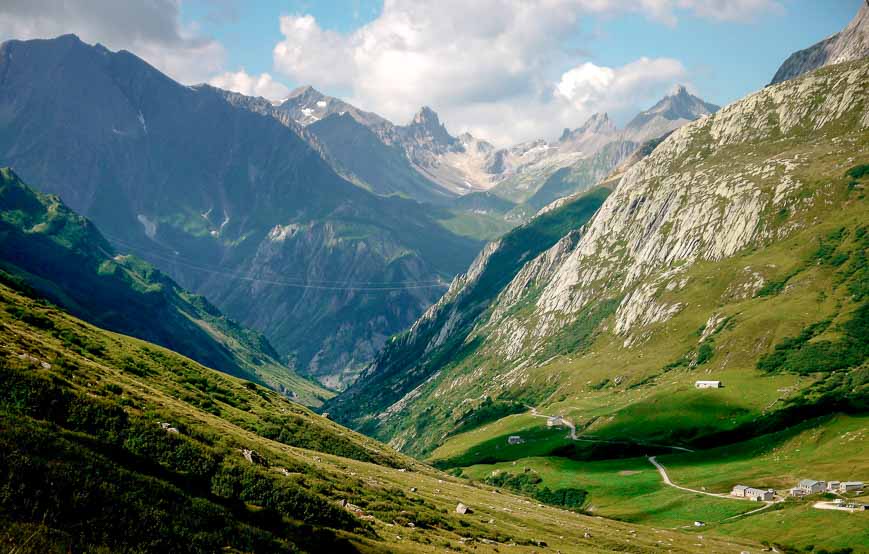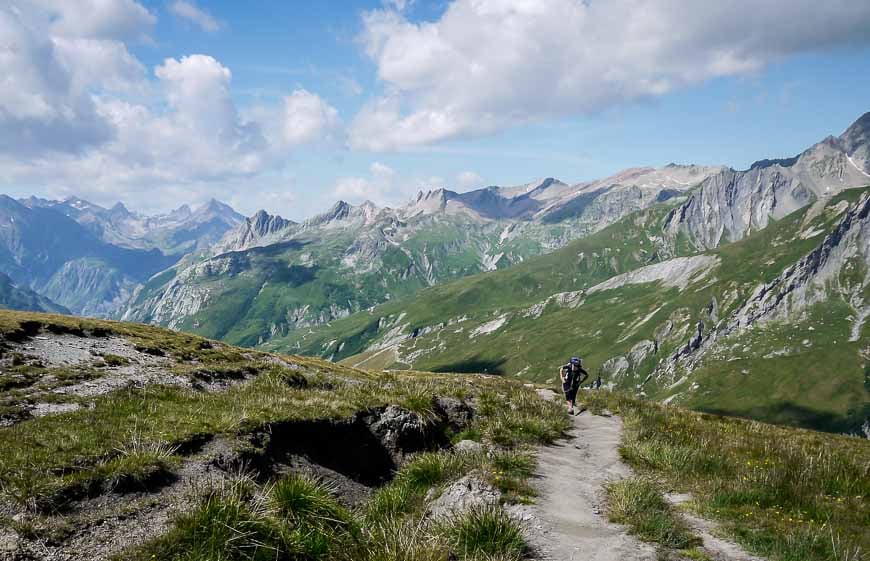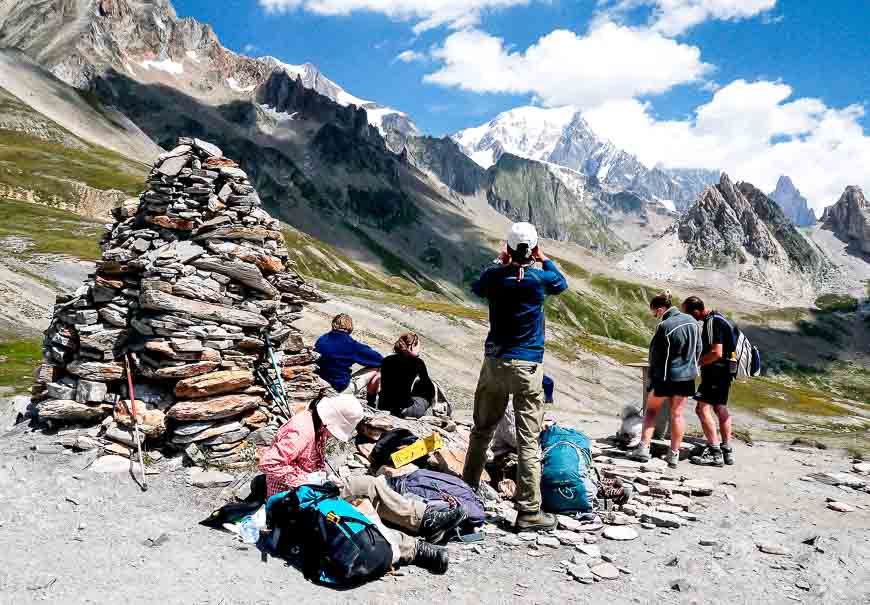 We were very lucky to have a clear, sunny day. The guidebook says the Col de la Seigne is not an easy place to leave – given calm, settled weather. I would concur. But leave we did, since we had so much ground to cover and lunch was beckoning at Refugio Elisabetta.
It's a steep descent down from the pass and one where you need to concentrate, despite the pull to gaze at the rugged peaks. Part way down there is a renovated customs house and then lovely flat pastures, until the final steep climb up to Rifugio Elisabetta. It takes 4.5 to 5 hours to reach Rifugio Elisabetta from Les Chapieux.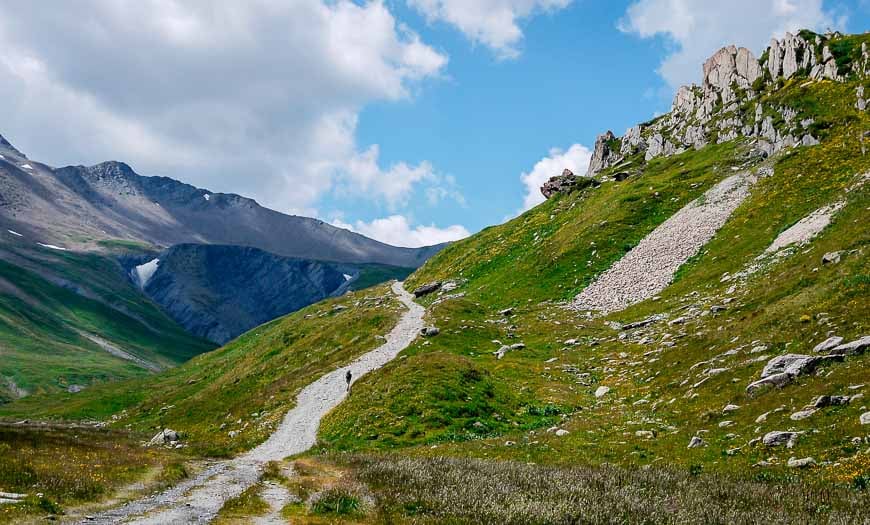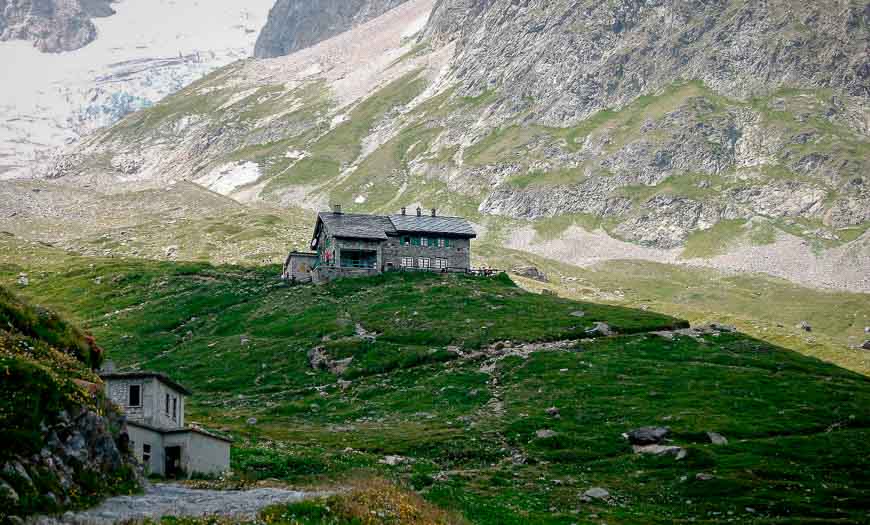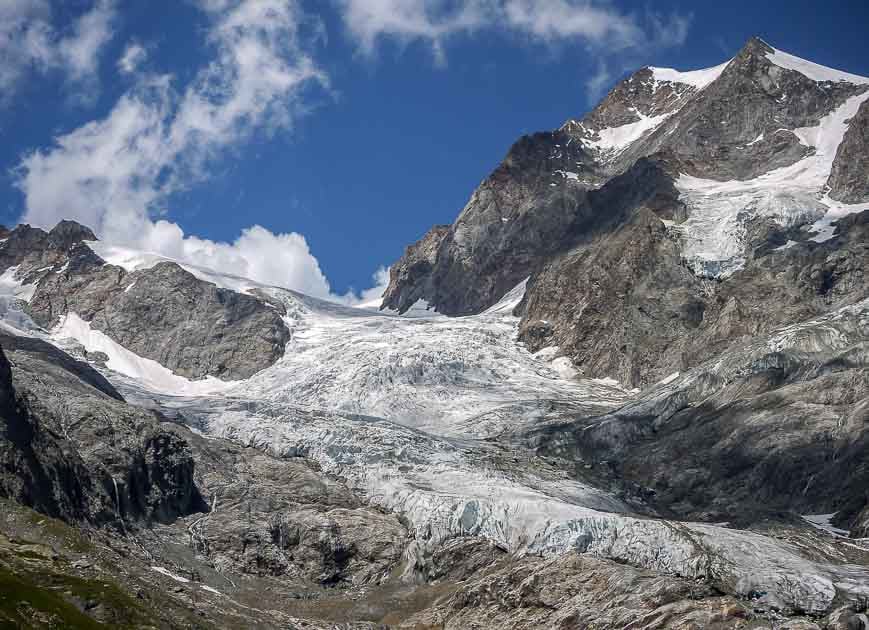 Rifugio Elisabetta is a happening spot
Day and overnight hikers share tables with a view of the mountains and glaciers. This is one of the best places for lunch on the tour. A wide selection of food, with Italian overtones, like polenta is served along with cold beers and wine.
Its scenic location also makes it a favourite for overnight stops. Private rooms are available but book well in advance. (Ph: 00 39 0165 84 40 80 rifugioelisabetta@alice.it )
Since we had elected to stay in Courmayeur we didn't linger over lunch the way we would have liked to.
It's 18 km from here to Courmayeur – with a knee breaking 1560 m (5118 feet) elevation loss
We had found a way to cheat the night before by pouring over the guidebook. I know we missed some incredible scenery with sumptuous views but we made the day work for us.
Descending from Rifugio Elisabetta, we followed the main track alongside Lac Combal. Scenery is superb through this section. The tour turns off to the right shortly after the lake. But we continued to the bridge, crossed it, turned right, and then went STEEPLY down for about 30 minutes to reach the small community of La Visaille. It was a weekend so the locals were out in force judging by the number of cars parked.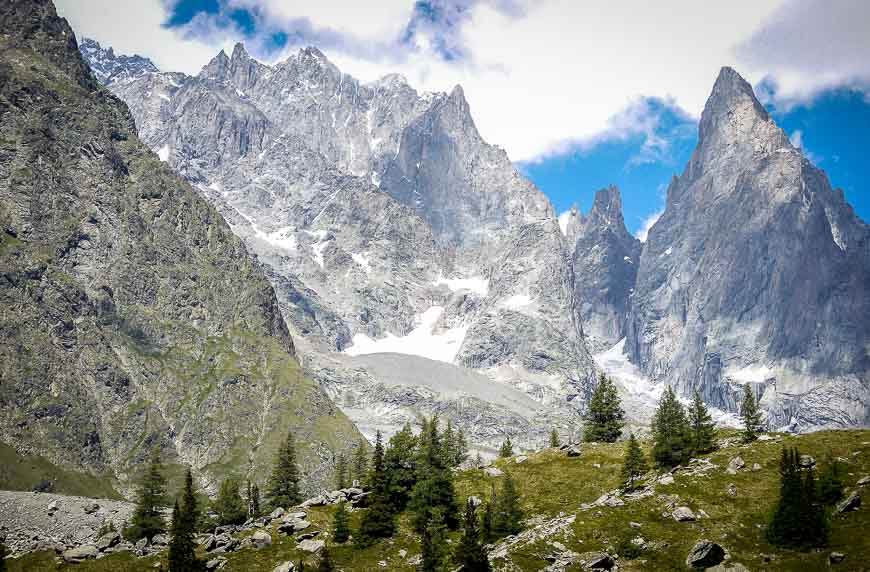 From La Visaille you can catch a bus to Courmayeur. They run every hour to hour and a half and the ride costs only a few Euros. So that's what we did. We cheated – but only ourselves. If you attempt the TMB – don't make my mistake. Allow for a night at Rifugio Elisabetta so you can take full advantage of the glorious scenery to Courmayeur.
Useful Information for Day 3
Distance from Les Chapieux to Rifugio Elisabetta – 15 km (9 miles)
Height gain – 1004 m (3012 feet)
Height loss 258 m (774 feet)
Refreshments at Refufio des Mottets, Rifugio Elisabetta
Camping possible near Rifugio Elisabetta
Distance from Rifugio Elisabetta to Courmayeur is 18 km (10.8 miles), height gain 0f 460 m(1509 feet) and loss of 1560 m (5118 feet)
Highly recommend Hotel Bouton d'Or in central Courmayeur – friendly, helpful, nice rooms and the best price of any 3 star hotel on the Tour du Mont Blanc
Day 4: Courmayeur to Rifugio Bonatti
I had a hard time deciding what my favourite day was on the TMB. It was a toss-up between the fourth day to Rifugio Bonatti and the eighth day from Col de la Forclaz to Argentiere.
The Courmayeur to Rifugio Bonatti hike takes you up, steeply at times, to Rifugio Bertone, over about two hours. Along the way you get nice views of Courmayeur, 700 m below; just before the rifugio, Mont Blanc and the Aiguille Noire come into view, if it's a clear day.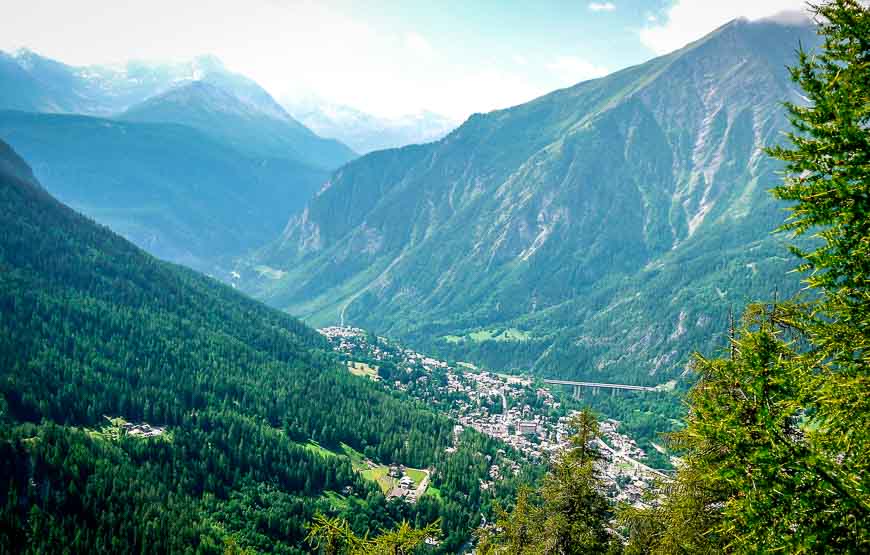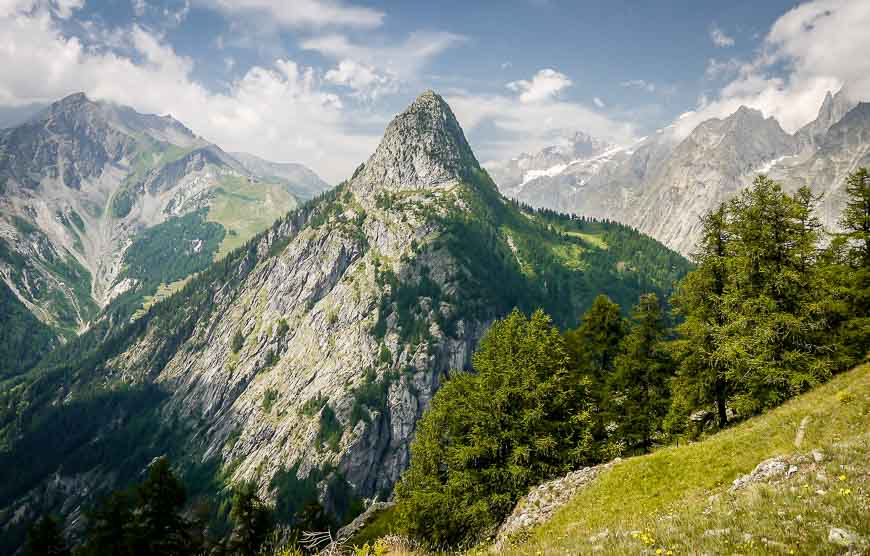 After Rifugio Bertone, a good spot for refreshments, head left to contour around the Val Ferret flank of Mont de la Saxe. If you look back, you can see the Col de la Seigne, crossed one or two days earlier, depending on your itinerary. Ahead is a series of glaciers, mountains and rock walls.
The walking past Rifugio Bertone is wonderful. The grade is a treat – gradual for a change as it takes you across wildflower filled meadows and through larch woods. Every step you take through here is one with breathtaking scenery. This is a day where you want the weather to cooperate.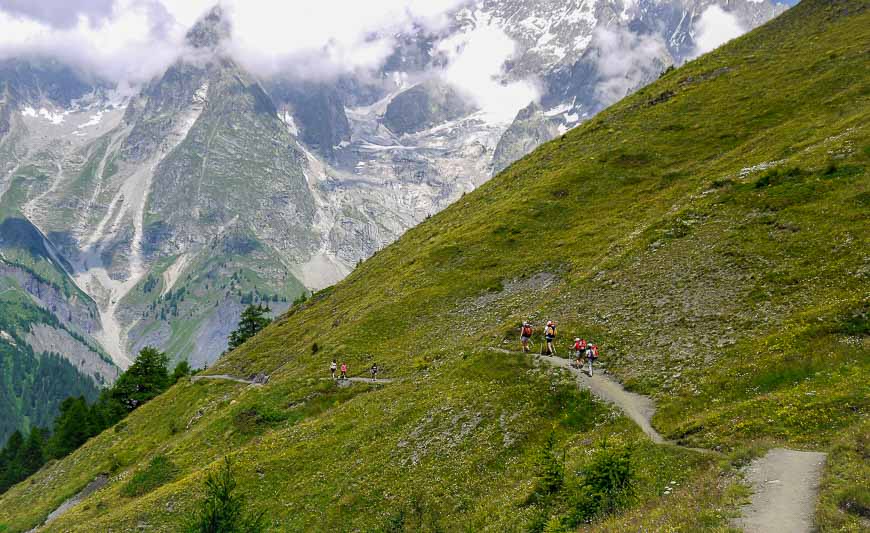 Rifugio Bonatti is reached after about 4.5 hours. It's a private rifugio, clean and well-designed. You can find private rooms (with shared bathrooms) and lots of dormitory spaces.
They give you a token for a short but hot shower so bring a small towel as they aren't provided. Dinner and breakfast are included in the price of a private room. The food is plentiful and good and wine and beer can be purchased. Really very civilized.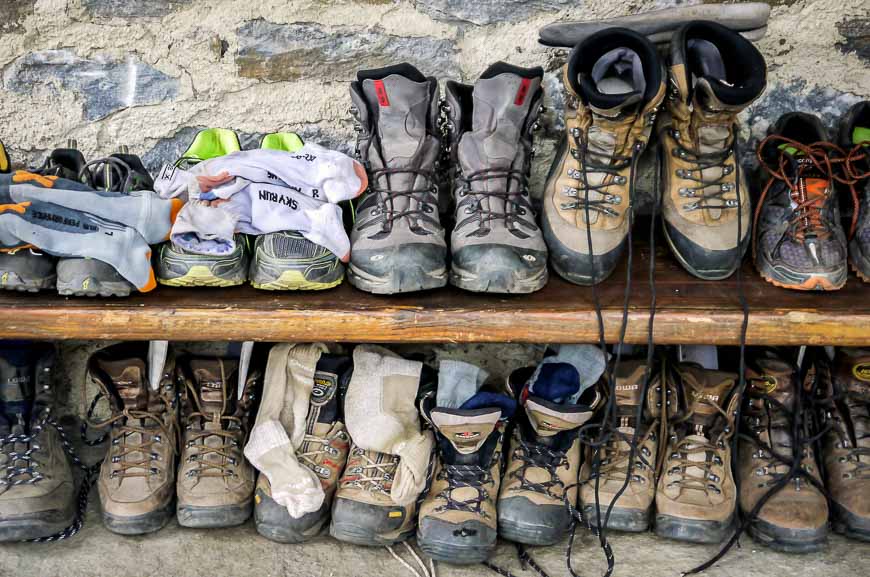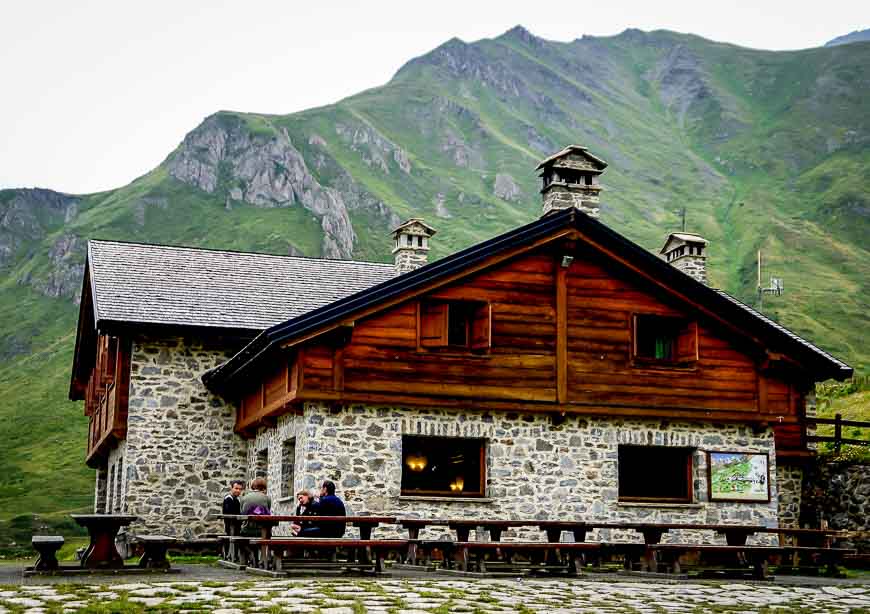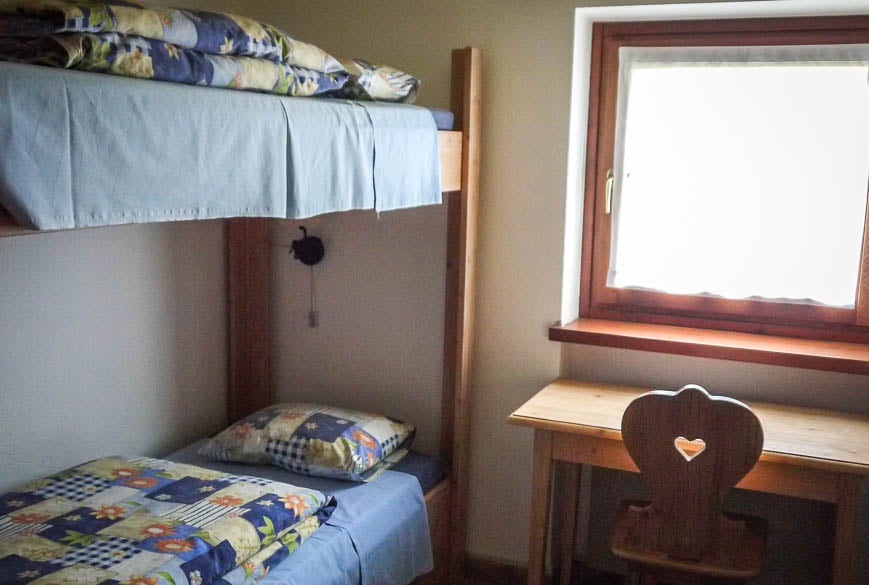 Useful information for the Courmayeur to Rifugio Bonatti
Total distance for the day is 12 km (7.2 miles) for the main TMB. Variations can add 2-4 km.(1.2-2.4 miles)
Height gain is 860 m (2820 feet)
Refreshments available at the Rigufio Bertone or Bonatti but lots of options to purchase food in Courmayeur
You can easily make reservations for Rifugio Bonatti. They require a cash payment.
Day 5: Hiking from Rifugio Bonatti to La Fouly
Our fifth day of hiking went from poor to highly unpleasant to downright bad. We left Refugio Bonatti under cloudy skies that threatened rain.
Within 15 minutes it was misting – which is normally no big deal – except for the fact that it turned a minor slope into a mud slide. Getting down to the valley floor entailed grabbing branches and sliding from clump to clump of vegetation.
Then it was up to Rifugio Elena where you could at least get a cup of hot coffee – because by this time it had started raining. Then it's about a two hour climb up to the Grand Col Ferret. Normally this would be delightful walking with gorgeous scenery but by now it's pouring and the wind is blowing really hard. Amazingly, we see mountain bikers coming down when we're close to the pass. Didn't look like much fun.
At the Grand Col Ferret you cross into Switzerland and a whole new landscape – one that's not nearly as dramatic as the one on the Italian side. But the trail has a comfortable grade and the rain and wind abate for awhile.
Meanwhile I'm looking around these mountains, and they all seem to have slumps on them (earth that has collapsed), that have grown over with grass. I have a little inkling in my head that I'm in landslide territory. And as it turns out, I am.
In less than an hour we arrive at the summer dairy farm of La Peule, which is part rifugio, part restaurant. It's packed with wet hikers chowing down on giant omelets and yes, cheese fondue. We warm up, fill up but we don't cheer up.
Outside fat drops of rain mixed with hail have started falling with renewed intensity. The rain doesn't want to abate so we head out with most of the rest of the lunch time crowd – with the Hotel Edelweiss in La Fouly as our intended destination, about 2 hours away.
We opt to take the road instead of the high route because of the rain. It's a winding farm road with drainage channels at regular intervals. They're overflowing. We get to the bridge spanning the Drance de Ferret stream, except that this is no stream right now. It's a roaring river, almost black in colour from all the debris in it – unlike anything I've ever seen before. And we've entered what the guidebook confirms as a lonely valley.
Continuing along the road towards the hamlet of Ferret we cross another bridge – and this one has huge chunks of boulders tumbling down, making one heck of a noise. Throw in some thunder and lightning and the mood turns a tad spooky.
In less than five minutes we're stopped by the rock debris slide and it has probably happened in the last 15 minutes. At this point we're not sure if hikers we'd spoken to earlier at lunch got caught in it. (A few phone calls from the rifugo later confirm that the people we had met made it through.)
The landslide/debris flow isn't that big but it sure is scary. It's taken out the road and there's a roaring stream running down the middle. We're brought to a halt. What should we do??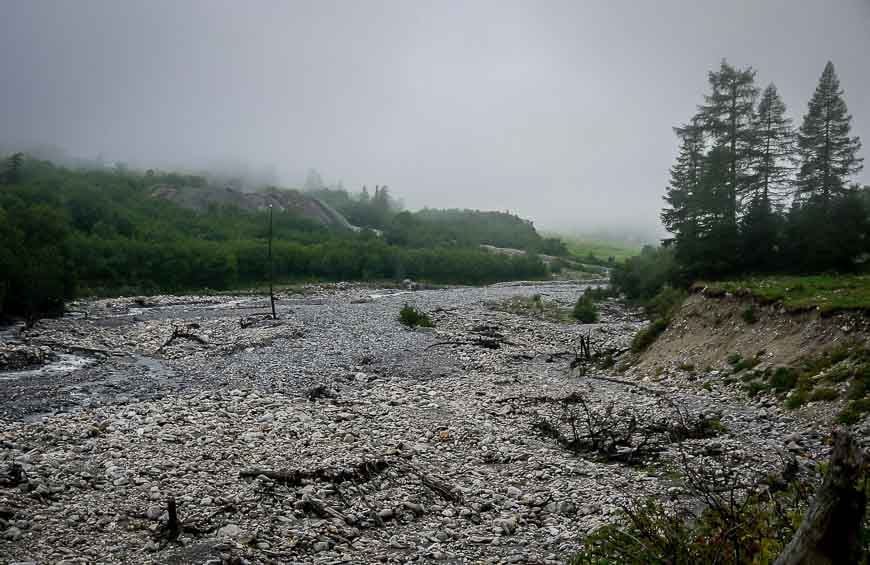 One brave (or foolhardy soul) elects to climb onto the landslide material to check out the possibility of crossing the stream, but he sinks up to the top of his leg immediately and has to be pulled out. The stream one has to cross isn't that wide but it's got two ton boulders tumbling down it; miss your footing and you're going to be swept to the river.
My daughter and I elect to walk up the side of the landslide to see if there's anywhere else we can cross. It looks worse as we climb higher.
Groups are huddling together debating what to do. I'm no expert in debris flows and don't know with the continuous rain if there will be more. We elect, though not happily, to return to the rifugio to spend the night. So it's back up the hill, and into a dorm room instead of a hotel. Twelve people from Gap Tours (now G Adventures) also elect to turn around.
As it turns out, if we had waited a few hours we could have crossed the landslide. But we didn't know that at the time, and the conditions were hypothermia like. I voted for safety.
The ever efficient Swiss had all the debris flows over the roads cleaned up in the valley by midnight or so we were told. One look at the river downstream from La Fouly suggests that in this area landslides are a regular occurrence.
Useful Information for Hiking from the Rifugio Bonatti to La Fouly
Total distance is 20 km (12 miles)
Height gain is 895 m(2936 feet)
Height loss is 1410 m (4625 feet)
Accommodation options in Arnuva(hotel), Pra de Bar (refuge), Rifugio Elena, La Peule (refuge), Ferret and La Fouly (hotels and camping)
Food available wherever there is accommodation
The Swiss will take Euros or Swiss Francs – even giant 100 and 200 Swiss Franc bills
Day 6: Hiking from La Fouly to Champex
On the sixth day we started from the refugio above La Fouly because of the debris flow washing out the road. The hike to Champex, even with the added distance to La Fouly was definitely the easiest day on the TMB, but also the least interesting.
The hike from La Fouly to Champex is mostly a valley walk, through typically neat and tidy Swiss villages. While it's not a day with stunning mountain views, some of the forest walking is quite delightful and the countryside is definitely pretty.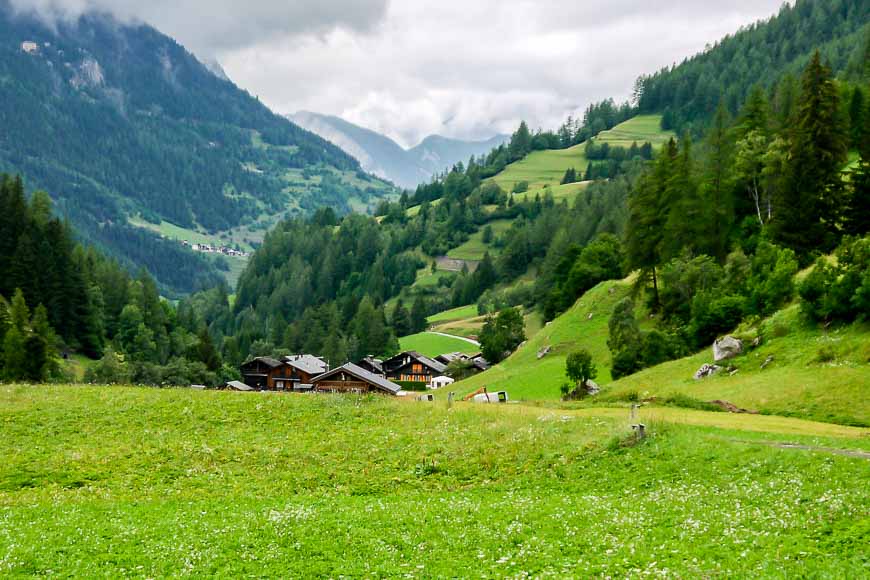 Starting in La Fouly you head along a river – where the effects of flooding are a reminder of the power of the water. Then there's some climbing through wooded hills followed by a totally wonderful section of hiking on the lateral moraine of the Saleina Glacier.
From there you hike through the small communities of Praz-de-Fort and Les Arlaches – where wood is neatly stacked and the flower boxes filled to the brim with geraniums. But where is everybody? When we arrived in Issert we did find a few small restaurants – and people
Until Issert the trail has had only minor ups and downs. But from Issert to Champex, about 90 minutes away, it's all up, though the grade is much easier than on previous days.
It was very enjoyable hiking in the forest along the Mushroom Route. Local carvers had obviously been hard at work and displayed no less than 20 wood carvings along the trail. There were plenty of mushrooms – of assorted varieties no less, but also of local wildlife.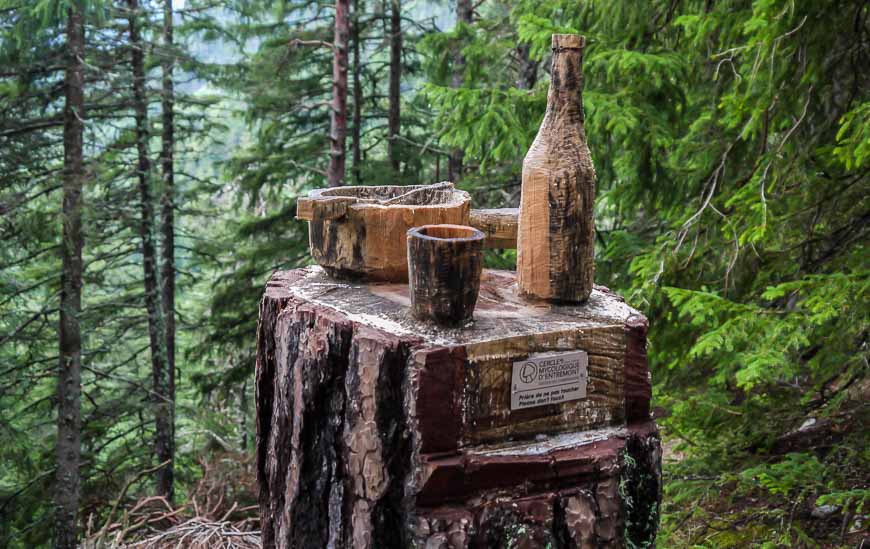 You come out of the woods and then it's only a short walk to reach Champex at the eastern end of the lake. Most of the accommodation is at the far end. It's a small lake though pretty and popular with local fisherman. When the sun shines Champex is pretty place.
Champex itself offers lots of accommodation though it's on the pricey side. We stayed at the three star Hotel Glacier– which was by far and away the most expensive place on the Tour. We found Switzerland, as one would expect with a strong Swiss franc, to be over the top expensive for everything.
Useful information for the La Fouly to Champex section
Total distance is 15 m (9.3 miles)
Height gain is 420 m (1378 feet)
Height loss is 565 m (1854 feet)
Count on 4 – 5 hours of hiking
Refreshments in Praz-de-Fort and Issert
Accommodation in Praz-de-Fort, Champex
Accommodation choices in Champex include hotels, pensions and camping
Transportation options in La Fouly, Praz-de-Fort, Issert and Champex
Day 7: Champex to Col de la Forclaz in Switzerland
On our 7th day of hiking on the TMB we enjoyed glorious scenery for 16 km between Champex and Col de la Forclaz. This part of the Tour du Mont Blanc is entirely in Switzerland. There was definitely some steep climbing to contend with but overall it was a magnificent day.
The hike takes you through forests, up a steep stream crossed valley, across high alpine pastures and then steeply down through wildflower-filled meadows before depositing you directly across from the hotel.
Bovine is a working dairy farm but like many other dairy farms along the Tour du Mont Blanc, farmers supplement their income by serving refreshments. This one only had a few menu items – mostly cakes, but also the usual hot chocolate and instant coffee along with beer and wine.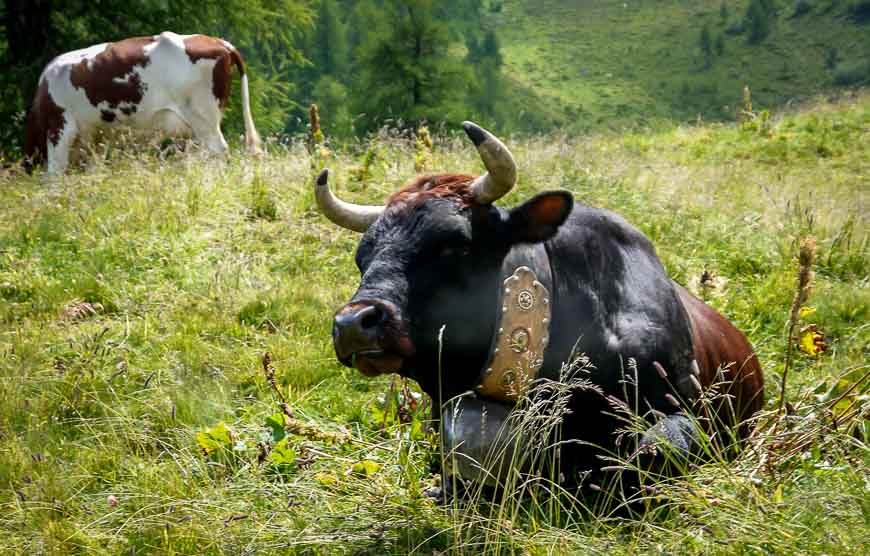 Useful information for the Champex to Col de la Forclaz Section
Total mileage is 16 km (10 miles)
Height gain – 742 m (2,434 feet)
Height loss – 682 m (2,238 feet)
Time needed – 4.5 to 5 hours
The only refreshment stop is at Alp Bovine – limited food so consider getting supplies in Champex
The Hotel du Col de la Forclaz is the only place to stay. Private rooms are decent and there are also 40 dormitory style places.
Plan on dinner and breakfast at the hotel.
Trient – another 30 minutes of walking away also has accommodation options.
Just 30 minutes outside of Champex in Champex d'en Haut is a Hotel-Club Sunways with 77 beds and Chalet Bon-Abri with 33 dortoir spaces.
It's possible to get a bus from Col de la Forclaz to Martigny or to Trient.
Day 8: Col de la Forclaz, Switzerland to Argentiere, France
It was one of those days where you climbed all morning and descended most of the afternoon. Panoramic views greeted us for most of the day – which was a good thing considering how much up and down we did.
A total of 1,069 m up and about 1,200 m down is what we walked in roughly seven hours, including breaks.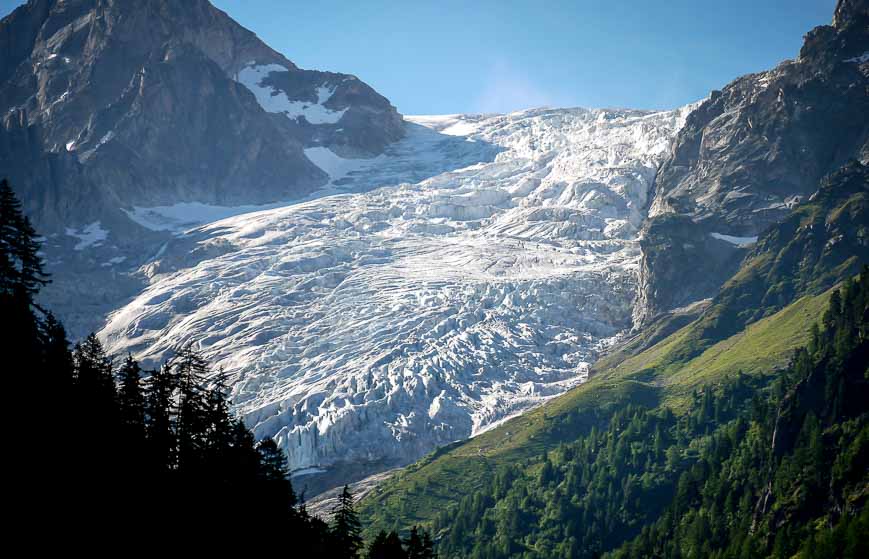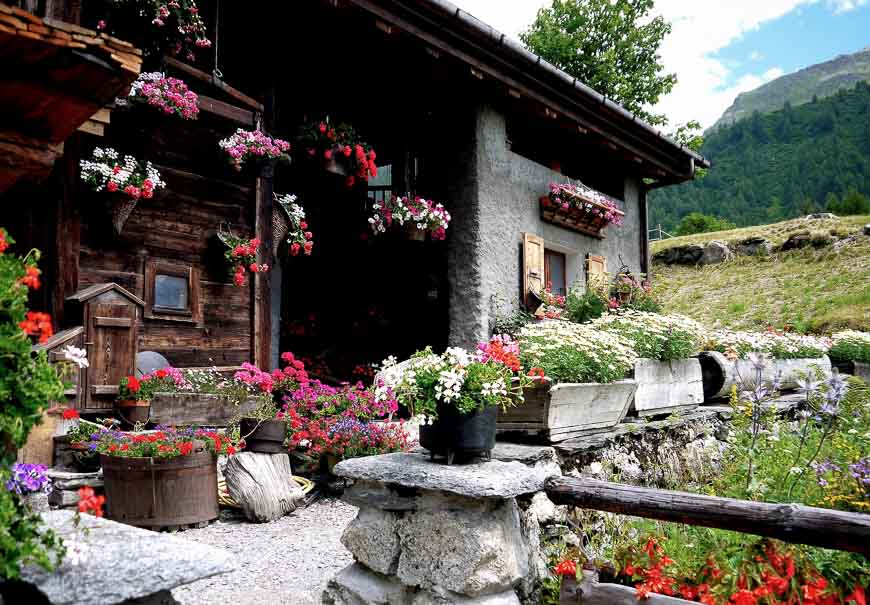 Day 9/10: Argentiere to Chamonix
So our last day was a total bust. That trail below looks great in the sun. But it was pouring rain and full on hypothermia weather. The last day usually offers the best views of the entire hike. Stunning lakes including Chéserys Lake and Lake Blanc (if you make the side trip) as well as spectacular Mont Blanc views should have been the order of the day.
Some things to keep in mind. It's enough of a day to get from Argentiere or Tré Le Champ to the refugio at La Flagere. That alone requires 900 m of climbing and a 500 m descent with the option of ladders or a high walk via the Col de Motets. Count on around five hours.
Then it's another 1500 m descent to get back to Les Houches though there is the option to take the cable car down to Chamonix – and bus it back. If I were doing it again I would add in two more days and enjoy the stay up at La Flagere before returning to Les Houches.
You might also find my post helpful on where to stay on the TMB. There are more options than those suggested in this post.
Guided or self-guided?
There are lots of companies that offer either a guided or self-guided option. While my daughter and I did a self-guided trip my son went with G Adventures in 2018. He literally raved about the trip and called it the best one of his life. To book a G Adventures trip and to see what travel deals they're offering click here.
If you're looking for a self- guided trip – but with all the bookings done for you check out my friend Laurel Robbin's trip options.
Further reading on Switzerland
Click on the photo to bookmark to your Pinterest boards.