All you need is half a day to do the Lake McArthur hike, one of the true gems in the Lake O'Hara area of Yoho National Park. The lake itself isn't that big – just 1.5 kilometres long but the sapphire blue colour will mesmerize you as will the setting. The lake is 85 metres deep and it's depth is responsible for the intense blue colour.
The Lake McArthur hike begins on the north side of the Le Relais shelter and is well signed. This is a popular area used as a bus stop and is not difficult to find. Before or after your hike you can buy something to eat and drink at the shelter. Bring cash.
This post includes some affiliate links. If you make a qualifying purchase through one of these links, I will receive a small percentage of the sale at no extra cost to you. Thank you very much for your support.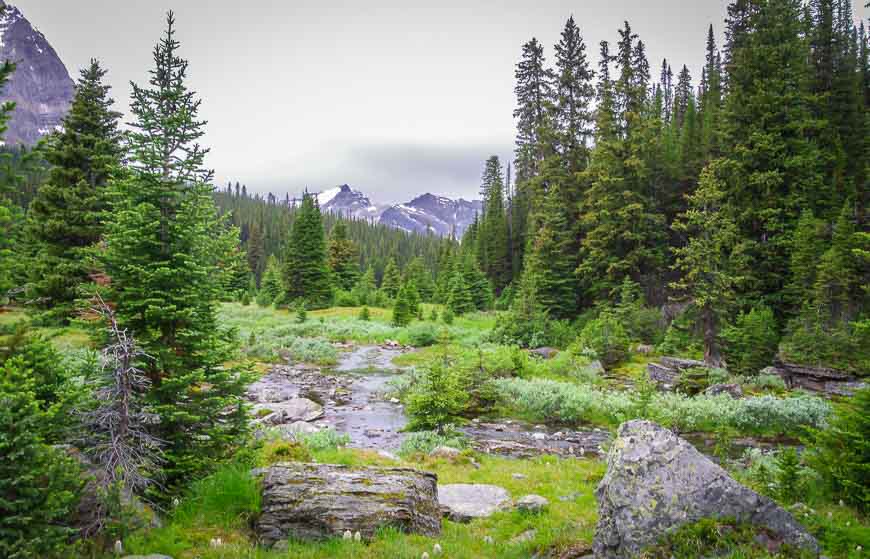 Lake McArthur hike summary
Distance: 6.3 km (3.9 miles) return
Elevation gain: 310 m or 1,017 feet
Difficulty: Moderate
Time needed: 2.5 – 3.5 hours
Best time to hike: Late June after the snow has left through to October.
Trailhead: Lake O'Hara Parking lot and then Le Relais Shelter
Type of hike: Most interesting when done as a loop
Important: You will need a bus reservation (scroll to the bottom for all the details) or you'll have to hike 11 km one way up the road – and it's not that interesting.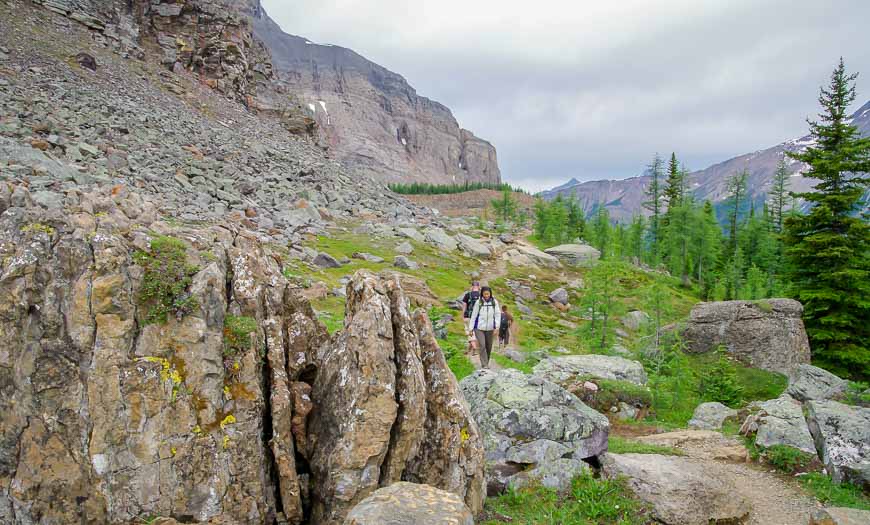 Lake McArthur hike description
Head out from the Le Relais day shelter on a generally flat trail to a junction. Go straight to reach the Elizabeth Parker Hut (owned by the Alpine Club of Canada) as its in a pretty alpine meadow. As a side note it's very difficult to get a reservation at the hut, and it's done via an online lottery every fall.
From the hut continue on the Alpine Meadow Trail, making your way up steeply at times to Schäffer Lake. Walk around the west side of the lake and pass the McArthur Pass Cutoff junction on your right. If you take the left fork you begin climbing again on the McArthur High Level trail which is what we did.
Hike through a section littered with boulders to end up in very pretty alpine meadow. This is a place where flower enthusiasts might enjoy a copy of the pocket guide – Popular Wildflowers of Alberta and the Canadian Rockies.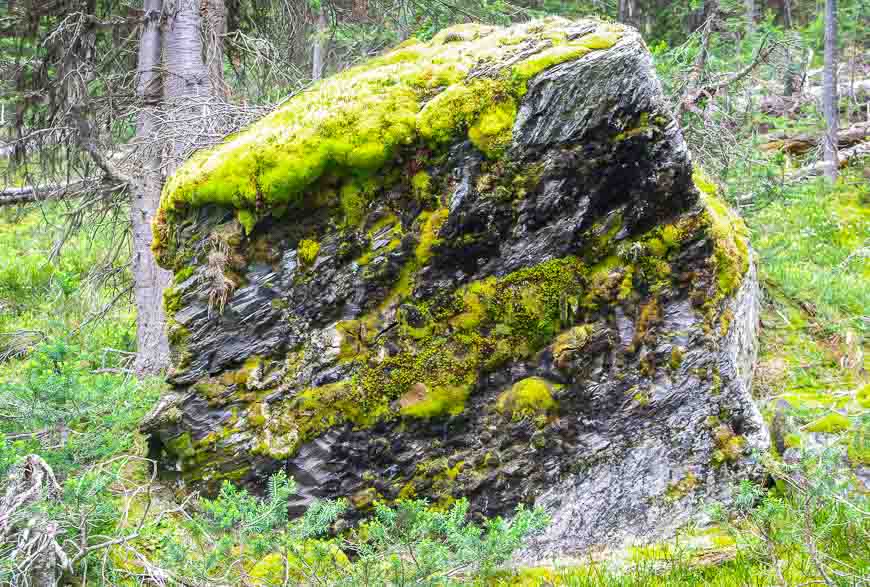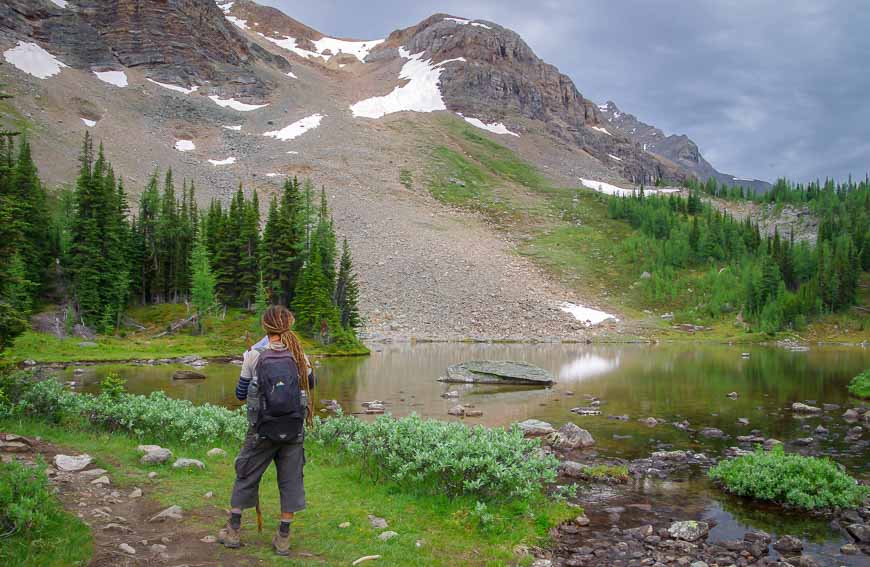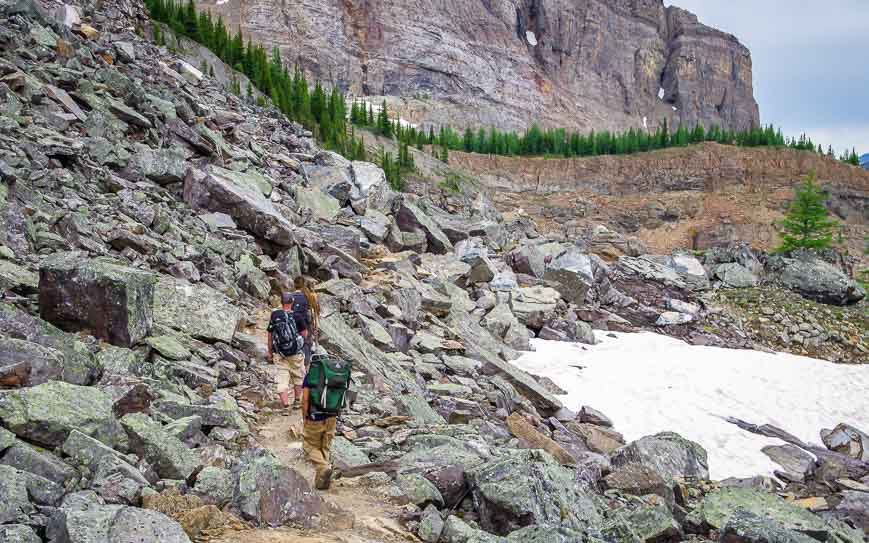 Then it's a short descent down to the lake from the High Level trail. Unfortunately on the day I was there it wasn't as beautiful as it would be under sunny skies. From Lake McArthur you can retrace your steps or continue on the McArthur Low Level trail which is what I chose to do. But first, take some time at the lake to admire the intense colour before continuing on the hike.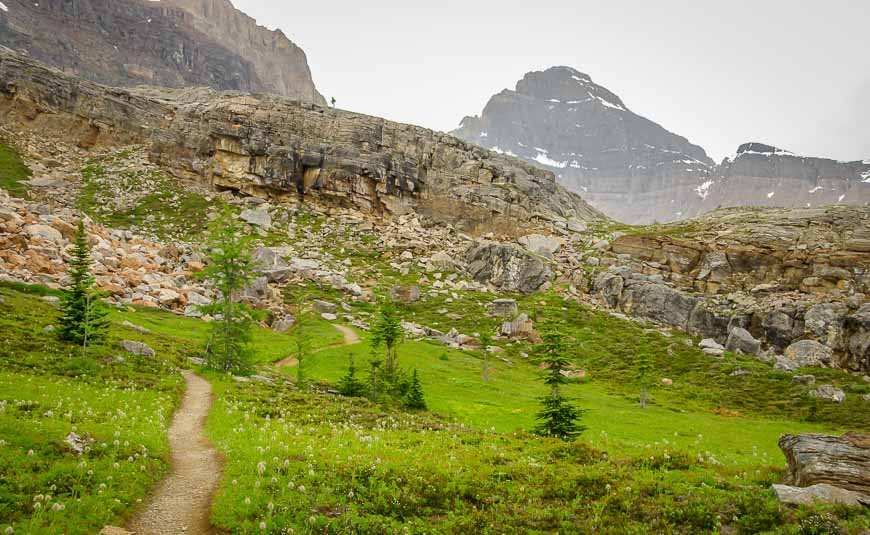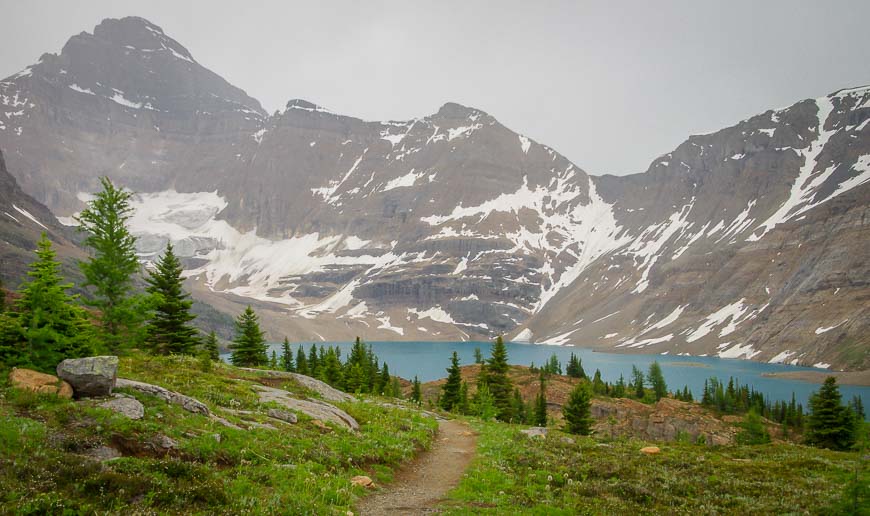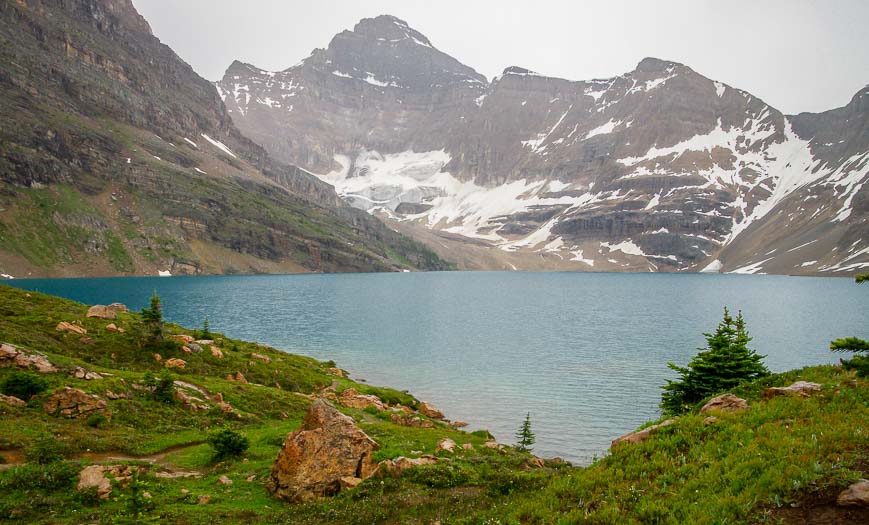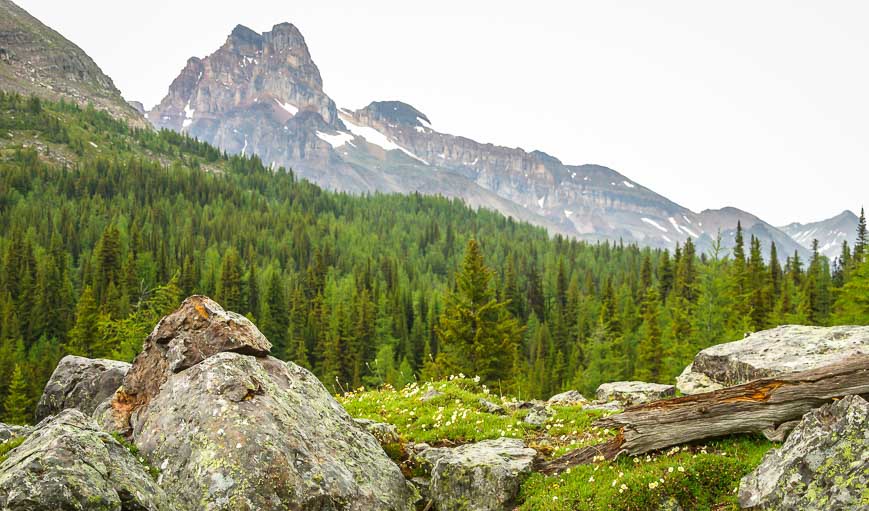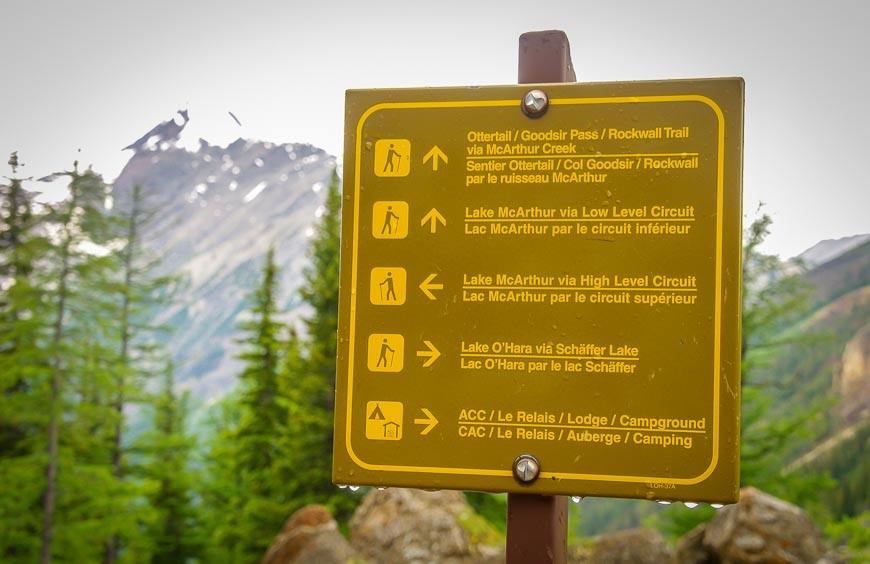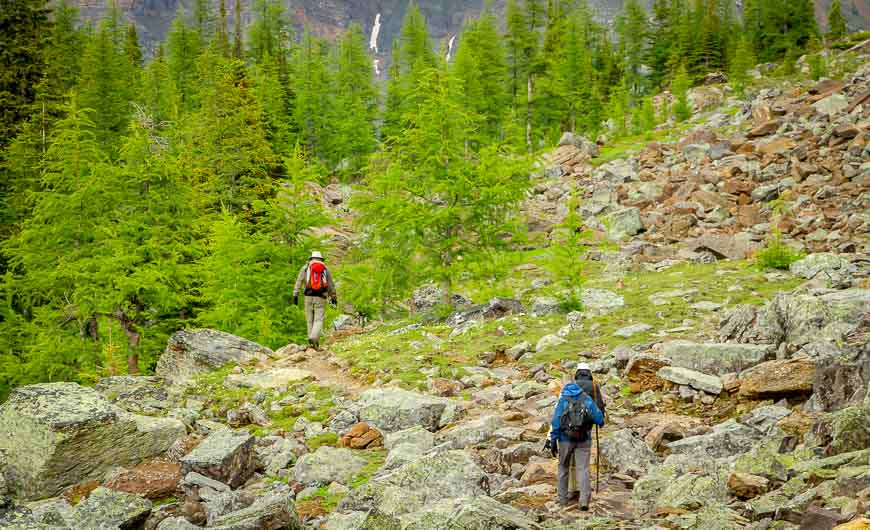 Options on the Lake McArthur hike
We passed the intersection of the Low- Level and High-Level trails and from there retraced our steps back to Schaffer Lake. At Schaffer Lake you have the option of going back the same way you came up but we elected to hike the Big Larches trail towards Mary Lake and then west towards Lake O'Hara and Le Relais shelter. The Big Larches Trail is not as scenic as the Alpine Meadow trail, except in larch season.
There is also the option to pick up the All Souls Alpine Trail from the Big Larches trail, northeast of Schäffer Lake. The All Souls Alpine Trail meets up with the West Opabin trail. Allow up to 2 hours to hike this extra trail. Ideally the snow should be off it, and you should be prepared for a much harder hike if you add it.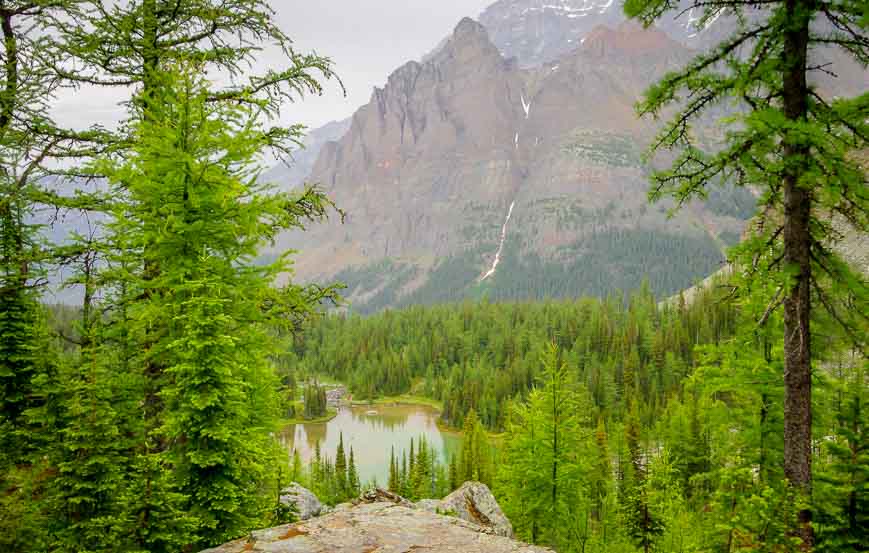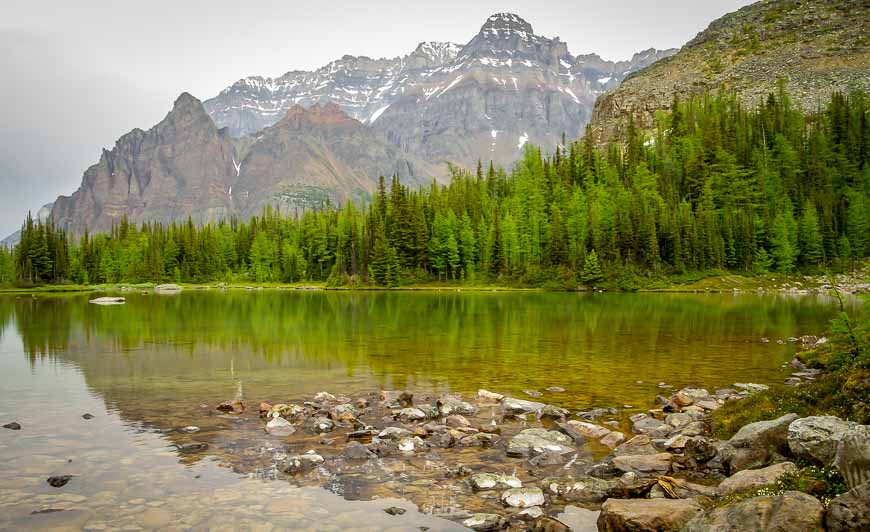 Good to know
The Odaray Highline Trail is one that is accessed off of the McArthur Pass cutoff. This area is prime grizzly habitat and should be avoided if possible. They have voluntary restrictions in place.
The Lake McArthur hike is a total of 6.3 km with 310 m of elevation gain and will likely take you no more than a few hours.
The hike is one of the best in Lake O'Hara area so try to find two to three hours so you can do it.
Planning your hikes in the Lake O'Hara area
Doing any hike at all in the Lake O'Hara region takes some planning. If you're thinking about camping the following is important as the rules have changed.
All camping reservations at Lake O'Hara will now be offered on the Parks Canada Reservation Service beginning March 28, 2023 at 8 AM MST. Camping is possible from June 18, 2023 through until October 2, 2023. Be warned, it can snow at any time. Nights can be very cold – early and late in the season.
To access the reservation service click on this page.
The Parks Canada website also says you can call one of these two numbers. To save time they recommend creating an account beforehand. Reservations are usually booked completely on opening day.
1-877-RESERVE (1-877-737-3783).
International: 1-519-826-5391
How to get a seat on the bus to Lake O'Hara (if you want to do a day hike)
The rules for booking buses have changed in Yoho National Park.
If you just want to do the Lake McArthur hike as a day hike
The Lake O'Hara shuttle takes hikers 11 km up the road to Lake O'Hara. The bus leaves from the Lake O'Hara parking lot, 12 km west of Lake Louise or 13 km east of Field, B.C.
The bus will operate from June 18 – October 3, 2023. Reservations for seats on the bus open on April 12, 2023 at 8 AM MST. You need to create a new user profile to be able to access the new reservation system. You can reserve a seat online.
Buses leave in the morning for Lake O'Hara at 8:30 AM (20 seats) and 10:30 AM (11 seats).
They depart from Lake O'Hara at 11:30 AM, 2:40 PM, 4:30 PM and 6:30 PM. You can't reserve a space on the outgoing bus. It's first come, first served.
Pricing for ages 6 – 99 is $17.14 per person. There is probably a booking fee too.
Costs for visiting the Lake O'Hara area
Allow for the following costs.
$11.96 reservation fee
$12.50 per person per night camping fee with a maximum of one tent and 4 people per campsite
$17.14 for a return bus ride
$10.00 per day National Park Pass fee – but if you have an annual pass you won't incur more fees.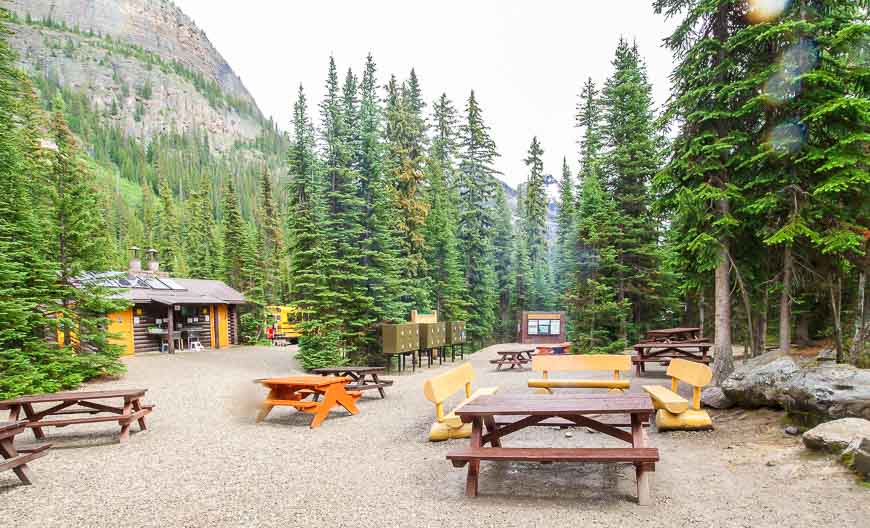 Further reading on hiking in Yoho National Park
Click on the photo to bookmark to your Pinterest boards.