These interesting facts about Costa Rica, a nature rich, biodiverse country in Central America, will hopefully fill a few knowledge gaps. Read them if you're just plain curious about the country or should you have plans to visit.
As one of the few democracies in South America, Costa Rica is an unusual country. The Costa Rican government makes a strong effort to protect its biodiversity. One of the interesting facts about Costa Rica is that it moves funds to pay for nature reserve management collected from a fuel tax, car stamp duty, and energy fees. Even landowners are paid to preserve old-growth forests. They're also paid to plant new trees – one of the good news stories in this part of the world.
This post includes some affiliate links. If you make a qualifying purchase through one of these links, I will receive a small percentage of the sale at no extra cost to you. Thank you very much for your support.
Interesting facts about Costa Rica regarding government and the capital city
Costa Rica's government is a democratic Republic with a President as head of state. Rodrigo Chaves Robles has been the president since May 2022.
Costa Rica has a population of approximately 5.2 million, as of 2023.
Costa Rica is made up of seven provinces including San Jose, Limon, Puntarenas, Guanacaste, Cartago, Heredia and Alajuela.
San Jose is the capital and the biggest city in the country. Approximately a third of the entire population of Costa Rica lives in the greater metropolitan area of San Jose. One of the interesting facts about Costa Rica is that it is considered to be one of the safest cities in all of Latin America.
Costa Rica does not have a military but they still have border patrol and police.
Interesting facts about Costa Rica and its people
The median age is 29.2 years and life expectancy at birth is 77.9 years, one of the highest in the world.
Costa Ricans call themselves Ticos (males) and Ticas (females). Tourists have a name too – Gringas for females and Gringos for males.
Did you know that 76% of the population is Roman Catholic? Other religions in Costa Rica include Evangelical, Protestant, and Jehovah's Witnesses.
One of the interesting facts about Costa Rica is that literacy rates are very high. At age 15, 94.9% of the population can read and write.
Less than 1% of Costa Ricans are of indigenous ancestry.
When a woman gets married in Costa Rica, they retain their maiden name.
Soccer is the most popular sport in Costa Rica. Surfing is a close second with availability on both the Atlantic and Pacific coasts. Volleyball, golf, sport fishing, and cycling are other popular sports.
The official language in Costa Rica is Spanish though there is a great deal of English spoken.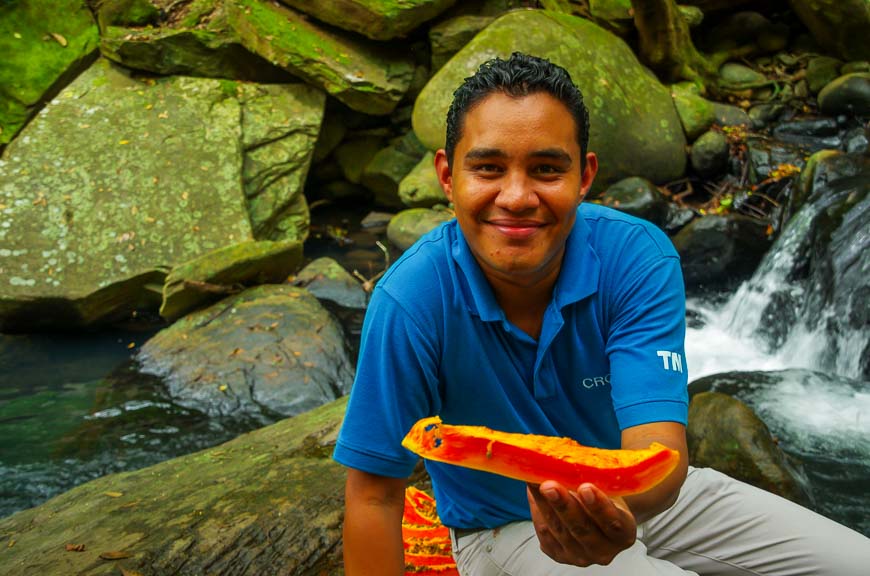 The physical geography in Costa Rica
Chirripo Mountain is the highest mountain in Costa Rica with an elevation of 3,820 m (12,533 feet). Snow has not fallen on the peak in over 100 years though hail has been reported.
The lowest point in the country is the caves of Barra Honda National Park, 790 feet below sea level. One of the caves called Fetid Cave is home to a colony of 5,000 bats. Only two of the 42 caves are accessible to the public.
Costa Rica enjoys tropical and sub-tropical weather. Dry season lasts from December to April and wet season runs from May to November.
Costa Rica has a total of 1,228 kilometres of coastline. Of that 212 kilometres are on the Caribbean Coast and 1,016 kilometres are on the Pacific Coast.
Costa Rica is bordered by Panama to the southeast and Nicaragua to the north. If you climb even part way up Miravalles Volcano, you can see well into Nicaragua.
Lake Arenal is the largest landlocked body of water in Costa Rica. It's got a depth of between 30 and 60 metres depending on the season.
Costa Rica has six active volcanoes and 61 dormant or extinct ones. Arenal is the most well known and most visited volcano. In 2010 it entered a resting phase. Other volcanoes worth seeing include Poas Volcano, Rincon de la Vieja Volcano, Tenorio Volcano, Turrialba Volcano and Irazu Volcano, the tallest volcano at 11,260 feet.
Facts about nature in Costa Rica
Costa Rica plays host to over 5% of the world's biodiversity despite having a landmass that takes up only 0.03% of the earth's surface. The number of plant and animal species that can be seen in Costa Rica is truly incredible.
The National Bird of Costa Rica is the Clay-coloured thrush. It's common in lowland to mid-altitude area and it's a species that is encountered in close association with people, much like our robins in Canada.
In theory you can see 1,000 species of butterflies, 850 species of birds, 34,000 insect species, 208 mammal species, 160 amphibian species, 220 reptile species, 9,000 species of plants, 1,200 orchid species and 130 species of freshwater fish.
The National Tree of Costa Rica is the Enterolobium cyclocarpum, otherwise known as Guanacaste. It's a flowering tree and a member of the pea family.
Tours offered in Costa Rica have a big focus on nature and the outdoors. Popular tours include La Fortuna Waterfall along with an Arenal Volcano hike, a coffee experience tour, Tortuga Island from Jaco, ziplining, white water rafting and horseback riding adventures.
Check out the tours to Arenal Volcano offered with Get Your Guide in Costa Rica.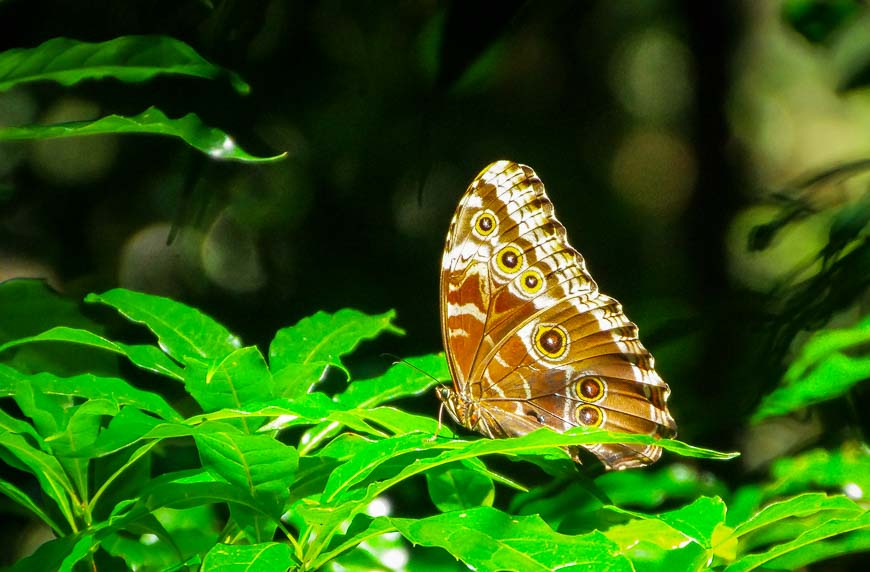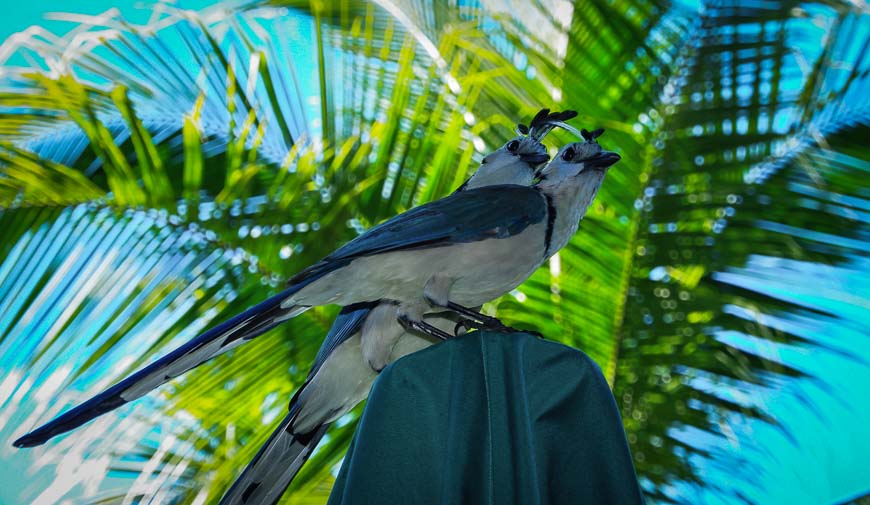 Facts about protected areas and parks in Costa Rica
Over 25% of Costa Rica's landmass is protected. There are 186 protected areas in total including 32 national parks, eight biological reserves, 13 forest reserves, and 51 wildlife refuges.
Corcovado National Park is located on the Osa Peninsula. It is home to 13 major ecosystems and as such is one of the world's most biodiverse regions.
Manuel Antonio is another famous national park in Costa Rica. Be warned that it is closed on Mondays. It was named by Forbes Magazine as one of the world's most beautiful parks.
I can also highly recommend a visit to Rincon de la Vieja National Park. Do the Cangreja waterfall hike – go for a swim and count on seeing lots of wildlife including monkeys and agoutis – one of the local delicacies – unfortunately.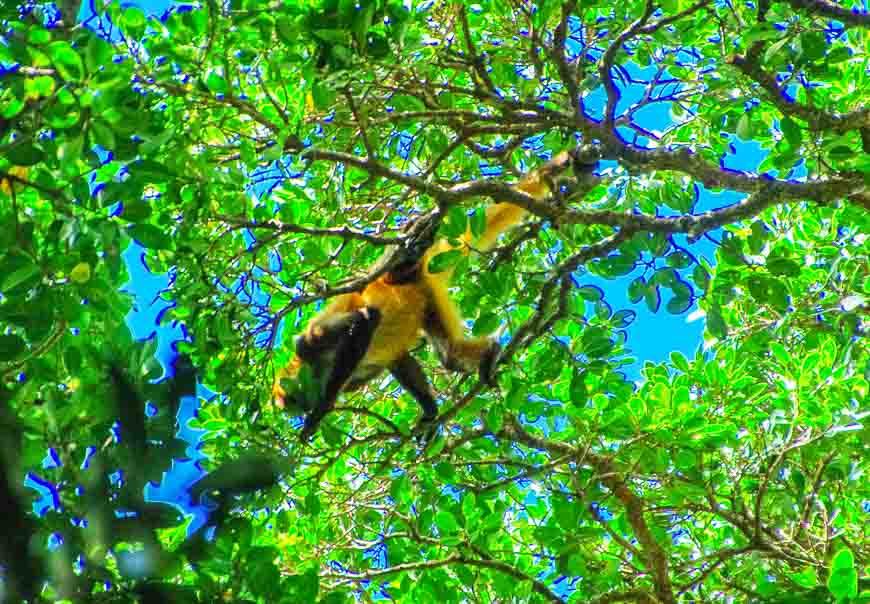 Costa Rica food facts
Gallo Pinto is the national food of Costa Rica. It is a mixture of cooked onion, garlic, and bell peppers flavored with cumin and added to rice and beans. Eggs, sour cream, tortillas and hot sauce are on the side.
Other staples include black beans and rice along with chicken and meat. You can count on lots of tropical fruits.
By law, only Arabica varieties of coffee can be grown in Costa Rica. It's the 13th-largest producer of coffee in the world. About 90% of their coffee is exported. Small farmer's are important in Costa Rica.
Did you know almost 90% of all the coffee producers cultivate less than 12 acres? Don't forget to pick up a bag or two of coffee when you leave Coast Rica. There is lots for sale in the airports.
Random Costa Rica facts
You must ante up $US 29 airport departure tax to leave the country. It can be paid in an equivalent amount of colones. You'll save money by paying cash as there is a surcharge to use your credit card.
Costa Rica's main exports include coffee, bananas, sugar, textiles, electronic components and electricity. When it comes to bananas, Costa Rica is second only to Ecuador for exports.
Costa Rica provides universal health care to citizens and permanent residents. The only major infectious diseases in the country include dengue fever and bacterial diarrhea. When John catapulted off his mountain bike into a pot hole, we both found the doctors to be helpful, good at listening and reasonably priced.
Costa Rica's currency is called the Colon. It's divided into 100 centimos. Currently $Cdn 1 is equal to 429 colons, not exactly an easily divisible number. If you're traveling with US dollars, you're in luck as they are widely accepted.
Pura Vida is the national slogan in Costa Rica. Simply translated it means simple life or pure life but it's much more than that in Costa Rica. It's also the way the people of Costa Rica live. They tend to focus on what they have, rather than what they don't have. They embrace the simple life and dwell less on the negative.
Over 1.7 million people visit Costa Rica every year and tourism is now the primary source of income. One of the interesting Costa Rica facts is that the bulk of tourists are from Canada and the United States.
If you want to listen to the national anthem in Costa Rica tune in to a daily 7 AM airing on most of the radio stations. Now that's a way to wake up!
Did you know that most of Costa Rica's energy comes from renewable sources? They are trying to be carbon neutral by 2050 – which is way ahead of the rest of the world.
Do you have any interesting facts about Costa Rica to add to this list?
If you're interested in visiting Costa Rica, check out the Visit Costa Rica website for detailed information.
Click on the photo to bookmark to your Pinterest boards.