On our last full day of a week long hiking trip in Mallorca we did a day hike out of Alaro to the Alaro Castle (Castell d'Alaro) perched high above the surrounding countryside with 360 degree views. It was a stunner of a hike and one of the highlights of the week.
The Alaro Castle hike was done in late March, before the island overflows with the summer party crowd. Early spring it an ideal time to visit with consistently sunny weather, wildflowers blooming, and trees heavy with blossoms.
This post includes some affiliate links. If you make a qualifying purchase through one of these links, I will receive a small percentage of the sale at no extra cost to you. Thank you for your support.
Alaro Castle hike via the Orient Valley
The hike to the Alaro Castle took us roughly five hours – not counting stops. You can certainly do an out and back hike along the main road to the Alaro Castle but if you want to be charmed by the countryside and get off the proverbial beaten path then a loop to the castle via the Orient Valley is in order.
It would be worth picking up a good map in town as the navigation is a bit tricky.
Our hike started from the Alaro town centre. We walked for about 15 minutes to arrive at a little square lined with pubs – Placa Cabrit y Bassa.
From the square there is a waymarked path – but we took the cross-country route. Over the next 90 minutes we passed crumbling buildings that spoke to former glory, hiked past valleys terraced with olives to reach a house called Cas Secretari.
From the house we first headed into a dry, scrubby landscape before reaching a very lovely section of woods walking. After clearing a gap in a wall where we ran into a group of kids out on a field trip, we started down on an obvious path with stunning views of the Orient Valley.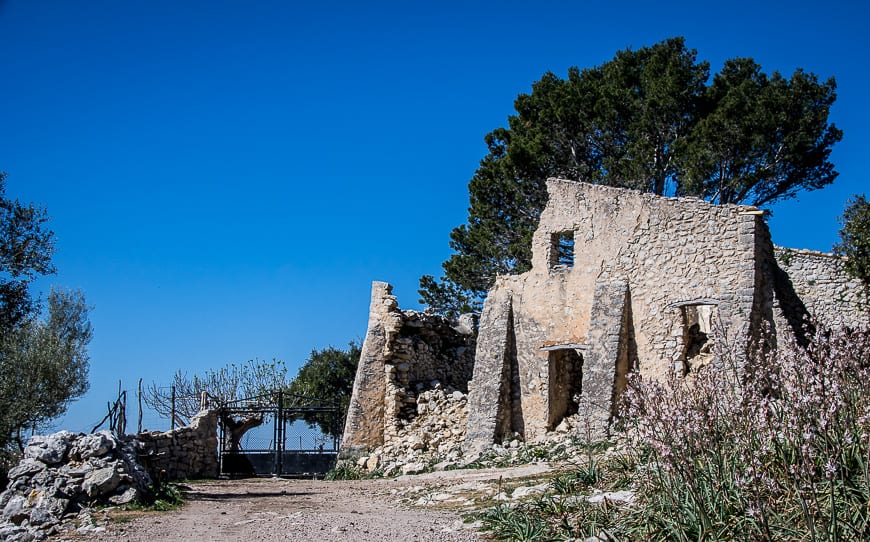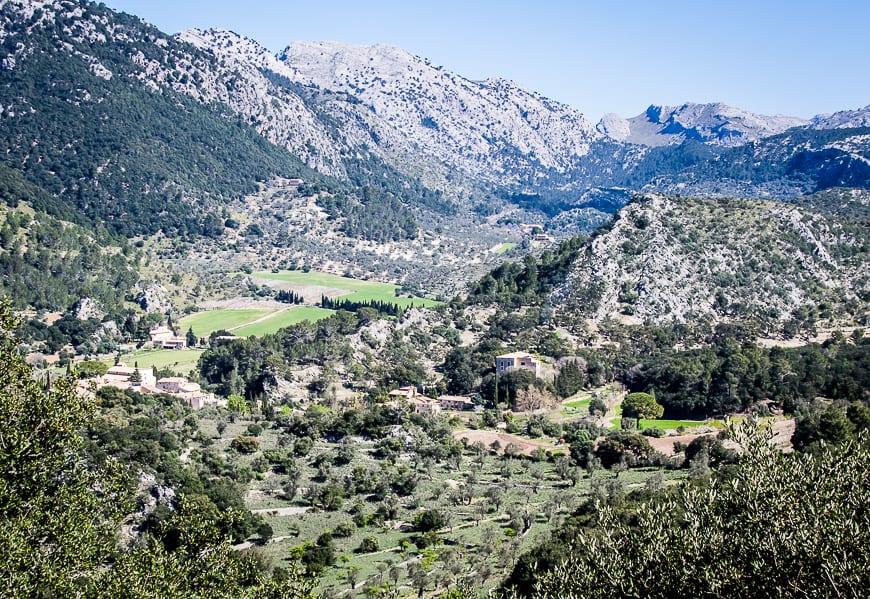 Don't miss a refueling stop in Orient
We opted for a coffee and cake stop in Orient. The village was packed with cyclists training on the hills of the island. The little restaurant on the main street we ate in seemed to be a focal point. It was fun to people watch and admire the vast quantities of pasta that were consumed.
The hike from Orient to the Alaro Castle
From Orient we had to backtrack to reach the road we'd come in on. The road was quiet save for the cyclists.
After about a kilometre and just past the Hotel Hermitage we found the signs again for the GR221. For the next hour we switch-backed up a hill – steeply at times – to reach the gatehouse to the castle. The climbing wasn't finished yet. It was still a slog to reach the top but what a treat we were in for.
Most of our time at the castle was spent wandering the beautiful property and admiring the far-reaching views.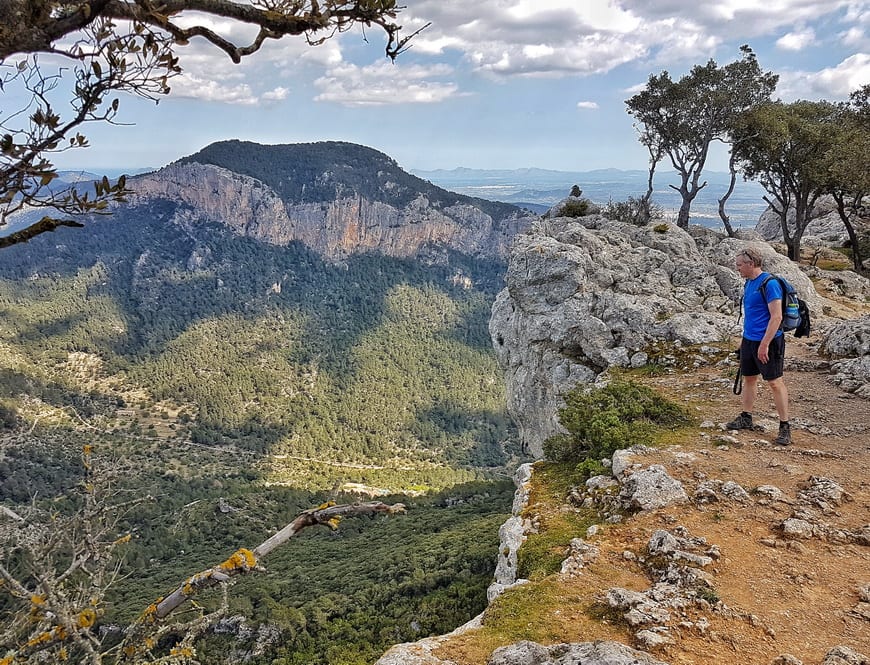 The Es Verger Restaurant – if you like lamb
In our trip notes we were told to plan for a late lunch and to go hungry for hours if need be so we can lunch at Es Verger on the way down from the castle. Although we decide against taking their advice I provide a quote from the UK Daily Telegraph on what we missed.
Tamasin Day-Lewis in his article about Es Verger writes:
"Inside are a few tables laid simply for lunch, and a huge wood fired oven. The lamb is brought to our table, each plate hidden under a heft of bone and a mass of flesh. Next to it is a pile of potato confit which has been cooked slowly in the oven. It is oily, soft and delicious.
The meat is spoon tender, strongly lamby but with the unmistakable flavour that only a wood-fired oven can give…"
On our walk back to Alaro there was a steady stream of cars all looking forward to a mid-afternoon meal. Reservations are not accepted and by the looks of things, there must be quite a wait.
This hike was truly lovely except for perhaps 20 minutes on the main road into Alaro – and even then it was still pretty, just a bit noisier.
If the thought of escaping winter and hiking on a beautiful island appeals you may find the following posts useful.
To book this hiking trip check out On Foot Holidays – the UK company we used.
Where to stay in Alaro
There are lots of accommodation options in Alaro. Check out some of these top rated options.
S'Olivaret is set in an old olive press in the countryside and is rated superb. It also has an infinity pool.
Hotel Vila Alaro is rated fabulous and is just 150 metres from the centre of town.
El Nido Alaro features romantic gardens and a large outdoor pool. It is rated as exceptional.
Location map of the Alaro Castle hike
Further reading on hiking in Mallorca
Click on the photo to bookmark to your Pinterest boards.