The Fullerton Loop hike is a great year-round choice that is only 10 minutes from Bragg Creek. On the day we did it, we were actually trying to do the Sugar Mama hike but missed that turnoff by 100 metres. Fortunately the Fullerton Loop is an excellent alternative.
You only need a half day to knock off the Fullerton Loop. Do it on snowshoes or with microspikes once the snow flies. Expect a combination of a beautiful ridge walk and hilly valley trails with multiple options to extend the hike.
John and I have passed the turnoff to the Bill Allen parking lot (where the trailhead is located) at least 20 times and had never given it more than a quick glance.
On the day we did it we were looking for Sugar Mama – as it was supposedly a mellow hike that wasn't going to take the whole day. I had never heard of the Fullerton Loop so that was serendipity at work.
Our other goal on this December outing was to cut down a Christmas tree, something you're allowed to do in the area with an online permit. (You can cut three Charlie Brown Christmas trees no more than 7 feet tall with a $5.25 permit.)
Fullerton Loop Hike Location
Look for the Bill Allen trailhead on Highway 66, 13.4 km past the four way intersection in Bragg Creek. The trailhead is at most an hour's drive away from Calgary. Parking is free.
The Elbow Trail takes off from the Bill Allen parking lot just before a couple of buildings. It will take you to the intersection with the Fullerton Loop. This part of the hike is all pretty darned obvious and there is signage.
Fullerton hike trail description
The initial walking is on an easy grade but it's icy in December, mostly because it's in a shaded valley. You can get by without icers but I found myself taking them off and putting them back on again numerous times.
After about a kilometre you cross a bridge and continue to the intersection pictured below. Don't head towards any trails signed for Snagmore if you're committed to the full loop. You can obviously hike the loop in either direction. We went right because we thought we were on Sugar Mama or Momma.
It turned out to be a good decision as we caught wonderful light coming down the ridge at the end of the hike. (To reach Sugar Momma continue 100 m towards Snagmore and then turn left. Now we know.)
A side trip to Ranger Summit
We got to a signed intersection about 3 km into the hike. It wasn't until then we realized we weren't on the Sugar Momma trail. I was looking for more than a 6.7 km return hike so we opted to add an out and back hike to Ranger Summit via the Bobcat Trail. That increased our mileage for the day by 4.2 km.
A year ago almost to the weekend we had snowshoed a loop coming in from the West Bragg Creek side that took us to the same trail intersection. Conditions couldn't be more different from one year to the next – snowy trails versus dry, dusty trails.
Read: Snowshoeing the West Bragg Creek Trails in Alberta
We gained a significant amount of elevation but because it was gradual I never felt myself breathing hard. The descent turned out to be quick and easy, except along the ridge. What slowed us down was the beauty of the setting sun – and the only thing that kept us moving was the thought of cutting a Christmas tree down in the dark.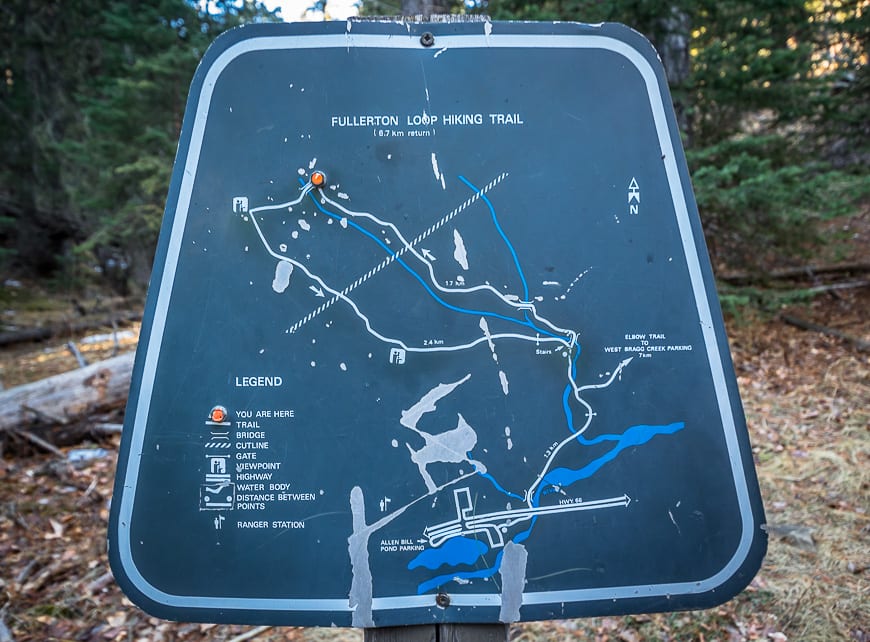 How long will the hike take?
You can knock off the 6.7 km loop hike – with an elevation gain of 213 m in a couple of hours. In total we ended up doing closer to 12 km with add-ons – so we took about 3.5 hours. There are lots of permutations to the loop if you want a longer day. I'd also recommend going up Sugar Daddy and down the ridge on the Fullerton Loop for about a four hour hike.
In a normal December, this would be an awesome trail to snowshoe. This hike is a family-friendly outing and would be a perfect activity over the Christmas holidays.
Are dogs allowed?
You can take your dog but they need to be leashed. The rangers are very strict in Kananaskis and the fines for off-leash dogs well over $100.
Further reading on Bragg Creek area hikes
For updates on trail conditions visit this Kananaskis trails website.
Click on the photo to bookmark to your Pinterest boards.