The Moose Mountain hike in Kananaskis Country, Alberta – which tops out at 2,437 metres (7,995 feet), offers some of the premier vistas in the area. It's a popular day hike for those living in the Bragg Creek and Calgary area. From the parking lot, the Moose Mountain hike is 13.8 kilometres return with an elevation gain of 473 m (1,552 feet). Allow 3.5 – 5 hours depending on your speed.
The Moose Mountain hike can be approached by a number of routes. Most people do it via the trail that is accessed from a 7 km dirt road that takes off from Highway 66 just after the Paddy's Flat Campground. The road is passable for two wheel drive vehicles.
This post includes some affiliate links. If you make a qualifying purchase through one of these links, I will receive a small percentage of the sale at no extra cost to you. Thank you for your support.
Moose Mountain hike route description
The Moose Mountain hike starts off on a fire road with the first few kilometres offering only the odd peek-a-boo view. But in roughly three kilometres the landscape opens up and the destination becomes obvious.
It's a bit of a slog to the top as you switchback 473 m (1,552 feet) up the mountain in fairly short order.
Fortunately the views just get better and better the higher you go. The landscape also changes, becoming rockier and more desolate the higher you climb. Don't forget to include warm, wind-proof clothes as you may need everything you've got near the summit.
The trail up Moose Mountain is well-trodden and easy to follow. It's a popular one, even with spring snow, so you can expect company.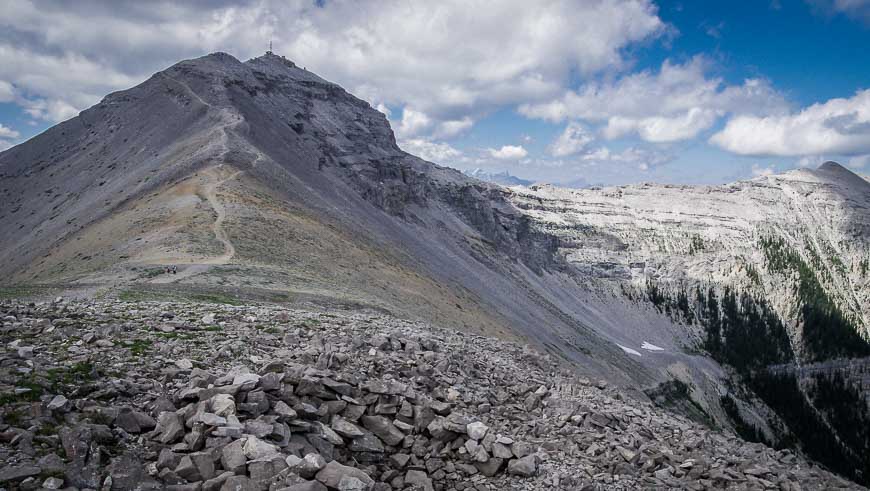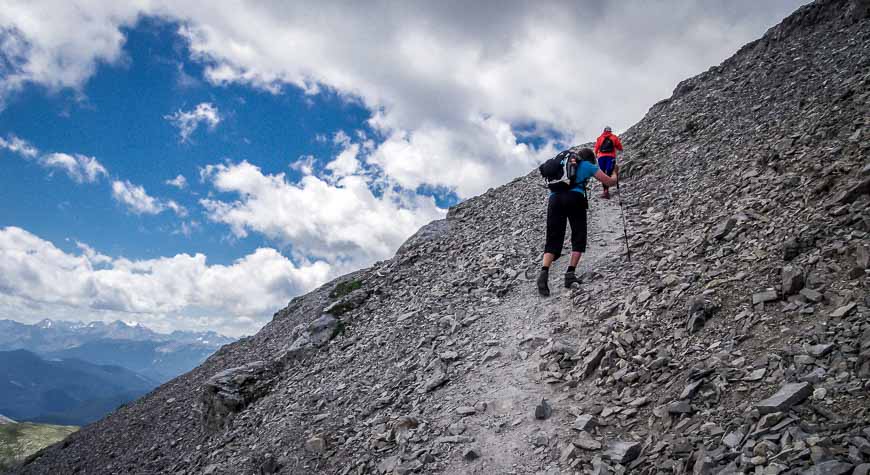 At the top of Moose Mountain there is a new working Fire Lookout – that is also the home to the fire lookout ranger. He or she is tasked with looking after 5,000 square km of forest. You can't actually go the the very summit of Moose Mountain now, but you can still admire the new fire lookout.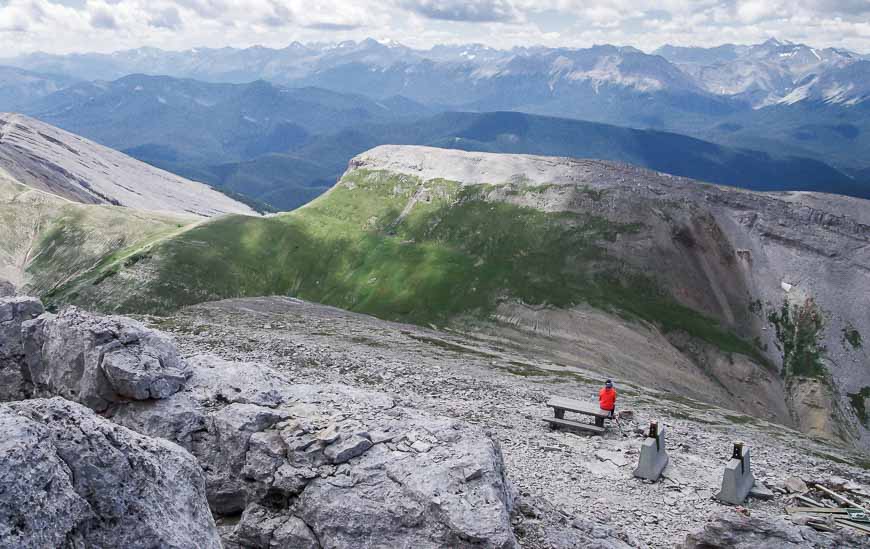 A lunch stop with a view on Moose Mountain
Sitting and eating lunch on the helicopter landing pad or at one of the picnic tables with a 360 degree view is the reward for the two to three hour hike to the top.
Be sure to bring lots of water as there is nowhere to top up a water bottle along the way. Some people might like hiking poles on the steep sections as well.
Th summit area is no place to be caught in an electrical storm, with so much exposure and nowhere to hide. If a storm is threatening, either turn back if you're on your way up, or beat a hasty retreat. I have been caught in one too many lightning storms and know it's not worth taking a chance.
Read: The 10 Hiking Essentials Everyone Should Carry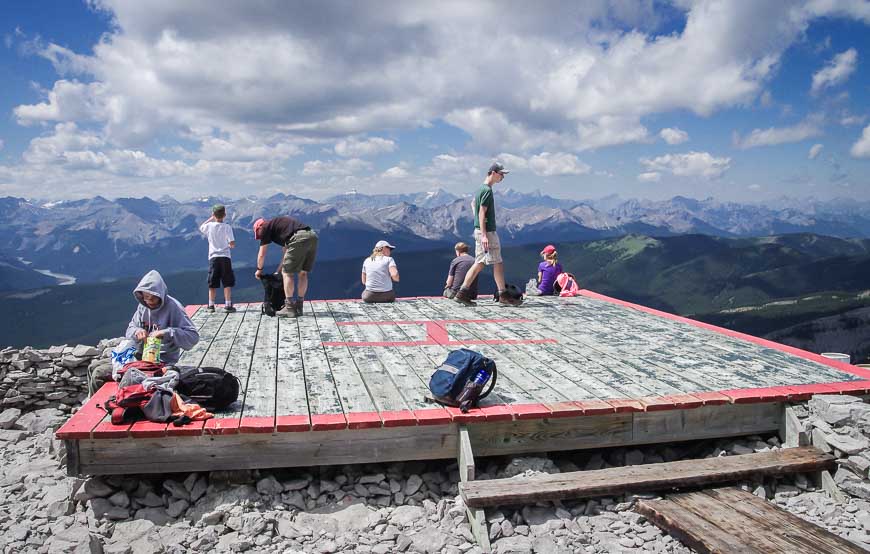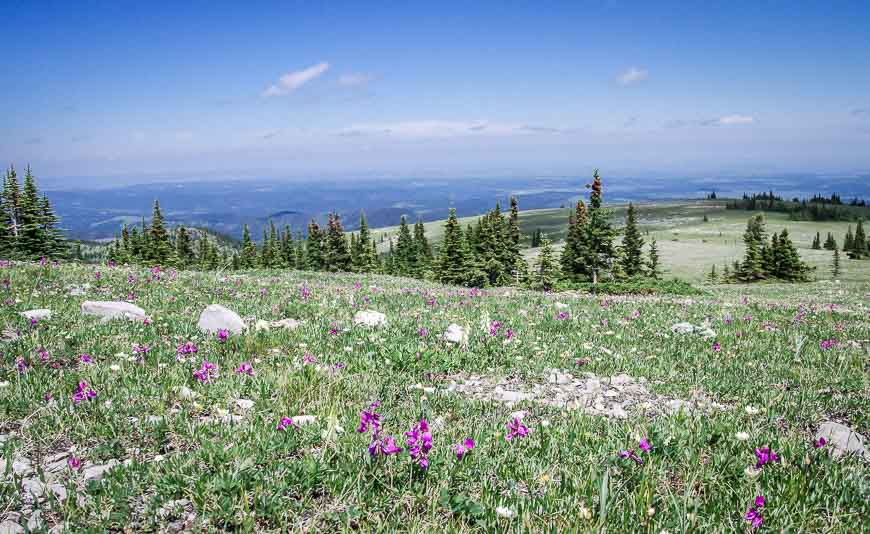 For the crazies who like trail runs
For the lover of tough adventure runs, Moose Mountain plays host to an annual Moose Mountain Trail run and the Iron Legs 50 Miler. I think I'll stick with the hiking!
More information for your hike
The best time to hike the trail is from May until October. The hike is often done as a snowshoe in the spring – appreciating you have to add the time to hike up the access road – which is approximately 7 km one way. It could turn into an epic day in short order.
If you hike in May once the road is open, there can be lots of snow some years, so consider schlepping a pair of snowshoes. Take gaiters and an extra pair of dry hiking socks.
It is dog-friendly but keep your dog on a leash. Rangers are happy to ticket in this area and fees run upwards of $150.
The map for this hike is Gem Trek Bragg Creek and Sheep River Valley.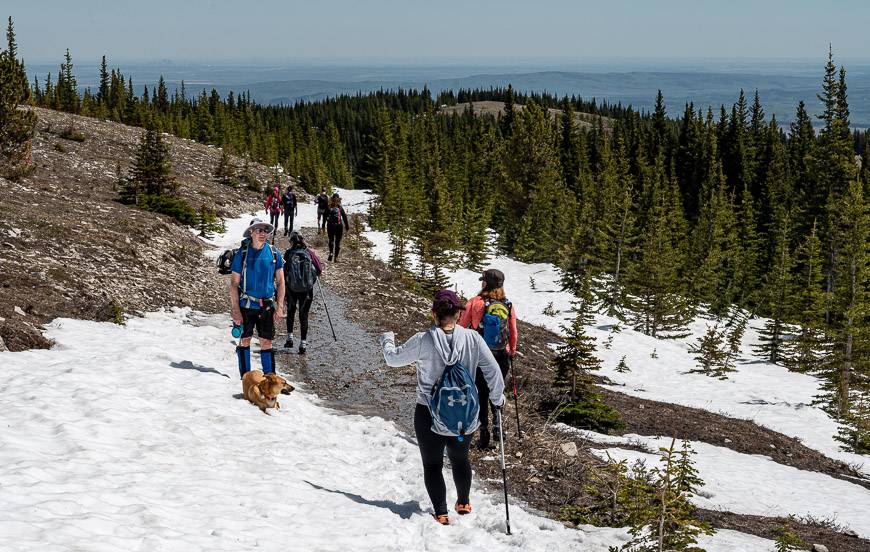 Moose Mountain Alberta trailhead location
Take Highway 66 from Bragg Creek and follow it just west of the Paddy's Flats Campground. Turn north (right if coming from Bragg Creek) just past Paddy's Flat onto the Moose Mountain Fire Road. Follow it to the parking lot. The access road to the trailhead is usually closed until mid-May.
Further reading on hikes in Kananaskis Country
Click on the photo to bookmark to your Pinterest boards.