One of the highlights of a five day canoe trip on the Cameron River in the Northwest Territories was the overnight detour we made to Hidden Lake Territorial Park, a 3000 hectare park. The closest access to the park is via Kilometre 45 on the Ingraham Trail at Powder Point.
Hidden Lake Territorial Park is considered to be one of the most beautiful areas east of Yellowknife. Home to Hidden Lake and lots of backcountry campsites, the lake itself is one of the prettiest I've ever laid eyes on, even more so on a sunny day when it's an alluring aquamarine colour.
This post includes some affiliate links. If you make a qualifying purchase through one of these links, I will receive a small percentage of the sale at no extra cost to you. Thank you very much for your support.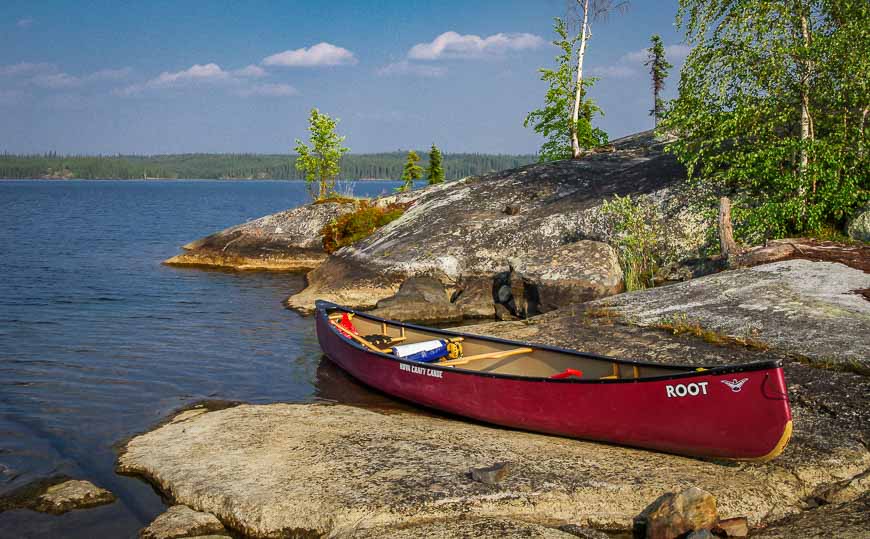 Hidden Lake Territorial Park summary
Hidden Lake Territorial Park is a large backcountry park that can be accessed from Powder Point or the Cameron Falls Day Use Area by paddling or hiking, depending on the route in.
There is no cell service in the park. It's recommended that you have an emergency device like a Garmin InReach Mini 2.
Practice Leave No Trace camping.
Keep food and toiletries in a bear proof type container.
Getting to Hidden Lake Territorial Park
Canoe across a short stretch of Prelude Lake from Kilometre 45 to a portage that will take you all of five minutes to do. Then there are two more portages after Prelude Lake – the first one being a bit easier. My guess is that they are about 500 metres and 700 metres in length. All three portages took us under two hours to do.
Carry bear spray on the Hidden Lake canoe trip
We had been warned about bears in the area but saw nothing other than one old pile of bear scat. All was quiet in the woods except for the squirrels. We did carry bear spray just in case and all food was always in a barrel.
Hidden Lake, NWT is reminiscent of the Georgian Bay
I knew we were in for a treat the moment we arrived at Hidden Lake. Open woods broken by slabs of granite – home to many a camping party over the years judging by stone fire rings, was just the start of the beauty we would encounter over the next 24 hours.
We met a couple of young women from Nova Scotia at the end of the portages, who were leaving Yellowknife for new jobs. The trip to Hidden Lake was a bucket list item they had to do before they left. How right they were!!
Hidden Lake is exceptionally clear. You can see the fish – including pike – below you if the light is right. The west end of the lake is dotted with islands, very similar to what I'd seen while kayaking the Georgian Bay.
If you have the time, you could easily spend five to seven days exploring the eastern section of the lake – including a huge section that isn't even part of the Hidden Lake Territorial Park. Be sure to purchase the Prelude Lake Map (#85-I/12) so you know where you are.
Recommended reading: The Paddlers Checklist: 100 Items To Pack
Here's a sampling of some of the scenery we saw canoeing Hidden Lake over the course of the day.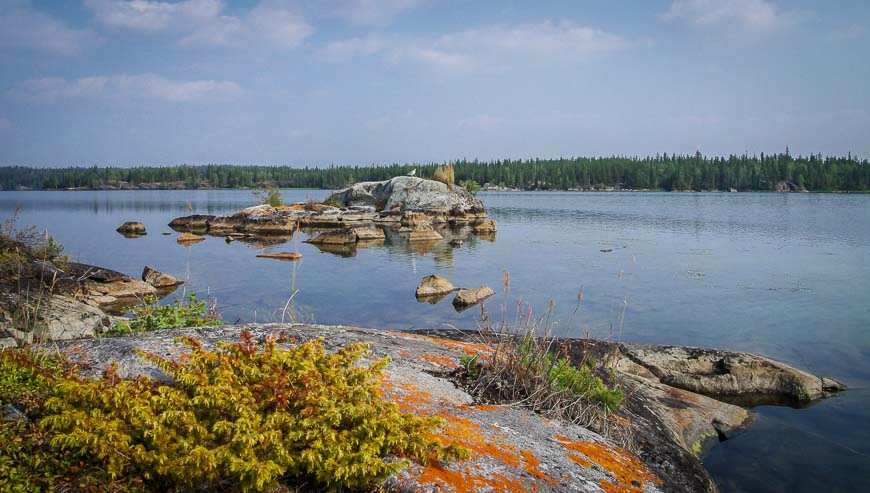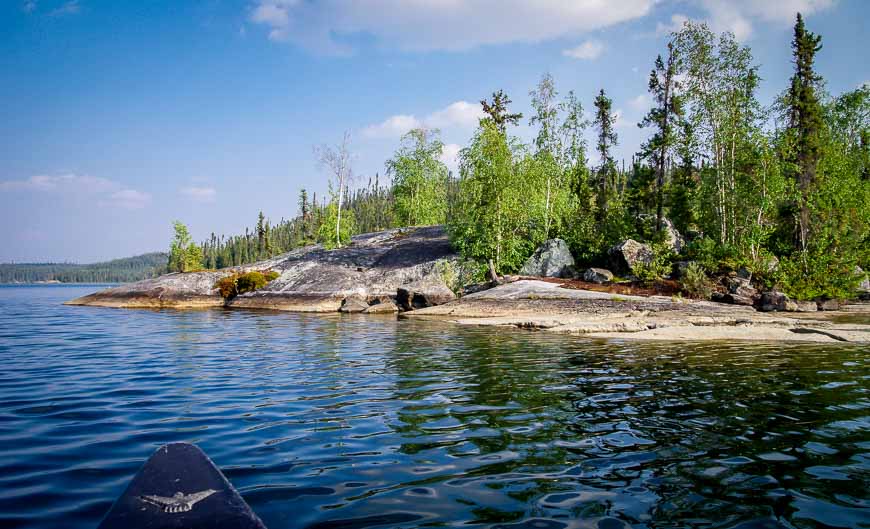 Our campsite in Hidden Lake Territorial Park
There are so many choices for camping in Hidden Lake Territorial Park that you're never going to be disappointed. Our only criteria was that we wanted the campsite to be a short paddle away to the portage point, as we knew we had to paddle 25 kilometres the next day.
Even with that, we could have picked about 10 spots, especially as there wasn't a soul around when we got there.
It was a Friday so by that evening the Yellowknife crowd had started to filter in we saw all of three camping parties – but everyone was well dispersed so you had privacy. If you paddle five or more kilometres away from the portage you're unlikely to see many, if any people at all.
Hidden Lake – a long weekend destination from Yellowknife
I'm so glad we took the time to explore the Hidden Lake area, even if it was just for 24 hours. For less experienced paddlers, it's a great long weekend destination.
In mid-August the water is warm enough for a quick swim, the fishing is excellent, the loons wake you up and lull you to sleep and everywhere you look, it's absolutely beautiful. If I lived in Yellowknife, I would be a regular weekend visitor.
Free camping in Hidden Lake Territorial Park
More good news – it's free to camp and you don't need a reservation. You can rent canoes for $4oo/week (the minimum time they'll rent) from Overlander Sports in Yellowknife and if you organize yourself ahead of time, they will shuttle you back and forth – for a reasonable price as well.
As always, go prepared for all weather conditions. Plan to cook on a stove as the fire danger has been very high. Tree cutting is not permitted and no firwood is provided.
What we missed
According to the park website there are "two abandoned gold mines within hiking distance of Hidden Lake. The first is on the southeast side of the lake, a quick walk in from the shoreline. The second is on Thompson Lake, a difficult two hour hike in from the most northerly bay of Hidden Lake."
For more information visit the Hidden Lake Territorial Park website.
Further reading on canoeing in Canada
Click on the photo to bookmark to your Pinterest boards.