If you're after a different sort of hike – one where the goal is an ice cave rather than an alpine lake or mountain top, then I'd suggest the Canyon Creek Ice Cave hike, not far from Bragg Creek. It also goes by the name Bragg Creek Ice Cave and Moose Mountain Ice Cave. It's a full day hike now – as the trailhead was moved just off Highway 66, after a string of accidents both in the cave, and perhaps on the steep scree well over a decade ago.
There is a 5.1-kilometre oil and gas access road you must walk or bike to reach the original trailhead. Biking is a great option, especially on the return when you just want to snap your fingers and be back at the car. Although dogs are allowed on the Canyon Creek Ice Cave hike, I wouldn't necessarily bring one. The scree is steep and the last thing you want to do is have your dog inadvertently send a rock flying.
This post includes some affiliate links. If you make a qualifying purchase through one of these links, I will receive a small percentage of the sale at no extra cost to you. Thank you for your support.
Background on the ice cave
Though known to Indigenous people for eons, the cave was considered discovered in 1905 by Stan Fullerton. The cave was formed by freeze-thaw cycles over the ages – enlarging fractures in the soluble limestone rock. Reportedly during the winter, there are gorgeous ice formations visible near the entrance. And in the cave, the ice is supposed to be very beautiful to see. I missed it on this past hike as we didn't want to take the dogs into the cave.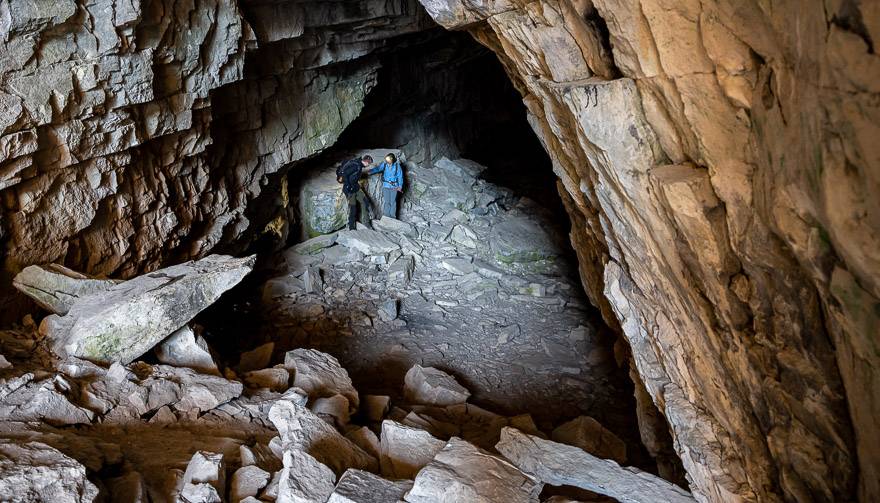 Canyon Creek Ice Cave trailhead
The parking lot for the Canyon Creek Ice Cave hike is just off Highway 66, before you reach Prairie Mountain. It is signed as Ing's Mine. The parking lot didn't used to be so close to Highway 66, but after a string of accidents, the trailhead was moved, probably to cut down on inexperienced hikers dealing with both steep scree and the ice cave itself.
Canyon Creek Ice hike details
Total distance: 11.8 km (7.3 miles) return
Elevation gain: Approximately 275 m (902 feet), with most of it occurring from the trailhead near the gas facility
Hiking time needed: 3 – 6 hours depending on how speedy a hiker you are and how much time you spend in the ice cave
Best time of year to hike it: We did it in mid-fall so there was ice along the road but not on the steep scree. I know people hike it in winter but if there's been a big snow – be sure you're able to size up avalanche risk. I don't pretend to know if the steep slope runs regularly. If it is safe from avalanches, you still need to go prepared. Take a pair of microspikes. Also, it gets dark early, so take that into account for your hike out.
Before you go: Purchase a Kananaskis Conservation Pass.
Dogs allowed: Yes but consider leaving them behind if you plan to explore the Canyon Creek Ice Cave.
Pack: Always take the 10 hiking essentials.
Canyon Cave trip report
Start hiking on the gravel road just past the gate at the large parking lot on the road to Ing's Mine. You're likely to see a whole lot of mountain bikers – perhaps heading to the Canyon Creek Ice Cave, though most seem to head for the Moose Mountain network of trails. Follow the road for 5.1 km, keeping left at any intersection. It's very straightforward and not that interesting for the first few kilometres, unless you happen across some wildlife – like pikas or deer – or its wildflower season.
Once you reach the creek and see the canyon walls, the hiking gets way more interesting. I was surprised at the size of the canyon walls – and the drama in that section. It is possible for dogs to get some water at this point.
At the next large intersection stay left and look for the original trailhead across the road. It's obvious. If you walk as far as the fenced Shell property, you will have walked about 100 m too far. See the photo of the trailhead a few photos down.
Follow the trail in the woods as it climbs gradually. Once we reached the scree, we initially headed straight up on a steep slope – but in short order came across a rock that said WRONG WAY. We took the other way – which reportedly is a slightly gentler approach. The bottom line is that all the trails converge near the entrance to the ice cave.
If you are used to hiking on steep scree, this hike won't be a challenge. But for many people its uncomfortable, especially on the descent. Take your time and be confident with your foot placement. Avoid grabbing loose rocks.
Once you get to the very large cave entrance, you still have some slippery scree to deal with to gain the inside. It's a massive cave – and can be quite chilly inside. Bring extra layers, especially in summer. Unfortunately, John and I didn't go way back in the cave but I would certainly like to. Reportedly there's a wall of ice and lots of fossils to admire.
Overall impressions
I think this is an interesting hike and well worth doing – though next time I'd choose to ride my bike on the road section. And I would leave the dogs behind so I could explore the cave without concerns for their safety. I would really like to see the Pillar of Darkness – an ice wall at the back of the cave.
What to bring on the Canyon Creek Ice Cave Trail
If you are doing this hike when there is ice on the ground, I would highly recommend microspikes. Some people might like having a set of poles as well.
At the cave entrance, you can see inside for about 50 metres thanks to the natural light. After that you need a strong headlamp (you want to keep you hands free so a headlamp is better than a regular flashlight), a helmet to protect your head and other safety gear including a back-up light and even a two-way radio.
Further reading on hikes off Highway 66
Click on the photo to bookmark to your Pinterest boards.