Our second to last day of hiking in Mallorca took us from Soller to Alaro but we cheated as most people do and started the day with a taxi ride to the Cúber Reservoir. We did that for two reasons. The day before had been a "rest day" so we had already hiked a couple of hours on the route to the reservoir and the thought of repeating the route – despite it being very pretty, wasn't appealing.
We loved the hiking in Mallorca but our intention was to enjoy new landscapes every day. An even more compelling reason was the length of the day if we were to hike the whole route.
It would be a total of 30 kilometres of hiking with a cumulative elevation gain of 1,575 metres. That's a big day no matter how you slice it and we decided that we were there to enjoy the beauty of the landscape without making it into an epic event.
The Cúber to Alaro hike via Gorg Blau
As it was the Cúber to Alaro route via Gorg Blau was 17 kilometres long with a moderate 555 metres of climbing. And that was just fine with me.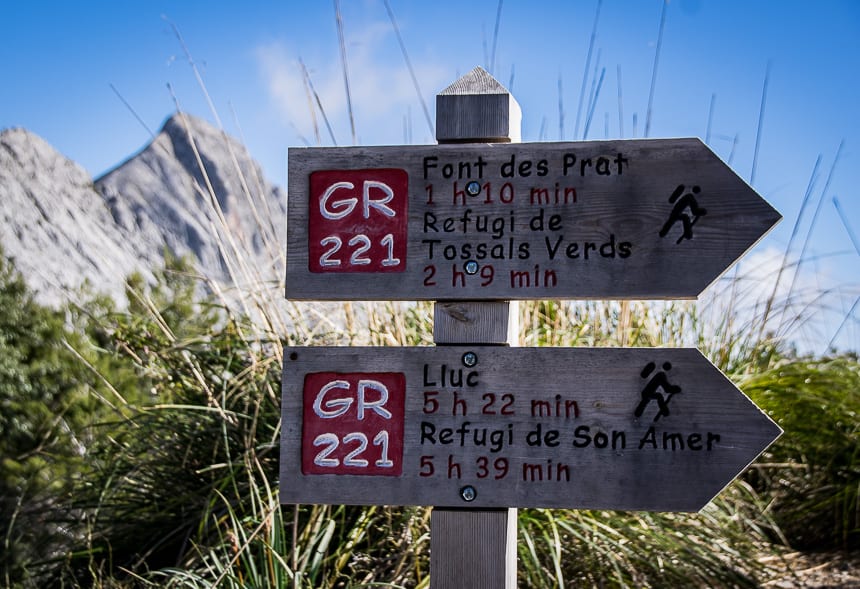 This post includes some affiliate links. If you make a qualifying purchase through one of these links, I may receive a small percentage of the sale at no extra cost to you. Thank you very much.
The hike started off beside a water channel so I wouldn't call it the prettiest start to the day. We also managed to get caught up in a very large group of loud talking hikers. We did our best to get by them, and stay ahead even if it meant giving up a few photographs.
By the time we reached the Cúber Reservoir it was both peaceful and extremely beautiful. It remained that way until the final few kilometres on asphalt into Alaro.
Look back a few times on the initial part of the hike to admire the observatory on top of Puig Major, the highest peak on the island of Mallorca.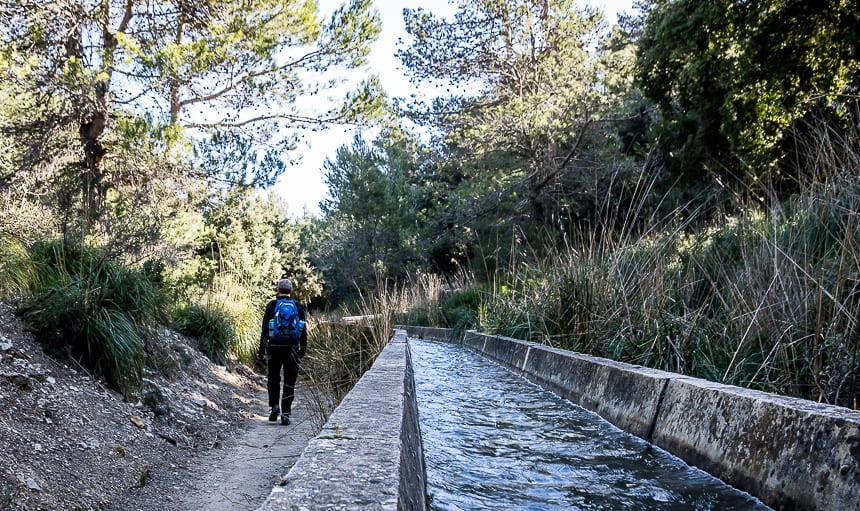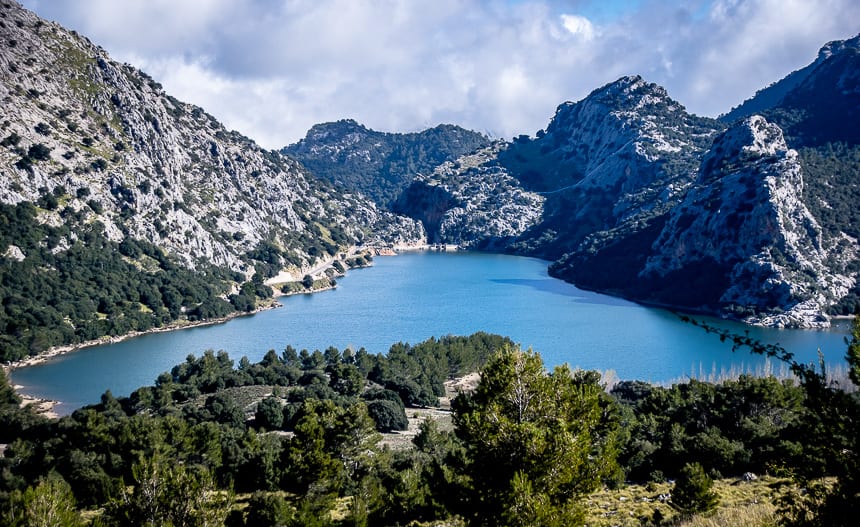 The next 90 minutes of hiking was lovely. We followed ancient cobblestone paths, sometimes lined with wild orchids that offered up views of an old aqueduct and gorge. I don't think we appreciated how high we were until we looked down and off in the distance.
Our lunch stop was planned for Tossals Verds Refugi – a very pleasant place that to me would beat staying in some of the cities. It's open every day except for two weeks in January. It offers rooms that can sleep 30 hikers and meals – though don't expect much variety. On an outside patio there are picnic tables overlooking flowering trees.
A second hiking option to Alaro
I should mention the other hiking option that is available from the Cúber Reservoir. It's possible to hike to the Tossals Verds Refugi and then onto Alaro via Pas Llis.
It's a 15 kilometre hike in total with slightly more elevation gain of 625 metres. This section isn't recommended when its wet as there is a challenging chain section which according to our notes "requires a certain amount of dexterity and strength – but is mercifully short."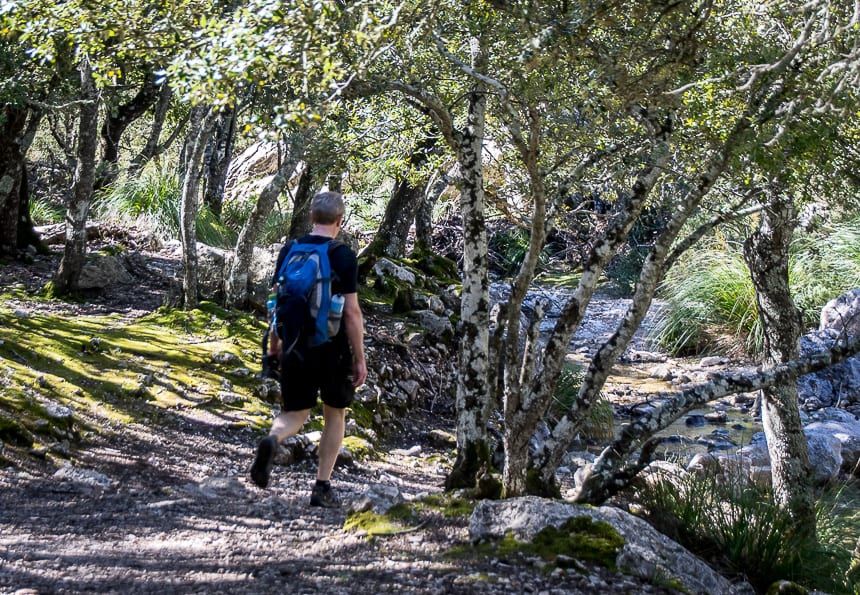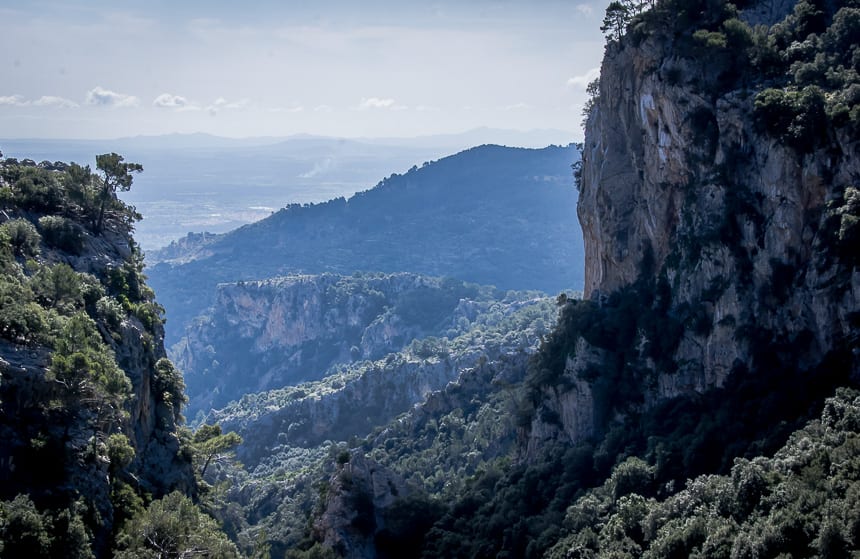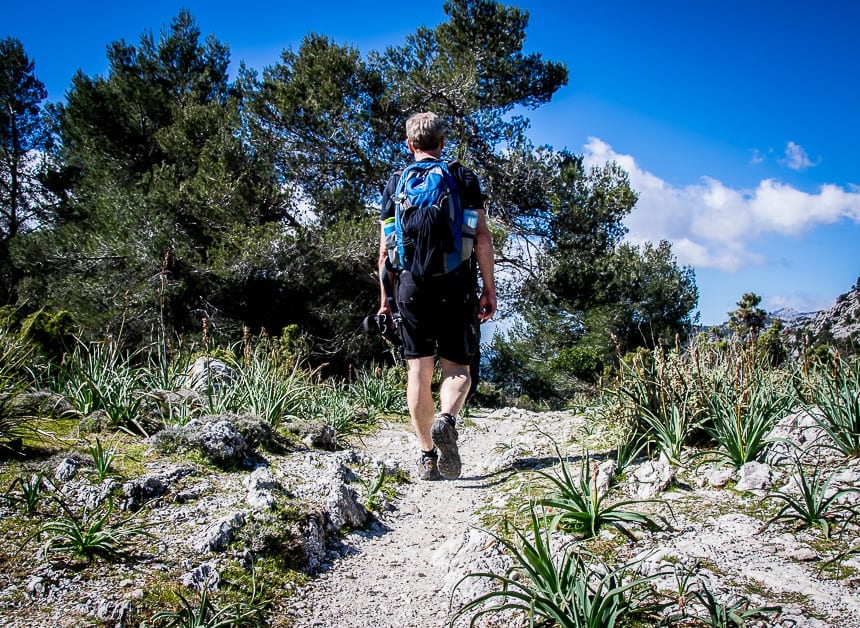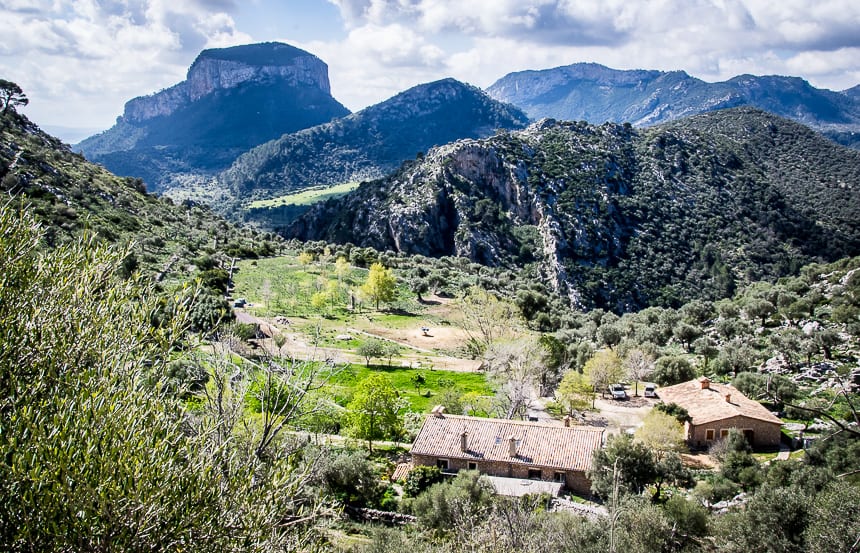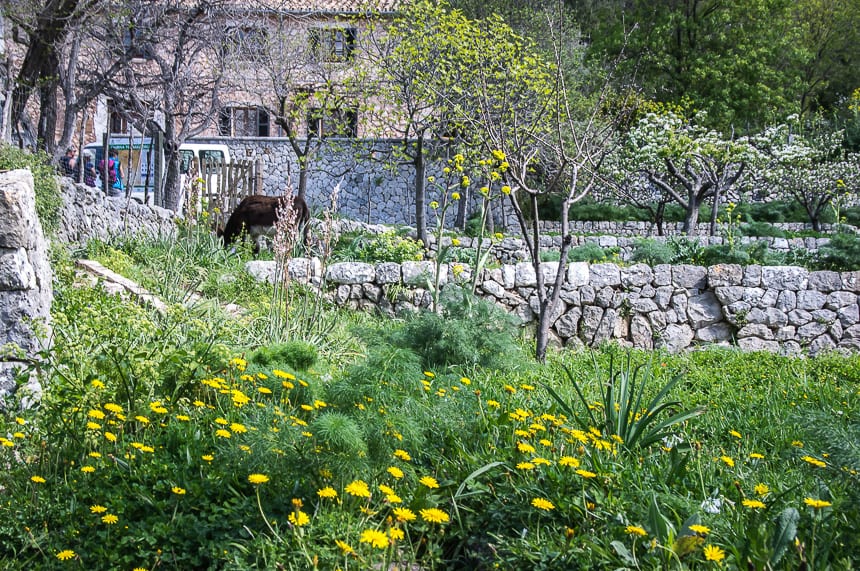 Next stop – the Sólleric Estate
After lunch it was pleasant walking – mostly downhill via gravel roads. About 45 minutes into it, we reached the stunning Sólleric Estate buildings.
The large vessels in front of the buildings are for olive oil. In the 17th century the olive mill here was considered to be the most noteworthy on the island. By the start of the 20th century, the estate produced over 120,000 tons a year of olive oil.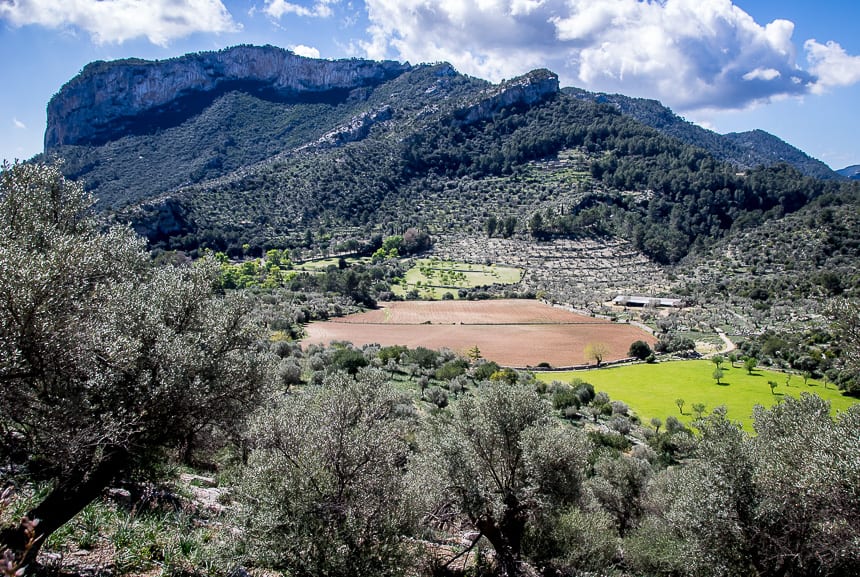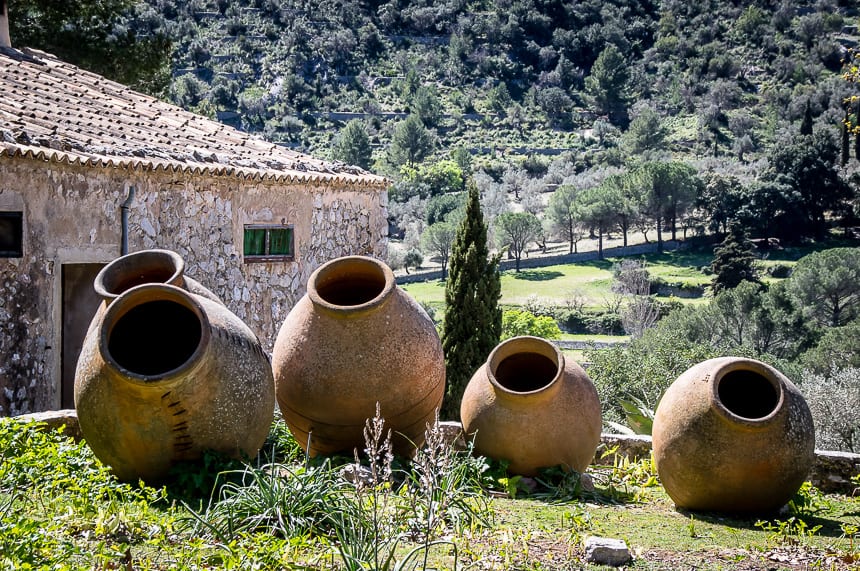 After passing through the estate the walking became less interesting, primarily because we were on asphalt roads for a good chunk of the rest of the day's hike. We did however enjoy watching a surprisingly large number of cyclists whip down the hills. And looking back, the views always enchanted.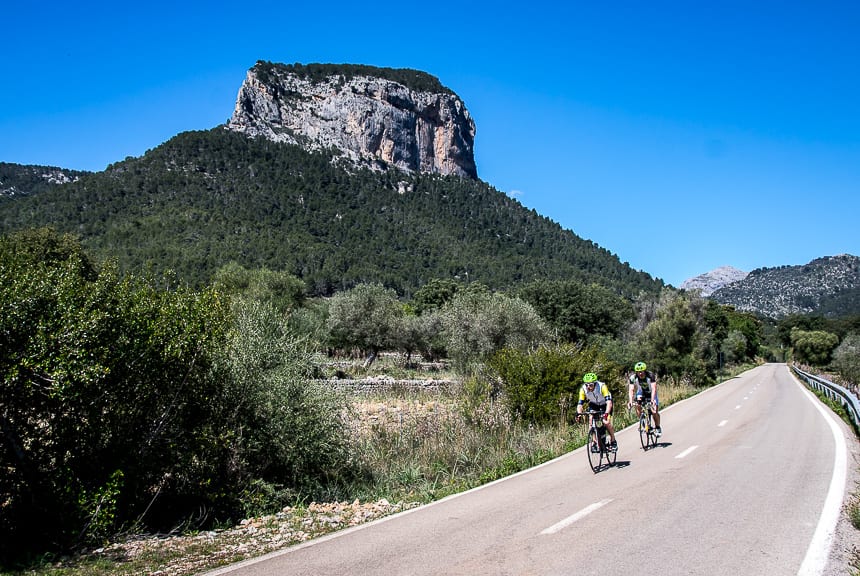 We spent a couple of nights at Petit Hotel Alaro, a short walk away from the downtown. The owners are bike enthusiasts and help run some tours but they didn't actually spend much time in the hotel; and there was no one there to open the hotel when we arrived which is always a tad annoying. Still, it's got a big pool, a great location, lovely main rooms and adequate bedrooms.
We had one more day of hiking in the Alaro area which exceeded expectations. It took us the round about way to the Alaro Castle.
Further reading on hiking the GR221 in Mallorca
Click on the photo to bookmark to your Pinterest boards.