I get quizzical looks when I tell friends and family in Calgary that I'm off to explore the Iron Horse Trail in Alberta. My husband guessed at its roots – an abandoned rail line, but its location stumped everyone. The Iron Horse Trail is the longest completed section of the Trans-Canada Trail in Alberta.
Located northeast of Edmonton, the Iron Horse Trail cuts a 300 kilometre swath across the province beginning 20 km west of Smoky Lake at Waskatenau and continuing to a junction near Ashmont where it splits south to Heinsburg and north to Cold Lake.
The Iron Horse Trail in Alberta is for hikers, cyclists, horseback riders, ATVers, and even canvas-covered wagons in summer. In winter it's used by cross-country skiers and snowmobilers.
This post includes some affiliate links. If you make a qualifying purchase through one of these links, I will receive a small percentage of the sale at no extra cost to you. Thank you very much or your support.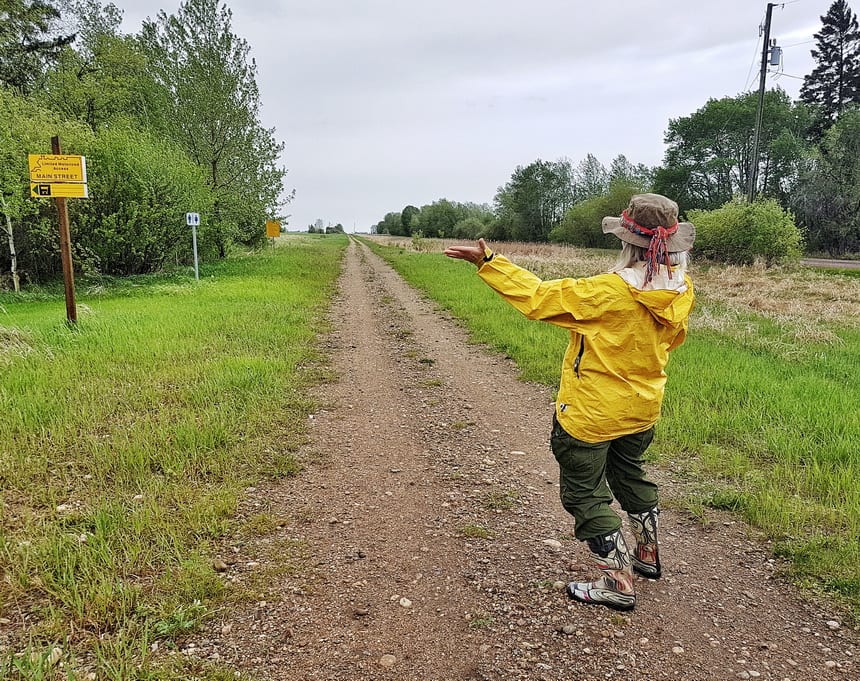 Along the Iron Horse Trail you can enjoy a diverse landscape of rolling hills, boreal forest, parklands, wetlands, jack pine forests along with stops at historic towns, a National Historic Site – Métis Crossing located beside the North Saskatchewan River, and Fort George Buckingham House, a provincial historic site near Elk Point.
This part of Alberta is called the Land of Big and after a few stops in the small towns you'll soon understand why.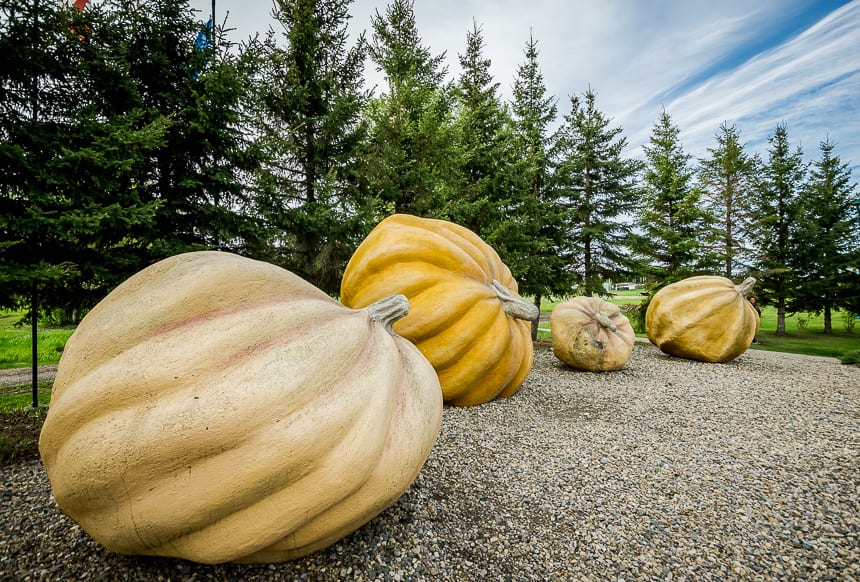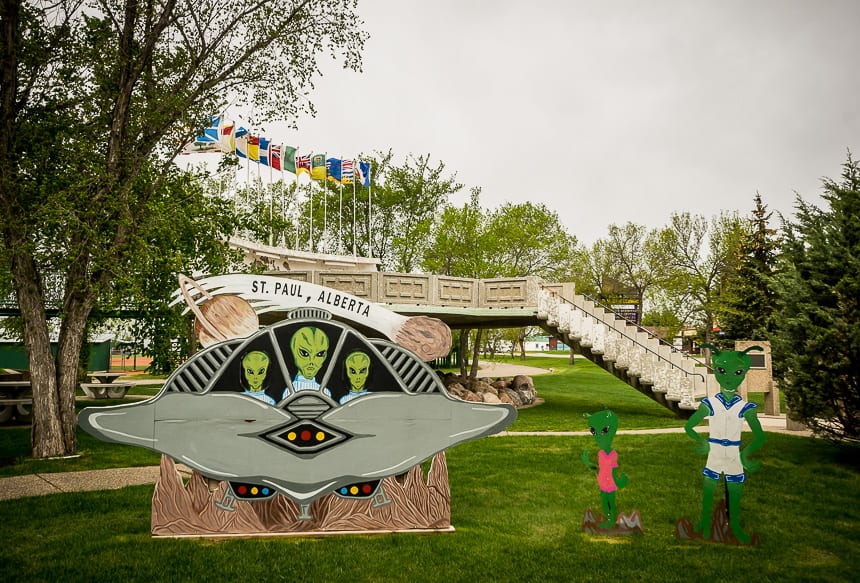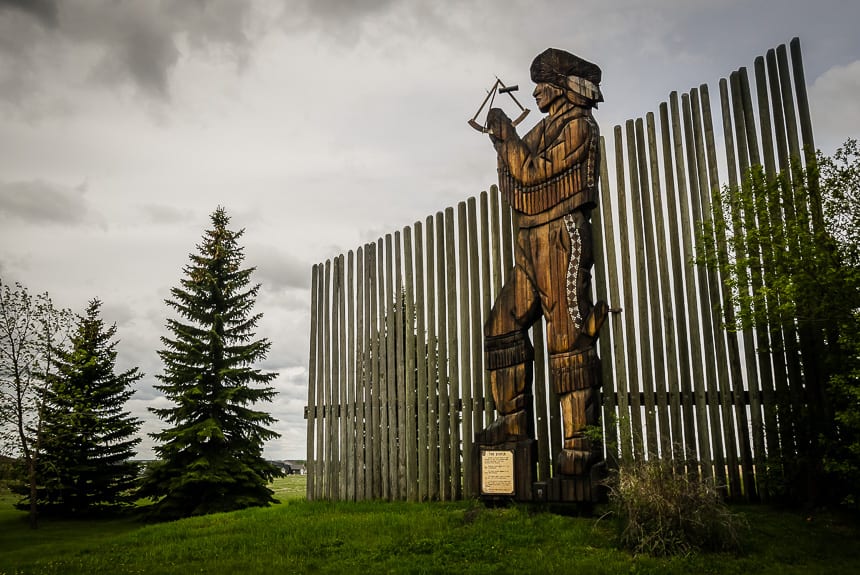 The Iron Horse Trail Alberta owes its life to the CN Railway
For years the train was an important artery through many of the small towns you end up visiting along the trail including Smoky Lake, Vilna, Bonnyville, St. Paul, and Elk Point. Over the last few decades service has been discontinued along these uneconomical lines. As the lines were retired, CN pulled up the rails, leaving a nicely graded, albeit overgrown trail behind.
Along came dedicated volunteers with a vision to turn these old rail-beds into a year round recreational corridor.
The land between Heinsburg and Elk Point was the first section acquired through much negotiation with CN. That started the whole process with more communities to the west and north jumping on board.
Today there are ten municipalities in eastern Alberta with a very big interest in seeing the continued success of the Iron Horse Trail, including Vilna with its beautiful old buildings pictured below.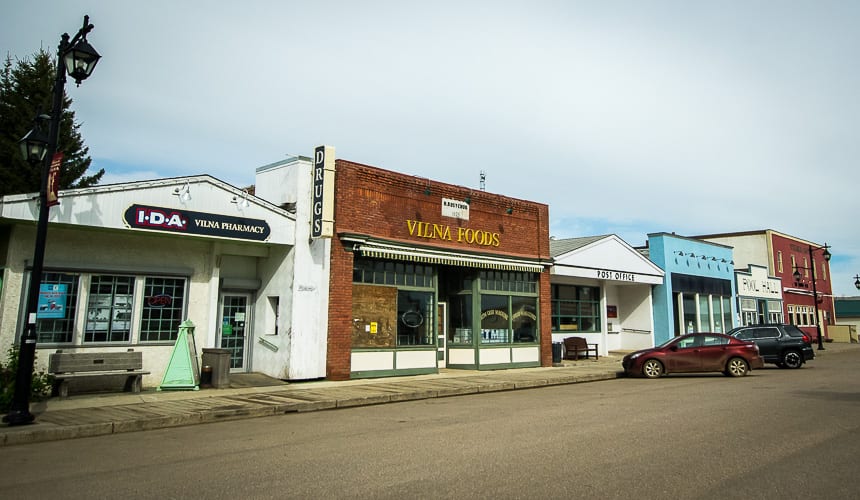 Iron Horse Trail biking
I explored the Iron Horse Trail in Alberta over a couple of days with Sheila and Jim, a couple who spent a large part of their working lives living in eastern Alberta as educators.
Sheila has been particularly invested as a board member and tireless fighter for the Iron Horse Trail. She was extremely keen to show me as much as we could cover in the short time that we had. Jim was ever patient as a chauffeur and car washer (you'll understand if you scroll down).
Our original plan had been to canoe the North Saskatchewan River from Métis Crossing to Victoria Settlement Provincial Historic Site and then return to Métis Crossing via bike. Unfortunately the day before we'd had extreme weather conditions with lots of wind and rain.
The North Saskatchewan River was full of whitecaps and running hard so we nixed that – and drove instead – but first we got a tour of Métis Crossing.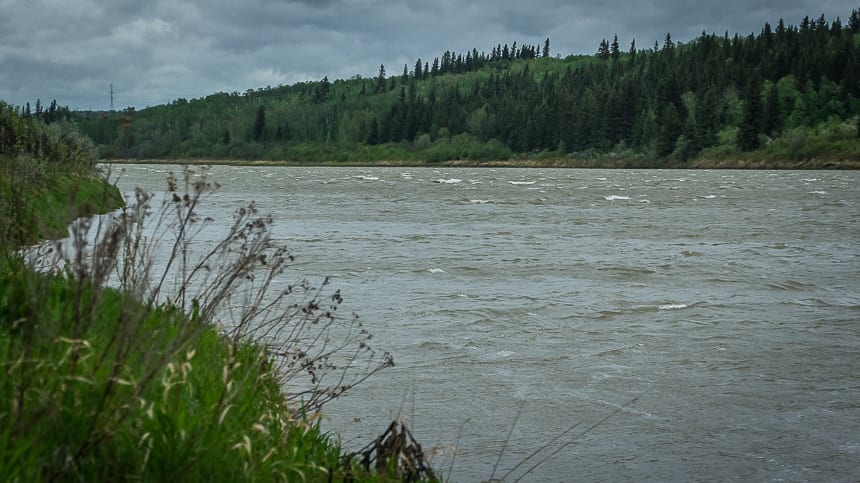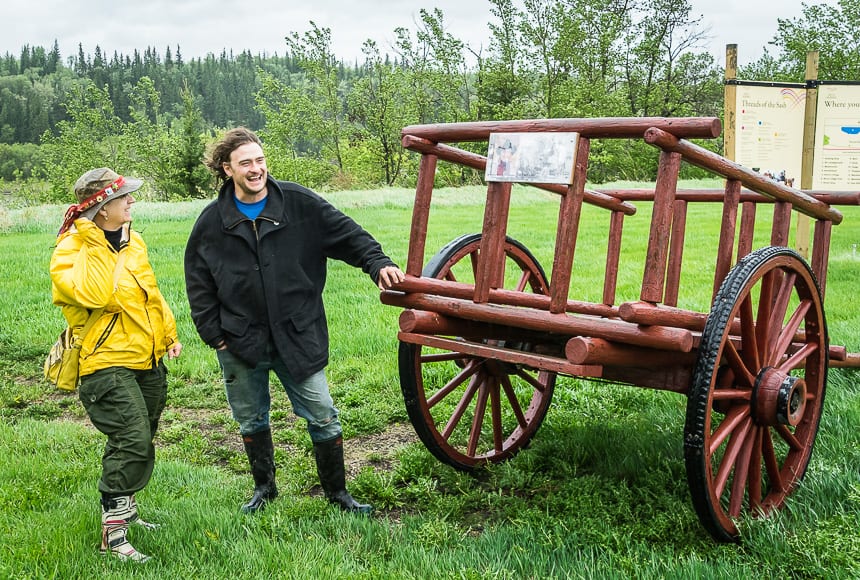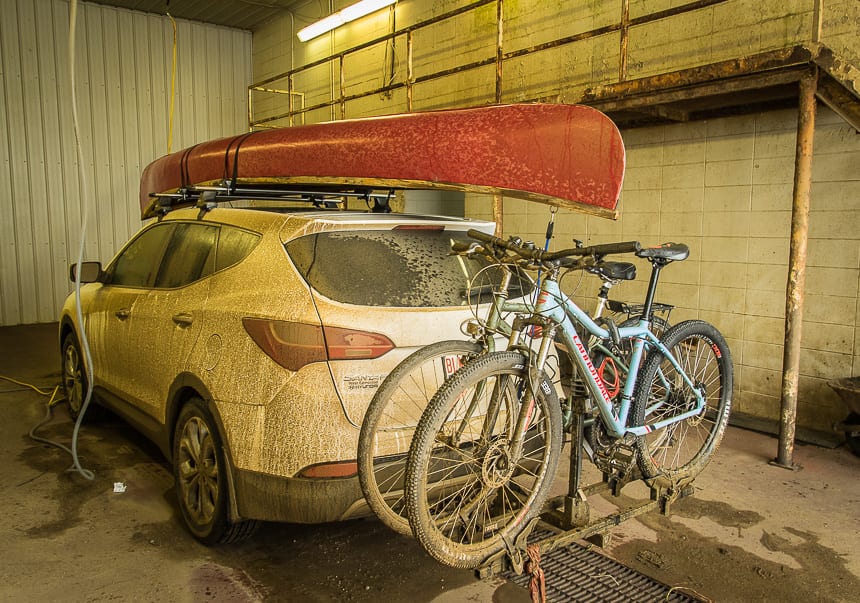 We settled on a bike ride between Lindbergh and Heinsburg, one of the prettiest sections of the Iron Horse Trail. However, after testing conditions for about six kilometres we wimped out and called it a day.
The trail is best cycled when dry on a mountain bike. My bike had bigger tires than Sheila's and was easier to maneuver through slippery cow paddies and deep mud. You can tell she doesn't look too thrilled in the photo below – and this was the clean section.
Some parts of the Iron Horse Trail are more compacted than others so the cycling is easier. A case in point is Warspite, one of twenty staging areas along the trail, complete with washrooms and parking.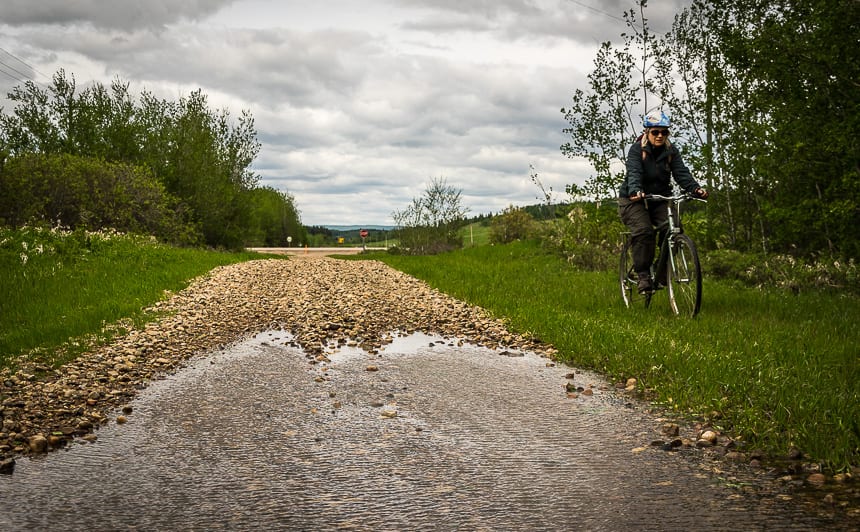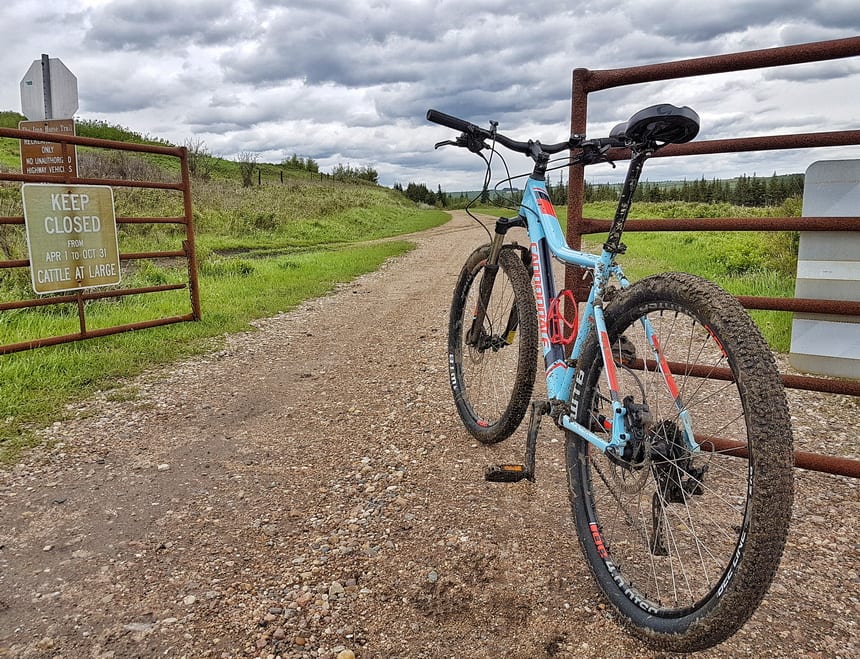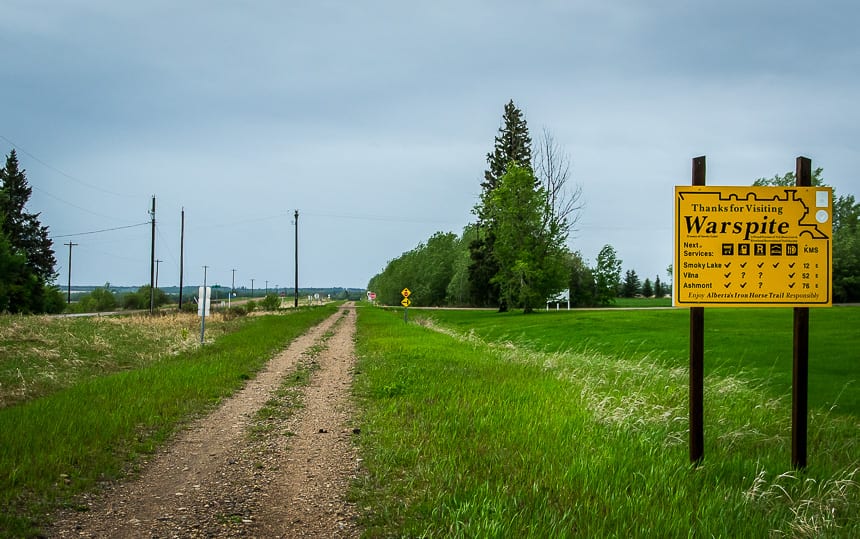 What you should know before you visit the Iron Horse Trail
There are loads of events along the trail including the Iron Horse Ultra 100 Marathon.
Locals along the Iron Horse Trail are incredibly kind and helpful. Ask for help if you need it.
There are lots of campgrounds and small hotels/motels along the route. Whitney Lakes Provincial Park is in a particularly attractive area.
If you're biking, take a glueless patch repair kit, bike pump and spare inner tube as there is little in the way of bike services.
Wildlife including moose and deer are often sighted. Birding is excellent. Binoculars would be worthwhile.
Exploring the Iron Horse Trail in Alberta helps you learn something of the province's history and shows you a side of the province you probably haven't seen. I discovered a beautiful and underappreciated landscape with some of the friendliest people west of Newfoundland.
Visit the Iron Horse Trail website for more information and a downloadable map.
Further reading about things to do in Alberta
Click on the photo to bookmark to your Pinterest boards.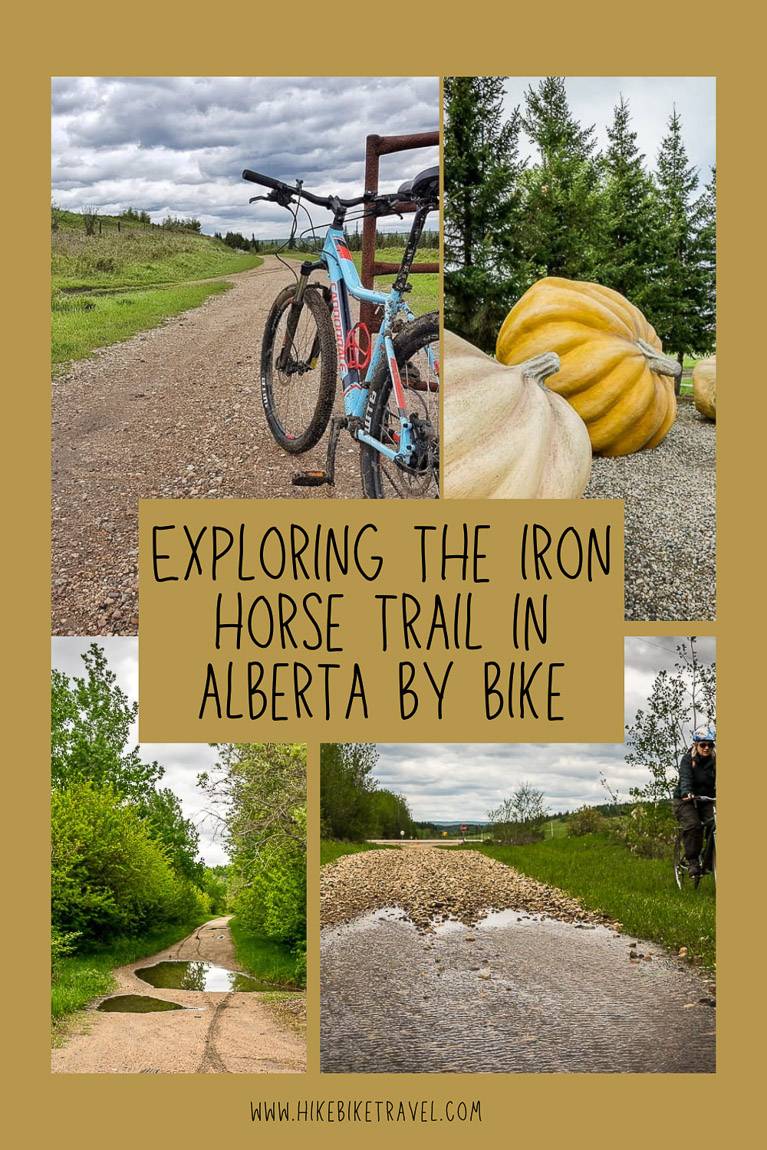 A huge thank you to Sheila and Jim and Alberta TrailNet for hosting me.