When larch season is almost upon us, it's time to mark your calendar so you don't miss their awe-inspiring display. It's the equivalent of eastern Canada's fall display but more localized.
If you're looking for a day trip from Calgary, any of these five larch hikes will leave you speechless – and perhaps breathless as all are not a walk in the park. The larches typically reach their peak somewhere around September 20th – and some start to turn even earlier but you really have until the end of September to get out and enjoy them.
Viewing the larches – a coniferous tree that changes colour and drops its leaves (needles) – is bucket list worthy!
Taylor and O'Brien Lakes – top pick for larch hikes from Calgary
Accessed via the Taylor Lake Trailhead on the Trans-Canada Highway west of Banff, both Taylor and O'Brien Lakes are magnificent in fall – and devoid of the crowds that you'll find in Lake Louise.
Plan on a full day hike if you visit both lakes. Its 6.5 km to Taylor Lake with an elevation gain of 595 m. Add an additional 1.8 km to reach equally lovely O'Brien Lake. You'll want to enjoy a picnic lunch at one of the lakes so allow at least five hours – and up to seven for the hike.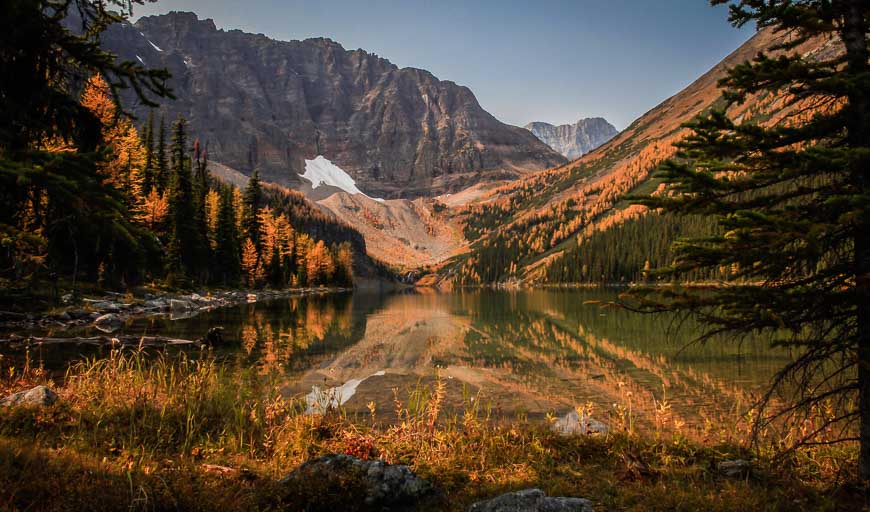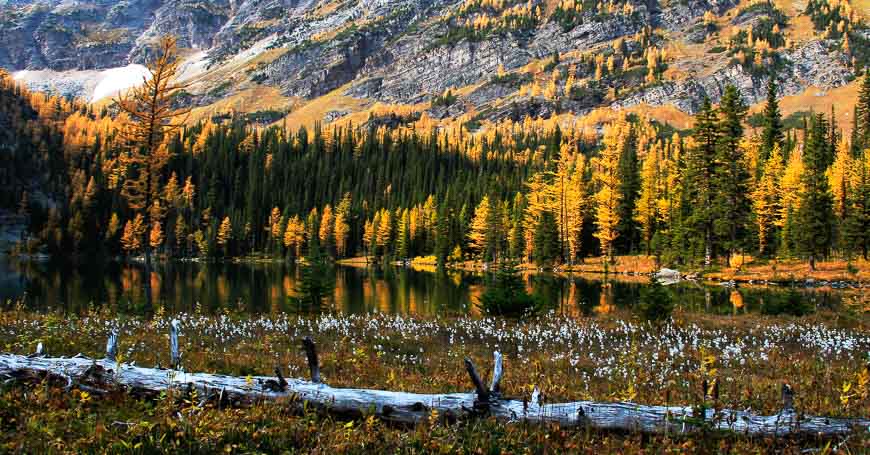 The Boulder Pass – Skoki Lakes area
Granted it's a long day hike to Boulder Pass and the Skoki Lakes area – and an overnight backpacking trip is really the better way to go, but it's doable. To Boulder Pass and back to the trailhead you need six to eight hours to hike the 17 km, a bit more if you descend the pass to see the Skoki Lakes.
As one of the Parks Canada interpreters told me last week, this is one of her favourite areas to visit for the larches in the fall. And the scenery once you leave the Temple fire road is terrific.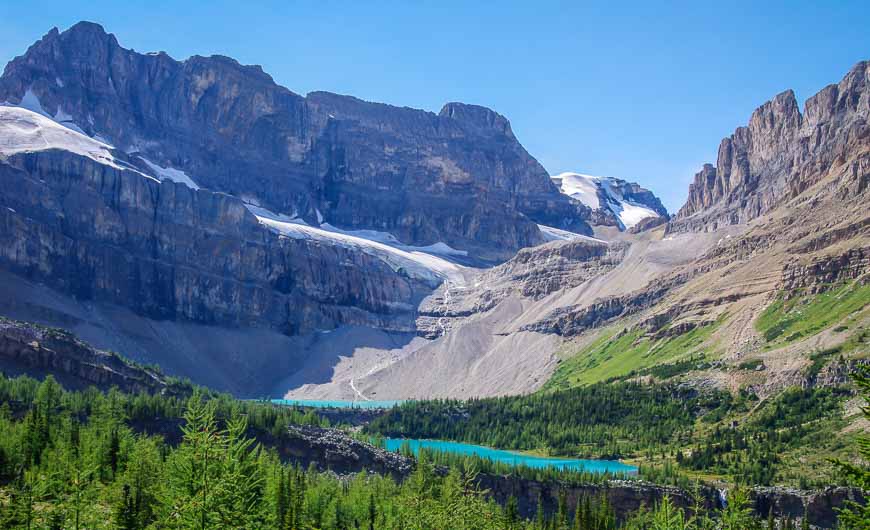 Larch Valley and the Sentinel Pass Area
As one of the premiere larch viewing areas in Banff National Park, you can be sure that unless you visit at the crack of dawn, you will have company. In fact a shuttle operates in peak larch season as the crowds get so thick.
But there's a reason for that. In late September, Larch Valley is a riot of yellow in one of the prettiest settings in the Rockies. If you can possibly visit on a weekday do so. Otherwise, get up really early to beat the crowds.
Alternatives to this hike in the Lake Louise area include the hike to Lake Agnes Teahouse and Fairview Mountain.
Read: The Larch Valley Hike – Sentinel Pass Hike in Fall
Gibbon Pass in Banff National Park
Park at the Vista Lake Trailhead, accessed off of Highway 93, 8.4 km south of Castle Junction and be prepared for a long but rewarding day.
I did this hike as part of a three day backpacking trip to Egypt Lake in the summer and couldn't help but notice the huge number of larch trees around Gibbon Pass. It's also home to some beautiful meadows and expansive mountain views. The hike up is pretty too especially around the lakes you'll see on route to the pass.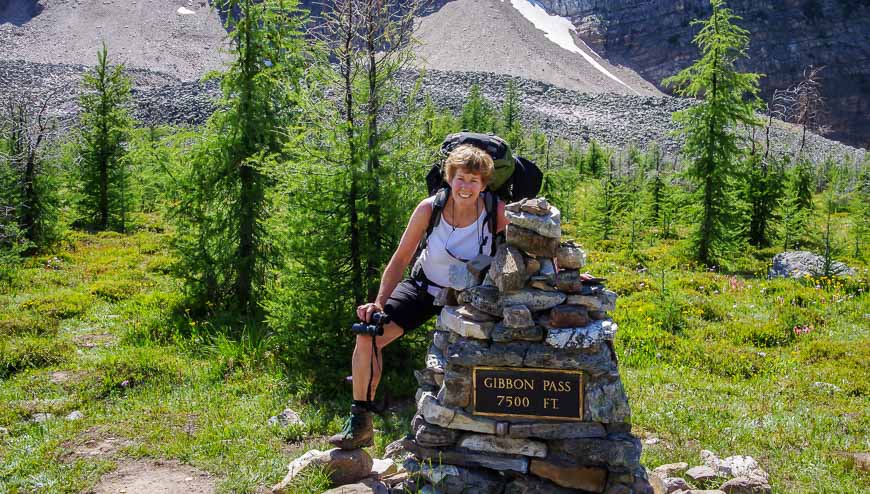 Chester Lake larch hike, Kananaskis Country
Chester Lake is one of those multi-season destinations that always shines. By mid-September the larches around the lake are in their prime. Over a four hour round-trip hike with only 400 m of elevation gain you'll reach larch country as you get close to the lake.
A dusting of snow in September just added to the beauty.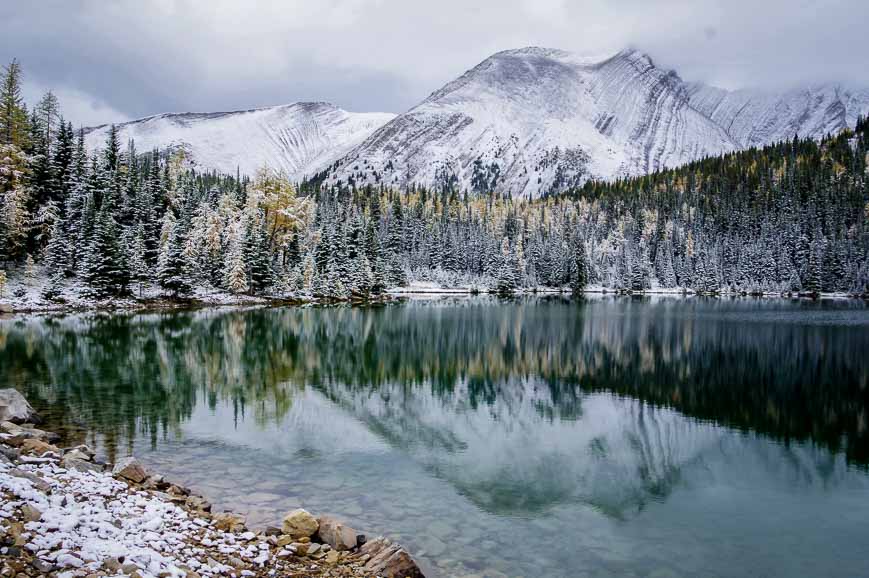 There are loads of other hikes for larches – though some of the outstanding hikes are kept secret from what I've heard so the crowds don't descend. Do you have a favourite hike for larch viewing you'd be willing to share?
Other larch hikes in Alberta I'd recommend
Click on the photo to bookmark to your Pinterest boards.