I wake to the sound of fat raindrops hitting the tin roof of my lodge. The smell of breakfast wafts up the stairs and into my room as I roll over and drift back into a blissful sleep. I'm a two-hour drive down a gravel road in the Nemaiah Valley and I'm safe in the knowledge that nothing but the wilderness will be calling on me today.
Where is the Nemaiah Valley?
The Nemaiah Valley, part of the Chilcotin backcountry in B.C.'s interior, is about 300 kilometres north of Vancouver as the crow files, but it's a nine-hour drive away due to the barrier created by the Coastal Mountains.
Landline telephone and internet service didn't arrive here until late 2000 and the area is still without cellphone service and is off the BC Hydro grid, leaving residents to live without electricity or create their own.
Snowy Mountain Outfit
At Snowy Mountain Outfit, Jon and Tracy Tanis use solar panels to power the lodge. The couple settled here in the '80s, clearing the land using human and horse power alone and building a one-room cabin next to a glacier creek, where they raised three daughters.
Thirty years later, the original cabin has been transformed into a gorgeous two-level log home and bed and breakfast offering trail riding in the majestic West Coast mountains.
I eventually show my face downstairs for tea and homemade blueberry muffins, and cozy up with a good book as the rain continues to fall outside.
The night before, Jon, Tracy, myself and another guest stayed up late sharing stories in the living room. The night was capped off by a musical performance by Jon and Tracy, who just so happen to be accomplished musicians.
Earlier in the day, Jon had given me a refresher course on how to change a tire — after I'd hobbled into the yard with a flat.
As I read my book, I catch a new scent wafting out of the kitchen. It turns out to be seafood chowder and I devour a bowl before we all head out for an afternoon trail ride.
I haven't ridden a horse since childhood, but Jon has me feeling confident in the saddle in no time. As we crest a mountain, I realize there's no point in taking anything but panoramic pictures in this place — it's 360 degrees of breathtaking scenery.

We scan the valley below for wild horses, which are frequently sighted around here and descend from mustangs. Everything we lay our eyes on is Tsilhqot'in territory, the subject of a 25-year court battle. That battle came to an end in June 26, 2014, when the Supreme Court unanimously ruled the Tsilhqot'in Nation holds title to approximately 1,900 square kilometres of its traditional territory.
The decision marks the first time aboriginal people in Canada have won a title claim and holds vast implications for a province in which the vast majority of land was never explicitly surrendered by aboriginal peoples.
Jon and Tracy operate here with the acceptance of the Xeni Gwetin First Nation. They seem to have an open-door policy with some of the local First Nations people who come and go, sharing meals, stories and laughter.
After our trail ride, Jon whips up fried chicken for supper. The rain has started again, but Tracy and I don't let that stop us from heading out to catch the sunset at Chilko Lake. Bonus: we catch a double rainbow on the 10-minute drive.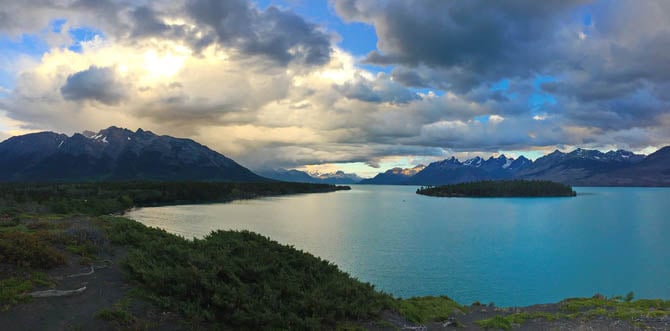 Words really can't describe the beauty and serenity of this place. As I pack up and drive away from Snowy Mountain the next morning, I realize what a salve for the soul this quiet wilderness has been and vow to find my way back before too long.
If you go to the Nemaiah Valley
Snowy Mountain Outfit offers lodging, including all meals, drinks and snacks, for $149 per adult per night. They also have two luxury wall tents.
Snowy Mountain Outfit is a three-hour drive from Williams Lake. Pacific Coastal and Central Mountain Air fly direct from Vancouver to Williams Lake.
Further reading on things to do in the Chilcotin
Click on the photo to bookmark to your Pinterest boards.
This guest post was written by Emma Gilchrist, a journalist and citizen engagement specialist based in Victoria, B.C. She's currently the Executive Director of DeSmog Canada, an online news magazine focused on energy and environment.
Emma has worked as a reporter and editor in Canada and the U.K., including stints at the Calgary Sun, Calgary Herald, Cambridge Evening News and BBC Essex . Her writing has appeared in the Globe and Mail, WestJet Magazine, the Calgary Herald and the National Post.
You can follow Emma on Twitter.