British Columbia's Highway 20 is the one on the map in grey that's described in the atlas as Other paved road; Unpaved Road. Bring it on is what I say. Those are the roads where the traffic is almost nonexistent and the communities along the way are delighted to see a tourist. And where the only thing you have to stop for on the road is a horse or a cow – never a stop light.
Highway 20 takes you from Williams Lake to Bella Coola, from the Chilcotin Plateau to the coast of British Columbia. Along the way there are only a smattering of small communities but plenty of places worth stopping.
This post includes some affiliate links. If you make a qualifying purchase through one of these links, I may receive a small percentage of the sale at no extra cost to you. Thank you for your support.
Here are 20 things you can do and see along Highway 20 starting in Williams Lake, BC
1. Go for spin on a jet boat
Check out the Fraser River – by car or via Jetboat. The river starts at Mount Robson and 860 miles later empties into the Strait of Georgia. On the river enjoy BC's pristine wilderness and up to Class III rapids. Wildlife viewing is practically a given and you'll certainly learn a little gold rush history.
2. Check out Junction Sheep Range Provincial Park
Take a short detour and visit Junction Sheep Range Provincial Park – and in particular Farwell Canyon. There's a hiking trail that leads to the top of the hoodoos and if you're lucky you might spot a herd of big horn sheep.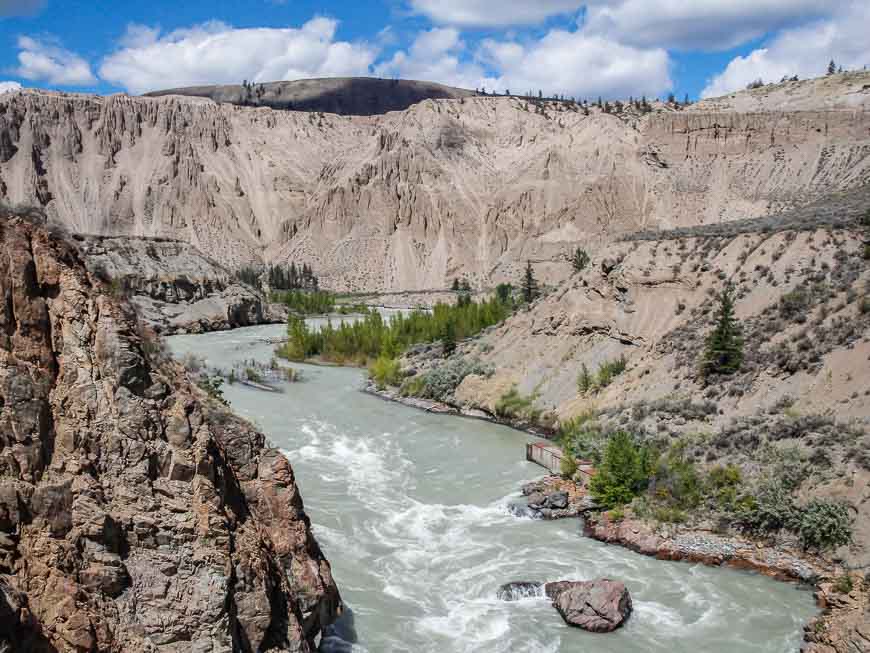 3. Go rafting on the Chilcotin River
Raft the Chilcotin River as it races through Farwell Canyon. Running from the headwaters in the Ilgachuz Mountain Range, the Chilcotin River heads for the Fraser River, with the Chilco and Chilanko Rivers joining it. Rafting the Chilcotin River will take you through desert canyons, through boulder canyons, and crashing through standing waves. There are rapids rated I to V on this river – so mellow water to OMG will we be swimming?
4. Go fishing
Fish for rainbow trout in one of the lakes that dot the Chilcotin Plateau that can be accessed from Highway 20 including Eagle Lake, Puntzi Lake, and Tatlayoko Lake.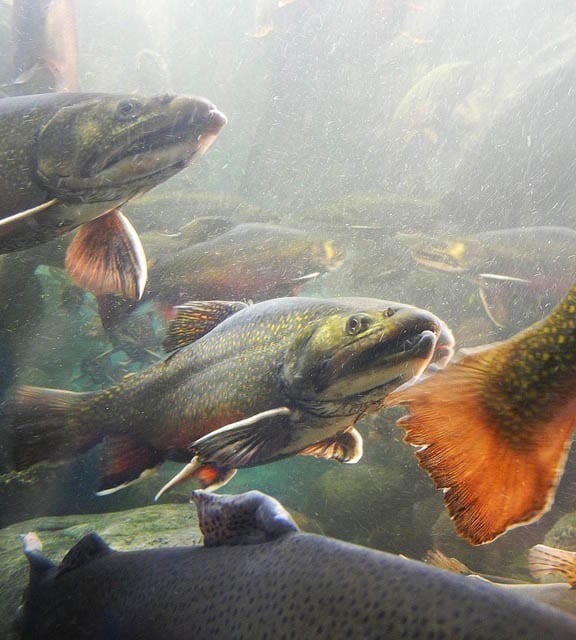 5. Enjoy grizzly bear watching in the Chilcotin
Go grizzly bear watching during the salmon run. You can do this out of Bella Coola or by drifting in a boat along the Atnarko River. The start of the best season for grizzly bear watching is in late August.
6. Hike in Tweedsmuir Provincial Park
Hike into the Rainbow Range in Tweedsmuir Provincial Park. The 16 km hike into the Rainbow Range was one of my best one day hikes EVER. There is the option to backpack into the Rainbow Range too. Expect wildflowers, beautiful tarns, solitude, and of course the stunning Rainbow Range Mountains.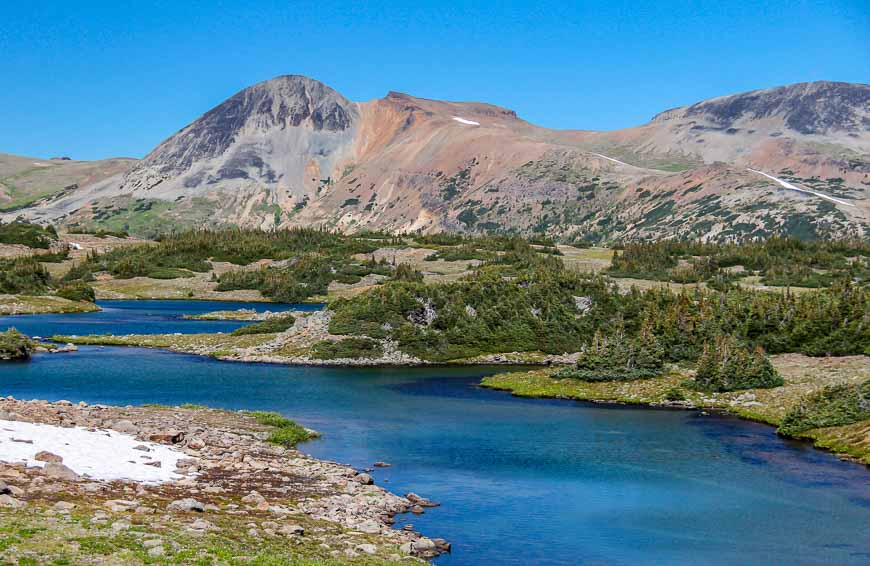 7. Go horseback riding off of Highway 20 in the Chilcotins
Take a pack horse trip into the Rainbow or Chilcotin Mountains. Or make a two hour detour off Highway 20 and go horseback riding in the breathtaking Nemaiah Valley. Overnight trips are available.
8. Check out stunning Hunlun Falls in the Chilcotin
Stop in Anahim Lake and arrange a floatplane tour over Hunlen Falls. They are Canada's third highest waterfalls and hard to see unless you fly or make a long, arduous hike up to the Turner Lakes.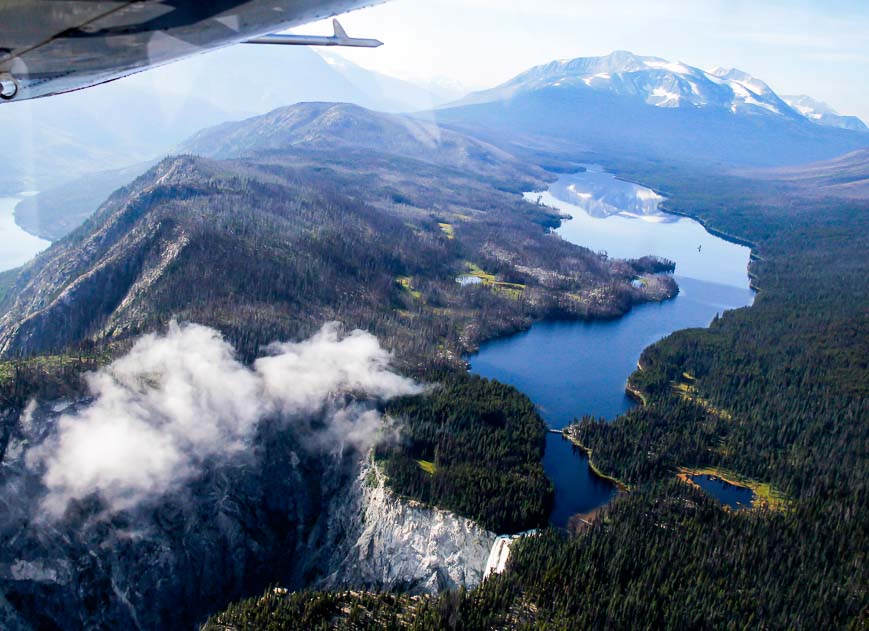 9. Canoe the Turner Lake Circuit
Plan a three to five day canoe trip on the Turner Lake circuit. It features seven lakes with short creeks or portages linking them. You can hike in off of Highway 20, though that's a slog and you'd have to carry an inflatable boat and all your gear. A better idea is to get dropped off and rent canoes on Turner Lake. You'll find lots of information on renting canoes and lakes to paddle on the Tweedsmuir Air website.
10. Be respectful of the Native Cemetery on Highway 20
Pay your respects from a distance at the Native Cemetery on the south side of Highway 20 near Redstone. Since I visited, they would prefer you not go on the land.
11. Stay for a few days on Charlotte Lake
Head for beautiful Charlotte Lake, just 20 kilometres off of Highway 20 and spend a few days at the Atnarko Retreat. Read, go birdwatching, fish, kayak and swim or do nothing at all.
12. Drive the scary section of Highway 20 to Bella Coola
Drive Highway 20 all the way down to Bella Coola. That would include the eleven kilometers of steep, winding, dirt road with serious drop offs. My husband drove while I clenched the handle and used my right foot to pretend break!
13. Do the Eagle's Nest Marsh Trail in Anahim Lake
Walk the Eagle's Nest Marsh Trail on the southwest side of Anahim Lake. Look out for the bald eagles, white pelicans, trumpeter swans, ospreys. great grey owls, and horned owls.
14. Swim or paddle Anahim Lake
Go for a swim or a paddle on Anahim Lake. It's a scenic spot to spend some time. Stay at Eagle's Nest Resort with Anahim Lake on three sides of the property.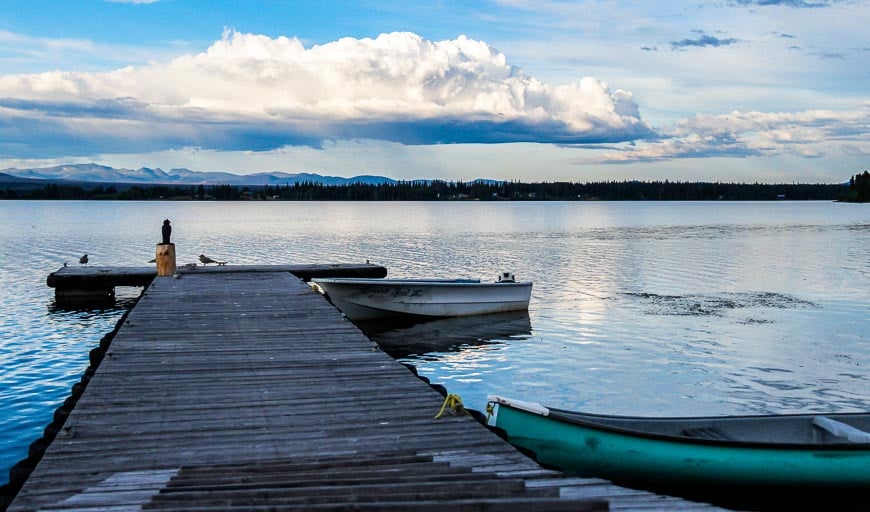 15. Go hiking in Bella Coola
In Bella Coola area choose from a variety of hikes including Schoolhouse Mountain Falls, Snootli Creek Regional Park and the trails to Blue Jay Lake and McGurr Lake in the high alpine.
16. Admire the Native art in Bella Coola
Drive the streets of Bella Coola and admire the Native art – totems on front lawns and murals on the grocery store.
17. Visit Clayton Falls Park at the end of Highway 20
Head to Clayton Falls Park just past the ferry terminal in Bella Coola. Take a picnic lunch and watch the world go by. And take a few minutes to check out Clayton Falls too.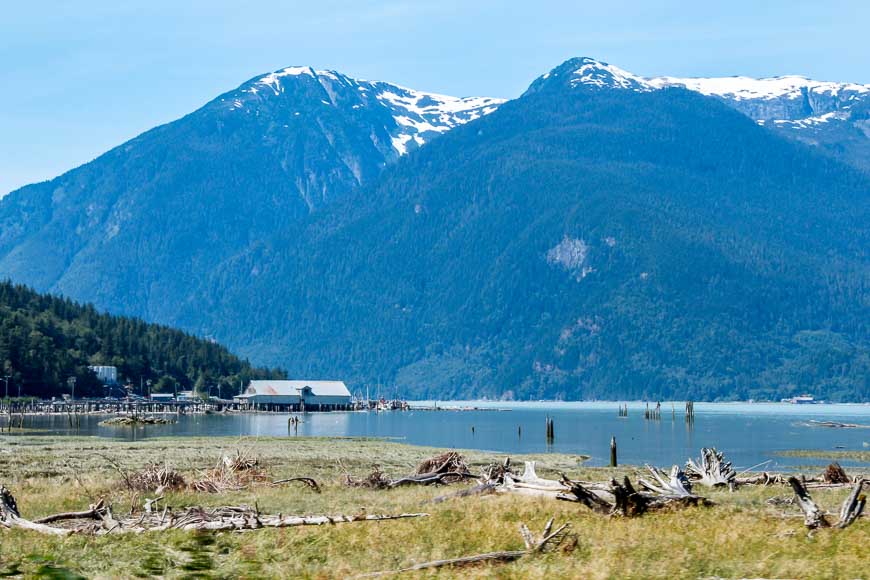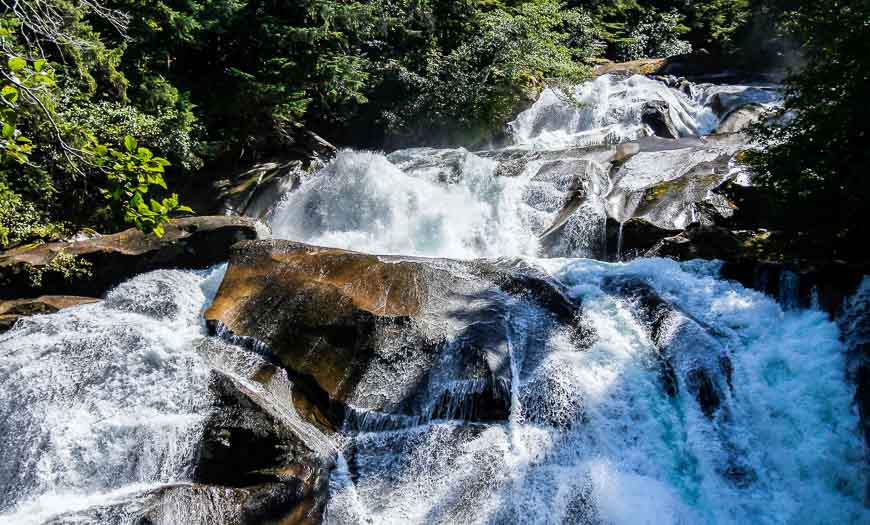 18. Look for petroglyphs
Look for the petroglyphs at Thorsen Creek in Bella Coola. Hundreds have fallen from a cliff face and lie strewn in the forest. The site is estimated to be 3,500 years old. You can arrange for a tour with Nuxalk guides.
19. Take a float plane tour from Nimpo Lake
Do a float plane tour out of Nimpo Lake, called the Floatplane Capital of British Columbia. There's a lot of fantastic country to see, especially the rainbow coloured mountains. Be prepared to be gobsmacked by the Rainbow Range.
Highway 20 between Williams Lake and Bella Coola location map
Check out the maps below to help get you oriented.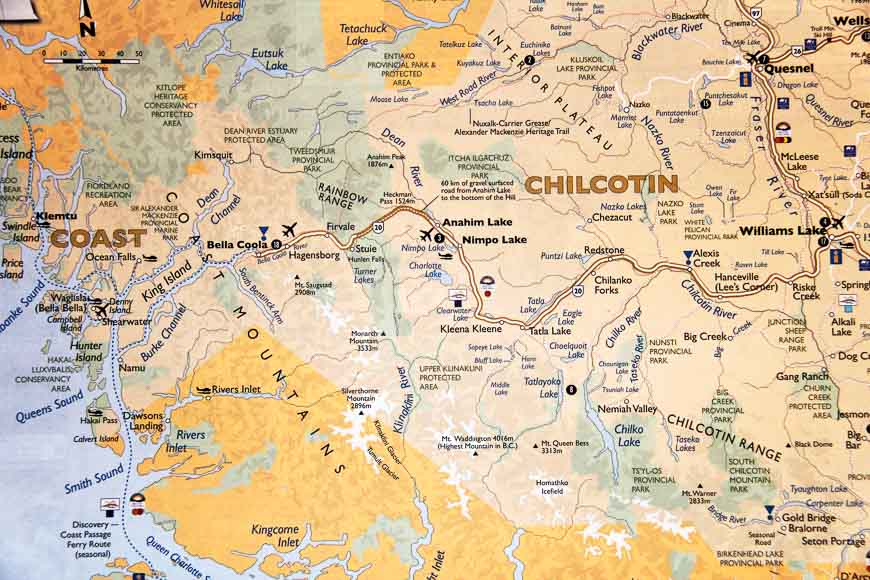 A few things to take for the Highway 20 drive in the Chilcotin
I highly recommend picking up a copy of the Cariboo Chilcotin Coast BC Backroads Mapbook to make the most of the drive.
Don't forget to take a roadside emergency kit for your car – as often on this drive you are a long way from anywhere.
Places to stay along Highway 20 in the Chilcotin

Bella Coola Mountain Lodge – A nice looking newer lodge with 14 rooms and a dining room with an inspired menu – offering fresh, local seafood, organic greens and predator friendly ingredients. They also rent cars to their guests should you have arrived on foot via the ferry.

Tweedsmuir Park Lodge boasts 600 metres of river frontage and views of Mt. Stupendous and Mt. Melikan. Choose a cabin or a chalet and sit back and relax OR pick something out of their wide range of activities – fishing, mountain biking, bear viewing, and heli- skiing to name just a few.

Anahim Lake Eagle's Nest Resort is located on Anahim Lake at the top of The Hill. Choose a cabin or a suite and enjoy your meal in a dining room overlooking the lake.

Close to Nimpo Lake is the Retreat Wilderness Inn, rated exceptional or Nimpo Lake Resort, rated as fabulous.

In Tatla Lake, Eagle Bear Lodge, 11 km from town is rated superb.

In William's Lake – unless you want a chain hotel – I would recommend Juniper Trails B&B.
Further reading on things to do in British Columbia
Click on the photo to bookmark to your Pinterest boards.