The Guinn Pass hike in Alberta's Kananaskis Country is a great day hike but it's a strenuous one. Start at the Galatea Lakes trailhead and hike past Lillian Lake and the turnoff to Galatea Lakes, continuing to climb on a trail that is often very steep. Guinn Pass rewards you with stupendous, 360 degree views including Buller Pass and Ribbon Lake. And if you feel energetic at the pass you can continue hiking up the shoulder of Mount Kidd for even more awe-inspiring views.
Another option on the Guinn Pass hike is to head down the other side of the pass for an overnight backcountry camping experience at Ribbon Lake. And yet another day-tripping option from Guinn Pass is to hike up to Buller Pass but I'd recommend that only if you have masochistic tendencies. There is also the option of backcountry camping at Lillian Lake and doing the Guinn Pass hike as a day trip from there. That way you could more easily visit Galatea Lakes.
This post includes some affiliate links. If you make a qualifying purchase through one of these links, I will receive a small percentage of the sale at no extra cost to you. Thank you very much for your support.
Guinn Pass hike summary
Distance: Approximately 17 km (10.6 miles) return to Guinn Pass. Add in approximately 1.5 km (0.9 miles) extra for the return hike to the summit of the shoulder of Mount Kidd.
Elevation gain: Elevation gain to Guinn Pass is 914 m or 2,999 feet. It's about another 152 m or 499 feet to the summit of the Mount Kidd shoulder.
Level of difficulty: Hard because of the amount of elevation gain
Dogs allowed: Yes on a leash, but take lots of water because there isn't any after Lillian Lake.
Time needed: 6 – 8.5 hours
Option: Add in the hike to Galatea Lakes – but it makes for a really long day as you'll need to add at least another 2 km.
Best time to do the hike: July – September, depending on when the snow leaves
Trailhead: Galatea Lakes on Highway 40. Note that it is closed annually from May 1 to the end of June to allow the trail to dry out.
You will need a Kananaskis Conservation Pass to do the Guinn Pass hike. You can purchase either a daily or yearly pass. The yearly pass makes sense if you're planning to visit more than five times in a calendar year.
Carry easy to access bear spray. I'd recommend carrying it in a bear spray holster so you don't accidentally set it off.
There are washrooms at the Galatea Lakes parking lot. Bring toilet paper in case they have run out.
Backcountry camping reservations for Lillian Lake and Ribbon Lake open 90 days out. Tent pads are available on a first come first served basis.
If you're camping at the Ribbon Lake Backcountry Camping site,, it's a further

4.3 km one way

from Guinn Pass.
The map I'd recommend packing with you is Gem Trek Canmore and Kananaskis Village.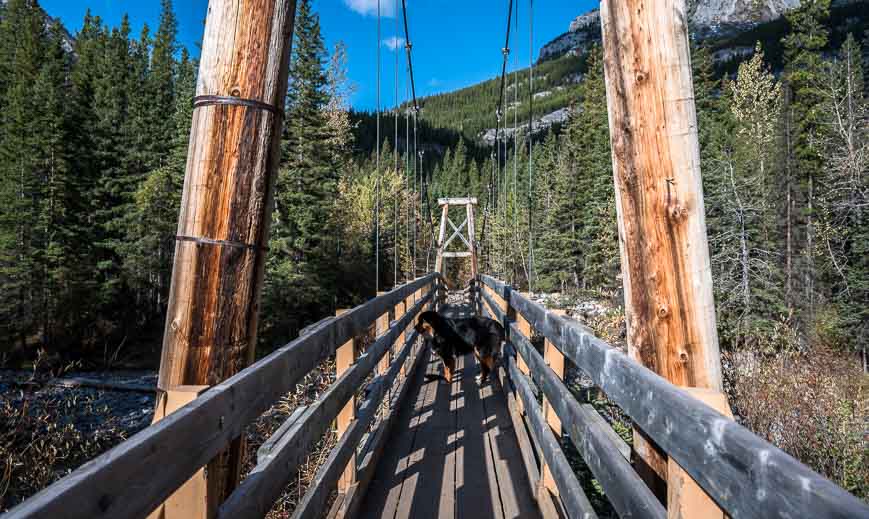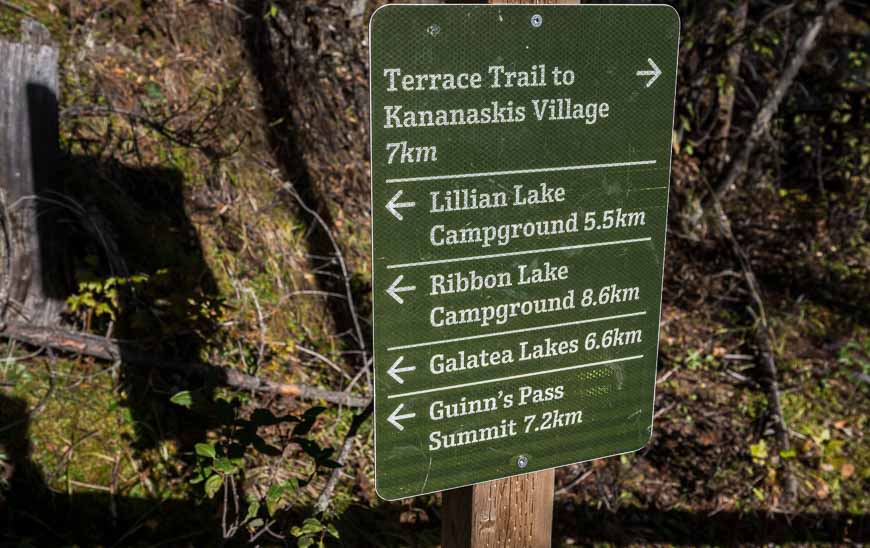 Guinn Pass hike trailhead location
Drive south on Highway 40 to the Galatea Lakes parking lot, approximately 32 km south of the Trans-Canada Highway. The parking area is well signed on the highway.
Even though there are usually a lot of cars in the Galatea Lakes parking lot, the majority of people stop at Lillian Lake. The hike to Guinn Pass is far less popular than even the one to Galatea Lakes.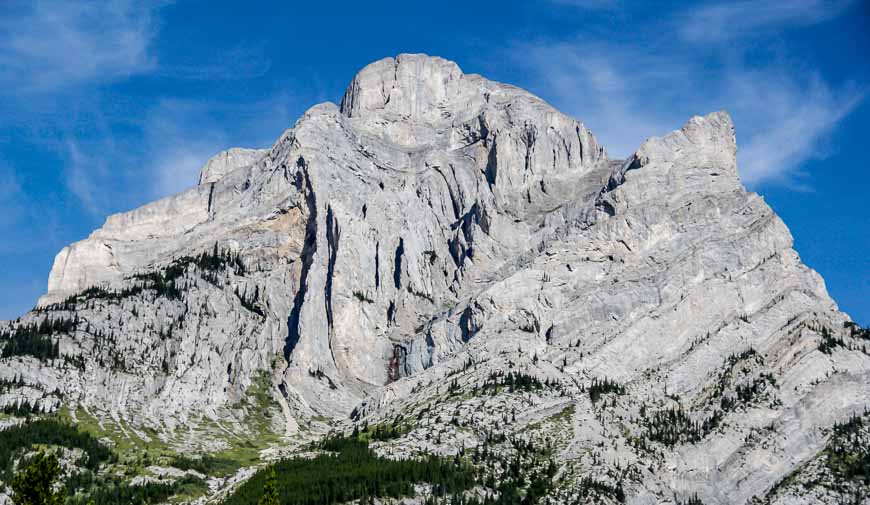 Guinn Pass hike details
The trail I first hiked pre-2013 was decommissioned because of all the extensive damage after the 2013 floods.
You still follow Galatea Creek after crossing the Kananaskis River – but you continue all the way to Lillian Lake on an easy to follow trail. From there continue for 1.1 km on the well-marked trail towards Galatea Lakes. Shortly after you've cleared the trees you'll come to another trail intersection.
Keep left to continue to the Galatea Lakes and right for Guinn Pass. Head across a boulder field. Then the steep climbing begins in earnest.
Hike up the steep southeast slopes of Peak 217373. You'll cross hillsides of scree and grass. Hiking poles come in handy for the descent. Continue to the pass, enjoying the superb mountain views unfolding the higher you get.
Once we got to Guinn Pass we stopped for lunch. I should have brought a piece of something soft to sit on because it's flat and stony at the pass – and not very comfortable. Consider taking an inflatable camping seat. I always pack mine and it comes in really handy if its wet too.
Hiking the shoulder of Mount Kidd
Part way through lunch we spotted a few hikers on the way down from the ridge, which is actually the shoulder of Mount Kidd. Once they were back at Guinn Pass they described the hike as a quick one – 15 minutes up, 15 minutes down and very worthwhile.
Sarah and I looked at each other – and then decided we'd just head for the first nob on the ridge and call it a day there.
As you can imagine, the views got better and better with every foot we climbed. By the time we reached the nob we figured we might as well go for the top as it wasn't far then. And so we did – although I'd say for us with picture taking and discussion time it was closer to 30 minutes up and 25 minutes down.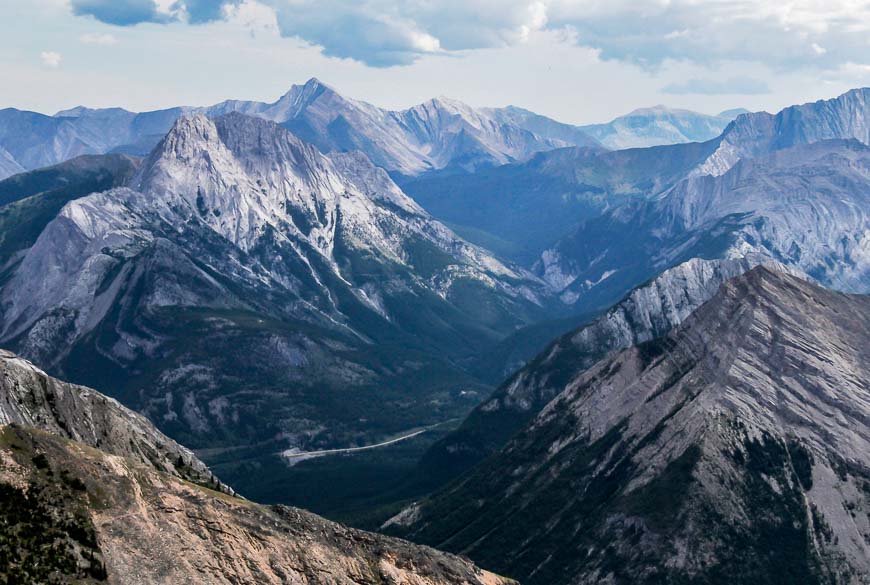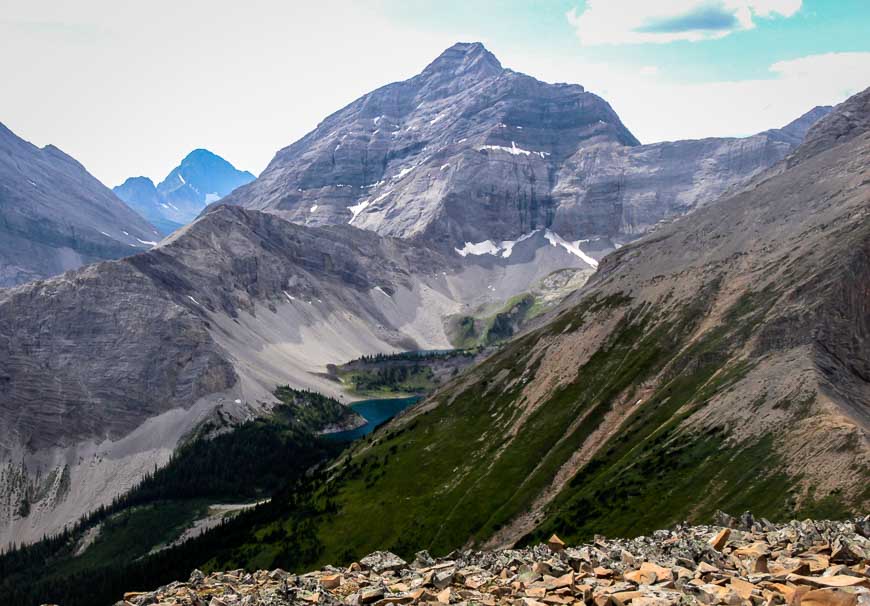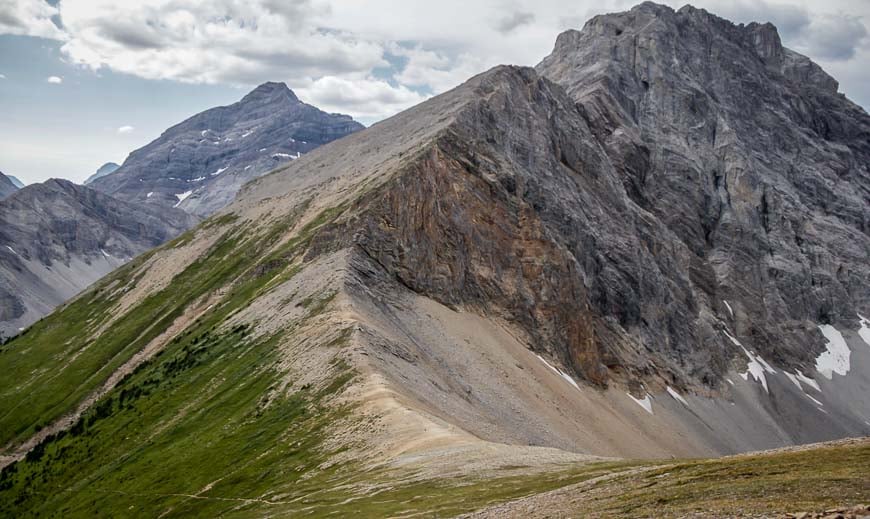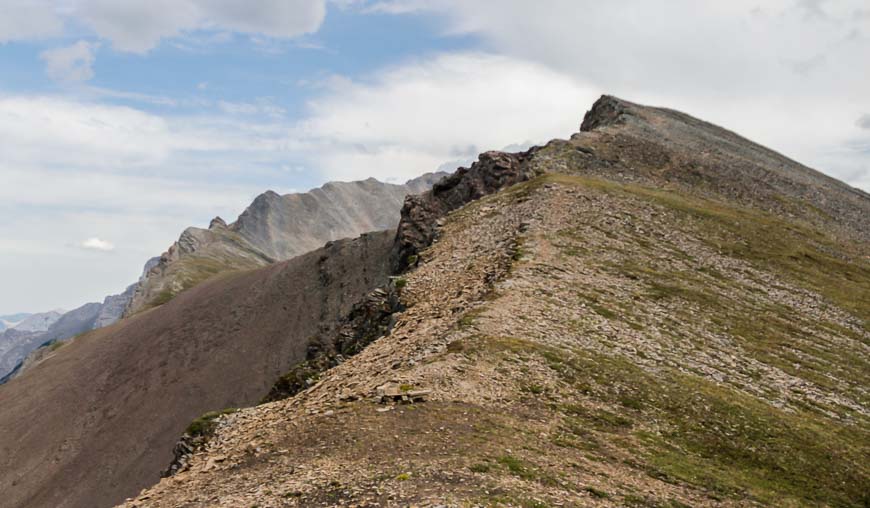 The descent from Guinn Pass
It wasn't until 2:45 PM that we were back at the pass. We still had a lot of kilometres to get back to the car, and 914 m (3,000 feet) to descend. Poles definitely come in handy on the descent.
Revive your feet near the end of the Guinn Pass hike
By the time we got to the set of pools in the photo below, perhaps a kilometre from the parking lot, we were both ready to revive our feet. The water was icy cold and in less than 30 seconds the pain was too much. But our feet felt alive for the last of the Guinn Pass hike.
We were back at the car by 5 PM just ten minutes ahead of the storm – brilliant timing on our part, but sheer luck.
This is one Kananaskis Country hike I HIGHLY RECOMMEND!
Where to stay near the trailhead
Recommended reading: A Complete Guide to Camping in Kananaskis
If you want a roof over your head try one of these lodges or hostels.
Mount Engadine Lodge – an almost backcountry option off the Smith Dorrien Road in a prime location with all meals included.
The Kananaskis Wilderness Hostel is easy on the budget and is close to the trailhead for many excellent hikes including Ribbon Falls.
Kananaskis Mountain Lodge is a full service resort near Nakiska Ski Resort.
A few things to take on the hike
Location map of the Guinn Pass hike
Further reading on hikes in Kananaskis Country
Click on the photo to bookmark to your Pinterest boards.