The Galatea Lakes hike in Kananaskis Country's Spray Valley Provincial Park is accessed via the trail to Lillian Lake. This area was hit hard in the 2013 floods but the trail has been rebuilt, with new bridges added and lots of new signage. In fact it's one of the best signed trails I've seen in Kananaskis Country. It's also a popular hike, partly because you can drive to the trailhead from Calgary in just over an hour. On a summer weekend, plan to arrive early so you don't have to fight over parking as Alberta Parks does not want you parking along the highway. I would also recommend that you have a back-up hike in mind if the lot is full.
Galatea Lakes hike summary
It's 6.3 kilometres one way to Lillian Lake plus an additional 1.3 km one way to reach the eastern end of Lower Galatea Lake. It's another 1.3 km to go to Upper Galatea Lake. There is an elevation gain of 492 metres to Lillian Lake and a further 200 metres gain to Galatea Lakes so 692 m (2270 feet) in total.
The hike up to Lillian Lake is on the tedious side since most of it is in the forest. The hiking gets way more interesting if you continue to Galatea Lakes.
Allow 5.5 – 7.5 hours to do the return hike to Upper Galatea Lake.
There is camping at the Lillian Lake backcountry campground. You do need to reserve.
Don't forget to purchase your Kananaskis Conservation Pass. Note that the Galatea Lakes trail is closed from May 1st until late June every year.
For up to date trail conditions check out the Kananaskis Country trail report.
In theory you can go for a swim in the Galatea Lakes, but it's brutally cold so it would be more like a dunk to cool off on a hot summer's day. I wouldn't recommend it unless you're used to cold water swimming – and actually know how to swim.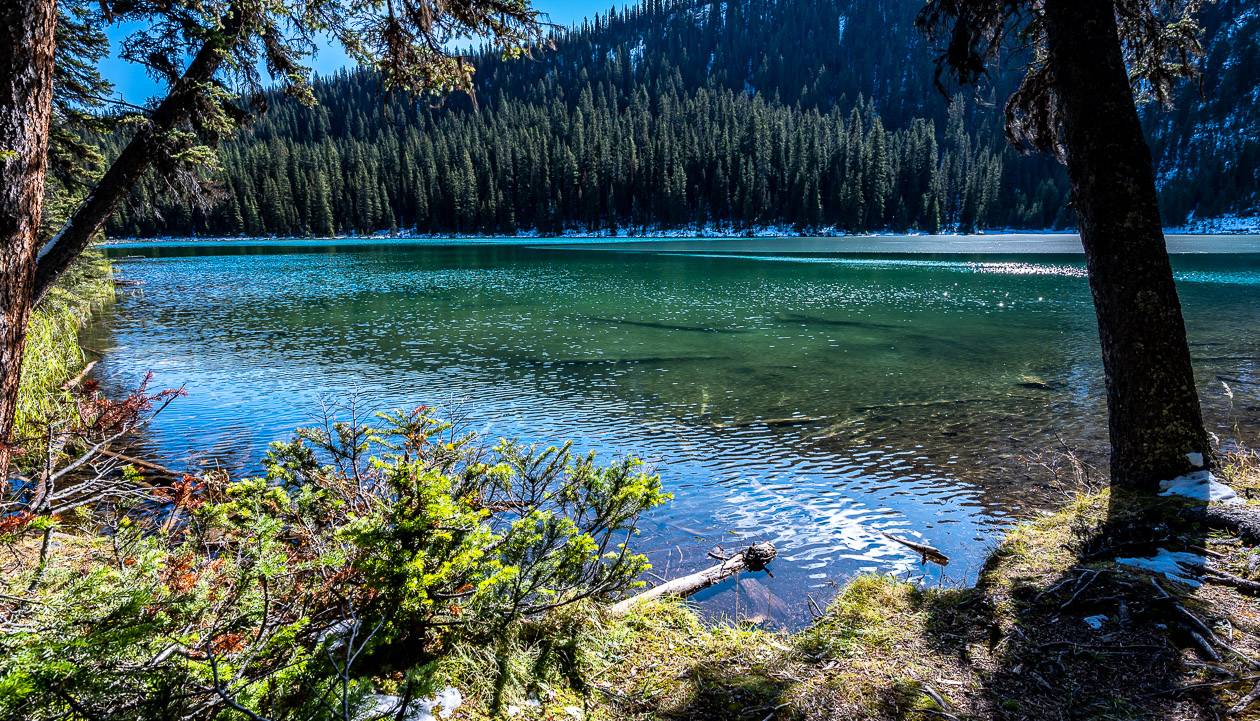 This post includes some affiliate links. If you make a qualifying purchase through one of these links, I may receive a small percentage of the sale at no extra cost to you. Thank you for your support.
Galatea Lakes hike information
Location: 32.7 km south on Highway 40 from the Trans-Canada Highway in Spray Valley Provincial Park
Distance: 17.8 km return to Upper Galatea Lake; you can knock off about 2.6 km if you stop at Lower Galatea Lake.
Elevation gain: 692 metres or 2270 feet
Level of difficulty: Moderate
Time needed: Approximately 5.5 -7.5 hours return to the Upper Galatea Lake overview
Map needed: Gem Trek – Kananaskis Lakes map
Dogs allowed: Yes, on leash
The hike from the parking lot to Lillian Lake
Start the hike with a descent to the suspension bridge. Cross the Kananaskis River, check out the detailed map and mileage signs and then turn left. Follow the well-used trail, crossing Galatea Creek numerous times on well-constructed bridges. There are lots of places where you can see the destruction from the 2013 flood.
The hike up to Lillian Lake is mostly a gradual one until about the last kilometre. Then it steepens until you reach Lillian Lake. The first time I did this hike – also in October – Lillian Lake was singing. Thin ice covered the lake and as it warmed up, it cracked, causing sounds to ricochet off the mountains. It was nothing short of magical.
The truth of the matter when it comes to the hike to Lillian Lake, is that I find the trail a little more boring than most. You start lower than many trails so you are mainly hiking in the forest. While Galatea Creek is very pretty at times – and there are occasional views, especially from the rocky avalanche paths, the good stuff doesn't happen until you reach Lillian Lake.
If you take pleasure in the beauty of just being out in nature then you'll enjoy the hike. But my bet is once you start hiking to Galatea Lakes from Lillian Lake your heart will start to sing with all the mountain beauty.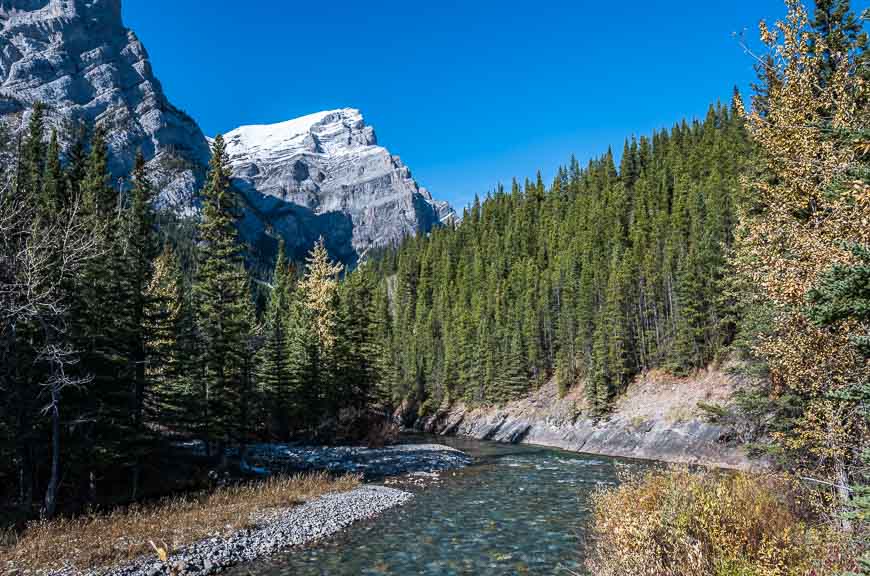 The hike to Galatea Lakes from Lillian Lake
After you've stopped on one of the large lakeside benches to have a snack and take in the view, it's time to find the hiking trail to Galatea Lakes. Look for it part way along the trail to the Lillian Lake Campground. It's easy to find.
The initial hike up to the lakes is steep but in short order you can enjoy some really lovely views back to Lillian Lake. The snow actually made the hiking easy; otherwise you're walking on rock and scree. (However poles come in handy.)
After you reach the high point, veer left and descend into the trees – a short distance. Pop out of them and enjoy superb views of the teal-coloured Lower Galatea Lake. If you continue through the rocks you'll see a steep trail going down to the lakes.
I continued for a few hundred metres high above the north shore of Lower Galatea Lake. I didn't continue past this point but could see the trail continuing as it descended the northwest side of Lower Galatea Lake.
From what I've read you need to climb up the ridge blocking the view of Upper Galatea Lake to a four way junction. Go straight here and then descend through meadows to Upper Galatea Lake. That part of the hike will be left for another time when I know I can make it back to the trailhead in the daylight.
The beauty of the lakes makes the whole day's hike worthwhile.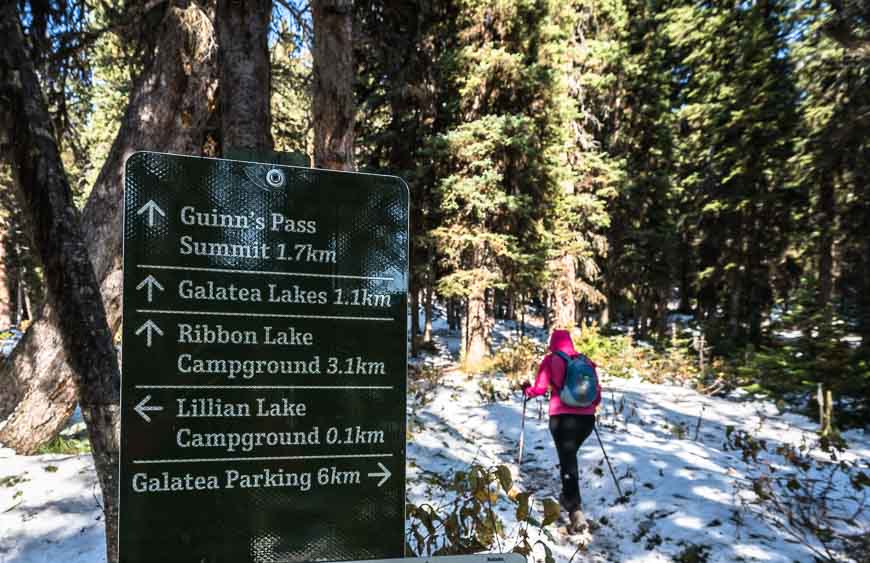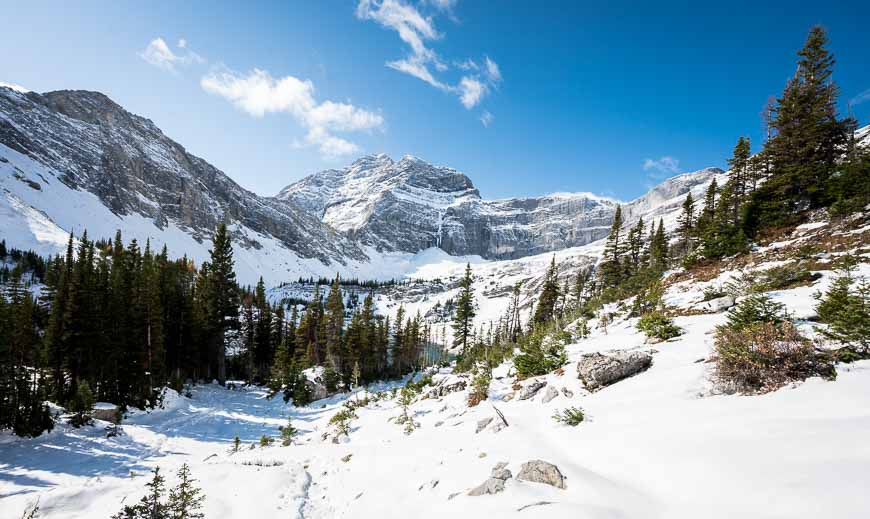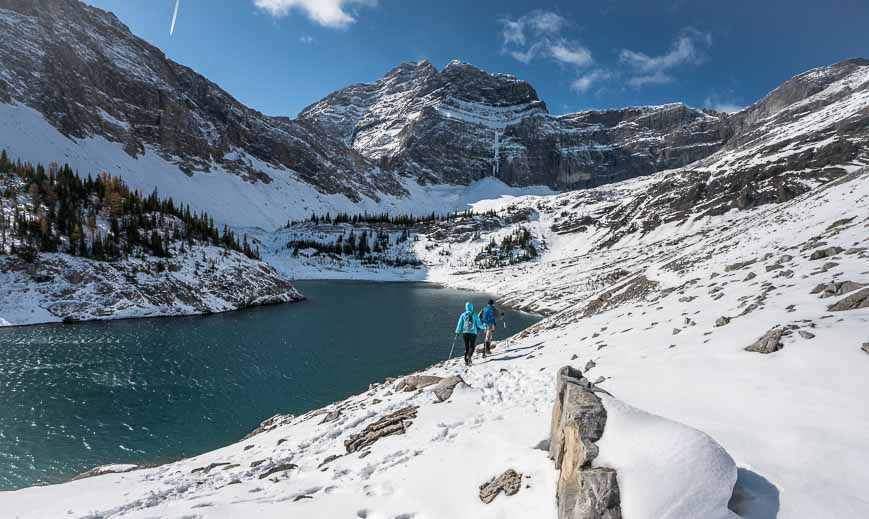 Trailhead location for the Galatea Lakes hike
The trailhead for the lakes is one of the easiest ones to find in Kananaskis Country.
From the Trans-Canada Highway drive south on Highway 4o for 32.6 m. Look for signage shortly before the turnoff to the parking lot. It's on the west side of the highway about 20 km south of Barrier Lake. There is a washroom in the parking lot.
Other hikes you can do from the Galatea Lakes trailhead
There are loads of hikes that are accessed from this trail – though most require a long hike in. The hike to Guinn Pass is very worthwhile. If you want to camp at Ribbon Lake this is also a good trail to do. (You can also get to Ribbon Lake via the Ribbon Falls trail.) You will need to make backcountry reservations with Alberta Parks if that's the case. And if you're looking for an epic hike, head over Guinn Pass and on up to Buller Pass.
Go prepared for the hike
This is a mountain hike so even if it's a hot summer day you should still carry the 10 hiking essentials. Take an extra layer. Bring additional energy bars, more water than you think you need (or a means of filtering it) and always carry bear spray.
I did this hike in early October after a couple of early season snow storms. It's completely doable but way safer and easier with a pair of ice crampons. If you don't have any and would rather slip and slide your way down steep icy sections, that's fine but a good pair makes the hike way more enjoyable.
Shop: I swear by my Hillsound trail crampons. They don't fall off and the spikes give you confidence on icy sections.
Location map of the Galatea Lakes hike
Further reading on hikes in Kananaskis Country
Click on the photo to bookmark to your Pinterest boards.