Summer time is made for backpacking and with so many options within a short drive of Calgary, it can be incredibly hard to choose where to go. Several months ago I decided on Tombstone Campground in Kananaskis but last week the permitting team called me to see if I wanted to switch to Lillian Lake as it had just reopened.
I'd been hiking to Lillian Lake previously but just as a day trip so the option to spend the night camping at Lillian Lake sounded intriguing.
The trail was washed out pretty significantly in the 2013 floods and had just reopened so I had the privilege of being one of the first to experience the revitalized trail and campground.
Note: Always check trail conditions before you go. You will need a Conservation Pass to visit Kananaskis Country.
This post includes some affiliate links. If you make a qualifying purchase through one of these links, I will receive a small percentage of the sale at no extra cost to you. Thank you very much for your support.
Parking for Lillian Lake
Important: The Galatea Day Use Area is closed to hikers from early May until late June every year.
To kick off the hike, you park at the Galatea Day Use Area, just off of Highway 40 and about 5 minutes on the road up from Mount Kidd RV Park.
Drive south on Highway 40 from the Trans-Canada Highway for 32.6 km. Look for signage shortly before the turnoff to the parking lot. It's on the west side of the highway approximately 20 km south of Barrier Lake. Washrooms are available in the parking lot.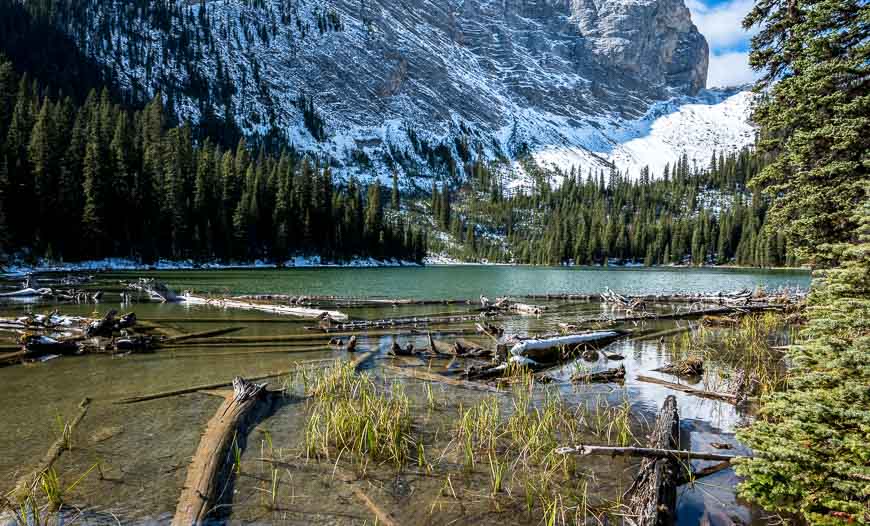 Lillian Lake trail hike
The trail starts with a quick descent to the river where you cross your first of several newly built bridges. After your second bridge, you take a left at the T intersection to begin making your way towards the lake.
The first part of the path was mostly easy with some light ups and downs. The area reminded me a bit of the west coast with the thick moss covering the overhanging branches and nearby rocks.
About halfway into the hike you head up into some open areas with stunning views of the mountains around you and in the distance. From here the trail gets a bit more challenging but there are ample logs and large rocks to stop and take a breath.
The final half hour up to the lake is a bit of a slog. There is a lot of uphill but the effort is worth it as you catch your first glimpse of Lillian Lake.
An easy flat walk takes you to the other side where you will find several flattened campsites including many newly built wooden platform tent pads – some with a lovely view over the lake.
All told the hike to Lillian Lake is 6.3 km one way with a vertical gain of 475 m (1,558 feet).
Enjoy a communal fire pit at the Lillian Lake Campground
While we had some rainy weather, we did enjoy the time spent at the communal fire pit. We met some other couples here and enjoyed chatting while we made dinner. There has been a bear warning in the area so we were grateful for the bear lockers where we stored our food and cooking gear overnight.
A leisurely morning in the Lillian Lake Campground
After a rough night – kept awake by the thunderstorms we spent a slow morning at the campground making coffee and oatmeal before heading out. Overall I was very impressed with this 13 km round trip adventure and would not hesitate to come back.
It's easy to use Lillian Lake as a base for a short out and back to the Galatea Lakes or even Guinn Pass. You could also spend the night here and then head to the Ribbon Lake Backcountry Campground.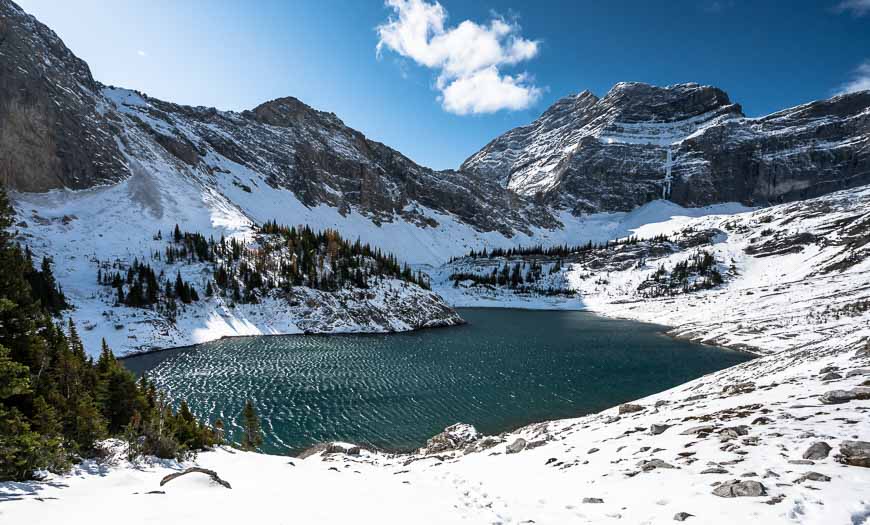 Booking a Lillian Lake campsite
The Lillian Lake Campground is one of the prime ones in Kananaskis Country and so books up quickly. There is a reservation fee of $12 in 2022. There are 15 campsites in total with 9 on raised wooden tent pads.
They are available from June 24 – November 30th. If you go in the fall be prepared for some very cold nights – and snow. Rates for camping are $12 per person per night plus a reservation fee. You can book online here or call 1-877-537-2757, 90 days out from when you want to camp.
A few things you might want to take on this trip
I always like having a paper map – especially if I spontaneously decide to check out what other hikes there are in the area. For this trip its Gem Trek Canmore and Kananaskis Village.
In case I tear a coat, a tent or my sleeping bag, I like to have Gear Aid Tenacious Tape for quick repairs.
And if I'm not carrying a heavy load, I like to take a camp chair so I can lounge in comfort at the campsite.
More ideas for hiking in Kananaskis Country
This is a guest post by my daughter, Kristen McAdam