The Pickle Jar Lakes hike is a standout if you're a fan of mountain lakes. And judging by the popularity of this Kananaskis hike, people love a lake as a destination. Even better – you hike to four lakes on this hike, though not all are equally beautiful. Be sure to go as far as the third Pickle Jar Lake as it's the prettiest of them all. This hike is a favourite of Calgary area residents. Note that the trailhead isn't accessible by car until June 15th every year when the road over Highwood Pass opens.
This post includes some affiliate links. If you make a qualifying purchase through one of these links, I will receive a small percentage of the sale at no extra cost to you. Thank you very much for your support.
Pickle Jar Lakes hike summary
Distance: 9 km or 5.6 miles return as an out and back hike.
Elevation gain: 474 metres (or 1,555 feet).
Time needed: Allow 3 – 5 hours to do the hike, depending on how much time you spend at the lakes.
Level of difficulty: I'd rate it as a moderate hike. The final approach has a short, steep section.
Dogs: Allowed on a leash.
Best time to hike: June 15 – October because Highway 40 over Highwood Pass is closed till June 14th.
You will need a Kananaskis Conservation pass to do this hike.
You'll see lots of people fly fishing as the lakes are stocked with Westslope cutthroat trout. It's catch and release only and you need a permit.
Always pack the 10 hiking essentials.
This is grizzly bear country so be sure to carry bear spray. The bear spray should be easily accessible. I find a bear spray holster helpful – as it prevents you from accidentally setting it off.
After the hike, you can pick up snacks at Highwood House if you're heading home via Longview. If you're driving towards the Trans-Canada Highway you can get gas and food at Fortress Junction.
Check the weather forecast before you go.
You'll find toilets at the parking lot.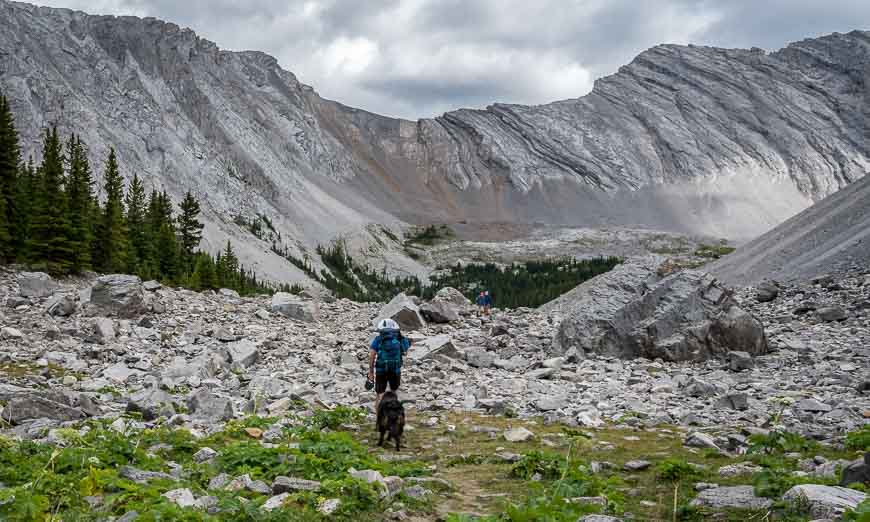 Pickle Jar Lakes hike route description
From the parking lot walk north beside Highway40 for about 100 metres. Cross the highway and pick up the obvious, though unsigned trail that curves northeast into woods of aspen and conifers. Start climbing.
Approximately 20 minutes into the Pickle Jar Lakes hike you'll get a good view of the trail heading up. For a while you can hear road traffic. Eventually it gets drowned out by the sound of the creek you can see in places below you.
The ascent is steady though very doable, even for kids if you take your time. In a few of the steep places there isn't much underfoot for traction. Some people may find hiking poles handy in this section.
The trail drops into the forest after cresting the first pass. Then it's up again but the views show up. Mist Mountain appears off to the west-northwest. Reach the high point of the entire hike at a 2137 m pass.
The Pickle Jar Lakes come into view
From the pass descend a short section on shale – with tantalizing views of the first Pickle Jar Lakes. This part of the Pickle Jar Lakes hike can be a challenge for some. It's steep and hard to get a good grip. Again poles may help.
The first of the Pickle Jar Lakes is at the 4.2 km mark. To continue to the second lake, walk along the south shore to an obvious inlet stream. Boulder hop and then hike up and over a small scree slope to reach the lake number two. If you're thinking about a lunch stop, keep going to the third lake, the prettiest one of them all. It's a short hike between each lake.
When you arrive at the third of the Pickle Jar lakes you can see trails going either way around it. We went right, crossed a scree slope, continued through a short section of beautiful alpine wildflowers to gain a ridge overlooking the shallow fourth lake. It's easy to hike down to the lake. From there pick up the trail to loop back to the start of the third lake.
Retrace your steps back to the parking lot.
It's a desolate scene on the way to the third Pickle Jar Lake
On a sunny day the water in the third Pickle Jar Lake is a gorgeous Caribbean blue and teal colour though the backdrop of banded cliffs and talus bowls is a tad desolate. Still this is the lake everyone is drawn to. The fishing is good, picnic spots out of the wind are plentiful, and you may see or hear a marmot or pika.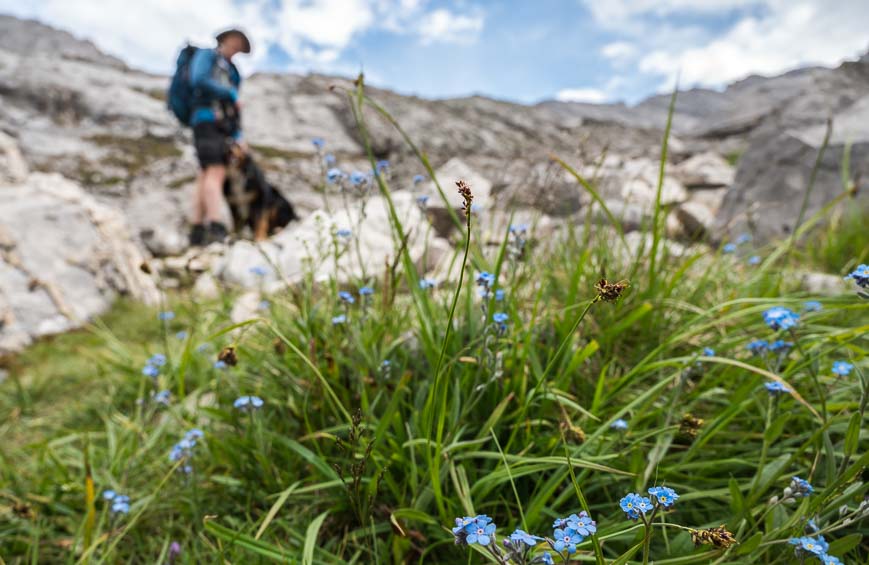 Camping at Pickle Jar Lakes
Camping is happening at the lakes – as I saw many groups going in and lots of campsites. However, it's not actually permitted according to a woman I spoke with at the Barrier Lake Information Centre. I wouldn't recommend it or I'd double check and ask for a second opinion. But the Alberta Parks website shows no camping too. However, there is lots of camping in Kananaskis and much of it is first come, first served.
Recommended reading: A Complete Guide to Camping in Kananaskis
Useful things to have on the Pickle Jar Lakes hike
Hiking poles are helpful on this hike where it gets steep or wet around the lakes.
I like an inflatable seat cushion to sit on at lunch time.
The hike is dog-friendly but keep them on a leash at all times. There are a couple of streams on the hike up to the lakes where dogs can drink some water. Or take a dog bowl like these ones that are collapsible.
The Highwood & Cataract Creek Gem Trek map is the one to carry on this hike.
If you enjoy wildflowers but don't know their names, this pocket guide to popular wildflowers of Alberta is helpful.
Finding the trailhead
The shortest route to the trailhead if you're coming from Calgary is via Highway 40. From Black Diamond take Highway 22 south to Longview. Turn west onto Highway 541. It becomes Highway 40 when you reach Kananaskis Country. From Longview it's 61 km to reach the large Lantern Creek Recreation parking lot on the west side of the highway.
From Highwood Pass it's 20.6 km south on Highway 40 to get to the Lantern Creek parking lot.
Walk north beside the highway for a few hundred feet, cross the road and you'll see the start of the Pickle Lakes trail heading off into the trees.
Location map of the Pickle Jar Lakes hike
Where to stay in the area
You don't have a lot of choice when it comes to roofed accommodation. Head to Kananaskis Village where you'll find Kananaskis Mountain Lodge. Near the Ribbon Creek trailhead, in the same vicinity is the Kananaskis Wilderness Hostel.
Another option is Sundance by Basecamp near the turnoff to Nakiska Ski Area. You'll find teepees and trappers tents.
For a splurge, head to Mount Engadine Lodge off the Smith Dorrien Road.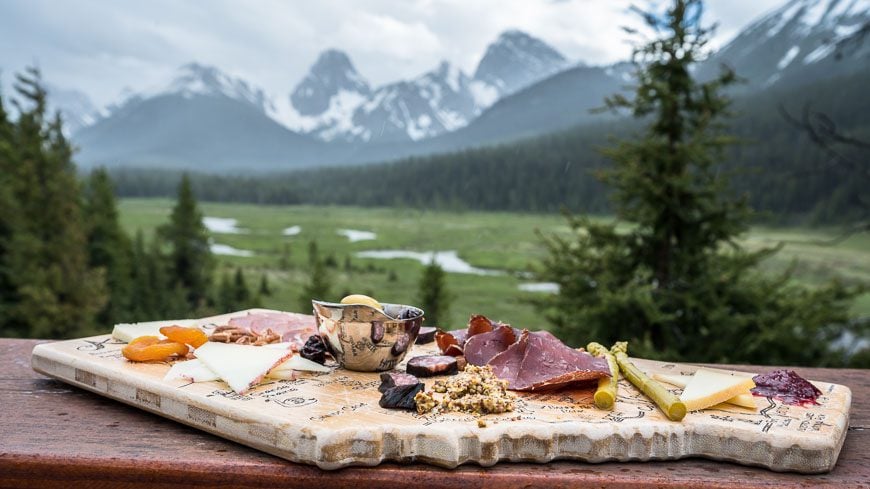 More hikes in the nearby Highwood Pass area
Click on the photo to bookmark to your Pinterest boards.