After leaving Williams Lake and the lovely Juniper Trails B&B we start to drive west along a secondary highway in the direction of Anahim Lake in west central British Columbia. We were on holidays with a different mindset than normal – poking along instead of racing. So, when the option to detour to Junction Sheep Range Park, presented itself, we took it. The park is less than an hour's drive west of Williams Lake.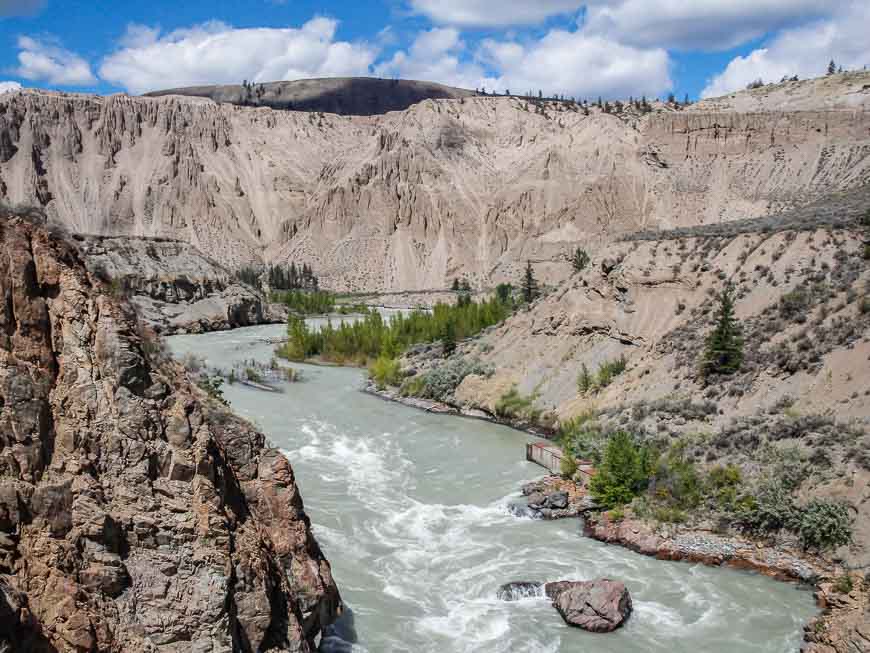 What you'll find in Junction Sheep Range Park
Junction Sheep Range Provincial Park (rather a mouthful of a name) encompasses 4,573 hectares and includes the confluence of the Fraser and Chilcotin Rivers as well as rolling grassland, canyons, gullies, hoodoos, and even a sand dune.
Junction Sheep Range was formed in 1995 to protect what is considered to be an internationally important herd of California Big Horn Sheep. Unfortunately we didn't see any – only the snake in the photo below.
I wish we'd had more time because this is great hiking country even if it does routinely hit 40°C in the summer.
Junction Sheep Range also offers up beautiful far reaching views, loads of wildflowers and grass types, birds including prairie falcons, sharp-tailed grouse, long billed curlew, white-throated swifts, and the diminutive flammulated owl. Rubber boas are also around though I was just as happy not to see one.
There's a long native history too. Archaeological evidence shows humans have been in the area for at least 12,000 years. The Native people still fish on the Chilcotin River. Fortunately the two we saw fishing took some precautions.
They tied themselves and their nets off before fishing. The Chilcotin is not a river you want to be swept into. They were obviously successful as you can see two large fish on the rocks.
Watch for logging trucks in the park
The drive to the bottom of the canyon can be a touch dicey and not one you want to do on a rainy day. It's got to be a few thousand feet down via a series of switchbacks to the bridge on a narrow road you must share with fully laden logging trucks.
Keep your eyes peeled and don't play chicken with them. It's only 20 km to the bottom of the canyon from Highway 24. Although the road is gravel, it's in good condition.
I think if you're going to be anywhere near Williams Lake then this is a detour worth making.
For more information on Junction Sheep Range Provincial Park visit their website.
Further reading on the Chilcotin
Click on the photo to bookmark to your Pinterest boards.