Mark your calendars. Larch viewing season in Alberta is coming in September and you're going to want to catch it. If you've seen the larches in their full autumn glory you know what I'm talking about. If you haven't, you're missing one of the best displays Mother Nature offers us in Alberta. It's akin to the magnificent fall foliage display people living in the east enjoy. There aren't many great larch sightings you can experience from the car so plan on as many larch hikes in Alberta as you can fit in your calendar.
Described below are some of the best larch hikes and places to see them in Alberta. Remember the window to catch them at their peak is narrow, so book time off so you can experience Mother Nature in all her glory.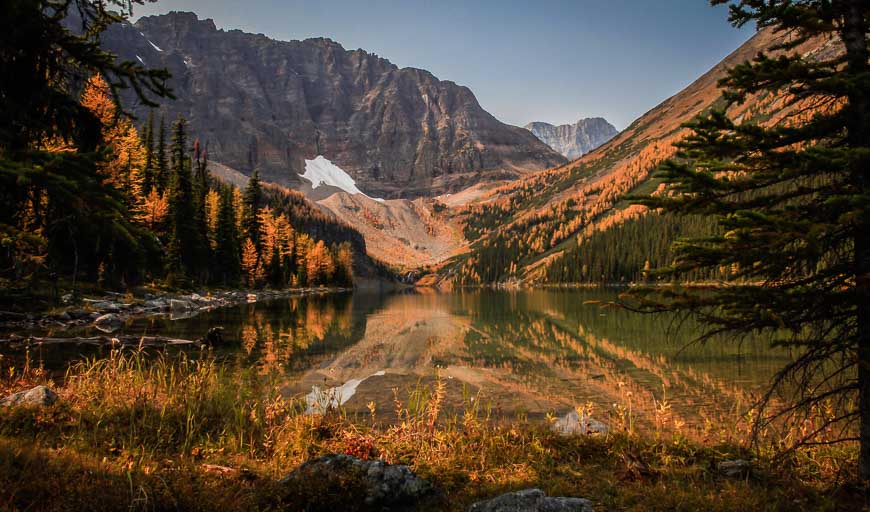 When is peak season for larch hikes in Alberta?
Unlike the Foliage Network in the United States and the day to day cherry blossom forecasts available in Japan, Alberta has no real-time larch hotline; but historically the peak time for viewing larches has been around the third and fourth week in September.
What is a larch?
Larches are coniferous trees that lose their needles every fall. Before the needles drop they turn from green to a spectacular golden yellow. In Alberta, the trees we see are alpine larches (Larix lyalli). Because they usually grow in stands at high elevations, the impact of their foliage display is nothing short of stunning.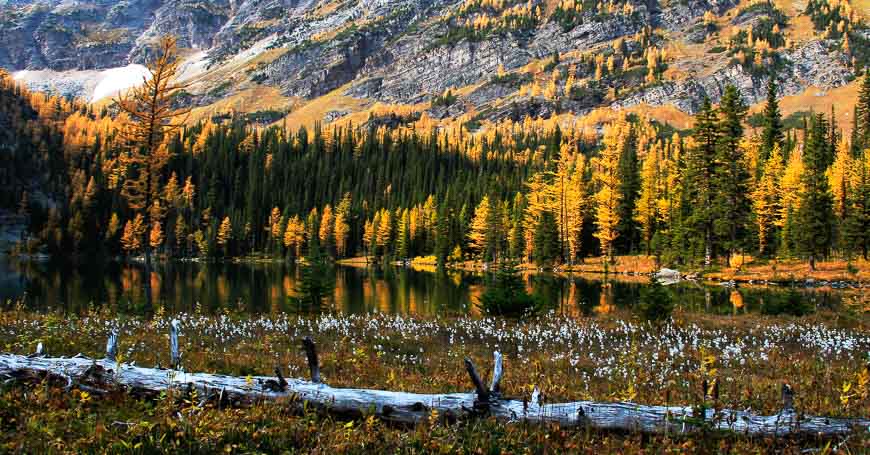 Larch Valley for an overcrowded but premiere experience
Larch Valley (11.6 km to Sentinel Pass/ 4 – 5 hours) near Lake Louise is the premiere destination for larch viewing. But it comes with crowds and traffic.
Imagine Chinook Mall in Calgary at its busiest. You get the idea. If you're still keen to see what all the fuss is about, arrive at the Moraine Lake parking lot no later than 8 AM – perhaps even 6:30 AM as it gets more popular with each passing year.
Weekdays are definitely preferable but still very busy. There's also a high probability that you will have to form a hiking group of four to mitigate any issues with bears. That shouldn't be a problem but if you're a solo hiker you must be prepared to join a group. (In July 2021 I was told by my guide on the Eiffel Lake hike that the requirement hadn't been necessary for many years.)
You'll find all the information you need to know to have an easier time of accessing Moraine Lake and Lake Louise here. If you want to avoid shuttles altogether, plan to get to the trailheads very early!
For everything you need to know now read: The Larch Valley Hike – Sentinel Pass Hike in Fall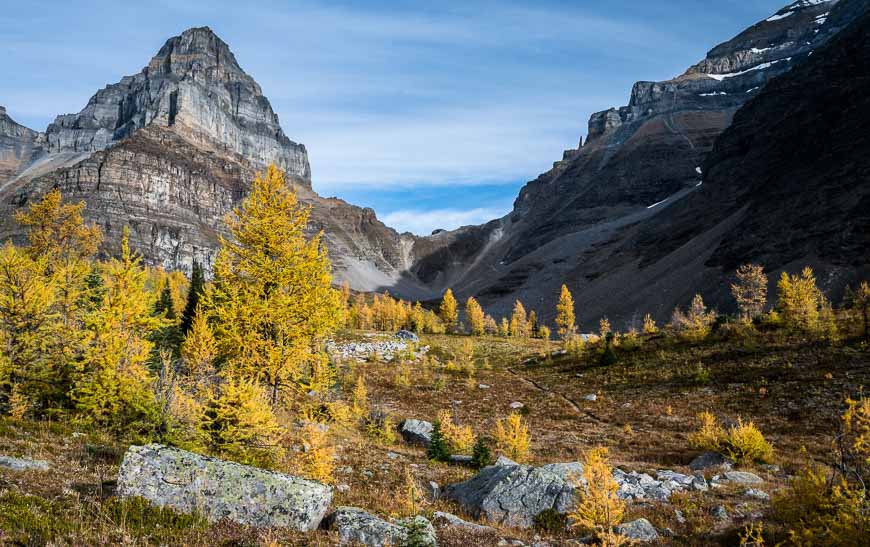 More larches to see near Lake Louise
Near Lake Louise, there are a couple of standout hikes as well. If you hike to the Saddleback (7.4 km and 3 – 4 hours return) or the summit of Fairview Mountain (10.6 km return and 5 – 6 hours), you'll pass through some beautiful stands of larch and the view from the top will be filled with golds and yellows.
A less onerous hike would be to the top of Big Beehive (10 km return and 3-4 hours) via the Lake Agnes Tea House. Again the crowds will likely be extreme – but so will the scenery. Take the shuttle unless you arrive at the Lake Louise parking lot early in the morning – in a non-COVID year.
Taylor and O'Brien Lakes for larches
Taylor and O'Brien Lakes offer exceptional larch viewing without the crowds. Accessed via the Taylor Lake Trailhead on the Trans-Canada Highway west of Banff, the hike will take the better part of a day.
Its 13 km return to Taylor Lake with an elevation gain of 595 m. Add an additional 3.6 km to reach the equally lovely O'Brien Lake.
Read: The Taylor Lake Hike in Banff National Park in Fall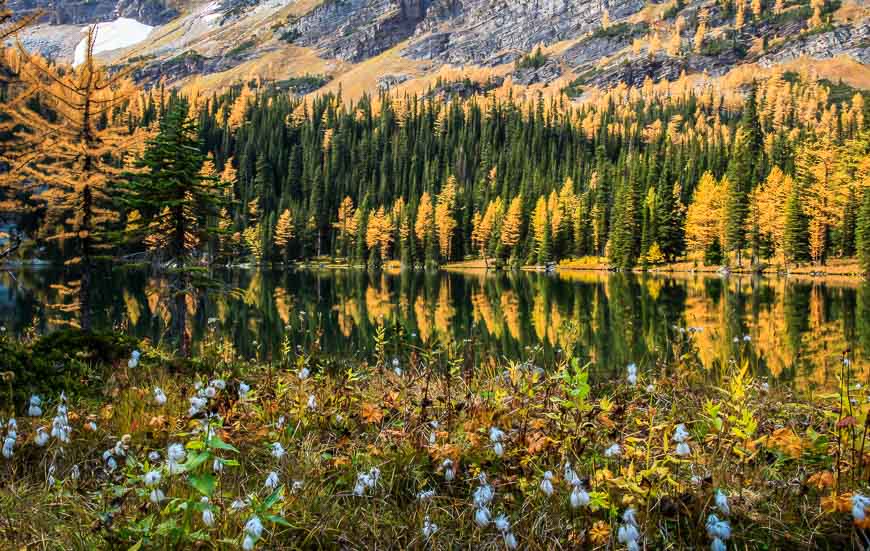 Rockbound Lake as a larch hike
Rockbound Lake (16.8 km/5 – 6 hours) is accessed via the trailhead just east of Castle Village. It's another hike without people. Once you've dispatched with the section of trail on an old road, you'll be rewarded with meadows dotted with larch trees. From here through to the lake they will offer bursts of colour.
Boulder Pass
Boulder Pass (17 km/6-8 hours) is climbed on route to Skoki Lodge. Accessed via a trailhead just minutes from the Lake Louise Ski Resort, the length is such that you won't have to share the trail with many people. The larches are best the higher you go on the trail.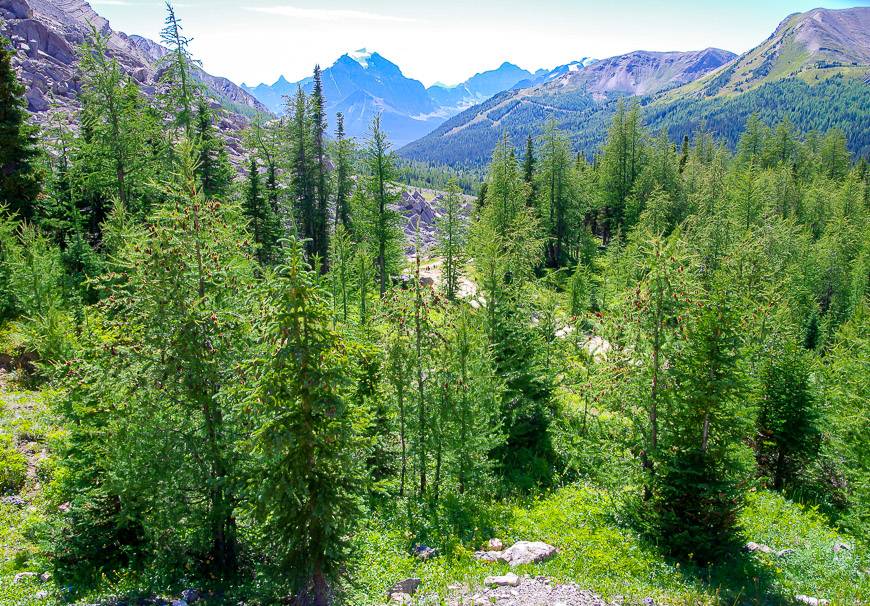 Healey Pass near Sunshine Village
Healey Pass (18.4 km and 6 – 7 hours) offers fantastic views no matter what the season. Take the gondola from Sunshine Village and revel in the views – which include small lakes interspersed with massive stands of larches.
This is one of the true standout hikes but during COVID you would have to walk the steep road both ways – before you even got to the good stuff. I'd be inclined to wait until the gondola was working again myself.
Arnica Lake, Twin Lakes and Gibbon Pass
Count on a full day to take in Arnica Lake (10.0 km return and 3 -4 hours), Twin Lakes (15.8 km return and 5 -7 hours) and Gibbon Pass (21.6 km return and 8 – 10 hours) unless you come in from Shadow Lake Lodge in which case it's only 6.2 km return to Gibbon Pass.
Start at either the Vista Lakes Trailhead on Highway 93 or the Twin Lakes Trailhead just west of the Trans-Canada on Highway 93. There are great stands of larch in a magnificent mountain setting offering sumptuous views. This is one of the premiere larch hikes in Alberta but you have to work for them.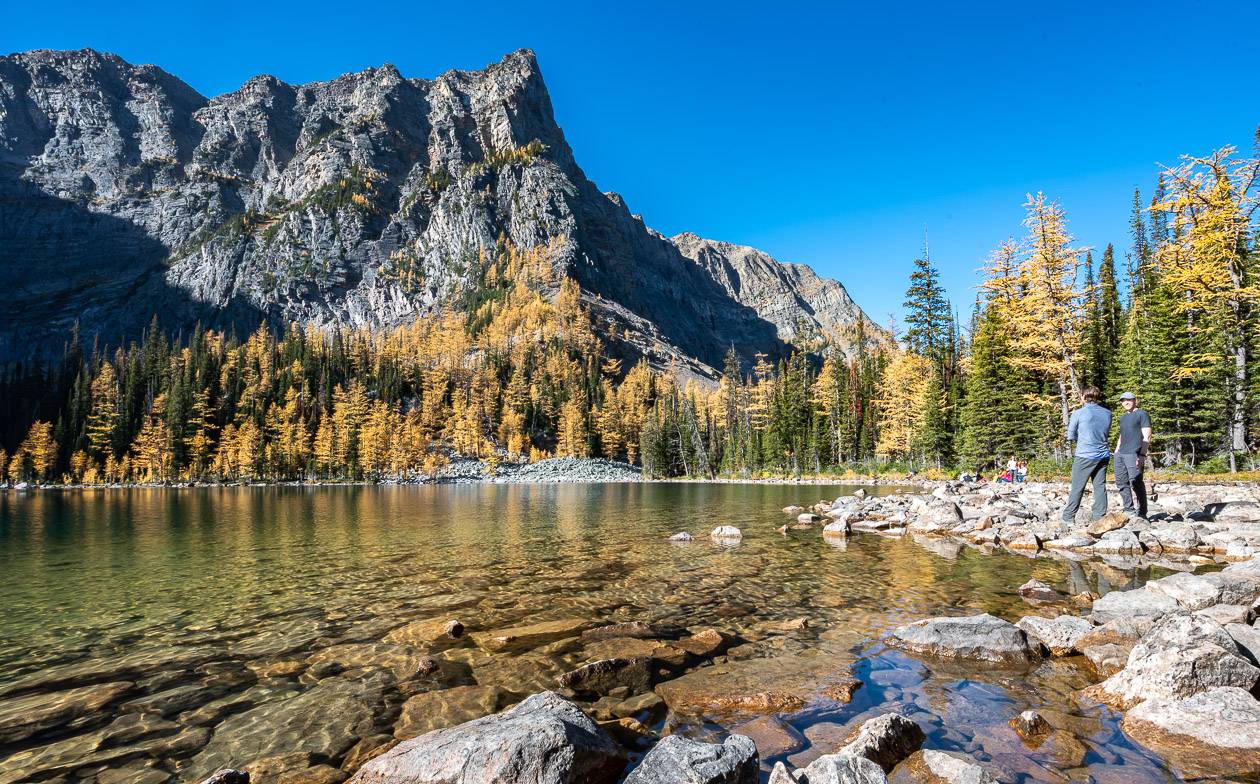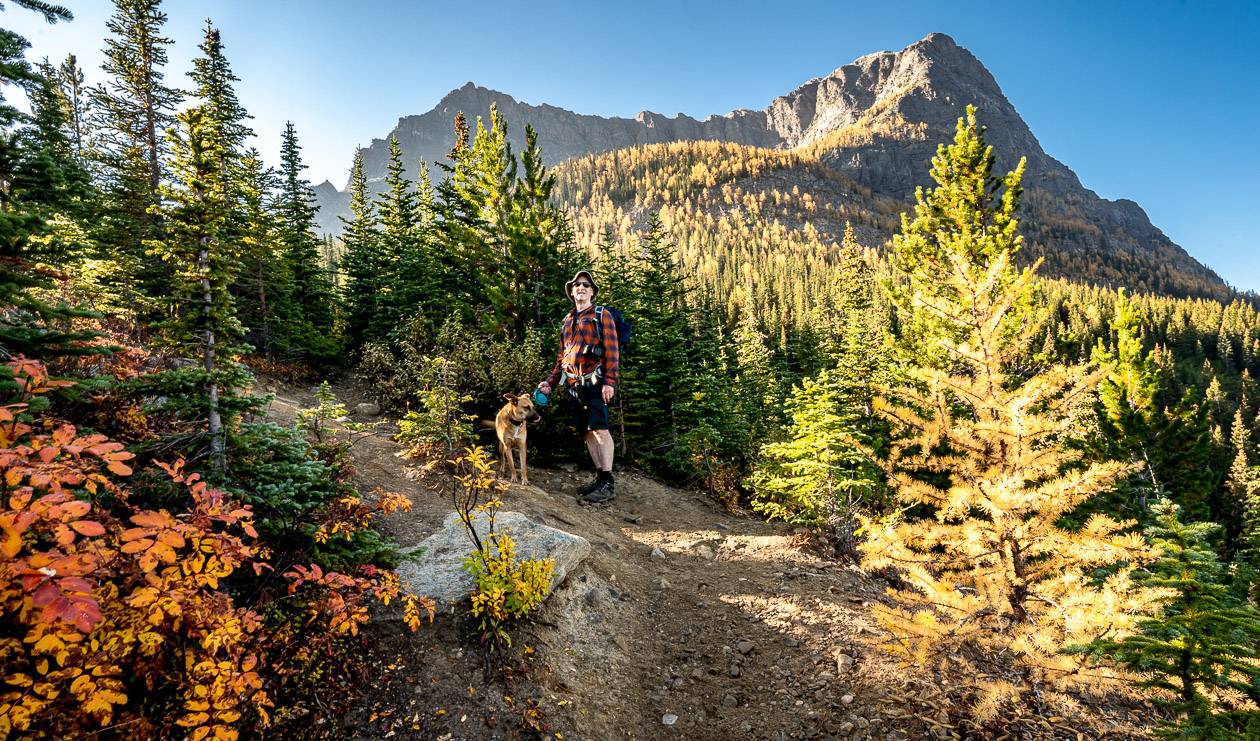 Larch hikes in Kananaskis Country
For fewer people you'd do well to visit Kananaskis Country. As of June 2021, you must purchase a Kananaskis Conservation Pass – either as a day pass or a yearly pass.
Pocaterra Ridge – one of the best larch hikes in the province
In speaking with locals, Pocaterra Ridge is the hike that comes up as their number one choice in Kananaskis Country. It's best done as a car shuttle with a start at the Highwood Pass parking lot.
Walk 11 km along the ridge (over the better part of 6 – 7 hours) and enjoy some of the best views in Kananaskis Country. throw in great swaths of larches and you have a total winner of a fall hike. Finish at the Little Highwood Pass parking lot. Note that between Peaks 2 and 3 along the ridge, there is an especially dense larch forest.
As well, there are magnificent expansive views of larch trees in the valley below. The shorter Pocaterra Cirque (7 km return/4 hours) hike is also a good larch hike.
Note: The Little Highwood Pass Day Use area is closed and under construction until November 2022. Consider getting a friend to pick you up if you do a one -way hike. Or stash your bike in the woods and bike back to your car at Highwood Pass or simply do and out and back hike.
Read: The Pocaterra Ridge Hike in Kananaskis Country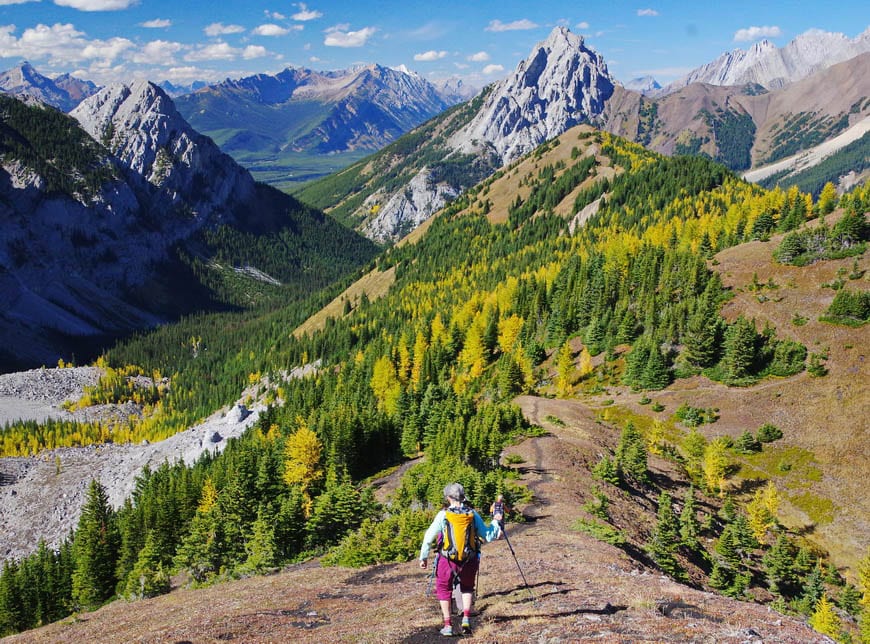 Chester Lake, Kananaskis Country
Chester Lake is a multi-season destination that always shines. The lake is located in Spray Valley Provincial Park, about 43 km from Canmore via the Spray Lakes Road. This 9.8 km, four hour round-trip hike can get busy on a weekend. It's one of the easier hikes with only 400 m of elevation gain.
The lake is the prize, surrounded by larches and the cliffs of Mt. Chester. In the fall you can continue up to Three Isle Lake.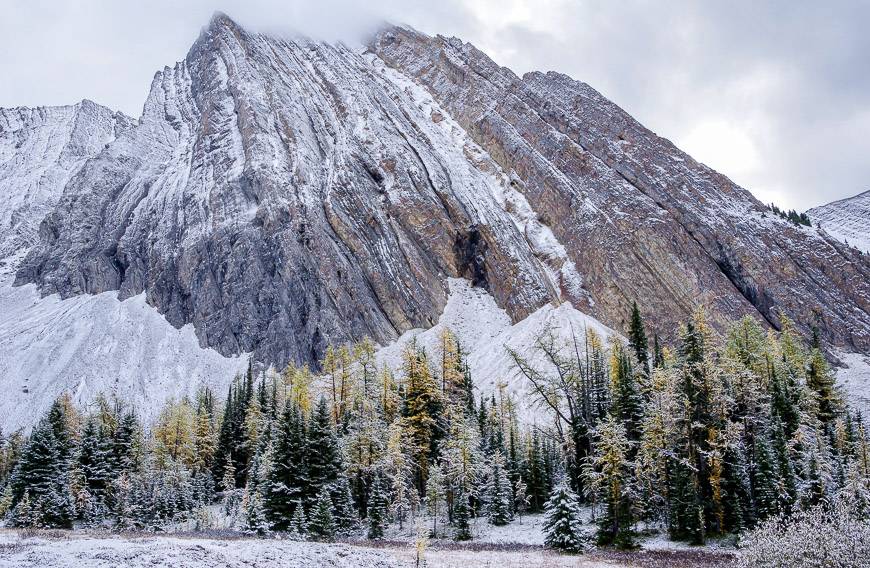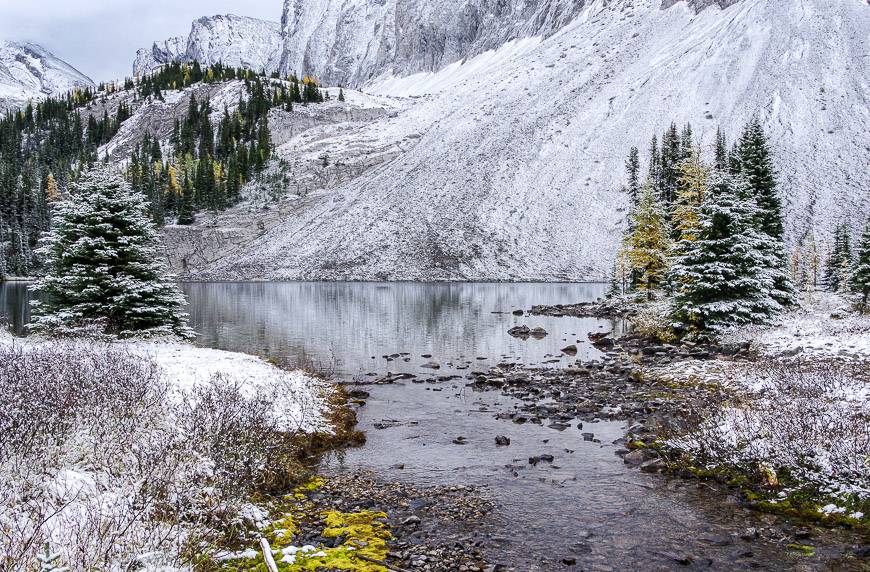 Arethusa Cirque – one of the less popular larch hikes
For a short, relatively easy outing from the Highwood Pass area you would do well to choose Arethusa Cirque. While the hike isn't marked, it's easy to follow.
On the way up to the cirque, pass a tarn and then head for treeline on a trail through talus slopes. Larches can be seen once you break through the first section of trees all the way through to the cirque.
Read: The Fabulous Arethusa Cirque Hike in Kananaskis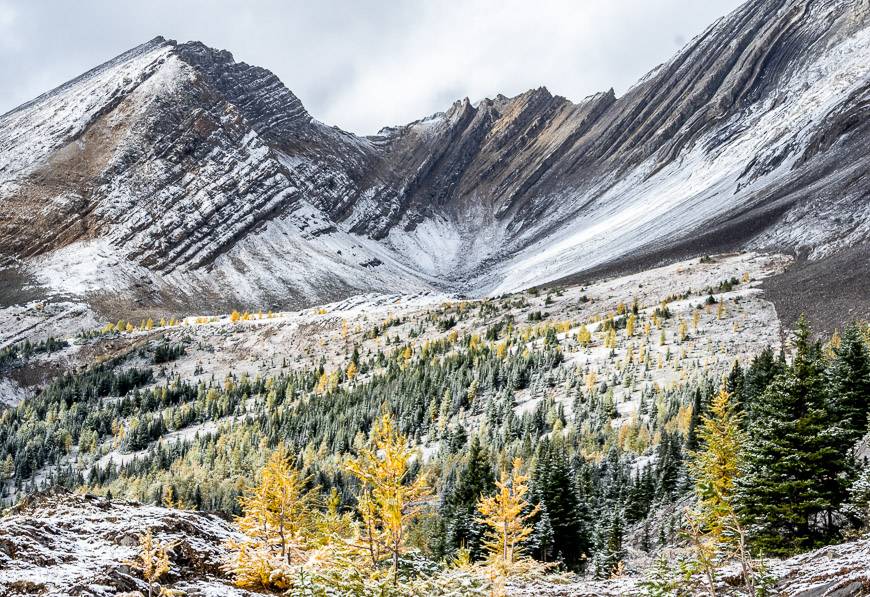 Buller Pass
Buller Pass is a beautiful 14.6 km round-trip hike with 670 m of elevation gain. On a weekday towards the end of larch season we were the only people on the trail.
Reach the larches beginning about 45 minutes into the hike. They'll be with you until you reach tree line. The trailhead is directly across from the Buller Mountain day use area, about 31 km from the Canmore Nordic Centre.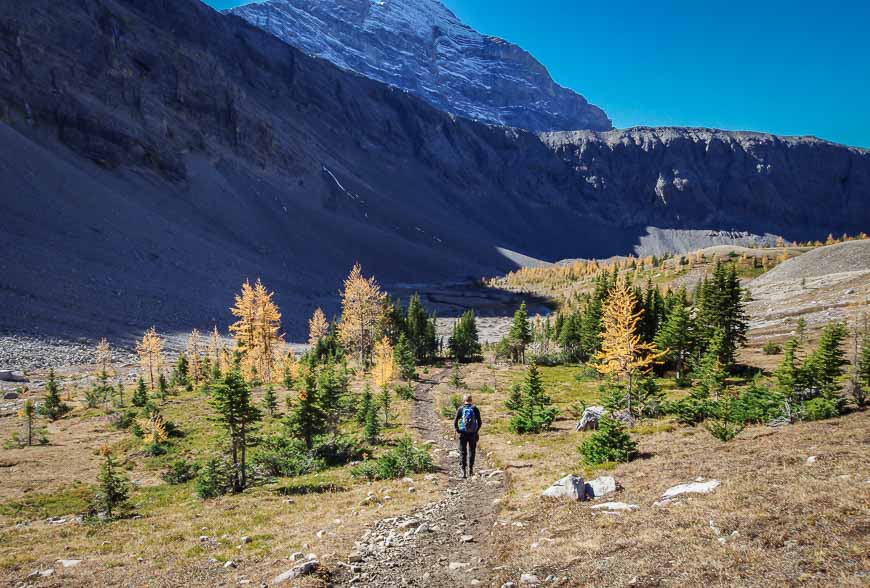 Waterton Lakes National Park for larch hikes
Update: Check with Waterton Lakes National Park on what hikes would be worthwhile in view of the 2017 Kenow wildfire.
While I've never been to Waterton during larch season it only makes sense that it too would offer fantastic trails for larch viewing. In speaking with the Communications Officer from the park, John, the following suggestions were made.
The hike to the Rowe Lakes (8 km round trip for the first lake, 13 km for the upper lake and 5 hours) is one of the best.
Less well-known for larches are a couple of trails that take off from the Blackiston Valley Trail. Start at the trailhead in the Red Rock Canyon parking area, that is once again open.
Bike or hike up part of the trail along Bauerman Creek. At the first intersection you can head for Goat Lake (13.6 km/5 hr from the Red Rock trailhead).
Alternatively continue to Twin Lakes, considered the best area for larches, especially around the Twin Lakes Campground. Both of these trails cut through bear country. Be prepared and don't expect the larch displays to be as grand as they were before the Kenow fire.
This post includes some affiliate links. If you make a purchase via one of these links, I will receive a small commission at no extra cost to you. Thank you very much for your support.
Tips for viewing larches
Go VERY early (as in 6 AM arrival kind of early) if you're heading to the Lake Louise or Moraine Lake area. Be patient. There is also the option to take ROAM – the bus from Canmore.
Fall is bear season so go prepared. Carry easy to access bear spray that's no more than two – three years old and make noise. Forget the bear bells. Voices are better.
Check out photos on Instagram using #larch and #larches as a hashtag. You'll see when the colours are changing.
If you would prefer a guided hike, check out what White Mountain adventures offers.
Carry an almost weightless inflatable seat cushion so you can sit comfortably for an hour over lunch just enjoying the surreal beauty of the larches.
Pack a lightweight down coat as the temperatures in the mountains can plummet quickly. I swear (really) by my Patagonia down sweater with a hood, a lightweight buff, a cozy toque and a pair of lightweight gloves.
Don't forget the rain gear and/or a windproof coat. If snow is in the forecast, remember to take gaiters.
Enjoy the mountains. This is my favourite month in Alberta. The beauty of the larches will keep you coming back year after year.
More ideas for larch hikes in Alberta – but I haven't done them yet
In the book, Popular Day Hikes: The Castle and Crowsnest by Andrew Nugara, two hikes he describes sound amazing as larch hikes. Consider Haig Ridge and Southfork Lakes.
Another fantastic larch hike is the challenging Pasque Mountain hike off Highway 940. Outside of Alberta, head to Floe Lake in Kootenay National Park for a full day adventure and a gorgeous landscape.
Click on the photo below to bookmark to your Pinterest boards.
Thank you to Travel Alberta for partnering with me on this post.