The pretty town of Telc in the South Bohemian region of Czechia was the first stop on a walking tour with Country Walkers. It was a treat to stop in Telc for a few days as it sees a fraction of the tourists that you'll find in more popular cities like Prague and Ceský Krumlov. And the town square in Telc is one of the most beautiful I have ever seem.
A worthwhile side-trip on the way to Telc, Czechia
On the way to Telc we made a short side stop just inside the Czech border to see some military bunkers left over from the days of communism. It was eye opening to say the least – and it's no wonder so few people would get through this zone with their lives.
What's missing in the picture is the miles of barbed and razor wire traps along with pictures of all the bunkers that dot the landscape, approximately every few hundred feet across a huge swath of the borderlands.
Why Telc is a great stop on a Czech itinerary
I loved Telc for its gorgeous historic square lined with architecturally beautiful, fairy-tale like buildings in a rainbow of colours that date back to the 1500's. In fact the historic centre of Telc is a UNESCO site.
Around Telc are high walls and a complex of artificial fishponds that form a semi-circle on three sides of the town centre. In the early morning and again in the evening, the reflections around the ponds are particularly beautiful. The whole of the old town and all the grounds beg to be explored at leisure on foot.
There's also a large Renaissance chateau called the Telc Castle. Tours are offered and are a good idea if you want to see how people lived back in the 1600's.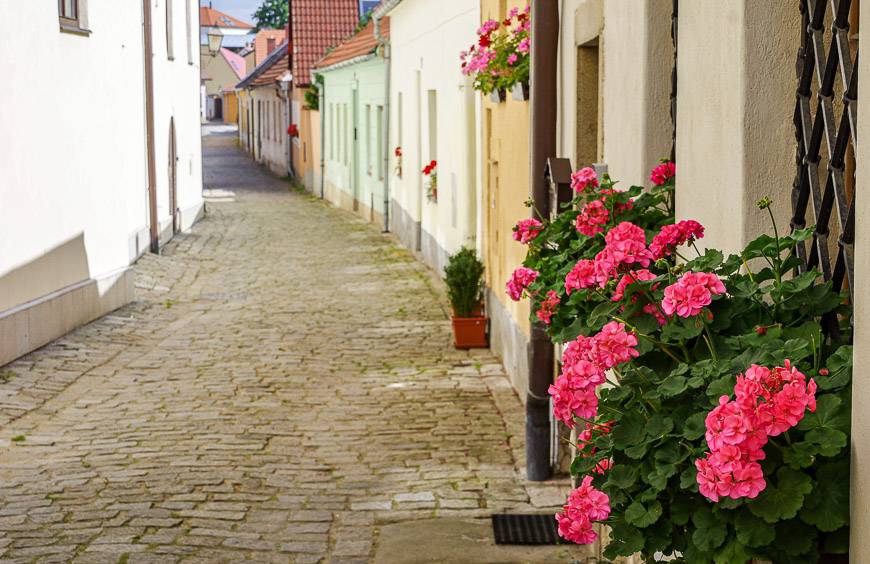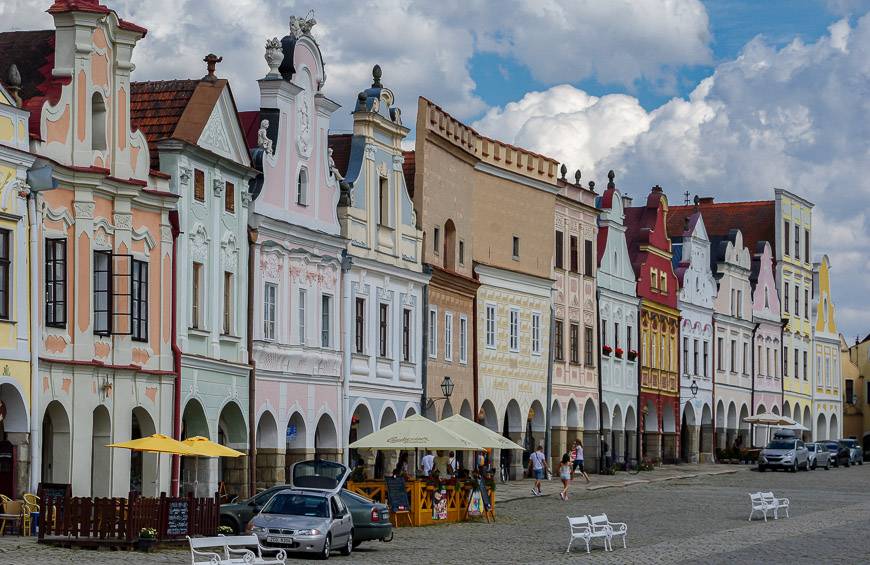 Walking in Telc, Czechia
Our group spent a couple of days walking around Telc in Czechia. The first walk is described in this blog. It was a 30 minute drive to get to our starting point – an old hunting lodge beautifully situated in beech forests at the edge of walking trails.
Over approximately 8 miles we wandered through delightful sections of shady forests, through farmer's fields with nary a soul in sight and along country lanes – with every house decorated with the same boxes of pink and red geraniums. Some added a stand of sunflowers. We'd pass fishing ponds which I learned dot the Czech landscape – yet they are only a few feet deep.
I think what amazed me most was the size of the woodpiles – like nowhere else I've seen. I know it gets cold in Czechia but I really wonder if a little hoarding is going on – in case times get really tough again. Just my observation!
Lunches were always a big meal – though the lunch at the end of this walk, consisting only of vegetables was considered light by Czech standards.
As our guides would say, the Czech people like their heavy duty grease so you can expect to see a lot of fried food on menus.
In Czechia beer is cheaper than water – and likely part of the reason the Czech people are the biggest consumers of beer in the world. Expect to drink at both lunch and dinner.