The Horseshoe Canyon hike near Drumheller, Alberta can be done as an easy day trip from Calgary though the Drumheller area is full of interesting things to do and worthy of an overnight trip. The canyon is a stunning, one-of-a-kind hiking destination year-round, but it's best explored when its not too hot or too cold.
Horseshoe Canyon is a large u-shaped canyon and quite an unexpected sight when you're driving on the prairies. One minute the landscape is either pancake-flat or full of gently rolling hills and then in the blink of an eye you're in front of this canyon enjoying a MOMENT. The canyon boasts layers of rocks dating back to the time when dinosaurs roamed the land, about 70 million years ago.
Two French Canadian explorers, Louis, and France de la Verendyre, called this landscape "mauvaise terre" or bad earth because of its unsuitability for agriculture. The badlands name has stuck. And while the immediate area may be a bad place to farm, it is a fascinating place for visitors to explore.
Within Horseshoe Canyon, you'll encounter three unique eco-systems including the badlands, prairie and wooded coulee slopes. Within each eco-system are different plants and animals. You might be surprised at how alive the badlands really are.
Geologists or anyone interested in rocks will enjoy the Horseshoe Canyon hike. The layers of rock reveal both environmental and climatic events. Rock units very in colour from purple to tan to grey and even black indicating coal seams. The layers are composed of mudstone, sandstone, carbonaceous shales, and the afore mentioned coal.
This post includes some affiliate links. If you make a qualifying purchase through one of these links, I will receive a small percentage of the sale at no extra cost to you. Thank you for your support.
Trailhead location
The Horseshoe Canyon trailhead is located 17.3 km west of downtown Drumheller. Simply take Highway 9 west until you see the signed turnoff to Horseshoe Canyon via Township Road 284. The parking lot is on your right.
Parking and services at Horseshoe Canyon
In summer 2021 a pay parking pilot project was implemented by Kneehill County. Fees of $2 per day were collected to be used towards the conservation on the canyon. I don't know what is in store for 2022, but I'm betting that the parking fee was a success. Have a toonie ready just in case.
At the parking area there are picnic tables, and some as you can see in the photo are even covered. You'll also find some toilets. Across the street at the campground, you may be able to purchase snacks and drinks.
Although pets are permitted in the canyon on a leash, I would avoid taking them on the Horseshoe Canyon hike in summer. It's just too bloody hot.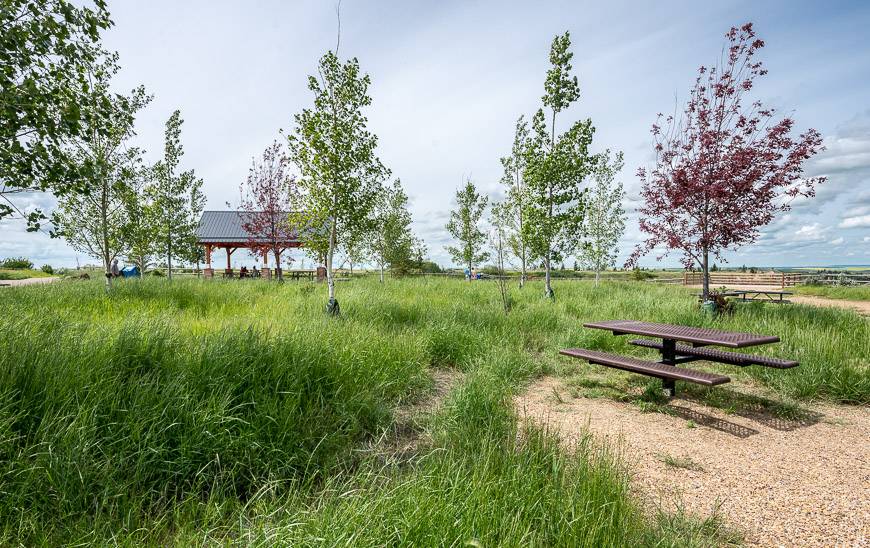 Horseshoe Canyon Hike details
Distance: The official trail into Horseshoe Canyon is just 0.8 km long one way. But there is lots of exploring to do from the end of it. In fact, you could spend the better part of a day exploring the two arms of the canyon. Each arm is approximately 5 kilometres long.
Level of difficulty: Easy hiking on the official trail. Watch your footing when you are off trail. There are short, steep sections, drop-offs and lots of uneven terrain.
Elevation gain: Varies depending on where you hike. Count on about 30 – 40 metres of elevation loss and gain getting into and out of the canyon.
Surface: Gravel, dirt, and rock. Can be very slippery when wet.
Time needed: 30 minutes to a full day
Animals you might see: Coyotes, mule deer, white-tailed deer and rabbits
Look for these birds: Mountain bluebirds, prairie falcons and golden eagles
Entry into Horseshoe Canyon
There is a well-marked entrance to the right of the parking lot – if you're facing the canyon, indicating the main route down to the start of the Horseshoe Canyon hike. Descend on sweeping stairs past a lookout to reach the level ground. I find the gravel section, to the right of the stairs is tough going on the descent – as it's on ankle turning type of gravel but it's fine to hike up on the return. There is a rope banister that you can grab for support.
Route description of the Horseshoe Canyon Trail
Before you even begin the Horseshoe Canyon hike, check out the views from a couple of the observation decks. They provide an excellent overview of the dramatic badlands landscape you'll experience.
Descend to the canyon floor via a set of wide stairs to end up on a gravel path. Follow it through an open area until it ends. From there, you can head off in any direction you choose. Use common sense in this unforgiving environment, paying close attention to landmarks on any canyon trails you take. It's very easy to get turned around in the canyon. Note the warning sign.
As you'll see, there is a warren of trails throughout Horseshoe Canyon to explore. I usually head left at the end of the gravel path and wander out for a kilometre or two. Although the trail is easy to follow, all it takes is one side trip up a small canyon and you might wonder if you're turned around.
Hike out as far as it feels comfortable and simple retrace your steps to return.
There is an option at the western side of the canyon to leave the canyon on a well-defined trail that climbs steeply to the rim to end by the picnic tables. It used to be the main entrance and exit point before the stairs were built. You can see the trail, eight photos down. It's a popular area too, so you're likely to see a lot of people using it.
God to know for your Horseshoe Canyon hike
Download a hiking app or two before you head out IF you're planning to spend the day in Horseshoe Canyon. You must be able to use it without a cell signal.
In summer, the canyon gets oppressively hot. Take more water (3+ litres) than you think you need.
A sun hat with a wide brim and sun screen are a necessity.
Wear loose-fitting, light-coloured clothing in the sun. The canyon is no place for black.
Take good hiking shoes rather than an open toed sandal. There are some cacti around.
Don't forget the snacks and some energy bars.
Leave no trace and pack out whatever you pack in.
Stick to the trails to prevent further erosion.
If you happen to find a fossil – consider yourself very lucky, but leave it in place, take a photo of it and notify Kneehill County.
Best time to hike
The best time to do the Horseshoe Canyon hike is in the spring, summer, and fall. In winter the trail is open, and the area would be very beautiful with a dusting of snow. But the footing could be treacherous, especially if you move off the designated trail.
My preferred time to do this hike is in the fall. I love the colours that appear – and the temperatures are ideal for a hike. If you plan to hike in summer, plan to go first thing in the morning or late in the day. The canyon is an unforgiving environment on a hot day. Temperature's soar – and if you haven't brought enough water, you could become dehydrated very quickly.
Where to stay near Horseshoe Canyon
Horseshoe Canyon is a short drive away from Drumheller so a stay in town is your best bet. The Canalta Jurassic rated very good is a solid choice.
The Heartwood Inn – with its wonderful dinosaurs on the property is a good choice.
The Enchanted River Cottage is rated superb.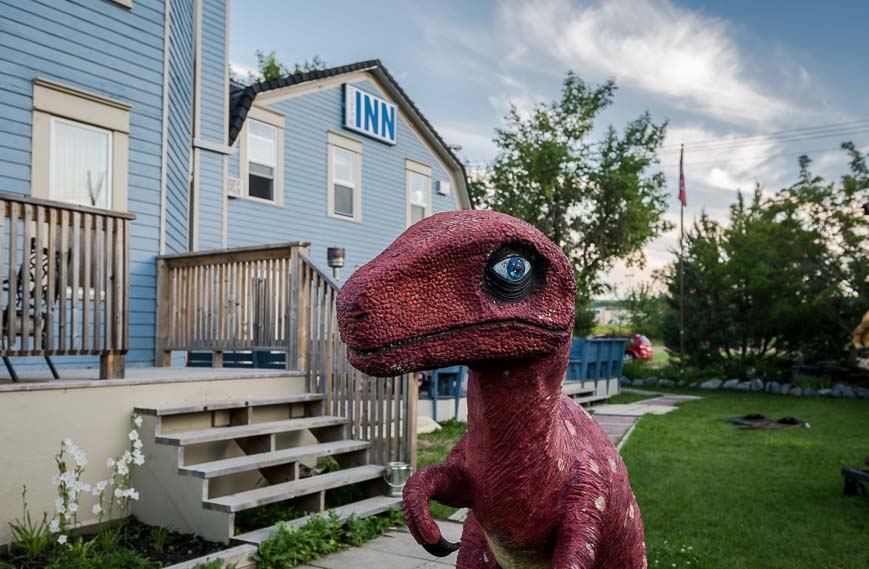 Camping and cabins near the Horseshoe Canyon hike
Just across the road from Horseshoe Canyon is Horseshoe Canyon Campground. It's expanding for summer 2022 and will be offering more full-service RV sites, more cabins and premium tent sites. I stayed in a cabin – and while basic (no running water or toilet but both are nearby), it's ideal for those of you who want to visit the canyon at sunrise or sunset.
Horsethief Canyon
There is another canyon to explore in the Drumheller area called Horsethief Canyon. It's not nearly as developed for hiking. Look for it as you head north on the North Dinosaur Trail (Highway 838). It's just a 10-minute drive from the Royal Tyrrell Museum – and there is some signage indicating its presence.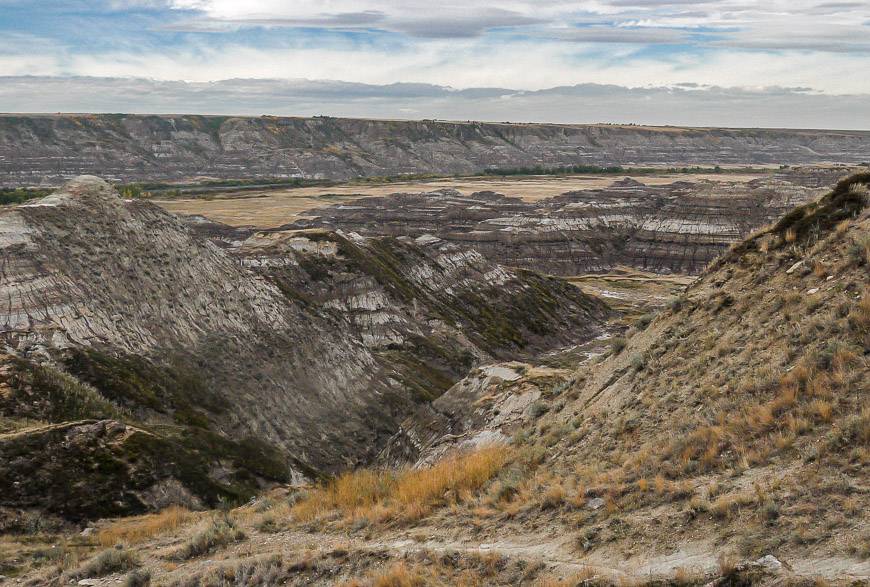 Further reading on things to do in this part of Alberta
Click on the photo to bookmark to your Pinterest boards.