Drive about an hour northeast of Calgary or two and a half hours south of Edmonton and you'll reach Kneehill County in central Alberta. The region is home to a landscape of open prairie and gorgeous badlands scenery bounded on the east by the scenic Red Deer River.
Within Kneehill County you'll find two towns – Three Hills and Trochu, several villages including Carbon, Acme and Linden in addition to unique lookouts and experiences. Cue Dry Island Buffalo Jump, the fantastic Orkney Lookout, Horseshoe Canyon and the Bleriot Ferry – a cable ferry which connects the Orkney Viewpoint to the Horsethief Canyon.
You can experience the best of Kneehill County in a two-to-three-day road-trip. Here's what I'd suggest.
Breakfast in Trochu
I started in the town of Trochu in the northern part of Kneehill County. It's a good jumping off point to Dry Island Buffalo Jump, a 20-minute drive away. Fuel up with breakfast at the cute LadySmith Café before you go and take an appetite as portion sizes are large. Apparently, this is the place to come later in the day for cabbage rolls and perogies.
Visit Dry Island Buffalo Jump
Head out on scenic backroads to reach Dry Island Buffalo Jump Provincial Park. You won't find many people here but you will find a diverse landscape including fantastic badlands scenery reminiscent of Dinosaur Provincial Park, short grass prairie, aspen forest, and even boreal-mountain forest. The Park has a history of being used as a buffalo jump by Plains Cree, many times in the past 3,000 years.
When you arrive at the park boundary, pull over at the overlook to get your bearings and take in the view before dropping down on a steep road to the day-use area. This road is considered impassable under wet conditions as it becomes slippery and dangerous.
There's a large day-use only parking lot with nearby picnic areas, most under the shade of large trees. From here you can wander down to the Red Deer River. Some people launch a canoe or kayak here and paddle all the way to Drumheller – a two-day journey away. Others may have launched a boat in Red Deer and finish in Dry Island Buffalo Jump Provincial Park. There are lots of options to paddle the river though you will need to organize a boat shuttle.
Read: A Weekend Canoe Trip on the Red Deer River
From the parking lot you can also head out on a myriad of informal hiking trails that loop through the park. Be sure you've got lots of water with you as it gets hot here in summer. Pick a trail and see where it goes. Many head up coulees or through native grasslands. Nature enthusiasts will find lots to admire including upwards of 150 species of birds.
An afternoon in Trochu
I was back in Trochu by early afternoon, in time to enjoy a late lunch at the Sweetgrass Café on Main Street. It was a hopping spot when I arrived with a mix of locals and tourists. Behind the café there is also an outdoor seating area.
When I visited, the owner was able to serve food but couldn't cook because of a motorcycle accident. Fortunately, one of her wait staff was able to jump in and cook, but the menu is more limited in the short term. I enjoyed a grilled cheese sandwich with coleslaw while reading Feast – one of the cookbooks guests can enjoy while dining.
For a population of about 1,000 people, Trochu is lucky to have both this restaurant and the LadySmith Café.
Wandering the main street of Trochu doesn't take much time as there are only about four blocks worth of stores. There are some nice murals around – with one depicting Armand Trochu, a Frenchman who arrived in 1903 and founded the St. Ann Ranch which eventually added a post office and hospital.
I also nipped into Henry's Shoes – an old-style shoe store packed floor to ceiling with boxes. You'll find everything from hiking boots to dancing shoes in here.
Next up in Kneehill County was the five-acre Trochu Arboretum, founded in 1989. As a passionate gardener I always love to spend times in these peaceful enclaves. It is home to unique species of pine, birch, larch, and other trees along with a vibrant understory of annual and perennial beds. There is lots of seating in the shade of trees and around the Dr. Hay Memorial Pond so you can sit and enjoy the beauty and the birdsong.
A visit to Three Hills, Kneehill County
Three Hills, with a population of about 3,200, is located 15 km south of Trochu. It takes its name from three hills visible to the north of town. Its main street is longer and busier than Trochu. My biggest find was Three Hills Books – a fabulous store on the main street offering a fantastic selection of kids and adult books, puzzles, gifts, art supplies and even old-fashioned candy. They also offer free gift wrapping which I took advantage of.
As I drove around I spied an old grain elevator. I always find these buildings to be compelling photography subjects that harken to another era.
Since I was visiting Three Hills on a Tuesday, I missed dinner at the Bell 720 Restaurant known for its big city steak house vibe in rural Alberta. Unfortunately they are only open Wednesday to Sunday.
Where to stay in Kneehill County
After my visit to Three Hills, I drove 40 minutes to the Horseshoe Canyon Campground where you can rent a rustic cabin. Mine came outfitted with a double bed, a set of bunkbeds, a small desk and outside – a swing, picnic table and BBQ. Clean bathrooms with coin operated showers were about a 75 m walk away. There was a tap for running water between my cabin and the one next door. WiFi was available and starting at 10 AM there was a convenience store across the parking lot selling some basics…like ice cream. It's best for those of you with your own bedding, towels, and a cooler – camp stove set up.
Other places to consider staying include Good Knights – just outside of Three Hills for the full medieval immersive experience or St. Ann Ranch – Scrapbooking Retreat & Country Inn in Trochu. Located on a provincial historic site, it boasts extensive grounds with seven museums.
Hike in Horseshoe Canyon
With Horseshoe Canyon a one-minute walk away from the campground, I was hoping to score some fabulous sunrise or sunset shots but smoke got in the way. Fortunately, the canyon is still a gorgeous place to visit and one of the top sights in Kneehill County. And first thing in the morning, I was lucky to have the whole place to myself.
Start at the observation decks, a short walk from the parking lot, for an overview of the dramatic badlands landscape. Then descend to the canyon floor via a long set of recently installed stairs. Just remember you must climb back up. There's a gravel path at the end of the stairs that takes you some distance into the canyon but when it dies out, you'll either have to retrace your steps or explore on unmarked, informal hiking trails.
The informal trails take you deeper into the canyon but after a while everything starts to look the same. You really need to pay attention to landmarks or have a hiking app or two that works offline as cell service is spotty and it's remarkably easy to get turned around. Some people spend the better part of a day in the canyon, hiking and observing nature – and if that's in your plans be sure to carry LOTS of water and wear a wide-brimmed sunhat.
Horseshoe Canyon is truly a glorious destination in the spring, summer, and fall.
Check out the Orkney Viewpoint
The Orkney Viewpoint is located west of Drumheller, off Highway 837, via a one-kilometre dirt road. From the Horseshoe Canyon Campground, it was a gorgeous 20-minute drive, especially if you follow Google's directions that take you on the backroads. Admire far-reaching views up and down the Red Deer River but stay well back from the cliff edge.
The Orkney Viewpoint is closed in winter.
Visit the villages of Kneehill County
I visited two of the three villages, Carbon and Linden.
In Carbon, I enjoyed a social lunch at Old H'Ags located inside the building that houses the local curling rink. I met Heather, one of the two co-founders who got it off the ground many years ago so that the early risers would have somewhere to go for coffee. Find out anything you want to know about Carbon from this dynamo – who I think missed her calling and should have been in sales.
Heather was kind enough to take me to the local pool where generations of teens have lifeguarded and pointed me in the direction of the Carbon Campground – "one of the best" she says "in Alberta."
From there I drove to Linden, 25 minutes away to the northwest. I passed a massive building, home to Cal's Cycle on the way there. What I especially loved, apart from the sheer variety and selection of bikes, was the outdoor track beside the building where you could test drive a bike. You won't find that in a big city!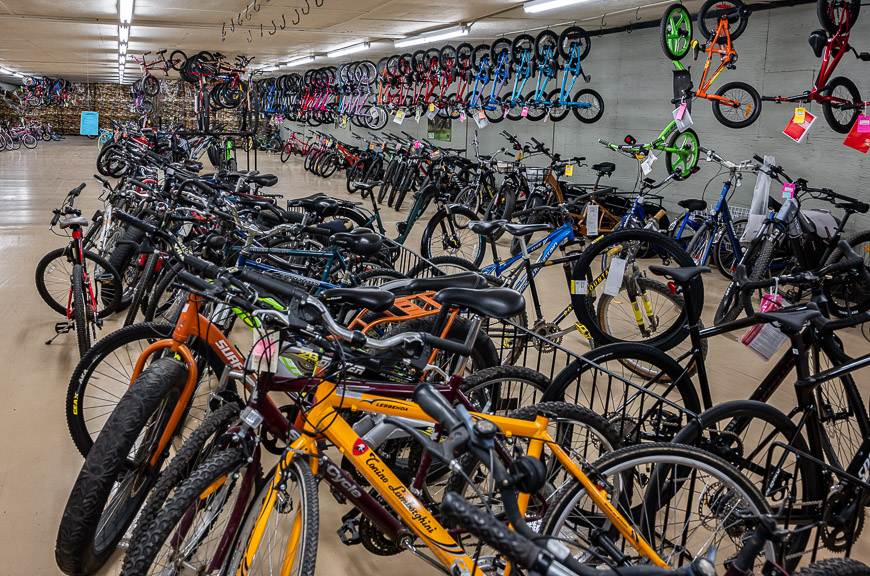 In Linden I highly recommend a stop at High Seas Coffee. My iced chai was just what I need on a 33°C day to revive me. Although the baked goods looked delicious, I didn't sample any.
I also understand that tea drinkers should check out Siplicous, just down the street.
On the way out of Linden I passed a park that piqued my interest, so I turned around to check it out. I believe its Linden Ponds – with lovely walking paths and plenty of bird life. They are only about a block and a half from the coffee shop – and a great place to chill.
If you've never been to Kneehill County and you want to learn more, visit their website. Thank you to Kneehill County for making my visit possible. It was a treat to spend more time in this part of Alberta.
Location map of the places to see in Kneehill County
Further reading on things to do in this region of Alberta
Click on the photo to bookmark to your Pinterest boards.